We love Asia. Whether it's chilling in the oh so heavenly beaches of Thailand to gobbling up as much sushi as our tummies can handle in Tokyo, we always look for an excuse to return.
This is a continent that offers so much in terms of cultural experiences, food and landscapes, with some of the most humble people you'll ever meet. We spent the first 2 years of our Nomadic Boys adventure travelling around Asia and have since returned several times for more. However, when it comes to LGBTQ rights, Asia is on the more conservative end of things.
Despite this, there are a number of gay friendly Asian countries that are paving the way forward in relation to LGBTQ rights. We honour them in this breakdown of our top 10 most gay friendly countries in Asia.
Homosexuality in Asia
Homosexuality across most of Asia is still very taboo. In fact, there are still many places where being gay can not only get you arrested (like in Myanmar, Malaysia, Sri Lanka, Singapore) but can also get you legally executed (such as Brunei and Afghanistan)!
Overall, we found that LGBT rights in Asia have a long way to go to catch up with Europe and America. For example, in quite a number of Asian countries where being gay is legal, it remains such a taboo in society, that most men end up just leading "closet" lives, marrying a girl, just to please their family – we saw this a lot in Russia, China and India. However, we also found the younger generation to be more tolerant and openminded – a sign of hope for the future.
Gay marriage in Asia
As much of Asia remains firmly in the closet, it's unsurprising that very few nations on the continent have legalised gay marriage. To date, there is only one part in Asia that has legalised gay marriages, which has earnt it its place as our top #1 gay friendly place in Asia – Taiwan!
The "race for second place" is a fascinating one to watch. Currently, Thailand is on the brink of introducing civil unions (the step below gay marriage) with limitations. On a more regional level, some countries have started to recognise limited rights and benefits to gay couples such as Cambodia, certain cities in Japan and Hong Kong.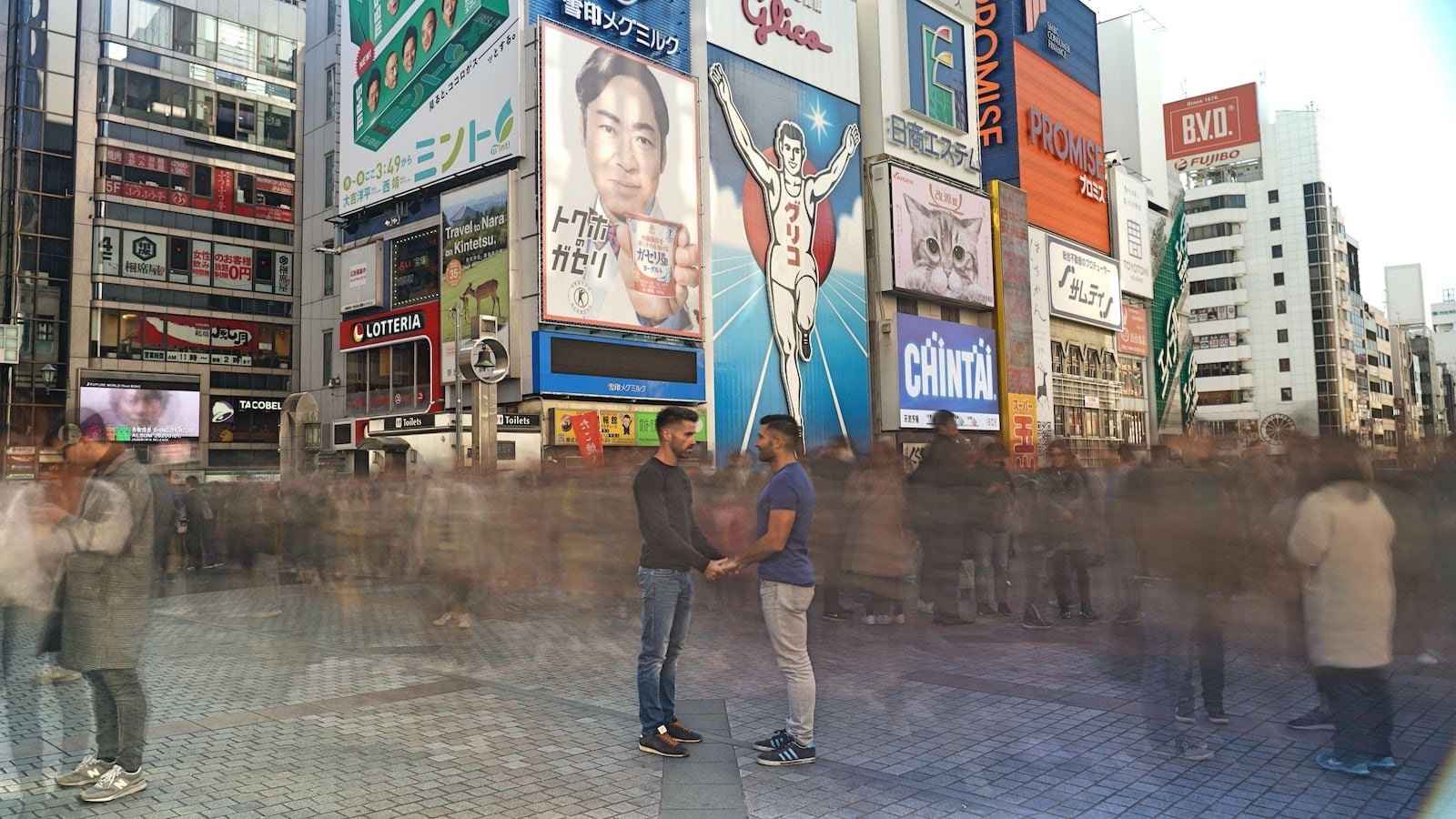 Our criteria for ranking the top gay Asian countries
We've based this list on the following criteria:
Where are they at with gay marriage legislation, along with other LGBTQ laws?
What is the gay scene like and do they have any notable annual LGBTQ festivals?
Our personal experience travelling there as a gay couple, with reference to the most recent Spartacus Gay Travel Index.
We have taken it as a given that homosexuality is legal in the countries we've selected, which is why we haven't included Singapore despite it having quite a vibrant gay scene and a famous LGBTQ PinkDot festival in June/July.
We have also included two "places" (Taiwan and Hong Kong) rather than "countries", because although they're not officially recognised "countries", they can still be regarded as a "country" given they have their own flag, currency, national anthem, set of laws etc
Did you know? Thailand is one of the most trans and LGBT friendly Asian countries. Find out more about transgender life in Thailand in our interview with trans person Regina who moved from the Philippines to live in Bangkok. Also of note is that in March 2019, transgender filmmaker Tanwarin Sukkhapisit, was elected to the Thai parliament, becoming the country's first ever transgender MP.
Did you know? Rumour has it that King Norodom Sihamoni of Cambodia is gay! Nothing is official but this ballet-dancing-lifelong-bachelor remains a much-loved figure in Cambodia. Whether King Sihamoni is gay or not, one thing he has publicly come out for is for progressive LGBTQ rights, including gay marriage. Read more about gay Cambodia in our interview with Aaron from Phnom Penh.
Did you know? The original geisha of Japan were men not women! The taikomochi were male advisors, artists and gifted storytelling entertainers to their feudal lords dating back to the 1200s. The first female geisha didn't actually appear in Japan until the 1700s, but quickly grew so popular that "geisha" became associated with women rather than men.
Did you know? The Phiippines has the only LGBTQ political party in the world! In 2003, the LGBTQ political party Ang Ladlad(meaning "out of the closet") was established by writer Danton Remoto. Sadly, due to lack of political funding, their campaigning efforts were limited, so they only managed to get 0.38% of votes in the 2010 election, 0.37% in 2013 and were disqualified in the 2016 elections.
Did you know? Hong Kong is confirmed to host the Gay Games in November 2023. The Gay Games is like the LGBTQ equivalent of the Olympic Games, held every 4 years. It started in 1982 in San Francisco and has been hosted in a different city ever since, mainly in North America, Europe and Australia. This will be the first time it takes place in Asia, which is terrific news for the LGBTQ community of Hong Kong!
Did you know? Seoul has become one of Asia's top destinations for plastic surgery, particularly among men looking to achieve a "pretty boy" look and a macho physique; usually inspired by the strong K-Pop culture like boy band Shinee.
In the K-pop world itself, more and more celebrities are coming out. For example, in March 2016 the girl group Mercury debuted with Choi Han-bit – a transgender model; and in January 2018 the singer Holland famously came out, becoming the first openly gay K-pop idol in the country.
DId you know? Vietnam had an openly gay US Ambassador in 2014/15 called Ted Osius. He was always very supportive of LGBTQ events and frequently posed with his husband and children.
Did you know? India has an openly gay prince. Prince Manvendra Singh Gohil of the Rajpipla throne in Gujarat came out in 2005. His mother took it so badly that she reacted by placing a newspaper advertisement publicly disowning him!
This didn't stop Prince Gohil from campaigning for LGBTQ rights. For example, he set up an AIDS prevention charity called the Lakshya Trust and supports many charities that help minorities. He also buddied up with Oprah several times to speak about the LGBTQ community of India:
Did you know? Nepal has a "third gender option" on their landing card. When we arrived at Kathmandu airport we thought we were coming to another conservative Asian country where we'd have to stay in the closet, especially in public. So imagine our surprise when we arrived and found an "Other" option for "gender"!
HONORARY MENTIONS
Laos
Just like its Buddhist neighbours Vietnam, Thailand and Cambodia, Laos has never had any anti-gay laws. But in terms of gay marriage laws, there are none, nor any notable discussions about it taking place at government level (yet). In terms of a gay scene, there are a few gay hangouts in Vientiane and Luang Prabang. As gay travellers in Laos, we felt safe here and found locals to be quite gay friendly. For a more local perspective, check out our interview with Somphorn from Luang Prabang, a dear friend who sadly passed away very recently. You can also watch our video from our travels in Laos as a gay couple:
Mongolia
Mongolia has quite a high placing on the Spartacus Gay Travel Index at #57. Having travelled around the country, we can certainly see why. Homosexuality was legalised in 1993 and there are a few gay hangout in the capital, Ulaanbaatar. They also have an annual Pride in Ulaanbaatar in August called the Equality Walk. Find out more in our interview with gay local Zorig from Ulaanbaatar, and watch our Mongolia video:
Gay travel in asia: is it safe?
We found gay travel in Asia to be very safe. The people are so respectful and love welcoming foreigners. We never once experienced any problems anywhere. In the worst-case scenario, people thought we are brothers. However, we were always careful to respect local customs by avoiding PDAs in certain places. We also checked in advance that the hotels we stayed at were ok to host a gay couple.
We also discovered that regardless of the LGBTQ laws, most places have some form of "gay scene". At the end of the day, whether you're in Bangkok, Moscow or Seoul, there will always be an LGBTQ community living and working there.
---