TERMS OF USE: There is a chance that some of the content on this page has changed since it was last updated. By reading this article, you consent to our Terms of Use and Disclaimer. Happy Travels!
DISCLOSURE: Some of our posts may contain affiliate links which we may receive a commission if you choose to book something through one of our links.
This is our interview with the handsome former Mr. Gay Taiwan hunk: Po-Hung who tells us about gay Taiwan and what life is like for the Taiwanese LGBTQ community.
Taiwan has become one of the most gay friendly places in Asia. On a continent famous for not having the most progressive LGBTQ rights, Taiwan is proudly paving the way forward. It has long been a gay trailblazer, famous for having progressive LGBTQ laws, the largest pride in Asia and even a God devoted to homosexual love with his own temple in New Taipei City.
In May 2019, Taiwan made history by becoming the first nation in Asia to implement gay marriages. This is immense!
Nowhere else in Asia comes close to this achievement. For example, whilst other gay friendly places in Asia like Thailand, Cambodia, Japan, Hong Kong, Nepal and the Philippines may have started discussing the implementation of gay civil union laws (if at all!), no one else has even touched the realm of recognising gay marriages. Except Taiwan!
Of course the gay marriage laws of Taiwan are not without difficulties, having had quite a bumpy road to get to where they are. Despite this, it is an incredible achievement not only for Taiwan's gay community, but also for the entire LGBTQ community across Asia.
So what is it about Taiwan that makes it so gay friendly? We met with gay Taiwanese boy Po-Hung from Kaohsiung who was also Mr Gay Taiwan 2018. Po-Hung gave us the full lowdown about the gay life of Taiwan, what it's like growing up gay here and other invaluable local tips.
Welcome to our blog Po-Hung! Please introduce yourself:
Hi boys! I am Po-Hung, 32 years old from Kaohsiung City in Taiwan. Kaohsiung is the second biggest city of Taiwan after the big capital, Taipei. Kaohsiung is in the southwest of Taiwan and Taipei is on the other end of the island, right at the northern tip.
I studied psychology and went on to become a professional counsellor, specialising in relationships. In 2013, I moved to Taipei because I was working as cabin crew for almost 4 years. In 2018 I co-founded an online dating service for the LGBTQ community called "Heder". Heder is a match-making service and also a dating coach providing counselling for gay couples.
In 2018, I was also crowned "Mr Gay Taiwan".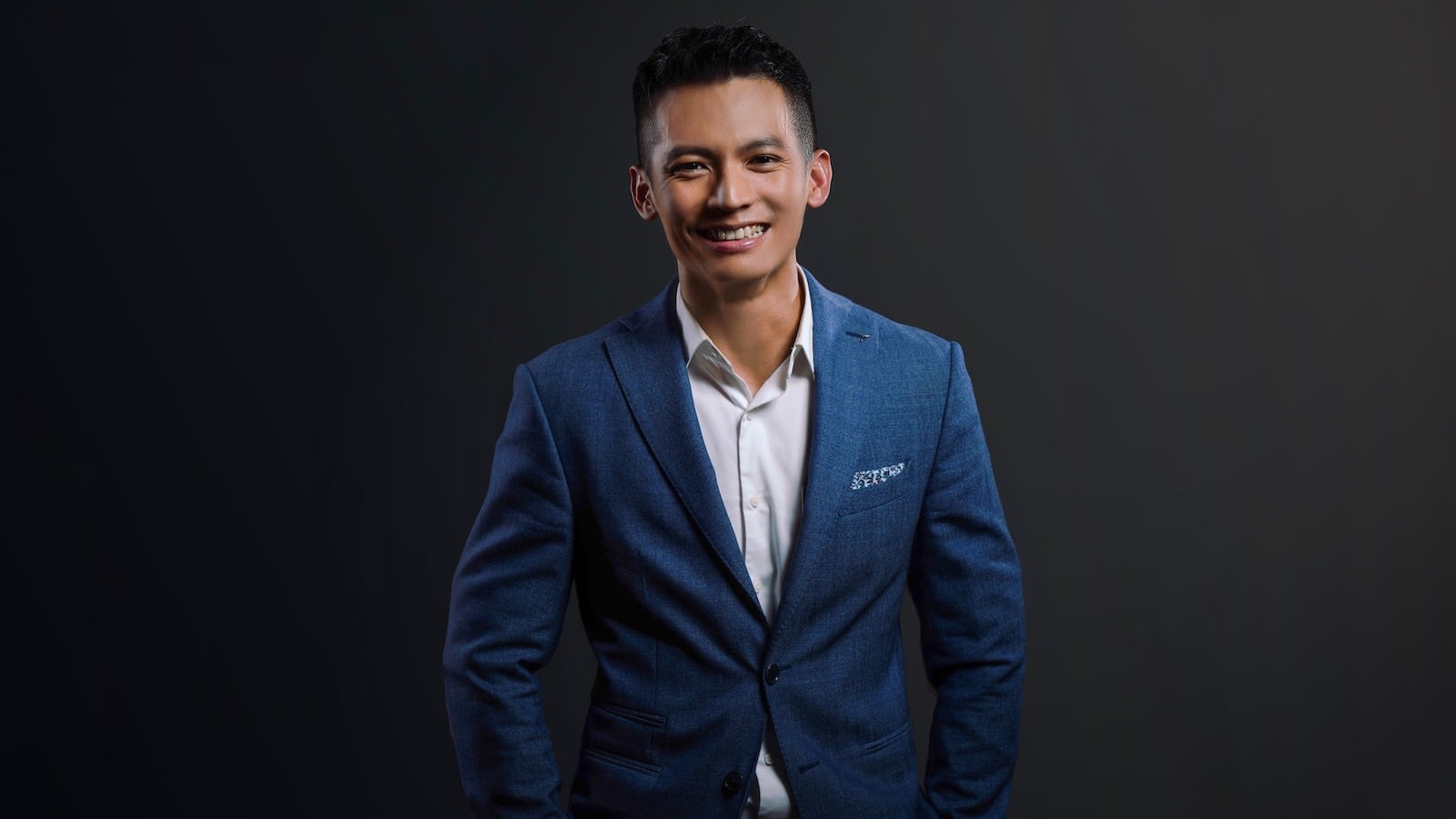 Are you openly gay?
I was Mr Gay Taiwan…so I am now very much out of the closet!
All my friends and family know about my fabulous life and fully support me. But in actual fact, before I became Mr Gay Taiwan in 2018, I wasn't fully out. This competition turned into an important and incredible coming out journey.
For gay guys in Asia it's very difficult growing up, even in Taiwan which is more gay friendly than most places on the continent. This is mainly because Asian society generally is socially conservative and we have very close relationships within our families. The older generations in particular are more conservative, with one sole objective in life: to become grandparents with lots of grandchildren!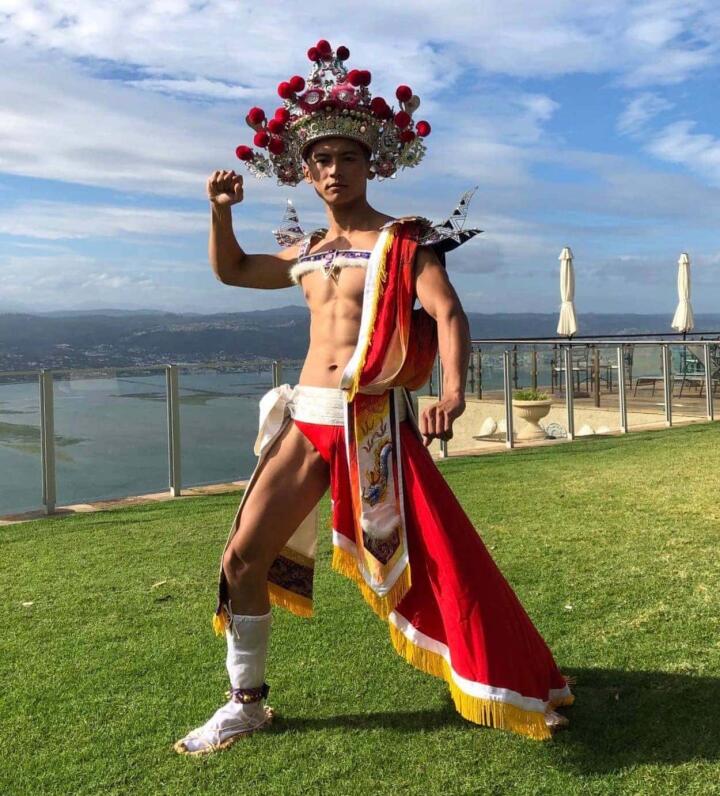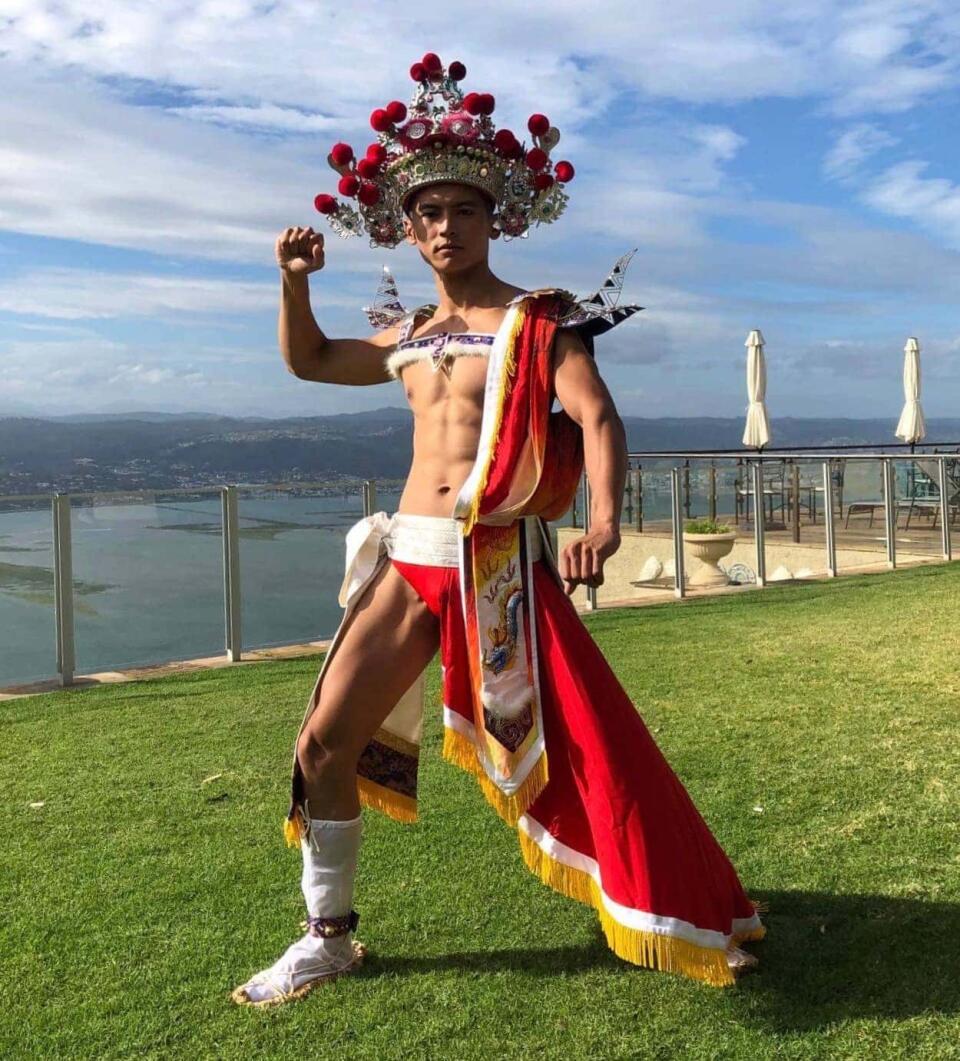 What was it like growing up gay in Taiwan?
I grew up in the 1990s and 2000s, which was a time of great change in Taiwan (see next question). Growing up, I never experienced any homophobia in Taiwan. There's always been a place I could go to hang out with other gays and make friends. Whilst society always has its bad eggs, I've found Taiwanese society to be very accepting.
I think part of this is because, over the past 20-30 years, we see more gay characters represented in the media and on Taiwanese TV/cinema. This has definitely helped to "normalize" us and show that we are not freaks of nature! For example, in the late 1980s, author Pai Hsien-yung published a famous gay novel called "Crystal Boys", which was recently made into a gay TV series. Other popular gay movies in Taiwan include "Formula 17" (2004) and the lesbian film, "Spider Lilies" (2007) by Zero Chou. Spider Lilies won the Teddy Award for best gay feature film at the 2007 Berlin International Film Festival, which was an amazing achievement for our LGBTQ community!
And don't forget Taiwanese director Ang Lee! Although he's not gay, the very fact that he directed a huge Oscar-winning gay movie in 2005 (Brokeback Mountain) was a big deal for us! He also made a gay Taiwanese (Oscar-nominated) movie in 1993 called "The Wedding Banquet" about a gay Chinese man who stages a sham marriage to please his parents.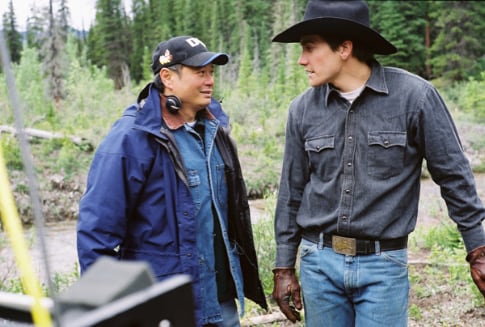 Why is Taiwan so gay friendly?
A big part of this is because in the period after the Martial Law rule was lifted in 1987, Taiwan massively transformed.
The 38 years of the Martial Law (1949-1987), was a very dark period for Taiwan. There were severe restrictions on our freedom of expression, which led to the disappearance and imprisonment of around 200,000 people. So from 1987 onwards, there was this huge push for democracy and change.
As a result, over the past 30 years, Taiwanese society has become increasingly liberal-minded, certainly compared to most other parts of Asia. During this period, Taiwan passed many anti-discrimination laws particularly in education (2004), in employment (2007) and in all other areas of business (2017). We also made it legal for gays to serve in the army in 2002, introduced the right to change your legal gender in 2008, and outlawed conversion therapy in 2018. More recently, we became the first (and only) country in Asia to pass gay marriage laws!
This has allowed us to develop a rich queer culture, particularly in Taipei, which has one of the best gay scenes in Asia. And of course, we have Taipei Pride every October, which is famous for not only being the largest Pride across the whole of Asia, but also one of the largest LGBTQ events in the world. So basically, today, gay Taiwan has evolved to become one of the most popular LGBTQ destinations in all of Asia.
Whilst there is of course more work to do, I am so proud of what my country has achieved with regards to LGBTQ rights over the past few decades.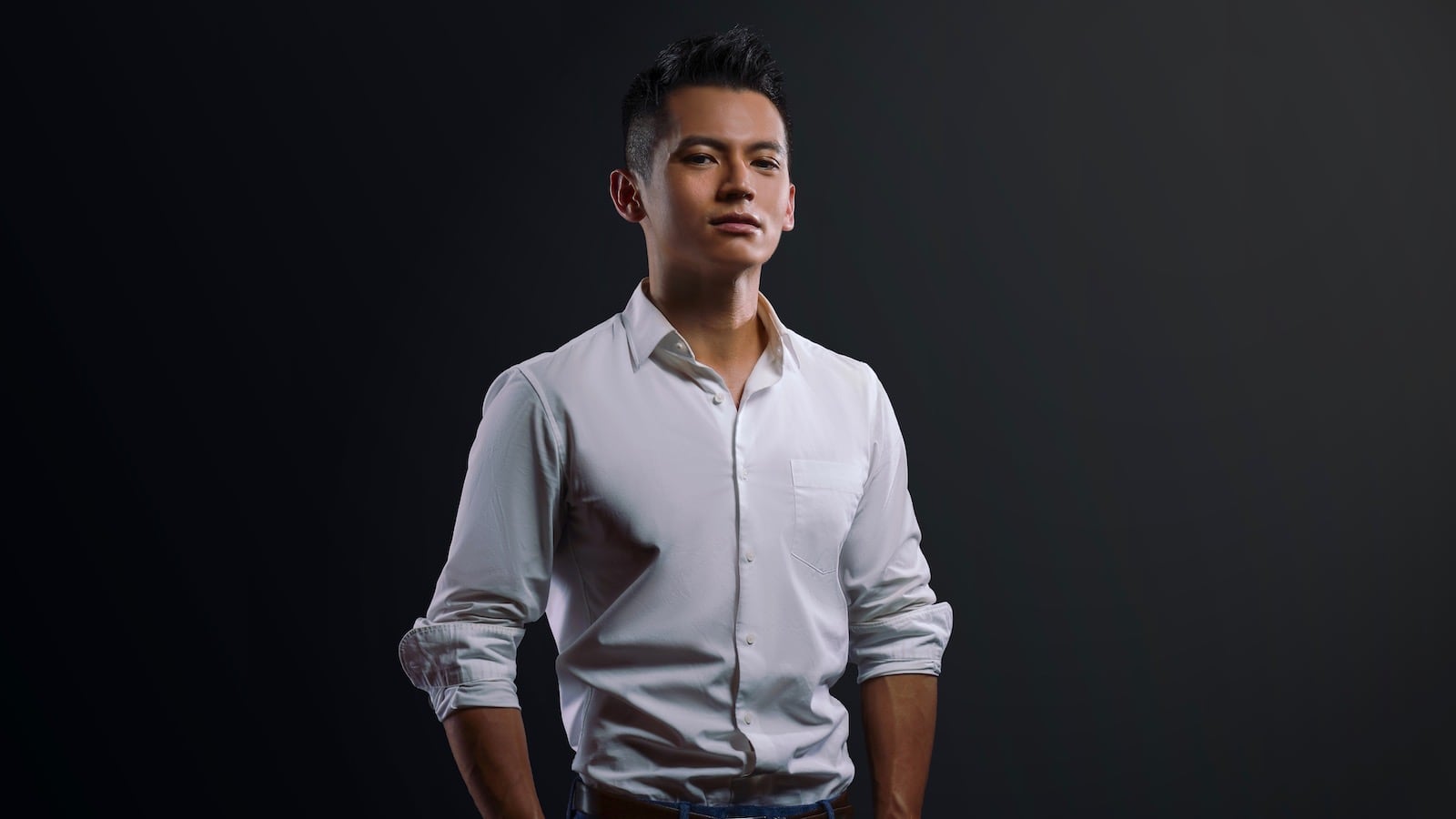 How did you meet other guys growing up?
I used to head up to the gay bars of Taipei from my city to meet and connect with other guys. I also got really involved with gay sports groups from which I've made some of my closest friends.
Today I am a member of a gay boat racing group called "Rainbow Punch". Every weekend we meet and race our "Dragon Boat" – this is a traditional wooden human-powered Chinese boat, decorated with a dragon head and tail at each end.
We have 120 members in our group. Together we take part in lots of different competitions all around Taiwan, always with the rainbow flag flying proudly.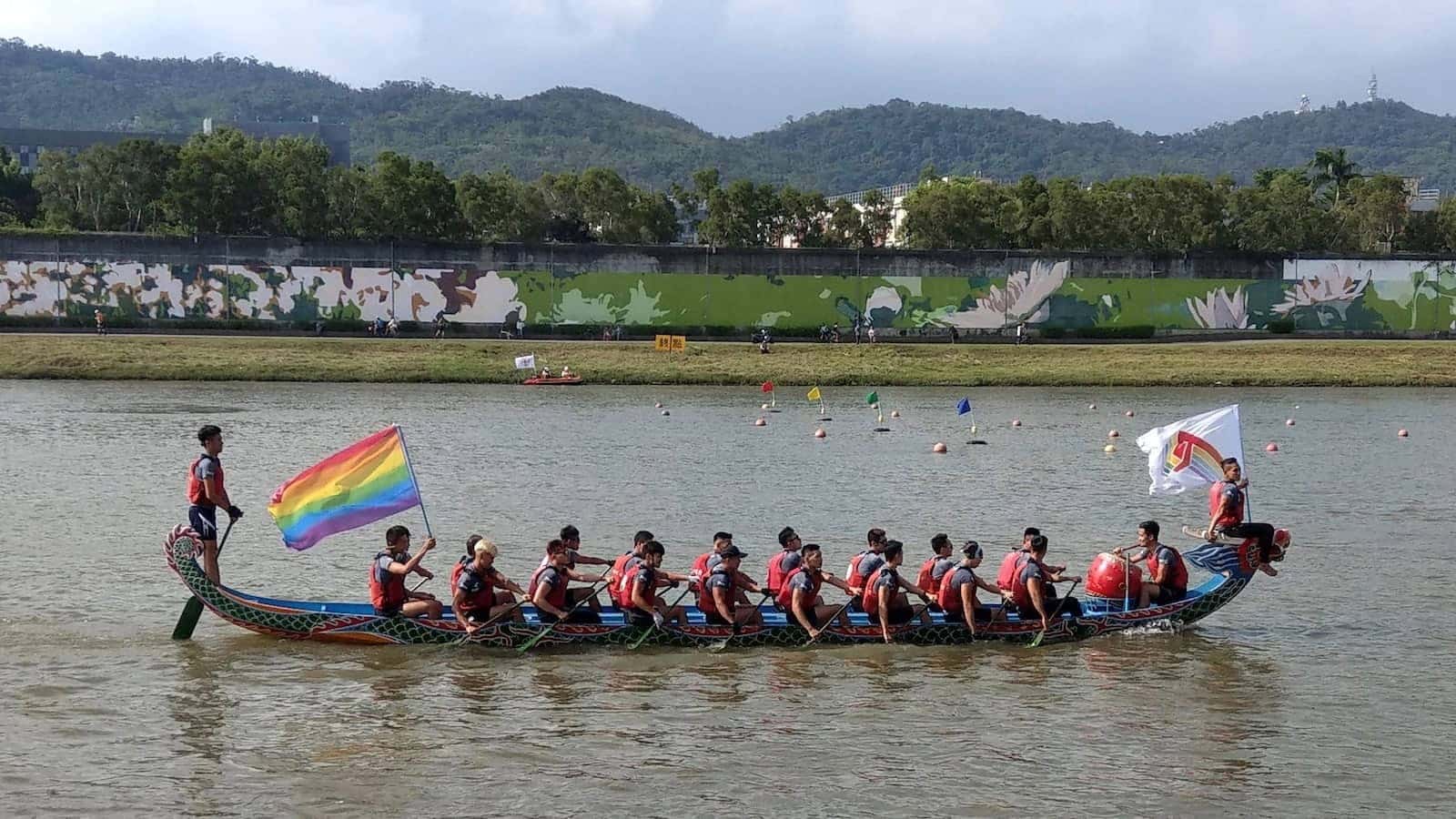 What was it like being crowned Mr Gay Taiwan?
This was a once-in-a-lifetime experience for me. I never thought I would come out as a gay public figure before.
At first, I received quite nasty online criticism like:
"How can HE represent the gay community of Taiwan? He's too fem!"
Comments like these just made me fight and work harder. You will never please everyone and you shouldn't strive to! This experience taught me to be humble, confident, and most importantly of all, be yourself no matter what, no matter what anyone else says. Embrace every part of you and face the imperfect head on. That's what makes you beautiful and perfect.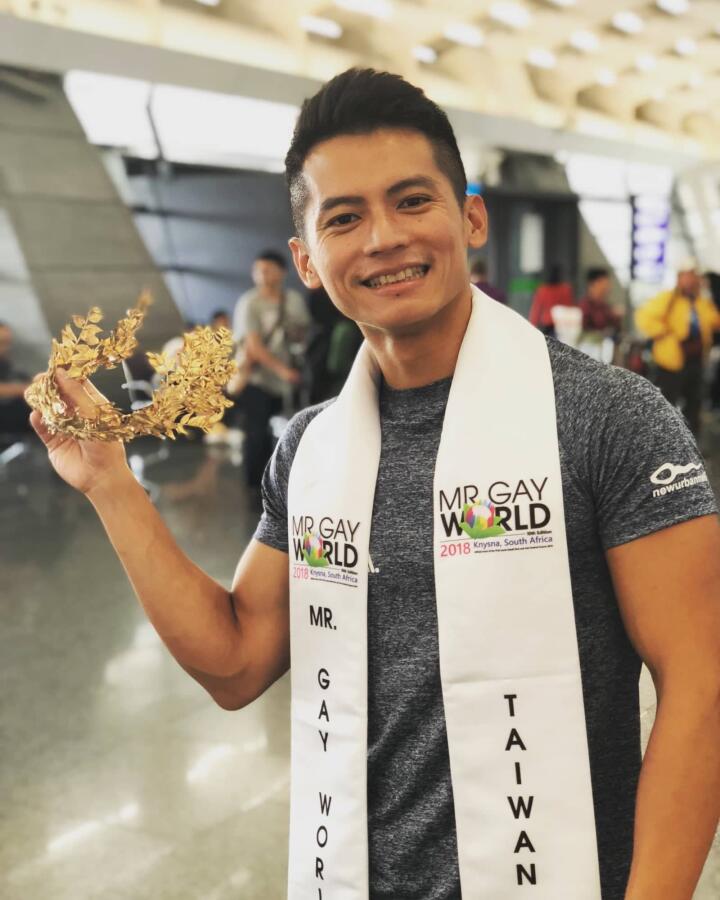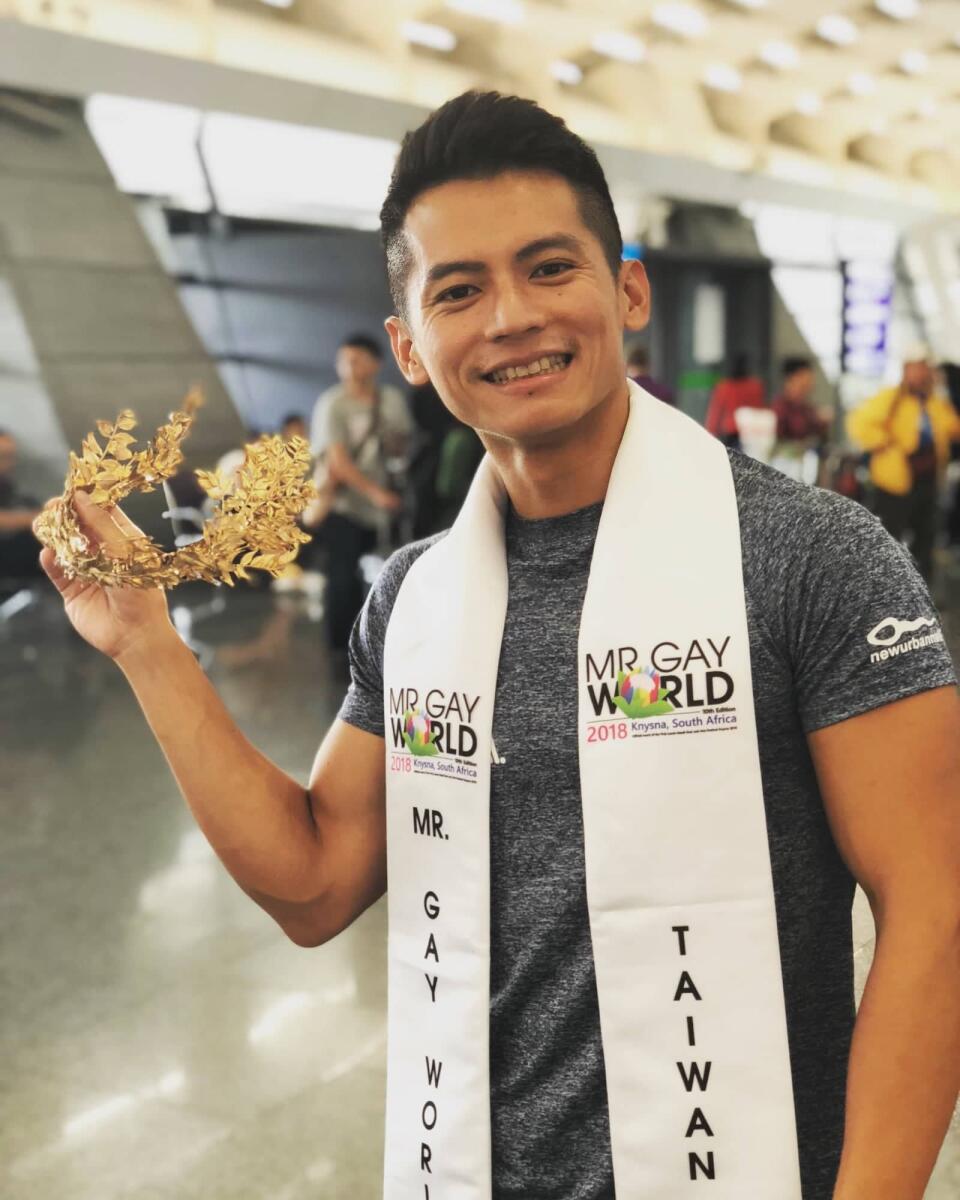 Are there any other out gay Taiwanese celebrities?
Whilst there are many gay Taiwanese celebrities, sadly there are many that stay in the closet because they are scared that being out would lose them their sponsorship deals and compromise their careers. These are some of the famous gay Taiwanese celebrities who are out and proud:
Jin Tai was the first pop singer to come out. In 2014 she came out as a lesbian in an interview with the China Times. She used to be part of the tomboy band called "MissTER". Another out lesbian pop singer is Enno Cheng of the band "Chocolate Tiger" who famously came out in 2016 after divorcing her ex-husband. More recently, Aaron Yan of the former boy band "Fahrenheit" formally came out in December 2018 after his ex-boyfriend "exposed" him in the media.
In the movie industry, Elaine Jin is a Hong Kong/Taiwanese actress who has been in a gay relationship with Suzie Wong since 2005. Peter Chang (with his boyfriend Mitch Cullin) is a well-known filmmaker and Zero Chou is a very famous lesbian director and screenwriter.
Audrey Tang is the world's first transgender minister. She is a Taiwanese free software programmer who was described as one of the 10 greatest Taiwanese computing personalities. In August 2016, she became Taiwan's Digital Minister, making her the first transgender person official in the top executive cabinet. Another prominent out gay politician is Chung-Ming Wang who is a member of the Green Party Taiwan and also a gay rights activist.
Kevin Tsai is a talk show host who was the first male celebrity to come out in Taiwan during a television interview in 2001. Other famous gay Taiwanese writers and media figures include Lin Hwai-min, Pai Hsien-yung, Qiu Miaojiin, Peter Chang, Li Jing and Alicia Liu.
Finally, Jason Wu is an openly gay Taiwanese fashion designer now based in New York. He is best known for designing Michelle Obama's dresses during Barack Obama's first and second inaugurations.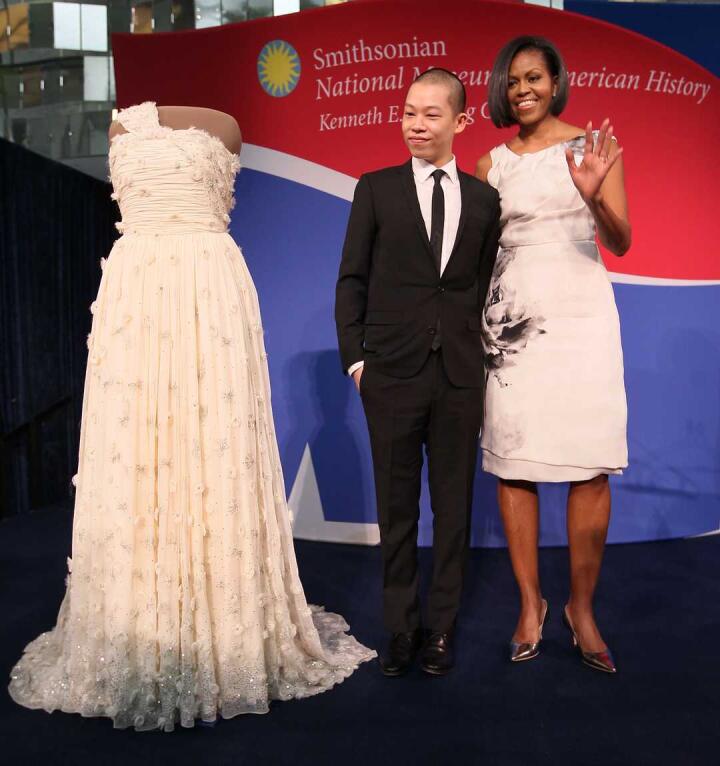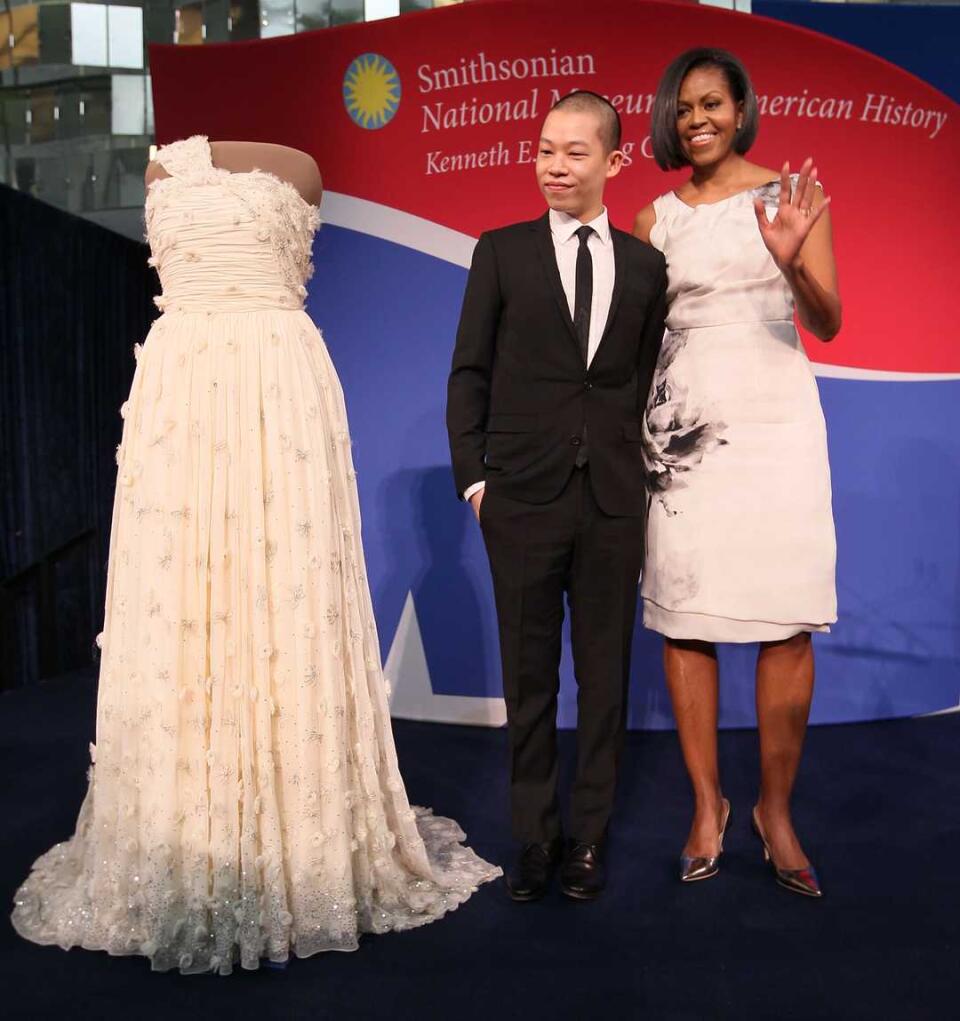 What's the gay scene of Taipei like?
I love the gay scene of Taipei. It's one of the best in Asia, with many gay hangouts spread across the city.
The majority of the gay village of Taipei is based around the Ximen Red House Complex, which is made up of many different small gay bars, like "Cafe Dalida" and "Secret Garden", as well as lots of gay cafes and terraces. This is the best place to head to first. Other gay bars near the Red House Complex include "Hero", "Hunt", "Goldfish" and the "Commander D" fetish bar.
In the East of Taipei, there are a few more gay places worth checking out, like the gay restaurant "Abrazo Bistro" and the gay bar, "Fairy" which has cool events like "No Pants Day"!
In terms of gay clubs, "Gstar" and "Cercle" are the best. I also recommend the monthly queer party called "BLUSH".

What are the best gay events in Taiwan?
The main gay event in Taiwan is Taipei Pride, which takes place on the last Saturday in October. As I said earlier, it's famous for being the largest pride event in the whole of Asia. Each year it grows bigger and bigger. The 2018 Pride had a record turnout of almost 150,000 people!
Some of the best gay parties in Taiwan happen during Taipei Pride. The two main ones are the "WOOW Pool Party" and the "Formusa Pride Party". The Mr. Gay Taiwan final also takes place during Pride at the Ximen Red House Complex.
New Year's Eve is another time when you will find big gay parties taking place around the gay scene of Taipei. The Ximen Red House has an official countdown, which then turns into an enjoyable gay street party.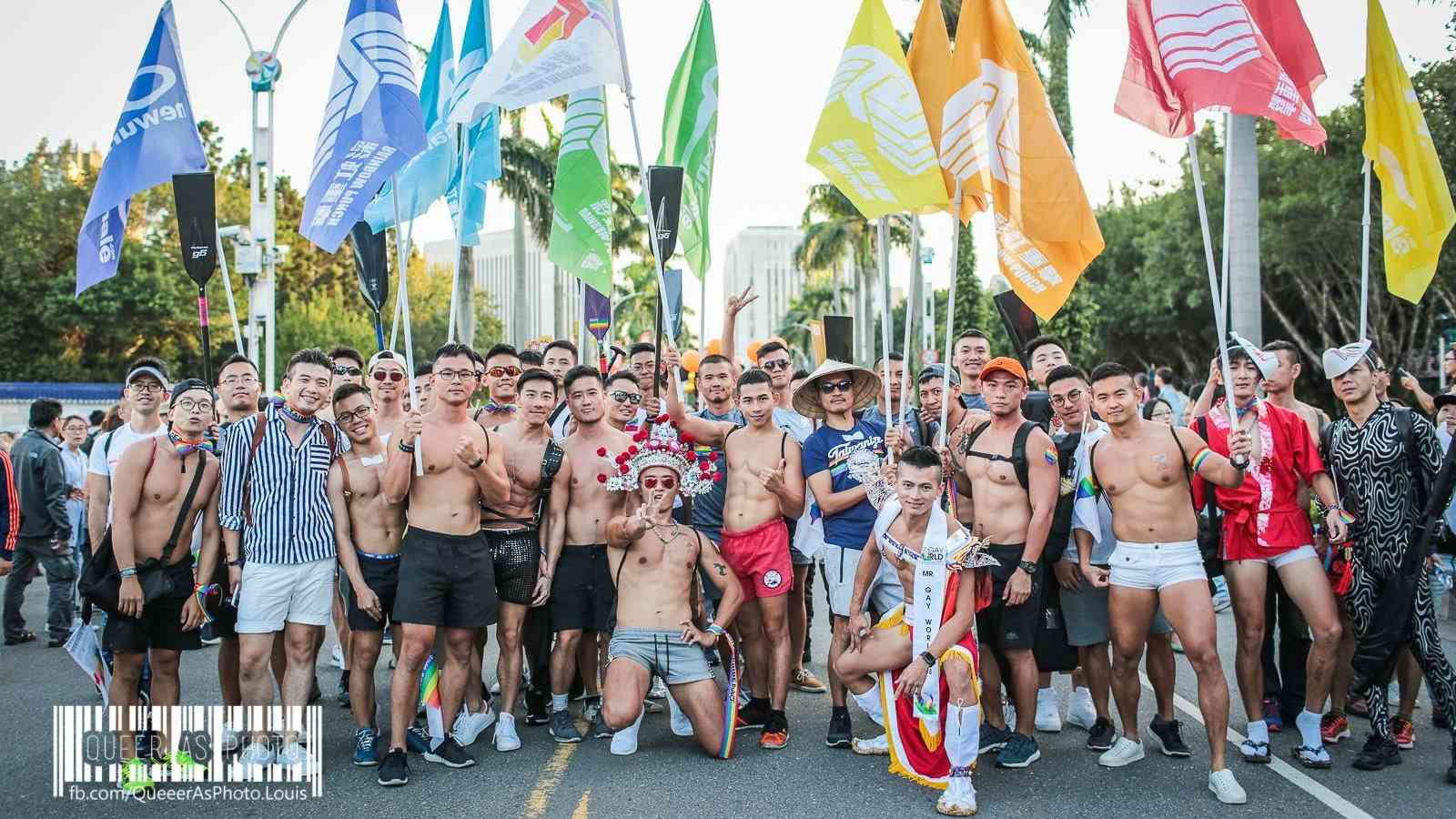 Where would you take a date for a romantic weekend in Taiwan?
I would take him to the Taroko Gorge National Park on the East coast of Taiwan. It's absolutely stunning! I love coming on weekends for hiking around Mount Nanhu (3,742m / 12,277ft high) and the Eternal Spring Shine Monastery. Also, around 80% of Taiwan's animal species can be found here, including the Formosan black bear and Formosan rock macaque.
Another place I love in Taiwan which is special for me is the Yilan province. The area around Yilan city is famous for its hot springs, waterfalls, beaches and natural scenery. I also love Yilan because in the evening, it has the best night market called "Luodong". The atmosphere here is always electric – full of people and so exciting! It's also the best place to try tasty Taiwanese street food like tapioca desserts, braised meats and Dragon Phoenix rolls.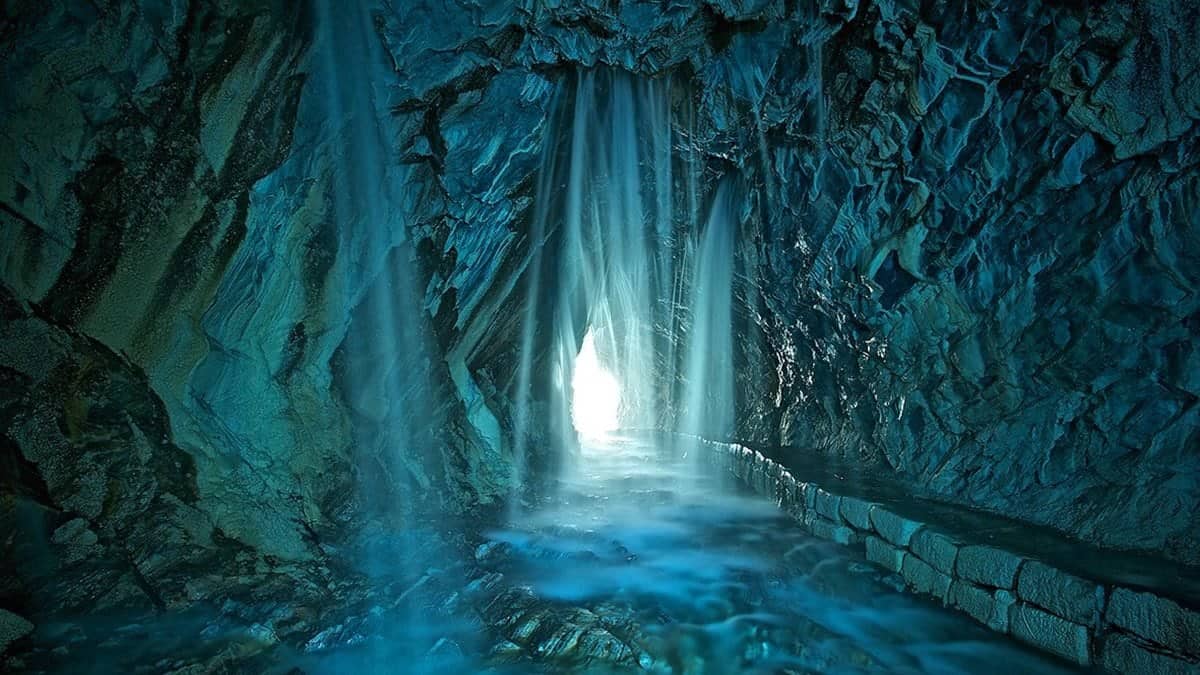 And finally, what's this about Taiwan having a gay rabbit god?!
You're thinking of "Tu'er Shan" (兔兒神), also known as the Rabbit God (兔神). He is the Taoist matchmaker God for homosexual relations and the god of homosexual love!
In 2006, Lu Wei-ming founded a temple to honor our gay Rabbit God. The Wei-ming Temple is located in the Yonghe District of New Taipei City. Every year, around 9,000 gay pilgrims visit to honor Tu'er Shan, pray for happiness, and to find a suitable partner! It's also a popular place for gay weddings. As far as I'm aware, the Wei-ming Temple is the only gay religious shrine in the world.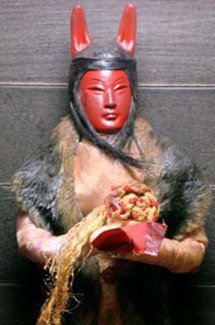 If you want to connect with Po-Hung, check out his Instagram.
---
For more inspiration:
Like this post? Pin it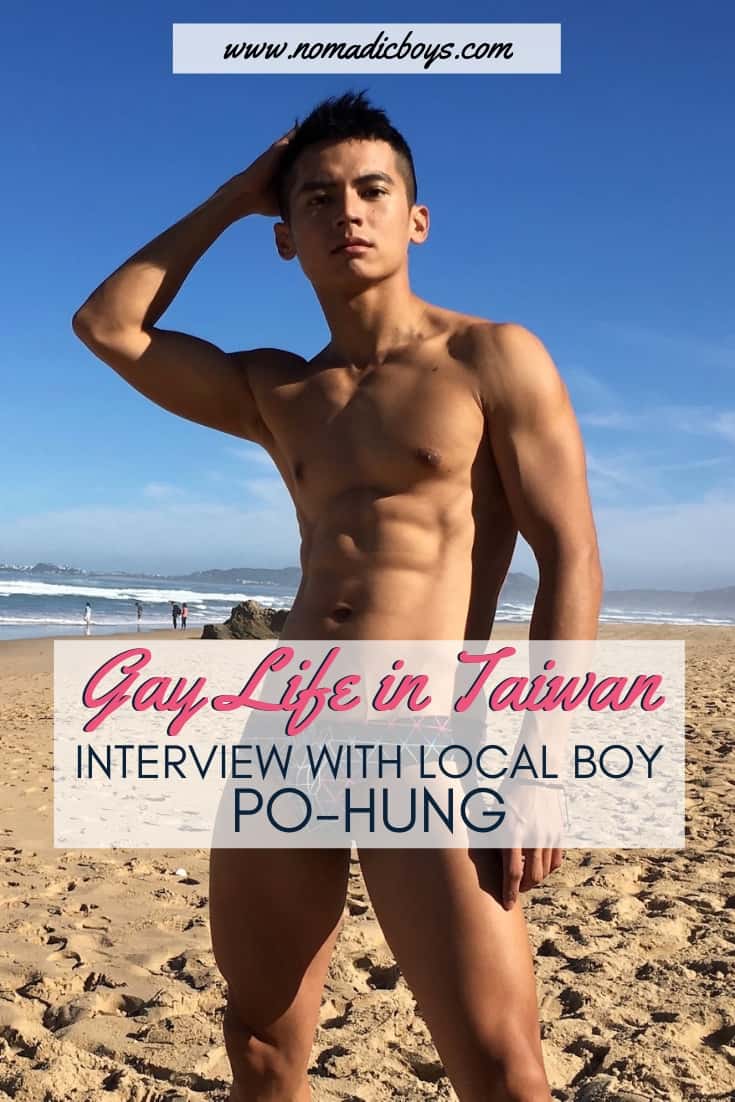 Happy travels are safe travels
We recommend you always take out reputable travel insurance before your next vacation. What happens if you suffer from illness, injury, theft, or a cancellation? Many gay travelers forget about it and regret it when something happens. Better to pay a small price and have peace of mind and not worry.