"Funny Boy" is a Sri Lankan book Stefan grew up with and loved (written by Shyam Selvadurai and highly recommended to any LGBT traveller visiting Sri Lanka).
It tells the story of a young Tamil gay boy called Arjy growing up in 1980s Sri Lanka during the civil war era, struggling to come to grips with his homosexuality in a very religious and traditional family and society. But coming here some 30 years later in late 2014, we wondered if much has changed.
Get up to $55 off your next Airbnb booking
We've used Airbnb extensively during our travels because you can rent an entire home which usually works out a lot cheaper than a hotel room. It also allows you to have your own space with a kitchen, a living room and more. You can easily find places close to the gay scene by using the map function. If you've never used Airbnb before, simply click the button below to get up to $55 discount off your first booking.
Sri Lanka gay rights
The law in Sri Lanka criminalises homosexuality. Section 365 of the Sri Lankan Penal Code 1886 criminalises "carnal intercourse" with up to 10 years in prison and a fine. This is a law dating back to the British Colonial days, which the Sri Lankan government has sadly enthusiastically retained. For example, in 1995, the Sri Lankan judiciary amended Section 363 to add "gross indecency" as a crime punishable with a fine and up to 2 years in prison (section 365A) without giving any guidance as to what constitutes "gross indecency" is or isn't. As such, the LGBTQ community can either be arrested for "carnal intercourse" (if caught in the act!), or for the loosely defined "gross indecency"
In practice, the courts rarely enforce Section 365 and Section 365A, but the fact that it exists in Sri Lankan law validates crimes against the LGTBQ community, especially by the police who use it as a way to get bribes.
A positive way forward is hoping that the positive evolution of LGBTQ rights over in India will soon influence Sri Lanka: in 2018, the anti-gay laws of India, which were also a draconian hangover from the British Colonial days, were finally overturned in a landmark decision, finally making it legal to be gay in this vast country!
Gay Sri Lanka: the political perspective
Despite attempts by the UN and various Sri Lankan LGBT protest groups to question and repeal these laws, the government has not historically been the most obliging:
Former President Rajapaksa, stated gay marriage would ruin the Buddhist heritage of the nation. He also opposed Norway's ambassador to Sri Lanka (Grete Lochen) bringing her wife into Sri Lanka arguing that lesbian marriages are not legal in Sri Lanka, so allowing *them* in would encourage Sri Lankan women to want to behave in this manner!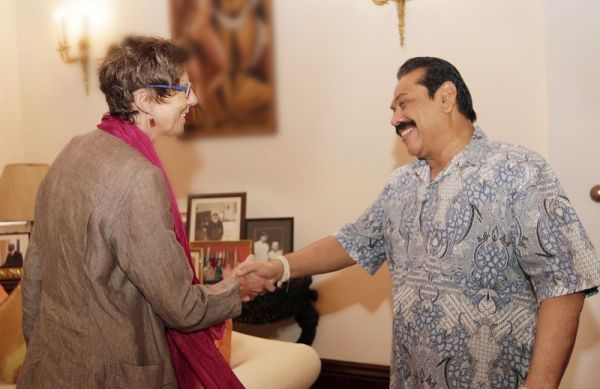 The recent government of Maithripala Sirisena is sadly no better. They recently announced they would do everything to prevent LGBT rights from being introduced in Sri Lanka. Tourism and Christian Affairs Minister John Amaratunga said that both he and Prime Minister, Ranil Wickremesinghe, would ensure such rights would not be introduced in the new constitution.
As foreigners in Sri Lanka, we had a lovely time, completely trouble free and found the locals to be very friendly, kind-hearted people. But as we found in the Maldives, as tourists, we will always enjoy a different level of treatment, whether straight or gay.
Gay friendly hotels to stay in Colombo
During the 3 weeks we stayed in Sri Lanka, we tried 2 different hotels which welcomed us as a gay couple with no problems:
THE HILTON Check prices now
Hilton is a popular hotel chain for LGBT tourists.
It is walking distance to the Fort district and Pettah Bazard.
Prices start from $145 / £100 a night.
THE TAJ SAMUDRA Check prices now
This high end hotel has a fitness centre and a large swimming pool.
Most of the international airlines cabin crews stay there so get ready for your Grindr to crash!
Prices start from $185 / £128 for a room with breakfast.
Gay friendly hotels to stay in Negombo
Negombo is a small and relaxed gay paradise on the indian ocean. The hotels are usually very welcoming towards the gay tourists. Those two are particularly well-known among the gay community:
DICKMAN RESORT Check prices now
Yes, this is the real name….
Private resort for adults with a great swimming pool.
Prices start from $135 / £92 fro a double room with breakfast.
GOMEZ PLACE Check prices now
Beautiful gay friendly resort, great for some relaxing time.
Close to the beach, excellent breakfast.
Prices start from $55 / £38 for a double bed.
What is the gay life like in Sri Lanka?
We met a Sinhalese author in Colombo, Kaluu, who has published various books and poetry, some with a LGBT theme. He has asked to remain anonymous for fear of reprisal from family and his work, so we will refer to him just as – "Kaluu" (it means black in Sinhalese, his nickname because he has darker skin than your average Sri Lankan).
#1

Ayubowan Kaluu, please introduce yourself:
Good afternoon Nomadic Boys. I am Sri Lankan born, 34 years old, living in Colombo. I'm also a son, a friend, a gay, a Buddhist, a writer, and a poet. Above all, a human.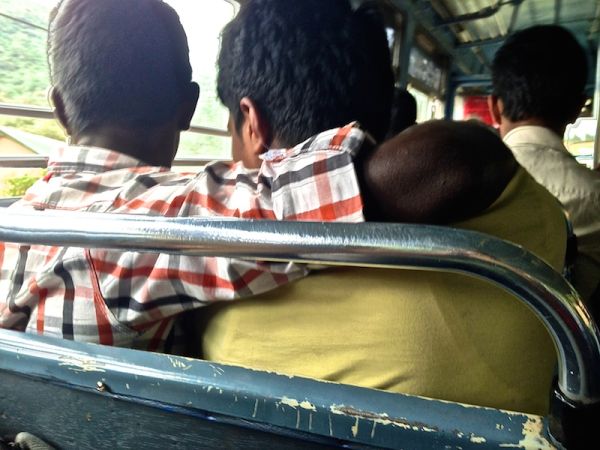 #2

You've asked us to keep your name anonymous on our blog, why?
Sri Lankans do not possess positive attitudes towards homosexuality. Exposing my sexual identity could affect my job, embarrass my family and could even be life threatening. My friends have faced such bitter experience for being "out", particularly in rural areas.
For example, one friend was beaten by his older brother when he came out to him until he bled. He ran away and now lives alone.
Another friend came out to his family and his father had a heart attack when he found out. He decided to marry and live a "good" heterosexual life to please his parents and cut off all contact with his gay friends, including me.
#3

We are in our 30s and almost the same age as Arjy, in "Funny Boy". What was it like growing up in 1980s Sri Lanka with the civil war in the background?
I am from a Sinhalese lower middle class family in Colombo and Arjy is from an upper middle class Tamil family, also in Colombo. Tamils are a minority in Sri Lanka, as is being gay, so not an easy life for Arjy.
Growing up in Colombo in the 1980s, my family lived with continuous fear of bomb attacks. Suicide bombers killed hundreds of people in Colombo. Sometimes our parents had to take turns to guard us at the school gates. At school it was decided we had to use see through bags for a period of time for security.
When travelling on public transport there was an intense paranoia and everyone suspected everyone of being a suicide bomber. If a suspicious bag was found without an owner, people panicked and ran away.
Several politicians have been victims of suicide bombers, including former President Premadasa. We watched war on TV news at nights. The news readers were reporting deaths as "This many of soldiers gave their lives for the motherland"….and "This many Tamil tigers were killed" Death was everywhere. It was far more severe in war-affected areas like Tamil in the north.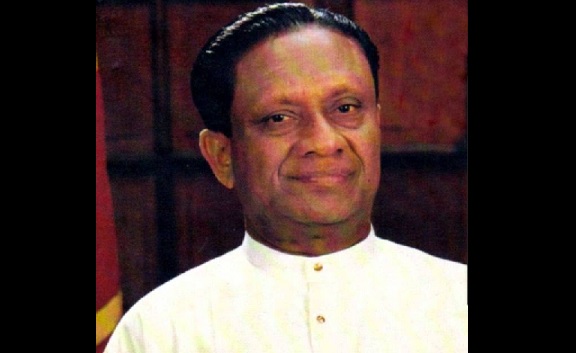 #4

Are you out to anyone in your family or your friends?
Nobody in my family knows about me being gay. If they were to find out, it would cause a lot of problems and I don't want to sour relations with my family.
My close friends (mix of gay and straight) know about me though and are ok with it.
#5

How did you meet other gays growing up?
Growing up without internet was hard for gays to meet, so popular meeting places were on the beach or through friends of friends.
Colombo doesn't have gay places as such, but the growth of internet usage in Sri Lanka has allowed the LGBT community to connect easier with each other via sites like Lanka Love and Gay Romeo and more recently, Grindr. Unfortunately, many men hide their identity on these sites.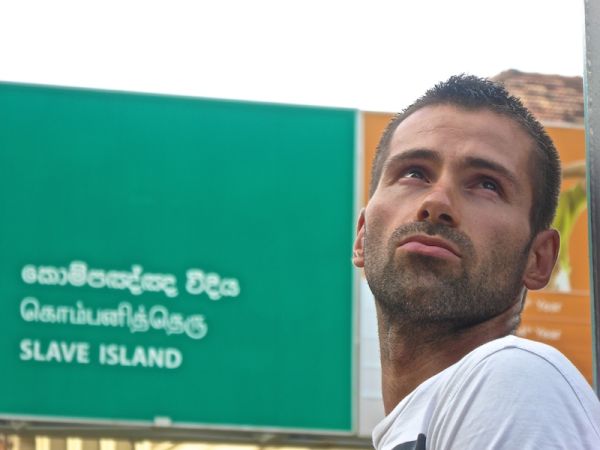 #6

Do you know anyone who was victimised by the police because of their sexuality?
I've not heard of anyone ever being convicted under sections 365 or 365A. But the police often harass gays. For example they target places gays use to meet like parks, beaches and public toilets and frighten them into paying a bribe, sometimes physically assaulting them.
Once I witnessed an assault by a group of three tuk tuk drivers in Colombo victimising a transgender. His lip was bleeding. I was helpless. It was painful to be there and do nothing. If I tried to help the transgender, they would have definitely beaten me up too.
So you see, whilst no one has ever been convicted under the anti gay laws, they are still used as a means to encourage fear and hate towards gays.
#7

Do you get asked a lot by family when you're going to get married? How do you deal with this?
I do not want to cheat an innocent woman just to please my family. My family do of course dream about their future daughter in law and grandchildren. Sri Lankans don't have positive attitudes about bachelors.
Many of my gay friends have married women to relieve them from family pressure, but in doing so they create more problems resulting in divorce, fleeing the country and in more extreme cases, suicides. Even in the UK this is a common problem amongst some Asian communities.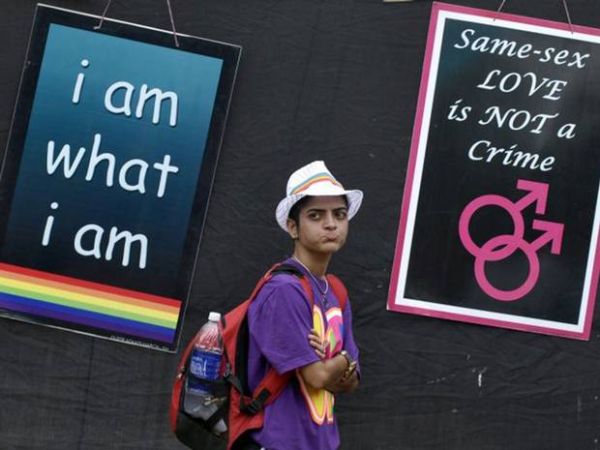 #8

How gay friendly do you think the new president Sirisena is: the dawn of a new era for gay Sri Lankan community?
In his policy statement, Sirisena made no mention of gay rights. But the people around him are believed to be open-minded.
But, however open-minded Sirisena's government is, change will not happen over night. A significant cultural change is needed before anything can happen, not to mention a repeal of the old colonial laws, which pretty much label us as criminals!
Despite the politics, I must clearly state that the majority religion in Sri Lanka (Buddhism) holds no negative attitudes towards homosexuality, despite some of our political leaders trying to use our religions as a means to justify a homophobic culture.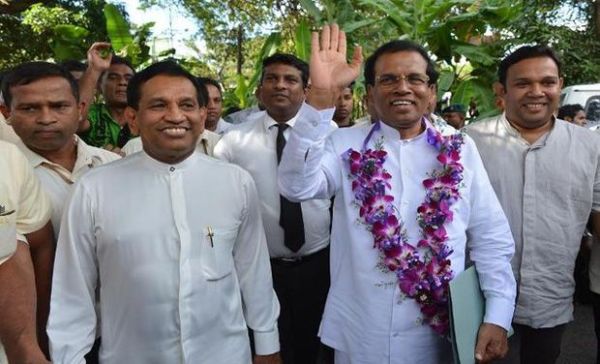 #9

Are there any popular gay bars or clubs in Sri Lanka?
There is no gay scene in Sri Lanka. But tourism is considered as a large income generator for Sri Lanka that a blind eye is turned to the anti gay laws in relation to foreigners.
For example, gay friendly hotels are allowed to openly market to gay tourists, like in Negombo, which has become quite popular with gay tourists over the past few years. There are also several "beach boys" (male prostitutes) working on Negombo's beaches, both straight and gay.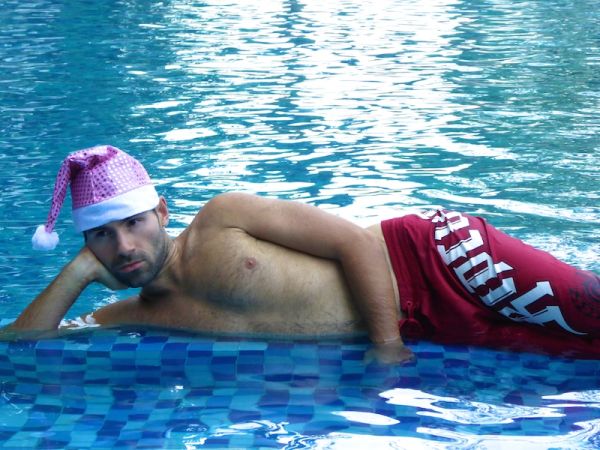 Hey love birds. I don't think so. If I could I'd love to arrest your lovely Seb and keep him in my place. Maybe you both. Ha ha ha…
#10
FINALLY, STEFAN FOUND THIS LOVELY HAT IN NEGOMBO TO WARD OFF THOSE EVER SO STRONG SUN RAYS. IF HE WAS TO WEAR THIS ON UNAWATUNA BEACH HOLDING SEBASTIEN'S HAND, WOULD WE RUN THE RISK OF GETTING ARRESTED UNDER THE "GROSS INDECENCY" LAWS?
Hey love birds. I don't think so. If I could I'd love to arrest your lovely Seb and keep him in my place. Maybe you both. Ha ha ha…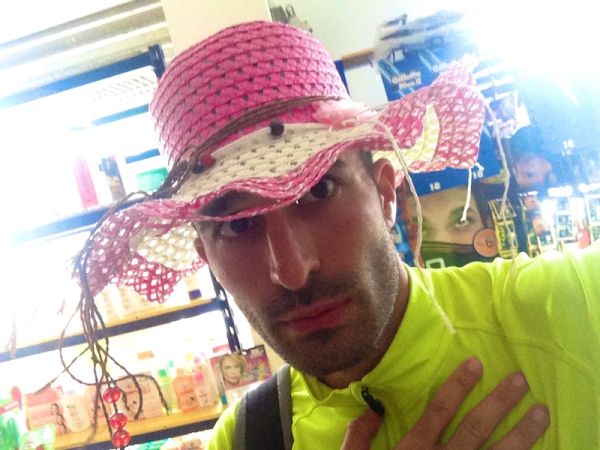 Watch our Sri Lanka travel video:
Happy travels are safe travels
We recommend you always take out travel insurance before your next vacation. What happens if you suffer from illness, injury, theft or a cancellation? With travel insurance, you can have peace of mind and not worry. We love World Nomads travel insurance and have been using it for years. Their comprehensive coverage is second to none and their online claims process is very user friendly.
Some of the links in this post are affiliate links. This means that if you book your accommodation, an activity or your insurance, we'll earn a small commission. There is never an extra cost to you for using these links and it helps us keep the site going.
For more inspiration: