TERMS OF USE: There is a chance that some of the content on this page has changed since it was last updated. By reading this article, you consent to our Terms of Use and Disclaimer. Happy Travels!
DISCLOSURE: Some of our posts may contain affiliate links which we may receive a commission if you choose to book something through one of our links.
Our experience traveling as a gay couple to the holiest city of India: Varanasi. What it's like and the mesmerizing atmosphere by the ghats.
Varanasi: a city where you see every facet of life before your very eyes! From intense worshipping by pilgrims along the River Ganges to open-casket funerals along the ghats, it's full of life going on everywhere you look!
For us, Varanasi was the most fascinating and interesting place in India. It's so real here! As you walk along the many "ghats" running along the riverbed, you'll see people doing their laundry in the Ganges, bathing in it, cremating their dead in it, taking pilgrim boat rides in it, some even relieving themselves in it, and so much more.
At night the ghats are lit up by many different types of light ceremonies taking place creating a very unique and quite intense atmosphere. In this article, we've put together our experience of what it was like traveling in Varanasi as a gay couple.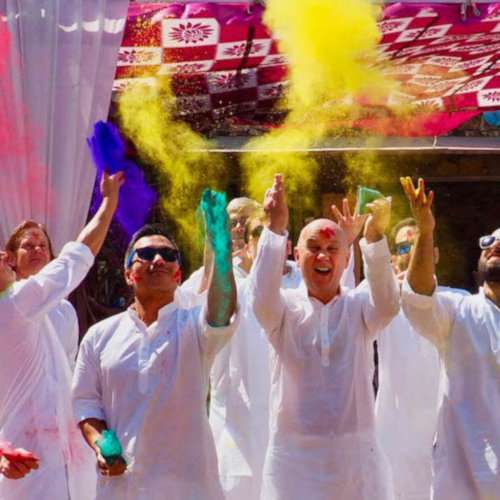 See the colors of India on a gay tour
Taj Mahal – check! Holi Festival – check! 12 days of fiery vindaloos and aromatic curries – check, check, and check again! Our friends at Out Adventures have really outdone themselves with their cultural tour of India. The all-gay adventure snakes through the colorful province of Rajasthan, giving travelers an unfiltered look at one of the world's most fascinating countries and authentic cultures.
Where is Varanasi?
Varanasi is located in Northeast India in the state of Uttar Pradesh. As far as Indian cities go, it's on the smaller end with a population of 1.2 million.
Varanasi is considered one of the holiest places in India for Hindus and is also one of the oldest continuously inhabited cities in the world – since around 11th or 12th century BC.
The other important thing to note about Varanasi is the Ganges River, which runs through the city. What seems like a dirty and polluted river to us (no seriously it is, read this to get an idea!), the Ganges is considered extremely sacred to Hindus. It personifies the goddess "Ganga", so ritual bathing in the sacred river is regarded as an important part of Hindu pilgrimage. This is also why funerals are so popular here – the ashes of the cremated bodies can be spread across into the holy river, giving them a noble passageway into the afterlife.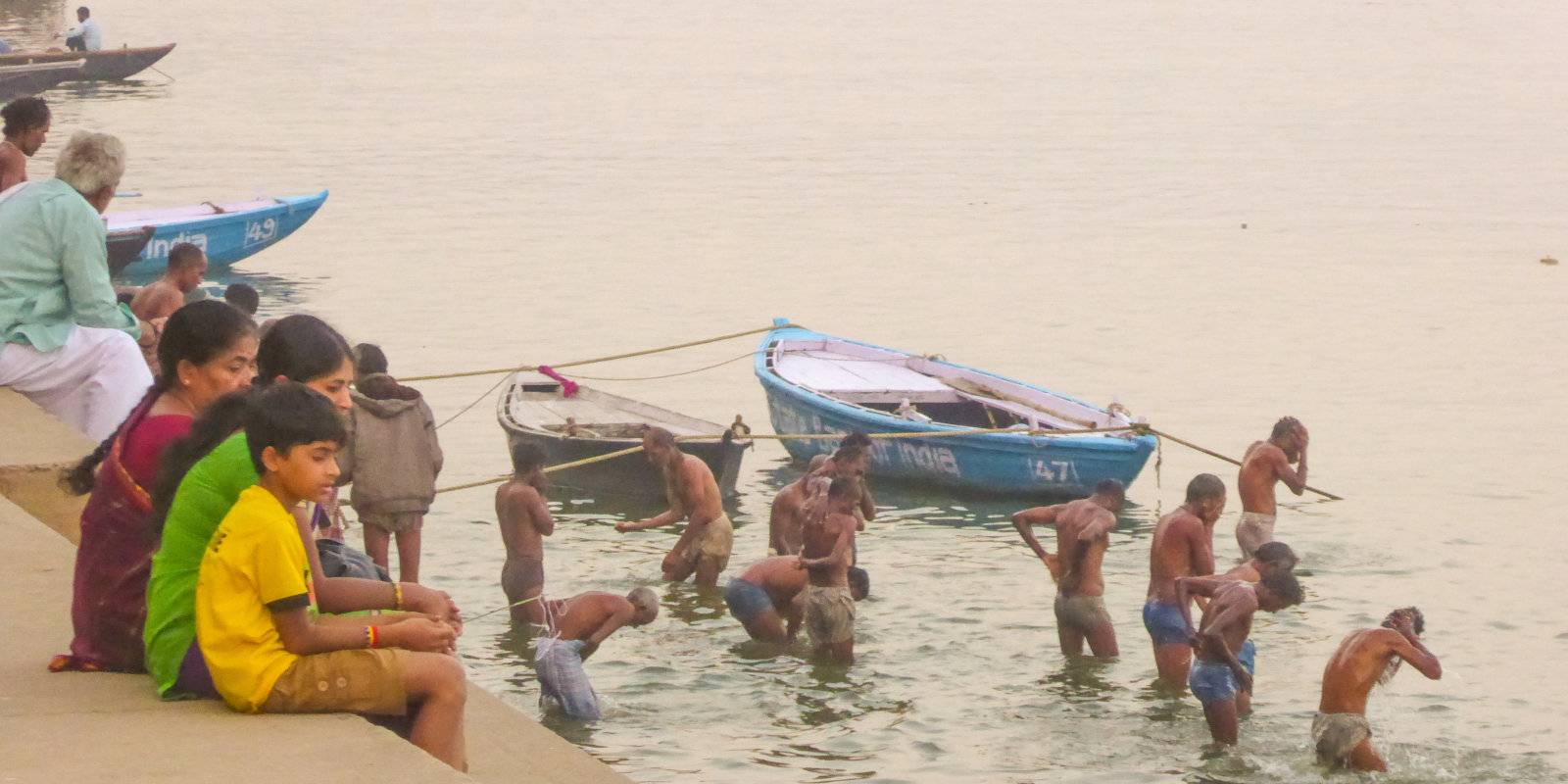 Is Varanasi safe for gay travellers?
First thing, whilst India is slowly rising like a phoenix from the ashes in terms of accepting its LGBTQ community, it nonetheless remains a very conservative country.
In June 2018, the Supreme Court of India legalised homosexuality, which was a big deal! Remember this is a country with a population of almost 1.4 billion, which makes the Indian LGBTQ community the largest on our planet after China's. And they are loud, out and super proud, growing considerably more visible by the day. For example, gay marriage is even being reviewed by the Indian Law Commission, and they even have an openly gay Prince!
Whilst we found India to be one of the most gay friendly countries in Asia, society however still remains very conservative. Men are expected to marry and produce children. Their families exert an immense amount of pressure on them for this, so many end up leading closeted fake lives. Put it this way – you'll see lots of torsos or headless profile pics on your Grindr here!
Despite this, foreigners will always be treated differently in India whether straight or gay. The same social norms do not apply to us, which for gay travellers means it is very safe. Whilst we weren't sashaying the streets holding hands and waving rainbow flags, we were staying in double beds at guesthouses we approached and this was never a problem!
For us, we found Varanasi to be a very conservative city when compared to Mumbai, Delhi or Chennai. But this is not the place you're likely to come to party! Varanasi is a destination to come to learn more about the rich Hindu culture. It's like gay travellers to Israel – you'll go to Tel Aviv for the parties and to Jerusalem to soak up the rich cultural heritage of the place. We recommend to save the partying for Delhi/Mumbai and use Varanasi as a place to learn, meditate and to be awed by the intense spirituality of the place. Though given how docile Indian men are with each other, we're sure you'd very easily find a hookup if this is what you're seeking out!
Read more about gay India in our interview with local boy Raj from Delhi and also our article about why India is safe for gay travellers.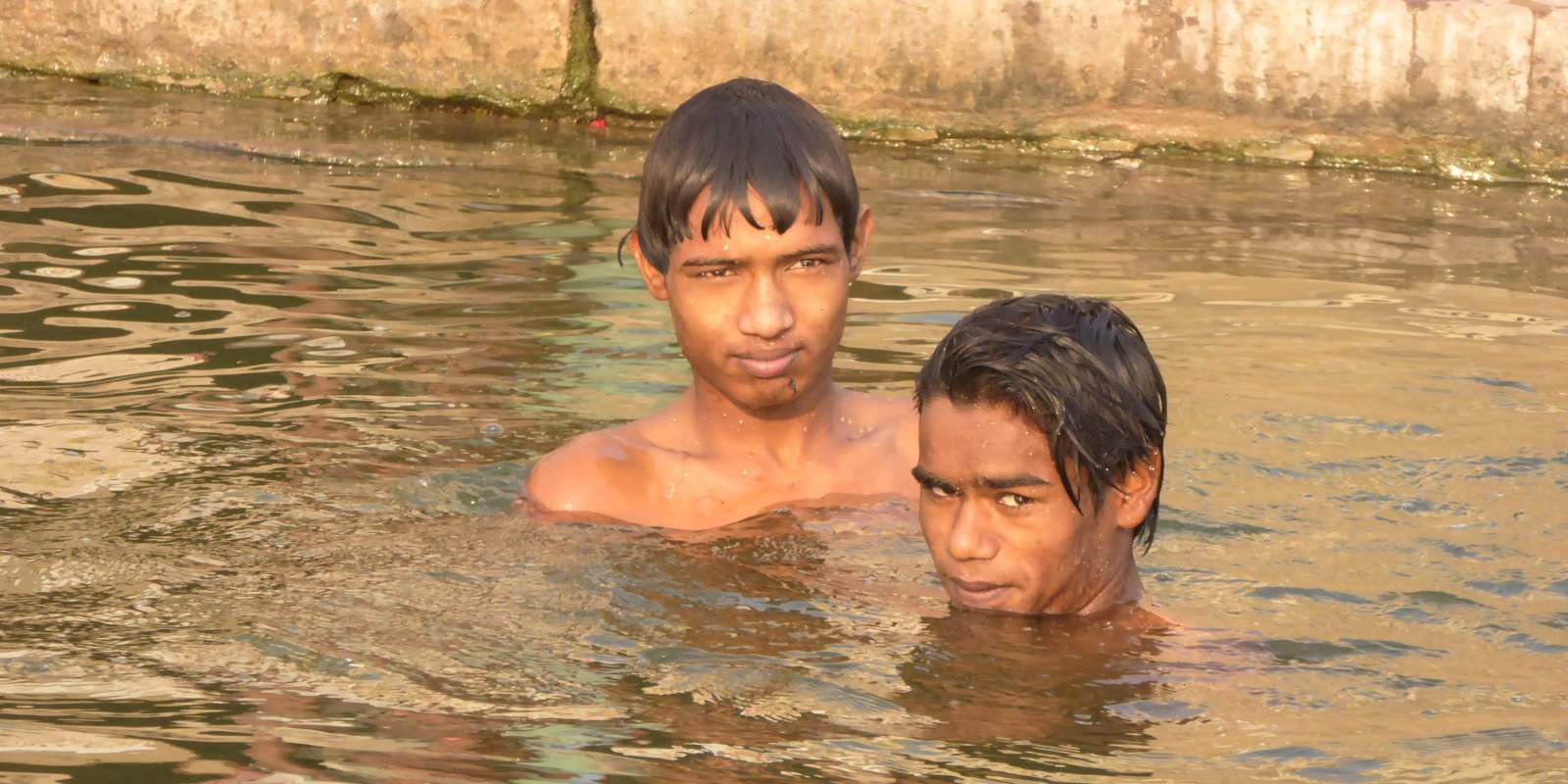 Our experience of Varanasi
Our time in Varanasi was dominated by the ghats. The riverbanks of the Ganges in Varanasi are bordered by almost 100 ghats. The ghats are long flights of steps, which lead down to the sacred river. Alongside the ghats of Varanasi, many different fascinating aspects of Indian life take place at all times during the day:
Intense worshipping at the ghats
Every day at sunset at the main Dashashwamedh Ghat, large crowds of pilgrims of all ages gather to pray and chant with the priests performing the spectacular "ganga aarti" ceremony.
Ganga aarti is a choreographed ceremony led by a group of young priests. From all our experiences around India, the ganga aarti ceremony definitely ranks as one of the most unique. It's a captivating spectacle to watch as some pretty talented (and some quite hot!) priests manoeuvre candles and incense sticks in an elaborate pattern whilst chanting to synchronised drum beats. Meanwhile, behind him, the crowd follow along as they are deep in prayer.
It's truly mesmerising to watch and be a part of it. We spent almost every evening during our stay in Varanasi watching it:
Impressive candlelight prayer displays
As if the ganga aarti ceremonies weren't enough, look out for the candlelight group prayers along the ghats.
After sunset, in various spots, in particular, the Chowki Ghat, people gathered every night to create an elaborate display of candles. Then, they would communally pray and chant together around their magnificent creation until the candles died out. Whatever your views about religion may be, you cannot deny that Hinduism is rich with beautiful traditions like this.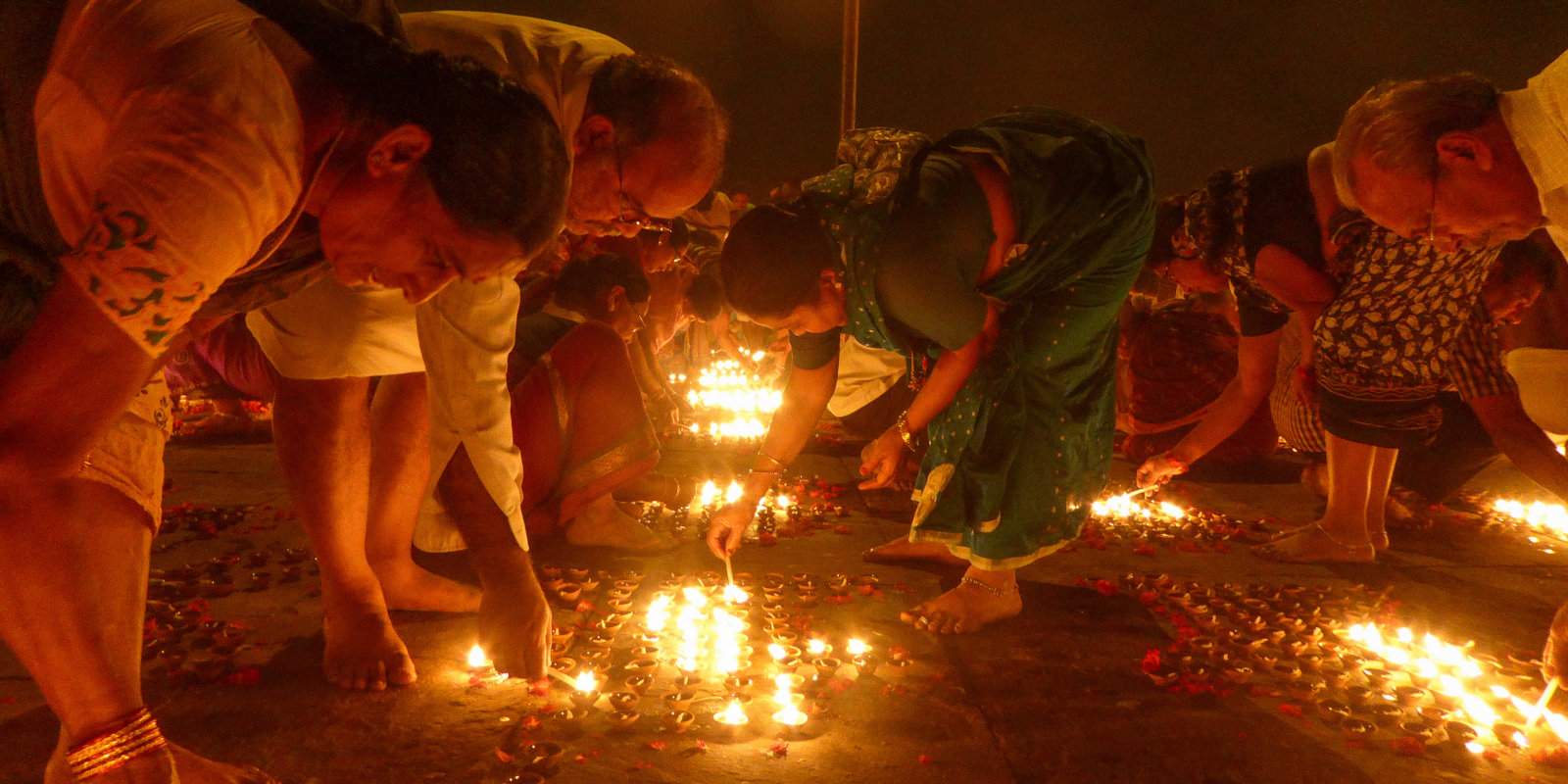 Cremations at the ghats
Hindus cremate their dead because they believe this releases the deceased's spiritual essence from the physical body so it can be reborn. Fire is the chosen method to dispose of the dead because it is believed this purifies the body and will scare away harmful spirits, ghosts and demons.
Families of the deceased gather with the corpse at the ghats for it to be burnt in public. After the cremation, the ashes are scattered in the Ganges, which returns the soul of the person to the earth, representing the circle of life.
The Marnikarnika and Harishchandra ghats are devoted to public cremation ceremonies and are therefore nicknamed the 'burning ghats'. Indian women are not allowed to attend the public cremations because it is believed their cries or sobbing may disturb the ascendency of the soul to nirvana.
An average of 80 bodies a day are burnt but this is slowly being reduced by the Indian government to prevent pollution. Slowly, bodies are being cremated elsewhere and only the ashes are dispersed into the Ganges.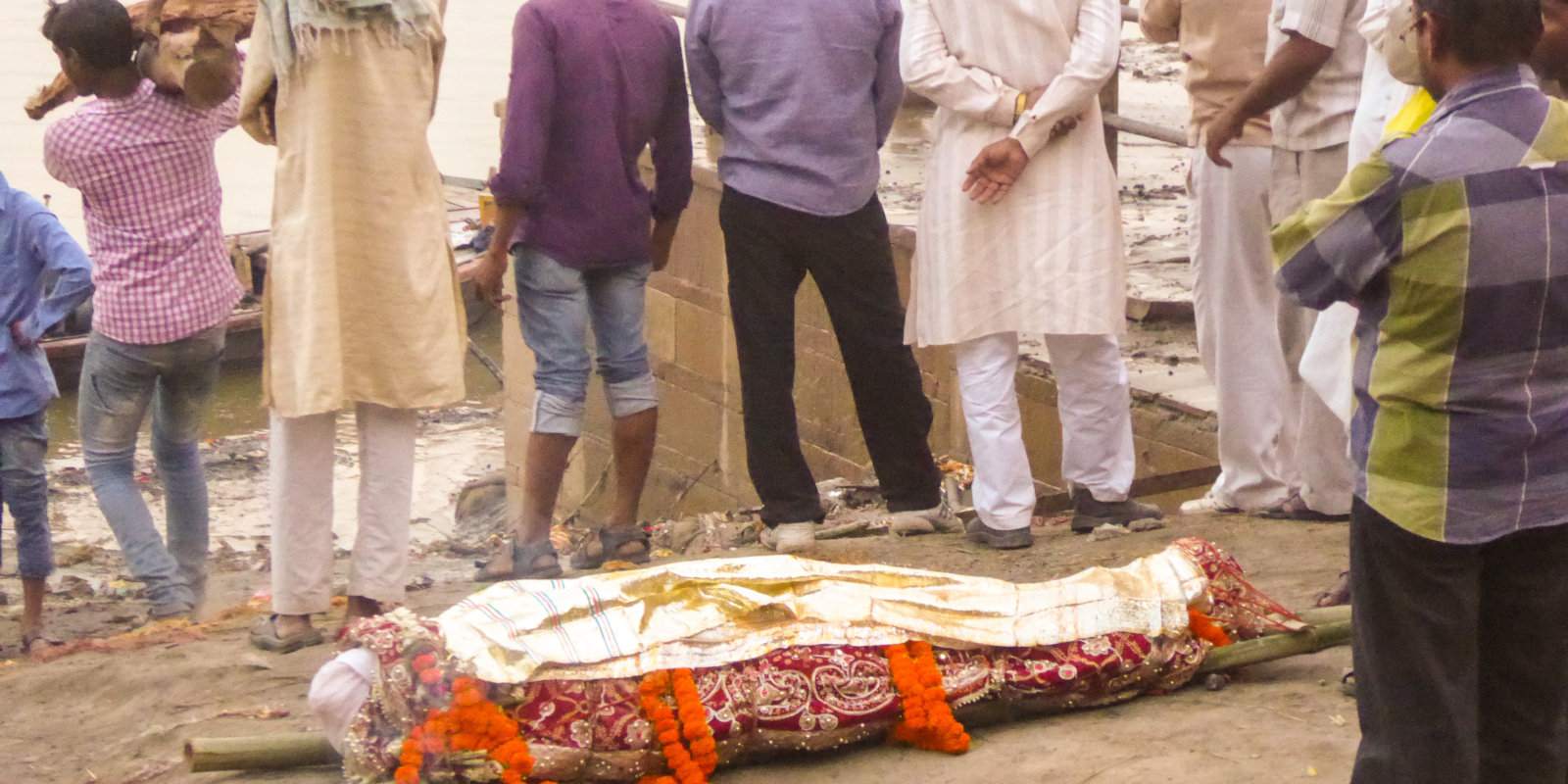 Bathing in the Ganges
As the sacred river is supposed to represent the Ganga goddess, it is considered an honour for pilgrims to bathe in it. Bathing in the Ganges is believed to wash away a lifetime of sins, meaning you can reach nirvana as opposed to being endlessly reincarnated.
Hindu pilgrims travel from afar to visit Varanasi to bathe in the sacred river. One moment touched us, seeing these two brothers bring their sick mother to bathe here.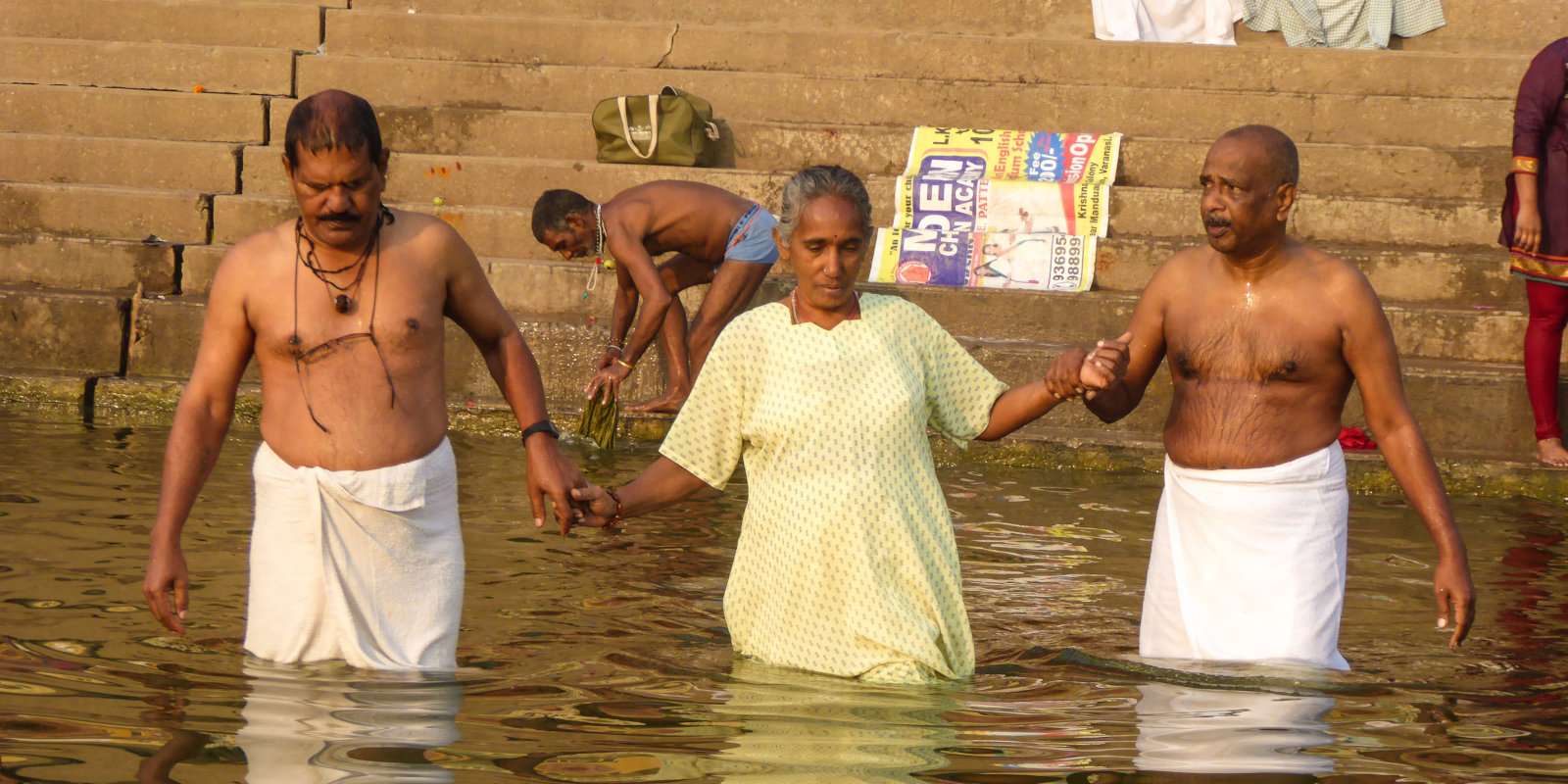 To bathe or not to bathe in the Ganges?
As much as we admire this intense worship, we were frankly put off going anywhere near the river. It's absolutely filthy, full of pollution and notorious for being the source of many different diseases. It flows through some of the most crowded cities of India, which release their untreated sewage into it. Governments have tried many times to invest in cleaning projects over the years, so we hope this will improve with time.
Yet, each year millions of pilgrims visit and have no problems. We met travellers who were bolder than us and joined in with the pilgrims. Yet we also met locals who swore they'd never go near the river!
It's your call whether you bathe in it. In the end, we went as far as feet but didn't go further. Let's just say, after watching these two sweet dear boys defecating in the Ganges, we were assured about our decision to avoid bathing in the sacred river!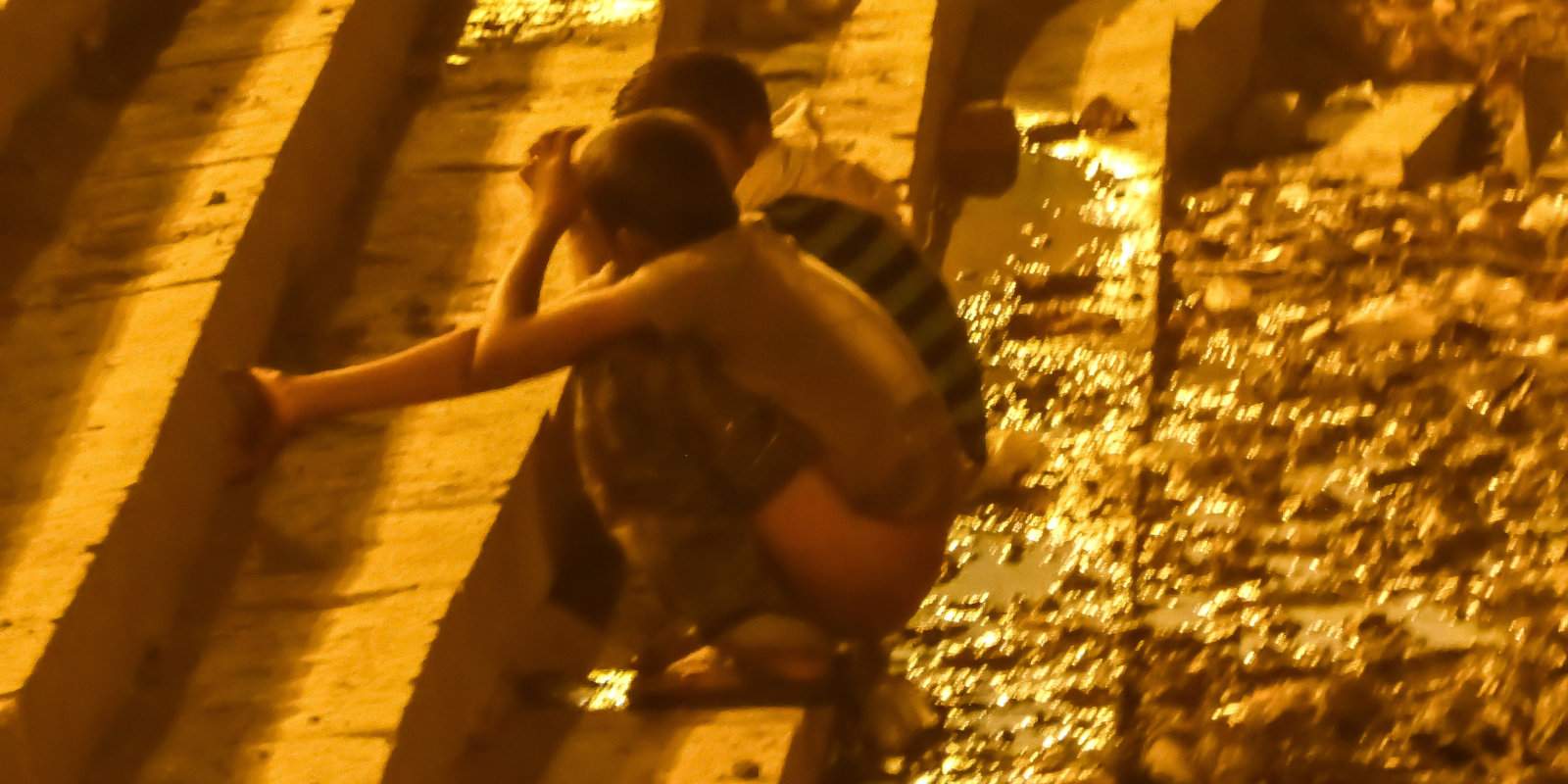 Yoga by the ghats
Given the intense spirituality that the atmosphere around the ghats evoke, yoga and meditation are popular here, especially at sunrise. We did a yoga class at sunrise with a guy we met on Couchsurfing who took us to an island just opposite, which gave us an incredible backdrop of Varanasi.
However, despite Vishnu's best efforts, we don't think Stefan quite *got* it: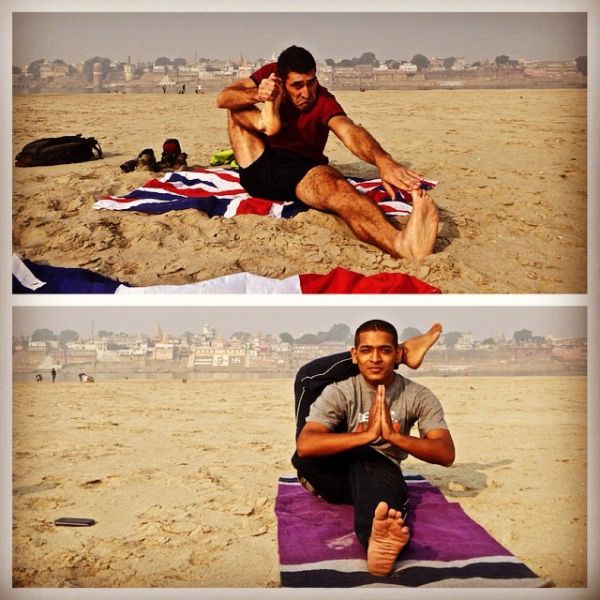 Laundry by the ghats
A common and quite fascinating site at the ghats is watching people *wash* their clothes in the sacred river, then lay them out to dry across the stairs. You can't help but be charmed by the enthusiasm with which they do it, and also by how colourful it looks from afar.
We asked our guesthouse to wash a load of our clothes and were reassured when we saw they had a washing machine instead of using the glorious Ganges…!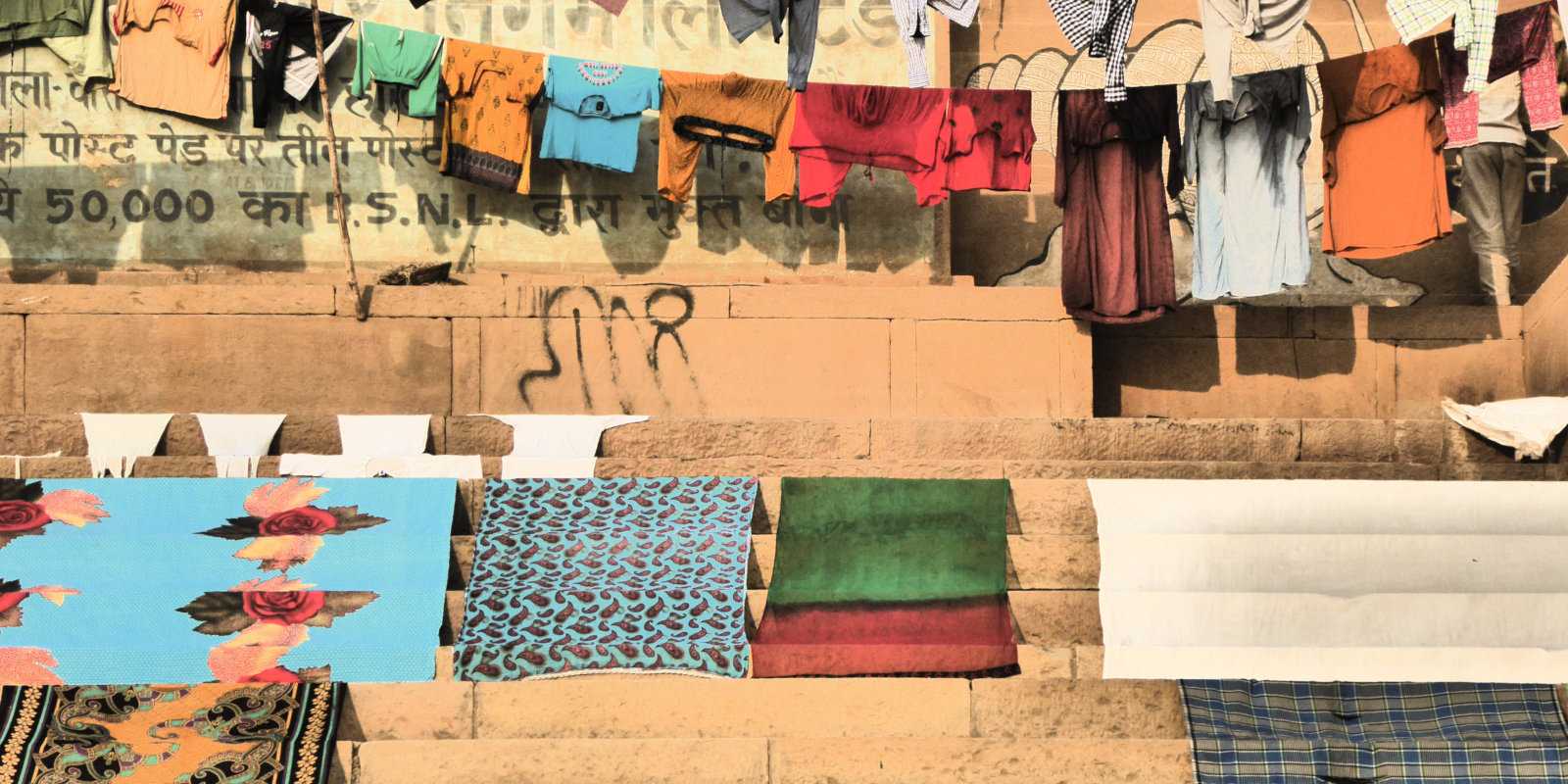 Gay friendly hotels in Varanasi
We found that homosexuality is not as open in Varanasi compared to other parts of India, like Mumbai or Delhi. We found it to be a place where we felt more comfortable acting like "mates" in public. Despite this, all the hotels and guesthouses we approached were fine about hosting a gay couple, especially these ones:
01
Taj Nadesar Palace Varanasi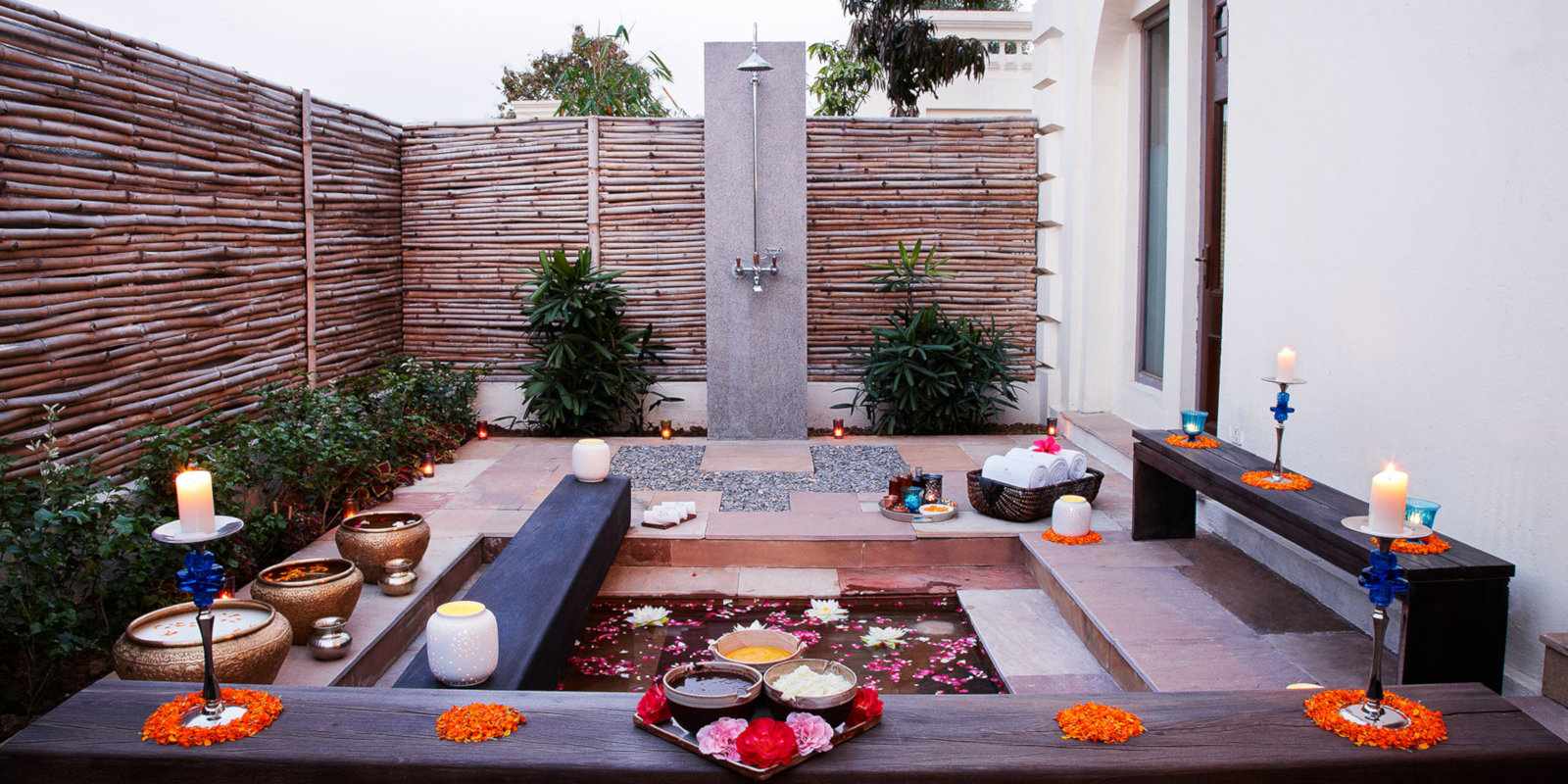 Why we love it
---
Luxurious 5-star hotel in a former palace
Only ten guest rooms
Surrounded by gorgeous gardens
Swimming pool and spa facilities
The Taj Nadesar Palace is one of the best luxury options in Varanasi and a real oasis of tranquillity from the bustling city outside its walls.
Since the hotel is housed in what used to be the local maharaja's actual palace, you know you're going to have a spectacular stay.
With just ten guest rooms and very attentive staff, you'll feel like royalty yourself!
Set amidst mango orchards and jasmine fields, the hotel also overlooks the Ganges River. Actual royalty and celebrities have stayed here, possibly because of how gorgeous this place is. The incredible Jiva spa offers a variety of signature experiences for relaxation and pampering, based on traditional Indian methods. We loved their masala body scrubs as well as being able to join yoga classes or have an aromatherapy massage.
You can take a guided tour of the property in the historic horse carriage, which is so romantic! Your private butlers are happy to organise golf games, river cruises and breakfast on the sun terrace each morning. The swimming pool is lovely for cooling off and poolside BBQs are often hosted there of an evening. The bedrooms are also so beautiful, with huge four-poster beds and freestanding bathtubs in the marble bathrooms.
02
Radisson Hotel Varanasi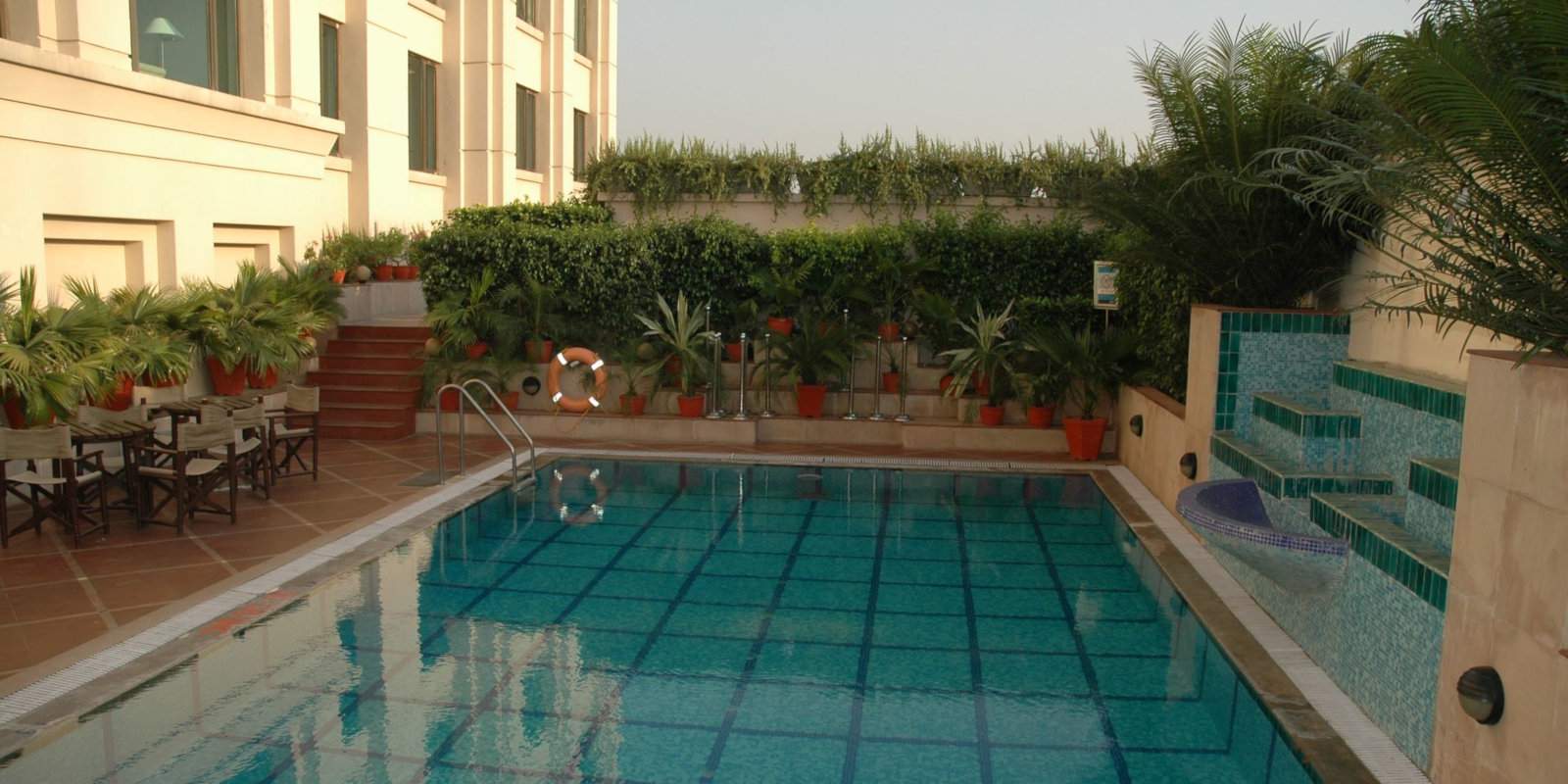 Why we love it
---
Lovely mid-range option
Located in the heart of the city
Buffet breakfast included in rates
Swimming pool and gym
Located right in the centre of Varanasi, the Radisson hotel is a great medium budget option with lots of amenities.
There's a lovely outdoor swimming pool with seating beside the pool and BBQ facilities. The rooms and suites are very spacious, some overlooking the pool.
A full buffet breakfast is included in your rate as well.
There are a variety of dining options available at the Radisson such as the EastWest coffee shop and The Great Kebab Factory which serves vegetarian or meat kebabs. There's also the Oakwood Bar and R the Lounge for some cheeky alcoholic drinks or just a hot coffee.
As well as the swimming pool there's a good gym for keeping fit. While it might not be as luxurious as the Taj Nadesar, the Radisson is very comfortable and within walking distance of the main sights in Varanasi as well as other places to eat. You can also book a massage for a little R&R.
03
Kesher Guesthouse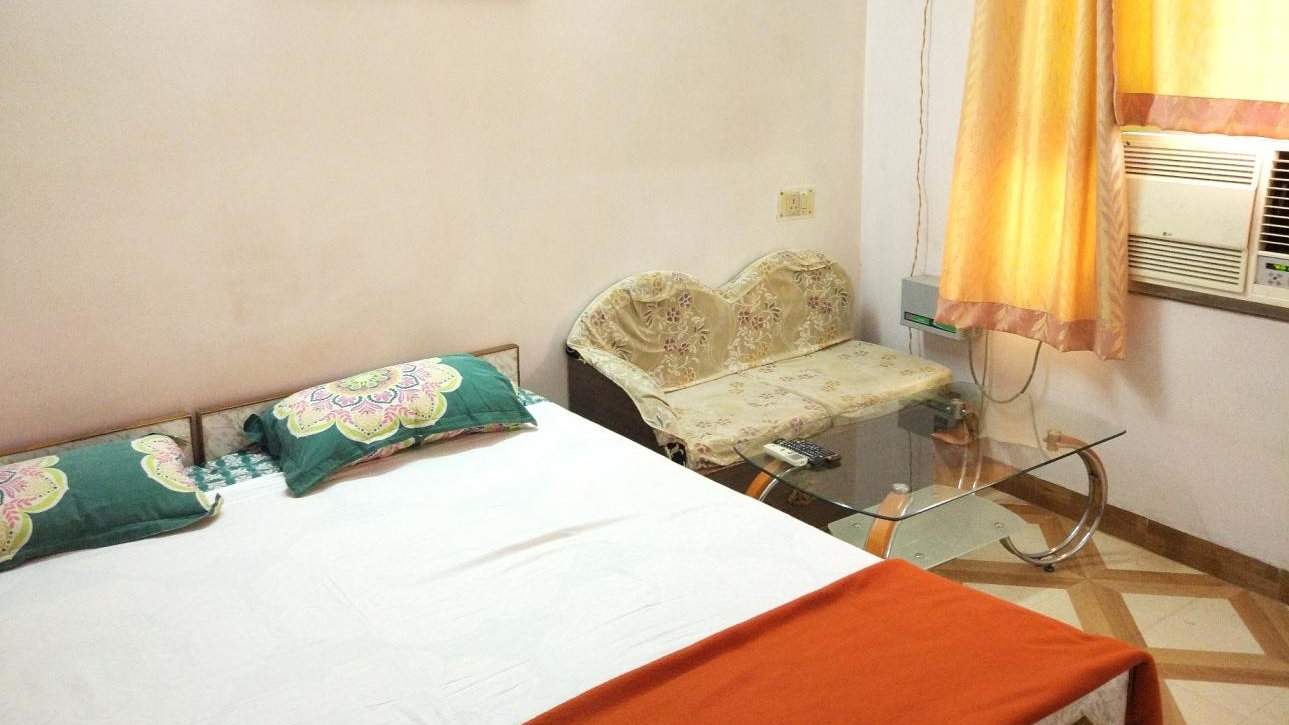 Why we love it
---
Very affordable choice
Lovely friendly owners
Free delicious breakfast every day
Clean, comfortable rooms
If you're travelling on a budget but still want comfortable accommodation, the Kesher Guesthouse is a very nice choice.
The family who owns the guesthouse are so helpful and also gay friendly. From the moment you arrive, they offer you a fresh mug of chai and a free delicious breakfast is provided each morning.
The guesthouse is in a great location right by Assi Ghat, which is the perfect spot for starting any walking tour or boat trip. The rooms are clean and the whole building is very secure. You're also right by lots of local restaurants and cafes so you can try all the delicious local food.
Even though it's a budget option the rooms do have private bathrooms, so it's great if you don't want to be in a hostel filled with bunk beds. If you can, try and get the bedroom on the top floor, we stayed in that one and the views over the city from the balcony are beautiful.
The gay scene of Varanasi
As we said earlier, don't come to Varanasi if you want to party. You're better off staying in Delhi or Mumbai. This is where you come to get a rich insight into a fascinating aspect of Hinduism. Whilst there are no gay bars or clubs in Varanasi, these are the hangouts we found to be gay friendly: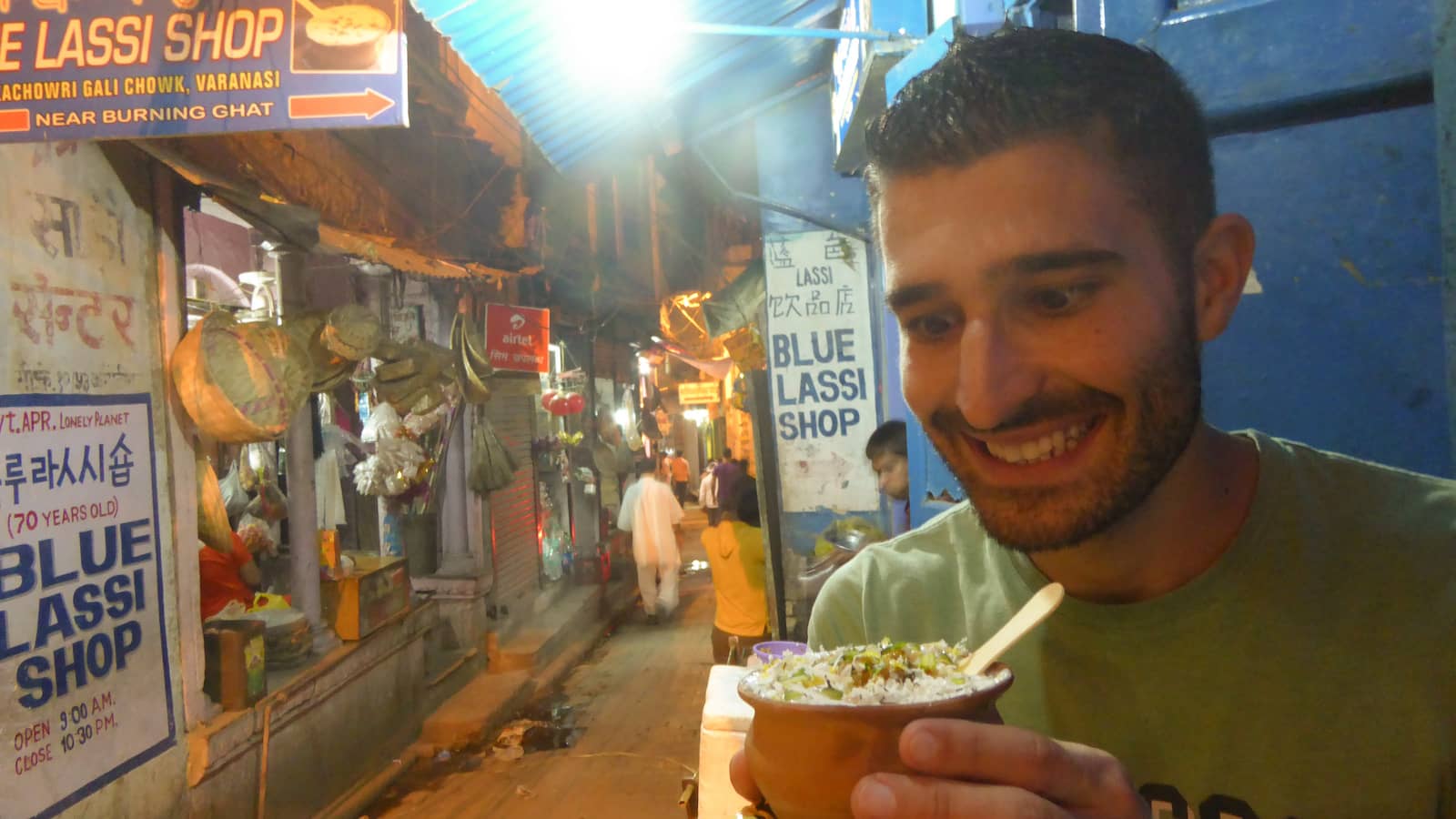 Gay cruising in Varanasi
Despite the lack of any gay bars or clubs in Varanasi, we found Indian men to be very open, whether straight or gay. For example, it is very common to see men in public acting very docile with each other, stroking each other and holding hands when walking. This is more a cultural thing rather than sexual.
Whilst we weren't searching out sexual encounters in Varanasi, we're sure if we were single and travelling here solo, it wouldn't be too difficult to find! For example, a common cruising area in Varanasi is the Ganga Palace Theatre near Vishal Lawn at Maldahiya.
Varanasi was one of our favourite places in India, a mesmerising place we will never forget! Read more about this fascinating city in this interesting post about walking along the Ghats of Varanasi.
For more from our big India trip, watch our travel video about what it's like travelling in India as a gay couple:
---
Like this post? Pin it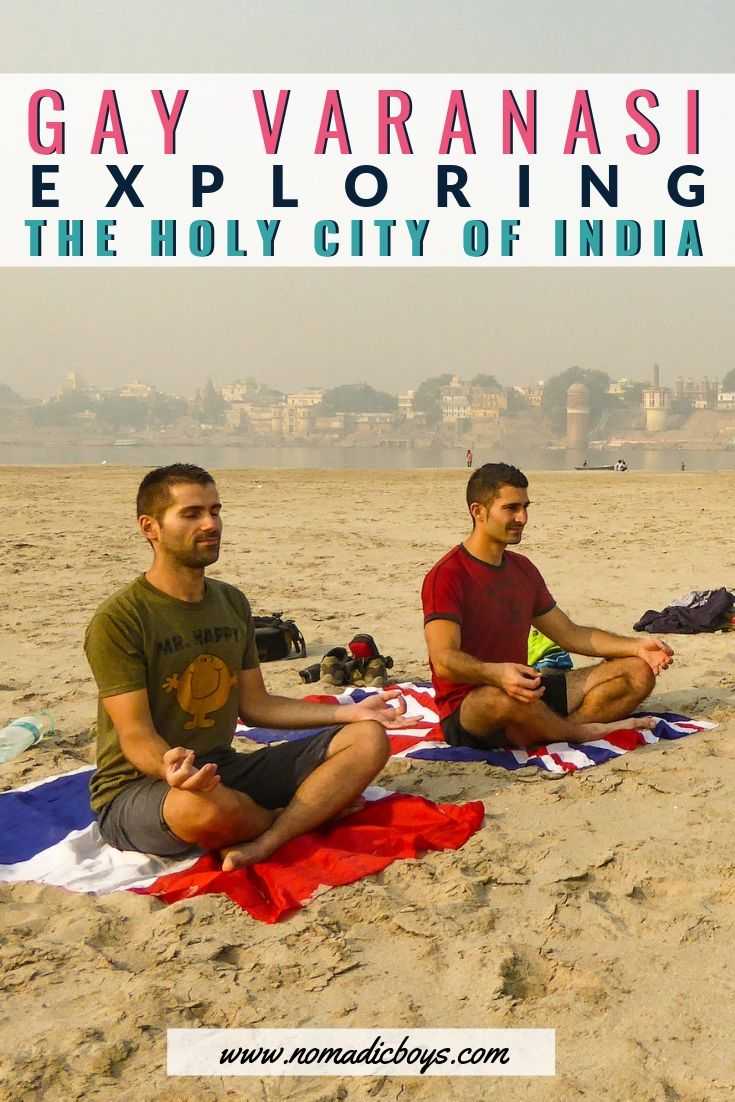 Happy travels are safe travels
We recommend you always take out a reputable travel insurance before your next vacation. What happens if you suffer from illness, injury, theft, or a cancellation? Many travelers forget about it and regret it when something happens. Better to pay a small price and have the peace of mind and not worry.