We spent several months travelling in India as a gay couple, from North to South, and absolutely loved it.
We visited world famous monuments like the Taj Mahal and stunning palaces across Rajasthan. We were in awe at the intense spirituality in Varanasi, chilled in the popular backwaters of Kerala, and loved all the delicious Indian food we tried. But our absolute highlight was the people. The Indians stole our heart. As well as being full of charm and character, they were very hospitable and never disrespectful to us. We found them to be welcoming, curious, very friendly, and eager to show off their country to these two foreigners.
On the face of it, India does not appear to be the most gay friendly place, particularly as the Supreme Court has been back flipping about the anti gay laws. Thankfully, it recently ruled that being gay is no longer a criminal offence in a landmark decision, which is a testament to how strong the Indian LGTBQ community is.
STAY WITH A GAY LOCAL
Misterb&b is the Airbnb equivalent for the LGBTQ community. Unlike on Airbnb, you know your host is gay, avoiding any nasty surprises when you check in. It is also a great way to meet gay locals and discover the underground gay scene. Click below to get 10 € (or $10) off your first booking.
Is this a surprise? Do the maths – this is a country with a population of over 1.3 billion people, which means statistically there are around 130 million gay boys waiting to welcome you. The LGBTQ community in India is growing in confidence massively. It's more visual than ever before, with more gay events taking place, more gay bars and clubs opening up, Bollywood hits like "Aligarh" being made challenging homophobia in Indian society, and even a famous gay Indian Prince charming the international community:
We're not saying come to India expecting it to be like Fire Island or The Castro in San Francisco. India, though culturally vibrant, colourful, festive, and flamboyant, it is still in many ways shy when it comes to public displays of affection. But if you're respectful of the local culture, and aware that certain things may not run as smoothly as they would back home, you'll find that India is safe, and quite exotic for gay tourists. You're also doing the local LGBTQ community a world of good by being a positive visible presence as we argued in our article about travelling as a gay couple in Asia, Dubai and Abu Dhabi.
These are our 5 reasons why India is safe for gay tourists, and why you should definitely add it to your bucket list.
What we cover in this guide
The Pink Rupee: local gay tourism is thriving in India
That 130 million statistic we mentioned earlier? Even on a very conservative assessment, taking into account men in the closet due to sociological pressure, there would be at least 2% of the population that is gay. For a country of 1.3 billion, that works out to 26 million, which is a very large market. For businesses, this is a very important market to target because they are likely to be more affluent, with a greater spending power.
As such, more businesses in India have realigned themselves to target the lucrative Pink Rupee market, which speaks volumes about how gay friendly the country truly is. In other words, if local businesses are actively trying to target their own internal LGBTQ community as customers, then they sure as hell are going to want you as well.
From our own personal experience over the past several years, we've seen India thriving amongst the international gay travel community, with an increase in tour companies catering specifically to us. One example is Serene Journeys, a Delhi based company offering bespoke tours. We like them because unlike other travel agents, they prequalify the businesses they work with in terms of gay friendliness. For us, this is so inspiring to witness, but more importantly, a reason why gay travellers should be visiting India. The country is on the brink of a pink evolution, albeit slowly.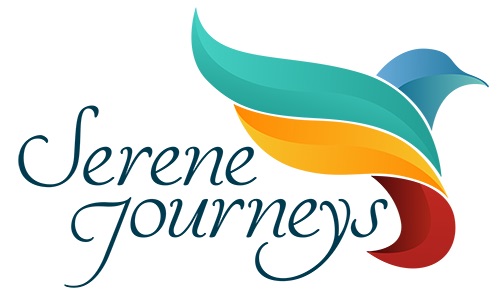 Lots of awesome gay events in India
India has its fair share of gay events taking place throughout the year. Kolkata led the way in 1999, hosting the country's first ever gay Pride event called the "Rainbow Pride Walk" with just 15 people attending. Today, most of the big cities have their own pride festivals attended by thousands of community members and friends, particularly in Mumbai, Chennai, Delhi, Bangalore and Pondicherry.
In addition to Pride events, India has a range of other gay events, such as an annual film festival in Mumbai, which draws the likes of Sir Ian McKellen, and even a gay pageant in Kolkata.
These are some of the best gay events in India taking place throughout the year:
Mumbai Pride: the Queer Azaadi Mumbai (QAM) gay pride takes place in January/February.
Kashish Mumbai International Queer Film Festival: every May the Kashish queer film festival takes place in Mumbai. Sir Ian McKellen famously inaugurated the 7th festival in 2016.
Chennai Pride: takes place in June, with a range of other events alongside it, organised by the Tamil Nadu Rainbow Coalition.
Delhi Pride: the capital city has its own pride parade on the last Sunday of November.
Bangalore Pride: the Bengaluru Pride and Karnataka Queer Habba is a festival that takes place in October and November.
Kolkata Pride: the Kolkata Rainbow Pride Walk is held in December.
India also takes its annual Mr Gay World pageant very seriously. Every January in Mumbai, the team of Mr Gay World India (MGWI) work towards finding the person who will represent the country at the international pageant later in the year.

Gay bars clubs and saunas in India
There is a vibrant gay culture in most of the large Indian cities:
Mumbai: is the economic capital of India and also the heart of the country's Bollywood movie industry, which makes it one of the most progressive cities in the country. There are regular gay meet-ups and gatherings organised by the Gay Bombay group worth checking out as well as gay parties organised by Salvation Star.
Bengalore/Bengaluru: nicknamed the Silicon Valley of India due to the high number of multinational IT companies based here. As such, it has a younger and more international community than anywhere else in India, making it one of the more tolerant places in the country. There is a small thriving gay scene with bars like Pink Sky Bar, the Chin Lung resto bar and more.
Delhi: the capital city has a weekly weekend gay party taking place in Connaught Place, which is announced a few days beforehand. We advise finding out by asking locals on Grindr. There are also a handful of gay saunas in Delhi like Mykonos and Kalph Kaya. Other gay bars in Delhi include the Depot 48 resto bar, which has "Pink Tuesday", the PDA Martini Bar, which has "Rainbow Thursday", and also The Lalit, which hosts "Kitty-Su" on Thursday evenings.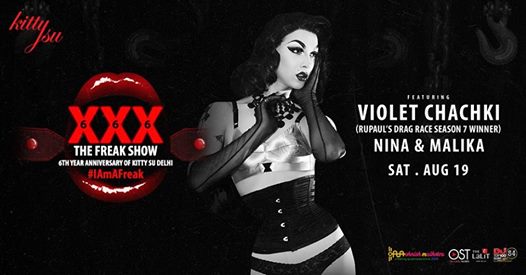 More gay friendly hotels in India opening up
One of the things we found during our travels in Asia is that despite local customs, you can't go wrong staying at a global brand like Taj Hotels, Oberoi, the Hyatt, Hilton, Marriott etc. These international brands are well versed with dealing with gay travellers and will have had appropriate training given to their staff.
What pleasantly surprised us in India was that local boutique hotels are also actively targeting gay travellers. Hotels like Planet Hollywood in Goa, Dera Mandawa in Jaipur and Hotel Fifu in Jaisalmer, to name just a few are making a concentrated effort to focus on attracting the LGBTQ traveller. You won't get curious looks from the staff or an awkward response to sharing a bed.
As with booking any accommodation wherever you are in the world, we advise emailing or calling ahead and asking if they're ok hosting a gay couple/traveller. The response (if any) is very telling.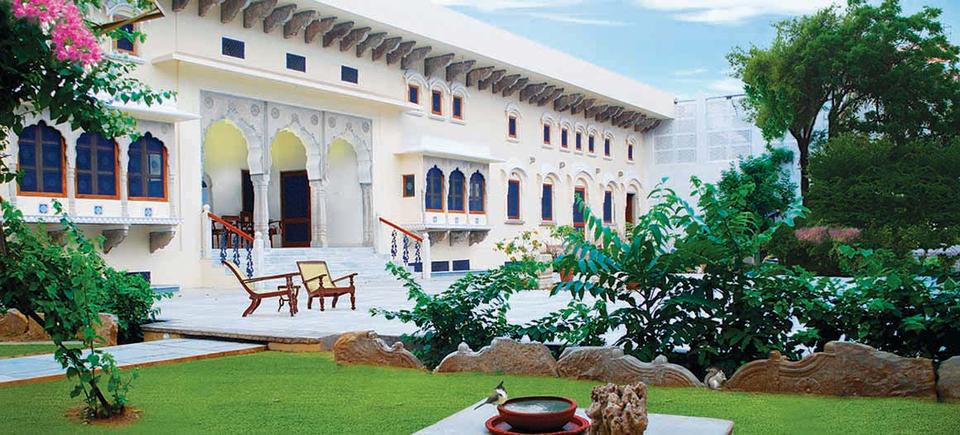 Men hold hands in public in India!
When we first arrived in Delhi and saw men walking the streets holding hands,we thought we'd arrived in the middle of a big gay festival. At the local gay gym we signed up to in Kochi in South India, the personal trainer was very touchy/feely with us, quick to hold our hand, which back home would imply something very different!
We quickly found out that in India, it's a cultural norm for men to be very docile with each other in public, whether they are straight or gay. This is not an expression of sexuality and no sexual connotation is intended. It is simply a sign of brotherhood and friendship, as it is in much of the Arab world and elsewhere in South Asian countries like Nepal and Sri Lanka.
Having said that, we would still advise exercising caution with public displays of affection with your same-sex partner in India. It is still very much a socially conservative country and you don't want to invite any unwanted attention.
To read more, check out our interview with Raj from Delhi about what it's like growing up gay in India and check out these tips for traveling in India in comfort.
Happy travels are safe travels
We recommend you always take out travel insurance before your next vacation. What happens if you suffer from illness, injury, theft or a cancellation? With travel insurance, you can have peace of mind and not worry. We love World Nomads travel insurance and have been using it for years. Their comprehensive coverage is second to none and their online claims process is very user friendly.
Some of the links in this post are affiliate links. This means that if you book your accommodation, an activity or your insurance, we'll earn a small commission. There is never an extra cost to you for using these links and it helps us keep the site going.
If you enjoyed reading, please pin me: