Blue whale watching in Mirissa, Sri Lanka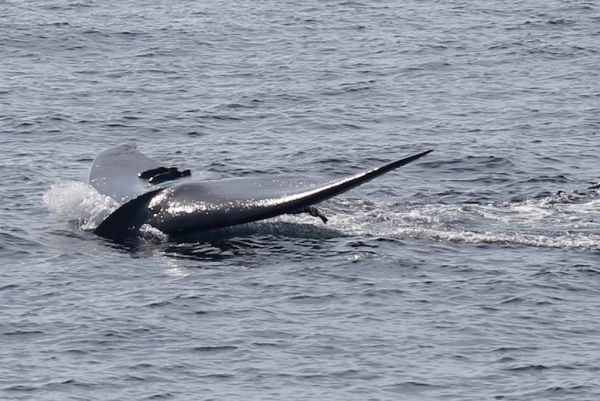 Whale watching is particularly big with the 3 countries who are unfortunately pro whale hunting: Japan, Norway and Iceland.
We encountered this when we entered a whale bar in Tokyo by accident.
We've since been more curious about whales, spotting orca killer whales in Puerto Madryn, Argentina, so we jumped at the chance to see these magnificent endangered species in the flesh at Mirissa in Sri Lanka.
WHALE WATCHING SEASON IN SRI LANKA
The whale watching season in Sri Lanka runs from from November to April / May, as during the rest of the year, the waters will be too rough because of the Monsoon.
The best place to spot whales is in Mirissa, a small tourist town on Sri Lanka's south coast, popular for surfing and famous for whale watching. The waters around Mirissa are particularly rich in plancton (a groop of mirco organisms whales feed on), which lead scientists to believe there is a resident population always present which will result in sightings whenever conditions are good, particularly between November to April.
HOW MUCH DOES IT COST TO GO WHALE WATCHING?
Which company to choose?
There are a huge choice of whale watching tour companies in Mirissa, and all of them charge more or less the same price. Choose the company carefully because not all of them care about the animals and some will even get real you close to the whales, causing a lot of stress to the poor Cetacean.
TripAdvisor will help you find the best companies out there. If you plan to go from Galle to Mirissa, you should take advantage of that whale watching cruise which will take you to Mirissa while living an incredible experience.
The price of a whale watching tour
As with most tourist attractions in Sri Lanka, prices have been increasing a lot over the years. A whale watching safari was around 6,000 Sri Lanka rupees (around $42 / £30) per person when we went. We decided this is a once in a lifetime opportunity, which if done in somewhere like Canada, New Zealand or Europe would be a lot more expensive.
Responsible whale watching tourism
Companies who care about the well-being of the whales are committed to responsible whale watching and abide by the criteria set by the WDCS (Whale and Dolphin Conservation Society.
We decided to take a morning tour with Raja & the Whales, who we found on TripAdvisor, and also filled the WDC requirements.
The tour itself involved a 1 hour early morning boat ride from 6:30am out into the Indian Ocean where the whales are known to be feeding. If you go during the whale watching season, your chances of seeing a whale are quite high (90-95%) and if not, most companies promise to re book your tour (for free).
SPOTTING BLUE WHALES AND DOLPHINS IN MIRISSA
We were lucky to spot several Blue Whales and dolphins on our tour, along with the money shot of them diving back down:
Blue whales are the largest creatures on earth, measuring up to 30 metres in length, and luckily enough for you, they live only a few miles off the South Coast of Sri Lanka.The art to spotting the whales comes down to mastering their breathing behaviour.
Whales are mammals so they have lungs instead of fish gills for breathing. Therefore, they cannot breath underwater and need to come up for air.
Blue whales can hold their breath underwater for an average 30 minutes before they have to surface for air. They don't have a nose and can't breath through their mouth so rely on their blow-holes. When they surface, they spout the air (and lots of water with it) out of their blow-hole.
This is the first sign to look out for:
They then stay onshore dipping in and out of the water, around 3-4 times, breathing in and out:
Finally, they take one last long breath before making that beautiful dramatic money shot dive back down to look for food:
As with all safaris, whale watching is a waiting game and a test of patience. A good company will know the signs to look out for and the optimum spots for whale sightings.
Along the way we also saw many Bottle-nose and Spinner Dolphins swimming along with us:
BEST PLACES TO STAY IN MIRISSA
Mirissa offers a wide variety of options, from budget to luxury. Whether you are looking for a hotel close to Mirissa beach or hidden away in the hills with splendid views, you will find it. Below are the places we loved because they fit every budget and have a unique charm. All of them will be able to help you with booking your whale watching tour.
IMAGINE VILLA HOTEL   Book online
A lovely boutique hotel located on a long deserted beach between Mirissa and Matara.
Rooms are spacious, nicely decorated, with a delicious breakfast freshly prepared in the morning.
Prices start from $132 / £91 for a double room.
MIRISSA HILLS LUXURY VILLA COLLECTION   Book online
Located on a hilltop, in a cinnamon plantation, this a little gem that needs to be discovered in Mirissa.
Service is excellent, they cook only local food with excellent quality.
Prices start from $54 / £37 for a double bed inclusive of breakfast.
POPPIES GUESTHOUSE   Book online
Great budget option, located on the main street, a 3 minutes walk from the beach.
Rooms are clean and spacious, and breakfast is plentiful.
Prices start from $36 / £24 for a double room with breakfast.
CAPE WELIGAMA   Book online
A bit outside of Mirissa, but this is the ultimate luxury experience in Mirissa.
perfect for honeymooners or couple looking for a unique romantic experience.
Rooms overlooking the ocean with an infinity pool offering incredible views.
Prices start from $434 / £300 a night.
IS IT WORTH DOING A WHALE WATCHING SAFARI?
In our opinion, absolutely yes!
For us, on a backpacker budget, it was a bit of a splurge, but an unforgettable one. We'd never experienced whale watching before and learnt a great deal about these magnificent creatures.
You won't get up close to the whales as this is discouraged by environmentally minded companies to avoid disturbing the whales. So there are no swimming/snorkelling opportunities with the whales.
The cherry on the cake was seeing these two very cute turtles making out on the return leg:
For more, from our adventures in Sri Lanka, check out our beautiful train journey, our safaris spotting leopards at Udawalawe and Yala National Park and watch our travel video.
Sri Lanka travel recommendations
Transportation: first, there is no need to stress about getting taxis around the capital. Uber is heavily used in Colombo Airport and in Colombo. If you've never used it before, we give you your 1st ride for free using this link. To get to Kandy, Nuwara Elya or Ella, we highly recommend you take the train because the landscapes are stunning, tickets are cheap and it is an amazing adventure.
Travel insurance: whether you go on a safari in Yala National Park, scuba diving in Unawatuna, hiking at Ella Rock or just lay on the beach all day long in Hikkaduwa, you need travel insurance. We use World Nomads because they offer considerable coverage especially for adventure travellers. They also make it easy to make a claim as it's all done online.
Flights: flying domestically in Sri Lanka doesn't make much sense because the train has more comprehensive coverage across the country and is far cheaper. For international flights, flying to Sri Lanka can be expensive. We recommend Google flights to search for the cheapest fares, and Momondo for booking airfares. In addition, flights from Sri Lanka and India to The Maldives are very affordable, so don't miss out on the opportunity!
Hotels: Sri Lanka has a huge diversity of accommodation options. Make sure you check out our Sri Lanka content for hotel recommendations first. TripAdvisor is also a good place to start researching places to stay and find the best activities to do. Going to the hotel in person and negotiating the price face to face will most of the time result in a cheaper price compared to what you find online. But if like us, you're a bit of a control freak and like planning ahead, we recommend using Booking.com to find the best deals and book your accommodation online.