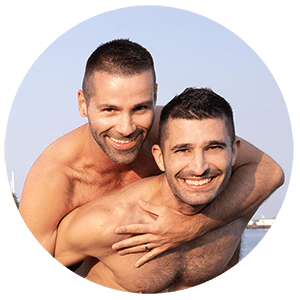 We are Stefan and Sebastien, gay couple behind the popular gay travel blog Nomadic Boys. Since its creation in 2013, our blog has grown exponentially, particularly among the LGBTQ community.
Through gay destination guides, unique romantic, culinary and outdoor adventures, we create engaging and visual content designed to inspire our readers to travel to places beyond the pink comfort zone. Check out our Press page to see where we have been featured in the media.












Jorge Barrios
Marketing manager, Axel hotels
"Thank you so much for this terrific social media campaign Nomadic Boys! You're amazing, the different posts you have shared are awesome. Thanks to you, Axel Hotel Berlin has gained many new followers on both Instagram and Facebook. We can't wait to collaborate with you again."
Liza Gamo
Resort Operations Manager, Mandala Spa & Villas
"On behalf of everyone at the Mandala Spa & Resort Villas, our deepest gratitude goes out to you. It was with great pleasure for us to share the Mandala moment with you and promote our LGBT romance packages. Your support and wonderful spirit most definitely enriched us all!"
Yoshimi Ogura
Marketing Manager, ANA – All Nippon Airways
"Stefan and Sebastian are a fantastic duo! We collaborated to promote ANA to the gay market and were so impressed with the results. They are very fun to work with, knowledgeable and extremely professional. We would definitely love to work with them again."
Lynn Habel
Editor in Chief for Tourism Montreal, Tourism Montreal
"It was an absolute delight to work with Stefan and Sébastien this summer when they came to Montréal for Canada Pride. All of the content they produced was of excellent quality and they delivered everything they said they would and much, much more. I am so happy that we had the chance to work with these two talented travel bloggers and I highly recommend them to other destinations looking to boost their visibility in the LGBTQ travel market".
Gustavo Rivas-Solis
Public Relations for Puerto Vallarta Tourism
"Working with the Nomadic Boys was one of the most enjoyable and productive experiences. We hosted them on a press trip to promote Puerto Vallarta's LGBTQ offerings, and they always stood out for their professionalism. Their social media work was instrumental in the millions of impressions registered for the destination and local providers during the visit".
Caterina Prochilo
International Press Co-ordinator, Nice Convention and Visitors Bureau
"We worked with the Nomadic Boys to promote the Lou Queernaval, part of our Nice's Carnival. Stefan and Sebastien were so professional and highly committed at all times throughout the entire project. We were very impressed with the coverage the Nomadic Boys gave us and would definitely recommend them to other tourism boards. Above all else, Stefan and Sebastien are also fun people to work with".
STATISTICS
Nomadic Boys is steadily growing with traffic of 200,000 unique monthly users, 300,000 monthly page views, which translates to over 3 million annual visitors.
We have over 875,000 highly engaged followers across all our social media channels, which gives us a weekly reach of around 2 million people.
Our audience consists of mainly affluent men, aged 25 and older, based across the USA, UK, Canada, and Europe, who are sophisticated travelers looking for romantic adventures, gourmet, and cultural experiences.
200,000
MONTHLY UNIQUE VISITORS
300,000
MONTHLY PAGE VIEWS
20,000
NEWSLETTER SUBSCRIBERS
USA – CANADA: 43%
UK: 26%
REST OF EUROPE: 15%
Age 25-44: 58%
Age 45-54: 13%
Age 55+: 16%
SOCIAL MEDIA
We have over 875,000 followers across all our social media channels who we love interacting with on a daily basis. As a result, we have high engagement rates and an extensive weekly reach of around 2 million people.
We would love to work with you to promote your brand within the LGBTQ community through our social media.
PROMOTING DESTINATIONS
We collaborate with tourism boards, tour companies and hotels to promote gay travel through engaging stories and social media campaigns.
ADVERTISING
We offer sponsored blog content as well as banner advertising, including a variety of sizes and positions available across the website.
BRAND AMBASSADORS
We strive to create long term partnerships with brands that fit our audience. Contact us for more information about what we can offer.
SOCIAL MEDIA CAMPAIGNS
Increase your brand awareness by engaging with our highly targeted audience through customised social media campaigns.
SPEAKING ENGAGEMENTS
We are passionate about promoting gay travel and are available for speaking at conferences, seminars and trade shows.
REVIEWS
Have a product you want to promote? We provide honest reviews of products and services we like, use and trust, and think are a good fit for our audience.