We've put together this step-by-step guide to hiking Ella Rock in Sri Lanka, based on our own experience.
Ella Rock is the prettiest desktop background I've ever had on my laptop! No joke – the view from up here is absolutely jaw-droppingly stunning!
The trek to Ella Rock is only half a day tops, but it easily ranks as one of the best treks I've ever done with Stefan during our travels. And we've done some pretty amazing treks together, from the Annapurna Circuit in Nepal to the Inca Trail to Machu Picchu in Peru.
Ella is a beautiful small town in the south of Sri Lanka in the Hill country located at an altitude of 1,041 metres (3,415 ft). It's the ideal base to explore the surrounding hills and take in pretty breathtaking views of the Badulla green valleys. The weather is usually quite humid, with moderate air temperature, sunny mornings, and often rain showers in the afternoon. Ella Rock is a famous cliff, located high above Ella's village, around 8km (5 miles) from the centre of town – around 4 hours total trekking there and back.
The trek to Ella Rock from Ella town is pretty straightforward if you follow our advice below! Sometimes finding the correct path can be tricky, so we've put together this easy-to-follow step-by-step guide to help you on your way: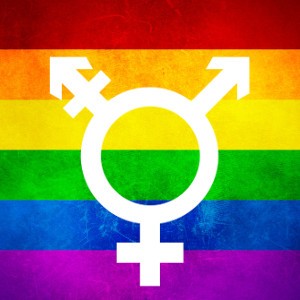 Advice for LGBTQ travellers to Ella
Whilst Sri Lanka has an anti-gay law in place, it is rarely enforced. This does, however, mean that society is very conservative with regards to homosexuality, so we advise against any public displays of affection. Ella is a small town away from the big capital city. The locals are more relaxed and chilled here. Whilst this doesn't make it an LGBTQ haven in any way, we did, however, find that guesthouses were very obliging and kind towards us and had no qualms with allowing two men to share a double bed. Read more in our interview with Kaluu from Colombo about gay life in Sri Lanka.
The hike to Ella Rock step-by-step
The route for trekking to Ella Rock can be a little bit complicated. Nothing is clearly marked out. However, we were able to figure it out thanks to the friendly locals who pointed us in the right direction and based on what others had written on Tripadvisor forums.
We've put this all together for you right here: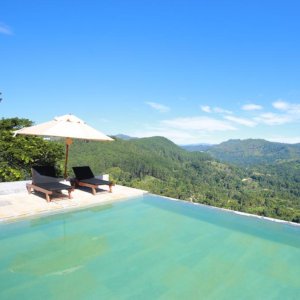 Looking for a place to stay in Ella?
Our top pick is the super-romantic and luxurious boutique resort The Secret Ella. It's housed in a former tea planter's home with private chalets and an incredible infinity pool overlooking the stunning valley below. It's also perfectly situated for hiking Ella Rock and seeing other nearby attractions like the 9 Arches Bridge.
Total hiking time: 2-3 hours (longer if like us you get lost and take loads of photos!)
1. Walk from Ella Town to the railway station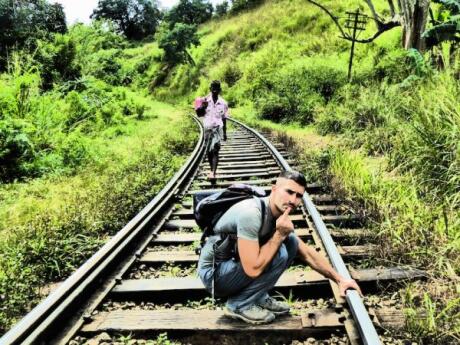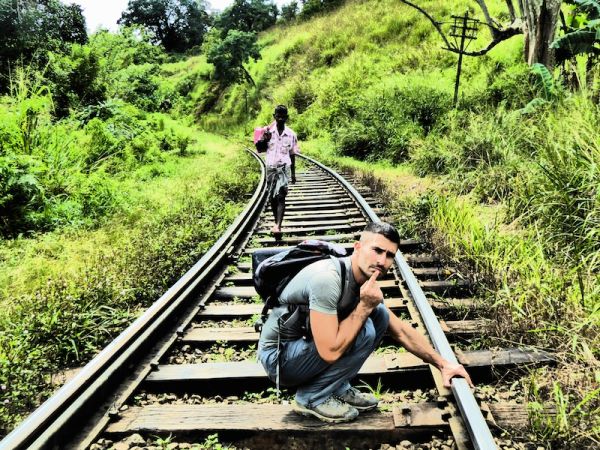 Starting in Ella town, take the road that leads up to Ella railway station. As you enter the station, head left and go to the end of the platform…and continue walking on down the railway track! Don't worry, everyone does this despite the 'No Entry!' signs and no one will stop you.
Then continue walking on down that railway line for a few kilometres. It reminded me a lot of those railway line scenes from one of my all-time favourite movies – the 1986 classic, "Stand By Me" Remember when the boys were checking the train line to see if it's warm (see photo of Stefan trying to recreate this moment), then quickly running along it to dodge the train…?!
---
2. Continue straight to Kithaella train station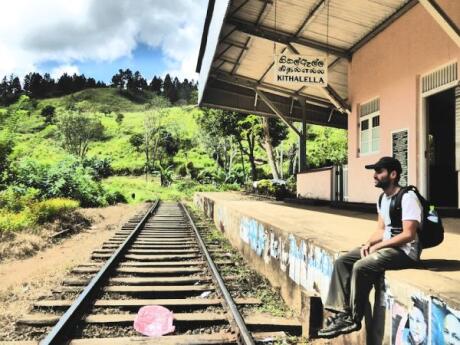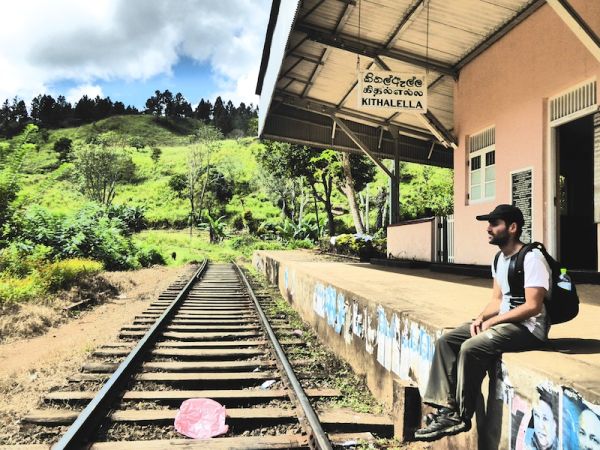 Continue walking along the railway track lines heading south, aiming to reach the Kithaella train station (see the photo of me sitting on the platform there). Along the way, you'll pass over a bridge before you reach Kithaella train station.
Along the way, you may see fake signs up – ignore these. We got distracted by a few of them. Also, a few less-friendly local men may try to insist you're heading the wrong way as a tactic to then show you the correct way for a small fee. Just keep on heading down that railway line till you reach Kithaella station! A few other helpful notes as you head to Kithaella:
---
2a. Ignore the turning with Buddhist statues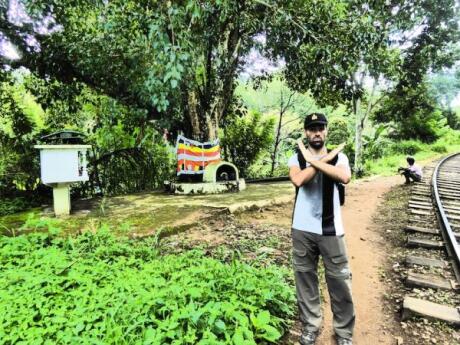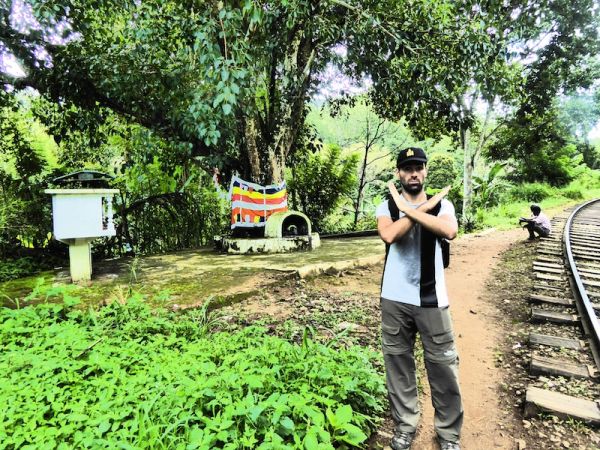 Just before you reach Kithaella train station there is a left turning with some small Buddhist statues where you can turn off to cross the river and go to Ella Rock. We accidentally took this route because we read online that it's meant to cut your journey by 15 minutes, however, we advise against this. It's super complicated and easy to get lost. We ended up returning to the railway lines to continue heading south to Kithaella.
Moral of the story… just ignore it and keep walking towards Kithaella station!
---
2b. Ignore the bench too!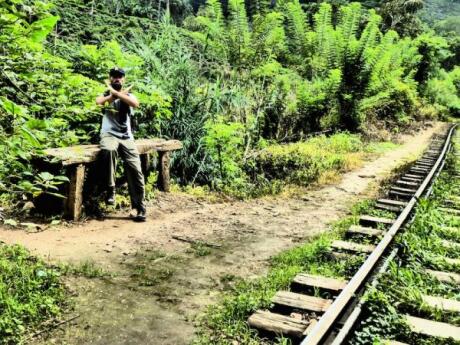 Another little distraction on route to Kithaella train station to bear in mind is another left turning with a bench…ignore this one too! Stefan got impatient and decided to try turning left here as well, only to get us lost (again!)…
Continue walking on down to Kithaella and you'll be just fine.
---
3. Take the 2nd turning after Kithaella train station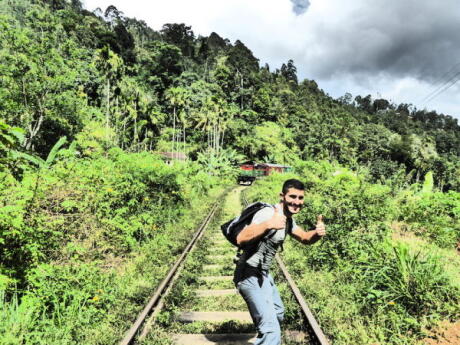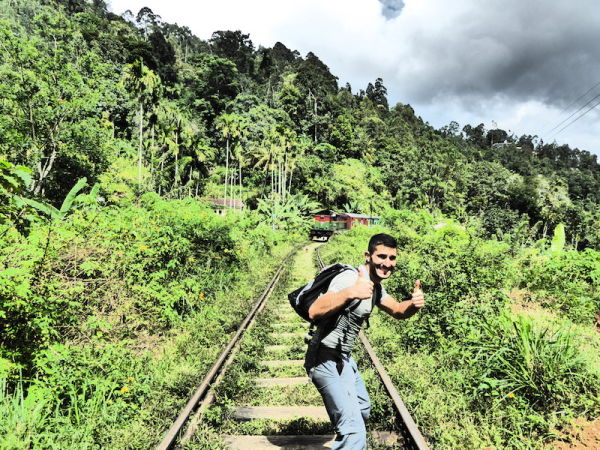 Once you pass Kithaella train station, continue walking for around 10 minutes and take what should be the 2nd left turning. It should have "Ella Rock" with an arrow marked out in blue on a rock.
Continue straight along this pass and cross the footbridge over the river. After crossing the bridge there is a forked path. Here take the immediate left turning and continue walking down it.
---
4. Take the path going upwards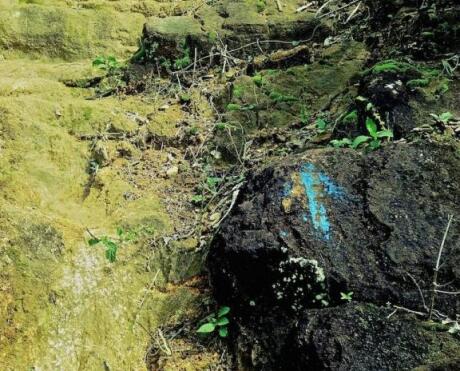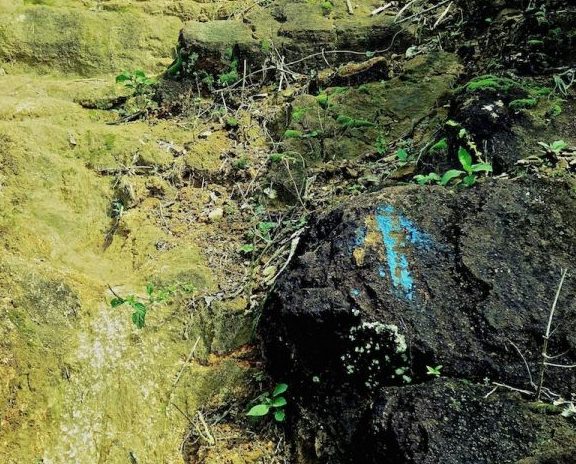 Take the path going upwards (not right and not left yet). The path takes you into a tea plantation and then into a field of long grass. Just continue straight on up. You may see faint blue arrows pointing the right way. Follow these if you see them! Over time we've been told a lot of these blue signs have faded away.
Whatever you do, continue straight along this path, past the long grass, past the large bushy plants, don't worry it's the correct way! The path will eventually open up and will start to head to the right.
---
5. Hike through the forest of Eucalyptus trees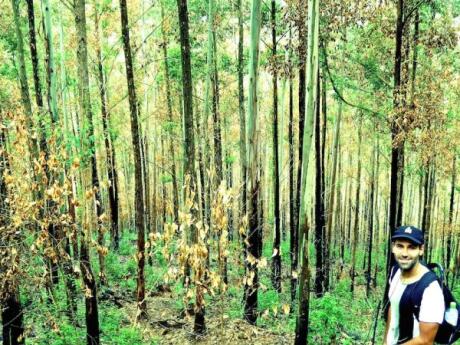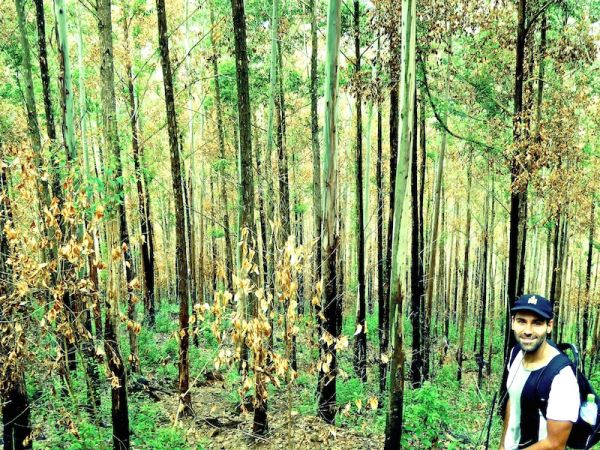 The path starts to ascend quite quickly, giving you some gorgeous views of the valley. Eventually, you'll reach a forest of Eucalyptus trees. From here, just head up – any path going up will take you to Ella Rock.
We loved this part of the hike. It was like we were lost in another world in amongst the Eucalyptus tree forest – so peaceful and serene, not too dissimilar from the Arashiyama bamboo forest of Kyoto in Japan.
---
6. Enjoy the views!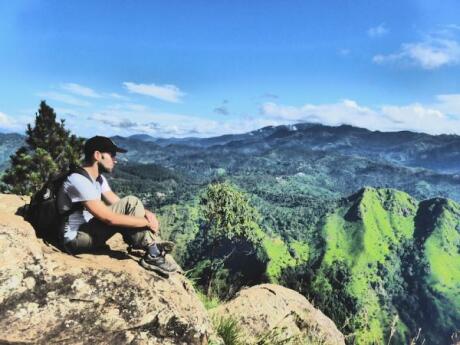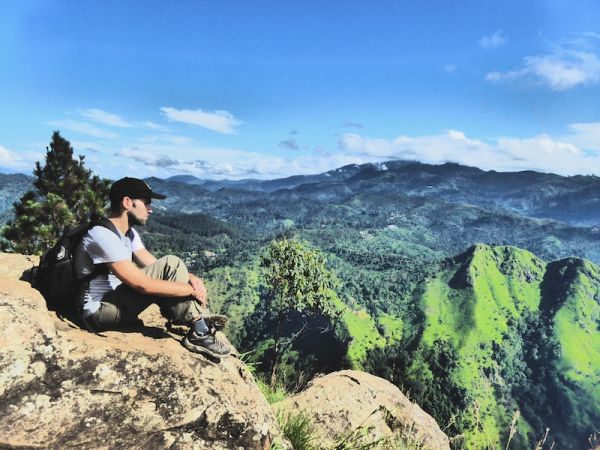 Once you've reached the top, congrats, this is your reward! The views are stunning, one of the best places to get fun jumping photos and impressive landscape pics etc to fill up your Instagram feed. It certainly ranks as one of our highlights from our travels in Sri Lanka.
One thing we'd say is aim to come early in the day to avoid the midday heat. And remember to bring plenty of sunblock cream and water to drink!
---
7. Go back down!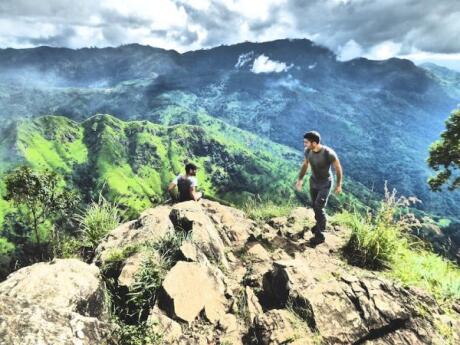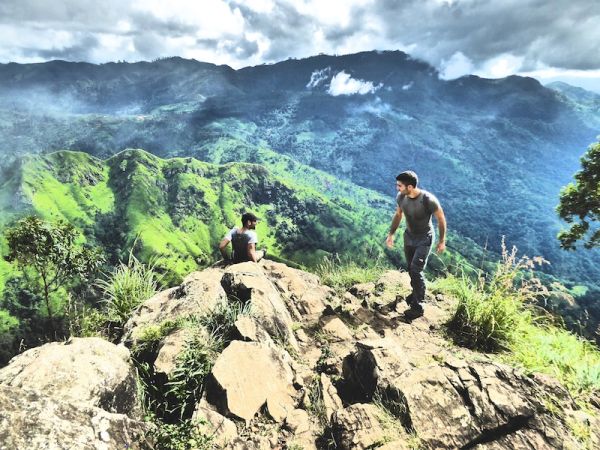 The way back down is a lot easier than coming up. We found all paths going back down led to the same point and had no problems reaching Ella Town.
You may get unlucky and get rained on during your trek. For this reason, we strongly advise bringing a waterproof jacket and sturdy trekking boots. We read about leeches on the paths. Whilst we didn't encounter any on our trek, we recommend wearing light loose trousers and applying a DEET based insect repellent, particularly to exposed skin areas.
---
Do you need to hire a guide?
It's a personal decision. On the one hand, we were adamant we could do it ourselves – a sort of personal satisfaction at achieving something. And we were absolutely fine. We got distracted by a few wrong turnings (which we've warned you about above), but otherwise we were absolutely fine. If you follow the steps we set out above, you will also be fine.
On the other hand, you may want to hire a local to guide you for the company and for the reassurance you're going the right way. It's not expensive and the money goes to the local economy. To give you an idea, when we were there, various locals offered to guide us to Ella Rock and back for 1,500 rupees (around £8/$12) per person.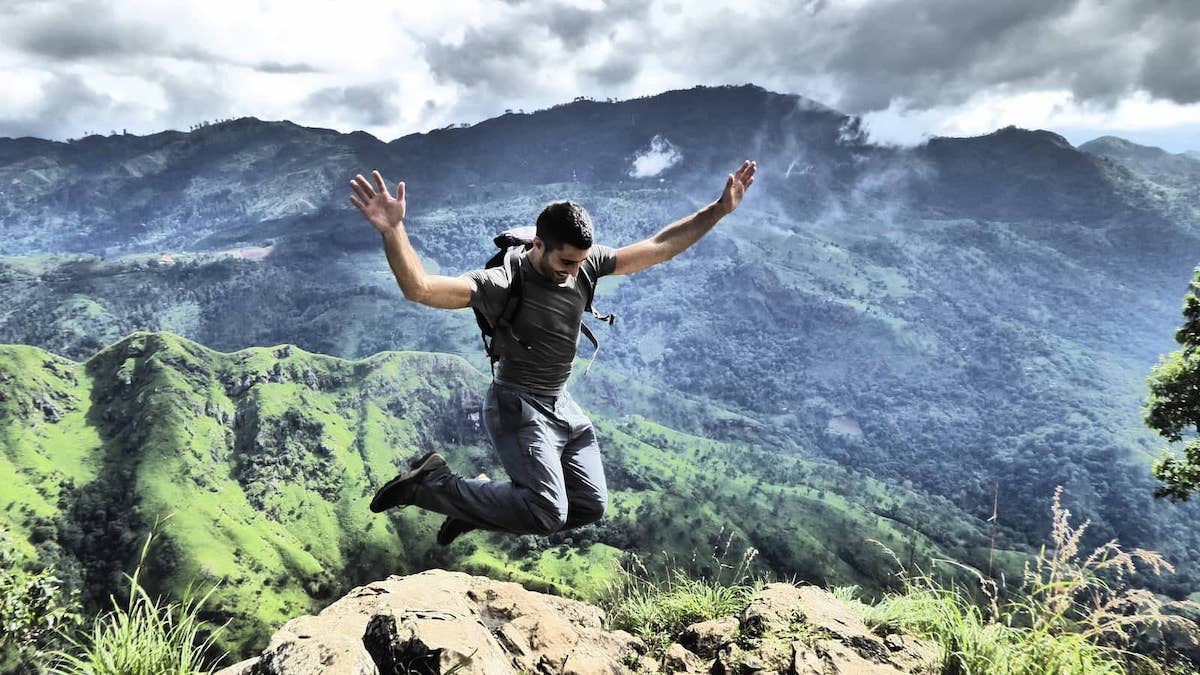 Safety tips for trekking to Ella Rock
We've put a few little nuggets of advice above from our experience trekking to Ella Rock, but here is a summary of our all our safety tips and what we did to prepare:
Local SIM card: we always get one when we arrive in a new place. It lets you have access to Google Maps if you get lost, allows you to access (ahem!) valuable online resources and Google Translate is a godsend with language barriers.
The earlier the better: we went late morning and got caught up in the midday sun here. It's no biggie if you're savvy about wearing sunblock cream and remembering to reapply. However, it does usually rain in the afternoon around Ella Rock, so the earlier you do your trek, the better!
Sunblock cream: it gets hot here and the sun rays more intense the higher you go. Wear lots of sunblock cream and remember to reapply!
Insect repellent: you'll no doubt quickly get used to wearing lots of insect repellent in Sri Lanka to ward off mosquitos, but on this trek, it's a must to ward off other pesky insects, in particular leeches! We recommend a DEET-based repellent.
Trekking shoes: do not do this trek with sandals or flip flops. It frequently rains, the paths, therefore, get muddy – a haven for leeches! A sturdy pair of trekking shoes (or boots) is a must.
Leeches warning: at the end of the day they're not dangerous if you do get one "stuck" to you! One bit of advice we were given by our guesthouse host in Ella was to take some limes with us on our trek. If you squeeze a few drops of lime on the leech, it's enough to repel it off you without killing it.
Waterproofs: it is likely to rain, so make sure you come prepared for this with waterproof long pants and jacket.
Caution on the railway lines: this is plain common sense. If you see a train approaching, get off the railway lines and let it pass. It's not dangerous – the trains are sparse and move slowly. Nonetheless, caution and common sense on the railway lines!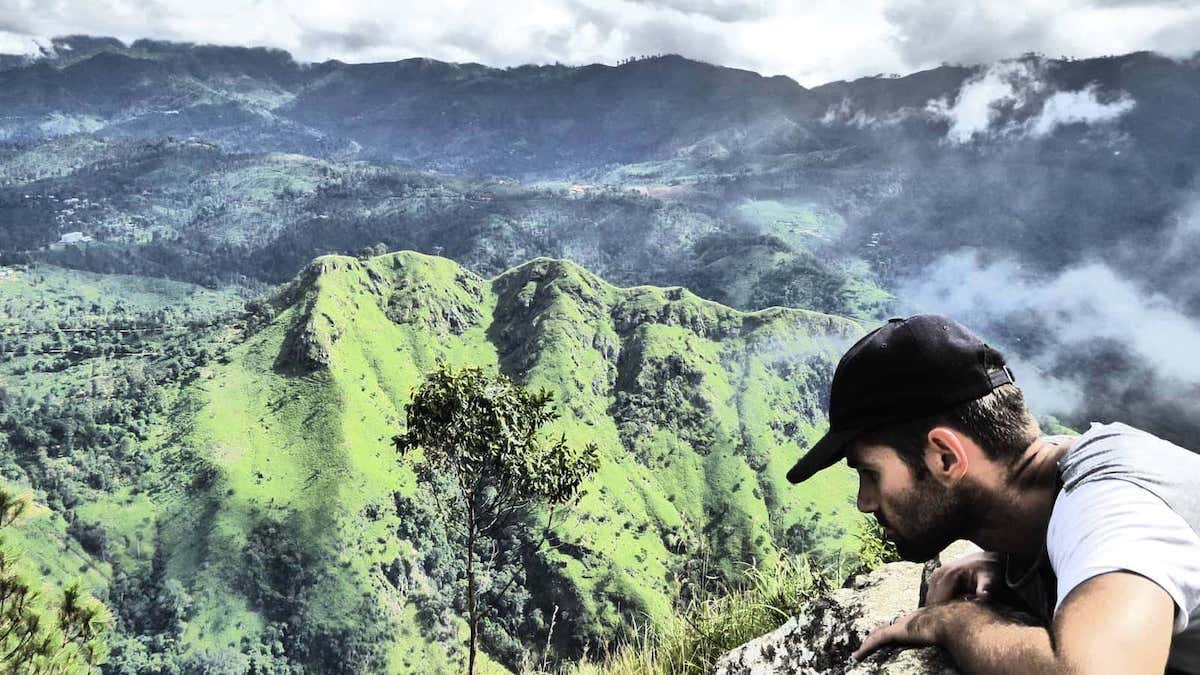 Where to stay in Ella?
There are a number of great places to stay scattered around town, each with amazing views and to suit all budgets.
These are the places we tried and made us feel welcome as a gay couple, in particular, which didn't mind two men sharing a double bed, despite Sri Lanka's anti-gay laws.
01
The Secret Ella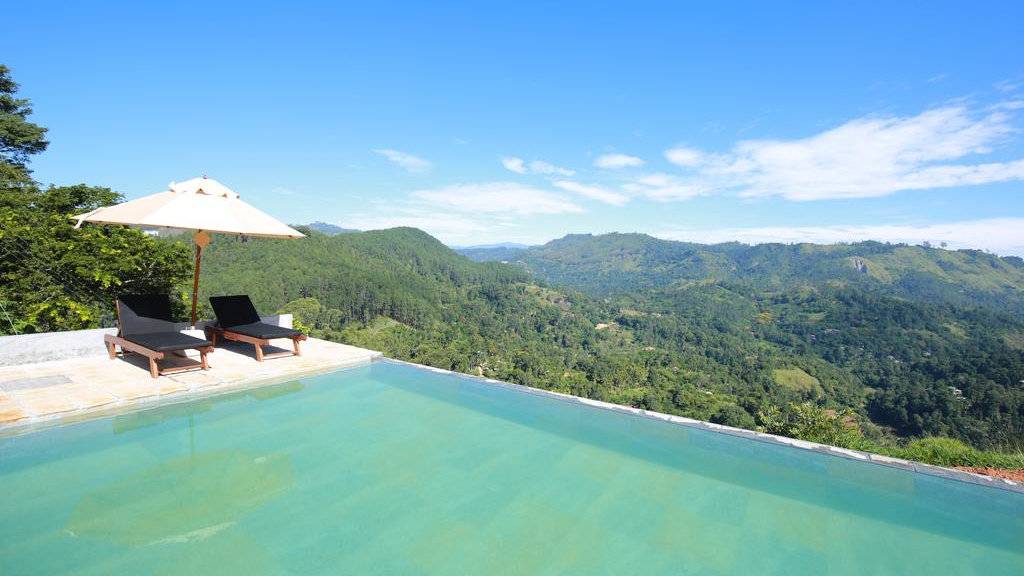 Why we love it
---
Small luxury boutique hotel
Located in a converted former tea planter's home
Gorgeous infinity pool with views of the Nine Arches Bridge
Personalised Butler service!
The Secret Ella is our favourite place to stay in Ella. It's just so stunning and luxurious! It's located in what used to be a tea planter's bungalow that has been converted into an elegant resort with rooms and even private chalets.
Views from the chalets are particularly epic, looking down over the lush green valley. You can even see trains crossing the famous Nine Arches Bridge from the end of the garden.
Of course, one of the real highlights is that amazing infinity pool! There's something particularly magical about floating in cool waters on a hot day while gazing out over the jungle. You can also simply work on your tan on the sunbeds while watching bees and butterflies that are attracted to the garden flowers. The hotel also has a games room if you prefer indoor pursuits, along with a movie library.
In terms of location, The Secret Ella is located towards the East of Ella's centre, close to the Nine Arches Bridge and the Little Adam's Peak trail. For food, we recommend the on-site restaurant, which has a mix of gourmet Sri Lankan and western dishes. And the cherry on top of this super pretty cake: you get your own personalised butler service!
02
Zion View Ella Green Retreat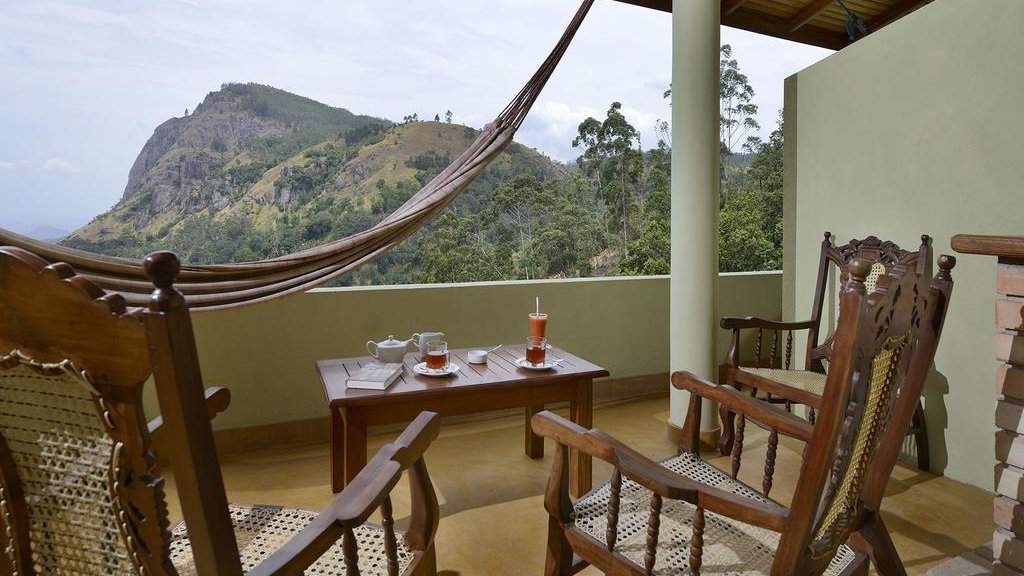 Why we love it
---
Our favourite medium-budget option in Ella
Stunning views of the Ravana Falls
Plush infinity pool
Morning rooftop yoga classes with views of Ella Rock
Zion View Ella Green retreat is our pick for those on a medium budget. It feels luxurious with some incredible facilities.
For starters, there's a gorgeous infinity pool with impressive views across Ella Gap – at sunset you're going to be going Insta-Crazy here!
Over on the rooftop they offer daily yoga classes in the morning with views of Ella Rock…a fantastic way to start the day says we!
Rooms at Zion View are on the basic side but they are massive and super clean. In addition, every room has its own private balcony with hammocks strung up for afternoon naps – or Sebiestas as I like to call them (Seby siestas – get it?). Spa gurrls will love the range of treatments offered at the Zion View Ella Green, in particular, the Ayurvedic massages.
The hotel has a decent restaurant that makes delicious curries. The breakfast is also served here which consists of fresh fruit, Sri Lankan hoppers, buffalo curd and honey. Weather permitting, it's all served outside on the balcony terrace. Finally, the staff are a delight! They welcomed us as a gay couple sharing a room, even placing flowers on our table for dinner.
03
Chamodya Homestay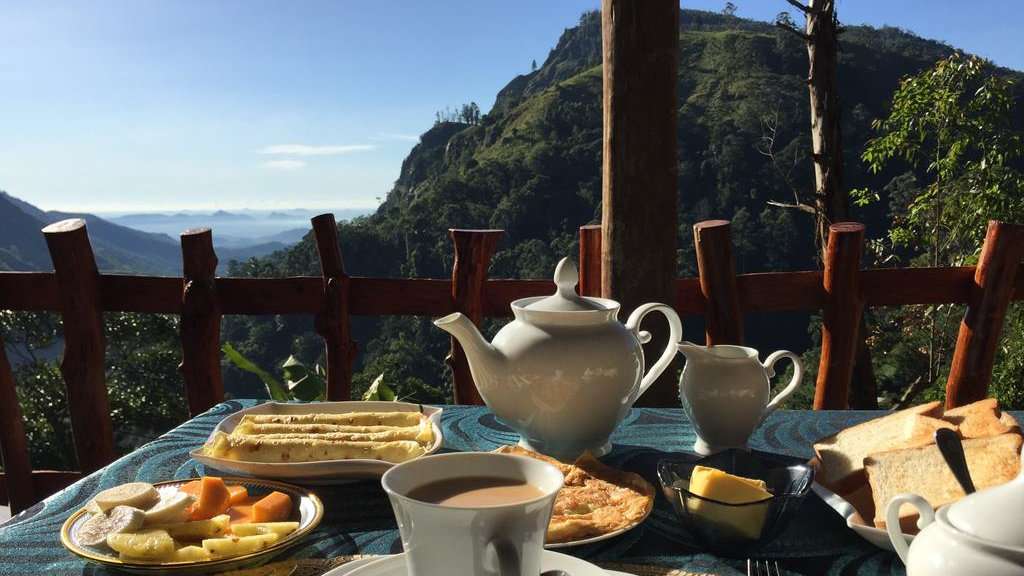 Why we love it
---
Cheap and cheerful: our favourite budget hotel in Ella
Super homely, like living with your own Sri Lankan family
The best views in all of Ella!
Bountiful breakfast included served outside on the balcony
The Chamodya Homestay is perfect for solo travellers and budget travellers.
You stay with the adorable Lilu and her lovely family. They welcomed us with open arms, making us feel like extended family. Lilu told us they love meeting foreigners (she said it helps them practise their English!) – we sure felt this here. From the moment we first arrived, Lilu served us tea, biscuits and chatted to us about our plans, giving us tips on the best things to do.
Staying with Lilu and her family definitely ranks as one of our highlights from our Sri Lanka travels.
Rooms at Chamodya Homestay are simple but clean and comfortable. Some of the rooms even have their own private balcony. We adored having our spectacular breakfast on the terrace each morning, watching the mists rise from the valley as we stuffed ourselves with coconut pancakes, hoppers, roti, fresh fruit, juices, eggs, toast and tea. You can also arrange to have dinner here at night…definitely recommended as Lilu makes a mean Sri Lankan curry!
The communal outdoor terrace is a perfect hangout spot. Whether you strike up a conversation with Lilu's father or another guest, there's always someone here to hang out with. And lots not forget those splendid views of Ella Rock from here! For us, staying with a local family in their home was the real highlight of the Chamodya Homestay. We didn't want to leave!
Things to do in Ella
As well as the trek to Ella Rock, there are a whole bunch of awesome things to do in and around this really pretty part of Sri Lanka. Here are some of our favourites:
Hike to Little Adam's Peak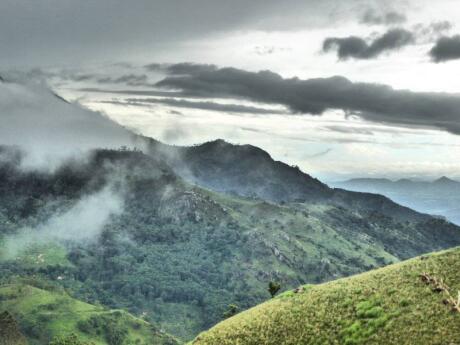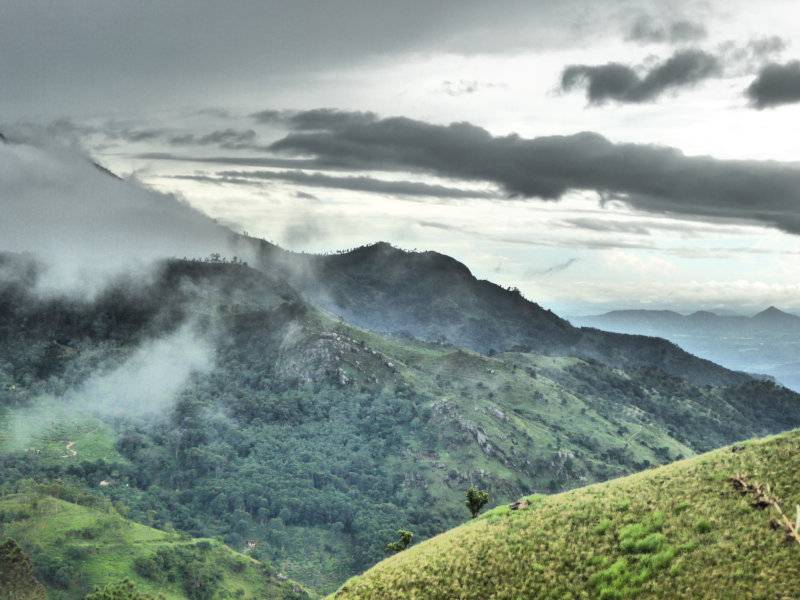 Little Adam's Peak is the other main trek to do in Ella town. The views from here are pretty impressive! Little Adam's Peak is named after the sacred mountain of Adam's Peak ("Sri Pada" in Sri Lankan), where the footprint of the Lord Buddha is preserved.
The trek is much shorter and easier than Ella Rock – around 2 hours round trip for us (inclusive of plenty of stoppage time for photos). As it's closer to Ella, it's a lot busier here than the Ella Rock trek. The trek starts in the tea plantations before climbing. At the top you get an impressive 360-degree view overlooking the valley, all the way to the Udawalawe National Park.
---
Nine Arches Bridge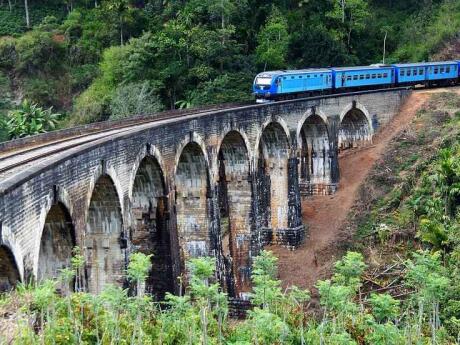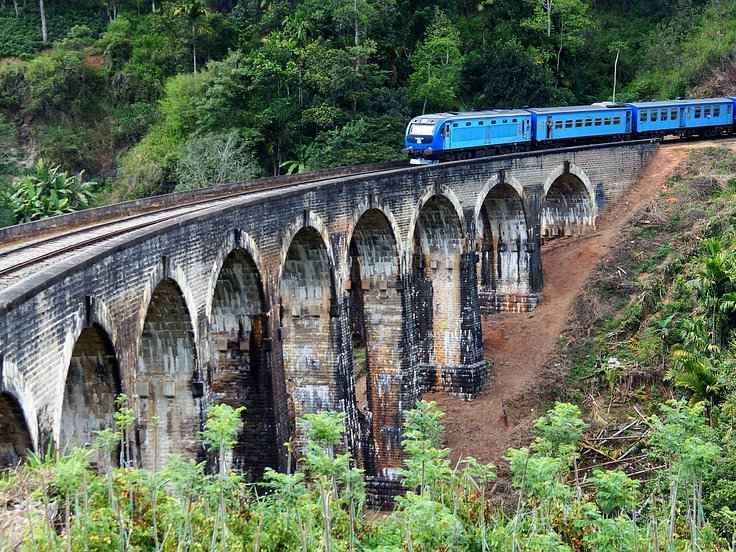 The Nine Arches Bridge is another must-see in Ella. It's so unique and pretty that it's often nicknamed "The Bridge in the Sky"! It's a picturesque train track viaduct bridge in Ella built by the British back in 1921 when the railway industry in Sri Lanka had reached its zenith.
The Bridge was considered remarkable when it opened – an engineering triumph – because it was made entirely out of brick, rock and cement, ie with absolutely no metal used at all. Our guesthouse host in Ella told us that the reason for this is because all the steel in Sri Lanka got sent to Europe during WW1, so they had to make do without it. If you want to combine the trek to Ella Rock with a visit to the Nine Arches Bridge, we recommend this tour.
---
Learn to cook Sri Lankan food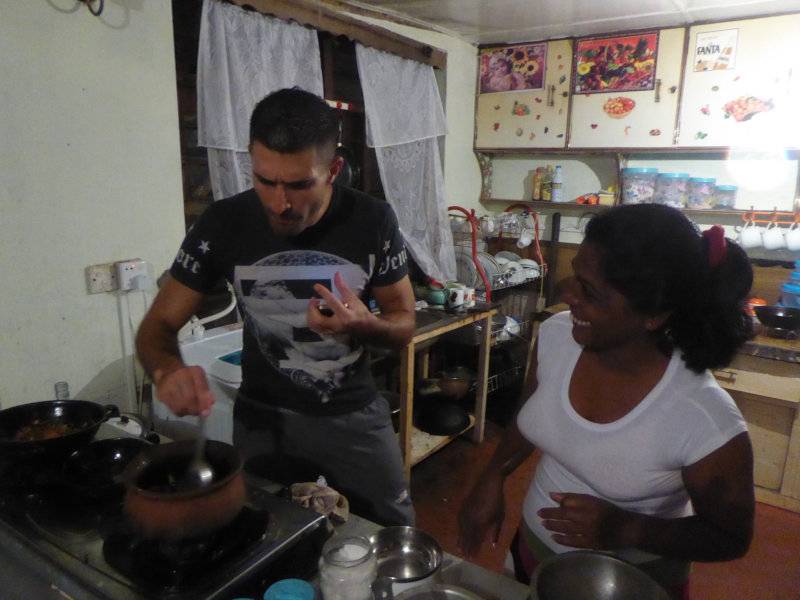 Which is our favourite food from all our travels? Well, Sri Lankan certainly ranks up there as one of the best. If you like Indian food, then you're going to love Sri Lankan. Everything these guys make is divine! The best way to learn more about it is to do a cooking class. Most of the guesthouses in Ella will offer the chance to cook with the host, which is what we did.
We also joined this full-day cooking school which we recommend, where we cooked 5 different dishes and were able to take the recipe away with us to try back home. You can read more about our Sri Lankan culinary discovering in our guide to our favourite foods and drinks in Sri Lanka.
---
Visit the Diyaluma Falls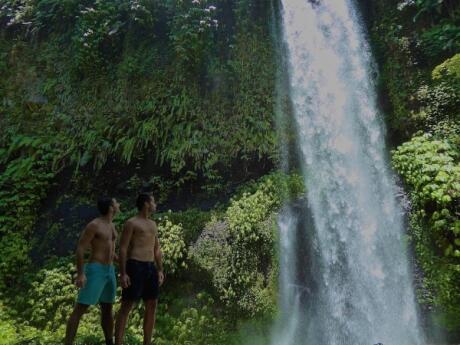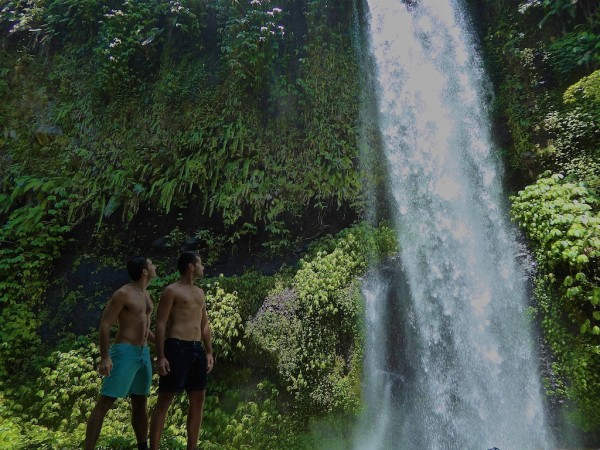 The Diyaluma Falls is famous in Sri Lanka because it's the second tallest in the country – 220 metres (720ft) high. We recommend grabbing your swimming shorts (as well as the insect repellent and sunblock cream!) and head to the infinity pool here for some pretty decent views around the valley.
To reach it you need to first take a 10 minute tuk-tuk ride to the nearby Poonagala village and then hike down for around 30-minutes hike until you reach the falls. It's well sign-posted and locals are super friendly, happy to point you in the right direction. However, avoid if there are heavy rains as there are no safety barriers and the water level can get dangerously high.
---
Visit a tea plantation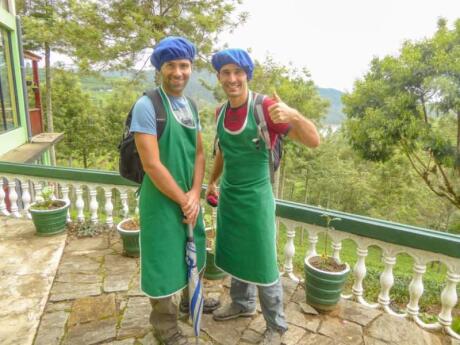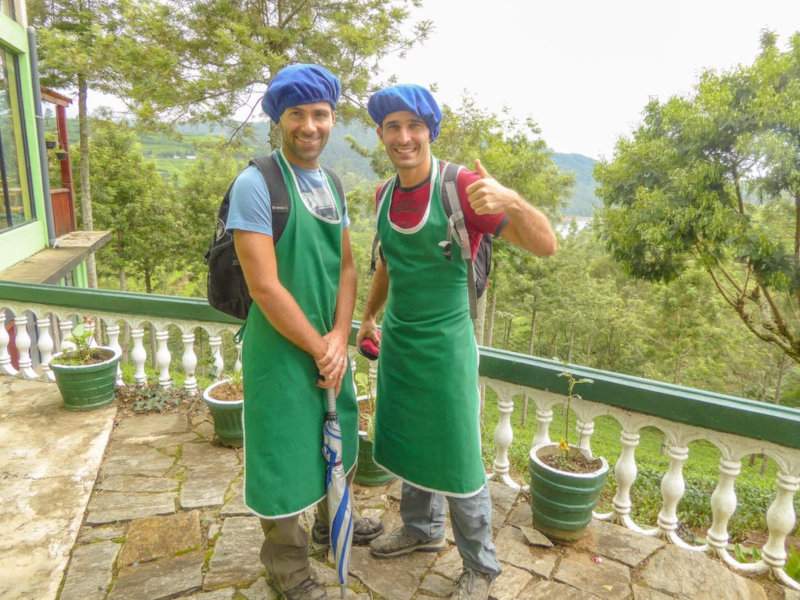 Sri Lanka is often thought of synonymously with tea, and it's no wonder with such a rich history of growing tea to export to the rest of the world. While you're in Ella you should definitely visit a tea plantation like the Halpewatte Tea Factory – the largest in the whole Uva region. Here you can learn all about tea production and taste some delicious favourites for yourself.
Another option we recommend is this tour to the Dambatenne tea factory which was built in 1890 by Sir Thomas Lipton – surely everyone's heard of Lipton tea right?! Not only does this tour include a tour of the factory and tea tasting, but you'll also get to visit Lipton Seat, one of the most impressive viewpoints in the country.
---
Happy travels are safe travels
We recommend you always take out a reputable travel insurance before your next vacation. What happens if you suffer from illness, injury, theft, or a cancellation? Many travelers forget about it and regret it when something happens. Better to pay a small price and have the peace of mind and not worry.
---
Like this post? Pin it