Our favourite trekking experience during our travels in Asia was the Annapurna Circuit in Nepal. However, the 2 hours trek to Ella Rock from Ella town in Sri Lanka certainly rivals this for scenery. But finding the trail can sometimes be challenging, so here's the ultimate guide to trekking to Ella Rock, easy peasy!
A word about Ella
Ella is a beautiful small town in the south of Sri Lanka in the Hill country. It is a great base for tourists who want to explore the surrounding hills and enjoy the breathtaking views of Badulla's green valleys. The weather is usually quite humid, with moderate air temperature, sunny mornings, and often rain showers in the afternoon.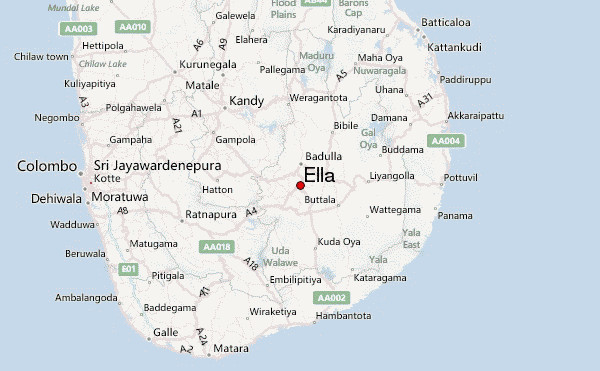 Where to stay in Ella?
There are a number of great places to stay scattered around town, with amazing views and for all budgets.
THE SECRET ELLA Book online
Former tea planter's home converted into a small luxury boutique hotel.
Incredible views including the 9 arches iconic bridge.
Prices start from $244 / £169 for a room with breakfast.
ZION VIEW Book online
Beautiful property overlooking the Ravana waterfalls and the hills surrounding it.
Room is comfortable, clean and nicely furbished.
Prices start from $114 / £79 with breakfast.
CHAMODYA HOMESTAY Book online
Stunning views, lovely hosts and one of the best views in Ella.
Prices start from $33 / £23 with breakfast incuded.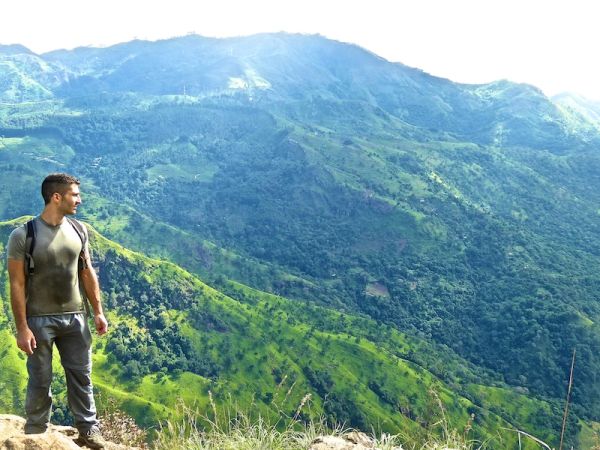 What is Ella Rock?
Ella Rock is a famous cliff, located high above Ella's village, roughly a two hours strenuous trek from the centre of town. The rock offers stunning views across the hill country, and the plains below. The trek to Ella Rock is about 8 km long and is quite easy if you follow the track (and our advice!).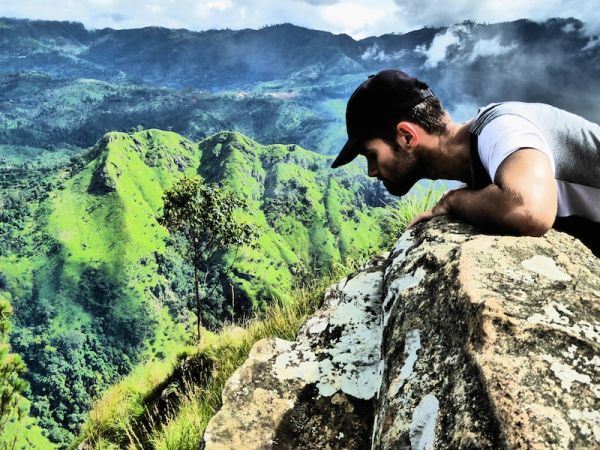 How long is the hike?
Trekking to Ella Rock and back took us around 4 hours from start to finish. We passed through the surrounding countryside, tea plantations, railway lines and then up the hills until we reached the Ella Rock peak.
Do you need a guide?
We don't think a guide is necessary to do the hike. If you follow the steps below, you will find it quite easy. If having a guide makes you feel more comfirtable, you can pay for a local to show you the way (around 1,500 rupees / £8 / $12 per person).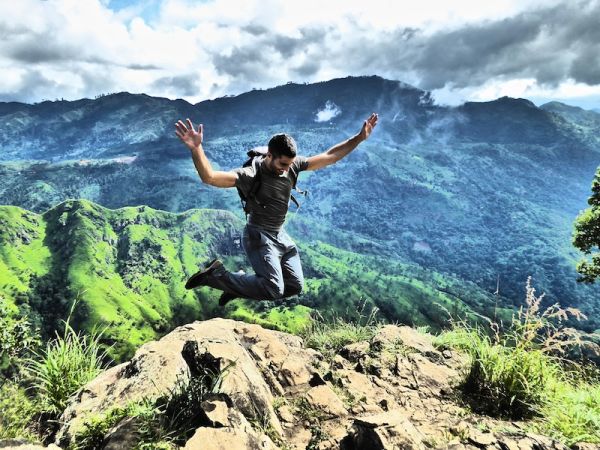 The route step-by-step
The route for trekking to Ella Rock can be a little bit complicated and we struggled to find sufficient information about it online. We found some helpful advice on Tripadvisor and eventually managed to find the way aided by a few friendly locals who pointed us in the right direction.
1. Go from Ella Town to the railway
From Ella town take the road up to the railway lines (anyone local can point out which road this is) and walk south along the railway lines for a few kilometres. If you've seen the classic 1980s film, "Stand By Me", you'll particularly appreciate the walk along the railway lines.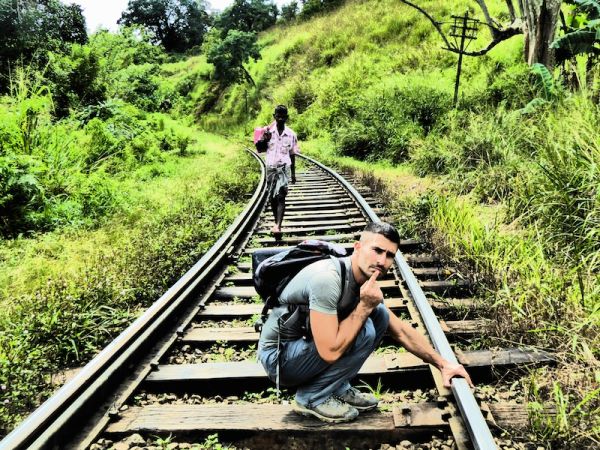 2. Continue to Kithaella train station
The aim is to keep on walking on the railway southwards, passing over a bridge and past Kithaella train station.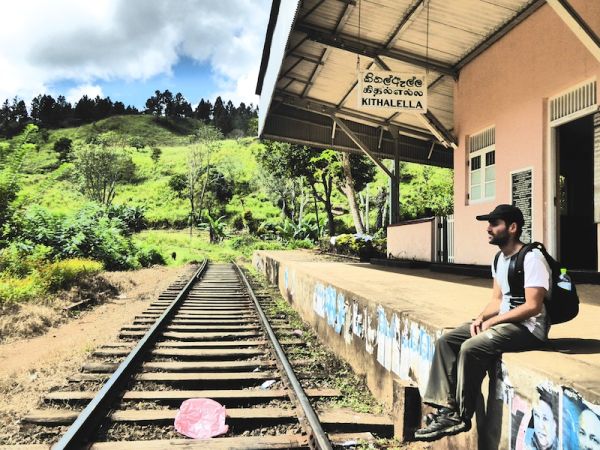 3. Ignore the turning with Buddhist statues
Before Kithaella train station there is a left turning with some small Buddhist statues where you can turn off to cross the river and go to Ella Rock. This route will make it 15 minutes quicker but is really complicated. We did this initially, got totally lost and needed a few locals to point us the right way. So just ignore it and keep walking towards Kithaella station.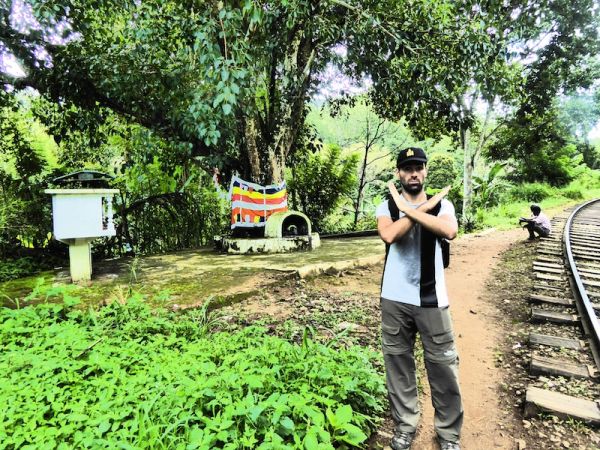 4. Ignore the bench too!
Once you pass Kithaella train station, there is another left turning with a bench: ignore this one too!
5. Take the 2nd turning after Kithaella train station
There will be a 2nd left turning after Kithaella train station. Take this one and cross the bridge over the river.
Turning left immediately after the bridge over the small river was good for us.
At all times when walking on the train lines, mind the oncoming trains!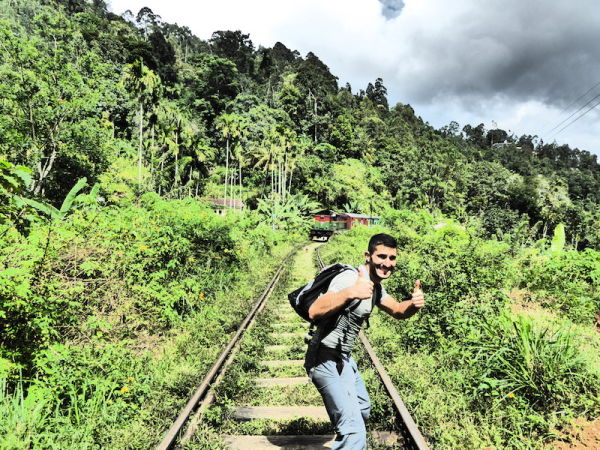 6. Take the path going upwards
Take the path going upwards (not right and not left yet). You will start to see faint blue arrows pointing the right way.
This path will eventually start going left towards Ella Rock, first taking you through some very large high bushy plants: walk through these.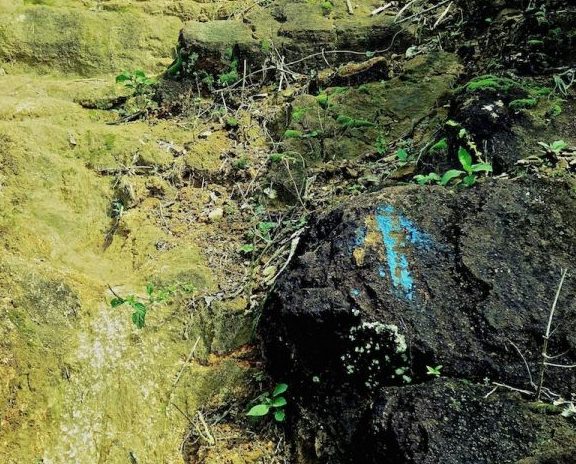 7. Hike through the forest of Eucalyptus trees
You eventually reach the main ascent up to Ella Rock through the forest of Eucalyptus trees. Any path here going up will take you to the top.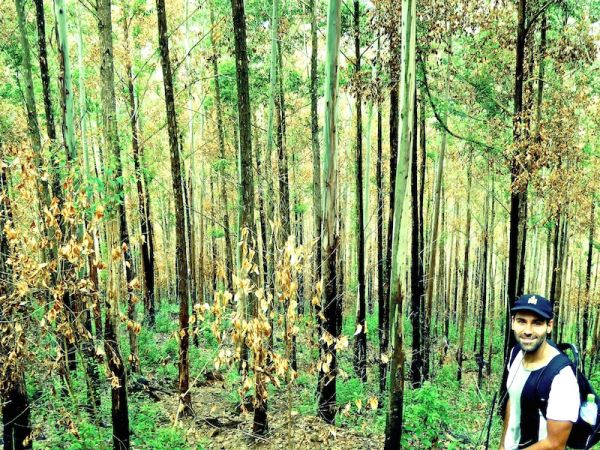 8. Enjoy the stunning views from Ella Rock!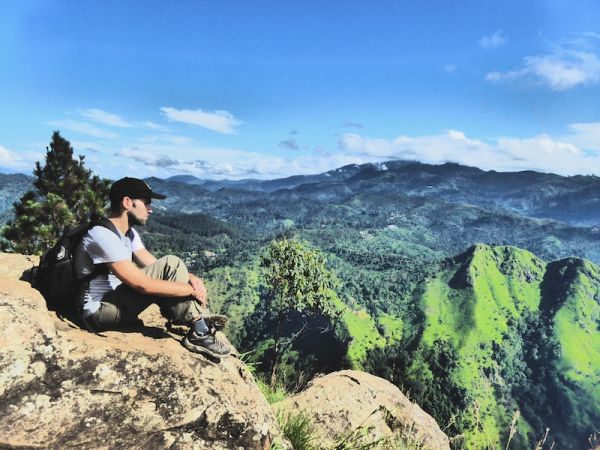 9. Go back down!
We found all paths going back down led to the same point and found it surprisingly easier to return.
The views from the top of Ella Rock peak are incredible, making the trek completely worthwhile.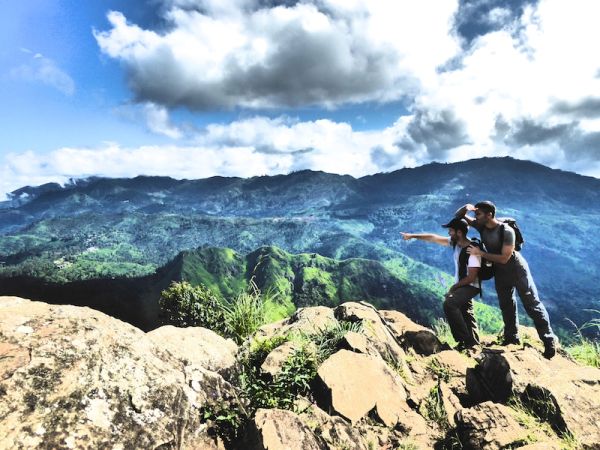 Advice for trekking to Ella Rock
Avoid to trek with sandals or flip-flops, especially after it's been raining. The hill country is renowned for its high population of leeches. They hang on to the vegetation by the side of tracks waiting for a nice hot blooded tourist to pass by. Leeches are not dangerous, so do not panic if one has decided to befriend you.
We advise you take some lime with you, and put a drop on the leech. It will not kill it, but it will make the leech quickly leave you without drinking your blood.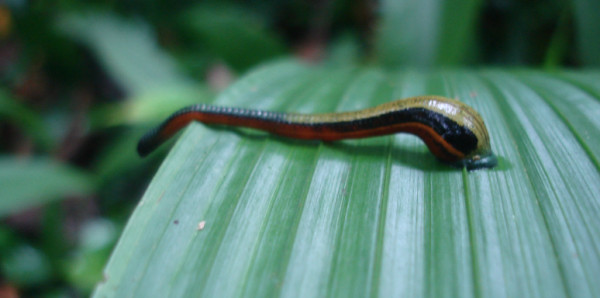 Watch our travel video diary of our adventures through Sri Lanka as we ate our way through this tropical island, took some beautiful train journeys and enjoyed excellent safaris spotting leopards at Udawalawe and blue whales at Mirissa.
OUR FAVOURITE TRAVEL TIPS
⭐️ TRAVEL INSURANCE — We recommend you always take out travel insurance before your next vacation. What happens if you suffer from illness, injury, theft or a cancellation? With travel insurance, you can have peace of mind and not worry. We love World Nomads travel insurance and have been using it for years. Their comprehensive coverage is second to none and their online claims process is very user friendly.
⭐️ SAFETY & SECURITY — All travelers can sometimes encounter danger when traveling. CloseCircle is your "virtual body guard" mobile app which provides security alerts and support wherever you are in the world. They have a 24/7 emergency response team monitoring their users who will contact you immediately if the SOS swipe button is activated. Support can include anything from practical advice, to free evacuation from areas with extreme weather or security risks. You can read more about CloseCircle in our article about how to stay safe whilst traveling.
⭐️ ONLINE ANONYMITY — A VPN (Virtual Private Network) is a must in many countries: it allows you to surf anonymously and maintain your privacy whilst traveling. You'll particularly need it in countries where dating apps are blocked by the government. We recommend ExpressVPN, a reliable and cost effective service which we used and loved during our travels.
⭐️ HOTELS or APARTMENTS — When we plan a trip, we always look for the best hotel deals. We love Booking.com because not only do they have a comprehensive listing of accommodation options, they also offer the best prices. Added bonus: they provide 24/7 support and free cancellation for most listings.
⭐️ SIGHTSEEING and ADVENTURES — When we travel somewhere, we like to seek out the best experiences, whether it is cooking with locals in Bangkok, hiking on a glacier in Patagonia, or going on a wildlife safari in Sri Lanka. Our favorite place to look is GetYourGuide because they have over 30,000 highly rated activities, a user-friendly booking process with free cancellation and a 24 hour customer support.
This article contains affiliate links. If you click on them, we may receive compensation which keeps our website alive and helps us bring you to more destinations.