Crossing Thorong La Pass, Annapurna trek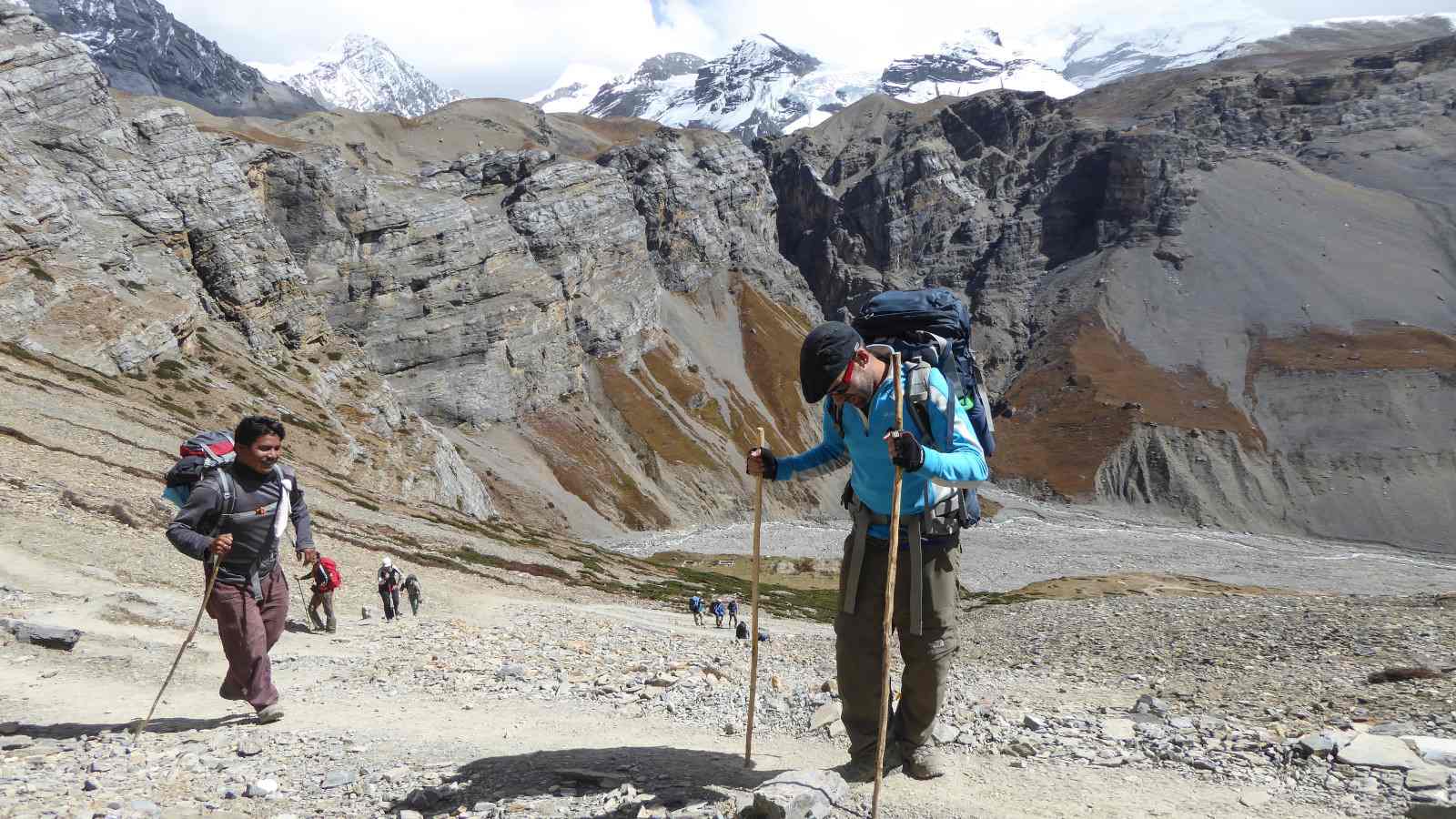 Thorong La Pass is the climax point of the Annapurna Circuit at 5,416 metres altitude and one of the hardest things we ever done.
Most trekkers start from Besi Sahar (1,000m) and work their way around the circuit anticlockwise to Pokhara over a 2-4 weeks period. This allows for a break mid way at the village town of Manang (3,550 metres) to acclimatise before heading higher:
The Annapurna Circuit is one of the most popular treks because of the beautiful Himalayan scenery you pass along the way.  You also pass lots of mountain villages and interact with lots of locals.
We spent 15 days trekking with our excellent guide, Kiran Shrestha who can be contacted by email on: 833@yahoo.com.
Here is a breakdown of our extraordinary journey trekking across the Himalayas:
1. Easy peasy: trekking up to Manang (3,500m)
Our first week involved trekking up to 1,000-3,500 metres.  This was relatively straight forward (as far as altitude sickness symptoms go).  We would normally trek between 6-8 hours a day, covering around 15-20km a day.
This was made more challenging by not having a porter and therefore carrying a load of around 13kg each.  We would rise early to cover each daily trail and by the end of each day (ie after lunch time) we were knackered and were normally in bed by around 8/9pm.
The scenery below 3,500 metres is obviously varied and we passed a lot of waterfalls, vegetation, animals, and, er wild marijuana plantations:
At 3,000 metres altitude, we started to see glimpses of various Himalaya peaks:
2. Acclimatisation at Manang village (3,500m)
We were told symptoms of altitude sickness may start to creep in when you start to reach altitudes from 3,500m.  Whilst we were ok at this altitude, fellow travellers complained of breathing problems at this point and headaches.
At 3,500 metres we stayed at the small mountain town called Manang.
Most people stay in this town for a day for their bodies to acclimatise to the altitude before trekking higher.
3. Getting harder: trekking from 3,500m to High Camp – 4,800m
Half way through the trek we eventually reached a village called Yak Kharkha (4,050m). The views of the Himalayas now started to become even more incredible:
The landscape now started to become more arid with much less vegetation:
One of the hardest parts of the entire circuit for most trekkers is the afternoon walk up from the small village called Thorong Phedi (4,500m) to "High Camp" (4,800m).
This was one of the hardest parts for us and when we started to feel the altitude symptoms.  For example, we needed to stop every few minutes to rest before continuing further, panting hard:
4. The hard part: crossing Thorong La Pass (5,416m)
The starting point for the final climax part of the Annapurna trek is 'High Camp', which is 4,800 metres high:
We arrived at High Camp after lunch time and stayed there for the rest of the day.  At 4,800 metres we both started to feel the altitude – breathing for Sebastien and headaches for Stefan.
We found that eating plenty of food solved most problems, along with hot drinks like lemon and honey or mint tea. Our guide even managed to persuade us to drink coca cola to help alleviate headaches – and despite Stefan's protests (he thinks Coca Cola is toilet cleaner), it worked!
The following was the hard part.  We had to wake early to leave at 5am, trek up 600m to the 5,416m Thorong La Pass climax point, then down 1,800 metres to Muktinath village (3,800m).
We had to start early to ensure we avoided the heavy winds that occur at high altitudes in the late morning before midday.
Waking up at 3:30am is hard enough. Waking up at 3:30am at 4,800 metres altitude at High Camp was even harder! The headaches and breathing issues started to kick in as your heart races away to cope with the rising altitude.
We went during peak time for the weather.  Despite this it was cold.  Really cold at 5am and those thick woolly hats, gloves and down jacket were invaluable!
With hindsight we cannot imagine how difficult it must have been for the unfortunate trekkers who fell victim to the freak snow storm just at this point, 4 days after we were there!
We eventually made it to the high point of Thorong La Pass at 8am and were overjoyed! The adrenaline at this point kicks in, which helps with all the altitude symptoms:
Then follows the hard part – trekking down from 5,416m to the village of Muktinath – 3,800m. Oh boy do those walking sticks come in handy at this point!
5. A well deserved break at Pokhara (800m)
The ending point for most trekkers is the peaceful city of Pokhara. It has a beautiful lake to rent a boat and just relax after a strenuous two weeks trek:
Watch more from our travel in Nepal in our awesome video: