Udawalawe National Park is THE place to visit in Sri Lanka to see loads and loads of elephants!
With a herd of over 650 spread across 30,821 hectares (119 square miles) of land, you'll see elephants roaming, tending to their young, feeding, generally going about their daily business – and it's truly spectacular! Such magnificent, majestic creatures. You can get pretty close to them here…we could have spent hours just marvelling at them…
On top of that, Udawalawe is also home to buffalos, dramatic peacocks, jackals, civets, mongooses, deer, boars, and many different species of birds. And with a savvy guide to hand, you may get really lucky and spot the elusive family of leopards that roam these parts.
The best part is that unlike other national parks in Sri Lanka, like Yala, far fewer crowds come to Udawalawe, which makes it feels like you have all the wildlife to yourself. In this guide we tell you all about our experience doing a safari in Udawalawe National Park, which we hope helps you plan out your own unique adventure here.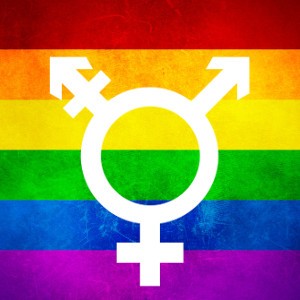 Advice for LGBTQ travelers to Sri Lanka
Sadly being gay is illegal in Sri Lanka. The country proudly retains its colonial-era anti-gay laws and doesn't seem to be repealing them any time soon. This makes life hard for the Sri Lankan LGBTQ community. However, for gay travelers, a different standard is applied – no policeman will want to get mixed up with Embassy issues, so because of this alone, Sri Lanka is safe for LGBTQ travelers!
Where is Udawalawe National Park?
The Udawalawe National Park is located towards the southern end of Sri Lanka in between two provinces: Sabaragamuwa and Uva. It is located just south of the country's hill country, which provides quite a dramatic backdrop. It was established on 30 June 1972 as a sanctuary for wild animals displaced by the construction of the Udawalawe Reservoir on the Walawe River. The entire park covers an area of 30,821 hectares (119 square miles), making it Sri Lanka's 3rd largest national park (after Yala and Wilpattu).
The park location is also on the boundary of the country's wet and dry zones, ensuring it has a hot and humid climate throughout the year: average annual temperature is 81–82°F (27–28°C) and most rain falls in October-January, and March-May. This also means that whether you're here in the dry or wet months, there will always be something spectacular to behold. In the dry months, the reduction of fertile forest cover makes it easier to spot wildlife (especially compared to the other national parks). In the rainy months, the entire reserve transforms because temporary lagoons form around the reservoir and floodplains become a rich green color.
Which airport do I need to use to go to Udawalawe?
The Colombo International Airport is the main entry point for Sri Lanka where most enter this gorgeous island, with flights to most places in the USA and Europe. From the airport, Udawalawe National Park is a good five-hour drive away. You can either brave the long journey or make a few stopovers en route to somewhere like Ella or Nuwara Eliya like we did.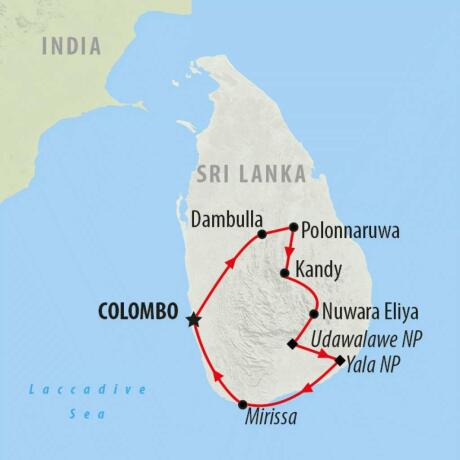 How much is a safari in Udawalawe?
There are many factors to consider when calculating the cost of a safari. Overall, the costs vary based on whether you decide to go for an all-inclusive luxury tour or a more 'do it yourself' style safari. If you arrive at the park to do it yourself, budget for $15 entrance fees along with $30 to book a jeep with a driver.
While the costs to do it yourself seem much lower, you also need to remember that you will also have to organize (and pay for) all your transport, food, drinks, and accommodation for visiting the park separately.
An all-inclusive safari can range from $200 daily for more budget options to upwards of $500 for more luxurious options. These include overnight accommodation, park fees, all meals, drinks, and transport with an experienced guide. Plus, you'll maximize your chances of spotting leopards over multiple excursions by staying for more than a day.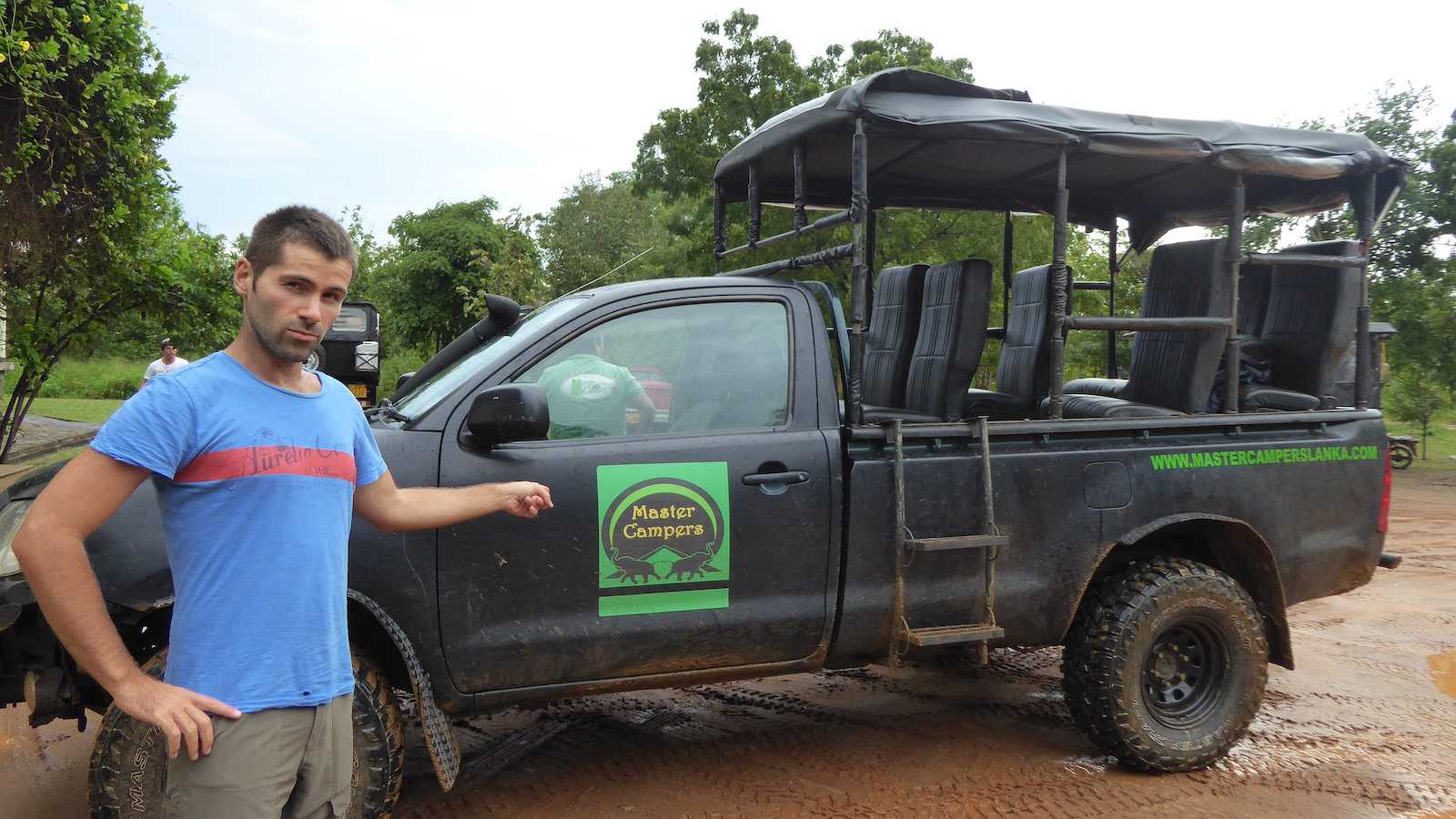 Udawalawe all-inclusive safaris versus day tour
There are two ways to do a safari at Udawalawe – as part of an all-inclusive safari experience (highly recommended!) or by yourself, relying on the park's tracker guide (good if you're on a tight budget).
We splurged and did an all-inclusive 2-night stay near the park in an upmarket camp and had our own guide/driver who knew the park inside out, enabling us to spot leopards. If you're on a tight budget, you can instead head to the park in the morning and take one of the 4×4 jeeps shared with others. We've set out more information about both options below:
1. All inclusive safari experience
There are many companies offering the chance to camp close to the park, allowing you to spend longer inside as being one of the first to enter in the morning – when the wildlife is most active. The same companies will also have experienced English-speaking guides who will accompany you throughout your safari.
The quality of the guides is the reason why we recommend the all-inclusive safari experience. At the end of the day, it will be the guide who will make or break your safari experience. They will know where exactly to go in the park and at what time in order to spot the best activity, This is what will increase your chances of spotting more elusive wildlife like leopards. The alternative is relying on the park's "tracker guides" who are volunteers with limited English and minimal guiding experience.
For our safari in Sri Lanka, we spent two nights in a luxury camping site. The whole thing was unforgettable, easily our favorite memory from our travels to Sri Lanka. Our guide was extremely switched on and an invaluable fountain of knowledge about every single bit of wildlife in Udawalawe. He was the one who spotted all the incredible wildlife we saw whilst the park's tracker guides took their lead from him!
Included in our luxury safari experience was:
a spacious private tent with en-suite bathroom
A big comfy bed you will really appreciate it!
Our own private guide and driver
Prices start from $390 for an all-inclusive overnight safari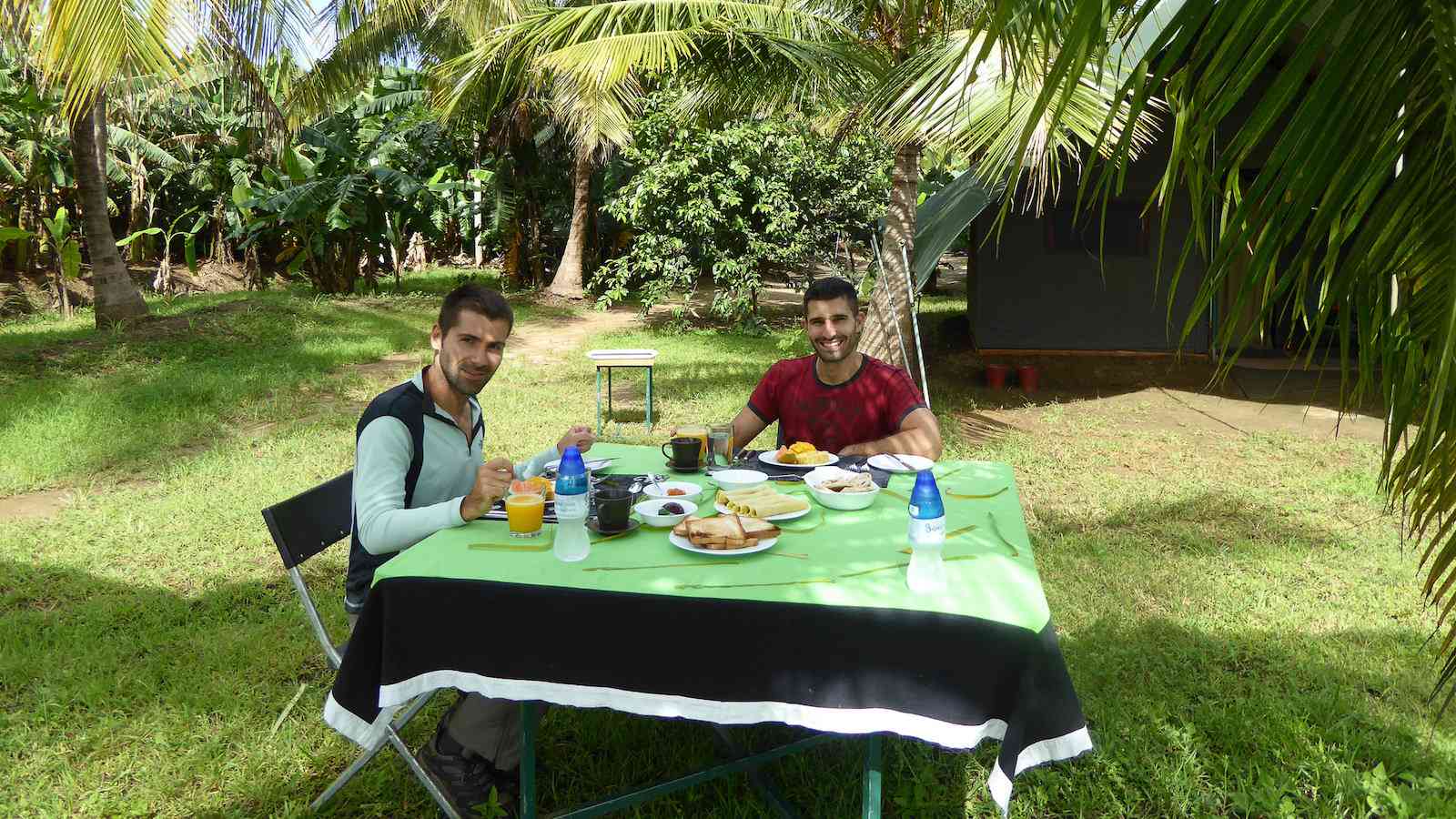 2. Day safari at Udawalawe National Park
If you're traveling on a tight budget and don't want to splurge on an all-inclusive safari experience, you can instead stay at one of the many guesthouses or hotels near the park and organise a day tour. This will involve heading to the park early in the morning and taking one of the 4×4 jeeps waiting outside the gate for a half or a full day tour. This may be shared with other travelers and includes tracker guide and driver.
The advantage of this option is that it's a lot cheaper than an all-inclusive. However, it means you share your safari with others and you're relying on the park's tracker guides to spot the wildlife; from our experience with the guides, we appreciated the tracker guides' enthusiasm, but they were simply not as savvy at spotting wildlife as the more experienced guides who work for the all-inclusive companies. The other down side of doing it yourself is that you have to account for your meals, transportation costs to the park, plus accommodation, and won't have as much time to spend inside the park.
The 3-hour tour costs around 3,500 Sri Lankan rupees (roughly $26) per person. You can also organise this via your guesthouse/hotel rather than turning up solo at the Park.
If, like us, you prefer organising everything ahead, you can even book a full day safari online for Udawalawe National Park.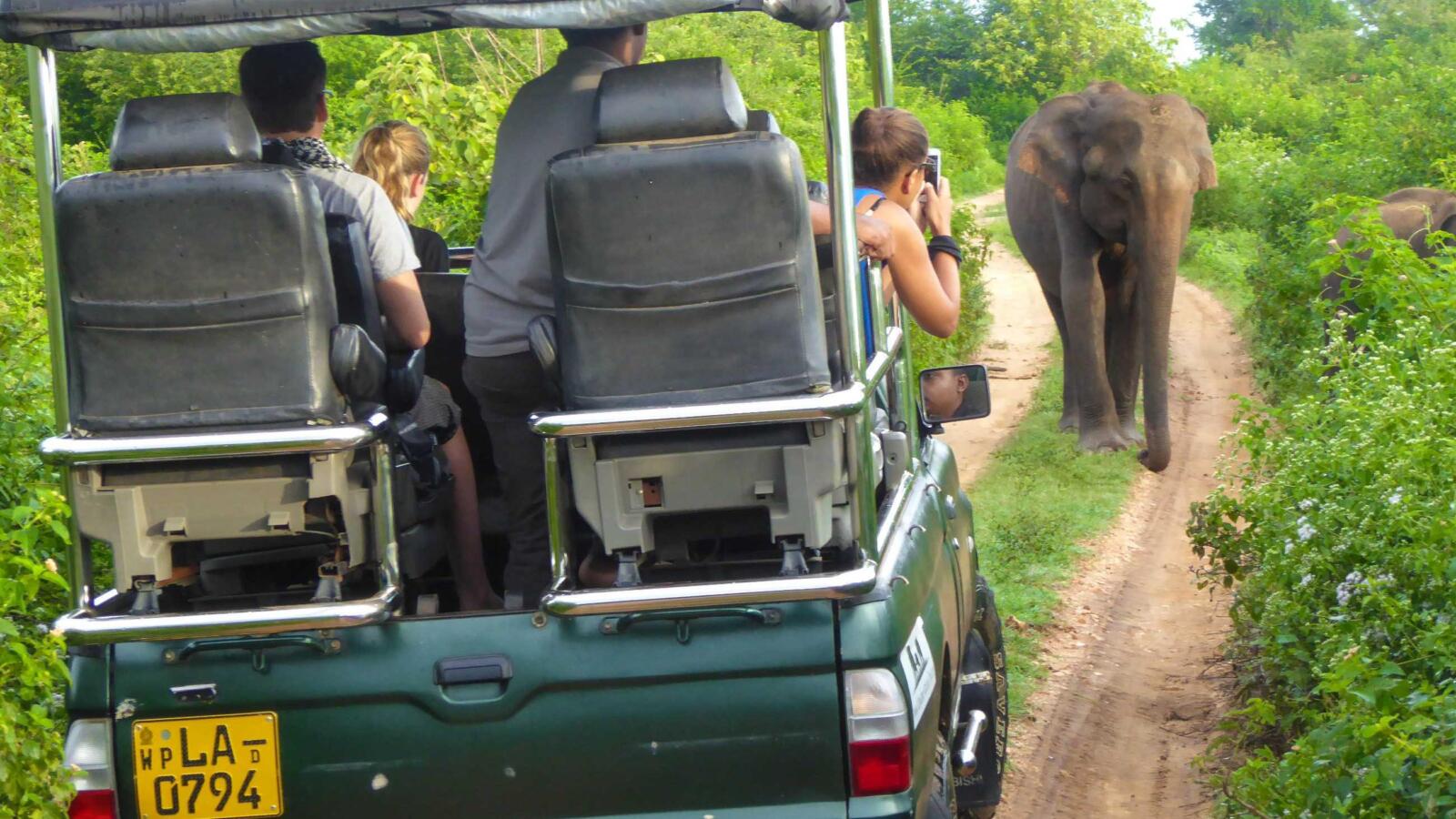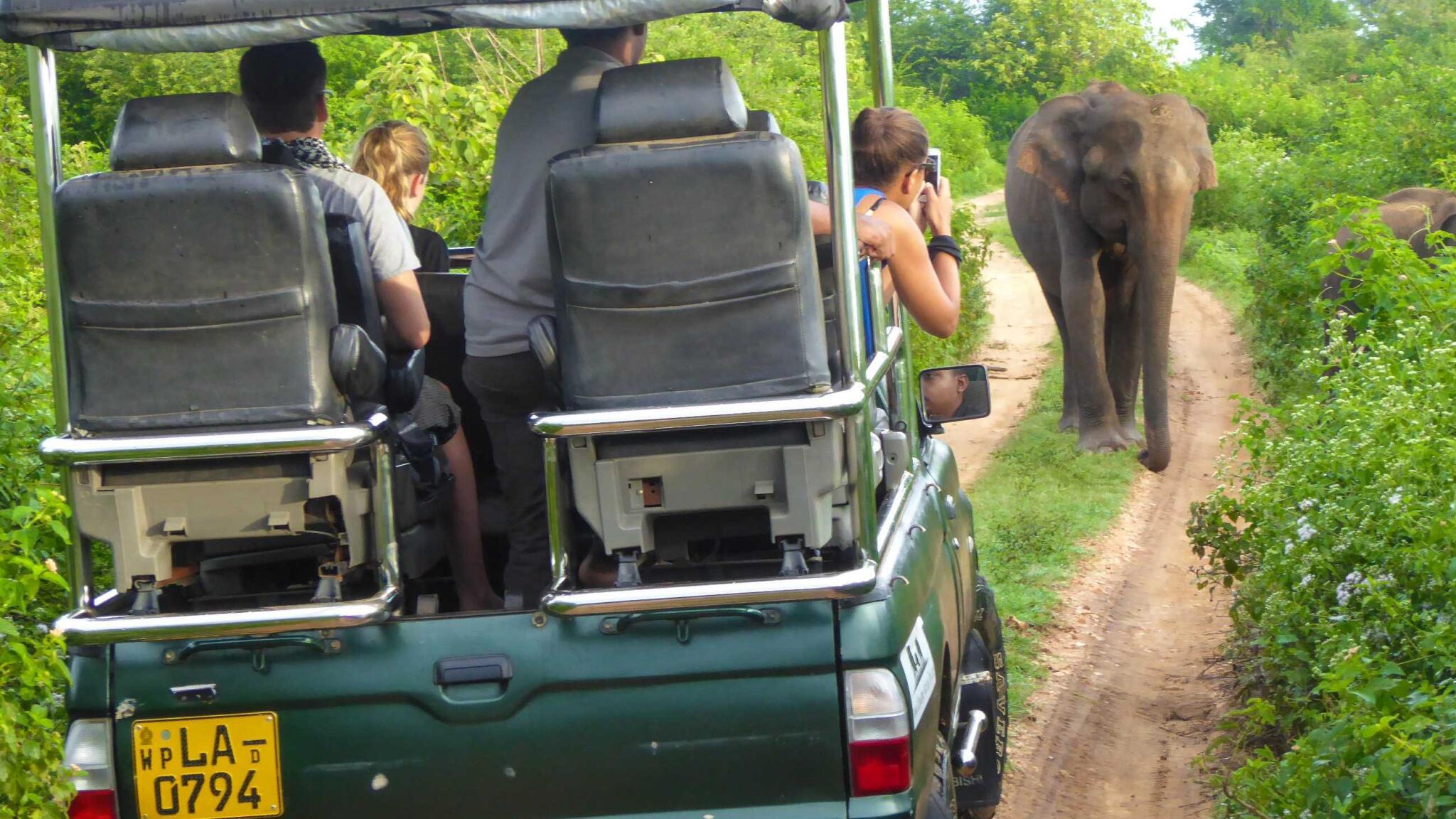 Where to stay in Udawalawe?
There are many excellent accommodation options for travellers doing a safari at the Udawalawe National Park. Whether you're looking for a glamping experience, a posh resort or more simple budget-friendly guesthouse option, we've included all three to give you some valuable inspiration to help you pick the most suitable option.
01
Mahoora Tented Safari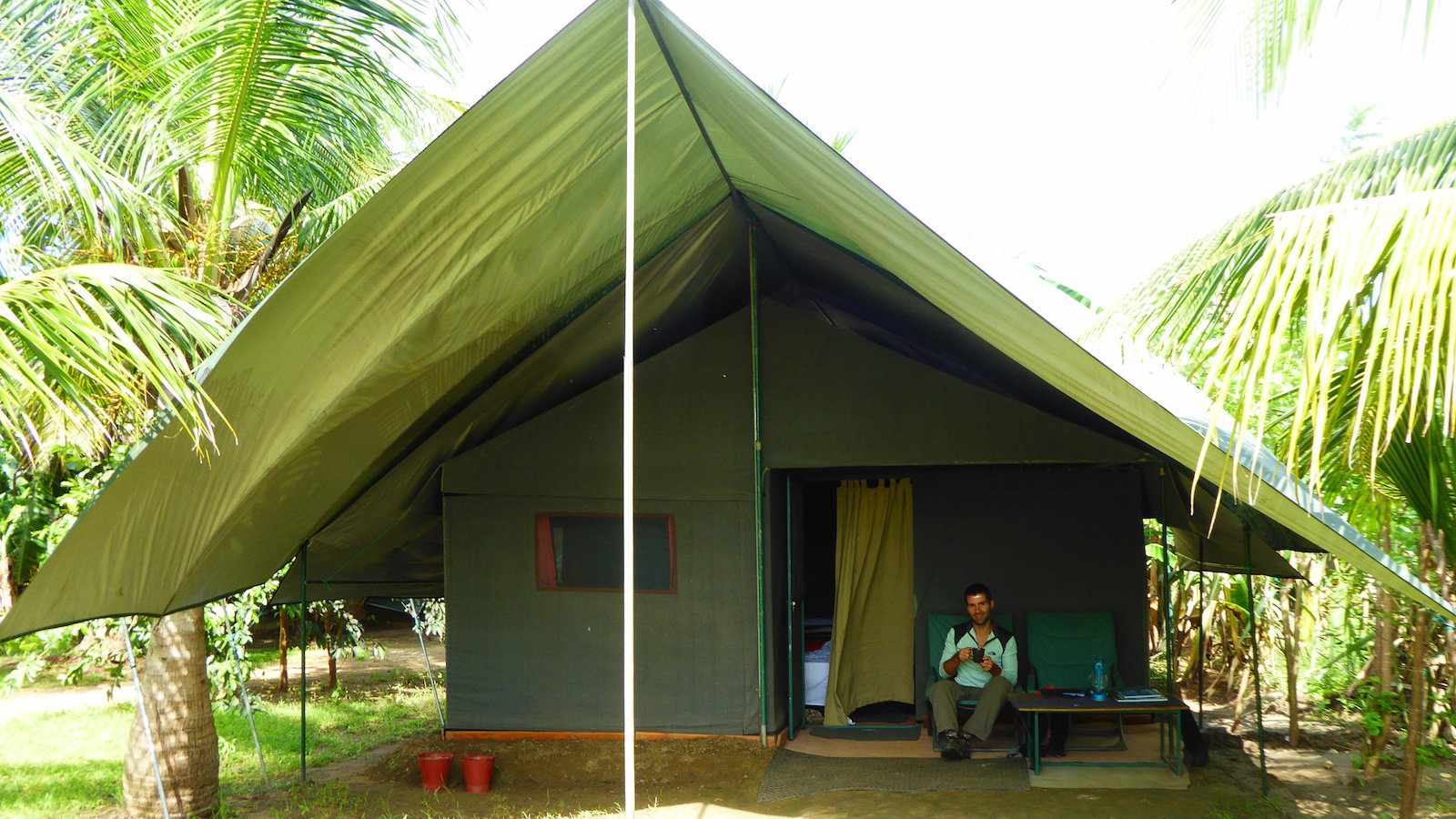 In a nutshell
---
All inclusive glamping safari
Spacious and comfy tents with ensuite bathrooms
Delicious western and Sri Lankan meals included
Multiple excursions to see wildlife
For our luxury glamping safari, we stayed in a spacious tent with a big comfy bed and attached ensuite. Now that's the kind of camping I like – when there's running water and flushing toilets!
All meals are cooked for you, and by meals we actually mean delicious Sri Lankan feasts with all the trimmings. Breakfast is a mix of western and Sri Lankan cuisine, which is just what you need after the 5am wakeup call for the morning safari.
That's one of the best things about staying in a luxurious tented safari, you get to have excursions into the park at different times of day, which means you're more likely to see wildlife being active at different times. You also get the services of both a driver and an experienced guide who knows all the best spots to see the different animals.
Unlike staying in a nearby hotel, you may even spot local animals wandering around out the front of your tent and we really felt like we were staying right in the heart of the jungle. The safari company will also organize to pick you up and bring you to Udawalawe from as far away as Ella, so you don't need to navigate public transport.
Prices for the Mahoora tented safari start from $390 per night:
---
02
Grand Udawalawe Safari Resort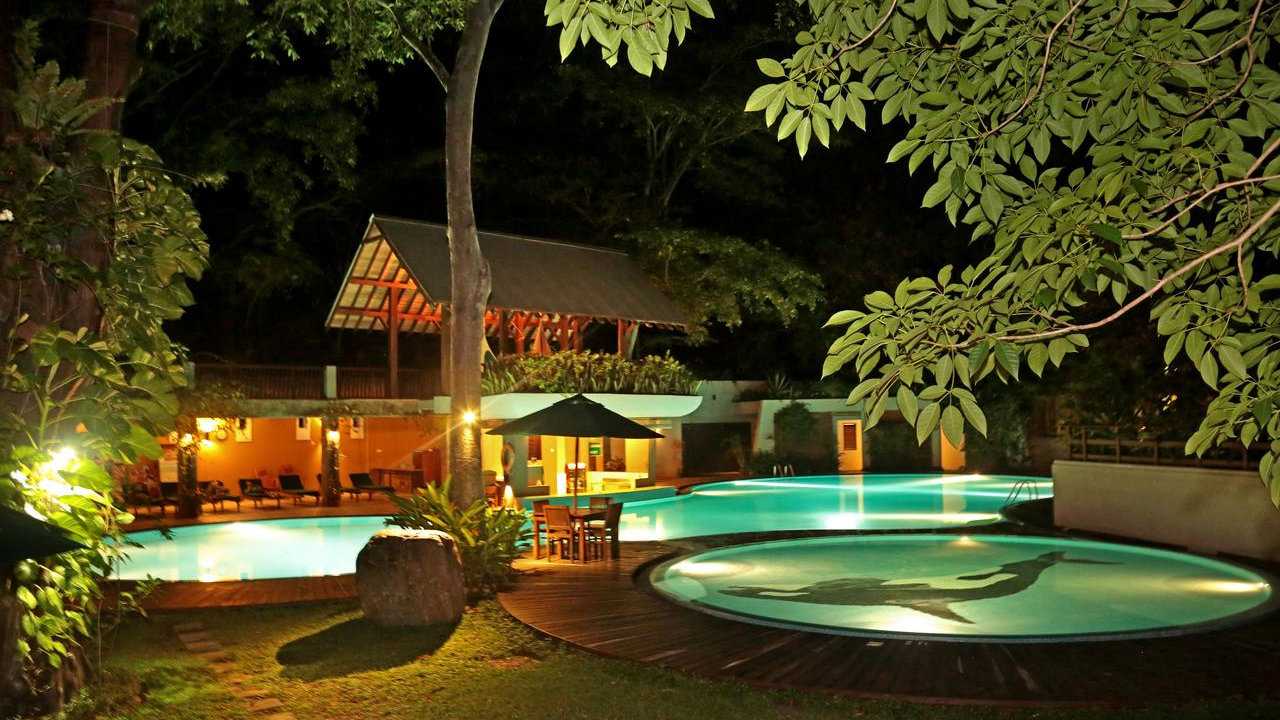 In a nutshell
---
Gorgeous big outdoor swimming pool
Delicious buffet dinner and breakfast
Spacious rooms with lovely views
They can organise a safari and arrange a visit to the elephant orphanage nearby
If you just can't bear the thought of roughing it in a tent, no matter how comfy, the Grand Udawalawe Resort is there to provide all the luxury you could possibly desire. This is a four-star resort that features an awesome (and huge) outdoor swimming pool, which you really need after a day out in the humidity.
Guests can choose from a range of deluxe rooms or grand suites, with beautiful big beds for a good night's rest and some with Jacuzzis. The views over the surrounding 9 acres of land make it feel like you're sleeping in a (fancy) treehouse.
There's a large buffet restaurant where all meals are served, and there are plenty of options when it comes to the food, from western to Sri Lankan dishes. You can also order a la carte from the menu for dinner. The air-conditioned bar next to the pool is great for a nightcap while listening to the sounds of wildlife in the trees.
Along with organizing safaris to the national park, the hotel can also arrange a visit to nearby Ath Athuru Sevana, an elephant orphanage where you can see dozens of adorable baby elephants! Injured, sick, or orphaned elephants are brought here from all over Sri Lanka, where they're cared for until ready to go back to the wild. Seeing them at feeding time was a real highlight of our trip.
Prices at the Grand Udawalawe Safari Resort start from $113 per night:
---
03
Mansala Safari House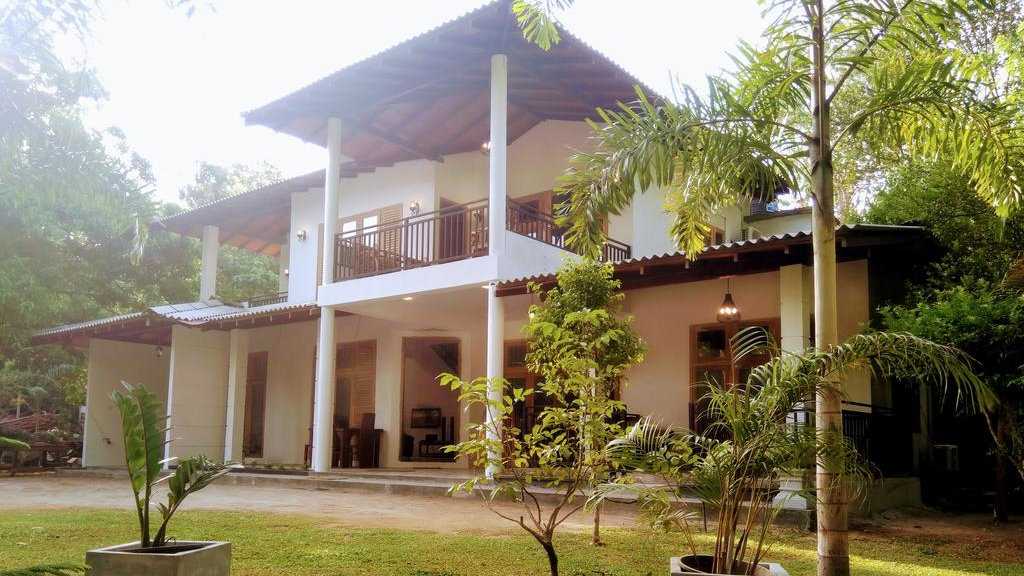 In a nutshell
---
Great budget option
Excellent breakfast included
Spacious rooms with private balcony
Friendly owner will arrange a safari to Udawalawe at a very good price
If you're happy to do things for yourself to keep costs low then the Mansala Safari House is an excellent budget choice. There are only four guest rooms here, so you'll have plenty of personal attention from the staff.
Even though it's a more budget choice, the rooms are still comfortable and spacious, all with a private balcony where you'll be able to see plenty of local wildlife. The owner Tiron can also organize your safari tours and at a better price than you might be able to haggle for yourself!
Breakfast is included in your rate and it goes well beyond what you might expect for what you are paying. You can also pay a very small extra fee for a delicious home-cooked dinner, and the family running Mansala are happy to cater to vegetarians or vegans. Meals are served communally, so you get to know other guests, which makes for a lovely friendly atmosphere.
As well as being great value for money, Mansala Safari House is a short walk into the town nearby, where there are a few other places to eat and drink. If you get Tiron to organize your safari the jeeps will come and pick you up from the house for no extra charge. This is a wonderful choice if you want to feel right at home.
Prices at Mansala Safari House start from $35 per night:
---
How many days in Udawalawe?
While many people visit Udawalawe as a day trip we think you need at least 2 or 3 days to fully enjoy your safari. This means you have time to do more than one excursion into the park, which obviously doubles your chances of seeing more wildlife. You could potentially do it in 1 day but we don't recommend it as you'll be rushing your safari and ending it up not seeing many animals. You'll also need to factor in the time it takes to travel to Udawalawe (check our how to get there section) as that can add on extra days.
For inspiration on the different factors to keep in mind, check this very useful post about a safari in Kenya which also includes time for traveling to and from the park along with time to rest. You might think just 'looking at animals' isn't tiring but the early-morning starts, heat, travel, and excitement all end up making you pretty pooped at the end of each day!
How to book your Udawalawe safari?
Udwalawe is a popular destination, so we strongly recommend you book your safari before you go. Make sure you only use a reputable company as this once-in-a-lifetime experience can quickly turn into a nightmare if you book with the wrong people. Our advice is to do your research beforehand.
We wholeheartedly recommend you go with this tour company we had a blast with them. You can also check on TripAdvisor or ask friends who they've used for their safari. If you find another company you think sounds good, make sure you check the reviews on their website and/or Google "[company name] Udawalawe safari review". Travel bloggers like us often write articles reviewing their experience, so they are also a good resource for your own research.
And, in the unfortunate case that something does go wrong or you lose money for something outside of your control, make sure you organize Travel Insurance before you leave!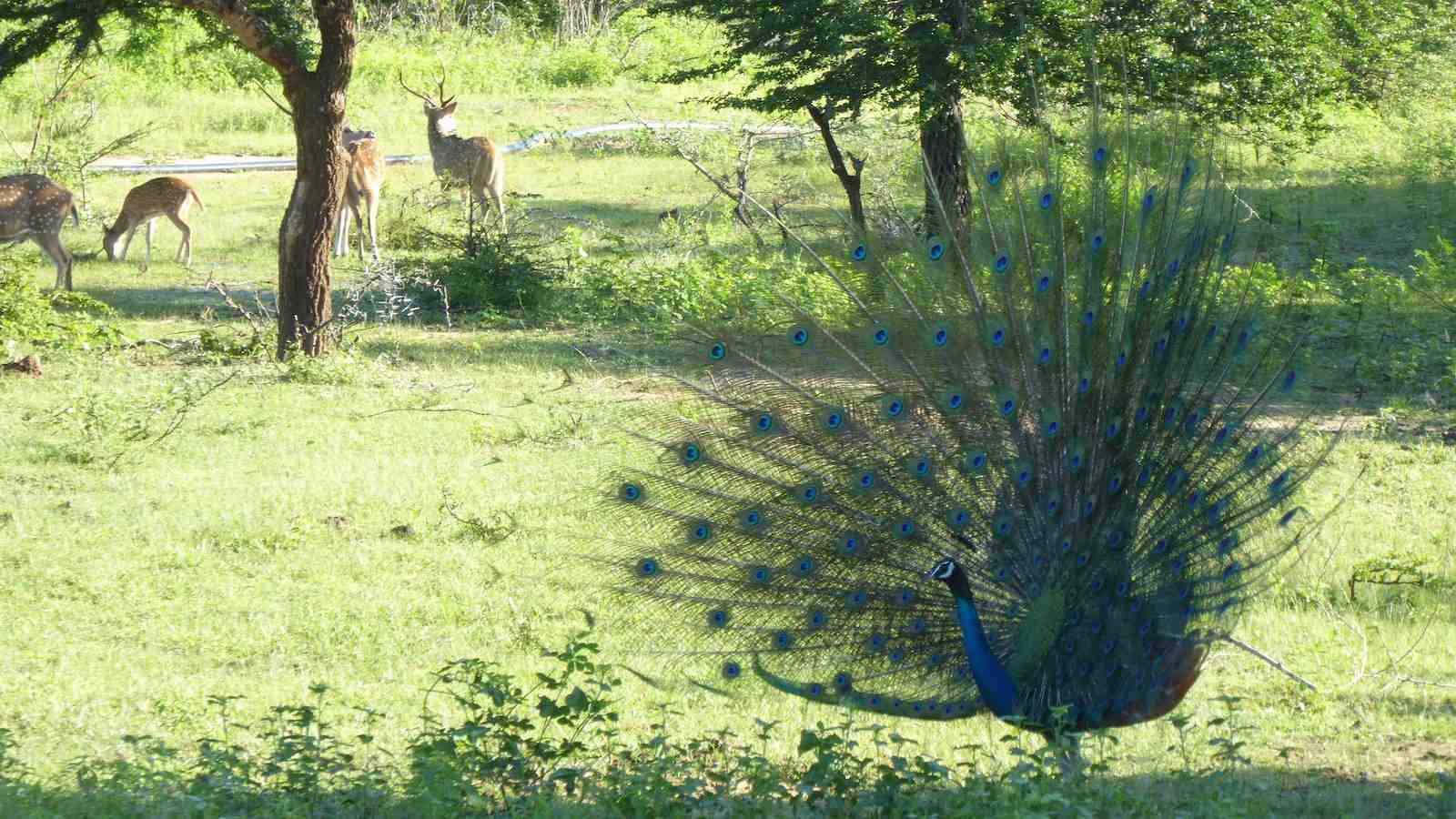 What animals do you see in Udawalawe?
The main draw to Udawalawe is the elephants. However, you'll also be spoilt with a rich family of other exotic animals including dramatic peacocks, crafty crocs, and plenty of different birds. The ultimate cherry on top is spotting leopards. There is a family of them that roams the park, which you may spot if you get lucky – your chances are maximized if you have an experienced savvy guide!
1. Elephants of Udawalawe
From all the places we've been to we can definitely say that Sri Lanka is one of the best places in the world to see elephants close up! There are around 7,500 wild elephants in Sri Lanka with Udawalawe the best place to get up close to them. Here there are hundreds of elephants roaming the park throughout the year.
On every day of our safari, we totally fell in love with the elephants. We saw them daily, just going about their business – a herd of females eating, tending to their young, eating, bathing together in the wild, feeding, and just chilling. And eating – lots of eating! It seems that that is all they do all day long…not too dissimilar to my Stefan…
At one stage we saw a few elephants running, which is an impressive sight to behold! Whilst they don't look it, these guys are pretty fast runners, reaching speeds of around 15 mph (25km/hr)! They're also phenomenal swimmers, although interestingly they're the only mammals that can't jump.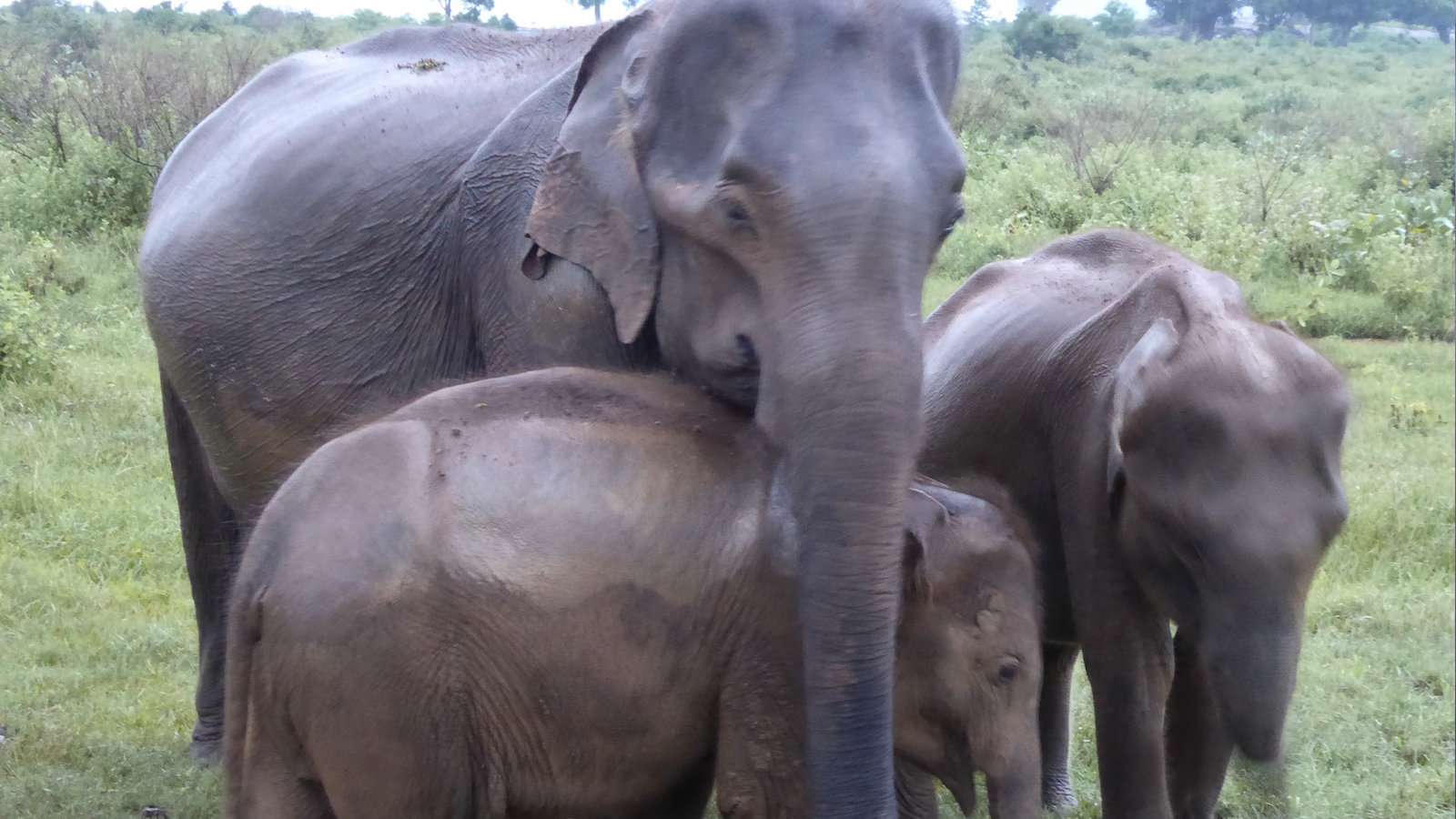 2. Leopards of Udawalawe
There are around 700-1,000 leopards in all of Sri Lanka with an estimated 40 at Yala and around 10 at Udawalawe. Spotting a leopard or two is well known to be hard and generally down to luck because they are such elusive and solitary creatures. They are also nocturnal, usually hunting between sunset and sunrise. Their hunting behavior also makes it hard to spot them because they stalk their prey by being camouflaged and well hidden before pouncing!
Therefore, the best times to spot leopards in Udawalawe are early in the day or late afternoon and with a very experienced guide. We got very lucky during our safari in Udawalawe. On our first day, late afternoon, our guide spotted some movement in a small tree far away, which turned out to be two very cute young leopards coming out to play!
Watching the leopards interacting with each other in the wild at Udawalawe was extremely special and a highlight of our travels in Sri Lanka. From afar they looked so docile and gentle, like large cats – a far cry from the fierce animals they're known to be!
3. Water buffalos
One creature you're most likely to see in Udawalawe is the wild water buffalo, which is thought to be a descendant of domestic water buffalo. However, these aren't the domestic variety so while they may look like gentle cows you should NEVER approach them. They may seem peaceful while grazing or submerged in water, but a water buffalo can fight off a leopard when needed… they are not to be messed with!
There are many family groups of water buffalos in Udawalawe which you are likely to see during your safari. Since Udawalawe National Park is centered around a dam and large reservoir it's ideal for water buffalos – there's a reason why they have 'water' in their name! They love to wallow in muddy waters, as the mud then acts as both sunblock and a way to get rid of ticks or other insects.
If you're lucky you might see young buffalo babies, which look cute and awkward at the same time, as well as even more like cows since they don't have horns yet. We loved spotting the groups in the water though, all submerged almost completely while looking lovely and cool!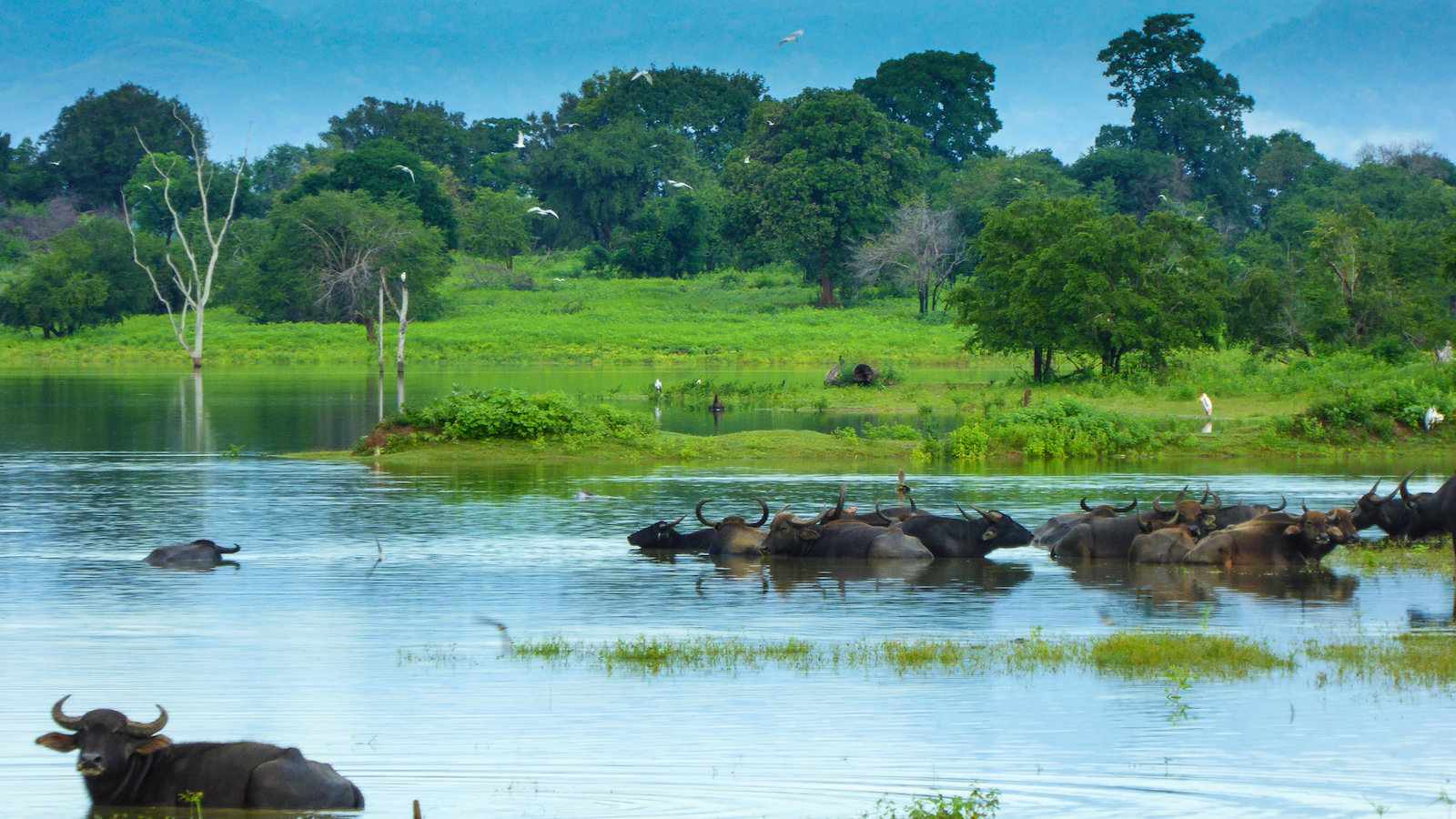 4. Crocodiles
You can even practice your best Steve Irwin accent in Udawalawe National Park when you see one of the many crocodiles that also call it home. In fact, the highest concentration of crocodiles in Sri Lanka are located here, so you'll often see them lying on the banks of the water bodies in the park, patiently waiting for another animal to get stuck in the mud.
The crocodiles in Udawalawe are mugger crocodiles, also known as 'crocodiles of the marsh' due to their preference for this kind of watery landscape. They generally prey on smaller mammals, fish, birds, snakes, and turtles but will definitely take a chomp on monkeys, squirrels, or small deer if they get half a chance.
Mugger crocodiles also enjoy basking in the sun and they're usually not bothered by jeeps getting closer to them for photographs. Luckily we had an eagle-eyed guide to help us spot them though, as it's often hard to tell if you're looking at a croc or just a big log!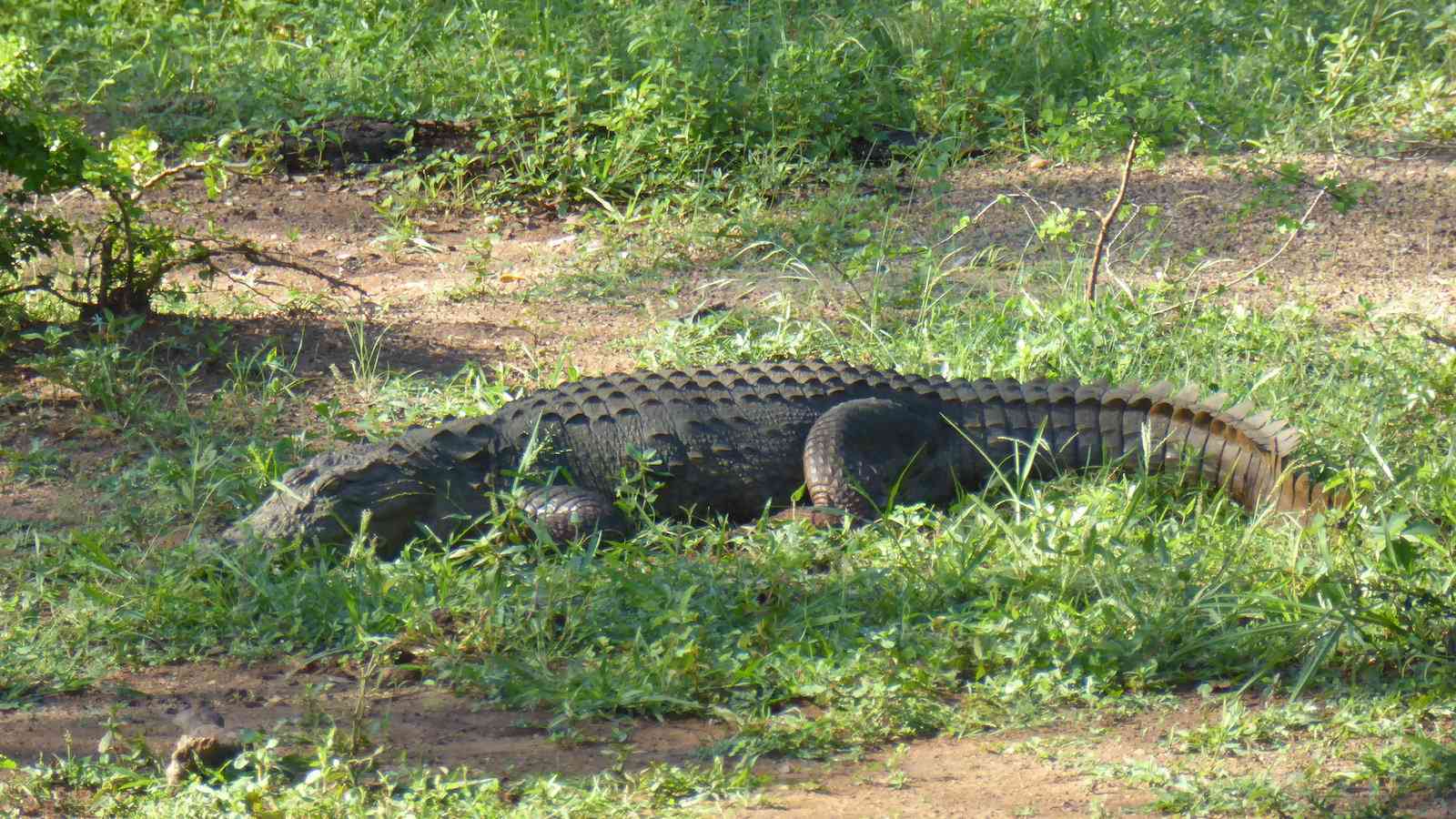 Best time to visit Udawalawe?
Udawalawe is open throughout the year. Any time you come here you're guaranteed to see plenty of wildlife, especially elephants. However, the best months to head here to maximize your chances of spotting a variety of wildlife (including leopards) is between December to March. We came here in December and spotted leopards on almost every day of our safari here.
Other points about the best time to visit Udawalawe that you should bear in mind:
If you want to see baby elephants, we recommend coming here between October to January, which is the rainy season, and also when most births happen.
During the dry season (May to September) the elephants come out in large herds to drink at the waterholes.
Bird lovers will want to head here between November and March when the migrant birds pass through Udawalawe.
How to get to Udawalawe?
Udawalawe National Park is located on the boundary of Sabaragamuwa and Uva Provinces, right in the middle of the south of Sri Lanka below the mountainous central highlands. It's close to the more popular (but too crowded, in our opinion) Yala National Park, which is a bit further to the east and on the coast. You can get to Udawalawe National Park pretty much from anywhere in Sri Lanka via car, bus, or train, although obviously, some are easier than others.
From Colombo to Udawalawe: If you're heading straight to Udawalawe from the capital you can get a taxi or hire a private driver. Driving takes between 4-5 hours although it's obviously going to be more expensive than using public transport. You can also catch buses to save money, although that can take between five and six hours, not counting waiting time in between transfers.
From Galle to Udawalawe: Breaking your trip up to see other parts of the country on the way means you don't need to travel such a long distance in one go to get to Udawalawe. A taxi or private driver will take about two hours to get from Galle to Udawalawe. We'd definitely recommend forking out the cash for this, as taking the many buses you would need to get there via public transport can take upwards of six hours. With the exchange rate, it should cost less than $50 to save that much time.
From Kandy to Udawalawe: If you're in Kandy then you can catch a train to Haputale and then a taxi from Haputale directly to Udawalawe National Park. The train takes about five hours and the drive is about another two hours. Alternatively, you could also hire a driver for the whole journey, which would take around 5.5 hours.
From Nuwara Eliya to Udawalawe: You can also catch the train from Nuwara Eliya (Nanu Oya station) to Haputale and get a taxi as in the previous entry. You could even go a bit further and get off at Ella, as the Nuwara Eliya train ride to Ella is one of the most beautiful in the country! From Ella, you can also take a bus to Wellawaya and then another bus directly to the National Park. It takes about two hours to get buses from Ella to Udawalawe and only costs about $1.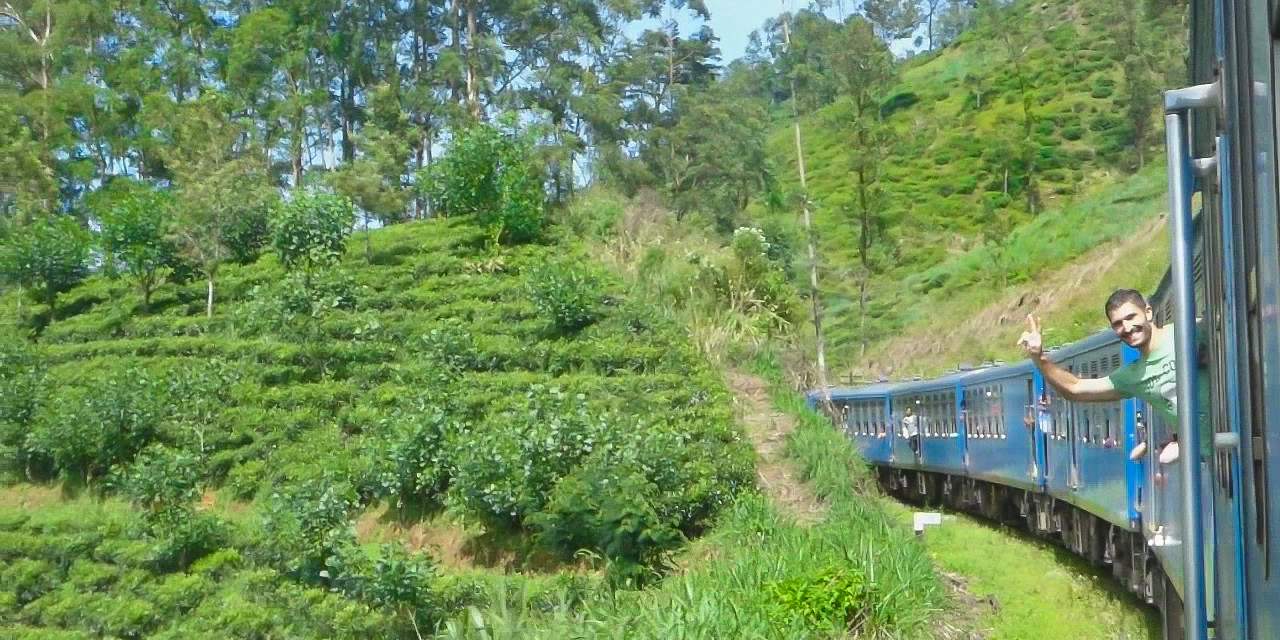 What to wear for a safari in Udawalawe?
To be honest, there's no right or wrong. Whatever makes you feel comfortable in 90°F (32°C) heat. Having said that, the main thing to remember is mosquitos! They are everywhere in Sri Lanka, particularly in marshy swampy areas like in Udawalawe, so loose-fitting clothing is going to be your friend!
If we were to do this again, these are the items we'd make sure we wear:
Long loose-fitting trousers: protection from mosquitos!
Light long sleeve top or light shirt: protection from mosquitos but without making you feel too hot
Fleece or jumper: for the mornings/evenings when it can get a bit chilly
Comfortable shoes and socks: you'll be spending most of your time in the jeep, so the key here is comfort, but don't wear flip flops or sandals – you want closed shoes to prevent mosquitos from getting at your ankles and toes!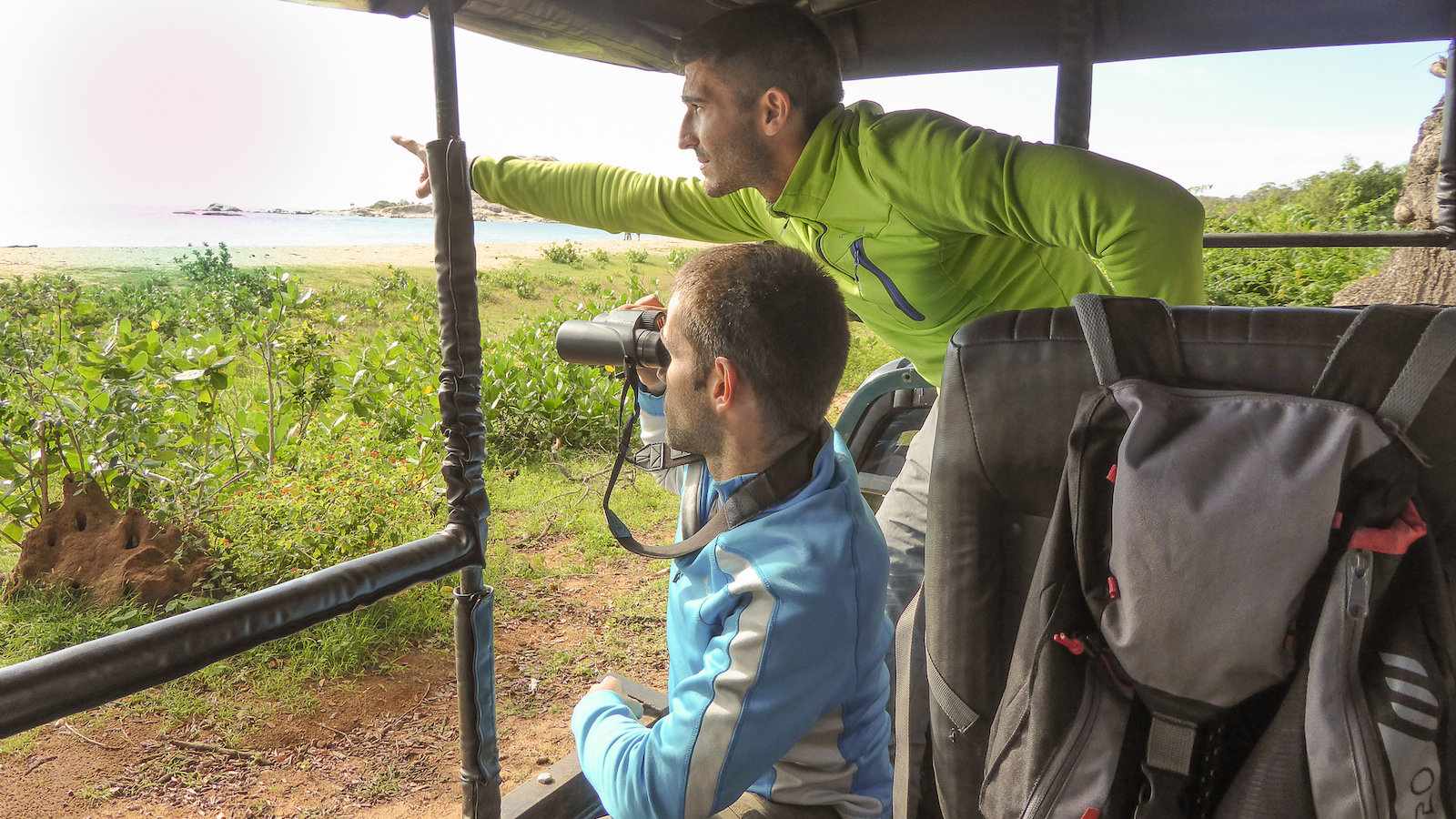 What to bring for a safari in Udawalawe?
Here are some of the essentials we think you should make sure to pack for your safari in Udawalawe:
Mosquito repellant: the little critters are everywhere! You'll thank us for bringing a good repellant with you.
Hat: we suggest bringing one to protect your head from the midday heat which can get pretty strong.
Sunblock cream: protect exposed skin from the strong sun rays.
Sunglasses: similarly, you'll want to ward of strong sun rays from your eyes.
Good camera: this is a one-in-a-lifetime opportunity so definitely worthwhile investing in a good camera to capture those wildlife moments!
Extra memory cards and batteries: it's happened to everyone – you go to take that money shot of the cute baby leopards only to find your battery has run out or you've run out of memory! It's important to have a spare memory card and batteries, particularly if you're doing a full-day safari.
Binoculars: your guide may have some to lend you, but it's worth having your own pair so that you can spot wildlife easier and quicker.
A scarf or dust mask: these are useful for dust protection for moments when going offroad or when strong winds pick up quite a dramatic sand storm.
Drinking water: make sure you have a few bottles, especially on a full-day safari. It gets pretty hot here and you'll need to drink plenty of fluids.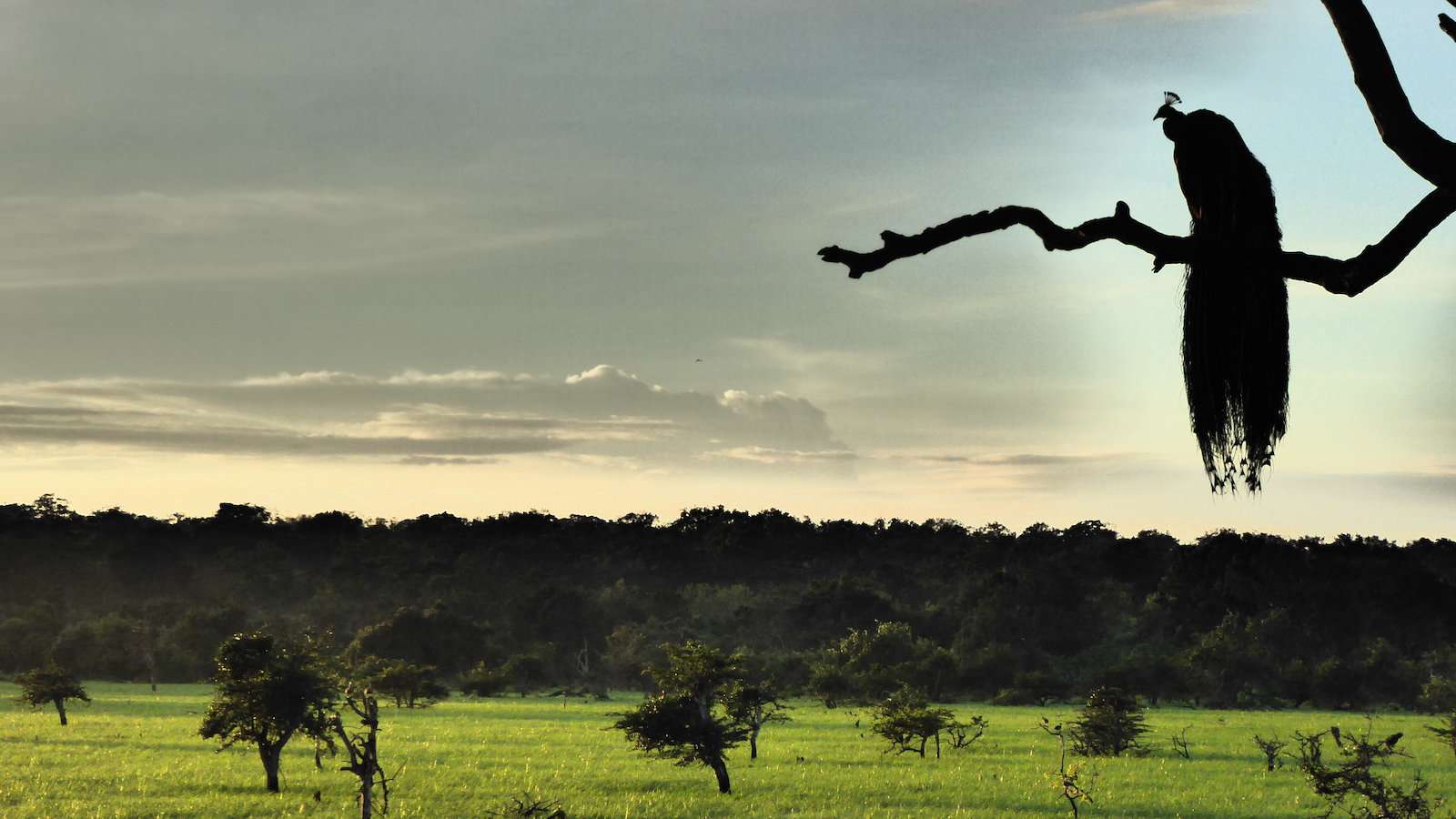 Which is better Yala or Udawalawe?
We tried both and found each of them offered us a very rewarding safari experience. However, Udawalawe was more satisfying for the simple reason that it's a lot less busy than Yala. As the most famous National Park in Sri Lanka, Yala gets all the tourists. The result is that you end up seeing more jeeps than wildlife here. For example, we spotted a leopard in Yala on a tree but because there was a large queue of jeeps behind us waiting to get their money shot, we had to be quick and move on. Over at Udawalawe, there were far fewer jeeps, so when we spotted the leopards, we had the entire afternoon almost alone to observe and enjoy them without any pressure from anyone else.
For more, check our our detailed guide comparing a Sri Lanka safari in Yala and Udawalawe.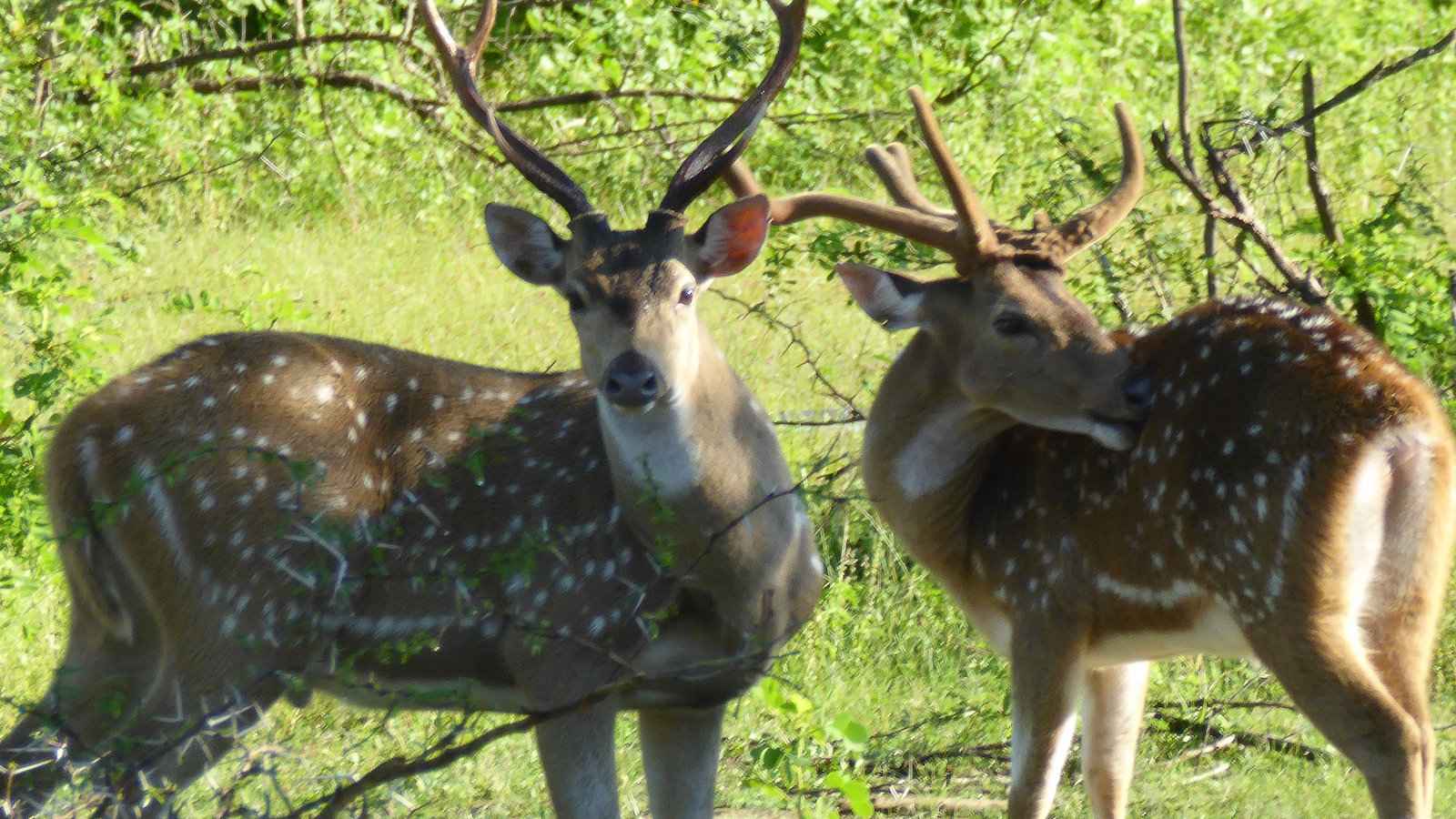 How much should I tip the staff on a safari?
Tipping is fairly common in Sri Lanka but remember that it should only be used to reward really good service and not just expected. Wages are generally low though, so if you feel like your driver and guide did a really good job of spotting wildlife, plus getting you close (without disturbing or endangering the animals) then you might like to tip between 100-500 Sri Lankan rupees (about 50c to $1.50) to each of them.
Use your own discretion if you think the guide/spotter deserves a bit extra or the other way around. Sometimes the driver is also the spotter, so at least then there's only one person to figure out what to tip!
---