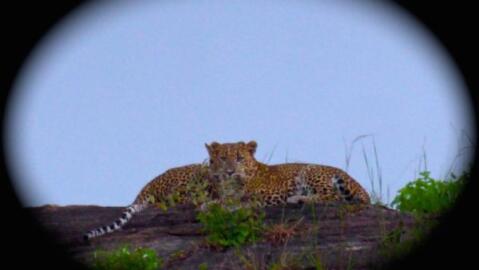 Udawalawe National Park in south Sri Lanka is considered to be the Sri Lankan national park that best rivals the savannah reserves of Africa:
The National Park was established in June 1972 as a sanctuary for wild animals displaced by the construction of the Udawalawe Reservoir on the Walawe River.
It covers an area of 308 square kilometers (119 square miles) and is Sri Lanka's 3rd largest national park (after Yala and Wilpattu). It is mainly popular for its photogenic elephants. This is our guide to getting the most out of your elephant safari at Udawalawe.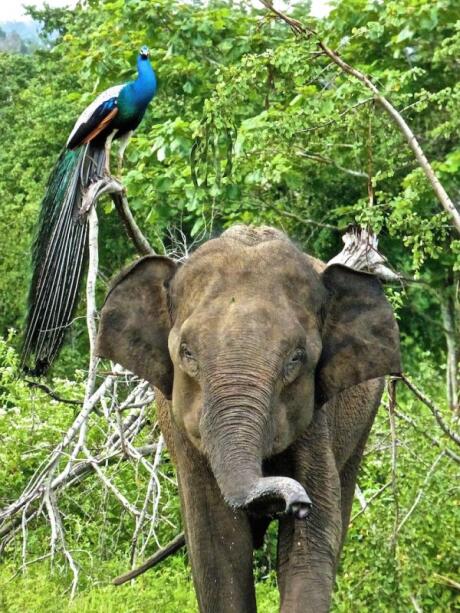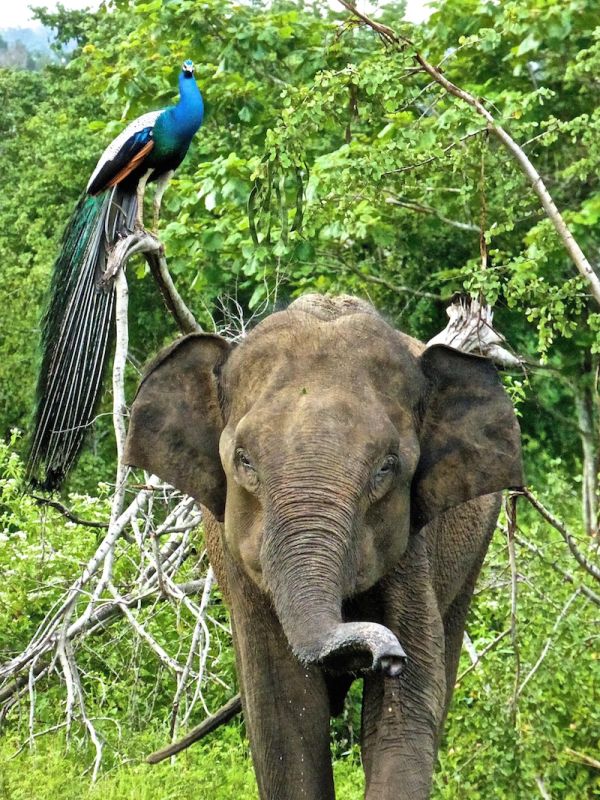 Where is Udawalawe National Park?
Udawalawe National Park is located in the South of Sri Lanka, close to the more popular (but too crowded) Yala National Park. You can get to Udawalawe National Park pretty much from anywhere in Sri Lanka.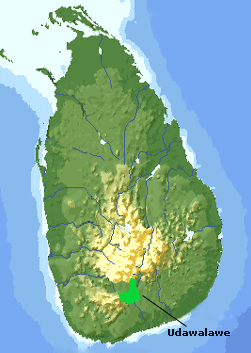 Top animals to spot at Udawalawe
This is a list of just a few of the big animal "celebs" to look out for during your safari in the awesome Udawalawe National Park:
Elephants
When we organised our safari in Udawalawe, we had the expectation of seeing lots of elephants, peacocks, and crocodiles. We were not disappointed:
You will see elephants everywhere in Udawalawe and you can get real close to them. Being able to see a whole family with their baby elephants is certainly one of the highlights of this national park.
But we were overjoyed when we spent a whole afternoon watching a few young leopards playing around.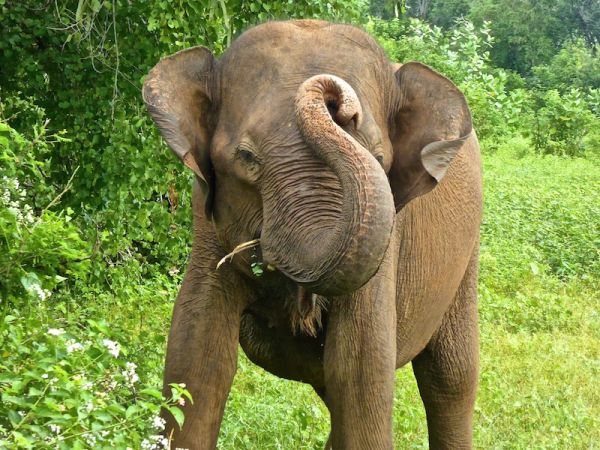 Leopards
Spotting leopards is well known to be hard and generally down to luck because they are elusive, solitary and nocturnal mammals, hunting between sunset and sunrise. Also, their hunting behaviour makes them hard to spot as they are used to stalking their prey by being camouflaged and well hidden before pouncing.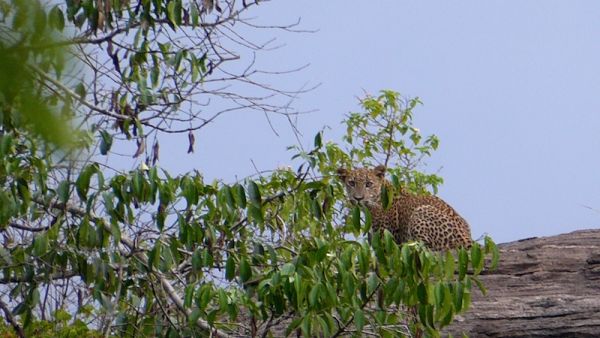 So the best times to spot them are early in the day or late afternoon and with an experienced guide with inhuman eyesight!
There are around 700-1000 leopards in Sri Lanka with an estimated 40 at Yala and around 10 at Udawalawe, so our chances of spotting them were very slim.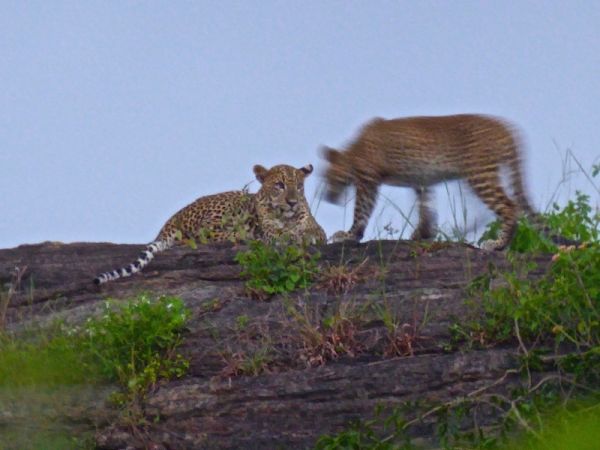 This turned out not to be the case: on our first safari at Udawalawe, late afternoon, our guides spotted some movement in a small tree far away and we stopped to wait.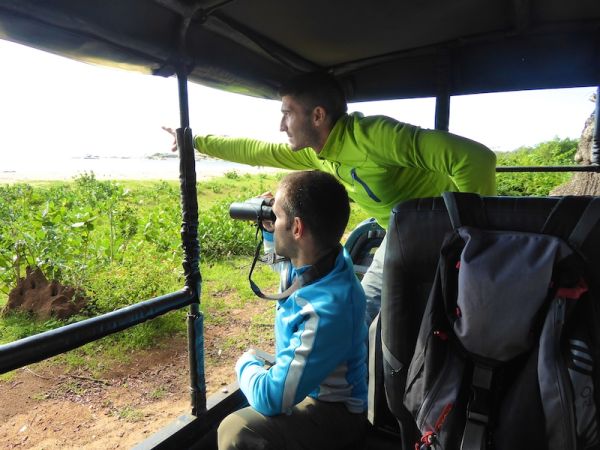 The waiting is all part of 'The Game' we were told. We waited a long long time with many jeeps coming and leaving our spot…with a few of us dozing off at times…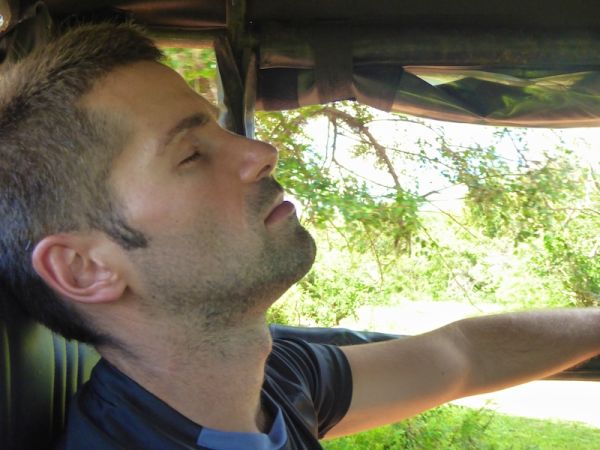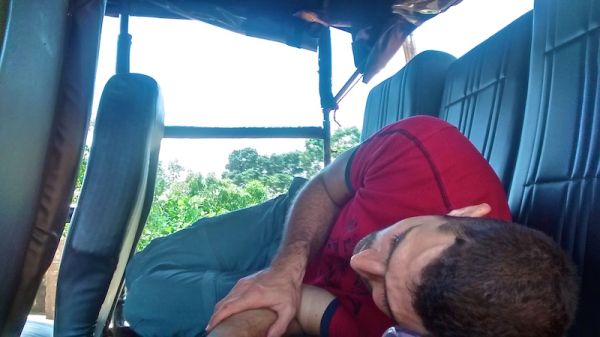 But this all paid off as these two very cute young leopards suddenly came out from behind the small trees and started to play on the rock area we had been starting at for ages.
We were told this particular family of leopards at Udawalawe had grown used to the jeeps so were not shy to make an appearance for us.
Watching the leopards interacting with each other in the wild at Udawalawe was extremely special and a highlight of our travels in Sri Lanka. From afar they looked so docile, gentle – like large cats, as opposed to the fierce killers they are.
How to organise your safari in Udawalawe
A safari at Udawalawe can be done in one of two ways:
Do it yourself independently
Spend a night in one of the many guest houses or hotels outside the park, check our accommodation recommendations below.
The next day, arrive early at the park entrance and take one of the 4×4 jeeps waiting outside the gate for a half or a full day tour (some Jeeps can fit up to 8 people), which includes tracker guide and driver.
This costs around 3,500 Sri Lankan rupees (around £18 / $26) per person for three hours. You can also organise the half day safari with your guest house who will probably organise the pickup from the guesthouse for a small fee.
If like us, you prefer organising everything ahead, you can book a full day safari online at Udawalawe National Park.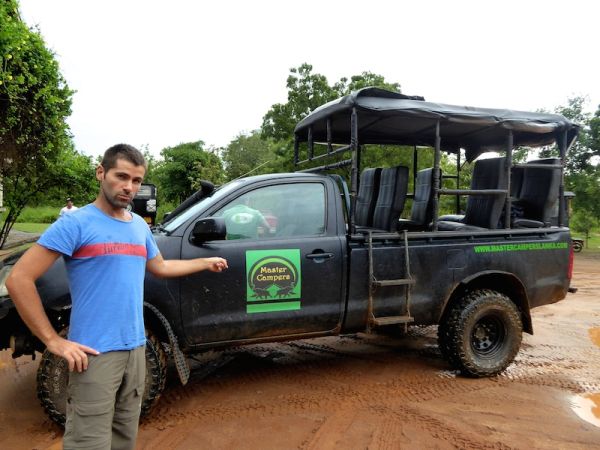 Explore Udawalawe with an experienced safari company
The alternative option, which is what we did, is to pay a bit more money and spend a night or two (or three!) near the park in a luxury camping site with an experienced safari company such as Master Campers. We found them through TripAdvisor and after reading the excellent reviews, we had to go with them. And we were not disappointed: we organised our Safari to Udawalale and Yala National Park with them, and had an unforgettable experience. It was well worth the price.
MASTER CAMPERS HIGHLIGHTS
We had a spacious private tent with en-suite bathroom (see photos below).
A big comfy bed (you will need it)
Our private guide and driver from Master Campers were both excellent and it was down to their inhuman eyesight that we were able to spend an entire afternoon watching young leopards playing around.
Prices start from $390 / £270 for an All-inclusive overnight safari.
Since we've published this article, we've had many readers asking us to introduce them to Master Campers. Since we love you, we've negociated an exclusive 10% discount for all our readers organising their safari with Master Campers:
GET A 10% DISCOUNT ON YOUR SAFARI NOW WITH MASTER CAMPERS
We learnt that to make the most of a safari in Sri Lanka, it pays to invest in an experienced company. This is because everyone has to have one of the park's volunteer 'tracker guide" in their jeep. We found these tracker guides to be completely underwhelming, didn't speak any English and it was our guides from Master Campers who spotted the animals not the tracker guides.
We would have been disappointed if we were reliant solely on the tracker guides and now understand the value of doing a safari with a highly rated and experienced company like Master Campers.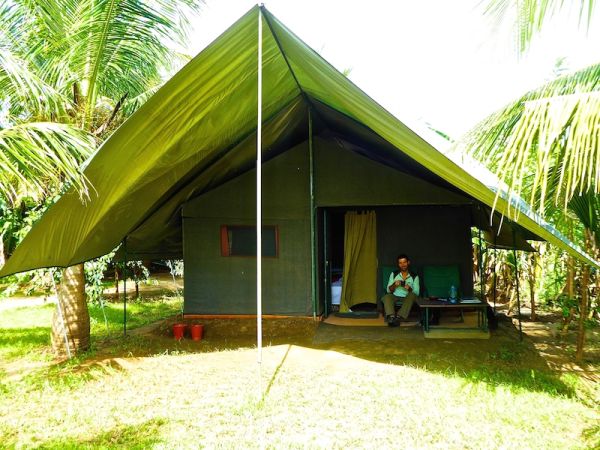 We were spoilt rotten during our 3 days safari and for us, meal times were almost as exciting as the actual safaris!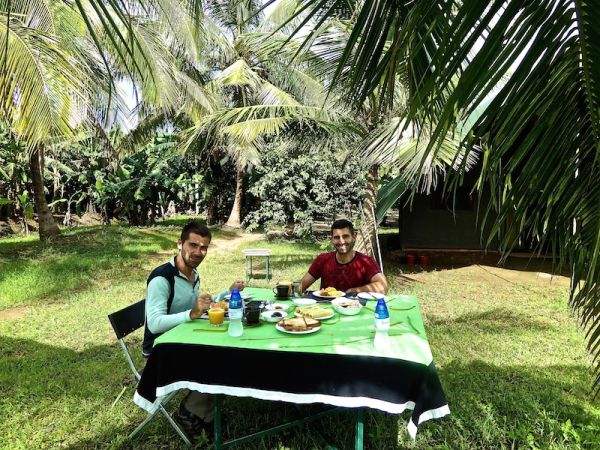 Hotels near Udawalawe National Park
There are a variety of places to stay nearby, the ones that stood out for us the most are:
GRAND UDAWALAWE SAFARI RESORT Book online
Great pool, big rooms, delicous buffer dinner and breakfast.
They can organise a safari and arrange a visit to the elephant orphanage nearby.
Prices start from $110 / £76 a night with breakfast included.
MANSALA SAFARI RESORT Book online
Great budget option, very comfortable with excellent breakfast and dinner.
The friendly owner will arrange a safari to Udawalawe at a very good price.
Prices start from $22 / £15 a night.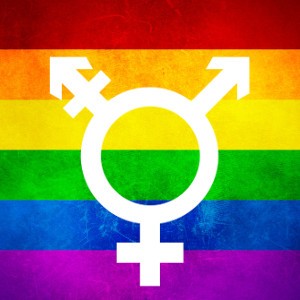 Advice for LGBTQ travellers to Sri Lanka
Sadly being gay is illegal in Sri Lanka. The proudly retains its colonial-era anti-gay laws and doesn't seem to be repealing them any time soon. This makes life hard for the Sri Lankan LGBTQ community. However, for gay travellers, a different standard is applied – no policeman will want to get mixed up with Embassy issues, so because of this alone, Sri Lanka is safe for LGBTQ travellers! We certainly felt this way and never had a problem getting a double bed in the guesthouses and hotels we stayed at. We would, however, advise you to avoid public displays of affection in Sri Lanka and of course, any activism. Find out more in our interview with Kaluu from Colombo about what gay life in Sri Lanka is like.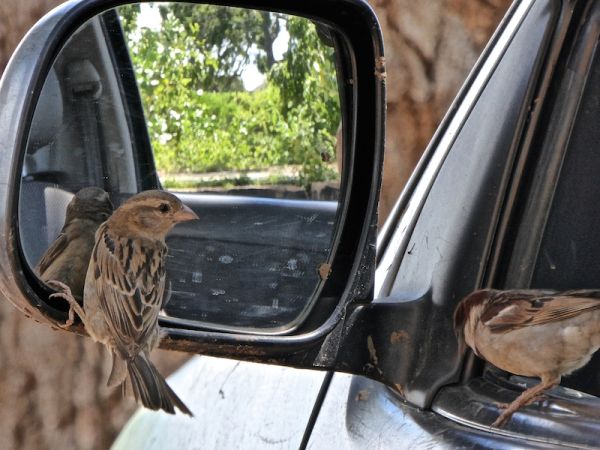 Watch our travel video diary of our adventures through Sri Lanka as we ate our way through this tropical island, took some beautiful train journeys and enjoyed excellent safaris at Yala and Udawalawe, and spotting blue whales at Mirissa.
Happy travels are safe travels
We recommend you always take out travel insurance before your next vacation. What happens if you suffer from illness, injury, theft or a cancellation? With travel insurance, you can have peace of mind and not worry. We love World Nomads travel insurance and have been using it for years. Their comprehensive coverage is second to none and their online claims process is very user friendly.