The train journey from Nuwara Eliya to Ella was one of our favourite ever train rides on our travels, rivalling our experience with the Trans Siberian railway.
This train powers up through Sri Lanka's southern hill country, through the tea plantations, into the clouds and then weaves in and out of the many mountain tunnels as it descends to reach Ella.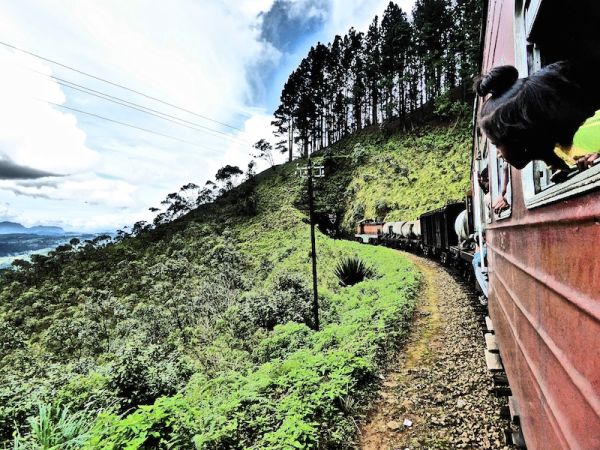 Nuwara Eliya: Welcome to "Little England"
Our journey began at Nuwara Eliya, a city at the heart of Sri Lanka's popular tea industry, surrounded by many tea plantations.
Nuwara Eliya is nicknamed "Little England" because It was established by the British in the 1840s as a as a base for the colonialists and still retains some of the British quirks, like the famous red post box:
Another very British influence in the area is tea. The large number of plantations surrounding Nuwara Eliya account for a large chunk of this popular Sri Lankan export.
We visited the nearby Pedro tea factory to get a flavour of freshly brewed Sri Lankan tea. We had to wear these gorgeous hats and aprons to enter the factory, but unfortunately, they would not let us keep them.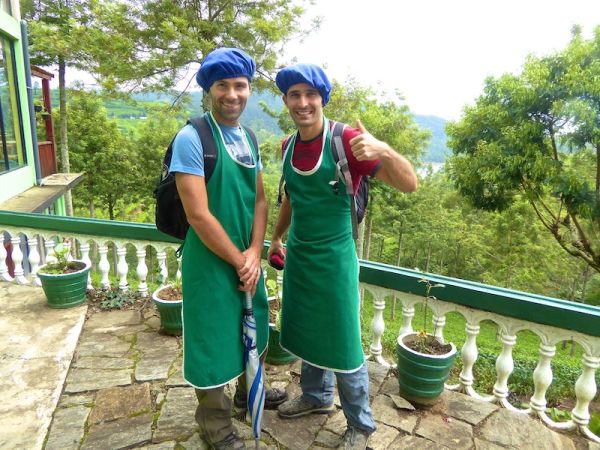 Where to stay in Nuwara Eliya
Nuware Eliya is a quiet little town but has a great variety of places to stay. The ones that stood out the most for us were:
HERITANCE TEA FACTORY Book online
Old colonial tea factory with amazing views over the plantation.
Very friendly and professional staff.
Prices start from $285 / £197 for a room with breakfast.
SINCERE WILDERNESS HOMESTAY Book online
A homestay full of character, on the side of Sri Lanka's highest mountain, overlooking Nuwara Eliya.
The host family will care for you with love. Food is amazing!
Prices start from $83 / £57 with breakfast included.
HEIDI'S HOME Book online
A three bedrooms guesthouse with very friendly owners and their little daughter Heidi.
Great budget option in Nuwara Eliya.
Prices start from $34 / £23 with breakfast included.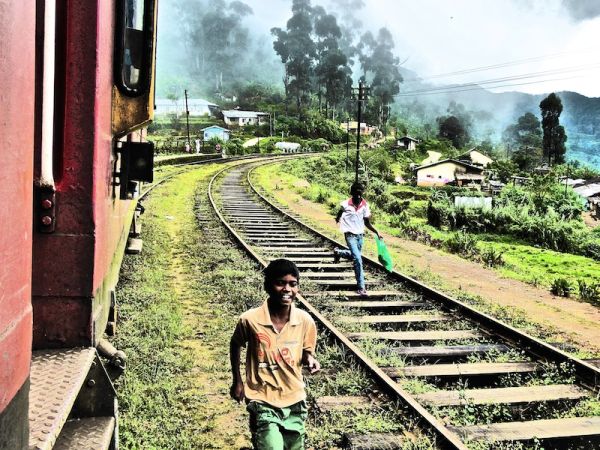 Where to stay in Ella
Ella is a great base for trekking the surrounding hills and waterfalls. The place is beautiful and wherever you choose to stay, you will get amazing views.
THE SECRET ELLA Book online
Former tea planter's home converted into a small luxury boutique hotel.
Incredible views including the 9 arches iconic bridge.
Prices start from $244 / £169 for a room with breakfast.
ZION VIEW Book online
Beautiful property overlooking the Ravana waterfalls and the hills surrounding it.
Room is comfortable, clean and nicely furbished.
Prices start from $114 / £79 with breakfast.
CHAMODYA HOMESTAY Book online
Stunning views, lovely hosts and one of the best views in Ella.
Prices start from $33 / £23 with breakfast incuded.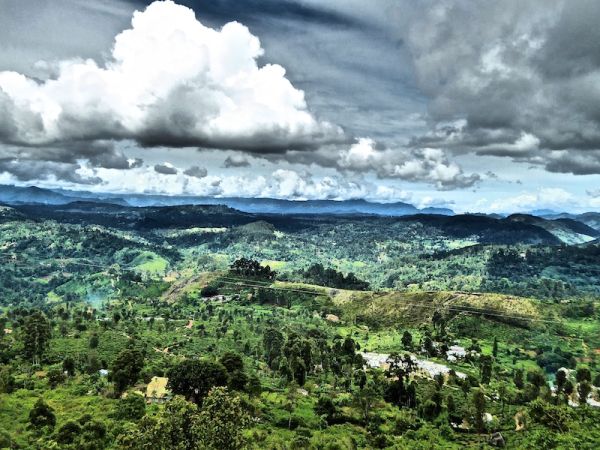 The Sri Lankan Railway Network
The railway network in Sri Lanka was initially introduced by the British Colonial government in 1864, mainly to transport the tea (and coffee) from the hill country in places like Nuwara Eliya to the capital, Colombo.
Since the advent of road travel, the train network in Sri Lanka declined heavily after the the 1970s. Recently, the Sri Lankan government launched a 10 years Railway Development Strategy investment programme to upgrade and reignite this industry: a blessing for what we found to be one of the most scenic train journeys we've ever taken.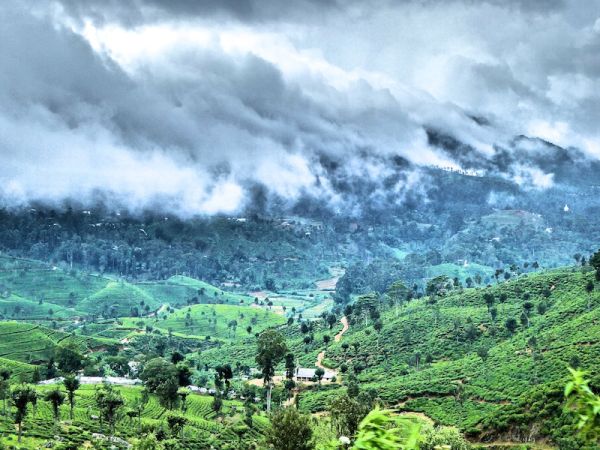 The train ride from Nuwara Eliya to Ella
This was one of our favourite ever train journeys because of the incredible views across the southern Sri Lankan hill country as the train passes in and out of numerous mountain tunnels through tea plantations, eucalyptus forests and nearby villages. The low lying clouds add to the beautiful scenery.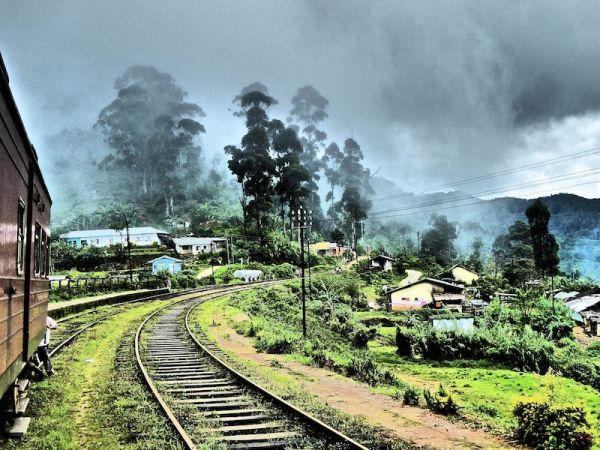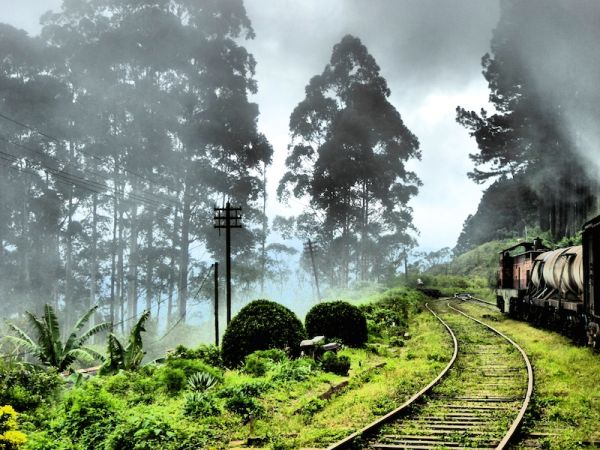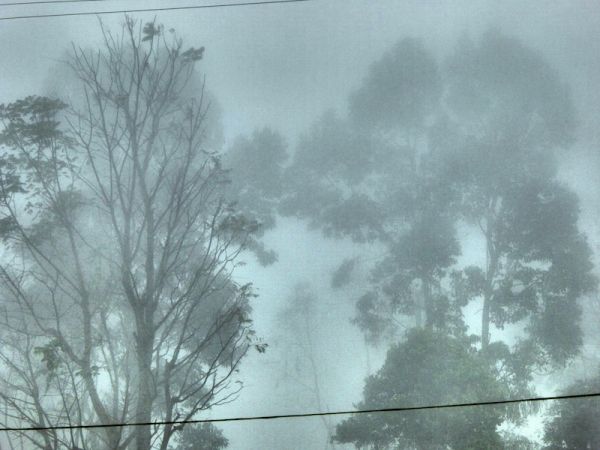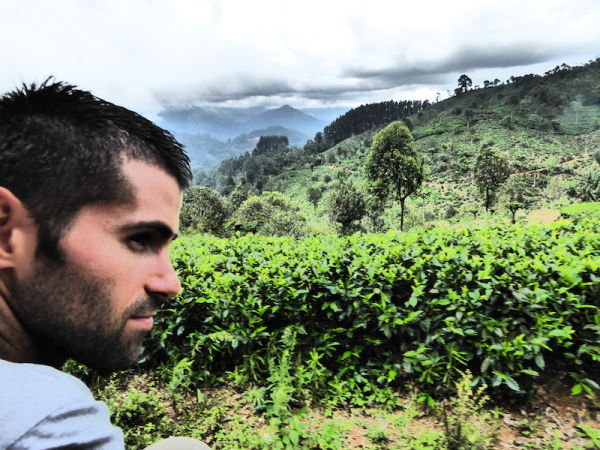 Cost of train tickets from Nuwara Eliya to Ella
The closest train station to Nuwara Eliya is Nanu Oya, around 8km away from Nuwara Eliya.
The distance from Nuwara Eliya to Ella is only around 60 kilometres, but the journey itself takes around 3-4 hours because it has to cross many mountain ranges.
We arrived early in the day to get our tickets in 3rd class. We paid 60 rupees each for our 3rd class tickets (around 30p / $0.45) instead of the pricier 1st class seats costing 1,000 rupees (around £5 / $8). There is no 2nd class on this train.
The train from Nuwara Eliya to Ella is small with only two carriages: 1st and 3rd class. The front carriage is the 'observation deck' 1st class with guaranteed seats and air conditioning. The back carriage is the cheaper 3rd class with no air con.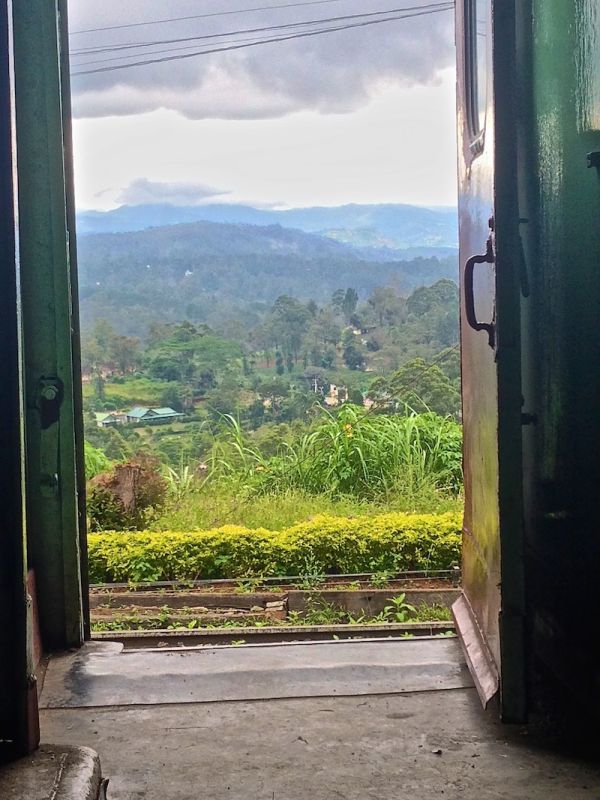 As soon as we got onto the carriage, we stashed our backpacks above the seats then sat by the open door throughout the entire journey watching the views unfold before us.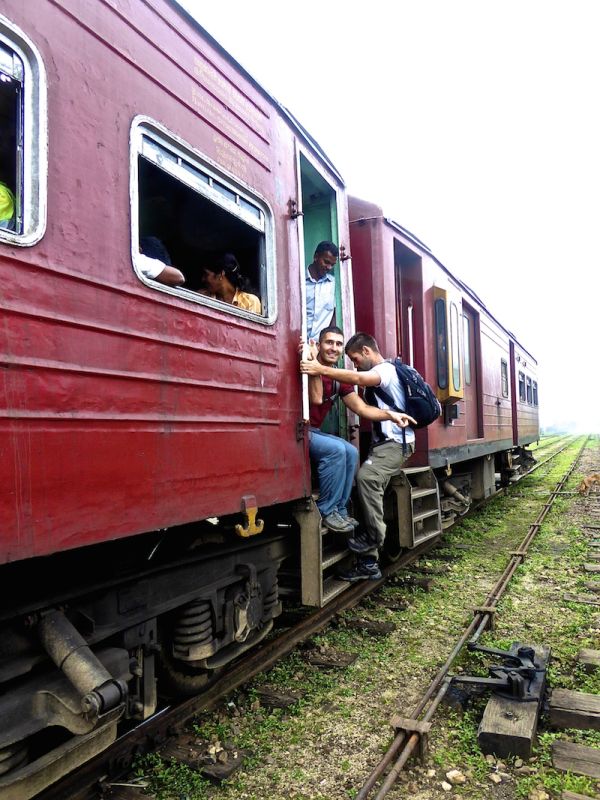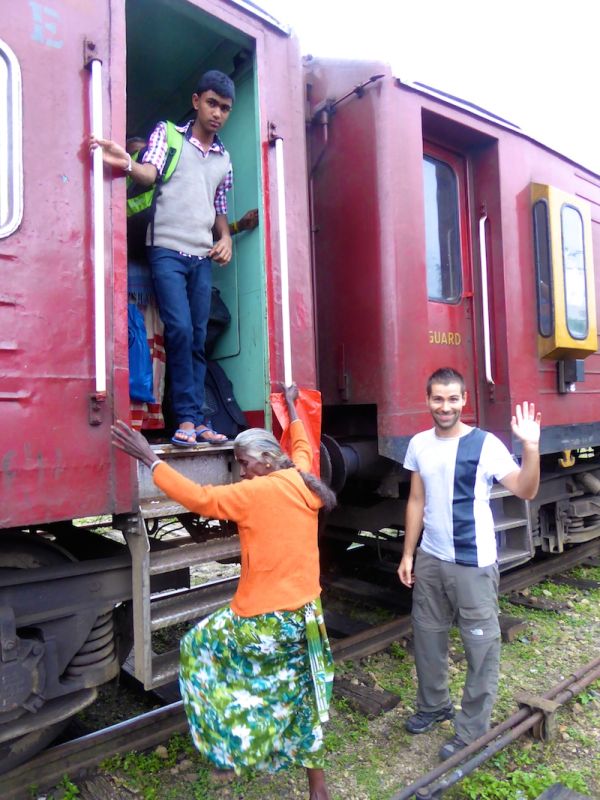 This was one of our favourite memories from Sri Lanka and possibly our best ever train experience: all for less then £1 for 2!
OUR FAVOURITE TRAVEL TIPS
⭐️ TRAVEL INSURANCE — We recommend you always take out travel insurance before your next vacation. What happens if you suffer from illness, injury, theft or a cancellation? With travel insurance, you can have peace of mind and not worry. We love World Nomads travel insurance and have been using it for years. Their comprehensive coverage is second to none and their online claims process is very user friendly.
⭐️ SAFETY & SECURITY — All travelers can sometimes encounter danger when traveling. CloseCircle is your "virtual body guard" mobile app which provides security alerts and support wherever you are in the world. They have a 24/7 emergency response team monitoring their users who will contact you immediately if the SOS swipe button is activated. Support can include anything from practical advice, to free evacuation from areas with extreme weather or security risks. You can read more about CloseCircle in our article about how to stay safe whilst traveling.
⭐️ ONLINE ANONYMITY — A VPN (Virtual Private Network) is a must in many countries: it allows you to surf anonymously and maintain your privacy whilst traveling. You'll particularly need it in countries where dating apps are blocked by the government. We recommend ExpressVPN, a reliable and cost effective service which we used and loved during our travels.
⭐️ HOTELS or APARTMENTS — When we plan a trip, we always look for the best hotel deals. We love Booking.com because not only do they have a comprehensive listing of accommodation options, they also offer the best prices. Added bonus: they provide 24/7 support and free cancellation for most listings.
⭐️ SIGHTSEEING and ADVENTURES — When we travel somewhere, we like to seek out the best experiences, whether it is cooking with locals in Bangkok, hiking on a glacier in Patagonia, or going on a wildlife safari in Sri Lanka. Our favorite place to look is GetYourGuide because they have over 30,000 highly rated activities, a user-friendly booking process with free cancellation and a 24 hour customer support.
This article contains affiliate links. If you click on them, we may receive compensation which keeps our website alive and helps us bring you to more destinations.
Watch our Sri Lanka video of our adventures through Sri Lanka as we ate our way through this tropical island, took some beautiful train journeys and enjoyed excellent safaris spotting leopards at Udawalawe and blue whales at Mirissa.