Here's our guide to getting from Nuwara Eliya to Ella by train, one of the most beautiful train rides you can do in Sri Lanka.
When it comes to train rides, Sri Lanka is one of the best!
We've been on several exciting train adventures on our travels, including the Trans Siberian railway and interrailing across Europe, each one remarkable for different reasons. When it comes to stunning views, we rate the train rides through the Sri Lankan "Tea Country" as one of the best, particularly between Nuwara Eliya and Ella.
The train powers through the region, taking in stunning mountain vistas, lush greenery, eucalyptus forests, waterfalls and lots of cloud forests. It's absolutely gorgeous and pretty damn unique! There are also frequent stops along the journey through small villages, with locals running to catch the train and little children waving at you as you zoom past.
If you're heading to Sri Lanka, we highly recommend including this in your Ceylon Bucket List. To inspire you, we've put together everything you need to know to get from Nuwara Eliya to Ella by train.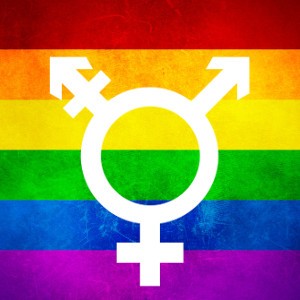 Advice for LGBTQ travellers to Nuwara Eliya and Ella
Being gay is illegal in Sri Lanka! However, we found that there is a huge discrepancy between how locals are treated versus how foreigners like us are treated. As a gay couple travelling in Sri Lanka, we found the people to be welcoming and curious towards us despite the anti-gay laws. We never had a problem booking a double bed in any of the hotels or guesthouses we stayed in, especially the ones listed in this article.
For more, read our interview with Kaluu from Colombo about gay life in Sri Lanka. Also, be sure to check out our comprehensive gay guide to Sri Lanka.
What exactly is the Tea Country of Sri Lanka?
The Tea Country region of Sri Lanka is located right in the heart of the country. As the name suggests, it is home to Sri Lanka's tea plantations. The main cities are Kandy and Nuwara Eliya.
The significance of tea in Sri Lanka dates back to the day when Sri Lanka was a British Colony between 1815-1948 (and was referred to as "Ceylon"). Back then, tea had become a prime export due to the huge demand for it across the British Empire – a demand that still exists today. Therefore, from 1864, the British invested heavily in this region of Sri Lanka by developing a sturdy train system to take the tea to the capital, Colombo, where it could then be shipped out.
Since the advent of road travel, the train network in Sri Lanka declined heavily after the 1970s. Recently, the Sri Lankan government launched a 10-year "Railway Development Strategy Investment" programme to upgrade and reignite the trains of Sri Lanka: a huge blessing in our opinion for what we regard as one of the most scenic train journeys in the world!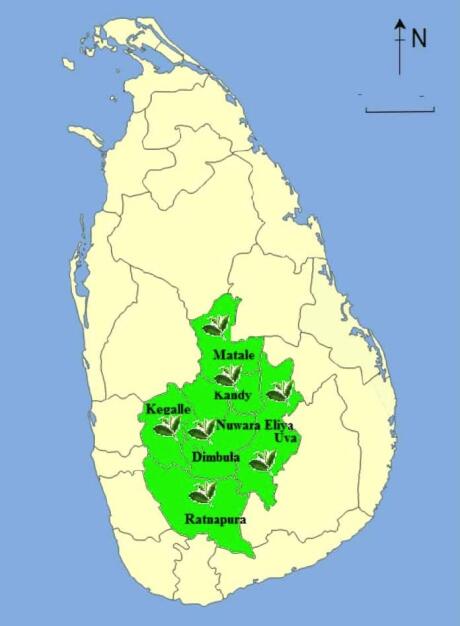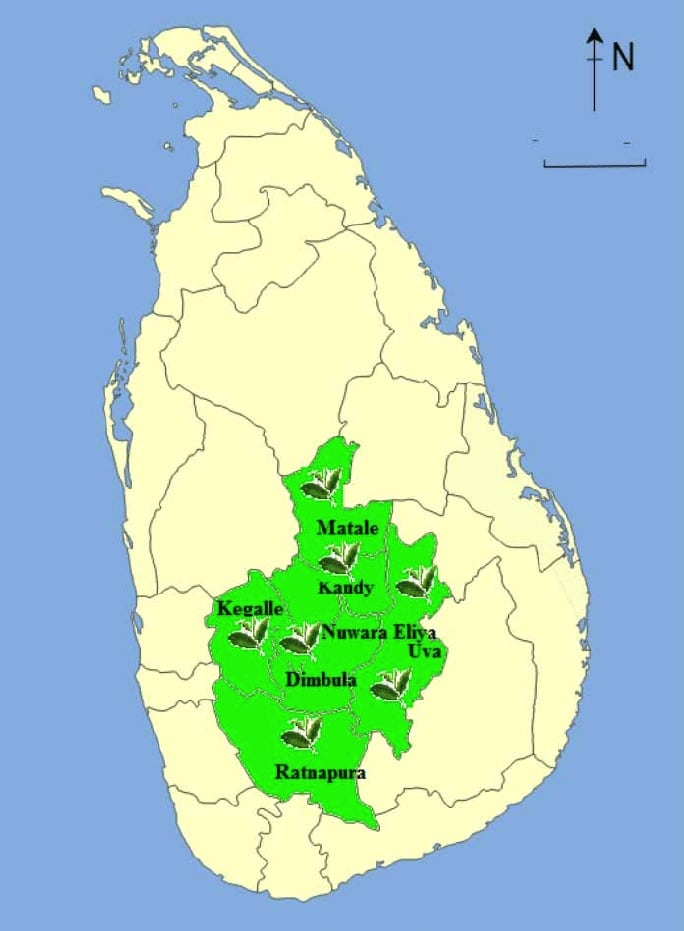 Our stopover in Nuwara Eliya
We split our train adventure in Sri Lanka into two parts. The first from Kandy to Nuwara Eliya, the second from Nuwara Eliya to Ella. The Kandy to Nuwara Eliya leg is certainly impressive in its own right, but we've deliberately focused on the next leg because we found this to be the most scenic and dramatic.
We spent a few nights in the "Little England" that is Nuwara Eliya and used it as our base to visit a few tea plantations – another highlight of the region we suggest you factor into your schedule. Nuwara Eliya was made the base for the Tea Country by the British Colonialists. As such it is often nicknamed "Little England" as still retains lots of British quirks such as a red post box.
Our next stop on our trip was to be Ella where we had exciting hiking plans and had booked a homestay with a family.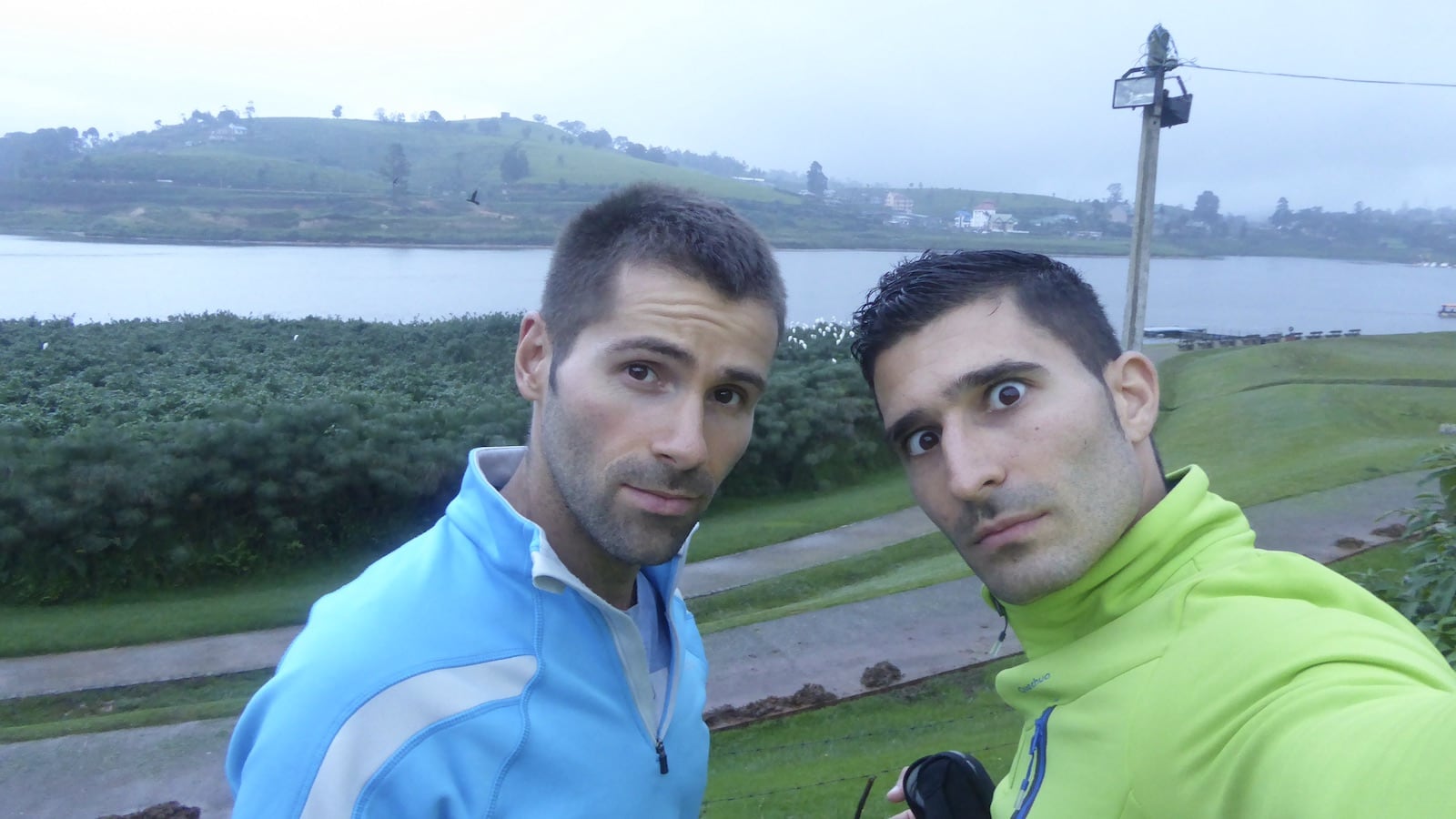 How long is the train from Nuwara Eliya to Ella
The total train journey from Nuwara Eliya to Ella takes around 3-4 hours. By comparison, it takes around 1.5 hours by car. The reason the train takes so much longer is because it has to cross over many mountain ranges thereby slowing it down.
In reality, the train journey will take a lot longer than 3-4 hours if it breaks down, which happens a lot. It certainly did to us, and our entire journey to Ella took around 6 hours in total!
Despite this, we urge you not to skip it, unless you're in a rush. We recommend making a day of it – take in those impeccable views around you and make the most of the company of locals also on board with you. The Sri Lankans absolutely love meeting foreigners and were always super friendly. Sparking up a conversation became such a joy during our train journey.
How much is the train ride from Nuwara Elya to Ella?
Train tickets in Sri Lanka are inexpensive. The cost of First Class tickets is around $20 (£15) and Second Class around $15 (£10) which you can book online here.
The First Class tickets are limited and sell out quickly because these are the only ones that be purchased in advance online. The First Class tickets are also highly desirable because seating is in a separate closed compartment at the front of the train with panoramic windows and air-con. The Second Class seating is across all the other carriages behind First Class, which is open air.
If you don't get a First Class ticket for the day you want to depart (as was the case for us!) then you just need to buy it on the day you want to travel. We were worried about finding tickets but we were reassured by our guesthouse host who told us that the train tickets at Nanu Oya train station rarely sell out.
Also, as we said above, Second Class seating isn't too bad at all – there are few places in the world where you can zip through on a train with your feet dangling out the door!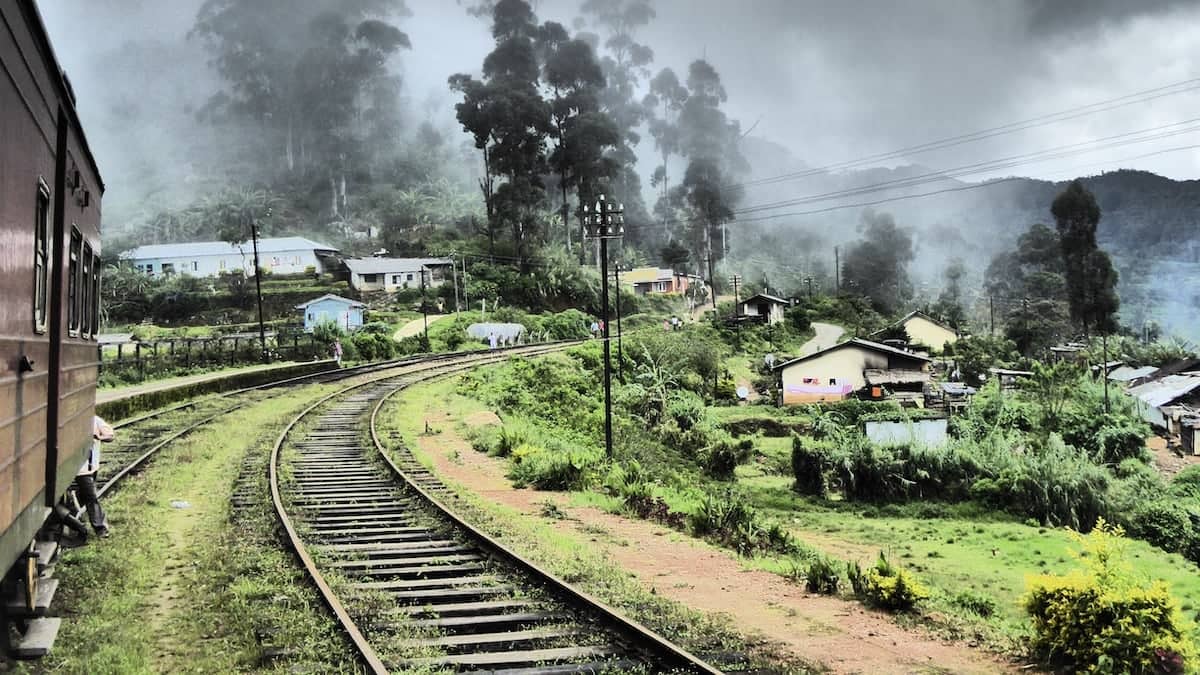 How to book your train tickets?
You can turn up at the Nanu Oya train station (this is the name of the train station serving Nuwara Eliya) on the day and buy your ticket at the ticket office. Keep in mind, that the train station can get very busy especially during peak tourist periods and public holidays in Sri Lanka.
We recommend booking your tickets online to guarantee your seat in First Class for a specific day as well as to avoid the crowds queuing on the day of departure:
Train timetable from Nuwara Eliya to Ella
There are several trains every day that go from Nuwara Eliya (Nanu Oya) to Ella. The main ones that have First Class reserved seating leave Nanu Oya train station daily at these hours: 09:30, 12:45, 15:01 and 15:55.
If you're heading from Ella to Nuwara Eliya, these are the daily times for the trains with First Class reserved seating: 06:40, 09:24 and 11:57.
We highly recommend checking your local tour operator or hotel for more up-to-date information about the train timetables as these often change, particularly on weekends and on public holidays. The most thorough online resource we found that helped us plan our train travel in Sri Lanka is The Man in Seat 61.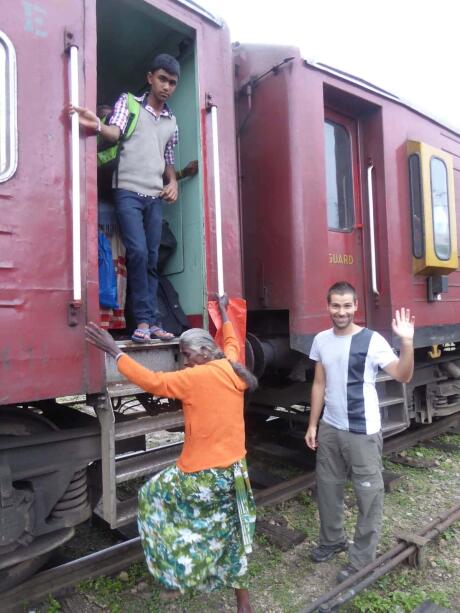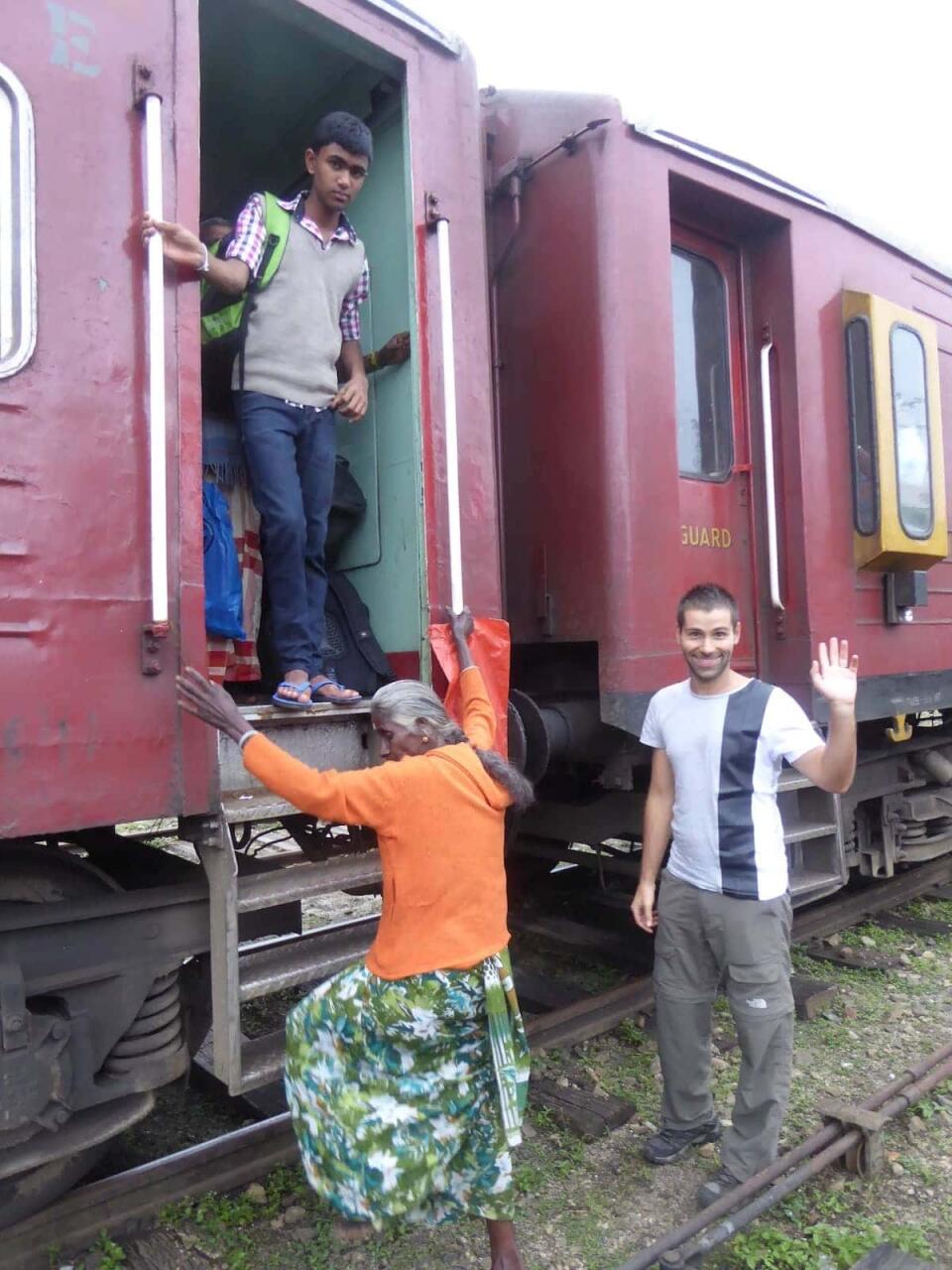 Our train ride from Nuwara Eliya to Ella
We boarded our train at Nuwara Eliya on a Friday morning in the second class compartment. Note that the train station serving Nuwara Eliya is called "Nanu Oya" and is located around 8km (5miles) from the centre of town.
The train ride from Nuwara Eliya to Ella powers down through Sri Lanka's southern hill country, through the tea plantations and then up again, disappearing into the clouds, weaving in and out of the many mountain tunnels as it finally descends to Ella. It's spectacular! Along the way, we passed lots of small towns and villages stopping to pick up passengers. One memory was the train getting ready to leave Badulla and a group of schoolboys were running to catch the train so they could get home in time for dinner. We all reached out and helped them climb aboard the train as it was powering up and starting to leave.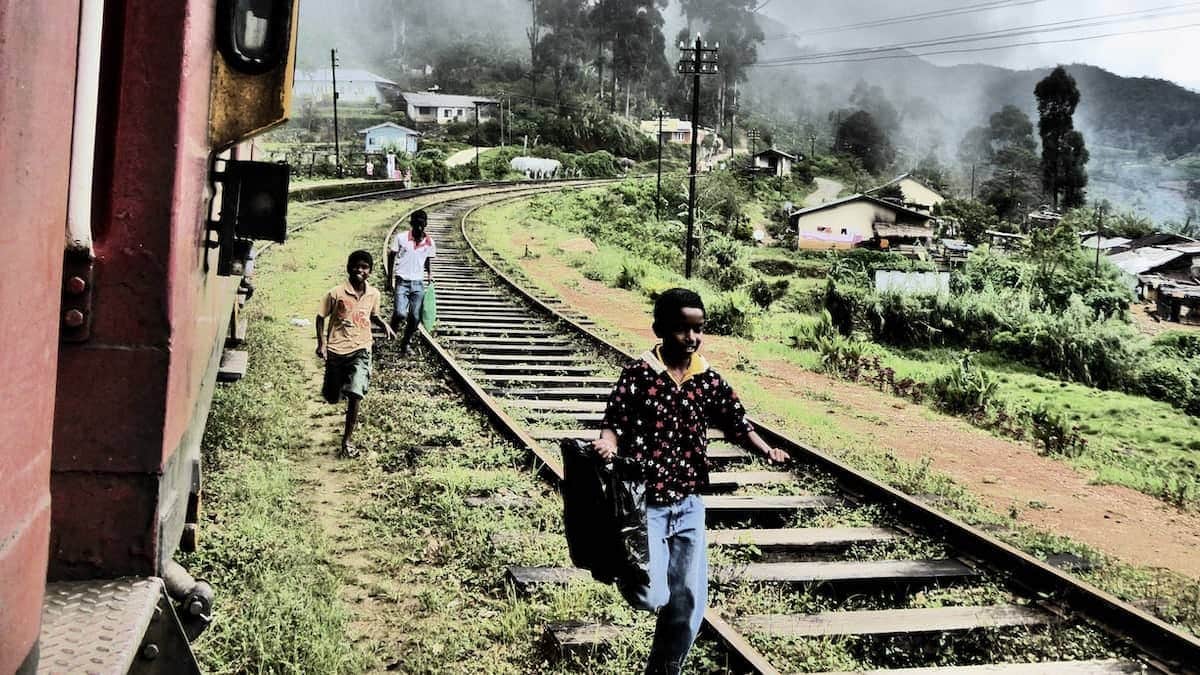 Where to stay in Nuwara Eliya?
Nuwara Eliya is a quiet little town, which we recommend spending a few nights if anything so you can soak up the lush green tea plantation scenery and also visit a few tea plantations. When researching the best place to stay in Nuwara Eliya, these were the ones that stood out the most for us:
01
Heritance Tea Factory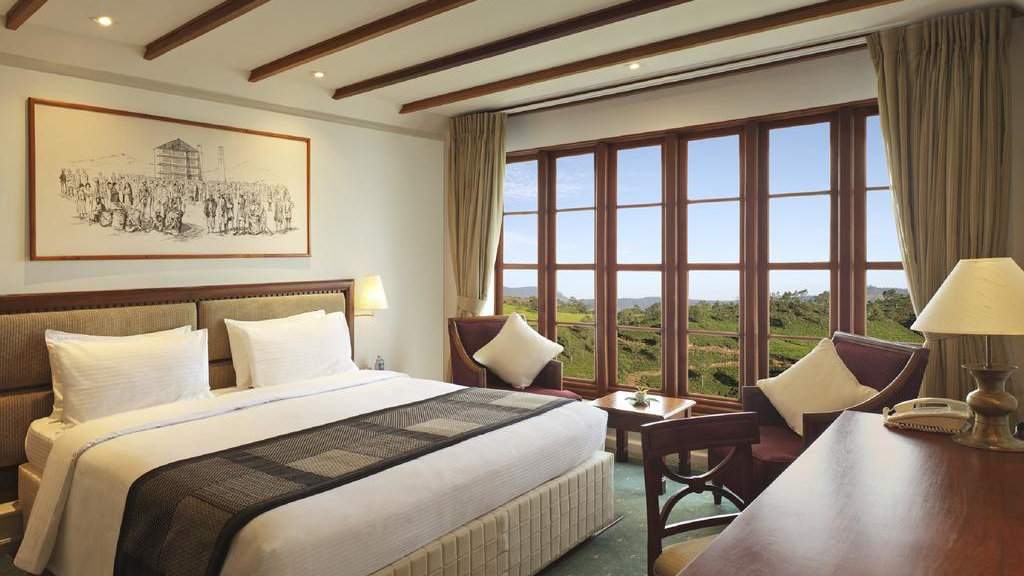 Why we love it
---
Luxury hotel in an old colonial tea factory
Amazing views over the plantation
Very friendly and professional staff
Wonderful spa with pampering packages
This stunning hotel is located a bit out from Nuwara Eliya, but is well worth the extra travel time.
Staying here feels like you've slipped back into 19th-century Ceylon with five-star luxury pampering instead of working outside picking tea.
We recommend the Heritance Tea Factory for honeymooners as they go above and beyond to make your stay memorable and romantic. It's a real treat staying here!
Since the hotel is surrounded by a working tea plantation you get to enjoy stunning views of the lush greenery as well as fun tea-themed experiences. You can pick your own tea to then take home with you, take part in a tea-tasting of different varieties or just indulge with a delicious high tea in the beautiful garden. The luxurious spa offers many different beauty and relaxation treatments, so you'll definitely feel as if you're in heaven after indulging.
The Kenmare Restaurant serves lavish feasts of local and international food, in a very refined atmosphere. This is a spot where you need to dress up which all just adds to the enjoyment really. You can also have a special garden breakfast in the Flower Dew cottage garden or a nightcap in the Hethersett Bar. There's a cosy library for when you just want to curl up with a book as well as a gym for keeping fit.
02
Sincere Wilderness Homestay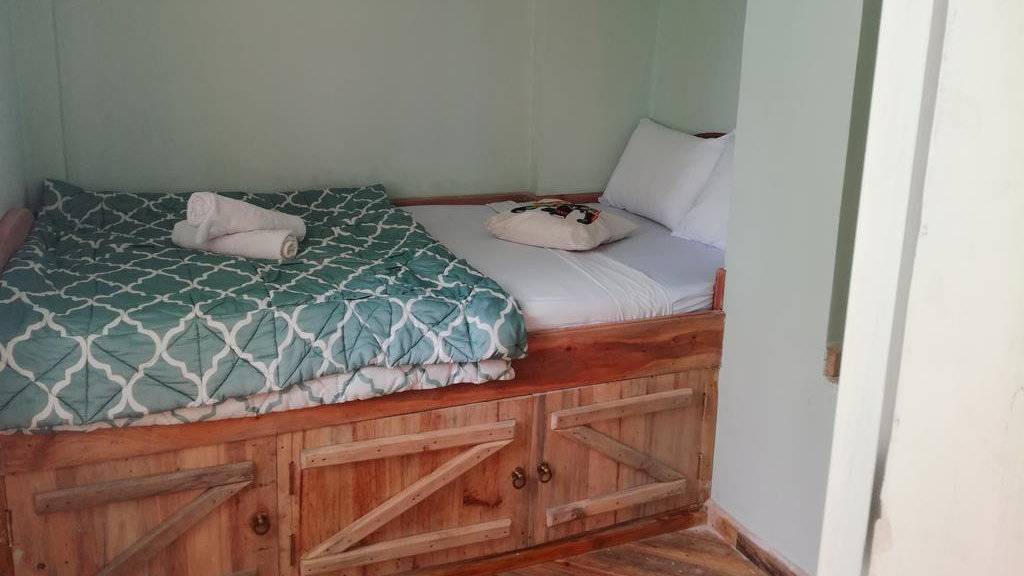 Why we love it
---
A homestay on Sri Lanka's highest mountain
Host family cares for you with love
Amazing home-cooked meals!
Wonderful trekking nearby
If you want to experience some true Sri Lankan hospitality then you can't go wrong with a homestay and this is one of the best we found in Ella.
Located on the side of Sri Lanka's highest mountain, Sincere Wilderness Homestay is run by Lal and her family, who make you feel completely at home. What's more, they serve the most amazing curries for dinner and will happily teach you how to make them for yourself as well.
This is a wonderful choice if you're tired of staying in hotels, as it feels like you're just staying with some friends in their home which happens to be in an incredible location. The bedrooms are super cute, some with traditional built-in beds and others with freestanding doubles. The house is surrounded by a lovely garden with lots of stunning rosebushes. You'll often see cheeky monkeys climbing around outside too!
The area surrounding this homestay is beautiful, with plenty of trekking for those who like to keep active. The family will show you some good hikes, as well as providing plenty of tips for things to do in the area. They even recommended a local tuk-tuk driver to us who was adorable and super obliging, willing to show us around. Another wonderful detail is that they provide you with hot-water bottles on chilly nights.
03
Heidi's Home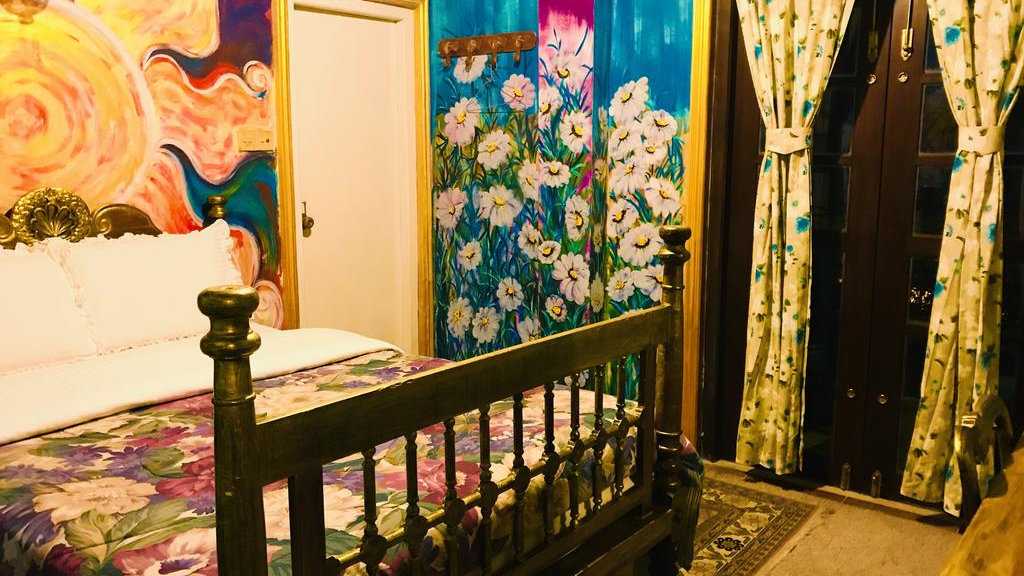 Why we love it
---
Great budget option in Nuwara Eliya
Lovely guesthouse with very friendly owners
Bright and colourful painted rooms
Wellness packages available
Heidi's Home is another excellent homestay, located right beside the beautiful Lake Gregory.
Not only is the house stunning from the outside but so many of the rooms have been hand-painted with bright and colourful patterns. You may be sleeping among fields of flowers or psychedelic suns!
There's also a couple of very cute and fluffy resident cats if you like to stay somewhere with friendly pets.
Heidi's Home is run by a local couple and their adorable daughter Heidi. Along with the colourful art in some rooms, the house is filled with lots of beautiful antique furniture. There's also a charming jungle-like garden outside, which is lovely to sit in and enjoy the views down to the lake. You can easily walk into the centre of Nuwara Eliya if you want or just get a local tuk-tuk. The hosts will help you arrange transport and tours if you need as well.
Delicious Sri Lankan meals are cooked for you, we particularly loved the bountiful breakfast. You can also take part in cooking classes. For those interested in wellness or yoga, the homestay also runs an ashram where you can take part in a variety of different wellness retreats. Daily meditation and yoga sessions will help to clear your mind while your meals are made to Ayurvedic principles, often with healthy juices included.
Where to stay in Ella
Ella was our favourite place in Sri Lanka. We planned to stay here a few days but ended up extending this to 1 week. It's a paradise for hikers, surrounded by gorgeous hills, waterfalls, really pretty views and plenty of trails. These are some of the best hotels in Ella to check out for different budget ranges that caught our eye when researching, from the luxurious boutique to the more local experiences staying in a homestay (highly recommended!):
01
The Secret Ella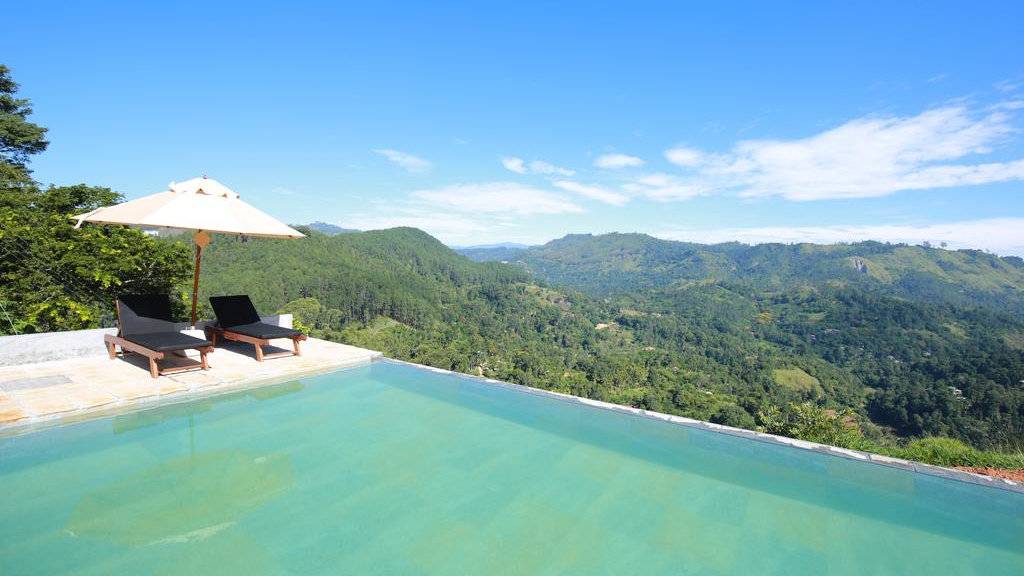 Why we love it
---
Small luxury boutique resort
Incredible views including the 9 arches bridge
Infinity swimming pool with views as well
Spacious suites and chalets available
Located in a former tea planter's home converted into a small luxury boutique resort, The Secret Ella is simply enchanting! The original planter's bungalow is a gorgeous building with ensuite rooms, but you can also stay in private chalets overlooking the mountains and valley below.
The views are really incredible here, you can even see trains passing over the famous nine arches bridge from the edge of the resort's garden.
The infinity-style swimming pool is a real highlight, allowing you to relax in the cool waters on a hot day while gazing down into the valley at the lush greenery everywhere. The gardens are filled with flowers that attract bees and butterflies, so it feels like you're staying in some kind of paradise! Guests can enjoy tea picking on the plantation and a tour of the resort's tea factory for free, which includes a tea tasting at the end.
You can sample mouthwatering western or Sri Lankan cuisine in the restaurant. For extra romance, you can also choose to dine in the privacy of your own room/chalet. Little Adam's Peak (see our things to do section below) is only five minutes away from The Secret Ella. You're also ideally situated to tackle the more challenging Ella Rock climb. Nearby activities include a jungle zip-line and field archery classes, or you can just relax with some board games at the resort!

02
Zion View Ella Green Retreat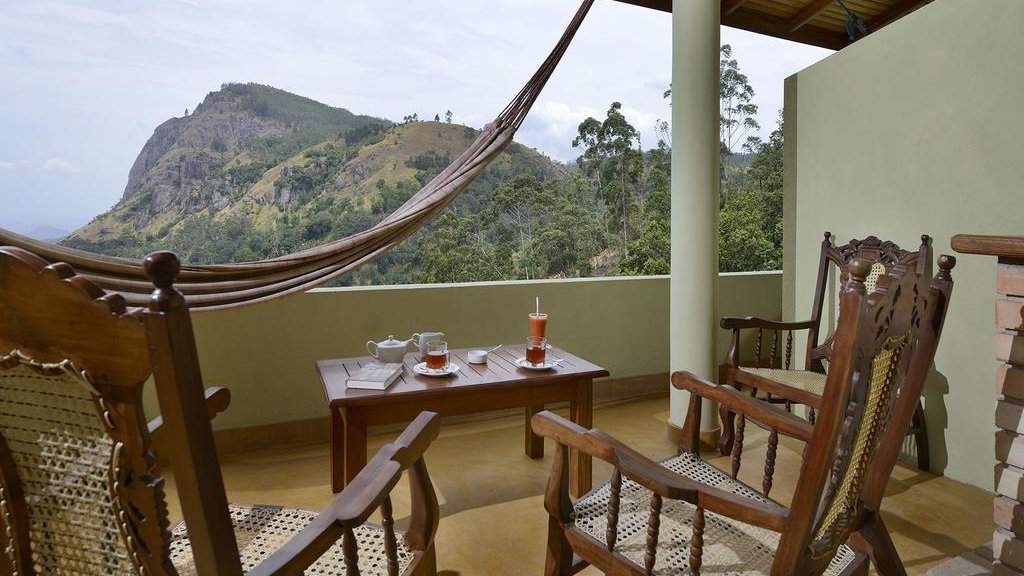 Why we love it
---
Beautiful property overlooking the Ravana waterfalls
Comfortable and clean rooms
Infinity pool with stunning views
Yoga and spa services
For a more affordable choice that still has stunning views, head to Zion View Ella Green Retreat. This is a bed and breakfast which also offers wellness activities like yoga.
Rooms are comfortable, clean and nicely furnished, all with hammocks on the balcony so you can enjoy that view straight across to Ella Rock! Zion View is also very central, right in the heart of Ella and walking distance to the train station.
As well as the comfy hammocks for lounging around, you can also relax and enjoy the views from the infinity pool. As a "green retreat" you'll be able to partake in daily yoga sessions in the rooftop shala and have a heavenly Ayurvedic massage in the spa. The staff are very friendly and willing to offer tips or help with organising things to do in the area. They really go above and beyond, even picking you up from the train station when you first arrive!
The complimentary breakfast at Zion View is a real highlight, with fresh fruit, buffalo curd and honey, plus hoppers, one of our favourite Sri Lankan dishes! At night you can also dine on delicious local curries, by candlelight on the balcony no less, or perhaps venture into town to try out other local dining spots. You can also organise plenty of tours with the staff here, from safaris to nearby national parks to cultural tours around Ella.
03
Chamodya Homestay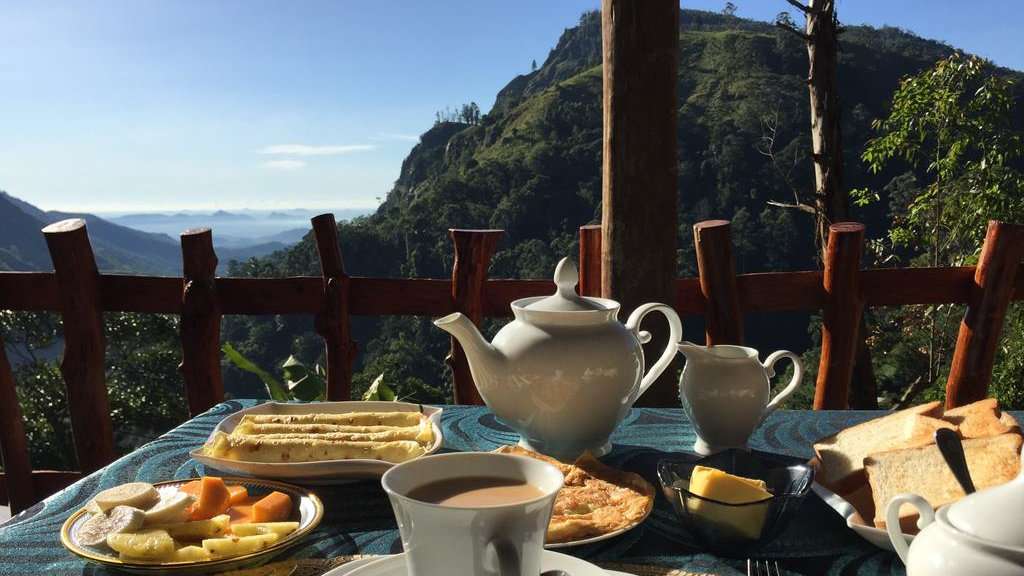 Why we love it
---
Lovely, affordable homestay
Stunning views
Very hospitable hosts
Tranquil location on the outskirts of Ella
Chamodya Homestay provides a wonderful homey experience with gorgeous views at a very reasonable price.
Lilu and her family love to welcome travellers from around the world into their home, which is simply charming. They are all exceedingly helpful, going so far as to provide laundry services, arrange car hire and tours, or cook special meals just if you say you don't like something.
Having breakfast on the terrace balcony each morning is like a dream! You look out over the jungle to Ella Rock while dining on coconut pancakes, hoppers, roti, fresh fruit, juices, eggs, toast and tea, of course. The curries and rice for dinner are just as delicious, so you certainly won't leave Chamodya Homestay feeling hungry! You can easily walk into the town centre although you may like to get a tuk-tuk on the way back as it is in a pretty steep location.
The rooms are simple but very clean, comfortable and spacious. Some of them have a private balcony but even if not you can enjoy the shared terrace and get to know other guests. When you first arrive you're served tea and biscuits here as well, which really shows the kind of special service you can expect throughout your stay. We were honestly sad to leave this place!
Top things to do in Nuwara Eliya
Tea tea tea…it's all about the tea here! Make sure you leave enough time in Nuwara Eliya to at least roam around the tea plantations and visit the Pedro Tea Factory. Here is our summary of the top highlights of Nuwara Eliya to inspire you:
Explore the tea plantations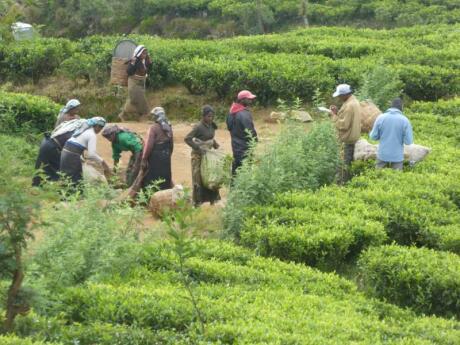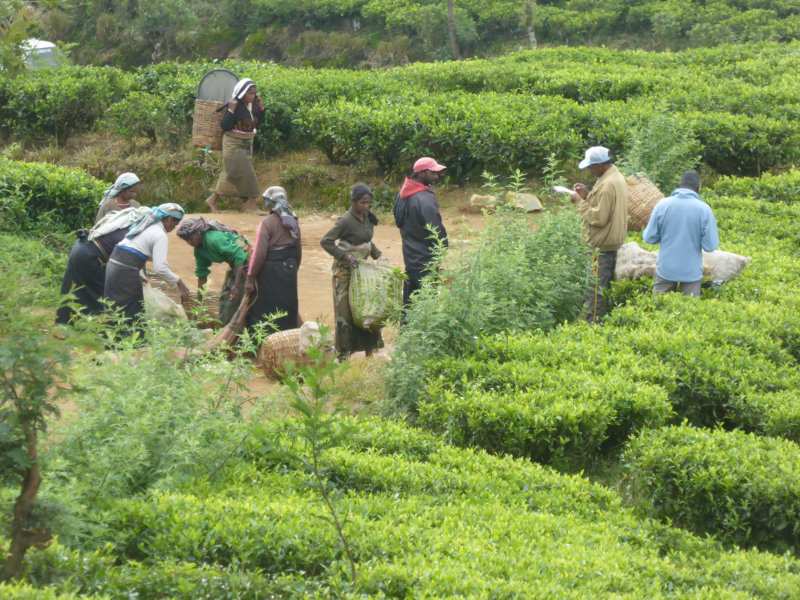 Nuwara Eliya is surrounded by acres of tea plantations, which you can, and should, explore. We passed by groups of labourers working the fields, mostly female tea leaf pickers carrying around large baskets. Nuwara Eliya has been the capital of Sri Lanka's tea industry since the 19th century, so this mountainous region is the best spot to experience the beautiful plantations. An easy way to do this is to hire a local tuk-tuk driver to take you around the winding roads. Just make sure you have some loose change on you if you plan on doing any photography of locals, as they will ask for a tip and fair enough!
---
Visit the Pedro Tea Factory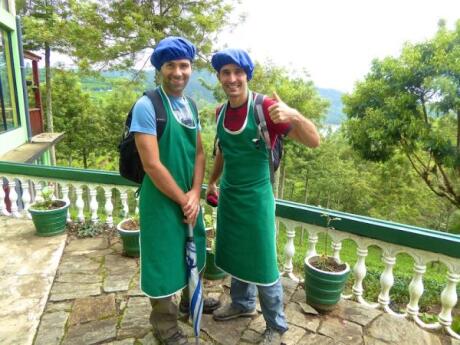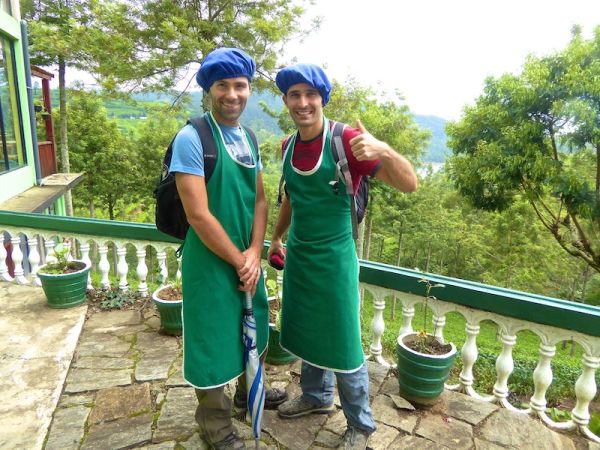 We visited the nearby Pedro tea factory to get a taste of freshly brewed Sri Lankan tea. The plantation's factory has been around since 1885 and there's a lovely teahouse as well. We had to wear these gorgeous hats and aprons to enter the factory, but unfortunately, they wouldn't let us keep them! Here we got to learn more about tea cultivation, with a taster session at the end. You can even join a tour of the factory which includes picking your own tea leaves from the fields first. This is a fun and interesting way to meet local Sri Lankan workers while doing something a bit out of the usual tourist experience!
---
Boat ride on Gregory Lake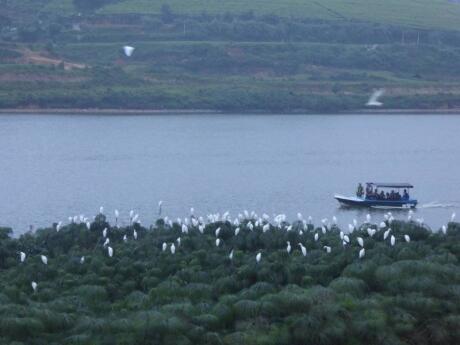 Gregory Lake is the main lake of Nuwara Eliya, surrounded by a park. It's actually a man-made reservoir that was built during the period of British Governor Sir William Gregory between 1872 and 1877. On a hot sunny day, it's a cool place to come, relax and take a boat ride. Annoyingly, when we were in Nuwara Eliya, it was pouring rain for most of the time so we had to skip past it. As well as boat rides you can hire bikes and ride around the whole lake on a bike path, hire a swan-shaped pedal boat or even walk on the water in big water walking balls! There are some cafes and restaurants on the bank of the lake too.
---
Lover's Leap Fall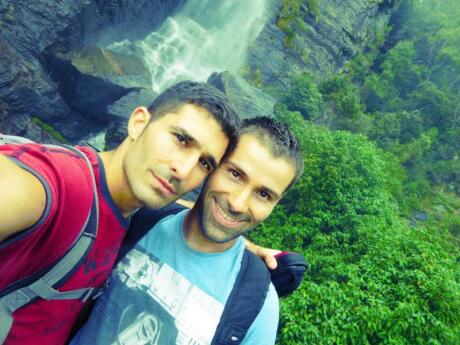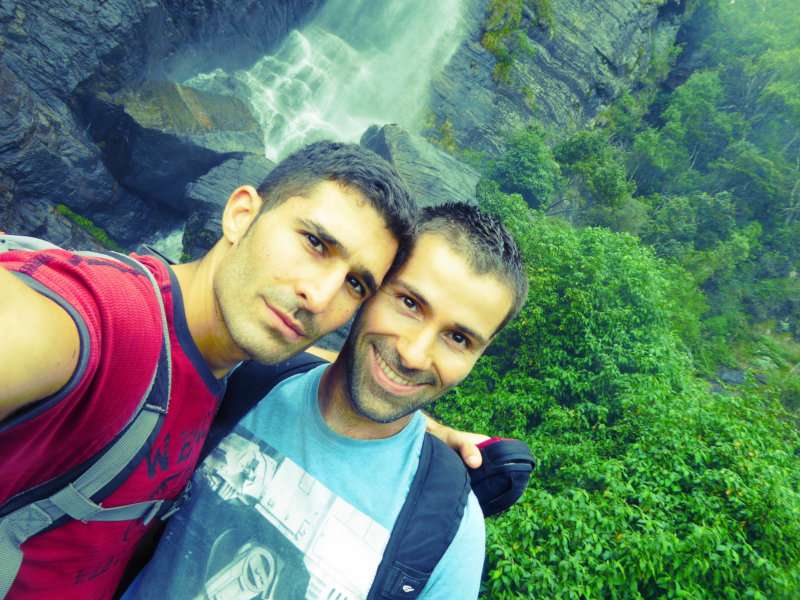 Lover's Leap is a beautiful 30m (98 feet) high waterfall located just 5.5km (3.3 miles) from Nuwara Eliya. Legend has it that lover's have leapt to their deaths from these falls, hence the name, but it's also very romantic to marvel at their beauty with your loved one without feeling the need to leap off anything! You can walk to the falls from opposite the Pedro Tea Factory by following signs marking the way, and the journey itself is beautiful too. If you're short on time you could also join a tour that visits the falls, Gregory Lake and the Pedro Tea Factory all in one day!
---
Top things to do in Ella
Ella is just stunning. Do not skip it. If you love the outdoors, you'll fall in love with Ella as much as we did. Some of the best photography we have from our trip to Sri Lanka is from our trek to Ella Rock….just sayin'!
This is a summary of what we think are the top things to do in Ella:
Hike to Ella Rock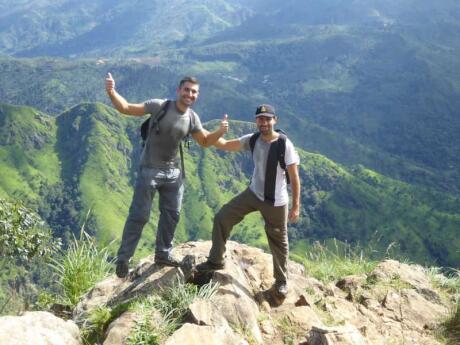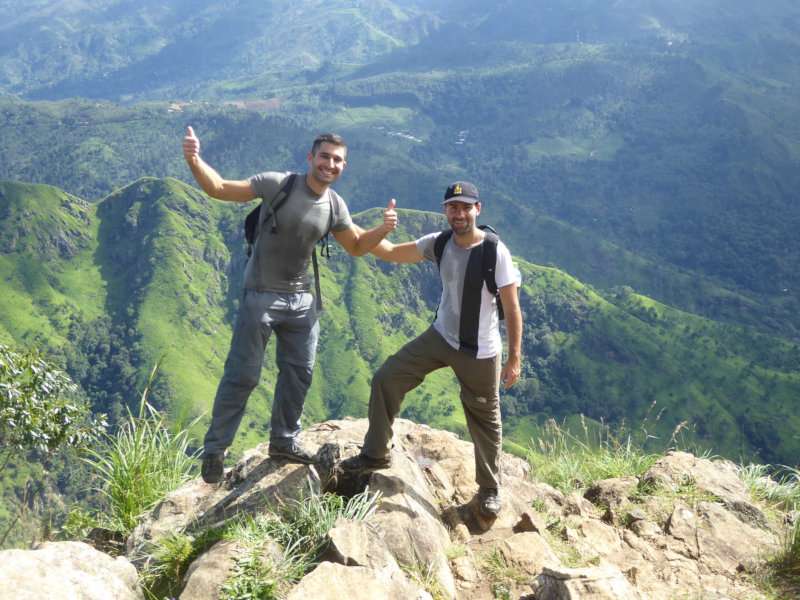 Ella Rock is the name of the main mountain in Ella, which has sheer cliff walls and a large rock with a lone tree on top – hence the name. The views around Ella from Ella Rock are jaw-droppingly stunning! We recommend coming here simply for this. You can do this yourself using our guide of how to trek to Ella Rock, or via a tour like this one which departs from Nuwara Eliya then also visits Little Adam's Peak and the 9 Arch Bridge. It took us a good half day to get there and back, including stopping for lots of photos. The journey goes through tea plantations and lush jungle, where you might find secret waterfalls…
---
Nine Arches Bridge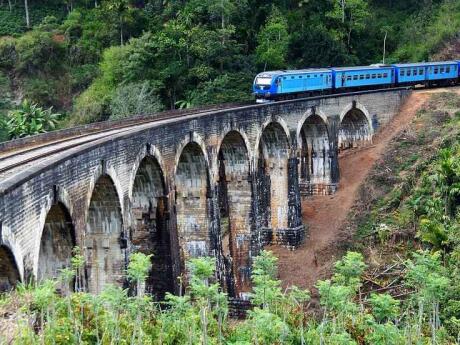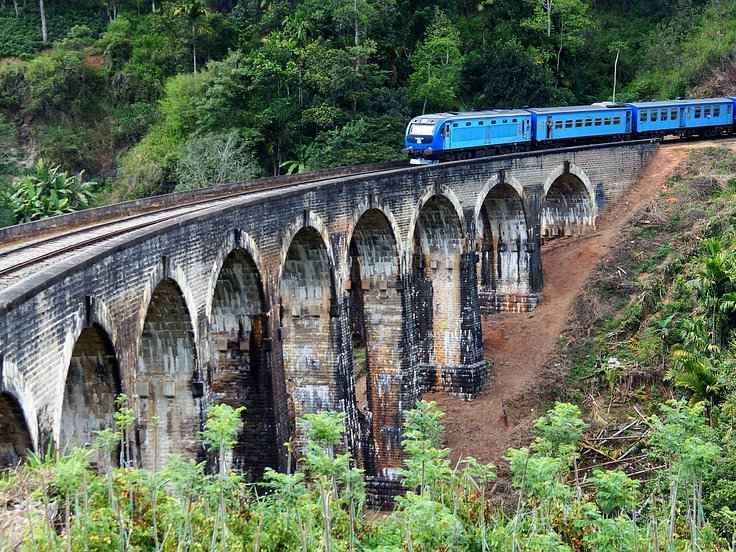 Another must-see spot in Ella is the Nine Arches Bridge, sometimes called the Bridge in the Sky. This is an iconic train track viaduct bridge in Ella built by the British in 1921. It is built entirely out of brick, rock and cement, with no metal used in its construction – an engineering feat back in those days. A popular story is that all the steel got sent back to Europe during WWI, so the locals just built it without any! If you stand underneath it you can see 'nine skies' through the arches as well. We got serious Hogwarts Express vibes here, well, you know, if Hogwarts had been situated in the midst of beautiful jungle greenery!
---
Little Adam's Peak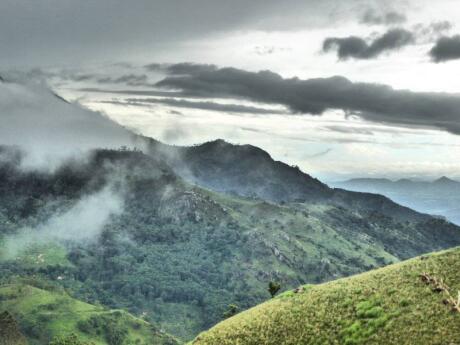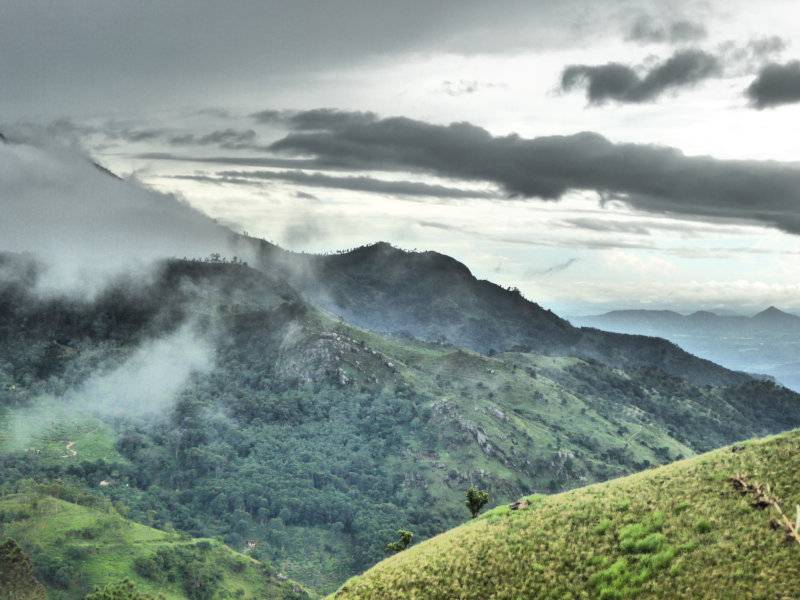 Named after the sacred mountain of Adam's Peak (Sri Pada, where the footprint of Lord Buddha is preserved), Little Adam's Peak is a very popular tourist attraction. The trek to the top is also much easier than that to Ella Rock. It took us no more than 2 hours round trip from central Ella. It starts in the tea plantations before climbing up to the various viewpoints, eventually giving you a 360-degree view overlooking Ella Rock and towards Udawalawe National Park. The path is well-marked, with signs to show you the way. Since it's so popular you can also expect to meet plenty of other hikers from around the world to chat with!
---
Join a cooking class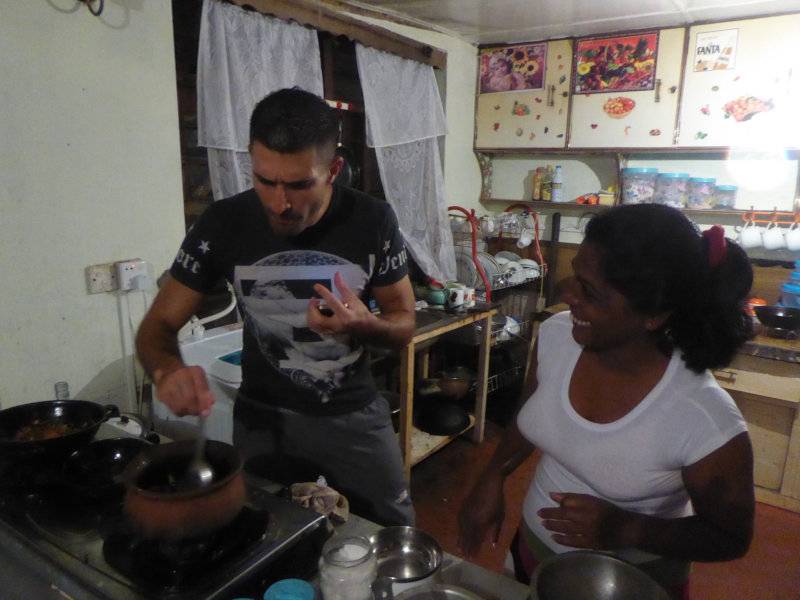 Sri Lankan food is one of our favourite cuisines. These guys can take pretty much any fruit /vegetable and turn it into a delicious curry. Ella has many homestays and families offering cooking classes, which we highly recommend doing. We joined a cooking class with a local family which included making a jackfruit curry and a very unique garlic curry with enough garlic to scare off a coven of vampires for a lifetime! More serious aspiring chefs could also join this full-day cooking school to learn even more yummy recipes. Read more about Sri Lankan cuisine in our guide to the best foods and drinks to try in Sri Lanka.
---
Admire the Diyaluma Falls
There are many small waterfalls you'll see during your treks in Ella, but our favourite one we recommend visiting is the Diyaluma Falls. At 220m (720ft) high, it is the second tallest in Sri Lanka and worth visiting for the views alone, although there's plenty of pretty infinity pools around it as well. The easiest way to reach it is by taking a short tuk-tuk ride to the nearby Poonagala village followed by a short 30-minute hike down to the falls. Make sure you bring your swimsuit to cool down in the pools after your hike! But do be careful, as there are no safety barriers and during the monsoon season the waters are too fierce to swim in.
---
Happy travels are safe travels
We recommend you always take out a reputable travel insurance before your next vacation. What happens if you suffer from illness, injury, theft, or a cancellation? Many travelers forget about it and regret it when something happens. Better to pay a small price and have the peace of mind and not worry.
---
Like this post? Pin it