Here's our complete guide to getting from Kandy to Nuwara Eliya by train in Sri Lanka.
OMG just as we were entering the train station at Kandy, Stefan wouldn't stop:
"Seby, how does a train eat? It goes chew chew!"
"Seby, what do you need in order to crash a train? A bad track record!"
"Seby, did you hear about the Mexican train hijacker? They say he had locomotives!"
…on and on he went, like an excited child bouncing around a candy store!
Don't get me wrong, I love train travel. However, each time we start a new train adventure, Stefan just goes batshit crazy over it! After our Trans Siberian escapades in Russia, we were super excited to start our Sri Lankan train adventure from Kandy to Nuwara Eliya, especially after reading that it's one of the most beautiful in the world.
And we 100% agree!
The train journeys we did in Sri Lanka definitely rank as some of the best we've done in all our travels. We powered through the country's lush green tea plantations, passing local villages, waving at smiley locals, disappearing into mountain tunnels then drifting into cloud forests, reaching altitudes of 1,900 metres (6,200 ft)! It was as much of an adventure for us as it was a scenic orgasm for our cameras.
We split our Sri Lanka train adventure into two parts: the first from Kandy to Nuwara Eliya, the second from Nuwara Eliya to Ella. This article is about the first leg of this journey, including all our practical tips and advice for fellow travellers looking to experience the same.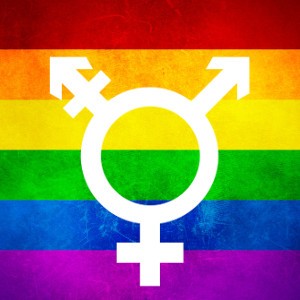 Advice for LGBTQ travellers to Kandy
It is illegal to be gay in Sri Lanka! The country very much retains its anti-gay colonial laws. Having said that, it is rarely enforced and especially not towards foreigners. Whilst Sri Lankan society is very conservative and hostile towards its LGBTQ community, as foreigners we found they were more curious and welcoming towards us. Kandy is quite touristy, so the larger hotel chains are quite accustomed to dealing with LGBTQ travellers. However, if booking a local family-owned guesthouse, it may be worth checking beforehand if they're ok to host a gay couple.
Our stopover in Kandy
We were excited to visit Kandy. It's located right in the middle of Sri Lanka and is famous for being the last capital of the Kings of Sri Lanka Royal Dynasty. Interesting fact: the Sri Lankan Royal Dynasty is one of the longest Royal Dynasties in the world, holding strong for 2,350 years, from 543 BC until the British invaded in 1815 and captured the Kandyan King: Sri Wickrama Rajasinghe.
Today Kandy is mainly famous for the UNESCO listed Temple of the Tooth Buddhist Temple, which is located in the royal palace complex of the former Kingdom of Kandy. The reason why it's so famous, the temple houses the relic of the tooth of Buddha! This is extremely important to practising Buddhists, making it one of the most sacred places of worship in the Buddhist world.
The temple itself is beautiful and worth visiting, especially if you want to learn more about Buddhism. Locals come from afar to worship here: it's considered an honour for them to be here. Put it this way, the relic played a huge role because it was believed that whoever holds it holds the governing power of the entire country. Today, the relic is housed in a heavily guarded room inside a gold casket shaped like a dagoba (stupa), which contains a series of six dagoba caskets of diminishing size.
Watching the intense worship by visiting Buddhists is fascinating in itself, but the only downside is that the Temple does get quite crowded, particularly with worshippers, backpackers and Chinese tour groups. We, therefore, advise coming early in the day, ideally on a weekday when it's less crowded.
How long is the train ride from Kandy to Nuwara Elya?
The train journey from Kandy to Nanu Oya Station in Nuwara Eliya is quite slow, taking around 3-4 hours to travel the 196km (122 miles) of train tracks. Let's just say the train takes the scenic route! Delays are frequent and the train tracks have to wind around mountain ranges, which slows it down.
If you're in a hurry, then we suggest you take a taxi instead, which is a lot quicker, taking around 1 hour and 20 minutes. The road is more direct, covering a shorter distance than the train – a total of 76km (47 miles). For us, however, the train journey was part of the whole adventure, so going by road was out of the question! Nonetheless, it's useful knowing you have this option if, for whatever reason, the trains are not running, and you need to get to Nuwara Eliya within a certain timeframe.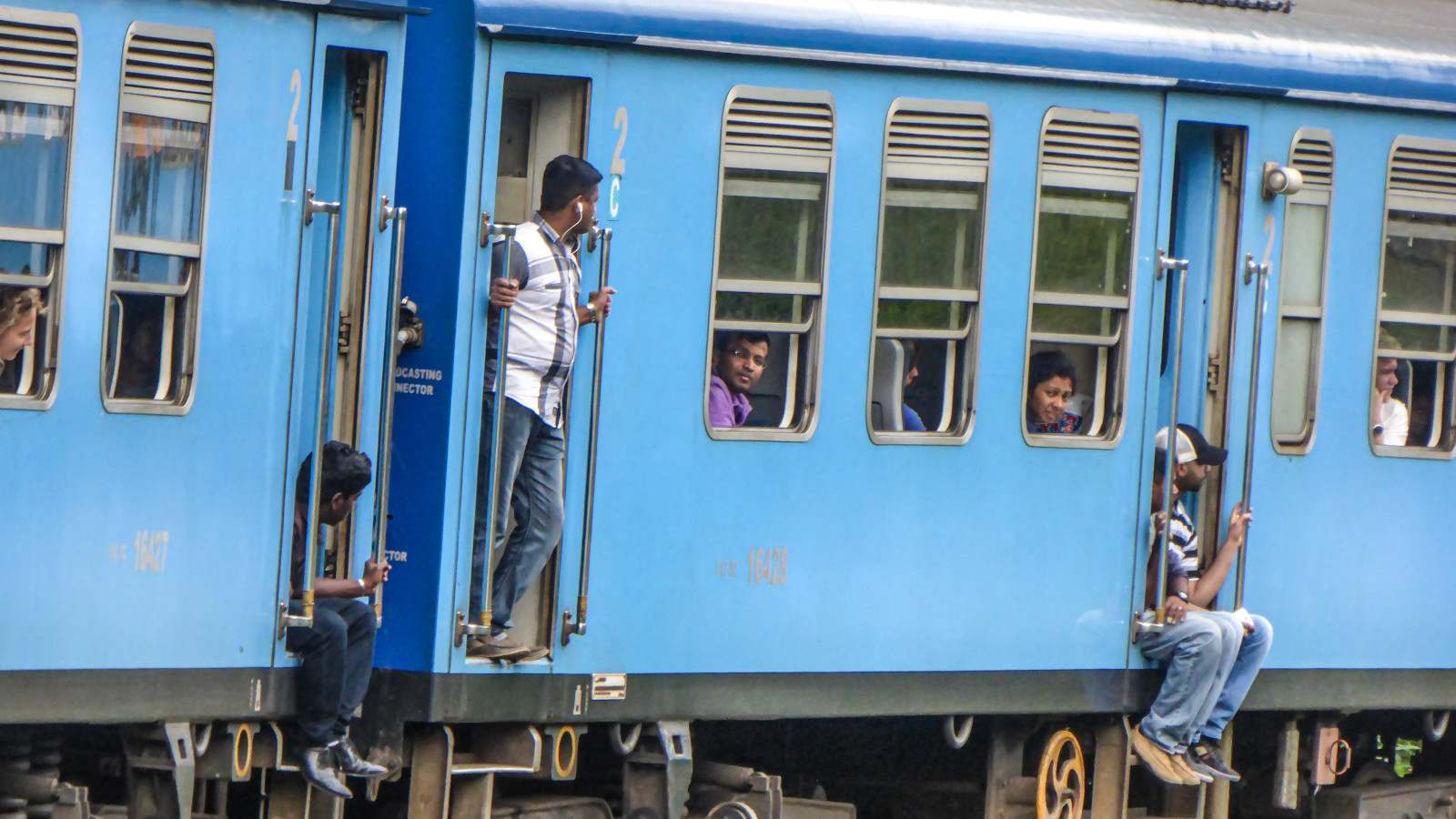 How to book your train tickets?
You can turn up on the day and buy your tickets at the counter office, but on a national holiday or peak season, queues can get pretty long and tickets sell out. For this reason, we strongly advise buying your tickets in advance online to avoid, skip the queues and ensure you get the seats you want.
A handy tip from us: try to get a seat on the left-hand side of the train. We noticed we were snapping away more from the left compared to the right.
Also, we advise getting an early train, ideally before midday. After midday, the mist sets in, which gets in the way of your views.
First or second class tickets?
The 1st class seats are the best. They are usually in "observation carriages" with air con. They are, however, limited in number, which is why we suggest booking them asap online before they sell out.
If not, the 2nd class seats are still decent, a lot cheaper and a larger number of them available. The only downside (at least for me!) is that there is no air con in 2nd class – Stefan however, who hates air con loved being able to sit by an open window.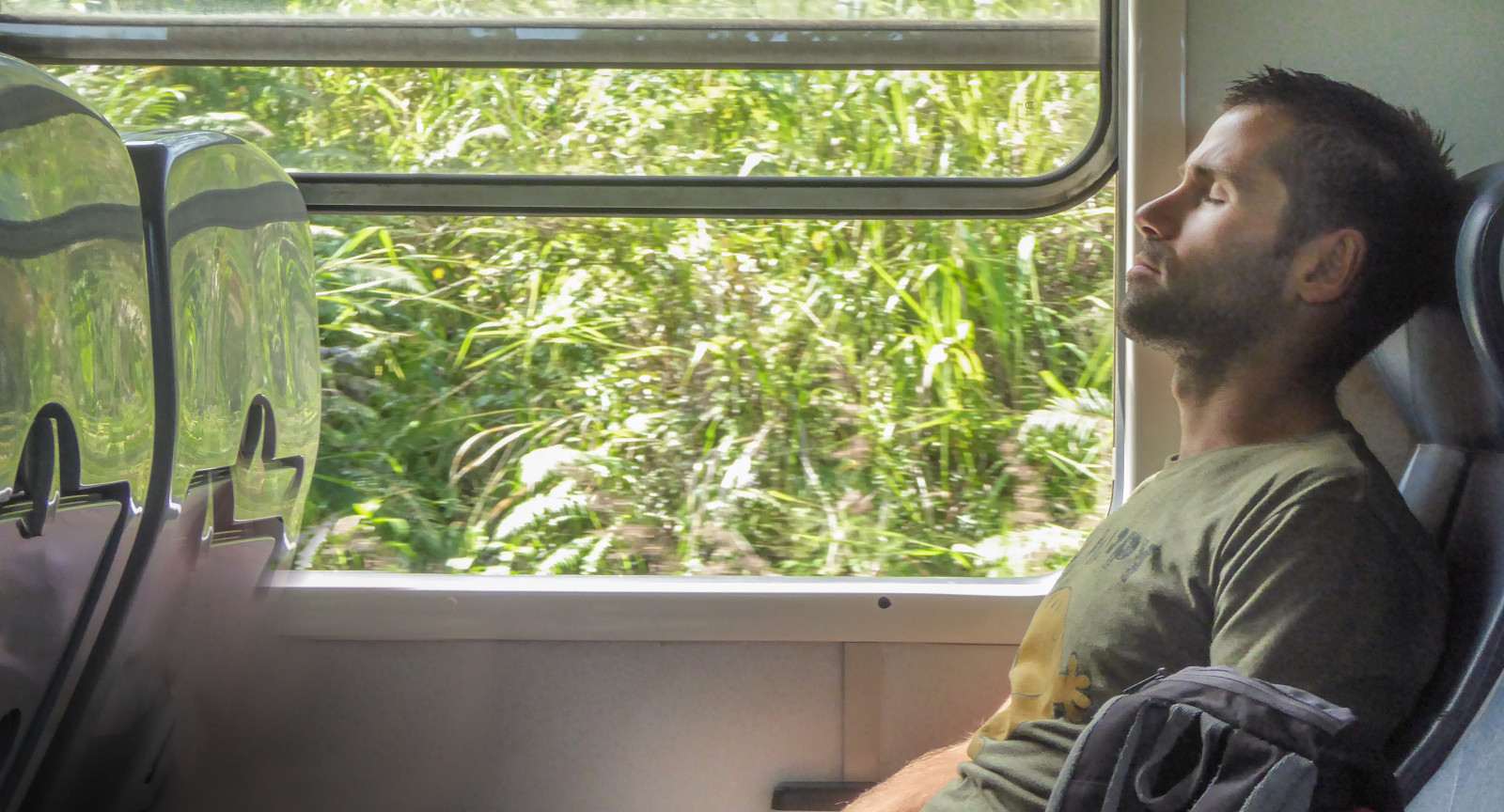 Train timetable from Kandy to Nuwara Eliya
There are 3 daily trains that go from Kandy to Nuwara Eliya (Nanu Oya) that you can book online with reserved First Class seating: 08:47, 11:10 and 12:31. Tickets cost 3,603 Sri Lankan rupees (around $20/£15) if you buy them online.
We highly recommend checking your local tour operator or hotel for more up-to-date information about the train timetables as these often change, particularly on weekends and on public holidays. Also, as we said above, when travelling on weekends and holidays we recommend getting your tickets as soon as you can due to the increase in demand. The later you leave it, the more likely tickets will sell out.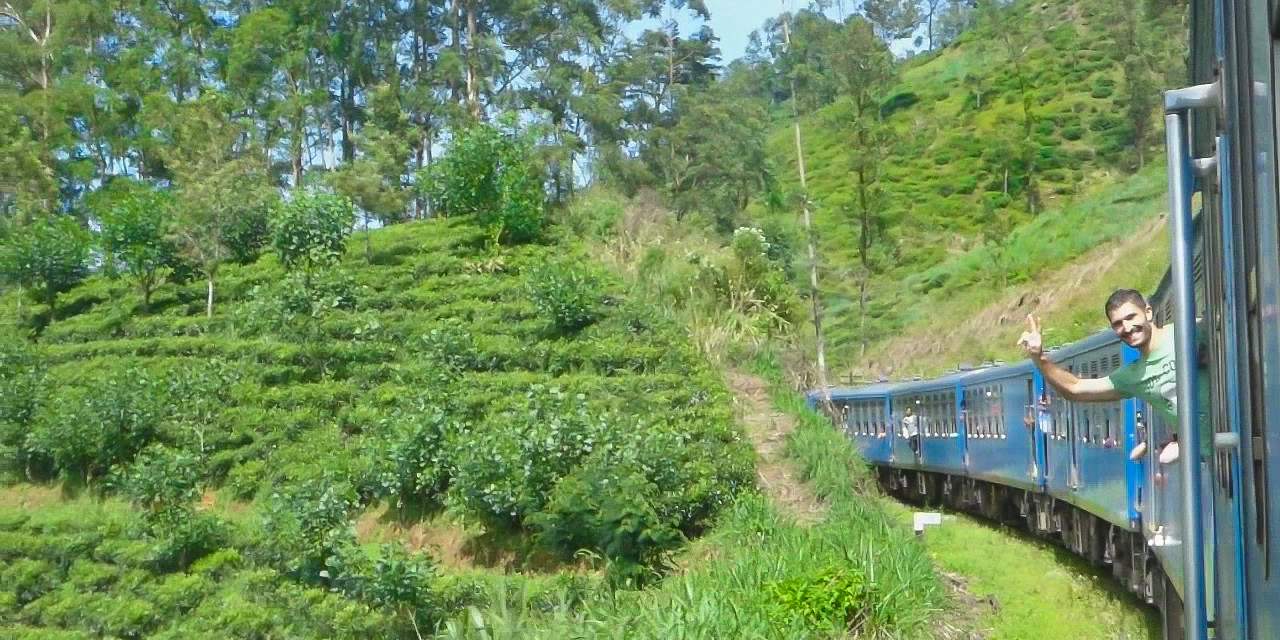 Our train ride from Kandy to Nuwara Eliya
We boarded our train at Kandy station on a Wednesday morning a base for us to start our scenic train journey through the Sri Lankan tea plantations to Nuwara Eliya, which sits at an altitude of 1,868m (6,129ft). The first hour of the journey takes you outside of Kandy city centre so isn't the most scenic. However, once you're out of the city, get your camera ready!
Our train ploughed through the Tea Country region of Sri Lanka. As the name suggests, this is where the bulk of the country's tea plantations can be found. It's very picturesque – lush green landscapes, with the plantation workers waving at us. Then the higher our train went, the closer we got into the low lying clouds. Honestly, this is a photographer's wet dream: absolutely gorgeous vistas!
The train also passes by a few villages, where locals get on/off the train. We loved this – Sri Lankans are such friendly and curious people, who always love to chat with foreigners. We even met one gay guy who was taking the train to visit his aunty in Nuwara Eliya.
Finally, our train arrived in the Nuwara Eliya area. Note that the station for Nuwara Eliya is called "Nanu Oya", located around 8km (5miles) from the centre of town. We recommend pre-arranging a pickup with your hotel, otherwise, you'll need to get a tuk-tuk ride to your hotel
Where to stay in Kandy?
Kandy is a pretty little town offering a variety of places to stay including luxurious resorts, romantic boutiques and cute guesthouses. Here is a summary of our favourites places to stay in Kandy for each budget range:
01
Elephant stables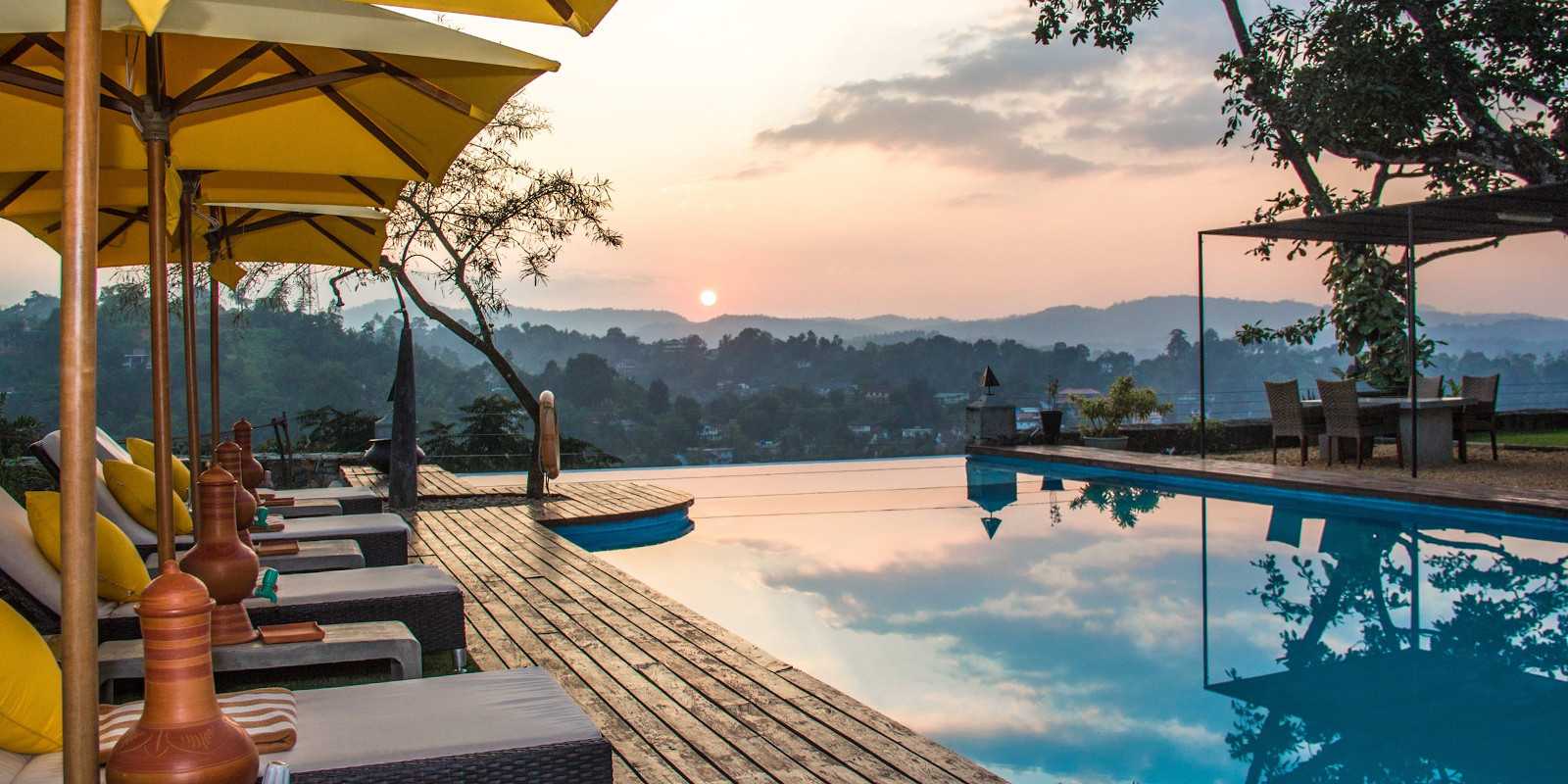 Why we love it
---
Gorgeous boutique hotel overlooking Kandy
Divine infinity pool!
Huge luxurious rooms
Excellent restaurant and bar
Elephant Stables Kandy is a gorgeous luxury boutique hotel overlooking Kandy. It's like a little oasis here, located just outside the hustle and bustle of the city – all geared towards good old fashioned chilling!
Our favourite spot is definitely the swimming pool, with an infinity edge so you can enjoy those views while floating in the water. There's also lots of sun loungers where you can work on your tan surrounded by the beautiful garden.
The rooms at the Elephant Stables are huge and luxurious, with beautiful four poster beds draped with mosquito nets. You can choose from deluxe rooms, suites, a bungalow or even a giant luxury tent. The hotel is also renowned for the restaurant's delicious cuisine, with bountiful western or Sri Lankan breakfasts, lunch, afternoon tea and dinner for guests. Dinner is especially decadent, with a choice of Sri Lankan, Asian fusion or Western menus.
Staff here are charming and helpful with whatever you might need. They can organise excursions to Kandy and the surrounding area, even in classic British cars for a little extra class! The bar is a lovely spot for a cocktail, especially their signature one – The Elephant Unstable! There are movies and board games to enjoy in the shared living room area, as well as a quiet reading room filled with interesting books.
02
Hantana Range View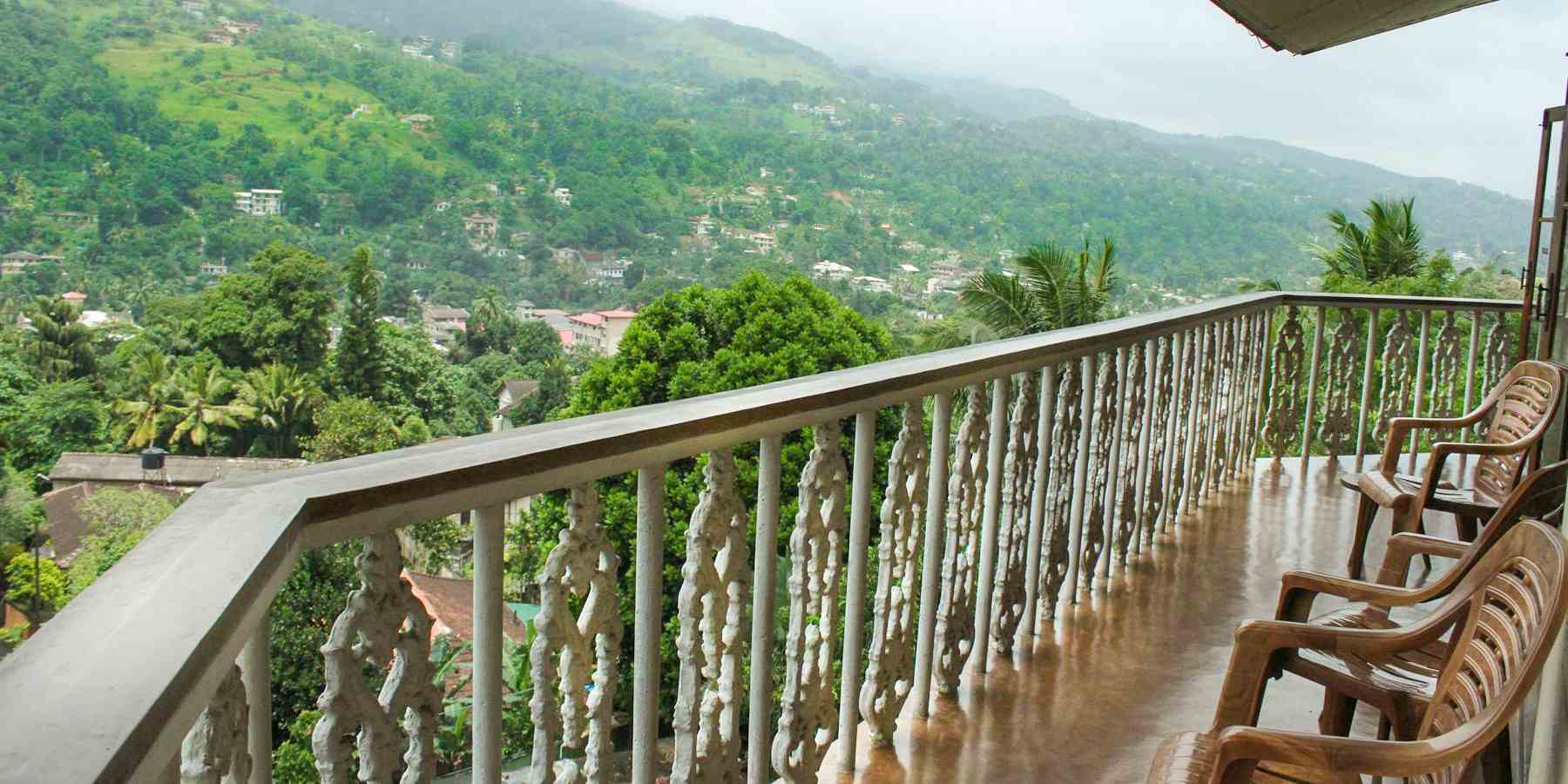 Why we love it
---
Charming and affordable homestay
Lovely helpful hosts
Gorgeous views from huge verandah
Delicious breakfast included in rates
For the budget-conscious, Hantana Range View Homestay is a charming place to stay with a local family while in Kandy. The couple who run this little homestay (Frances and Patrick) are so kind and caring. Also, the views from that big verandah over Hantana Range are just jaw-droppingly stunning!
There are only three guestrooms, so it's very intimate and you feel like you're just staying with some friends in a very pretty home.
The house is big but still manages to feel cosy, with lots of beautiful wooden furniture and antiques. The rooms are quite spacious and all feature access to the balcony. As soon as you arrive you're treated to tea and a slice of homemade cake. A lavish breakfast is provided each morning and you can also organise delicious dinners for an extra fee.
You can organise trips to nearby attractions, airport transfers and even yoga sessions by talking to the hosts. Staying here is perfect if you want something a little more personal than a big hotel chain, Patrick and Frances have a wealth of stories to tell along with lots of tips on what to do in the area. Of course, you can also see more in our things to do section below!
Where to stay in Nuwara Eliya?
Nuwara Eliya is a tranquil little town, which is the perfect base to visit tea plantations, especially the Pedro Tea Factory. These are a few of our favourite places to stay in Nuwara Eliya covering every budget:
01
Heritance Tea Factory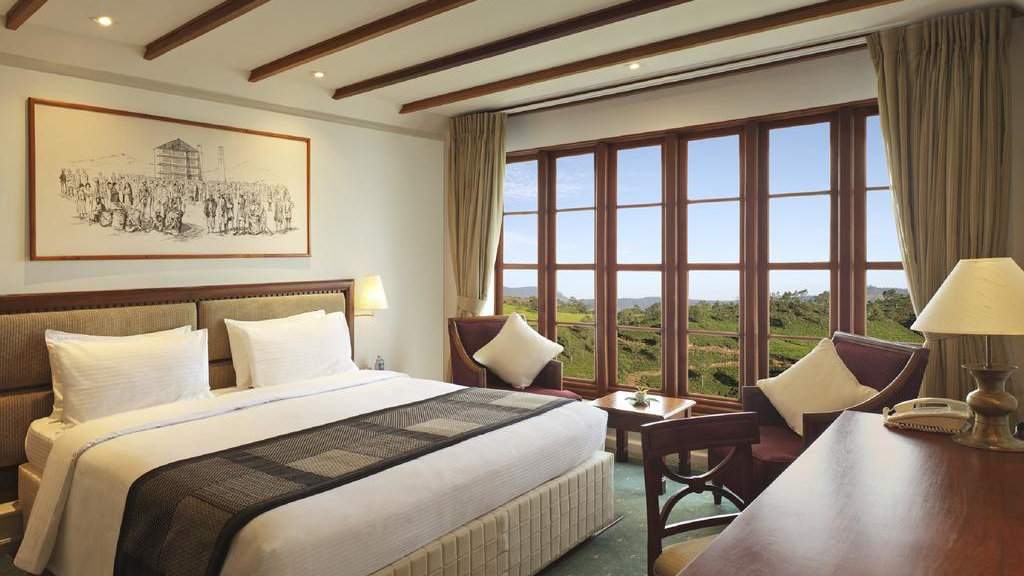 Why we love it
---
Decadent hotel in a colonial tea factory
Super posh spa with pampering packages
Terrific views over the plantation
Delicious restaurant and elegant bar
Located just outside Nuwara Eliya, the Heritance Tea Factory is a beautiful colonial-style hotel in what used to be a tea plantation.
While the main building has been converted into a luxury hotel, the plantation itself is still running, so you can also enjoy picking your own tea leaves or doing a tea-tasting session. You can also indulge with a delicious high tea in the beautiful garden.
The Heritance Tea Factory is the perfect choice for honeymooners. The staff go above and beyond to make your stay memorable and romantic. The rooms are spacious and feature gorgeous views over the tea plantation. For more pampering, you can choose from a variety of spa packages including massages, body scrubs, body wraps and treatments for energy, serenity, romance or satin skin.
You can dine in the beautiful Kenmare Restaurant, which is located in what used to be the factory's sifting room and is decorated with old factory items. The food here is delicious, with traditional Sri Lankan cuisine as well as international dishes. The Heathersett Bar in the old packing room of the factory is a lovely spot for an alcoholic nightcap, some more tea or even a cigar.
02
Heidi's Home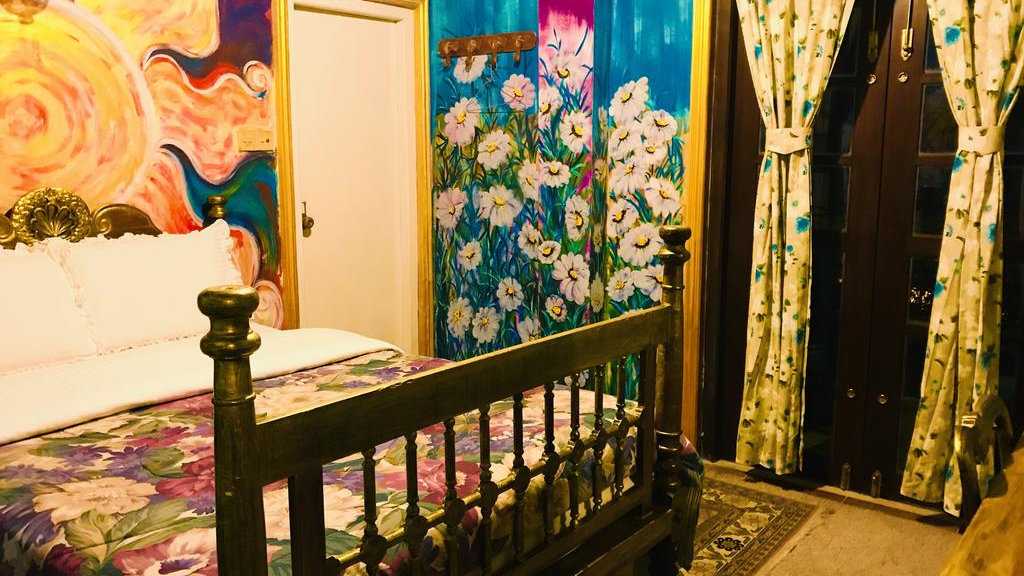 Why we love it
---
Lovely guesthouse with very friendly owners
Excellent budget option
Colourful wall-art everywhere
Yoga wellness packages available
For something a little more homey and affordable, you can stay with a local family at Heidi's Homestay. It's only a three-bedroom guesthouse, so you will feel right at home with the very friendly owners and their daughter Heidi.
We love how colourful Heidi's Homestay is, with vibrant paintings in the guest rooms and shared areas. There's also a lush garden that feels like a mini-jungle and two sweet cats.
A yummy cooked breakfast is included for each night of your stay, with homemade juice, fresh pancakes and French toast. They'll even do up a breakfast box to take with you if you have an early start. Heidi's Guesthouse is located right by Lake Gregory, with charming views of the lake. You can easily walk into the centre of Nuwara Eliya if you want or just get a local tuk-tuk.
The homestay also hosts an ashram, where you can take part in wellness retreats that include daily yoga sessions, guided meditation and an Ayurvedic vegetarian menu during your stay. We didn't book a wellness retreat but got lots of exercise walking around Lake Gregory and enjoyed the serenity while relaxing in the garden.
Top things to do in Kandy
The Temple of the Tooth is the city's main draw, as is the trek up to Sigiriya Fortress. We also enjoyed an afternoon stroll around Kandy Lake, although I had to keep stopping Stefan from feeding those damn monkeys – do NOT feed the monkeys – they will stick to you and won't leave you alone!
The sacred Temple of the Tooth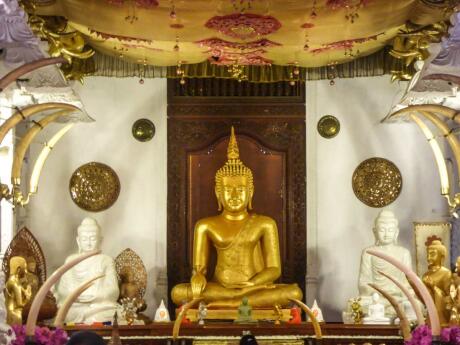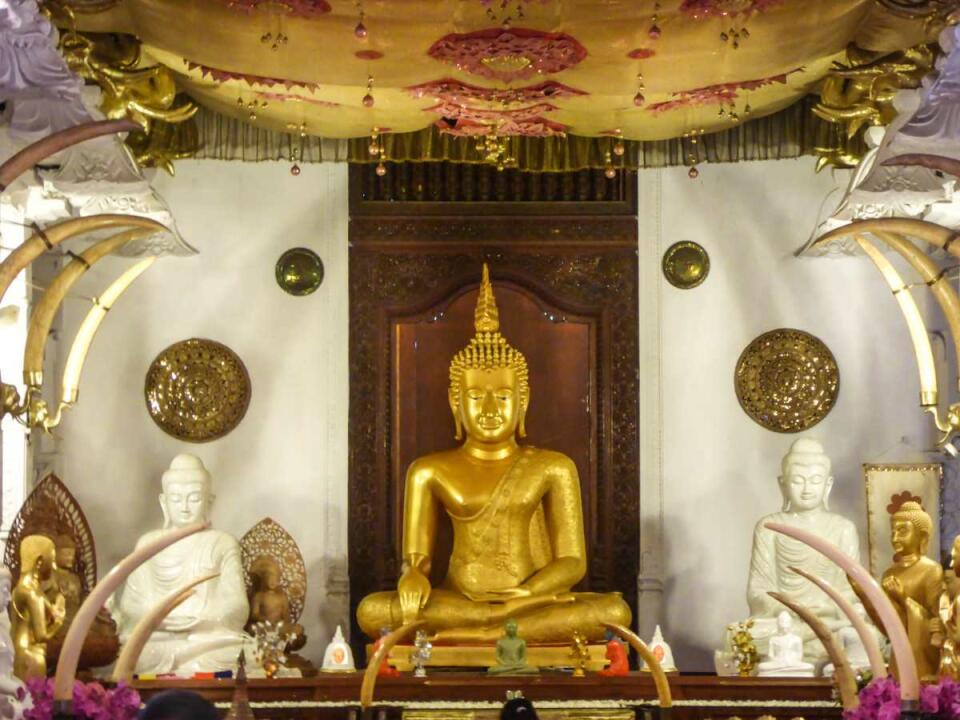 The Temple of the Sacred Tooth Relic (or Sri Dalada Maligawa) is a UNESCO World Heritage Buddhist temple in Kandy that houses a canine tooth from the Buddha. It's believed that whoever holds the tooth holds the rule of the country, and Kandy was the last capital of the Sri Lankan kings. The temple itself is very beautiful, and we recommend joining a tour of Kandy's most famous temples to see it along with some others. The Gadaladeniya Vihara temple is also quite a sight to see, with a magnificent giant golden Buddha statue inside.
---
Sigiriya Rock Fortress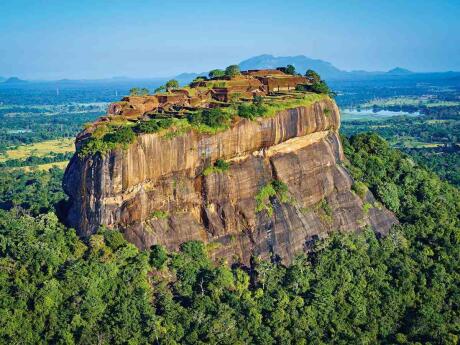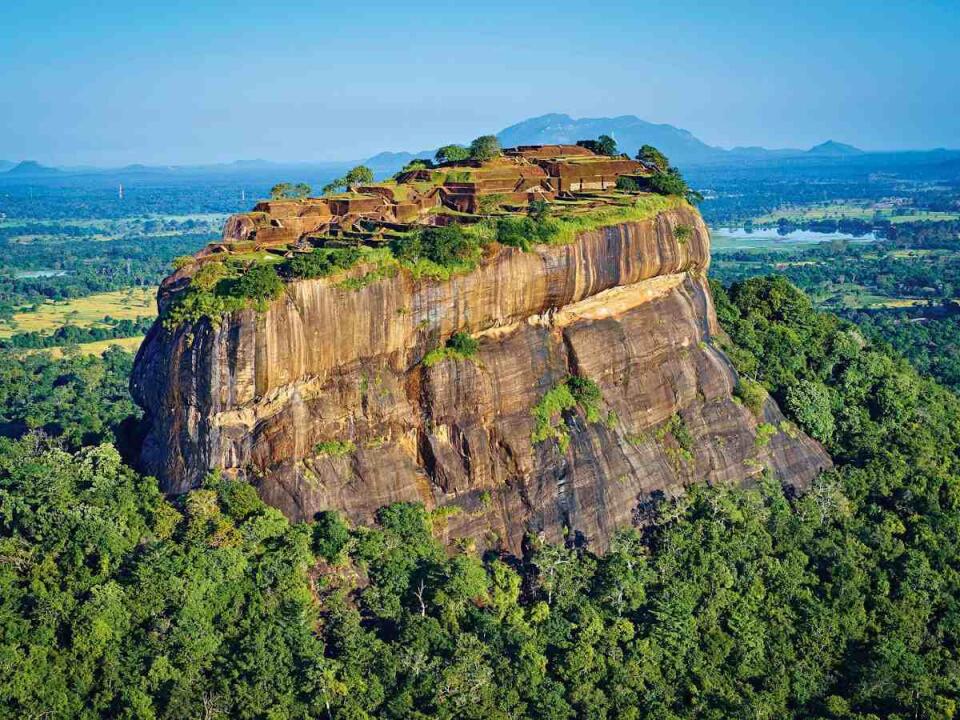 Another UNESCO World Heritage Site and an incredible sight to see in Kandy is the Sigiriya Fortress. This fortress was built on top of a massive column of rock nearly 200 metres (660 ft) high. The name Sigiriya means "lion rock" and there are two massive paws to see, all that remains of a lion gate that was originally built. You can visit the fortress on a day trip from Kandy that also includes time to explore the Dambulla cave temple complex and a spice garden.
---
Meet the cheeky monkeys of Kandy's lake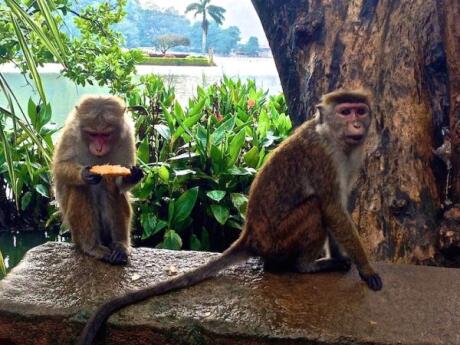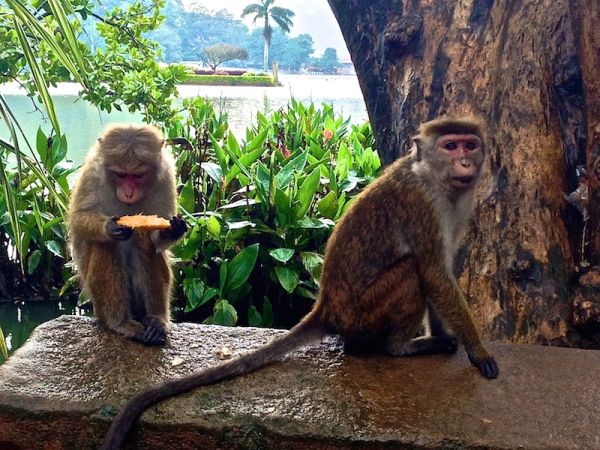 Kandy has a pretty lake next to the Temple of the Tooth with a lovely green area surrounding it. We met some cheeky monkeys living there who stole our mangos as we stopped to admire the surroundings! Apart from the monkeys, you might also see swans, pelicans and even water monitors. The area around the lake is a lovely spot to get some respite from the city's craziness. There are paths for cycling or jogging and it's a nice place for a picnic, as long as you're on alert for thieving monkeys!
---
Top things to do in Nuwara Eliya
Our favourite memory from Nuwara Eliya was getting up close to those super pretty tea plantations we were admiring from the train on our way into the city from Kandy. Another not-to-miss highlight in the region is to take the train to Ella – not only are the views damn impressive, Ella has some of the best hiking trails in Sri Lanka:
Visit a tea plantation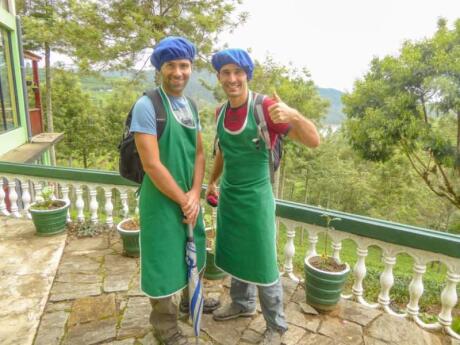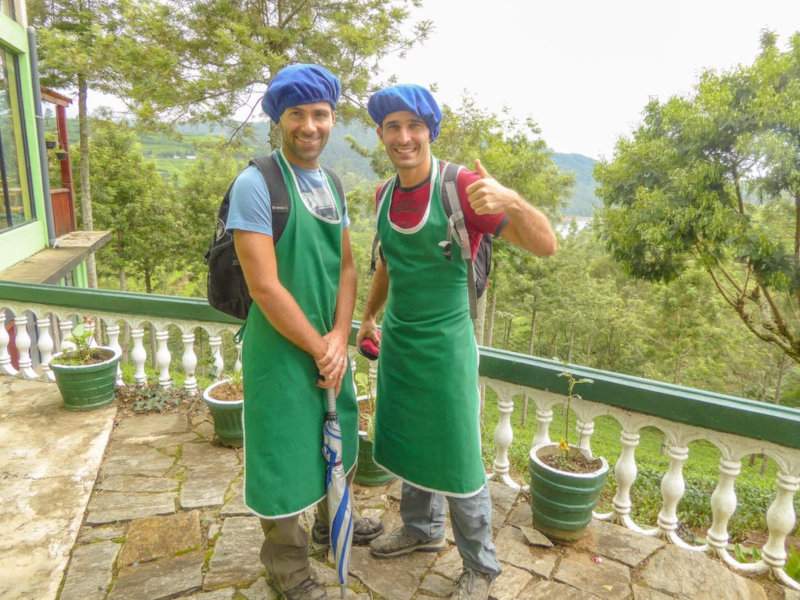 As we've mentioned, there are lots of beautiful tea plantations around Nuwara Eliya, that are worth visiting to find out more about Sri Lanka's history of producing tea. We visited the Pedro Tea Factory where we got to pluck our own tea leaves then wear these fetching aprons and hairnets to tour the factory. We watched the tea making process and then had a tasty cup of tea, of course! This is a fun way to meet local workers and do something a little out of the ordinary.
---
Hike to Ella and Little Adam's Peak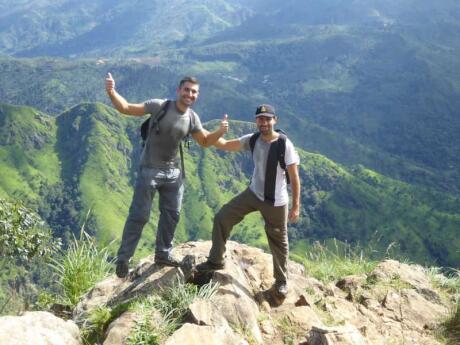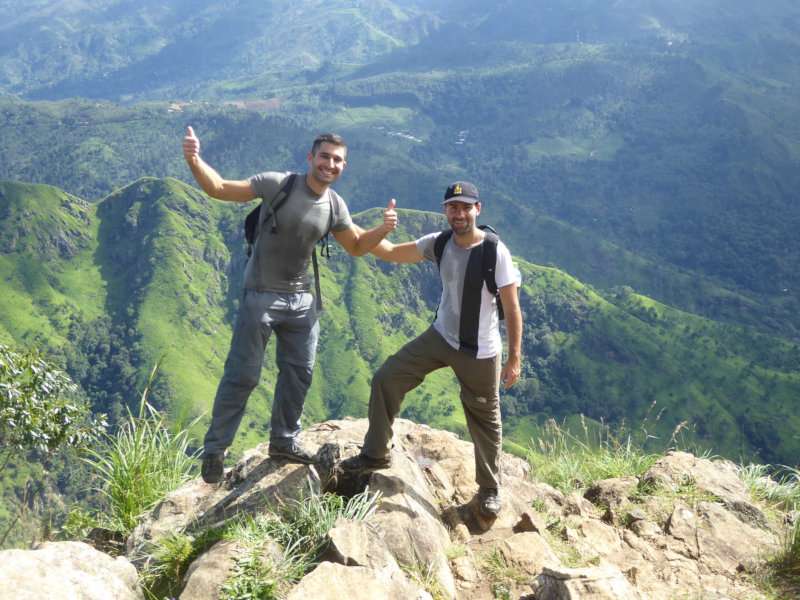 If you don't have time to stay in Ella then we definitely recommend at least doing a day trip from Nuwara Eliya to Ella so you can enjoy hiking to Ella Rock and Little Adam's Peak. Both of these are stunning hikes where you'll get to see gorgeous views over Ella. The tour also includes a visit to Ella's famous Nine Arches Bridge, an iconic train track viaduct bridge in Ella built by the British in 1921. It is built entirely out of brick, rock and cement, with no metal used in its construction!
---
Happy travels are safe travels
We recommend you always take out a reputable travel insurance before your next vacation. What happens if you suffer from illness, injury, theft, or a cancellation? Many travelers forget about it and regret it when something happens. Better to pay a small price and have the peace of mind and not worry.
---
Like this post? Pin it