Sri Lankan food was a complete surprise for us. We knew nothing about it before arriving, yet discovered a new cuisine full of culinary delights.
We did however quickly learn that you should ask for mild, otherwise you're in for a spicy surprise!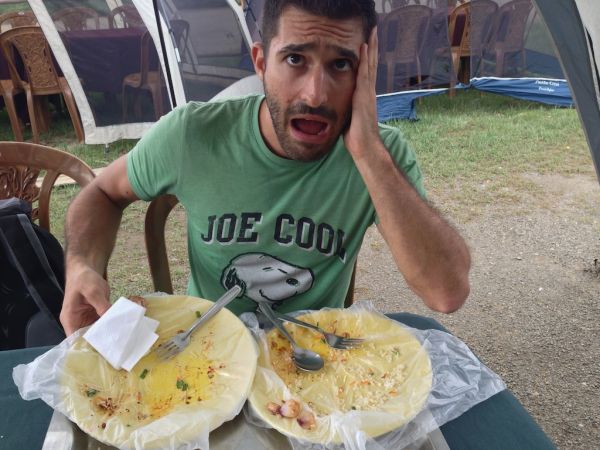 #1

RICE AND CURRY

Rice and curry is the traditional staple dish in Sri Lanka. It's eaten everywhere, usually twice a day by almost everyone.

Rice and curry refers to a several small plates of curry yummies varying from chicken and fish to vegetarian dishes like dal, garlic curry, aubergine curry, pumpkin curry, green bean curry… always served with rice and a few small plates of pickled vegetables.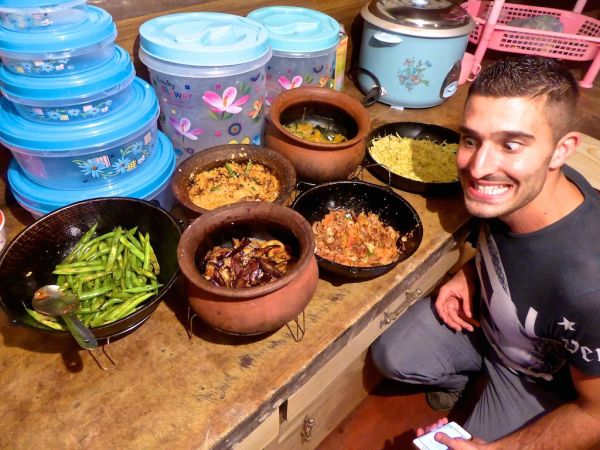 There is no uniform way of making these curries, so each one tastes different, just like a Nepalese daal bhat or an Indian thali. Each 'rice and curry' is a culinary foodgasm, which caused many fights between the two of us…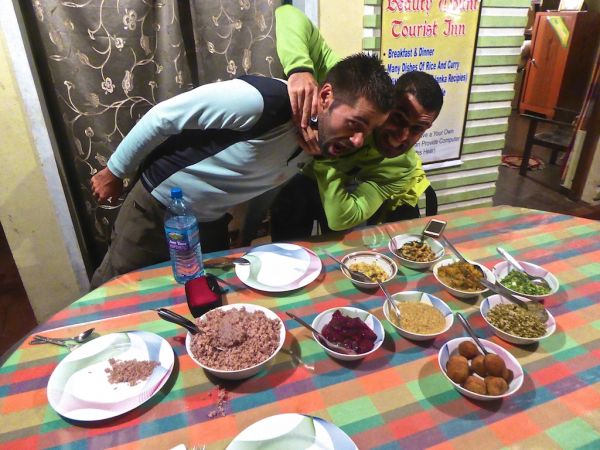 We were impressed by the variety of curry dishes available in Sri Lanka. Other interesting ones we encountered were jackfruit curry, beetroot curry and pineapple curry. All extremely tasty!
Another innovative use of vegetables (well, technically a fruit!) was a pumpkin soup served in a pumpkin: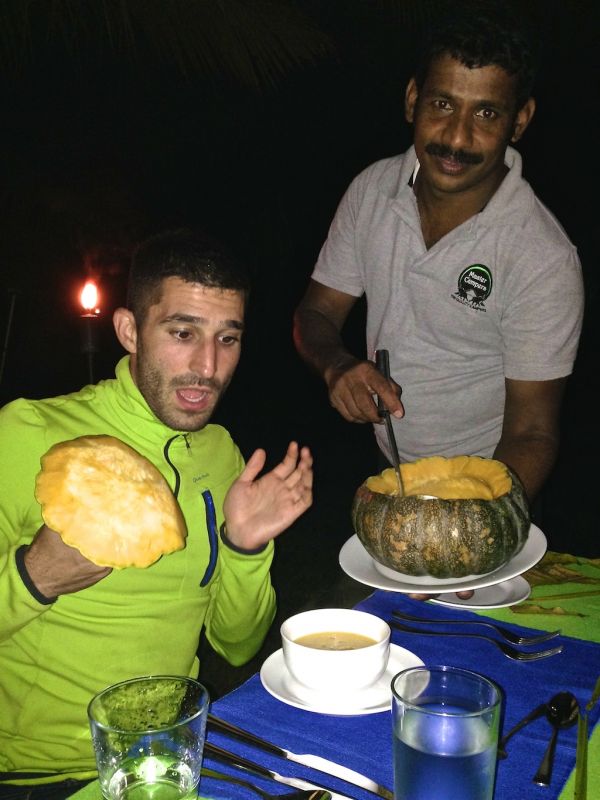 #2

DEVILED PRAWNS

'Deviled' refers to spicy dishes in Sri Lankan cuisine. Anything with 'deviled' in the title means you're in for a fiery meal ahead of you…!

The most popular deviled dish we encountered was deviled prawns, which we learnt to make in Ella.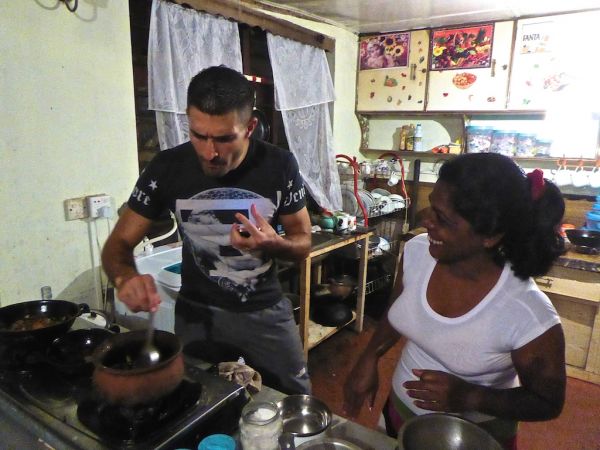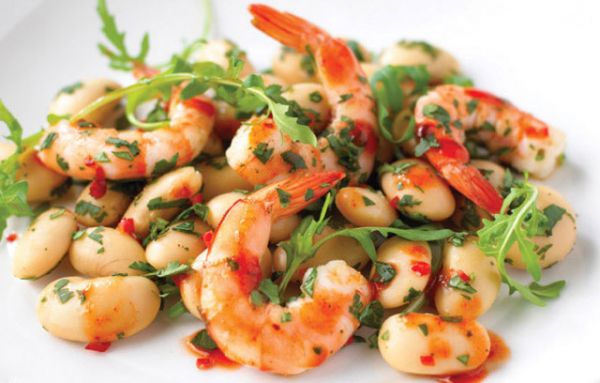 #3

EGG HOPPERS (BITTARA APPA)

Hoppers (appa) are pancake batter, mixed with coconut milk and cooked in a small wok like pan so that the dough cooks thick and soft on the bottom and thin and crunchy around the edges.

A fried egg is added in the middle to create the iconic egg hopper: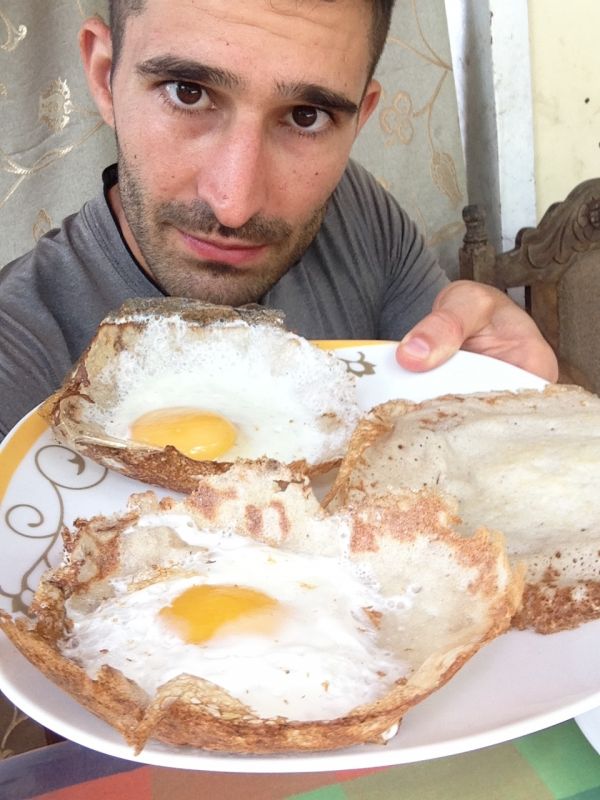 #4

STRING HOPPERS

String hoppers are made from a rice flour batter base, which is squeezed into thin noodles and steamed. String hoppers are usually served with a curry and are also popular for breakfast.

In Nuwara Eliya we ordered this tasty plate of various snacks to accompany our curry, which included string hoppers on the left: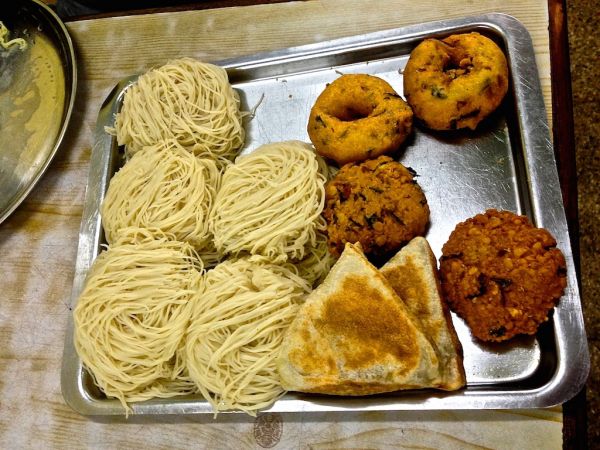 #5

VEGETABLE ROTIS

The triangle snacks in the middle of the plate above are the delicious vegetable rotis.

Rotis are popular in south Asia and are flat breads made from wholemeal flour. Vegetable rotis are rotis stuffed with cooked vegetables inside.

There are meat and fish variants of rotis, but we found the vegetable ones the tastiest (and the ones that sold out first at the Sri Lankan bakeries!)

Vegetable rotis made these two greedy boys very happy throughout our travels in Sri Lanka.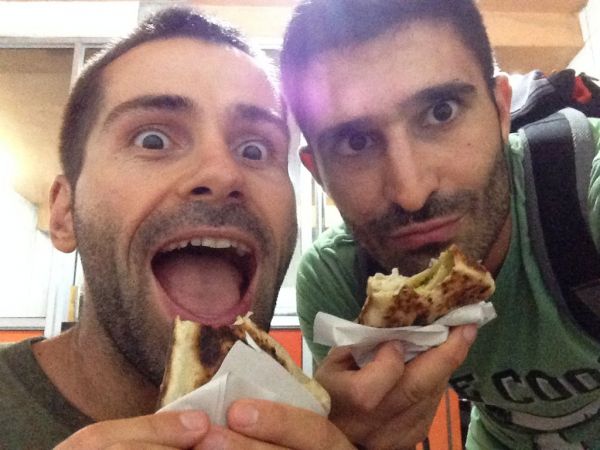 #6

KOTHU ROTI

Kothu roti is a Sri Lankan Tamil dish, which is literally a plate of chopped up roti mixed with curry sauce and served with vegetables and meat or eggs. It originated in Jaffna, north Sri Lanka in the 1960s as a cheap, takeaway meal for lower socioeconomic classes.

But it's a food that has since transcended social boundaries in Sri Lanka and has now become a staple for everyone. It is particularly popular among the young who have it as a midnight snack after a night out.
#7

THE SRI LANKAN DESERT: WATALAPPAM

Watalappam is a heavenly Sri Lankan desert introduced by the Malay immigrants.

It is made from coconut milk, cashew nuts, egg, jaggery (a sweet brown like product from sugar cane) and various spices, particularly, cardamom, cloves and nutmeg.

It's a popular desert for religious festivals and large celebrations. We LOVED this!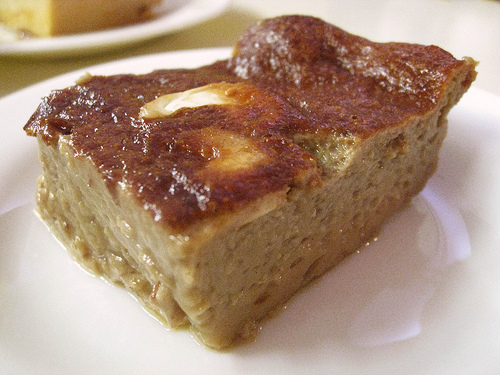 #8

COCONUT ARRACK

Coconut arrack is a distilled strong alcoholic drink made from the fermented sap of unopened flowers of a coconut palm.

Due to its high concentration of sugar and yeast content, the captured liquid naturally ferments into a mildly alcoholic drink. This is then distilled again to reach a high alcohol content of 33-50%.

Arrack tastes like whiskey or rum and is usually made into a cocktail mixed with coke or lemonade, or it's just flavoured, like "Green Apple":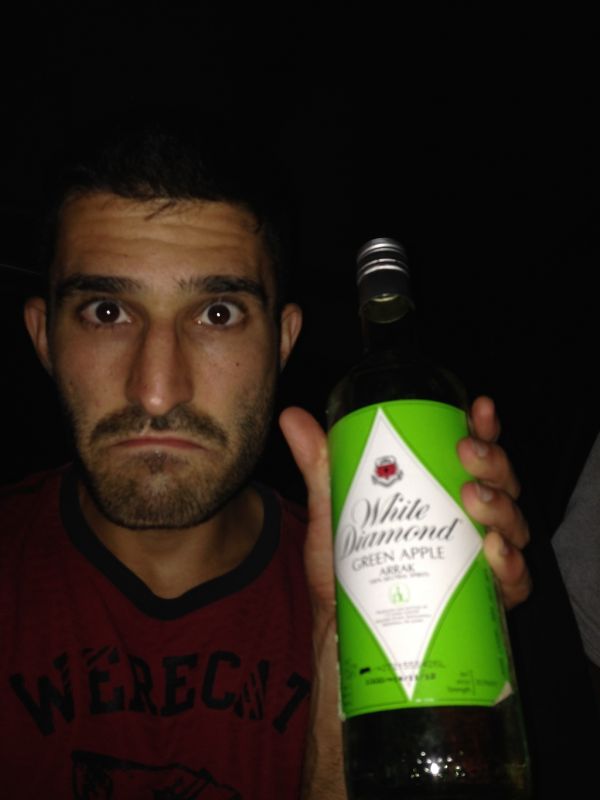 #9

THAMBILI THE KING COCONUT

Our favourite beverage in Sri Lanka (well throughout Asia really) is coconut juice and fruit. Sri Lanka is particularly famous for its king coconuts, called thambili, which are slightly sweeter than normal coconuts.

The thambili king coconut is also a source of Vitamin E, iron, calcium, phosphorous and high dietary soluble fibre. It's also very tasty and was another popular treaty for us: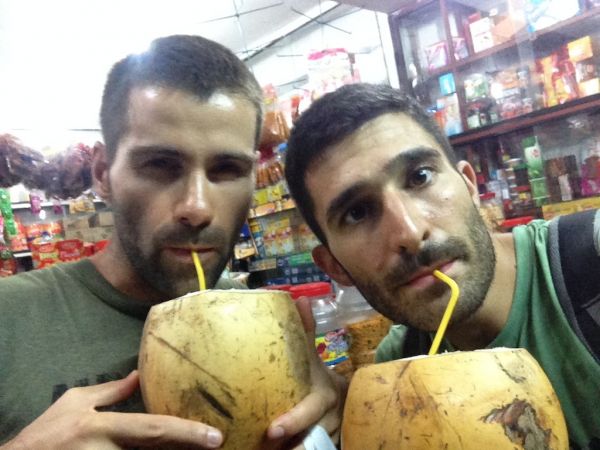 #10

CEYLON TEA

Ceylon is the colonial name of Sri Lanka during the British occupation pre 1972. The British influence also led to large industry of tea export. Tea plantations were built in large numbers, particularly in the hill country around Nuwara Eliya.

Sri Lanka is one of the world's largest exporters of tea, popularly known as Ceylon Tea. It's up there with China, India and Kenya and accounts for over 19% of the world's exports – pretty impressive for such a small country.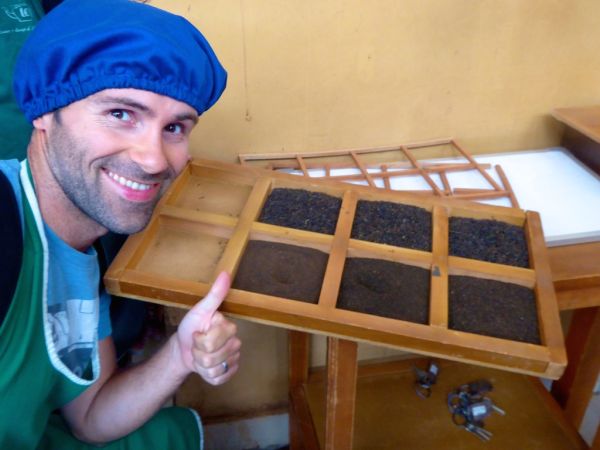 We visited the Pedro Tea Factory in Nuwara Eliya and learnt about the varieties of different teas (green, white and black) and also enjoyed (several) freshly brewed cuppas: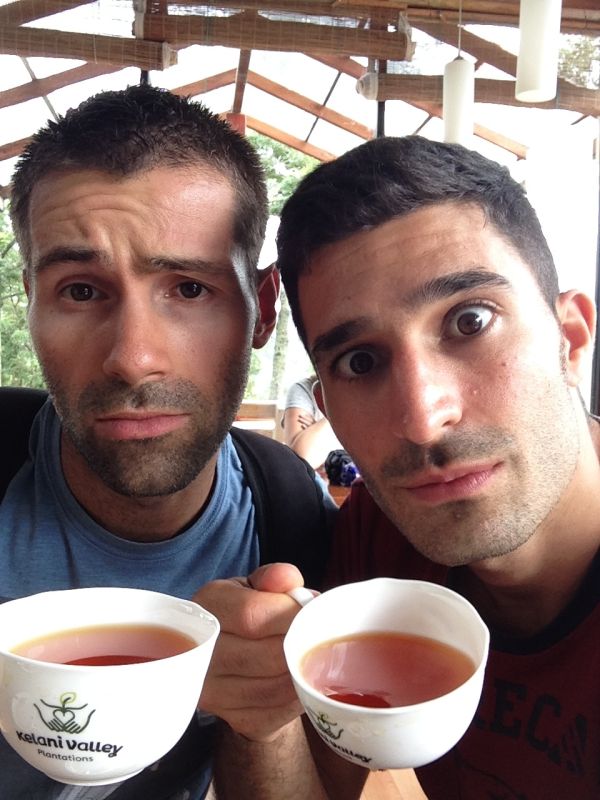 OUR FAVOURITE TRAVEL TIPS
⭐️ TRAVEL INSURANCE — We recommend you always take out travel insurance before your next vacation. What happens if you suffer from illness, injury, theft or a cancellation? With travel insurance, you can have peace of mind and not worry. We love World Nomads travel insurance and have been using it for years. Their comprehensive coverage is second to none and their online claims process is very user friendly.
⭐️ SAFETY & SECURITY — All travelers can sometimes encounter danger when traveling. CloseCircle is your "virtual body guard" mobile app which provides security alerts and support wherever you are in the world. They have a 24/7 emergency response team monitoring their users who will contact you immediately if the SOS swipe button is activated. Support can include anything from practical advice, to free evacuation from areas with extreme weather or security risks. You can read more about CloseCircle in our article about how to stay safe whilst traveling.
⭐️ ONLINE ANONYMITY — A VPN (Virtual Private Network) is a must in many countries: it allows you to surf anonymously and maintain your privacy whilst traveling. You'll particularly need it in countries where dating apps are blocked by the government. We recommend ExpressVPN, a reliable and cost effective service which we used and loved during our travels.
⭐️ HOTELS or APARTMENTS — When we plan a trip, we always look for the best hotel deals. We love Booking.com because not only do they have a comprehensive listing of accommodation options, they also offer the best prices. Added bonus: they provide 24/7 support and free cancellation for most listings.
⭐️ SIGHTSEEING and ADVENTURES — When we travel somewhere, we like to seek out the best experiences, whether it is cooking with locals in Bangkok, hiking on a glacier in Patagonia, or going on a wildlife safari in Sri Lanka. Our favorite place to look is GetYourGuide because they have over 30,000 highly rated activities, a user-friendly booking process with free cancellation and a 24 hour customer support.
This article contains affiliate links. If you click on them, we may receive compensation which keeps our website alive and helps us bring you to more destinations.
Watch our travel video diary of our adventures through Sri Lanka as we ate our way through this tropical island, took some beautiful train journeys and enjoyed excellent safaris spotting leopards at Udawalawe and blue whales at Mirissa.