Sri Lanka was an interesting place for us. Whilst we love the scenery and think Sri Lankan food rates as one of the legit best in the world, as a gay couple, we struggled with the fact that being gay is illegal here.
We explored the LGBTQ life in Sri Lanka as part of our trip, and on the whole found locals we encountered to be generally accepting. There was this sweet and quite endearing curiosity towards us a gay couple, particularly in the guesthouses we stayed at. But the best thing of all with staying in a homestay as part of your trip is that you get to do some cooking with locals. We don't say it lightly that we found Sri Lankan food to be one of the best in the world!
In this article, we explore some of the best Sri Lankan food and drinks you need to try out.
1. Rice and Curry
Rice and curry is the traditional staple dish in Sri Lanka. It's eaten everywhere, usually twice a day by almost everyone.
Rice and curry refers to several small plates of curry yummies varying from chicken and fish to vegetarian dishes like dal, garlic curry, aubergine curry, pumpkin curry, green bean curry… always served with rice and a few small plates of pickled vegetables.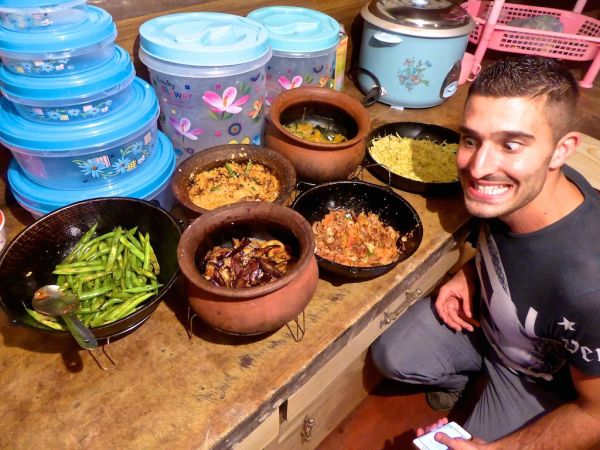 We were impressed by the variety of curry dishes available in Sri Lanka. Other interesting ones we encountered were jackfruit curry, beetroot curry, pumpkin and pineapple curry. All extremely tasty!
There is no uniform way of making these curries, so each one tastes different, just like a Nepalese daal bhat or an Indian thali. Each 'rice and curry' is a culinary foodgasm, which caused many fights between this greedy gay couple!!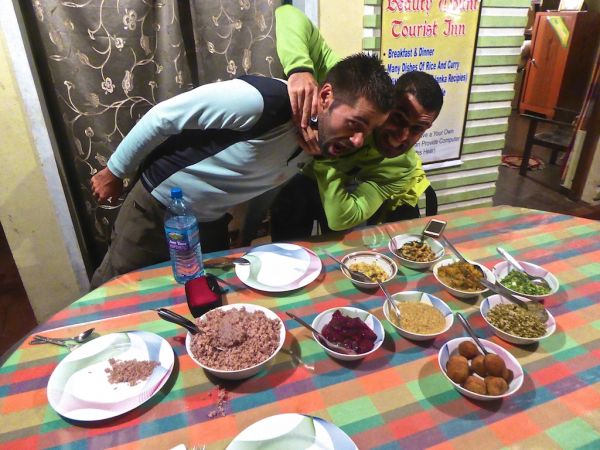 2. Deviled Prawns
'Deviled' refers to spicy dishes in Sri Lankan cuisine. Anything with 'deviled' in the title means you're in for a fiery meal ahead of you…!
The most popular deviled dish we encountered was deviled prawns, which we learnt to make in Ella.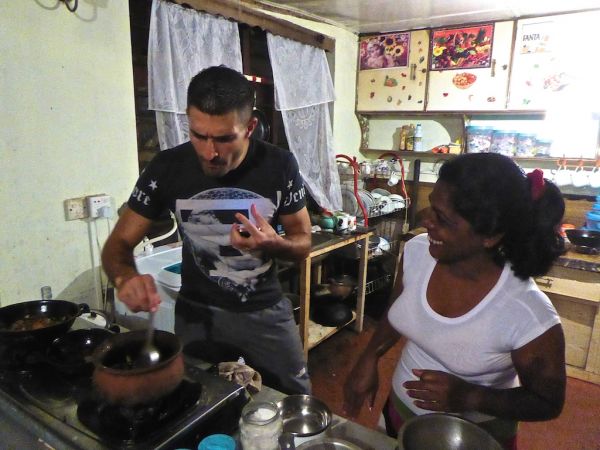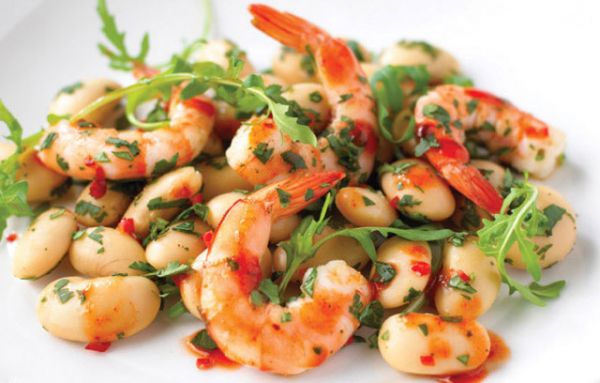 3. Egg hoppers (Bittara Appa)
Hoppers (appa) are pancake batter, mixed with coconut milk and cooked in a small wok like pan so that the dough cooks thick and soft on the bottom and thin and crunchy around the edges.
A fried egg is added in the middle to create the iconic egg hopper: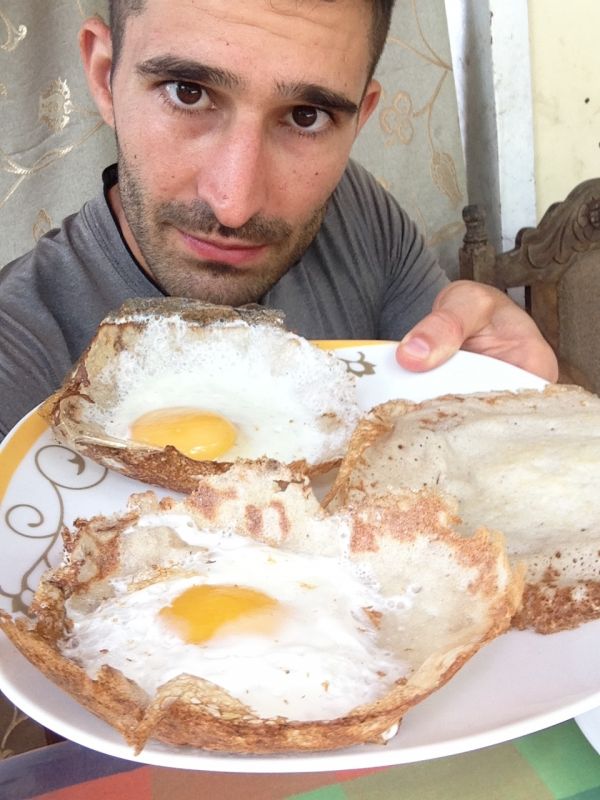 4. String hoppers
String hoppers are made from a rice flour batter base, which is squeezed into thin noodles and steamed. String hoppers are usually served with a curry and are also popular for breakfast.
In Nuwara Eliya we ordered this tasty plate of various snacks to accompany our curry, which included string hoppers on the left: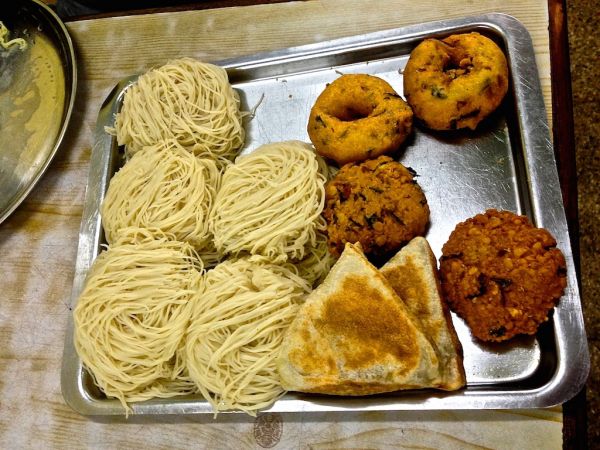 5. Vegetable rotis
The triangle snacks in the middle of the plate above are the delicious vegetable rotis.
Rotis are popular in south Asia and are flat breads made from wholemeal flour. Vegetable rotis are rotis stuffed with cooked vegetables inside.
There are meat and fish variants of rotis, but we found the vegetable ones the tastiest (and the ones that sold out first at the Sri Lankan bakeries!)
Vegetable rotis made these two greedy boys very happy throughout our travels in Sri Lanka.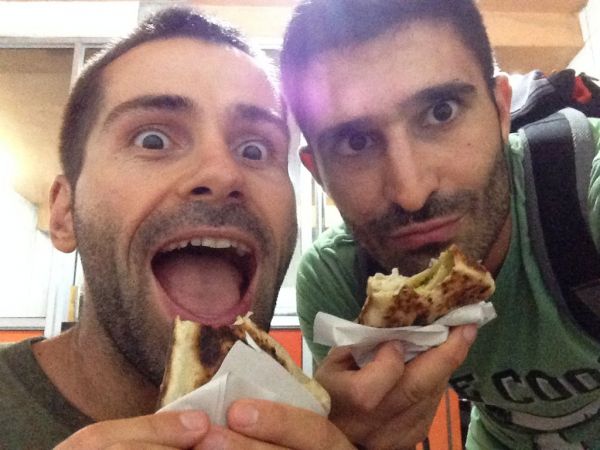 6. Kothu Roti, a delicious snack!
Kothu roti is a Sri Lankan Tamil dish, which is literally a plate of chopped up roti mixed with curry sauce and served with vegetables and meat or eggs. It originated in Jaffna, north Sri Lanka in the 1960s as a cheap, takeaway meal for lower socioeconomic classes.
But it's a food that has since transcended social boundaries in Sri Lanka and has now become a staple for everyone. It is particularly popular among the young who have it as a midnight snack after a night out.
7. Sri Lankan dessert: Watalappam
Watalappam is a heavenly Sri Lankan desert introduced by the Malay immigrants.
It is made from coconut milk, cashew nuts, egg, jaggery (a sweet brown like-product from sugar cane) and various spices, particularly, cardamom, cloves and nutmeg.
It's a popular dessert for religious festivals and large celebrations. We LOVED this!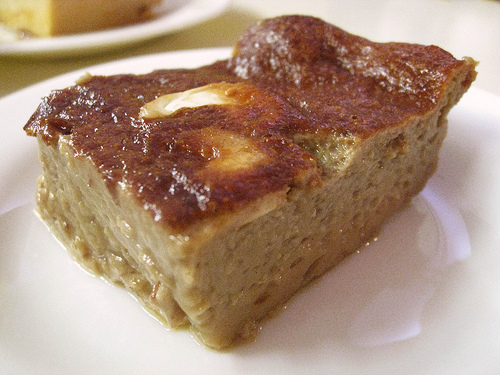 8. Coconut Whisky
Coconut arrack is a distilled strong alcoholic drink made from the fermented sap of unopened flowers of a coconut palm.
Due to its high concentration of sugar and yeast content, the captured liquid naturally ferments into a mildly alcoholic drink. This is then distilled again to reach a high alcohol content of 33-50%.
Arrack tastes like whiskey or rum and is usually made into a cocktail mixed with coke or lemonade, or it's just flavoured, like "Green Apple":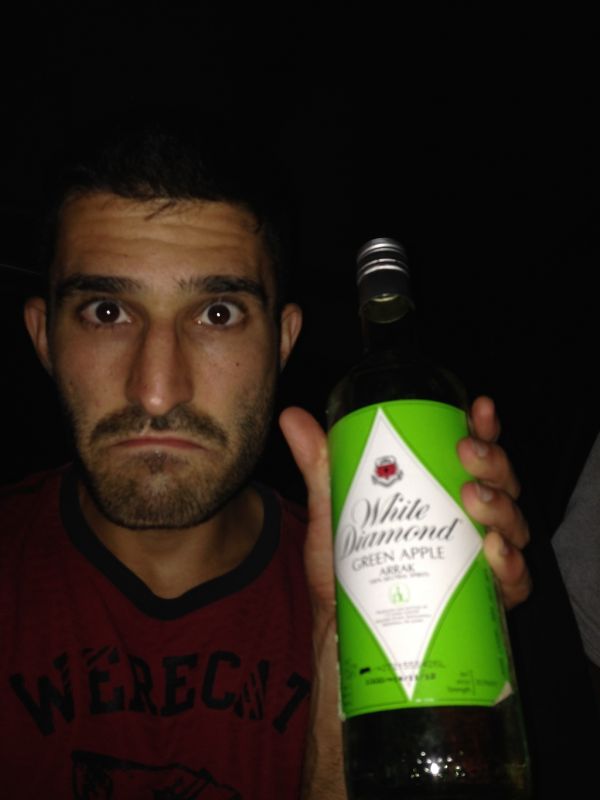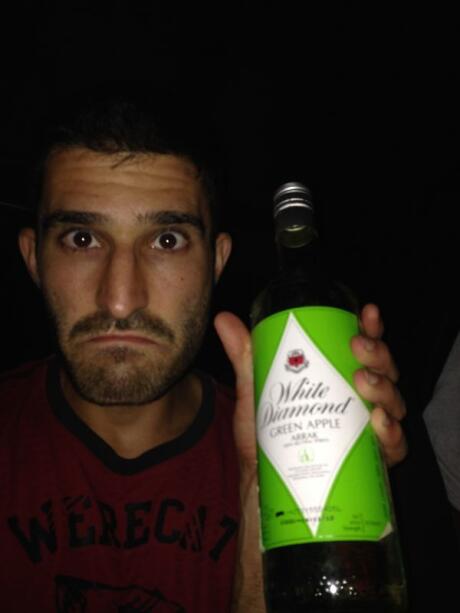 9. Coconut is King
Our favourite beverage in Sri Lanka (well throughout Asia really) is coconut juice and fruit. Sri Lanka is particularly famous for its king coconuts, called thambili, which are slightly sweeter than normal coconuts.
The thambili king coconut is also a source of Vitamin E, iron, calcium, phosphorous and high dietary soluble fibre. It's also very tasty and was another popular treaty for us: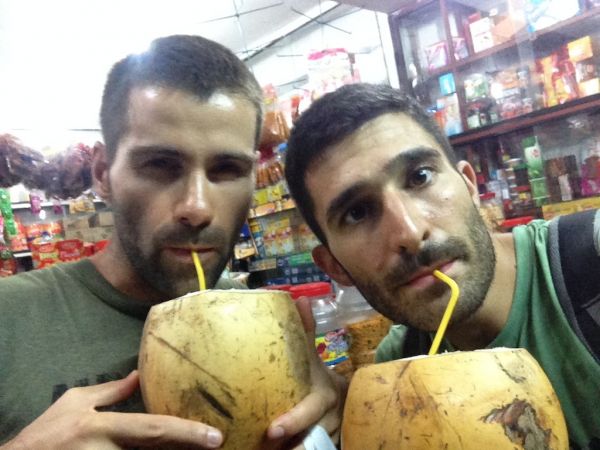 10. The best tea comes from Sri Lanka
Ceylon is the colonial name of Sri Lanka during the British occupation pre-1972. The British influence also led to a large industry of tea export. Tea plantations were built in large numbers, particularly in the hill country around Nuwara Eliya.
Sri Lanka is one of the world's largest exporters of tea, popularly known as Ceylon Tea. It's up there with China, India and Kenya and accounts for over 19% of the world's exports – pretty impressive for such a small country.
We visited the Pedro Tea Factory in Nuwara Eliya and learnt about the varieties of different teas (green, white and black) and also enjoyed (several) freshly brewed cuppas: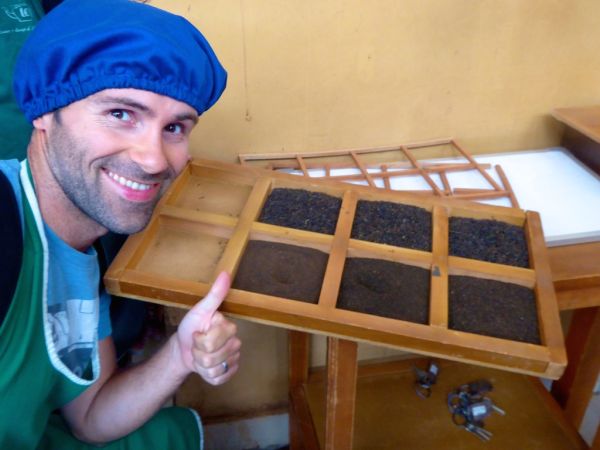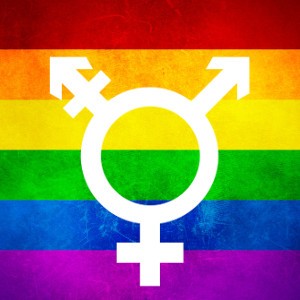 Advice for LGBTQ travellers to Sri Lanka
Sri Lanka has retained its archaic colonial anti-gay laws, which whilst are rarely enforced, in practice gives licence to corrupt police officials to elicit bribes from the LGBTQ community. As a gay tourist, however, people are more respectful to you, regardless of your sexuality. We had no problems booking a double bed in the hotels and guesthouses we stayed at throughout the county. In public, however, we would recommend exercising caution in relation to PDAs. Read more in our interview with Kaluu from Colombo about what gay life in Sri Lanka is like from a local's perspective.
See more in our Sri Lanka travel video:
---
Like this post? Pin it