TERMS OF USE: There is a chance that some of the content on this page has changed since it was last updated. By reading this article, you consent to our Terms of Use and Disclaimer. Happy Travels!
DISCLOSURE: Some of our posts may contain affiliate links which we may receive a commission if you choose to book something through one of our links.
Let's get ship faced…we're going on a gay cruise!
It's every gay boy's dream whether you want to admit it or not. From the moment we both came out many many many moons ago, it was always our dream to go on an all-male gay cruise.
Since those days, the number of gay cruises available has completely mushroomed. As well as the large party orientated ones, there are now cruises going to places beyond the well-trodden pink destinations – like India, Indonesia and even the Galapagos Islands! There are even many gay nude cruises you can go on!
In this guide, we've put together some of the best gay cruises to look forward to in 2023, which include all LGBTQ cruises, i.e. not just male-only. We've sorted them in order of when they depart…and oh boy are we spoilt for choice!
DON'T MISS OUT!
Join our newsletter
Subscribe now to receive in-depth FREE travel guides, along with inspiring stories, savvy planning tips, and exclusive discounts on gay tours.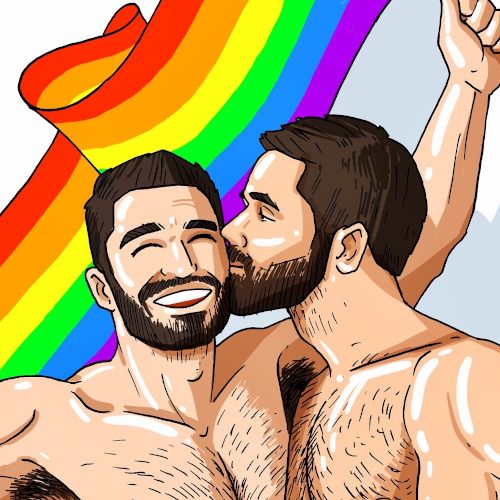 How to pick the ideal gay cruise for you?
There are many different types of gay cruises available these days, from ones that are action-packed and thrilling to those that slowly saunter down the Danube, stopping in at local wineries. You can cruise on huge ships, small luxurious yachts, catamarans or traditional sailing boats. Whether you're looking to party with thousands of new friends, or cycle among historic towns before relaxing with a drink at sunset back on board, there's a cruise for you. We've compiled all the different options here so that you can easily figure out which gay cruise is the perfect one for you.
Just be aware that some gay cruises are exclusively gay, meaning you will only be sailing with other gay guests, while others are actually small groups of gay travellers within a much larger cruise. This means you'll still get to be around like-minded friends but there will be other straight travellers on the cruise as well. These sorts of cruises can be ideal if you want to travel with your straight friends, but keep an eye on the fine print if you really want to be only surrounded by your rainbow family!
1. Gay river cruises
Going on a cruise doesn't necessarily mean you're taking to the high seas. Some quite luxurious cruises take place on rivers through Europe, Asia or India, where you'll be able to relax onboard as well as explore cute villages, wineries and other places along the way. These are usually very relaxed and romantic cruises, ideal for couples or those who are looking for a cruise with a strong focus on culture.
Our top pick for luxury gay river cruises is the Brand G Prague and Danube River Cruise.
2. Clothing-optional or nude gay cruises
If you like to truly relax on your cruise and let it all hang out then perhaps you should join a gay nude cruise! These cruises are usually hosted on small yachts or catamarans and take place in warm destinations so, you know, you won't get cold while being nude. There are also some cruises that are exclusively gay and nude, while others are clothing-optional, so you don't need to feel pressured to be nude all the time if you don't want to.
The Everything to Sea cruise in Indonesia is our favourite clothing-optional gay cruise, while GaySail Tahiti cruise is our top pick for nude cruises.
3. Gay party cruises
For a fun-filled cruise packed with plenty of hot young guys and lots of great parties, check out some of the bigger gay cruise companies like Atlantis. These usually take place on the larger cruise ships, with lots of pools, bars and different entertainment like DJs or drag performers. They usually attract a young and energetic crowd, but anybody who's up for a good time will be welcome!
The best gay party cruise in our opinion is the Atlantis Auckland to Sydney Gay Cruise.
4. Gay cruises for single travellers
Single travellers are often daunted at the prospect of going on a cruise alone as you usually have to pay an expensive single supplement to have a room to yourself. If you still want to join a gay cruise but without paying a huge supplement then you can choose one of the cruise companies that offer programs to pair you up with a bunkmate with similar interests. This way you can still enjoy everything the cruise has to offer, plus you'll meet at least one new friend.
VACAYA offers a cool "Solo Travelling with Ease Program" (or STEP) where you can fill in a questionnaire and be paired up with a like-minded travel mate. The Atlantis and GaySail cruises also match single travellers up with others to share a room at no extra charge. Read more about the best gay cruises for singles in our full post.
5. Adventure gay cruises
Do you like your luxury with a side of adventure? There are some excellent gay cruises that include exhilarating activities like snorkelling, SCUBA diving, hiking or getting up close and personal to lots of wildlife. Generally, you will need a reasonable level of fitness in order to take part in all the fun activities on this type of cruise, although there will also be plenty of opportunities for relaxing.
Out Adventures do some really exciting ones, particularly their Galapagos gay cruise that will have you hopping all over the islands, spotting Galapagos tortoises, sea lions and beautiful tropical fish. If your bucket-list item is to see Antarctica, check out the best gay cruises to the icy continent here!
6. Gay cruises for bears
If you identify as a Bear, a Cub, or just a friend of the Bear community, then there are also some cruises exclusively for the Bear community. Adventure Bears organizes an exclusive cruise for bears (and those who love them) to the Mexican Riviera. This is a very welcoming cruise that hops between the best cities and beaches, including the exciting gay mecca of Puerto Vallarta!
7. Gay cruises for lesbians
Don't worry ladies, we haven't forgotten you! It's not all about the gay men as there are companies that organize exclusive lesbian cruises to stunning locations, so you can relax and enjoy yourself with like-minded female travelers. Olivia Travel is a great company that organizes exclusive lesbian tours and cruises like this fun Tahitian Intimate Luxury Cruise.
If you're the kind of lady who prefers smaller expeditions, check out Out Adventures' all-women cruises such as this departure in Croatia.
Gay cruises not to miss in 2023:
01
Egypt and The Nile River Gay Cruise
24 November – 3 December 2023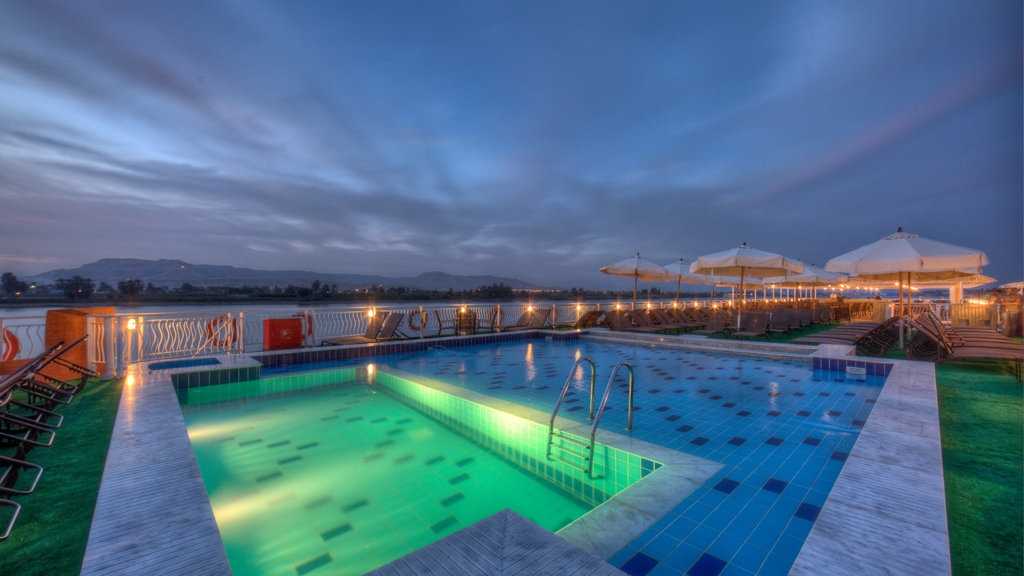 The cruise at a glance
---
When: 24 November – 3 December 2023
Itinerary: Cairo – Luxor – Aswan
Ship: Small, luxurious cruise ship
Prices: from $5,495 per person
Out Adventures are finally taking on Egypt – with their first gay cruise along the Nile River.
When you're not kicking back aboard the ship, soaking in the river views and warm sunlight, you'll be discovering the magic of Cairo. Your guide will take you on a walking tour around the city, giving you titbits into incredible history and culture that made the city what it is today.
You'll get to go inside the tombs of Egypt's only openly gay governors Khnumhotep and Niankhkhnum. Shocking right? In a country like Egypt!
Of course, it wouldn't be a trip to Egypt without pyramid spotting. Your guide will be a fountain of knowledge on the history of Giza and floor you with tales of the mythical Sphinx. Or you'll be popping into the Royal Tombs in the Valley of the Kings. A true highlight is seeing Hatshepsut's temple – a badass female pharaoh who dressed and ruled like a king.
Trips to Edfu and Aswan will make the trip even more memorable. Edfu is a sugar haven – if you've got a sweet tooth like us you will definitely need someone to hold you back!
When all the traveling is a bit too much, you can choose to treat yourself with a massage onboard. There'll also be lavish dinners, cocktail treats, and tons of socializing with fellow guests. Life onboard is simple, refined, and relaxed. The total opposite of what we're used to when traveling, but hey, it'll make a nice change.
Prices for the Egypt Nile River gay cruise start from $5,495 per person:
---
02
Scotland Gay Cruise
3 June – 15 June 2023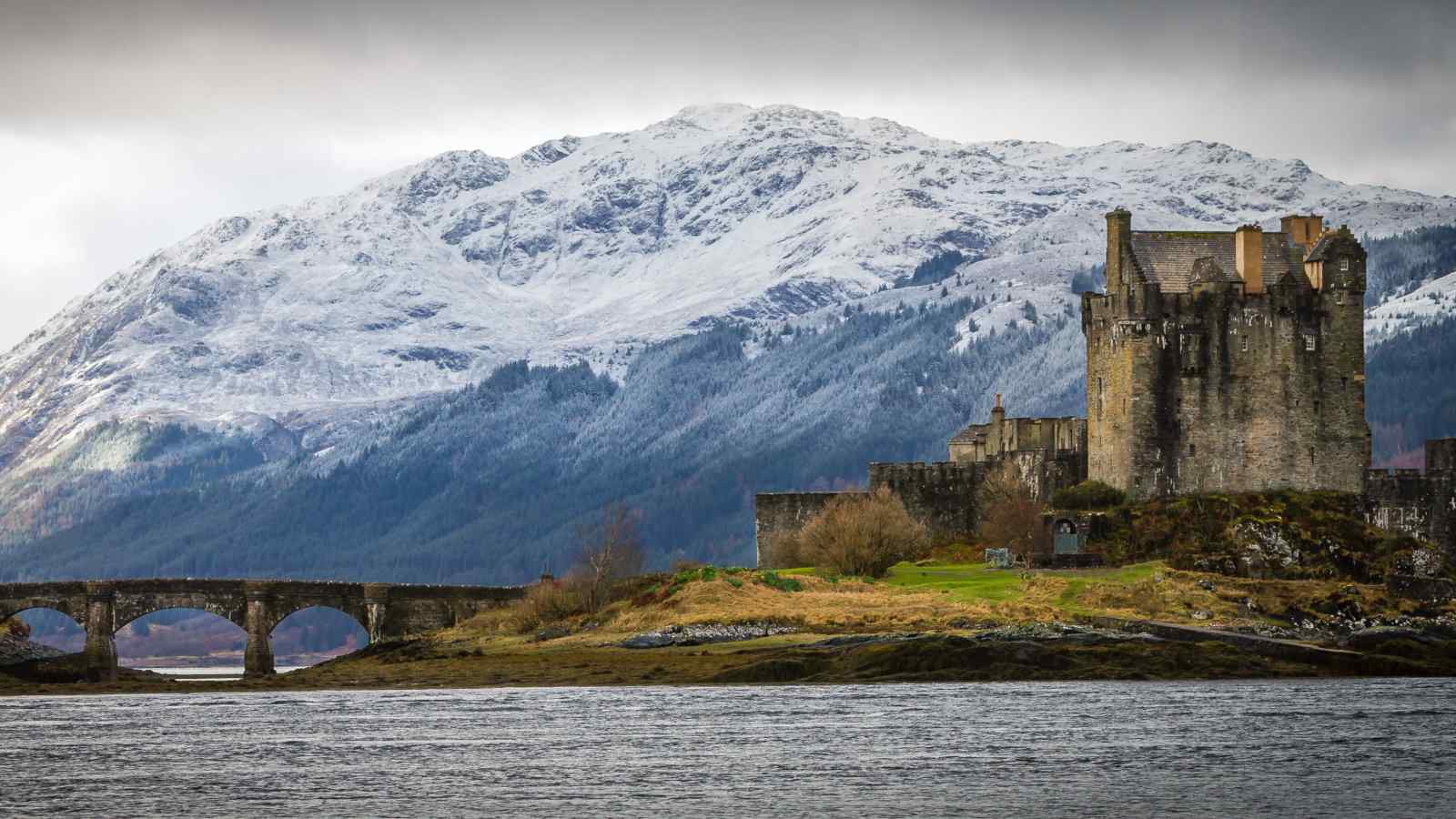 The cruise at a glance
---
When: 3 June – 15 June 2023
Itinerary: Inverness – Loch Ness – Edinburgh
Ship: Elegant and intimate yacht with max. 54 guests
Prices: from $9,499 per person
Gay cruise to Scotland anyone? A country so breath-taking, it inspired various Harry Potter locations, is believed to conceal the legendary Loch Ness Monster, and where Queen Elizabeth spends her free time. We feel that if it's good enough for that Queen, then it's good enough for a boatload of them!
Before your 7-day journey with brandG, you'll get to wander around Inverness. You'll spend a night in the Cullodon House Hotel, enjoy a walking tour of the Queen's Scottish residency in Balmoral, plus a scenic drive through the lush west of Scotland.
Then it's time to hop aboard!
Whilst there aren't many amenities onboard the ship, like a spa or pool, your itinerary will be too busy for you to notice. Local villages, eerie lochs, and rugged islands will become your whole life for those 7 days.
If you're brave enough, visit Macbeth's Cawdor castle, the location of Shakespeare's title character (and the icon, albeit a bit unstable, Lady Macbeth). Harry Potter fans will gag over the chance to see the viaduct used in the movie franchise, which the Hogwarts Express crossed over.
The last day consists of an Edinburgh tour, where you'll go down the Royal Mile and up to stunning Edinburgh Castle.
BrandG is offering our readers an exclusive 5% discount valid for this tour. Click the button below to find out more.
Prices for the Scotland gay cruise start from $9499 per person:
---
03
Croatia and Dalmatia Gay Cruise
7 July – 15 July 2023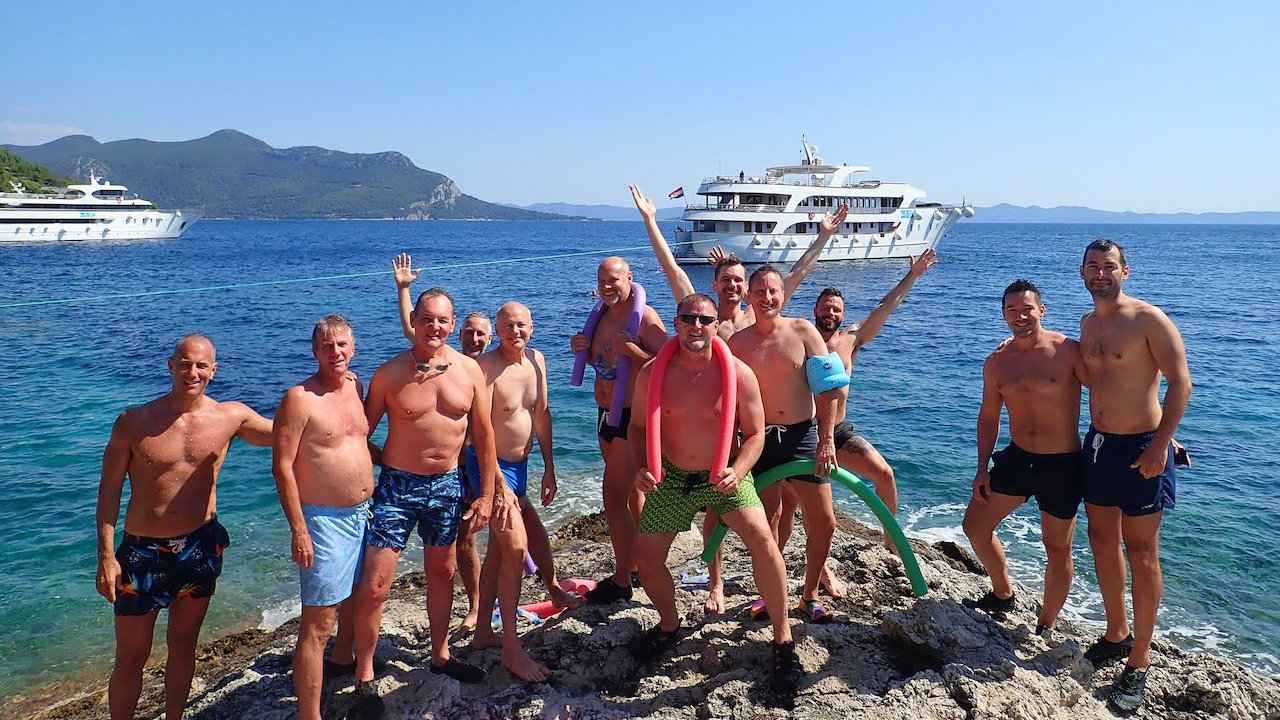 The cruise at a glance
---
When: 7 July – 15 July 2023
Itinerary: Split – Hvar – Dubrovnik
Ship: Luxurious yacht with max. 34 guests
Prices: from $4,495 per person
What could be better than nine days in the Adriatic Sea, discovering the delights of the Croatian coastline? How about doing it on a gay cruise, with 33 other gay guys? We think that sounds like a dream!
On this gay cruise, there are no rest days. Yep, that's right – every day is filled with activity, whether you are embarking on a walking tour of an ancient town or exploring the sandy beaches, absorbing that sweet, golden sunlight.
It will begin with a stay at a 4-star hotel in Split with a welcome dinner and drinks. Guests will set sail on the Black Swan yacht early the following morning, heading to the island of Brač. Across 9 days, you'll get to discover the birthplace of Marco Polo, the famous salt lakes of Mljet National Park, and a walk along the old city walls of Dubrovnik. You'll be flat out!
The hosts Scott, Livio, and Robert will always be around to make sure every guest is comfortable and feels included in the action. They are great at breaking the ice and getting people to mix and make friends. There'll only be 34 guests onboard, so if you felt intimidated by the idea of embarking on a massive gay cruise, this one could be a perfect fit.
Prices for the Croatia Gay Dalmatia Cruise start from $4,495 per person:
---
04
Olivia Portugal Douro Lesbian River Cruise
8 May – 15 May, 2024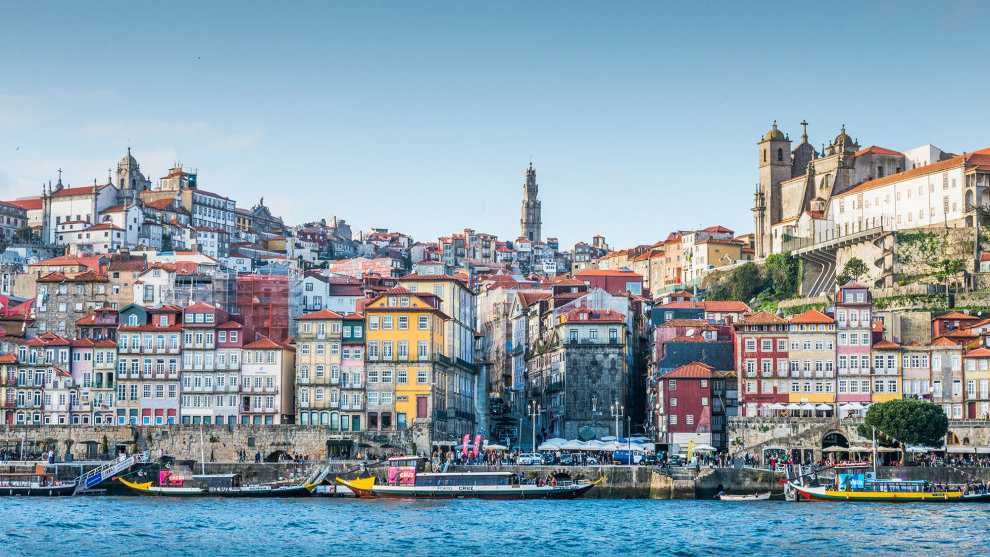 The cruise at a glance
---
When: 8 May – 15 May, 2024
Itinerary: Porto – Salamanca – Porto
Ship: Elegant river cruise ship
Prices: from $4,999 per person
Forget about the bright lights and big city bravado for one week while instead falling in love with the magic of Portugal's more rustic areas. This lesbian cruise reminds the traveler of how wonderful a quiet and peaceful life can be, by visiting the adorable villages along Douro River Valley.
One of the highlights is exploring the town of Salamanca, essentially described as a "living museum" due to how steeped in history it is. You'll also get to enter the fortified village of Castelo Rodrigo, where you'll dine in a century-old winery and soak up the lush Portuguese atmosphere.
The final two days of the tour are devoted to Porto, where you'll embark on a guided tour around the city learning about the ancient monuments and chequered past. It's capped off with a much-deserved wine-tasting before you're free to wander around the city on your own terms.
While onboard, there is never a dull moment. The pool is ever so refreshing, perfect for taking a cool dip beneath the warm Mediterranean sun. Even cooler considering you'll be surrounded by the sight of seaside villages and crumbling castles. Each night, learn a new style of dance with performances featuring folkloric and local Fado/blues musicians, while you socialize with the other women on the cruise.
Prices for the Olivia Portugal Douro River cruise start from $4999 per person:
---
05
VACAYA Caribbean gay cruise
17 February – 24 February, 2024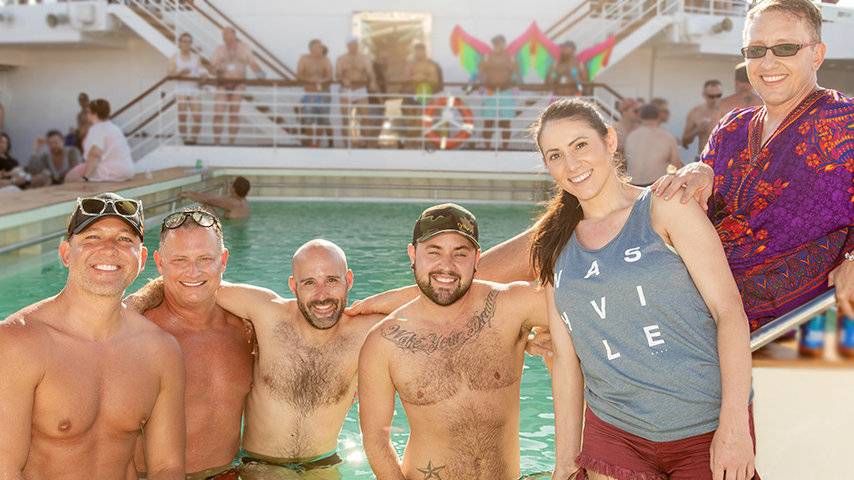 The cruise at a glance
---
When: 17 February – 24 February, 2024
Itinerary: Fort Lauderdale – Puerto Rico – Antigua
Ship: Huge luxury cruise ship
Prices: from $1,197 per person
Starting at one of the most gay-friendly cities in the world, Fort Lauderdale, the VACAYA Caribbean gay cruise will take you to the stunning islands of Puerto Rico, St Croix and Antigua.
A whole day will be spent docked at the beaches of St Croix, where you can frolic around on the white sands, sip on a delicious fruit cocktail or even do some serious sightseeing. Buck Island Reef National Monument and Sandy Point Wildlife Refuge are both close to port for a trip. Animal lovers will geek out at the cuteness overload!
Other days will see you falling in love with St John's Old Town in Antigua, where you can experience amazing fresh seafood in between visiting historic sights like historic sites like Fort James and St. John's Cathedral.
The days at sea are every bit as fun and magical as the days exploring. Drag icon Sister Helen Holy will delight crowds with a game of bingo (don't worry, it will be way more salacious and naughtier than it sounds). Though if that isn't your thing, you can enjoy the clothing-optional sunbathing deck, socializing with all the other guests.
Just wait for Day 5 – when there will be an epic concert with jaw-dropping, star-studded performances. Past acts have included none other than Lady Bunny (RuPaul's partner in crime from back in the day), so expect big things to happen!
---
06
Olivia Lesbian Tahiti Luxury Cruise
5 September – 12 October, 2024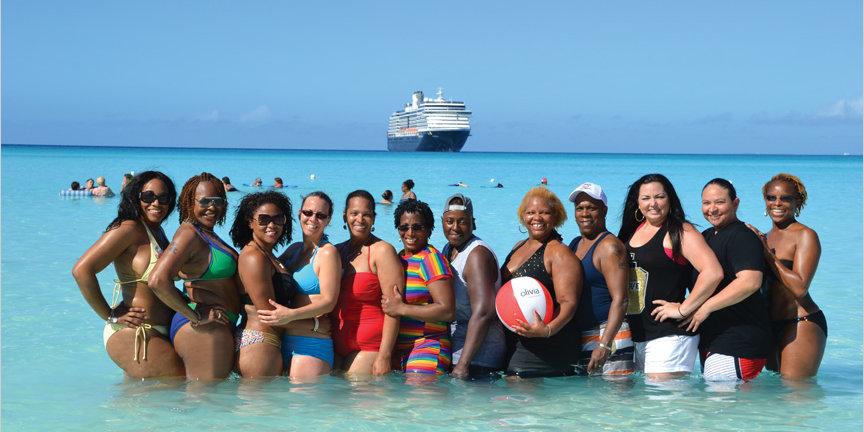 The cruise at a glance
---
When: 5 September – 12 October, 2024
Itinerary: Papeete – Moorea – Bora Bora
Ship: Luxurious yacht with max. 312 guests
Prices: from $3,999 per person
This one is for the ladies! Olivia is a travel company devoted to providing great cruise, resort, riverboat, and adventure vacations for lesbians. In 2023 they are hosting the Tahitian Intimate Luxury Cruise, and it looks incredible.
The islands surrounding Tahiti and the panoramic views are really something to behold. Plus you'll get to explore some of the best locations the Society Islands have to offer.
We think Bora Bora, in particular, is an invigorating stop and truly the definition of paradise; author James Michener described Bora Bora as "the most beautiful island in the world". You'll be able to experience all this beauty with hundreds of other gay women of all ages and backgrounds.
There are plenty of ways to explore the island too. Olivia offers snorkeling tours, underwater walks, helicopter tours, and sunset tours by jet boat. The excitement doesn't end when you return to the ship though: entertainment includes fabulous lesbian performers, from DJs to singer/songwriters and other performers.
---
07
Galapagos Gay Cruise
13 November – 22 November, 2023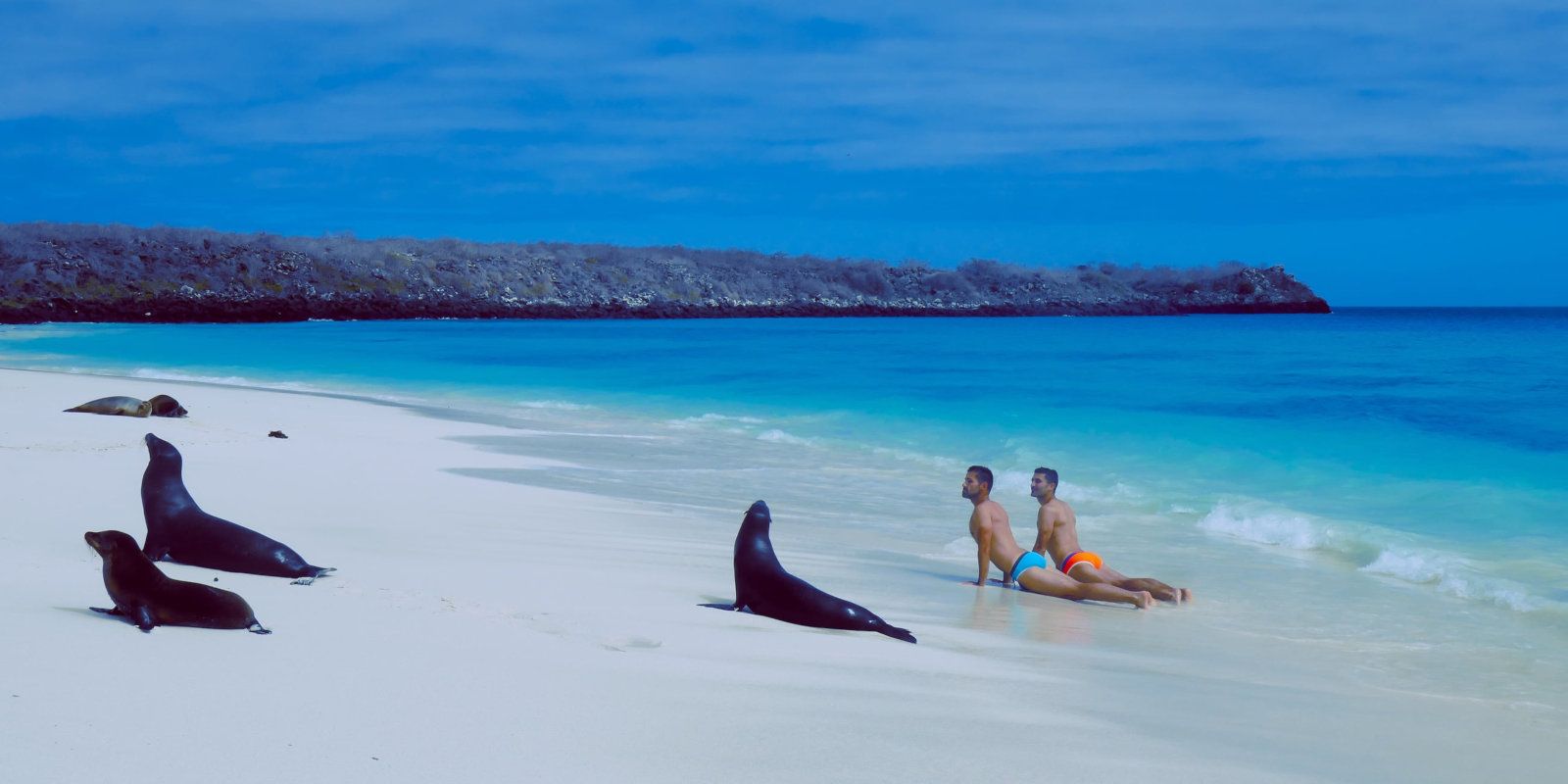 The cruise at a glance
---
When: 13 November – 22 November, 2023
Itinerary: Quito – Galapagos Islands – Guayaquil
Prices: from $7,895 per person
Ship: Luxurious private yacht with max 16 guests
Kicking off from the high-rise city of Quito, this cruise will see you sailing off along the equator to the stunning and unique Galapagos Islands.
As you visit the Galapagos Islands, you'll discover places that remained undiscovered by mankind for thousands of years. Because of this, they have been able to develop incredible ecosystems unseen anywhere else in the world.
Walk among an assortment of fabulous creatures, who harmoniously live side by side, free from predators. It almost feels like visiting the Garden of Eden – it's so raw and wild here, where animals and nature are in control! If the animals on land weren't enough, you'll get to discover a whole new world as you spend a day snorkelling in the surrounding waters.
One of the most popular highlights is snorkelling around Pinnacle Rock – an iconic natural landmark that looks like a dragon's tooth protruding from the sea. Other adventurous activities we loved on our Galapagos cruise include hiking, kayaking and canoeing, as well as visiting the giant tortoises at the Charles Darwin Research Station.
You'll join a small group of other gay travellers with a maximum capacity of 16 people. The yacht is the luxurious Grand Queen Beatriz, which has super comfy and spacious cabins, all with window views. This gorgeous yacht also has sun-decks to lounge on and even a hot tub you can enjoy underneath the stars!
You'll spend seven nights onboard the yacht as well as two nights in a lovely four-star hotel in Quito at the beginning and end of the tour. But with seven full days of cruising, you'll get to see all the main islands with lots of opportunities for swimming, snorkelling, hiking and getting up close to the diverse wildlife of the islands.
The whole yacht is outfitted with sleek polished wood and looks oh so glamorous. The indoor dining room is where you'll be provided all your meals on board, in the lovely air conditioning while you get to know all your new gay friends and be prepped about what to expect for each day's adventures. If you're looking for more exciting options, read our guide on cruises in the Galapagos!
---
08
The Cruise – La Demence
09 July – 16 July, 2023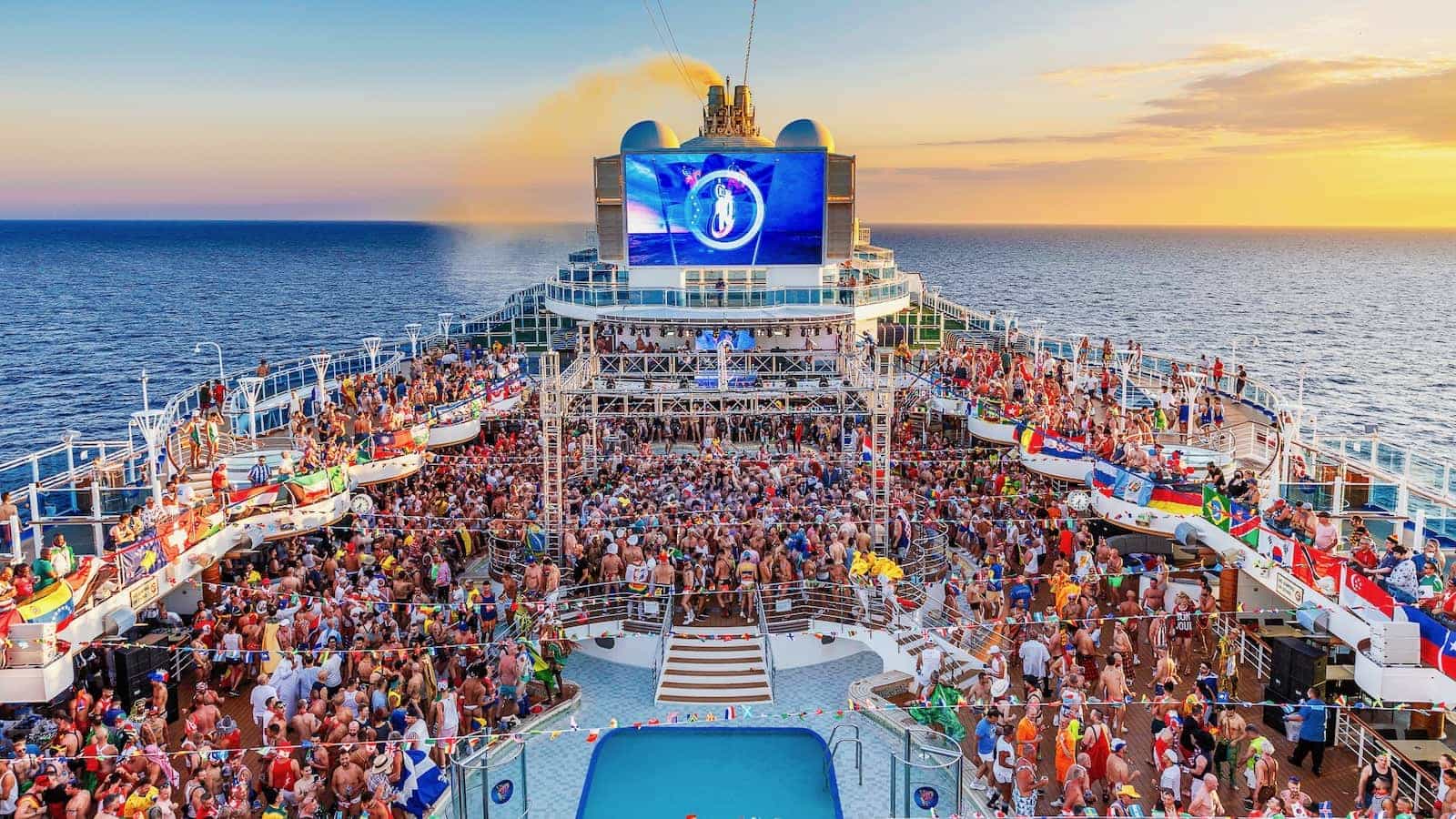 The cruise at a glance
---
When: 09 July – 16 July, 2023
Itinerary: Ravenna – Argostoli – Malta
Prices: from $1,399 per person
Ship: Huge luxury cruise ship
The Cruise by La Demence is one of our favorite yearly events – not only does it visit spectacular locations but there are so many fun things to do while you're onboard, especially crazy gay parties!
In fact, most days feature two different themed parties, and we love any excuse to dress up. In the afternoons there's a fun T Party and each night there is another party to enjoy under the cover of darkness…
As well as parties, there is a wide range of other events to partake in, such as high heel runs, drag bingo and the Mister the Cruise competition. There's also a theater if you just want to watch others perform, you know, in between sunbathing, relaxing in hot tubs, shopping, getting a massage or wining and dining on delectable worldwide cuisine!
And all this is before we've even touched on the actual destinations you'll be sailing to, which include some of the most beautiful places in the Mediterranean. Each year the itinerary is slightly different, but you can feel confident that all stops are carefully chosen to be gay friendly and gorgeous, usually including some of the most stunning islands.
This year's cruise will depart Ravenna in Italy before meandering down the Italian coast and stopping off in Sarandë, Albania and then the Greek island of Argostoli. Another stop in Sicily provides the opportunity to hike up the volcano of Mount Etna if you're feeling adventurous or just wander around the filming locations for the Godfather films.
We're getting ready to experience our second The Cruise, and you can read more about this unmissable event (including how to join us!) in the full guide here.
---
09
Atlantis Italy, France and Ibiza Gay Cruise
28 August – 06 September, 2023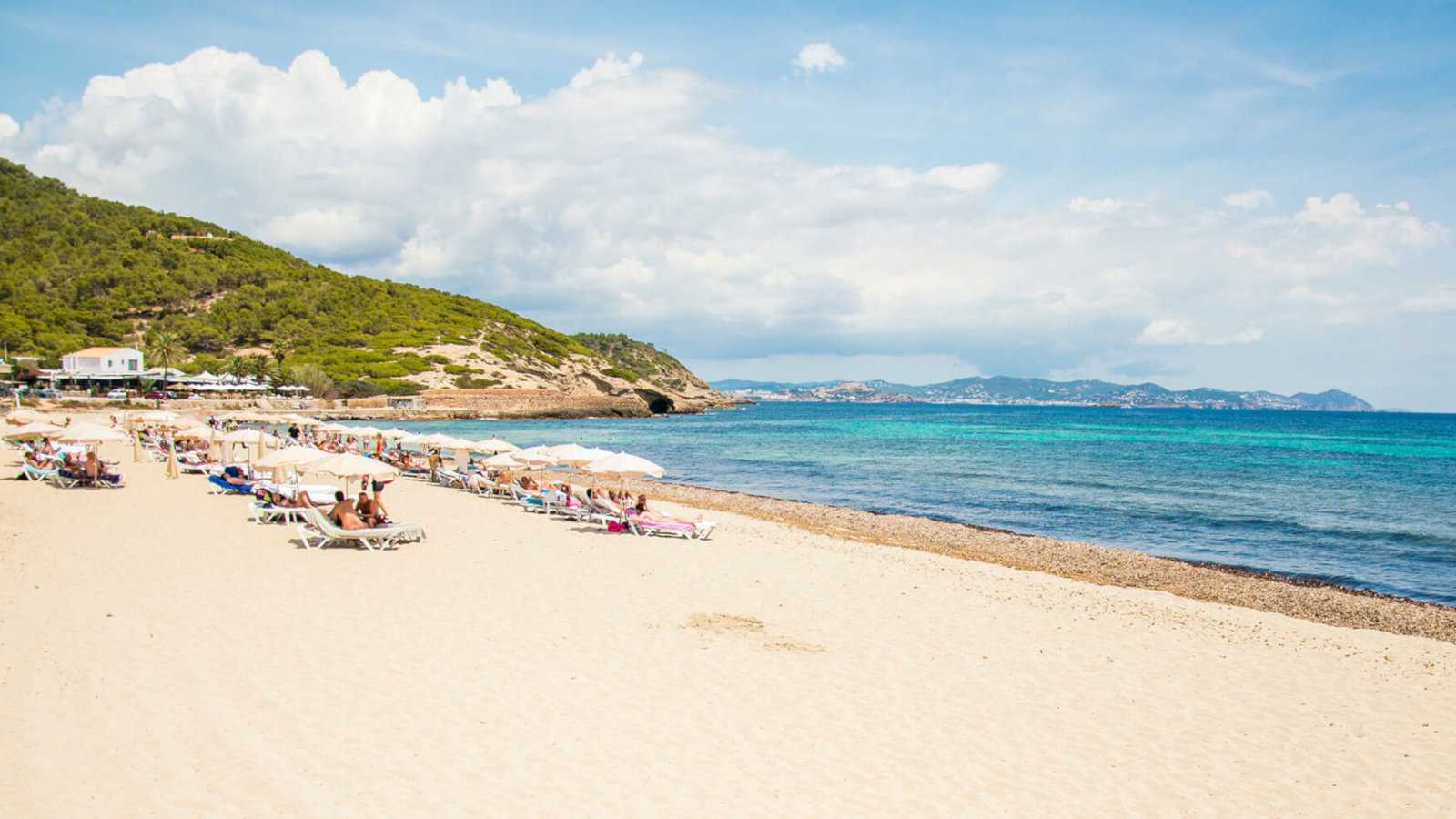 The cruise at a glance
---
When: 28 August – 06 September, 2023
Itinerary: Rome – Naples – Ibiza – Marseille
Prices: from $1,699 per person
Ship: Huge luxury cruise ship
All roads lead to Rome and all the best gay cruises depart from there too! On this fantastic Meditteranean cruise you'll set sail from Rome to explore parts of Italy and France, as well as the party island of Ibiza.
Your first stop is the gorgeous Italian city of Naples, where you can explore the nearby stunning Amalfi Coast or take a day trip to the island of Capri, before heading to Sicily and Sardinia on your journey.
Of course, one of the highlights of this trip is spending a night on the Spanish party island of Ibiza, where you can dance until the next morning in one of the many nightclubs before recovering the next day on one of the many stunning beaches.
In fact, this whole cruise is basically one big party, since it takes place on the massive Odyssey of the Seas, with space for 4,200 guys to get to know while wining, dining and enjoying everything there is to offer on board. Even if you never stepped foot on land you wouldn't get bored, with thirteen different places to dine, a gym, spa, two main pools, hot tubs nearly everywhere you turn and an epic calendar of entertainment to enjoy.
Atlantis cruises always feature incredible performances to take in each evening, from cabaret stars to dazzling acrobatics, and then there are the after-hours parties where you can dance the night away or maybe meet a special someone to take back to your room.
The rooms and suites are suitably opulent here as well, especially if you can afford to splurge on a loft or get a stateroom if you're traveling with friends. Even if you're on a budget it still feels luxurious as well, with virtual floor-to-ceiling windows showing a live feed of the view if you have an interior room!
---
10
Atlantis LA to Mexico Cruise
23 October – 30 October, 2023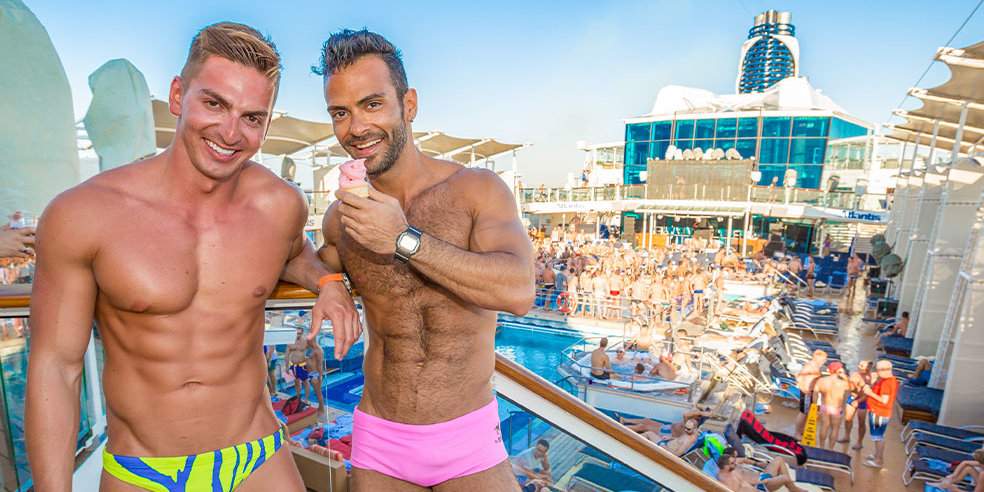 The cruise at a glance
---
When: 23 October – 30 October, 2023
Itinerary: LA – Cabo San Lucas – Puerto Vallarta
Prices: from $899 per person
Ship: Huge luxury cruise ship
Sun lovers everywhere rejoice – the biggest party in the West is back with the Atlantis LA to Mexico gay cruise!
This is one of the best gay cruises for getting sunshine and seeing fabulous beaches, as it sails for one week from Los Angeles down to some of the best beaches in Mexico.
This cruise really is one big party, taking place on the massive Navigator of the Seas with more than 3,000 gay guys from around the world. And there are plenty of places to socialize, with T Dances, pool games, drag bingo, volleyball, and even waterslides to be found all over the ship. There's also a fantastic spa if you need some time to relax in between partying, although the Mexican beaches are also perfect for that too!
Spend your days on land sunbathing on the sand or going snorkeling in the crystal-clear waters of Cabo San Lucas. The late-night visit to fabulous Puerto Vallarta offers ample opportunities to experience the gay clubs and bars located here, while you'll also have time to explore the charming Mexican city of Mazatlan.
Aside from partying, Atlantis Cruises always feature a pretty amazing lineup of entertainers on board, with their own gay circus show, special guests from Broadway or TV, gay comedians, and drag queens, so there's always something to enjoy even when you don't feel like dancing.
The Navigator of the Seas is also home to lots of excellent restaurants (including a three-storey one!), the largest and most complete fitness center at sea, a British-themed pub and even an ice-skating rink! We're honestly thinking we might need one trip to explore the ship and another to properly enjoy the destinations…
---
11
BearCruise Eastern Caribbean Pre-Thanksgiving Cruise
12 November – 19 November, 2023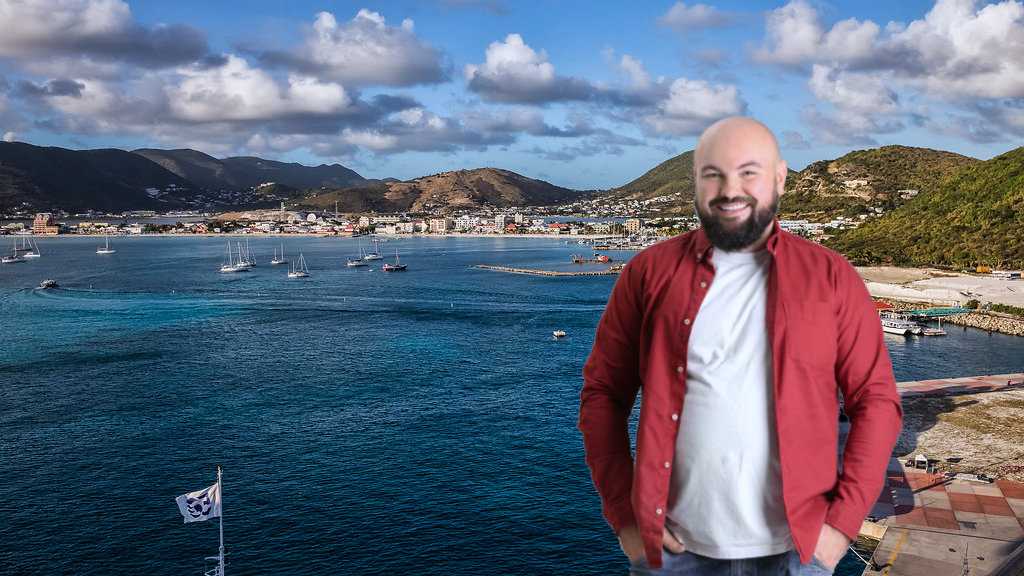 The cruise at a glance
---
When: 12 November – 19 November, 2023
Itinerary: Orlando – Bahamas – St. Thomas – Sint Maarten
Prices: from $999 per person
Ship: Small gay group on a huge luxury cruise ship
If you've ever worried about not fitting in on a gay cruise filled with twinks twerking in nothing but their speedos, then perhaps a BearCruise might be more up your alley!
On this cruise, you'll join a small group of fellow gay travelers on board one of the largest cruise ships in the world. This means there'll be plenty of private excursions and social events to make new friends, along with so many fun things to do on board.
Royal Caribbean's Wonder of the Seas is the newest and biggest cruise ship in the world, with an incredible amount of dining options and entertainment on board – and that's not even taking into account the beautiful places you'll visit on your trip! This cruise embarks from Orlando, Florida and heads down to the Bahamas, where you can spend a day on the private island CocoCay.
You'll also get to explore the city of Charlotte Amalie on St. Thomas, the gateway to the U.S. Virgin Islands and the location of Blackbeard's Castle, a US National Historic Monument. Then you'll continue on to Philipsburg on gorgeous Sint Maarten, the Dutch side of this famously divided island. Architecture and history nerds will be in heaven on this trip, with examples of Danish architecture on St Thomas and Dutch Caribbean architecture on Sint Maarten!
In between island hopping, there's plenty to do during sailing days, not least of which is making new lifelong friends with the other bears in your private group. Adrenaline junkies will definitely love sailing on this particular ship, as it's packed with exciting activities including waterslides, a surf simulator, a zipline, a rock-climbing wall and a mini-golf course, along with an incredible AquaTheater or Ice Skating Show to watch when you want a break!
Then there are fabulous bars, including a karaoke one for belting out show tunes, restaurants serving up delicious cuisine from around the world and special guests – on this cruise, you'll get to enjoy actress Alison Arngrim's show "Confessions of a Prairie Bitch." Hear all about her fascinating life, particularly her role as Nellie Oleson on Little House on the Prairie.
---
12
Brand G Prague and Danube Gay River Cruise
12 August – 21 August, 2023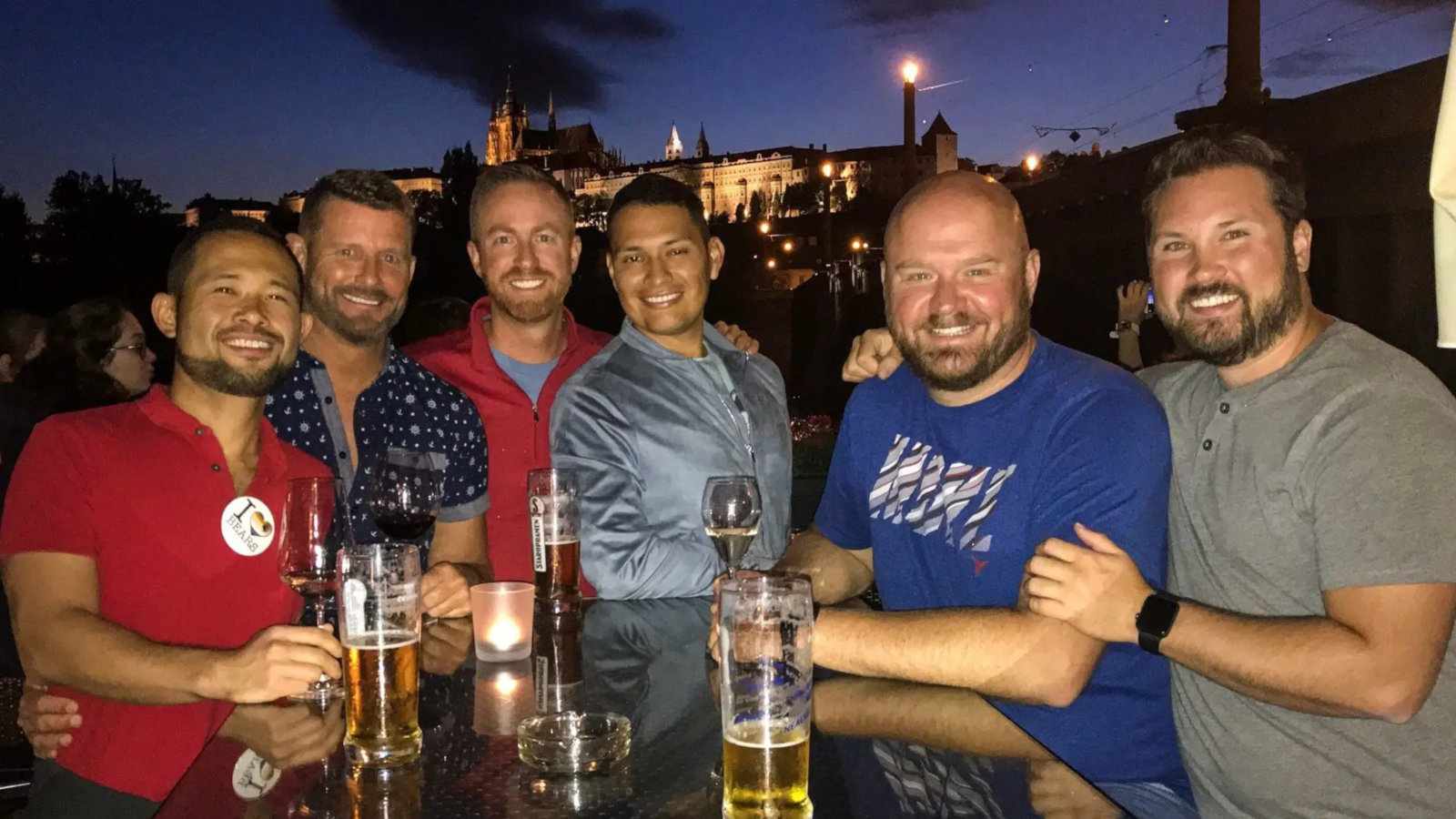 The cruise at a glance
---
When: 12 August – 21 August, 2023
Itinerary: Prague – Vienna – Budapest
Ship: Luxury river cruise ship with max. 168 guests
Prices: Prices start from $4,499 per person
Winding down the Danube, the second-longest river in Europe, the Amadeus Imperial plays host to an all-gay cruise with Brand G that takes you around the beating heart of the continent.
Things kick off in Prague, one of Eastern Europe's most gay-friendly cities. There'll be plenty of time to explore everything it has to offer, from walks along the Vltava River, to treating yourself in a traditional Czech restaurant.
Throughout the gay cruise you'll visit the stunning Baroque buildings of Budapest, admire the Gothic-style architecture in Bratislava in Slovakia, and stroll around the charming city gardens of Vienna in Austria.
Drag act icon Miss Conception will pop in for some night-time entertainment, scandalizing audiences with their razor-sharp wit, crazy stories, and spot-on caricatures. Also performing is Amy Armstrong with Fernando Gonzalez, mixing musical comedy with Latin excellence in their show "SPANGLISH".
One of the nights will feature a Blue Danube T-Dance – bring your blue-est outfit and prepare to battle for the crown!
Meanwhile, 40 staff members will pull out all the stops to make you feel pampered during your journey. Did we mention guests have full rein of the bar? Yep, that's right, there are complimentary bar, wine, and soft drinks throughout the entire gay cruise.
Brand G is offering our readers an exclusive 5% discount valid for this gay cruise. Click the button below to find out more.
---
DON'T MISS OUT!
Join our newsletter
Subscribe now to receive in-depth FREE travel guides, along with inspiring stories, savvy planning tips, and exclusive discounts on gay tours.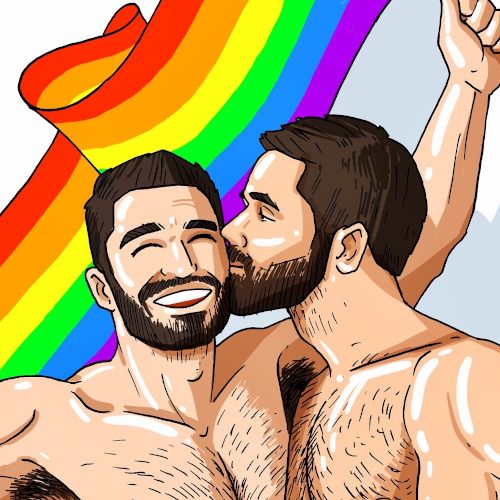 ---
Like this post? Pin it