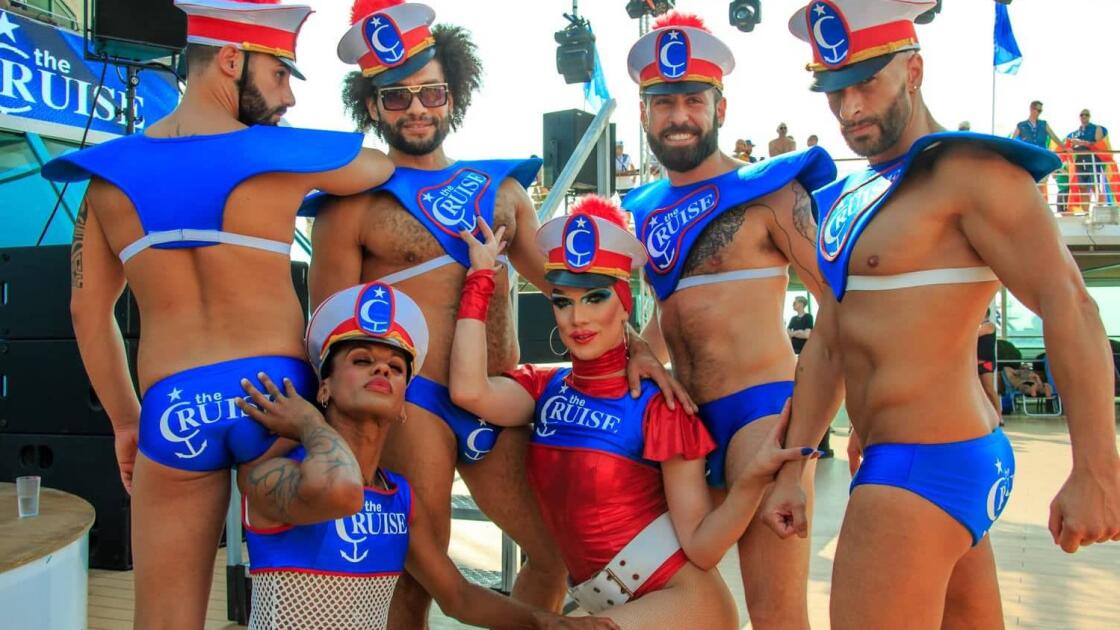 THE NEXT LA DEMENCE GAY CRUISE IS: July, 9th to 16th, 2023
Gay guys have always loved cruising – although it wasn't always as elegant as this type of cruising.
Gay men of all ages, sizes and nationalities spread out across a sunny deck, overlooking the blindingly blue Mediterranean Sea, whilst being pampered by a dedicated team of staff.
Fruity cocktails, gossiping with strangers by the poolside, and getting dressed up for nightly parties are all to be expected on a La Demence cruise. After years of dying to see what all the fuss was about, we joined our first-ever gay cruise with La Demence in 2022 and loved it. We were instantly enthralled! We had such a blast and vowed we would go every year.
The name 'la démence' means 'madness' in French. There is truly no better word to capture the atmosphere on board. Men of all ages, body types and nationalities all come together for a week of travel, parties, and fun. We set out below what a La Demence cruise is all about, the fun activities, facilities, and of course the infamous parties to look forward to.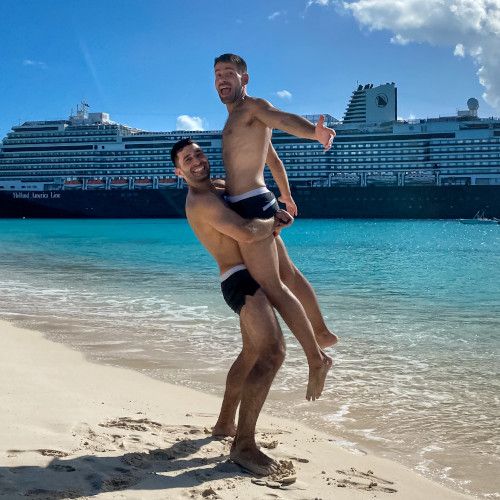 We'd love you to join us!
What more could you possibly need to know to make you want to come along? You have the hot guys, exciting themed parties, eccentric group activities, and best of all, an amazing itinerary! Places book up fast with a choice of several price packages.
What is The Cruise by La Demence?
La Demence, best known for its exhilarating monthly gay parties in Brussels, has found soaring success with its annual gay cruise. After all, what could be better than a dreamboat of gorgeous gay guys sailing around some of the most beautiful destinations in the Mediterranean?
The La Demence gay cruise happens every summer in around July/August and lasts for 1 week.
Guests have plenty of time to explore each city, town, and island, soaking up the wonderful beaches and local life. Or, you could just as well stay on the ship, relishing in the peace and quiet whilst everyone's out exploring. But when everyone's back on board, that's when the party spirit really takes hold.
Find out more and connect with other like-minded gay guys by joining the La Demence Facebook group.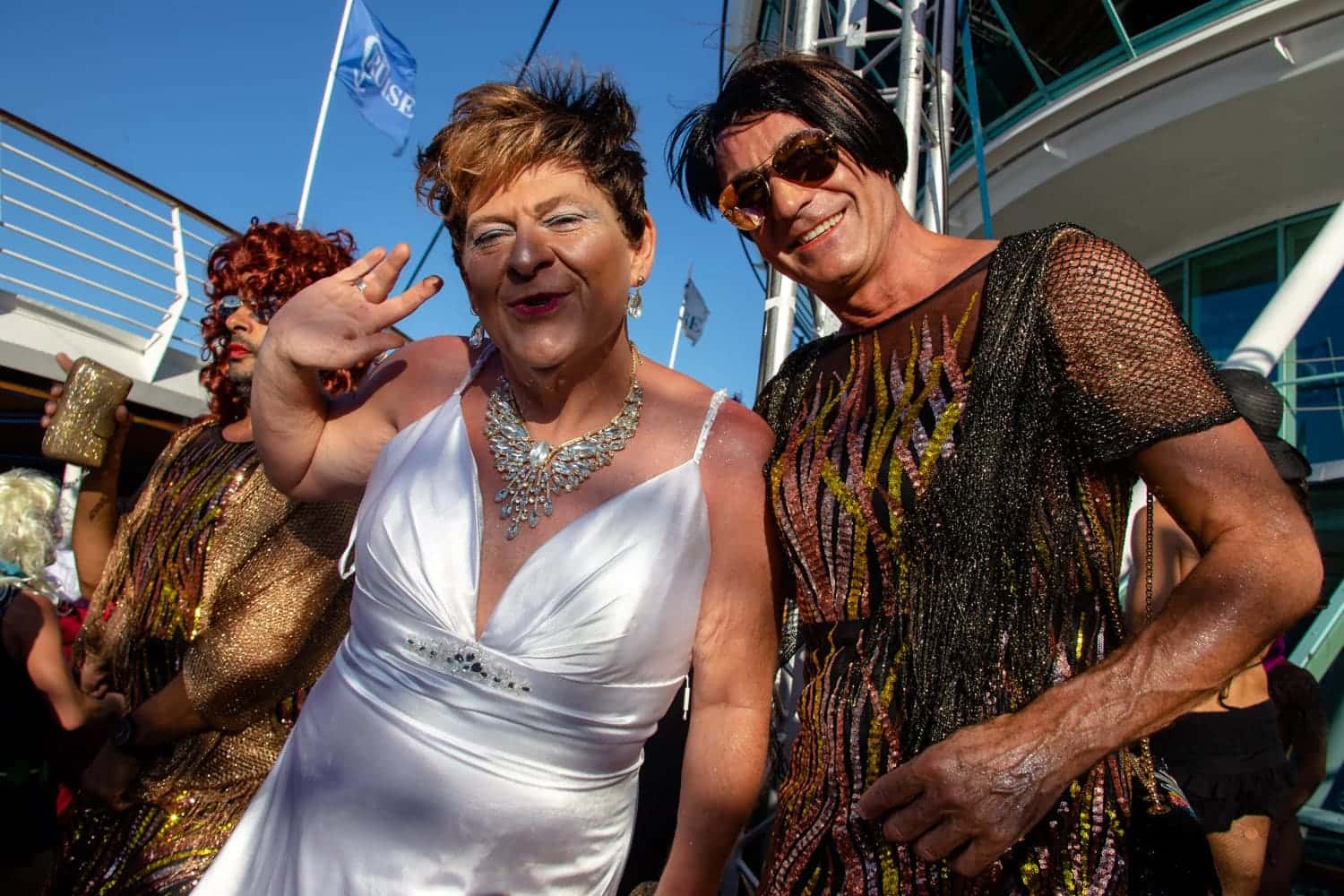 When is the next La Demence gay cruise?
The next La Demence gay cruise will take place: July, 9th to 16th, 2023.
What is the cruise itinerary?
The 2023 itinerary will be on board Royal Caribbean's Explorer of the Seas from July, 9th till 16th, 2023! The ship will sail from Ravenna (Italy) through the Ionian Sea visiting Sarandë (Albania), Argostoli (Kefalonia island in Greece), Catania (Sicily, Italy), over to Malta then back to Ravenna.
Previous itineraries have included:
In short, all destinations are carefully selected so that they are gay friendly, and most importantly, beautiful! We can attest that you will be wowed by each stopover!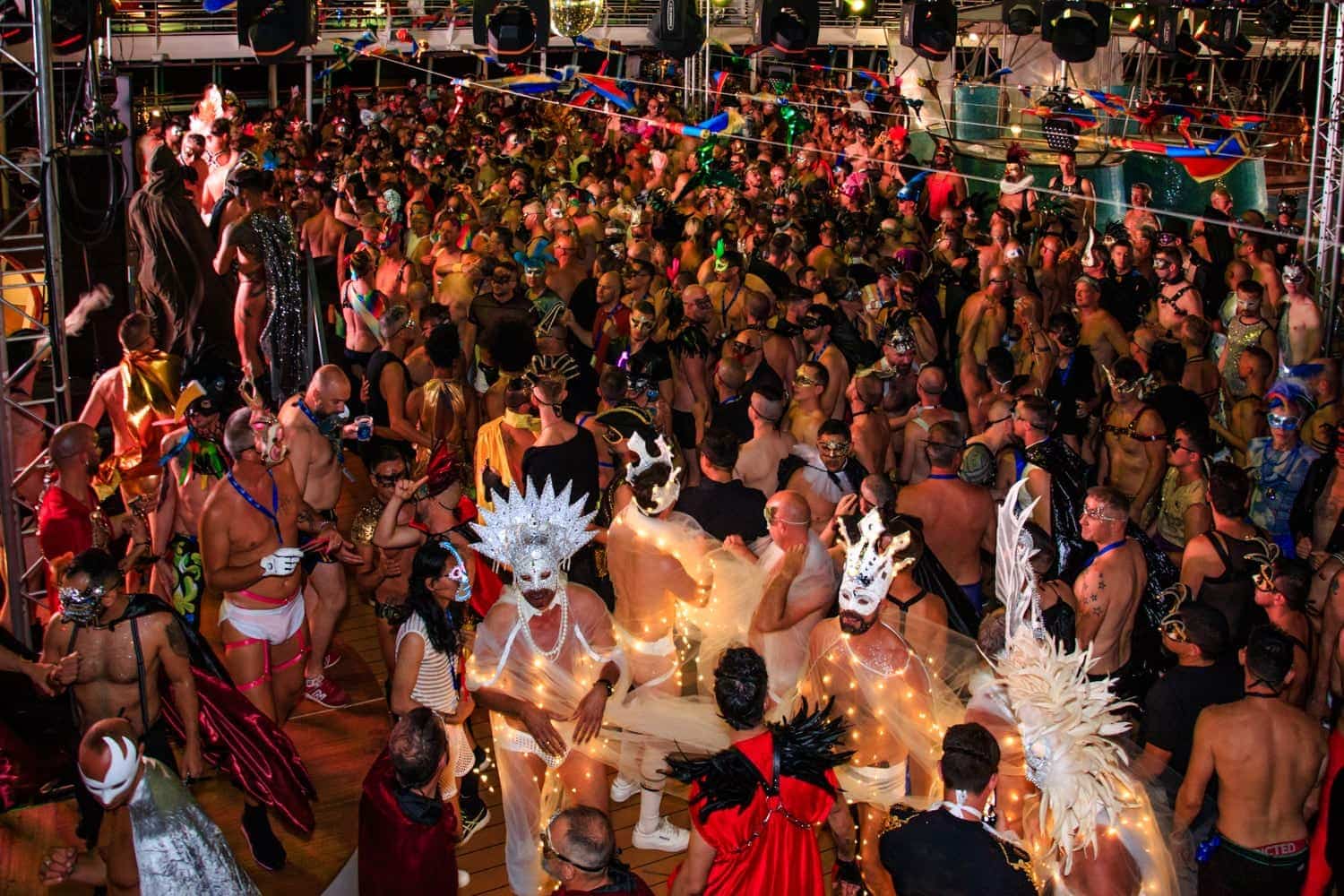 Life on board a La Demence gay cruise
The cruise takes place on a very large ship, in our case, it was the Regal Princess ship for the 2022 departure. To give you an idea, it stretches an impressive 1,083 feet (330m) and has a capacity for 3,600 guests (we mean gays!)…that's a total of 5,600 people of which 2,000 are crew.
There are plenty of amenities on board to keep you preoccupied in between all the onboard events and travel pitstops.
There's the relaxing spa where you can expect an array of rejuvenating treatments, everything you could desire, from couple's massages to mani-pedis. There are three pools: the large main one where most hang out during the day and has a nightly fountain show; the second, a terrace pool at the back of the ship with panoramic views; the third, the more exclusive VIP Retreat Pool.
When it comes to dinnertime, you'll be spoiled for choice with several restaurants to choose from. A pizzeria that serves authentic Italian-style pizza. Or a classic southern-USA style BBQ house, where you can sink your teeth into a large plate of ribs. In the international café, tuck into a wide selection of foods from across the world. And when it comes to soothing those sugary cravings, the marketplace is the place to be for finding sweet treats and mouth-watering sandwiches.
Other important amenities include a theater featuring nightly shows, a nudist sun deck, 6 hot tubs, a glass-floor walkway sea walk extending 9 meters beyond the edge of the ship, duty-free shops, lounges, a library, a game room, a business center, and, of course, a gym with impressive panoramic views of the sea.
Oh – and there's the 24-hour darkroom…where you can go to experience a (w)hole new fantasy…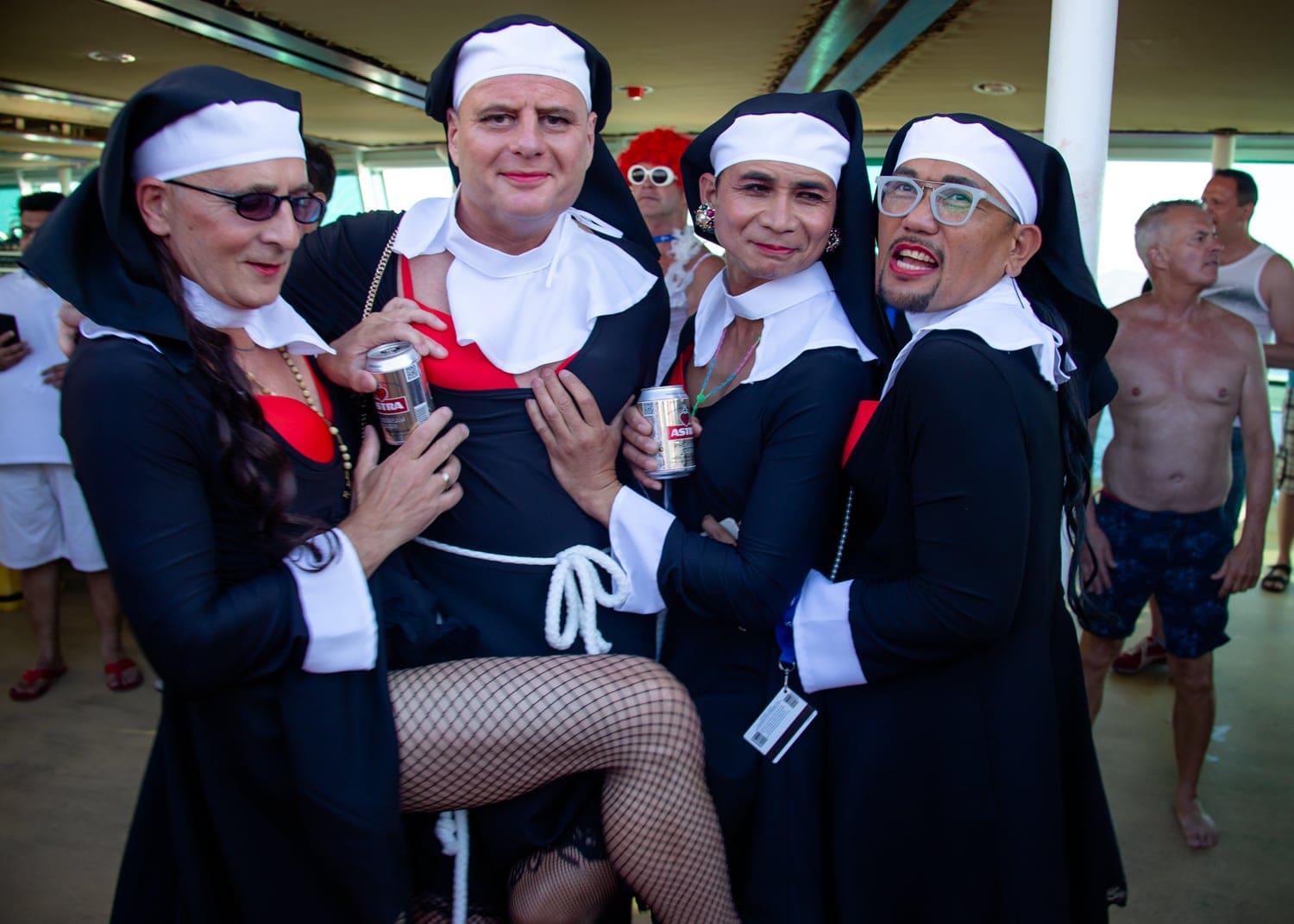 What sort of gay parties will there be?
Every night, passengers meet on the deck for a succession of glamorously messy, highly energetic, and entertaining events. With the open sea air, pumping pop music, and an even more pumped-up crowd, there ain't no gay party, like a gay cruise party.
A classy Sunset Tea Dance starts things off, where people can wind down from a day of sunbathing and land exploring. Passengers can admire the sunset against the backdrop of lowkey music, whilst enjoying some hot tea (both beverage and gossip-wise).
Things turn up a notch with the Night Party, where heavy dance music blares across the deck. Get into the groove! And things don't just end there – there's a fun After Party in the ship's disco for the passengers who aren't ready to head to bed.
Themed parties to plan your outfits for will include: Roman Empire, Where Are You From, Leather, Circus, Sports, Neon, Disco, White Party, Ladies T-Dance, Super Heros, and a Goodbye T-Dance: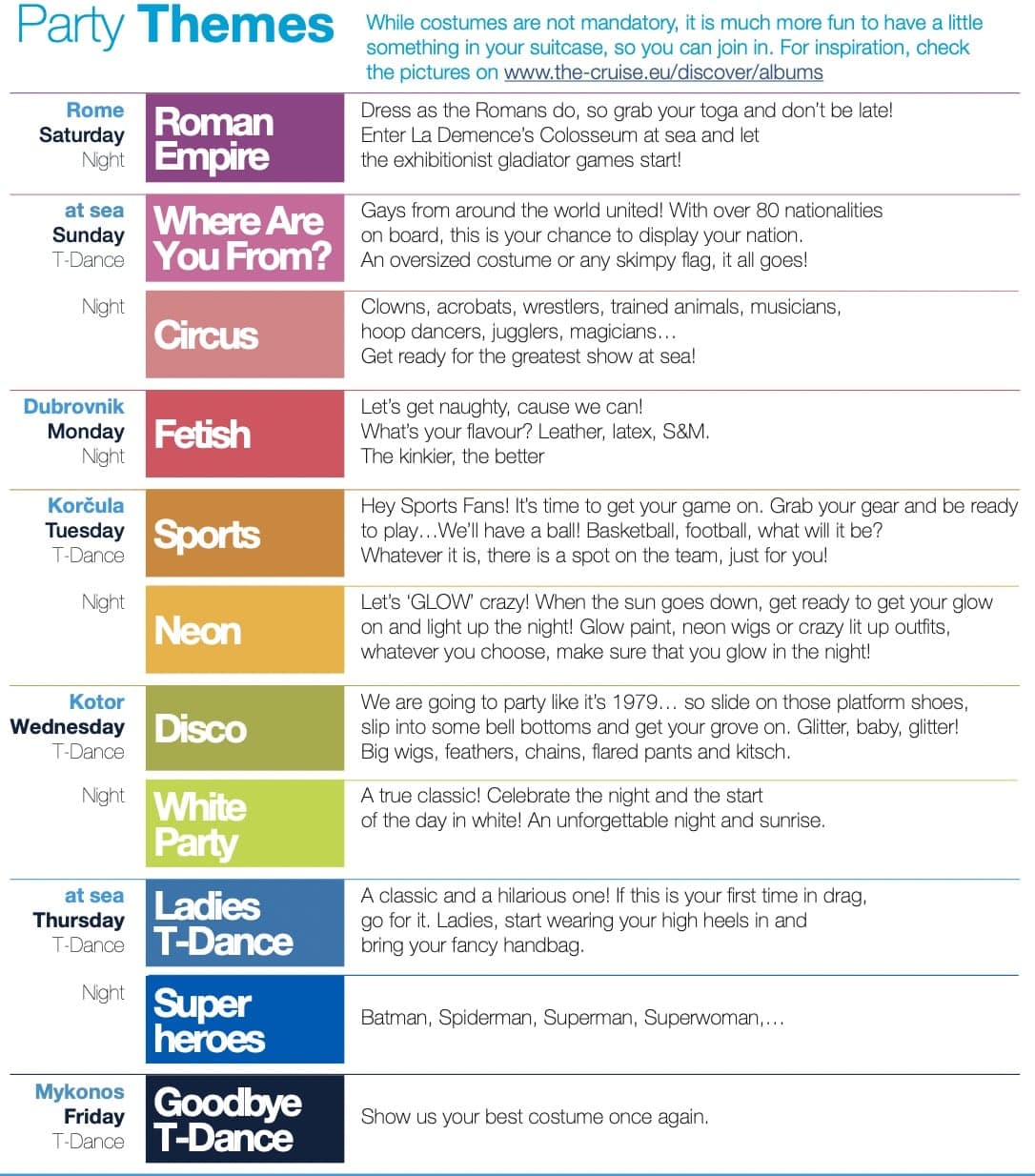 If you aren't much of a party animal but are still keen to get involved with the shenanigans on board, then why not get enter one of several competitions? They have all sorts of challenges planned to test your charisma, uniqueness, nerve, and talent. There's the death-defying high heel run, the hunkalicious Mister The Cruise competition, and the ultra-savage drag bingo (forget about the handbag throwing tournament, this is where someone could really lose their head!).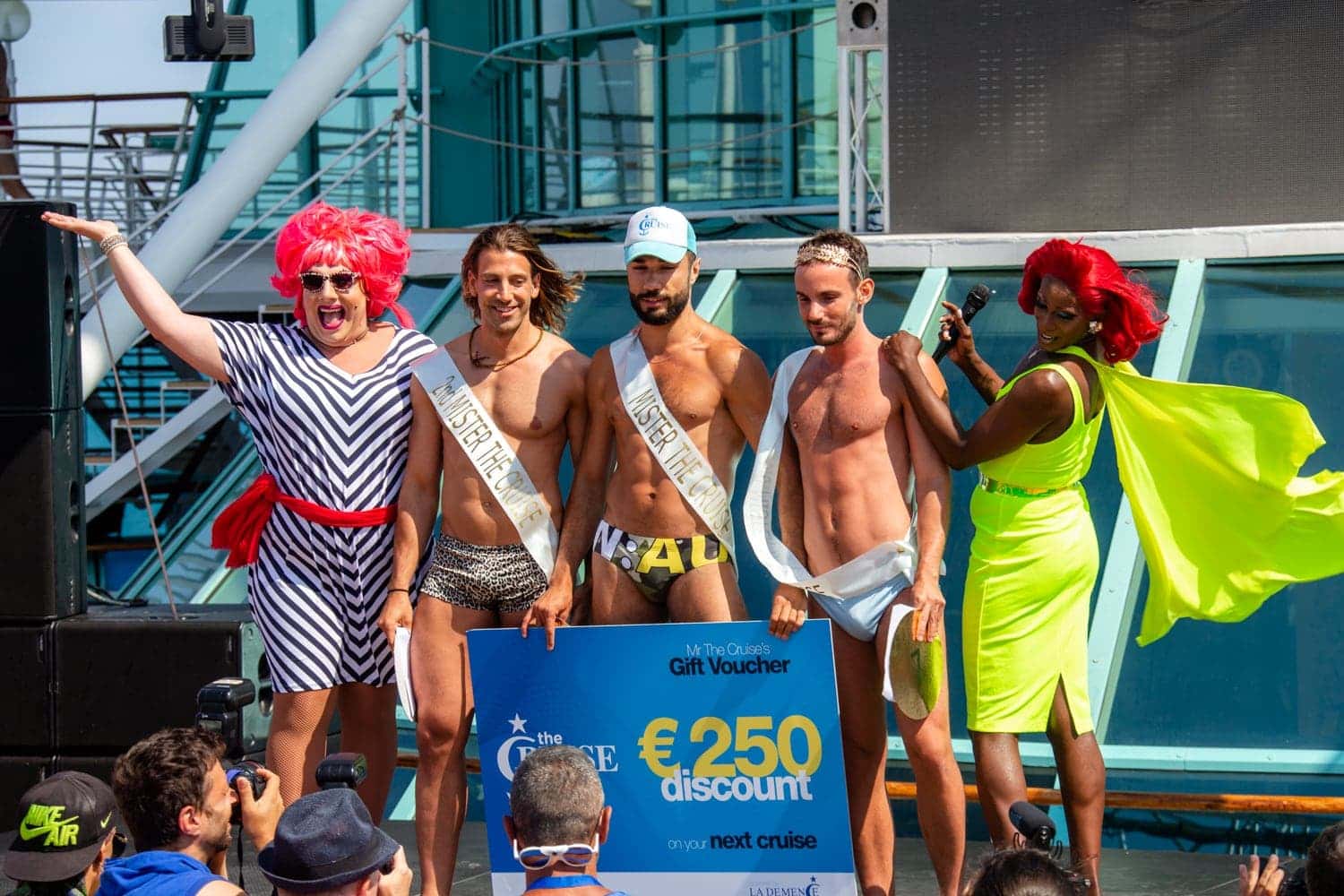 Book your tickets and join us!
What more could you possibly need to know to make you want to come along?
You have the hot gay guys, glamorous pool parties dancing beneath a sun-splitting sky, a series of eccentric group activities that get more random and hilarious as the trip goes on, and best of all, an amazing itinerary that will allow you to visit some of the most incredible parts of southern Europe – with our humble selves to hand 🙂
Places are booking up fast – with several price packages already scooped up: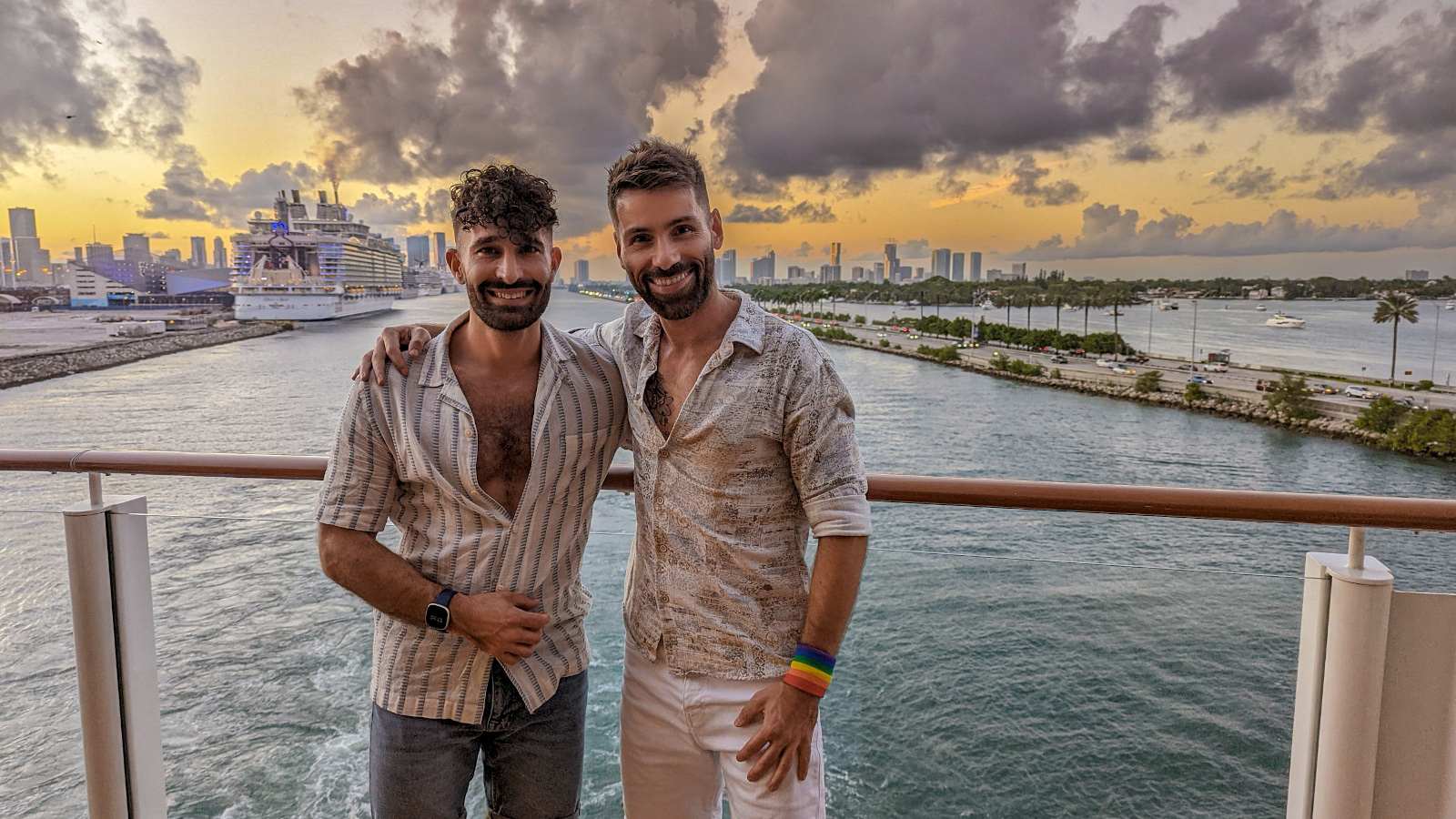 For more inspiration: