TERMS OF USE: There is a chance that some of the content on this page has changed since it was last updated. By reading this article, you consent to our Terms of Use and Disclaimer. Happy Travels!
DISCLOSURE: Some of our posts may contain affiliate links which we may receive a commission if you choose to book something through one of our links.
Whether you're looking to have some fun, make lifelong friends, or find your soulmate, then you need to be one of these gay single cruises!
"The single supplement is HOW MUCH?!"
Whilst we love going on gay cruises together, we also do the occasional solo trip independently of one another – something we recommend everyone does, whether you're in a relationship or single. The bane of solo travellers, however, is having to fork out for the luxury of travelling solo…
You've also encountered it right? The single supplement!
We get it. Cruises have to account for their costs. But what if you want to set sail and not have to factor in this unnecessary cost? In fact, a question we're often asked by many of our fabulous readers is "which are the best gay cruises for singles?"
Well guys, we've got you covered right here!
We've scoured the net and found all the best gay cruises available for solo travellers and put them all in this detailed guide.
Why are gay cruises so expensive for singles?
One word: money. It sounds crass, but there's a good reason behind it.
Most gay cruise liners assume that the majority of their bookings will be for two people. Therefore, most of their room options will charge per person – i.e., $500 per person in double occupancy. Therefore, someone traveling solo will need to pay $1,000 to stay in the room to make up the cost.
Seem unfair? Well, think of it this way. Couples buy twice the number of drinks, excursions, and spa treatments that a singleton would. So, for cruise companies to make up the loss, they need to charge singletons the full price of a room that would normally house two people.
DON'T MISS OUT!
Join our newsletter
Subscribe now to receive in-depth FREE travel guides, along with inspiring stories, savvy planning tips, and exclusive discounts on gay tours.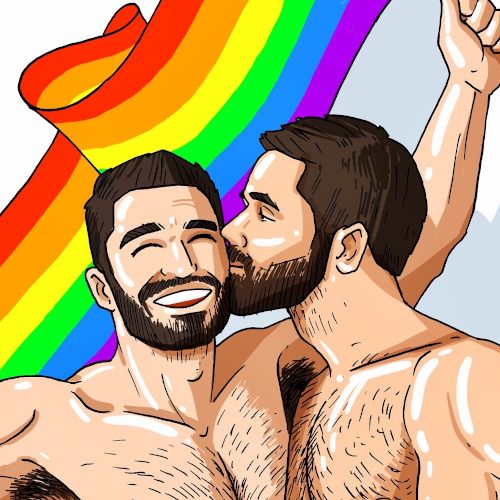 Which cruise line is best for singles?
We personally think that Atlantis Events and The Cruise by La Demence tie for the title of 'best gay cruise line for singles'.
With Atlantis Cruises, the whole experience is designed to help you meet new mates… and for the lucky ones, a new beau. From fancy cocktail hours where you can enjoy witty banter, to romantic dinners designed to get the singles talking, and, of course, the non-stop gay parties, their cruises are always a non-stop social event. They also offer a room share program where they will match you up with another solo traveler to share costs and are assigned based on smoking preferences and room categories. Even if you don't walk away with the man of your dreams, you'll at least leave with a group of lifelong friends.
If you're traveling solo on The Cruise by La Demence, there are also lots of fun social opportunities for singles, along with one of the best room share programs we've ever seen. You'll be sent a survey a few months before the cruise that you can fill out and you'll then be paired with another similar traveler based on your age, party style, smoking preference and languages spoken! You can also find your own buddy to share with via the Facebook group.
Is it weird to go on a gay cruise by yourself?
It's only weird if you make it weird. Most people heading off on a gay cruise, single or coupled up, are going because they want a break. And they aren't concerned with what anyone else is doing.
The hardest part will be convincing yourself to go solo. After that, you'll realize doing it alone can be an amazing experience. Plus, you won't be the only one doing it alone, you'll have the freedom to meet new guys, and you'll be the center of attention for all other singletons – especially on a party cruise like Atlantis where EVERYONE is looking to mingle…
Gay cruise lines with a Room Share program
What is a room share program, we hear you ask? It's like playing Cupid. You give your bunking mate preferences to the cruise company ahead of the trip, such as whether they snore or smoke, and the organizers pair you up with the perfect match! It's a great way for anyone traveling solo to meet new people or a potential partner…
Organizations like Brand G Vacations have a Facebook group so you can get to know your fellow cruisers ahead of the trip, and organize a roommate that way, but they don't actively pair you up. Saltyboys allocate rooms on the first night, after you've met your fellow travelers and decided who you might get along with.
Out Adventures, Olivia Travel and Atlantis Cruises will match you up with your ideal roommate based on your smoking and snoring preferences/tendencies or age. With The Cruise by La Demence, you'll be matched up based on even more personal preferences, including your age, the languages you speak and whether you're a big party animal or a bit more chill!
What are the gay lines offering discounts for solo travelers?
You may have already noticed but traveling on a cruise as a single person is ex-pen-sive. If you can't stand the thought of bunking with a stranger, well we've found one cruise line that offers discounts for those flying solo to take advantage of.
GaySail have a few discount codes, including the option to sleep in the crew cabin rooms if you're traveling alone. These are small quarters, and you won't have much space in there to do anything other than sleep, but for a 30% price reduction, we think it's totally worth it.
Are there any gay cruises for senior singles?
From our research, we couldn't find any cruise that specifically caters to gay seniors.
Though that's not to say an older gay singleton should feel dissuaded from booking a gay cruise. In fact, every cruise we've taken has been more than welcoming of its more mature clientele. BrandG is very popular among seniors, many of whom are single and looking to find love.
In our view, you're never too old to see the world or find love. So go ahead and book that cruise you've been putting off for years.
01
St. Martin Gay Sailing
4 February – 11 February 2023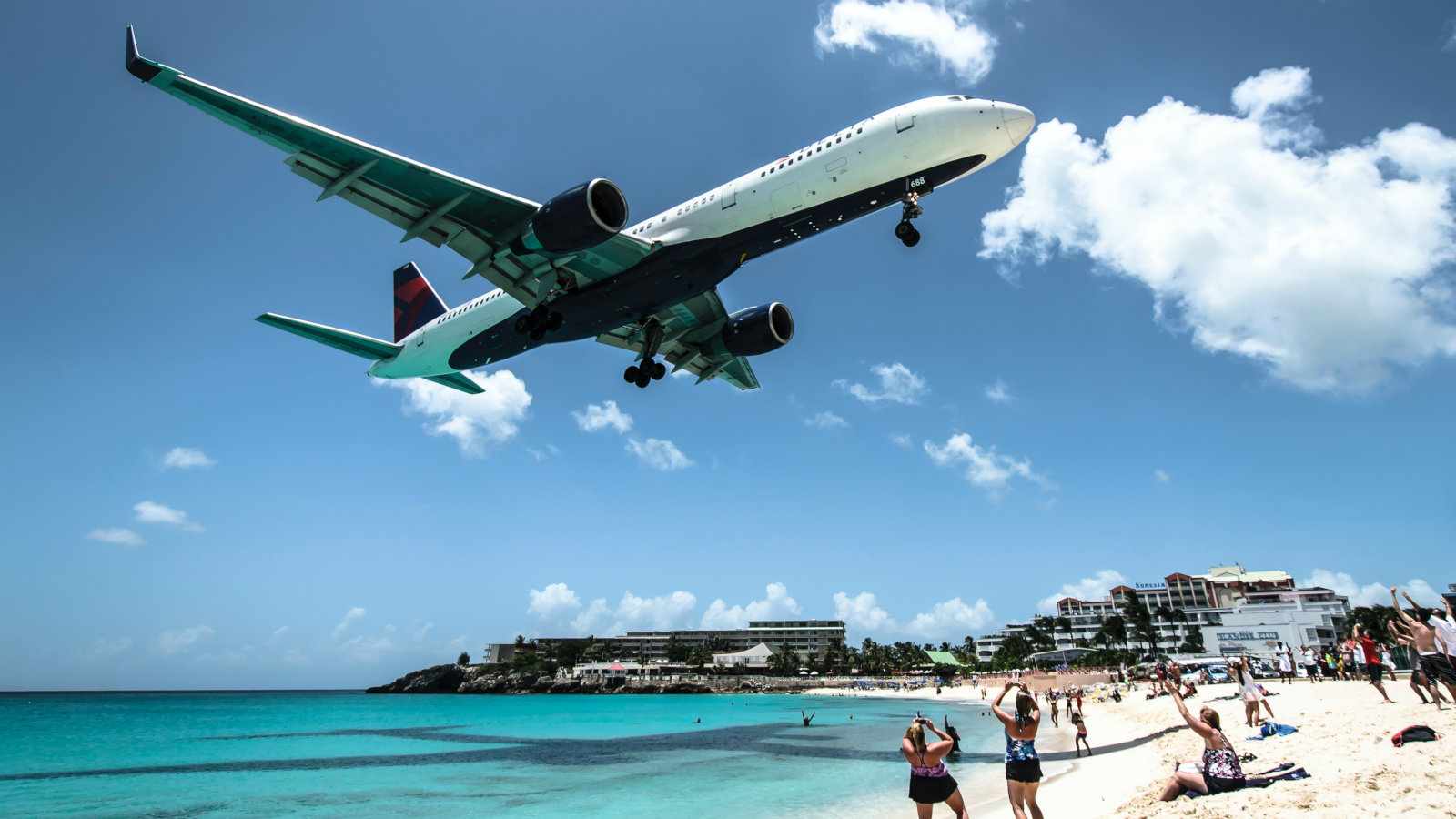 The cruise at a glance
---
When: 4 February – 11 February 2023
Ship: Two luxury catamarans with 10 guests on each
Prices: from €1,695 per person
Leave behind your worries…and your clothes!
The GaySail Exclusive cruise from St. Martin is clothing optional – so you can definitely pack light for this one!
Let yourself feel freer than you've ever felt before, exploring some of the most stunning islands of the Caribbean.
There are so many moments throughout the gay cruise that will stay with you forever. One of these has to be snorkeling by the reefs of the deserted and uninhabited islands of Prickly Pear Cays in Anguilla. Here you can also do some world-class diving and discover a whole new world. Other highlights of this cruise include the stunning sunsets at the Bay of Grand Casse on St Martin and Maho Beach (also on St Martin), which is located next door to the airport, so you can get a pretty epic pic of you with a plane landing right above your head!
This cruise takes place across two comfortable 40 feet-long Lagoon Catamarans, with 20 guys spread out across both boats. You'll have the services of a gay skipper and a gay cook to provide your meals, plus you can add on another week (that's exclusively nude) to make it a two-week cruise.
Gay Sail is offering our readers an exclusive 5% discount valid for any cruise booked on their website. Just use the coupon code NOMADICGS5 at checkout.
Prices for the GaySail St. Martin cruise start from €1,695 per person:
---
02
GaySail Exclusive Gay Cruise in Croatia
10 June – 17 June 2023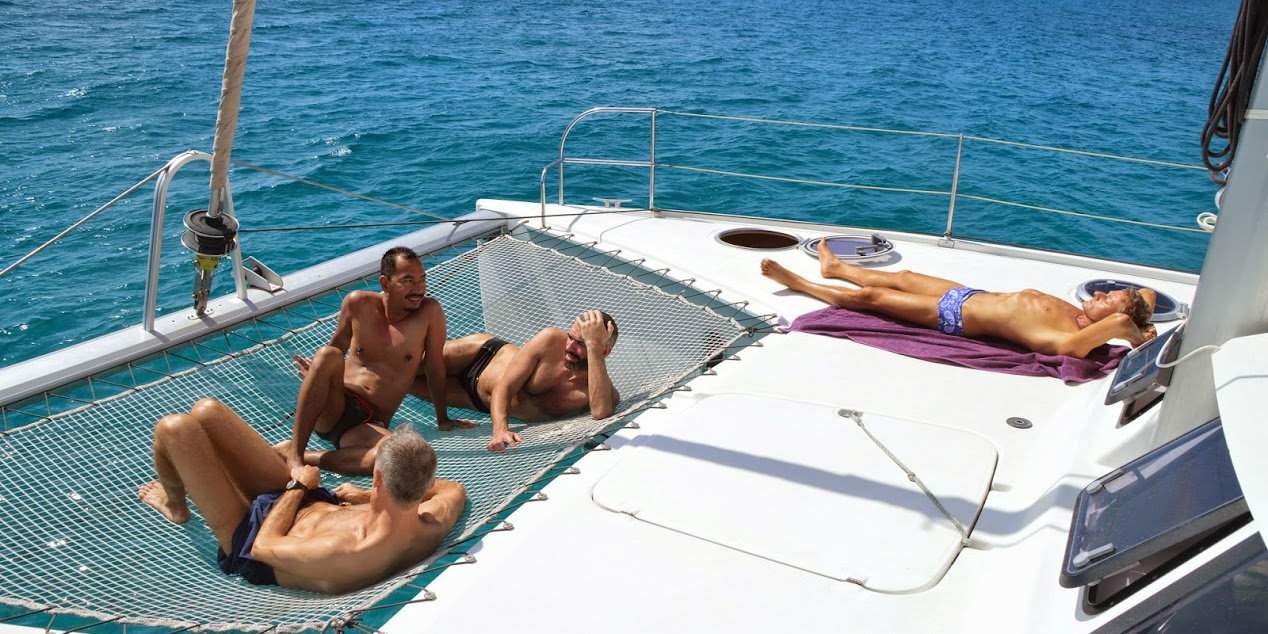 The cruise at a glance
---
When: 10 June – 17 June 2023
Ship: Luxury catamaran with max. 10 guests
Prices: from €1,695 per person
GaySail overs a variety of amazing and exclusively gay sailing trips, especially those to the stunning country of Croatia.
We love that GaySail's cruises always feature gay skippers, cooks and other staff to take you to the most beautiful swimming spots along the Croatian coastline. You'll also make fast friends with the other gay guests as you relax and explore.
This might be a seven-night cruise, but you can also add on extra time to make it a two-week cruise, join different departure dates or even join a nude sailing option if you dare to bare it all. The cruise gives you time to explore the beautiful city of Dubrovnik, before hopping between the islands of Miljet, Lastavo, Vis and Brac, then ending up in the bustling city of Split.
Breakfast and lunch each day are included in the price. There is plenty of shore time included to explore Croatia's cutest villages, perhaps doing a spot of shopping or dining in local restaurants. The knowledgable crew will also take you to the most secluded bays and islets to swim in the warm waters or sunbathe on deck. Bliss!
Gay Sail is offering our readers an exclusive 5% discount valid for any cruise booked on their website. Just use the coupon code NOMADICGS5 at checkout.
Prices for the GaySail Exclusive Cruise in Croatia start from €1,695 per person:
---
03
The Cruise – La Demence European Gay Cruise
9 July – 16 July 2023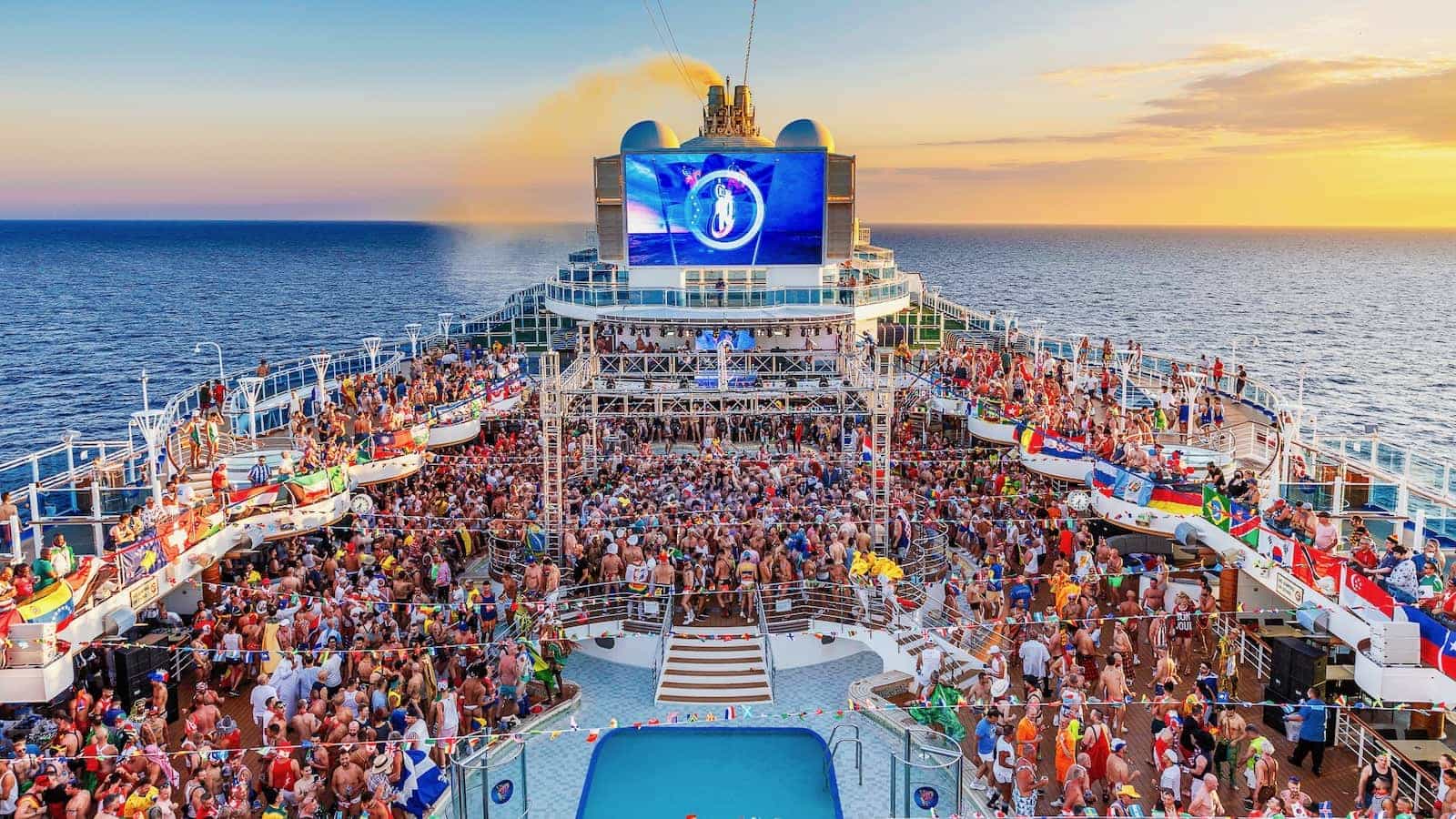 The cruise at a glance
---
When: 9 July – 16 July 2023
Itinerary: Ravenna – Sarandë – Kefalonia – Malta – Catania – Ravenna
Ship: Huge luxurious cruise ship
Prices: from €1,649 per person
La démence is French for madness and darling is this cruise full of madness in the best possible way!
We LOVE the La Demence cruise, which is also just called The Cruise because there's no other gay cruise experience like it. Men from all around the world, from all backgrounds, ages, body types and party styles come together for a week of fun on the high seas.
Taking place every summer in Europe, this year The Cruise will travel from Italy through the Ionian Sea to ports in Albania, Greece and Malta, before heading up the coast of Italy again. Previous cruises have traveled from Rome to Athens and Lisbon to the Canary Islands, so you can expect plenty of fabulous destinations to explore every year.
Of course, since The Cruise is run by the same group that organizes exhilarating monthly gay parties in Brussels, you can also expect a week of fun and parties while you're on board! Taking place on a huge cruise ship with room for more than 3,500 gays, there are daily themed parties which usually take place around the main pool area. We had so much fun at the daily T Dances and the nightly parties, which of course, include plenty of sexy costumes!
As well as parties and opportunities for socializing, there's a theater featuring nightly shows, a nudist sun deck, hot tubs, duty-free shops, lounges, a gym and even a 24-hour darkroom for all sorts of naughty fun! Honestly, make sure you're well rested before embarking on this cruise because Lord knows you don't have much time to sleep…
Best of all, The Cruise is one of the best for solo travelers, as they have a program to match you up with a roommate that goes much further than just checking a box for smoker or non-smoker. A few months before departure you'll be able to fill out a survey including information on your age, partying habits, and even what languages you speak and you'll be matched up with someone similar PLUS sent their details so you can get in contact before the trip. You can also find your own travel buddy through the dedicated Facebook group!
---
04
Prince Charming Croatia gay cruise
22 July – 29 July 2023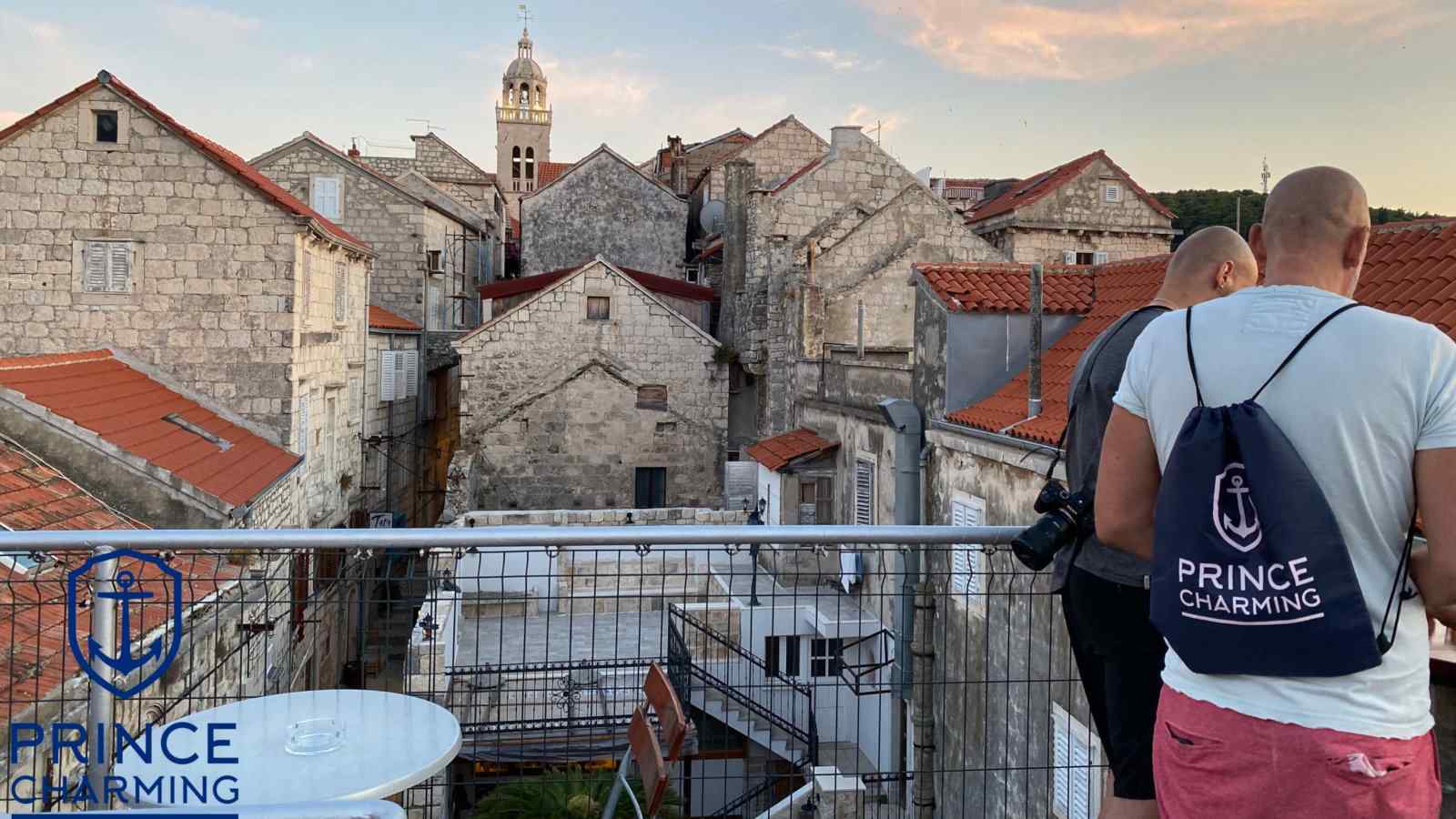 The cruise at a glance
---
When: 22 July – 29 July 2023
Ship: Small luxury cruise ship with max. 38 guests
Itinerary: Dubrovnik – Hvar – Split
Prices: from $1,490 per person
If it's in the name of this gay cruise, then it's highly possible your Prince Charming could be onboard too… welcome to the Prince Charming gay cruise of Croatia's stunning coastline!
Believe us when we say they don't use the term gay cruise loosely either. With nightly drag shows, group swimming in small bays, and a LOT of dancing, this trip is gayer than a Mardi Gras Pride parade.
Beginning in Dubrovnik, you'll spend 8 wonderful days sailing the Croatian coastline and surrounding islands. Personal highlights include a pitstop at Odysseus Island, frolicking around the beaches of Vis, skinny dipping in the surrounding island bays, and gallivanting around the city of Split.
A drop by to the island of Biševo will leave you agape, as you are brought into the Blue Cave, which is often cast under a lush blue-y glow when the sunlight shines in. Perhaps blue really is the warmest colour.
This gay cruise is all about having fun, fun, and more fun! Prince charming even offers Single cabins occupancy for solo travelers, so you don't have to pay for double room.
Prices for the Prince Charming Croatia gay cruise start from $1490 per person:
---
05
Brand G Prague and Danube River Gay Cruise
12 August – 21 August 2023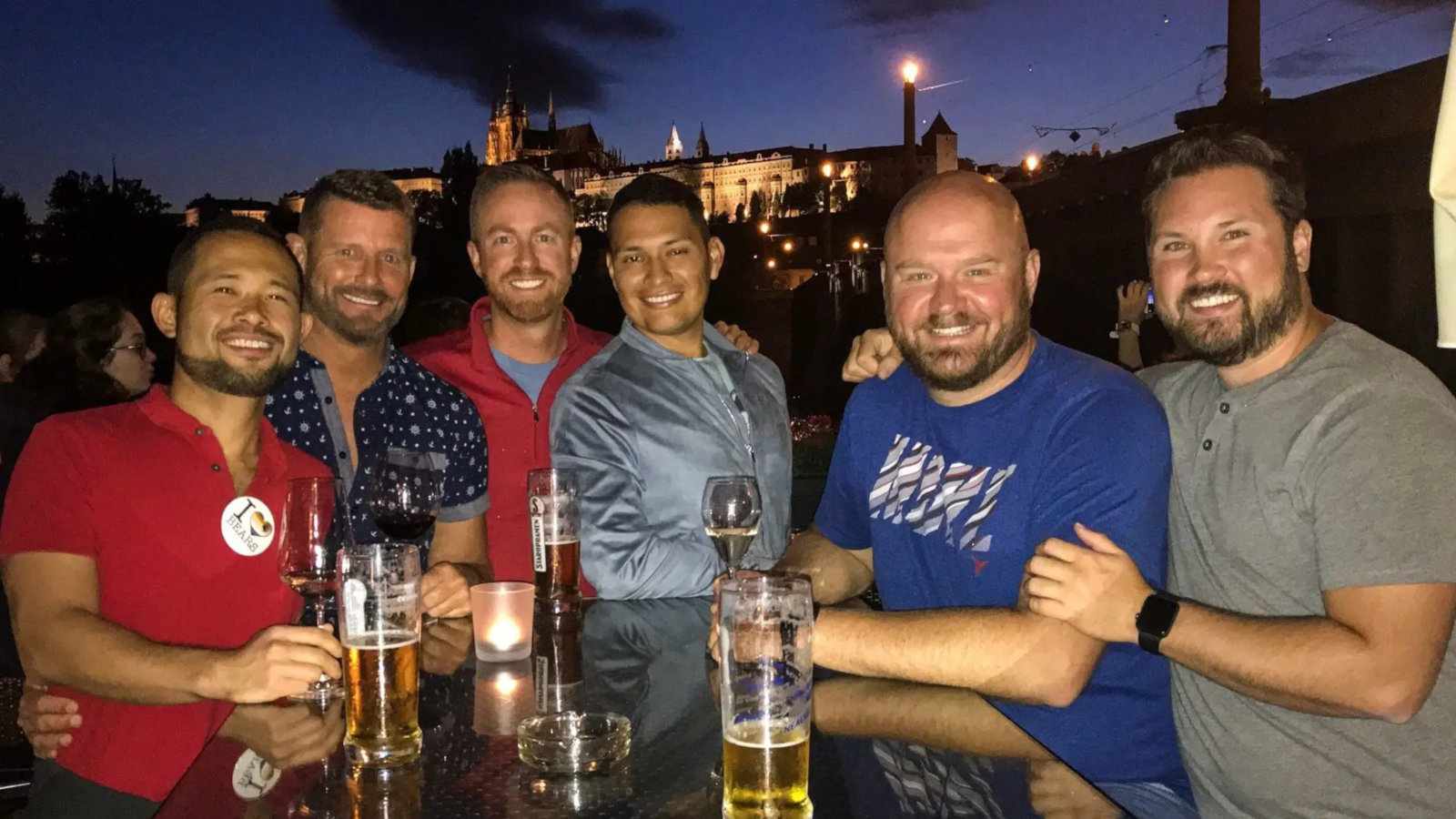 The cruise at a glance
---
When: 12 August – 21 August 2023
Itinerary: Prague – Passau – Linz – Vienna – Bratislava – Budapest
Ship: Luxurious river cruise ship
Prices: from $4,499 per person
Winding down the Danube, the second-longest river in Europe, the Amadeus Silver III plays host to an all-gay cruise with Brand G that takes you around the beating heart of the continent.
Things kick off in Prague, one of Eastern Europe's most gay-friendly cities. There'll be plenty of time to explore everything it has to offer, from walks along the Vltava River to treating yourself in a traditional Czech restaurant.
Throughout the gay cruise, you'll visit the stunning Baroque buildings of Budapest, admire the Gothic-style architecture in Bratislava in Slovakia, and stroll around the charming city gardens of Vienna in Austria. Best of all, the cruise departs from Prague directly after Prague Pride, so you can enjoy the festivities beforehand and then keep the party going on board!
And we do mean keep the party going. There are lots of fun events organized on board this exclusively gay full ship charter, with two featured acts on any Brandg cruise providing entertainment each night, along with themed parties. The best costume for the Sun Deck T Dance will win a $500 discount for a future cruise, plus there's a daily quiz with plenty of fun prizes up for grabs.
Meanwhile, 40 staff members will pull out all the stops to make you feel pampered during your journey. Did we mention guests have full rein of the bar? Yep, that's right, there are complimentary beer, wine, and soft drinks throughout the entire gay cruise.
---
06
GaySail Special Gay Cruise Greece
19 August – 26 August 2023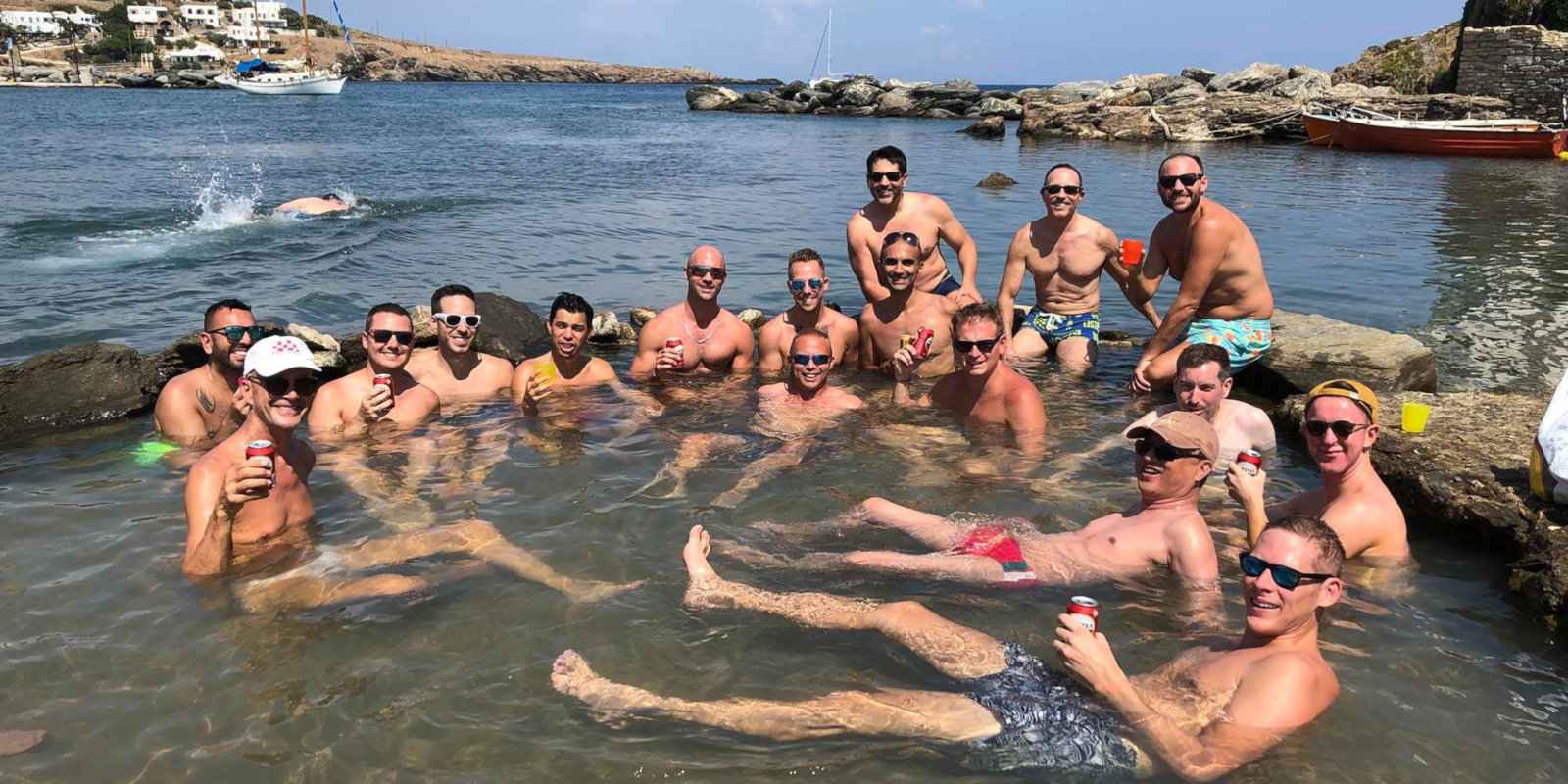 The cruise at a glance
---
When: 19 August – 26 August 2023
Ship: 2 luxury sailing yachts with max. 22 guests
Prices: from €1,495 per person
If Greek island-hopping with 22 other gay guys sounds like a fun time, you'll want to get onto one of GaySail's Greece cruises.
This particular cruise departs from Athens including stops on Poros, Hydra and Spetses, although there are other dates available, some with different itineraries. You can also choose to do a gay nude sail Greek cruise if you prefer to relax in the buff!
During this cruise, you'll explore the Saronic Gulf of Greece, which is packed full of historically significant ancient ruins, secluded islands, vibrant nightlife, a warm culture and terrific cuisine. You'll be cruising on one of two luxury sailing yachts, each yacht houses 11 guests but you will also have opportunities to socialise with the passengers on the other yacht when the yachts drop anchor.
You'll also benefit from the services of a gay skipper as well as a gay cook to provide your breakfasts and lunch, but dinner will usually give you the opportunity to try local onshore restaurants. There will be plenty of chances to check out the gay nightlife (particularly in Athens) as well as partying with your new friends. During the day you can relax in the sun on the yacht or go swimming in secluded coves.
The gay cruise begins in one of our favourite cities, Athens, which offers a mix of incredible cultural history (think Parthenon, Acropolis…) and a fun gay scene around the Gazi area. From Athens, the cruise stops at several islands including Poros and our favourite, Hydra. Whilst most tourists will rave about Santorini and Mykonos (and for good reason!), Hydra is a less-visited island and totally underrated by tourists. It's extremely beautiful, with ancient merchant houses and cute tight narrow cobblestone streets. Everything here is transported by mules and donkeys because cars are banned!
Gay Sail is offering our readers an exclusive 5% discount valid for any cruise booked on their website. Just use the coupon code NOMADICGS5 at checkout.
Prices for the GaySail Special gay Cruise Greece start from €1,495 per person:
---
07
Out Adventures France Gay River Cruise
22 August – 29 August 2023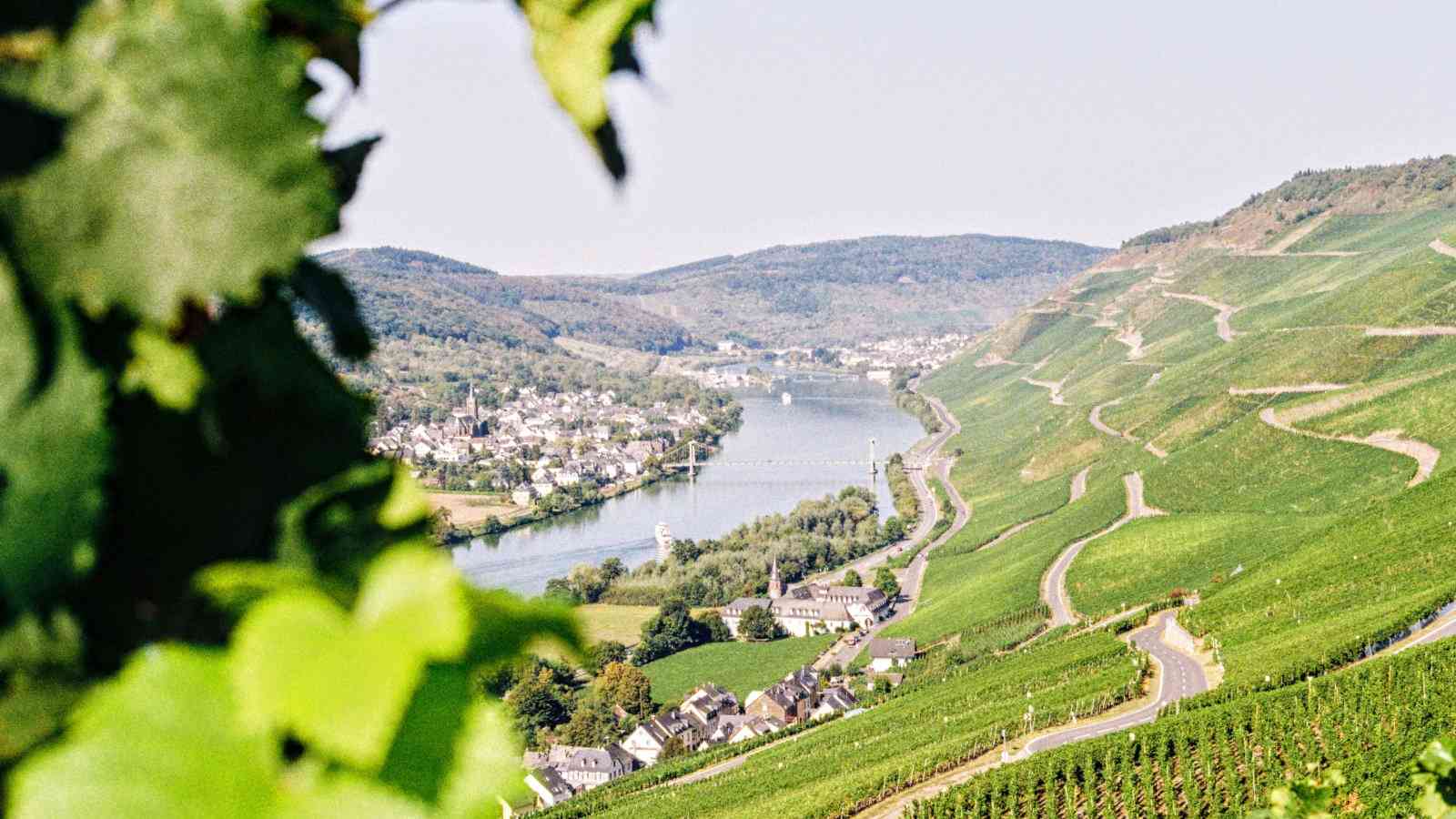 The cruise at a glance
---
When: 22 August – 29 August 2023 (also have departures in 2024!)
Itinerary: Paris – Meaux – Château-Thierry – Dormans – Reims – Épernay
Ship: Luxurious river cruise ship
Prices: from $5,195 per person
What could be better than cruising down the Marne-Rhine canal in France and stopping off for wine tasting at beautiful vineyards?
Of course, this gay river cruise starts off in Paris, the most romantic city in the world, before cruising through the famous champagne region with stops for brie, history and even a falconry show!
With two nights spent in Paris, you'll have time to see some of the sights on an exclusive gay tour, before setting sail on a leisurely exploration of some of the most charming towns in north-eastern France. Since this cruise focuses on the champagne region you can bet you'll get to visit some picturesque vineyards and sample a tipple or two.
And what pairs best with wine? Cheese, of course! This cruise is definitely for the foodies (and wine snobs) as it also stops off at the town of Meaux to sample local brie and tour the gorgeous city. Other highlights include a falconry show in beautiful Château-Thierry, which is another lovely destination for some shopping, as well as a day tour of historic Riems and it's spectacular Gothic cathedral.
The best part about this gay cruise is it's quite small, the MS Déborah barge only accommodates a maximum of 22 passengers, so you'll be making new gay friends in quite an intimate setting. The Jacuzzi and loungers on the sun deck are the best places to watch the riverbanks slide by, while the rooms are small but still cozy and comfortable.
---
08
Daddy Cruise Gay Singles Cruise Baja
3 October – 8 October 2023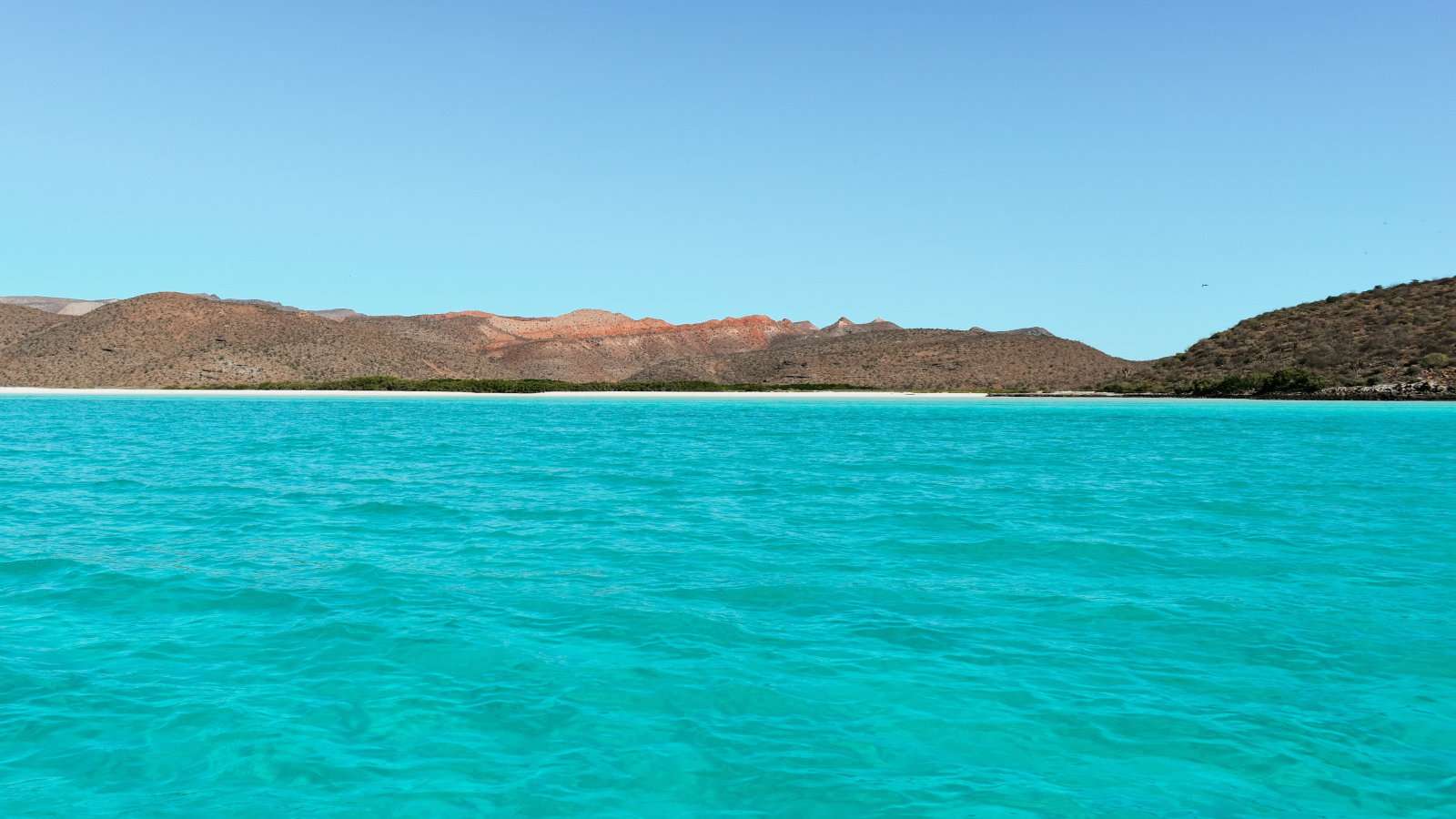 The cruise at a glance
---
When: 3 October – 8 October 2023
Itinerary: LA – Cabo San Lucas – Ensenada – LA
Ship: Huge luxurious cruise ship
Prices: from $748 per person
Let's face it, most cruises are a bit like Noah's Ark. They assume all guests are going to be coupled up and only offer rooms to accommodate pairs.
This cruise is the complete opposite and is all about championing the single gay guy. So, if you've come to find love, make friends, or to just have a bit of fun, then you will fit right onboard.
After all, what could be more fun than sailing from LA to Mexico on a gay cruise?
Departing from the city of Angels, this cruise sails down the west coast of America to the Baja Peninsula of Mexico, where the waters are crystal-clear and perfect for snorkeling, or you can just relax on the pristine white-sand beaches. You'll also have time to explore the Mexican city of Ensenada which is ideal for shopping for or Mexican pottery, silver jewelry, woven blankets and hats, as well as duty-free alcohol and perfume.
In between excursions, this cruise offers plenty to enjoy while onboard the Carnival Miracle, including water slides, top entertainment and Serenity, the adults-only pool deck! There are multiple excellent places to dine onboard, whether you fancy burgers, sushi, steak, pizza or something else. And then there's the spa for when you really need to relax.
Since this is a gay singles cruise, there are many fun events organized for your gay group to mingle and socialize. You can connect with your fellow travelers before you even depart in the Facebook group and then get to know each other over private dining, games, excursions and parties.
---
09
Olivia Greek Isles Lesbian Luxury Cruise
19 October – 26 October 2023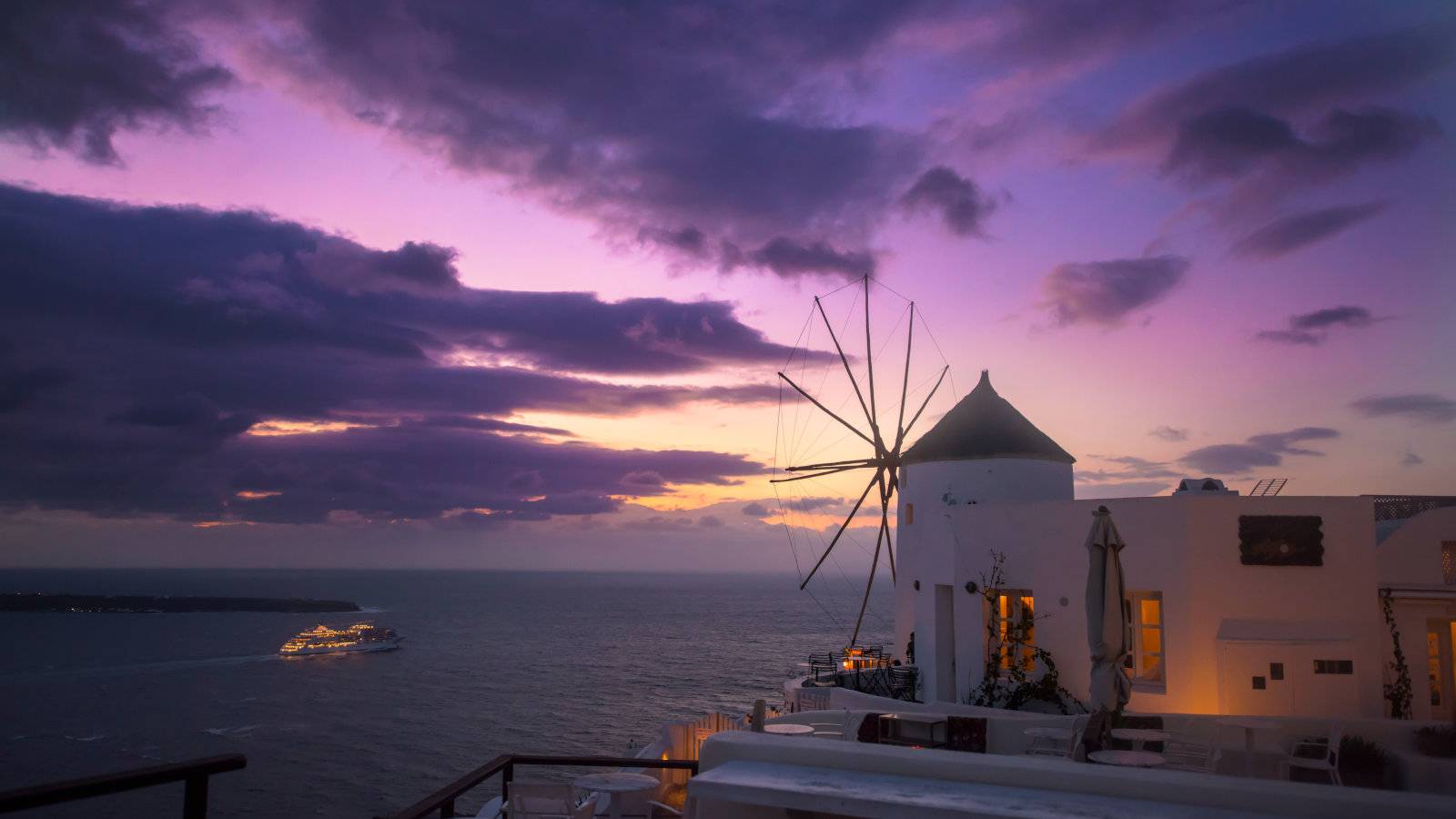 The cruise at a glance
---
When: 19 October – 26 October 2023
Itinerary: Athens – Santorini – Crete – Rhodes – Ephesus – Mykonos – Athens
Ship: Medium-sized luxury cruise ship
Prices: from $2,599 per person
Don't worry ladies, we haven't forgotten about you! Olivia Travel is the choice for lesbian or LGBTQ women travelers and they are offering up a sweet cruise through the Greek Isles this year.
The best thing about Olivia Cruises is that they always charter the entire ship, so you'll have the entire ship to enjoy with all your new friends, rather than just traveling as a small gay group as part of a larger charter.
There are also plenty of special events for singles on an Olivia Cruise, plus they offer a room share program so that solo travelers can be paired up with another traveler to split the costs. They try to match you with someone of similar age and alcohol preferences but only guarantee that you will be matched with someone with the same smoking preference. Still, it's a great way to meet new people and save money!
This particular cruise is basically a dream trip through the Greek Isles, with a stop off at Ephesus in Turkey as well. Highlights include the chance to explore the gorgeous town of Oia in Santorini, enjoy waterfront tavernas in Crete and wander through historic Rhodes. Then there's the chance to see the famous 16th-century windmills in Mykonos, which also boasts some excellent gay nightlife.
For your days at sea, there's much to enjoy on board the ship, Azamara Pursuit, including 7 restaurants, cafés and lounges, a refreshing pool, sun-drenched decks, and a revitalizing spa for some pampering in between island hikes.
---
10
Saltyboys Clothing Optional Gay Sailing in Mexico
21 October – 28 October 2023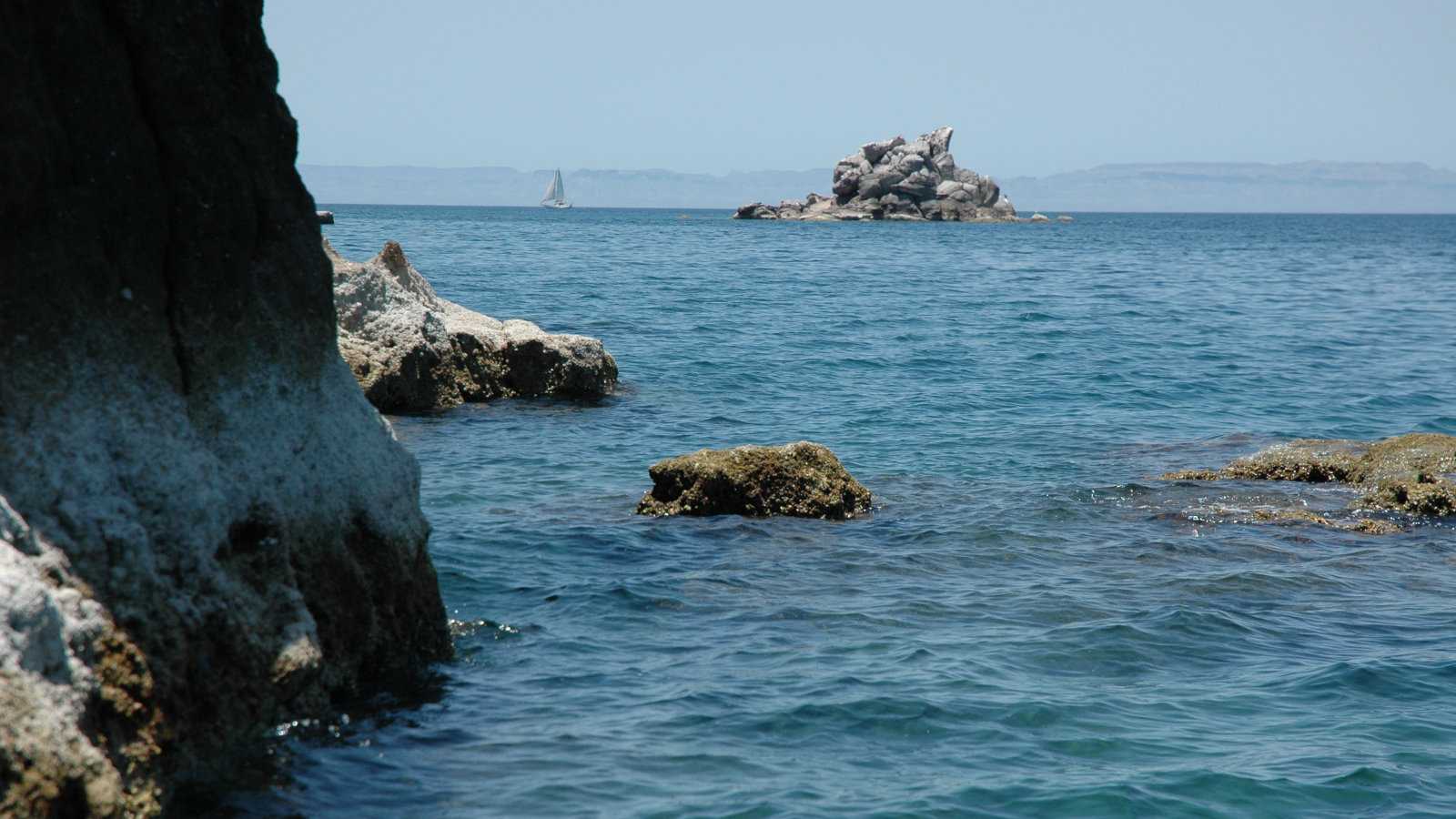 The cruise at a glance
---
When: 21 October – 28 October 2023
Itinerary: Baja La Paz – Isla Espirito – Isla San Jose – Isla Ceralvo
Ship: 2 luxury sailing catamarans with max. 8 guests on each
Prices: from €1,549 per person
The Saltyboys clothing-optional gay cruises are a great way to make new friends, even if you're traveling solo, as rooms aren't assigned until the first evening.
Since most of the people who join a Saltyboys cruise are single, everyone is in the same boat (literally and figuratively) when it comes to meeting new people. On the first evening, you can get to know all the guests and decide who you vibe with. This also means you might be able to bunk with that cutie you've been eyeing!
This particular Saltyboys sailing is also clothing optional, so you can let it all hang loose or not, however, you feel most comfortable. And when you're enjoying some of the most beautiful and secluded beaches north of La Paz, it's very freeing to be able to get that all-over tan. There are also lots of lovely spots on board the catamarans for you to laze about with a book or get to know your traveling buddies.
Along with making friends in a relaxed and intimate atmosphere, this cruise is perfect for those who love swimming, snorkeling and getting close to nature. Some of the spots where you'll cast anchor include deserted islands like Isla del Espiritu Santo and Isla San José, although what they lack in people they more than make up for in wildlife! During this trip, you might be lucky enough to swim with turtles, dolphins or seals as well as plenty of colorful fish.
As well as wildlife, there will be stops to explore cute Mexican villages but most of the time you'll be enjoying the solitude, alongside your new friends, of course.
---
11
Out Adventures Nile River Cruise & Cairo
24 November – 3 December 2023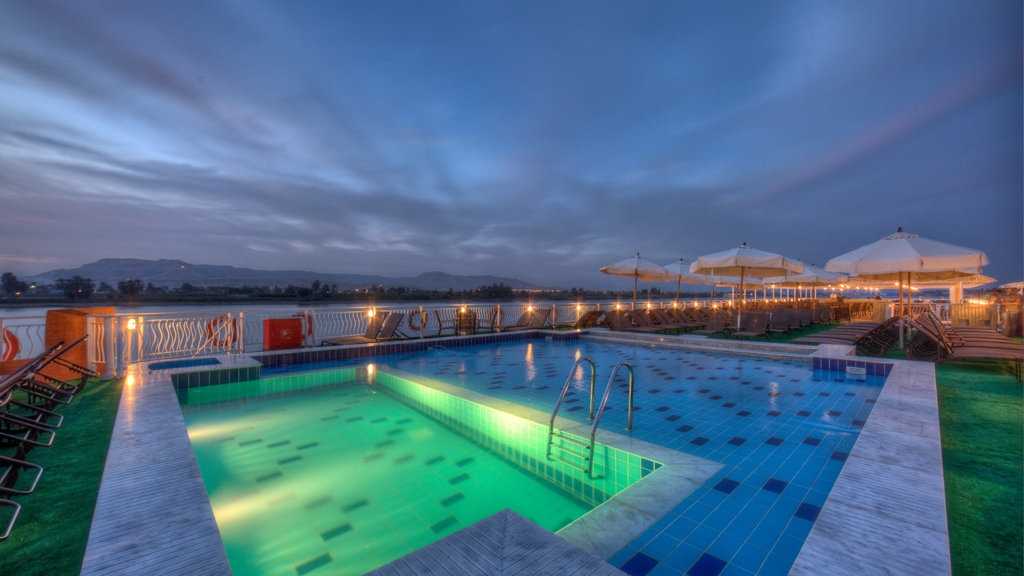 The cruise at a glance
---
When: 24 November – 3 December 2023 (also have departures in 2024!)
Itinerary: Cairo – Luxor – Valley of the Kings – Edfu – Aswan – Cairo
Ship: Luxurious river cruise ship
Prices: from $5,495 per person
This gay cultural cruise in Egypt sees you being treated like one of their ancient gods!
The tour starts in Cairo, with three nights in one of the city's finest hotels. This is the chance to visit the notorious pyramids at Giza and admire the incredible Sphinx. After Cairo, the group flies over to Luxor to board the luxurious river cruise ship the Mövenpick MS Hamees.
For fans of all things Egyptian, this cruise will see you exploring the ancient temples of Upper Egypt, the seated figures at Abu Simbel and items from King Tutankhamun's tomb in the Egyptian Museum. As you cruise along the incredible Nile River you'll also have stops at temples dedicated to the falcon god Horus, the crocodile god Sobek and the hawk god Haroeris. There will also be time to explore the Royal Tombs in the Valley of the Kings.
In between seeing the most fascinating places in Egypt, you'll also have plenty of downtime to just enjoy watching the world go by while on deck. The swimming pool is, of course, our favorite place to hang out in between shore excursions, when we weren't sunning ourselves on the sun deck! The interiors of the ship are also lovely, with all bedrooms featuring big rooms to watch the riverbanks slip by, an expansive restaurant and a nice lounge/bar for a cheeky cocktail.
Your gay group will be joining others on this cruise, but everything will be organized for your small group to mingle and have fun together, including the services of your own private Egyptologist while in Cairo. Out Adventures also offers the option to extend your trip with an optional add-on to explore Petra and Amman in Jordan after cruising through Egypt!
---
12
VACAYA South America Cruise
29 March – 6 April 2024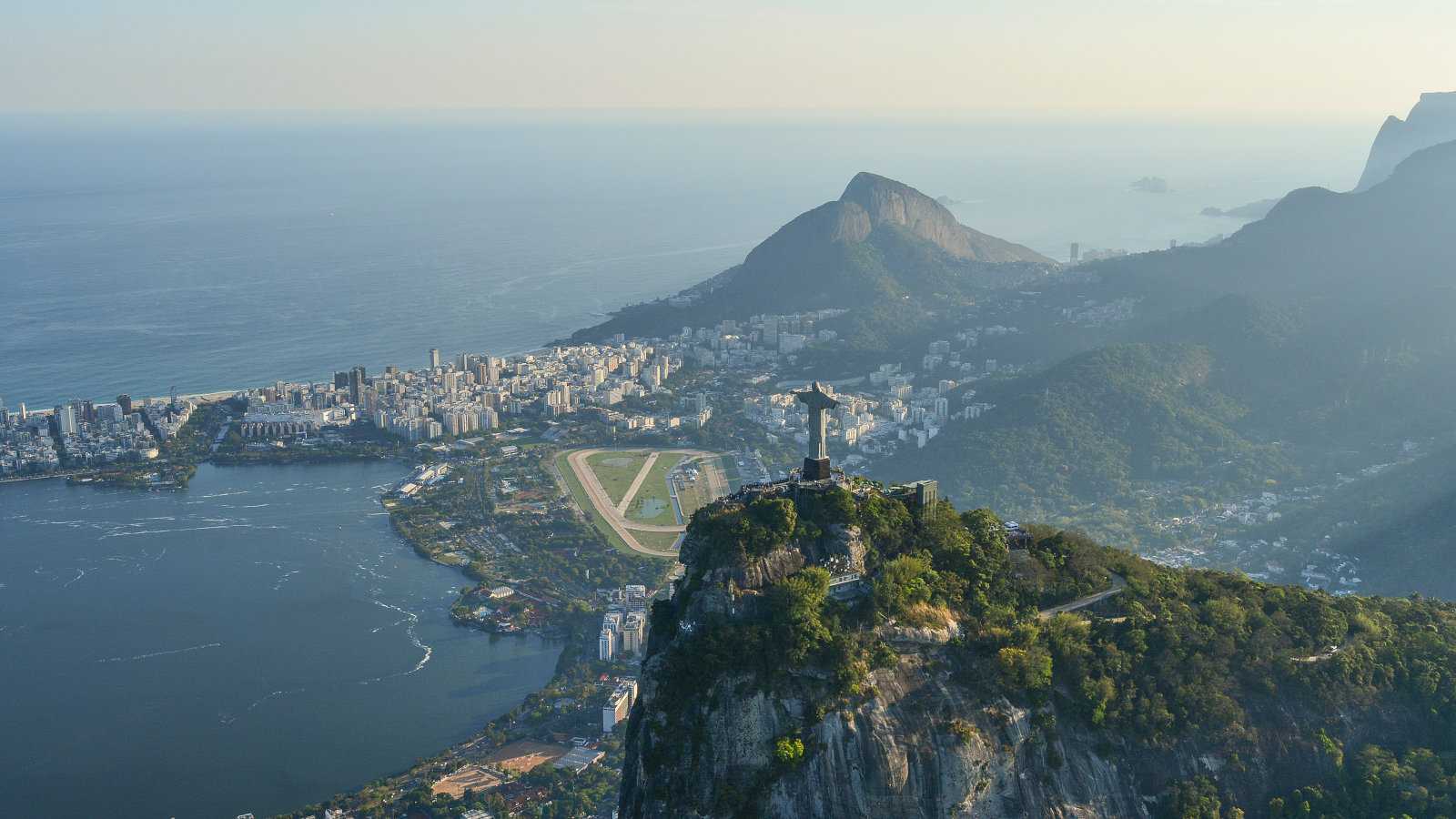 The cruise at a glance
---
When: 29 March – 6 April 2024
Itinerary: Buenos Aires – Punta del Este – Paraty – Rio de Janeiro
Ship: Luxurious super-yacht
Prices: from $3,997 per person
"When my baby… when my baby smiles at me I go to Rio de Janeiro." So sang Peter Allen and you can also go to Rio on this fabulous gay cruise!
Setting sail from Buenos Aires on the beautiful 5-star super yacht World Navigator, this cruise will see you hopping between ports in Argentina, Uruguay and Brazil, before ending up in the vibrant city of Rio.
VACAYA has a special Facebook group for solo travelers to connect and find compatible roommates, so you don't need to worry about paying the single supplement even if you're joining this cruise solo (at least to start with). By the end of the trip you're sure to have made some new lifelong friends, as plenty of travelers report that the VACAYA community is one of the most welcoming!
The super yacht that you'll be traveling on is also perfect for making friends, as it's smaller than the massive cruise ships (so you can visit more interesting destinations) but still filled with excellent options for drinking, dining and entertainment. You'll also be able to relax luxuriously in between port calls, with L'OCCITANE bath amenities in the marble spa bathrooms and sumptuous Egyptian cotton bed linens for a wonderful night's sleep.
And, of course, when you're not on board the ship you'll be exploring exciting destinations like Punta del Este in Uruguay and the Brazilian beach cities of Itajaí, Ilhabela, and Paraty. Explore idyllic beaches and historic architecture as well as the tiny fishing village of Búzios in Brazil which is often ranked as one of the ten most beautiful spots in the world!
---
DON'T MISS OUT!
Join our newsletter
Subscribe now to receive in-depth FREE travel guides, along with inspiring stories, savvy planning tips, and exclusive discounts on gay tours.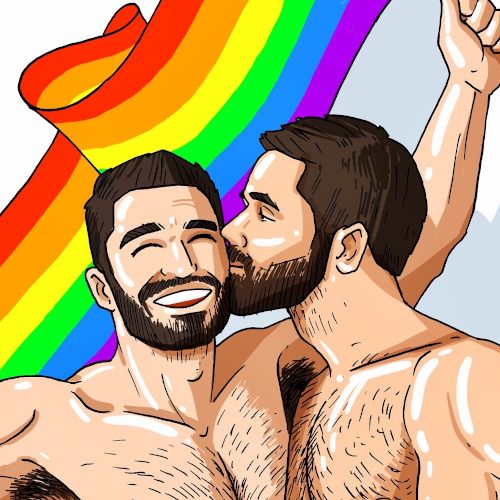 ---
Like this post? Pin it