Fancy visiting the Galapagos islands aboard an exclusive luxury yacht with an awesome group of gay guys? You're in the right place!
Our first gay cruise in the Galapagos took place in October 2016 and was a resounding success. Each year, the awesome gay owned and managed Ishpingo Tour in Ecuador arranges an 8 days luxury adventure in the Galapagos archipelago where you will be able to swim with sea lions, snorkel with sea turtles, meet the giant tortoises and marvel at the most unique landscapes in the world. If you decide you want to come, here is a good packing list for a cruise, which we advise checking out when planning your trip.
Don't miss this unforgettable experience by joining us on an all-inclusive luxury gay cruise in the Galapagos islands on: 12-21 October 2017.
Galapagos gay cruise overview
1. Day by day summary
Day 1 : Arrive in Quito
Day 2 : Quito city tour | the Equator line
Day 3: Arrive in Galapagos: Baltra | Santa Cruz Island | Black Turtle Cove
Day 4: Galapagos: Genovesa Island | Darwin Bay | Prince Philips Steps
Day 5 : Galapagos: Bartolomé Island | Pinnacle Rock
Day 6 : Galapagos: Rábida Island
Day 7 : Galapagos: Santa Cruz Island | Darwin Research Centre
Day 8 : Galapagos: South Plaza and Santa Fe Islands
Day 9 : Galapagos: Española Island
Day 10 : Galapagos: Santa Cruz Island | Twin Craters | Disembark
2. Highlights
Experience the unique wildlife of the Galapagos on a luxury Yacht, the Passion
Snorkel with sea lions, turtles, rays and colourful fish
Meet the blue footed booby, one of the most charming bird species in the Galapagos
Hike the 300+ steps of Bartolomé island and take in the panoramic view of Pinnacle Rock and Santiago Island
3. Wildlife of the Galapagos
The Galapagos is an archipelago of volcanic islands in the Pacific Ocean, around 1,000km (600 miles) from Ecuador's coast. The variety of unique wildlife here not only inspired Darwin back in 1835, it completely captivated our group when we visited in October 2016.
This is one of the few places in the world where you can get so close to the wildlife because they are blazé to humans. You'll be so spoilt, no other safari ever be the same again.
It's not just above ground you get close with wildlife. There are many opportunities to go snorkelling and discover the rich underwater world surrounding the Galapagos Islands where reef sharks, manta rays, tropical fish and of course the many playful sea lions await you.
To read more, check out our article about the Galapagos Wildlife for Mr Hudson Explores.
Full itinerary of our Galapagos gay cruise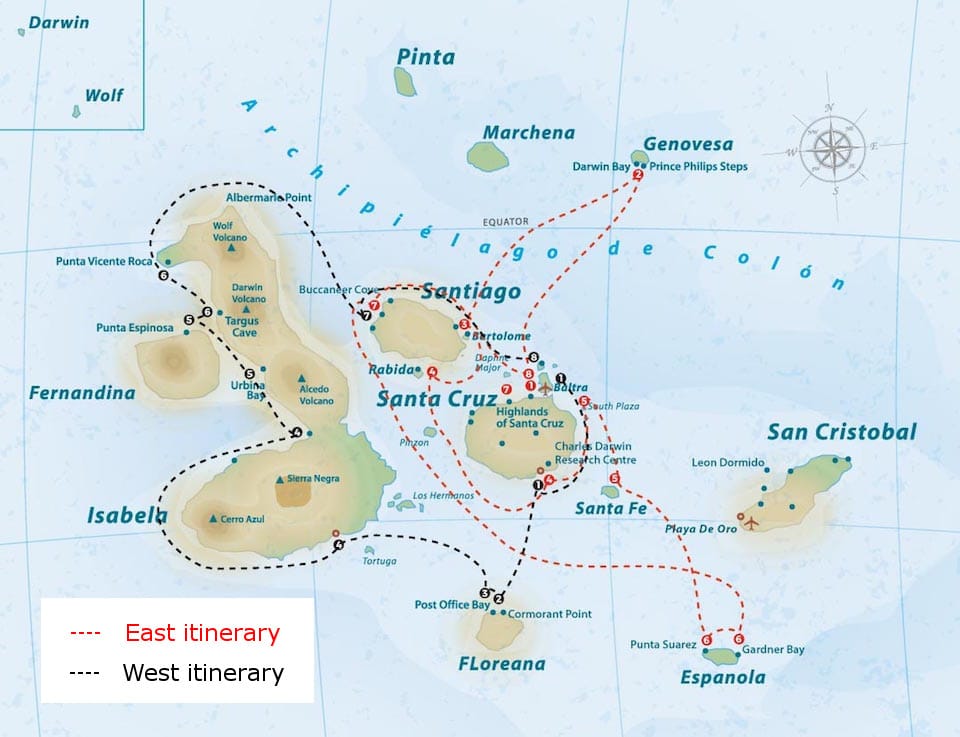 The Yacht
The Passion is a 48.5 metres (159 feet) long luxury yacht with 4 decks, originally a private family vessel, which was recently refurbished and adapted to cruise in the Galapagos islands. It is simply everything you dreamed of, with an exceptional amount of space for only 12 passengers. All six cabins on board are fully air-conditioned and incredibly spacious. There's no wonder why CNN rated it as one of the top 6 best exclusive charter yachts in the world.
First class service
Crew-to-guest ratio is 1:1
Cabins with private bathrooms and air-conditioning
Panoramic Sky Lounge
Secluded sun deck with Jacuzzi
Stabilisers to minimise motion at sea
Included in the cruise
8 days / 7 nights all-inclusive cruise exploring the Galapagos Eastern Islands
All meals on board the Passion yacht
All alcohol and soft drinks included
All activities and excursions described in the itinerary
Bilingual naturalist guide
Snorkelling equipment
2 nights in a luxurious 5 star boutique hotel in Quito
Quito city tour and Middle of the World tour visiting the Equator line including lunch
Roundtrip domestic airfare to/from the Galapagos
All transfers in Quito and in the Galapagos
Galapagos Park fees and Transit Card
VIP lounge at Baltra airport
Why choose this Galapagos gay cruise
#1 Exclusivity
The Passion yacht is very exclusive. It is the largest charter yacht in the Galapagos, yet designed for only 12 guests. With a passenger crew ratio of 1:1, you're ensured a first class and highly personalised service.
Having a smaller group compared to other charters also means that excursions and activities are more involved, allowing closer interaction with your guide and the wildlife. Everyone is guaranteed to have an amazing time.
#2 Gay friendly staff
The staff on board the Passion are all male and extremely gay friendly. They made us feel completely at home and at no stage did we ever feel out of place or uncomfortable.
Within the first few days the crew will know your name, how you like your eggs cooked, how you take your coffee and your choice of drink.
#3 High level of service
Exploring the Galapagos is an experience which will stay with you for the rest of your life. But what makes is even more special is the high level of service on board.
Pampering starts from the moment you step on board. After every excursion, you are welcomed back on board with a fresh hand towel, refreshing drink and snacks. Each time we entered and left our rooms, even for a second, the staff would somehow magically go in after you and make it spotless without you realising.
They truly will do everything possible to ensure you have a memorable and unforgettable experience with your partner. In our case, they arranged our own al fresco romantic dinner underneath the star light.
#4 Gourmet food and fabulous cocktails
Without doubt the gourmet food is worth the cruise in itself. Every meal was thoughtfully prepared and expertly served. The chef will cater his menu to the tastes and needs of the group, serving a mix of international and local Ecuadorian food.
The bar is stocked up with every alcoholic beverage you can imagine. Fancy a Margarita? Pisco Sour? Old Fashioned? They've got you covered!
#5 Help protect the Galapagos islands
The Passion yacht is not only one of the most exclusive highly rated charter yachts in the world, the owners, Angermeyer Cruises have teamed up with WildAid to create the Galapagos Conservation Fund. The aim of this fund is to try to stop what has become the greatest threat to the Galapagos islands: illegal fishing and invasive species.
As part of this arrangement, they guarantee that $100 from each booking is donated to this fund. Therefore, by booking our cruise, you will not only be enjoying a once in a lifetime experience, you'll also be helping to preserve this incredible but delicate environment.