TERMS OF USE: There is a chance that some of the content on this page has changed since it was last updated. By reading this article, you consent to our Terms of Use and Disclaimer. Happy Travels!
DISCLOSURE: Some of our posts may contain affiliate links which we may receive a commission if you choose to book something through one of our links.
This is our round-up of the best gay cruises in the Galapagos so you can explore these MAGNIFICENT islands with other gay travelers.
Sea lions, iguanas, and tortoises – oh my!
There is nothing more rewarding in life than snorkeling in the waters of the Galapagos Islands, watching Seby play with the sea lion pups whilst a turtle floats alongside you followed by a manta ray! To say the Galapagos Islands are magical is an understatement. It was one of the most incredible places we've ever visited together.
For most travelers, visiting the Galapagos Islands is a top Bucket List item, especially if you love island hopping and spotting wildlife. These phenomenal volcanic islands in the Pacific Ocean will blow your mind!
The ideal way to explore the Galapagos Islands is aboard one of the many excellent gay cruises on offer. Not only is exploring these unique islands with a like-minded fabulous bunch of gays heaps of fun, but it also allows you to visit the more remote islands allowing you to see more wildlife thriving in its natural habitat.
We've led our own branded Nomadic Boys cruise to the Galapagos with Ishpingo Tours – a local gay-owned/operated tour company based in Quito, Ecuador. In addition, there are several other gay cruises to the Galapagos to choose from, whether it's a large group leaving on a fixed date, or aboard a private gay charter. In this article, we've rounded up the best gay trips to the Galapagos Islands happening over the next year.
01
Out Adventures Galapagos Gay Cruise
November 2023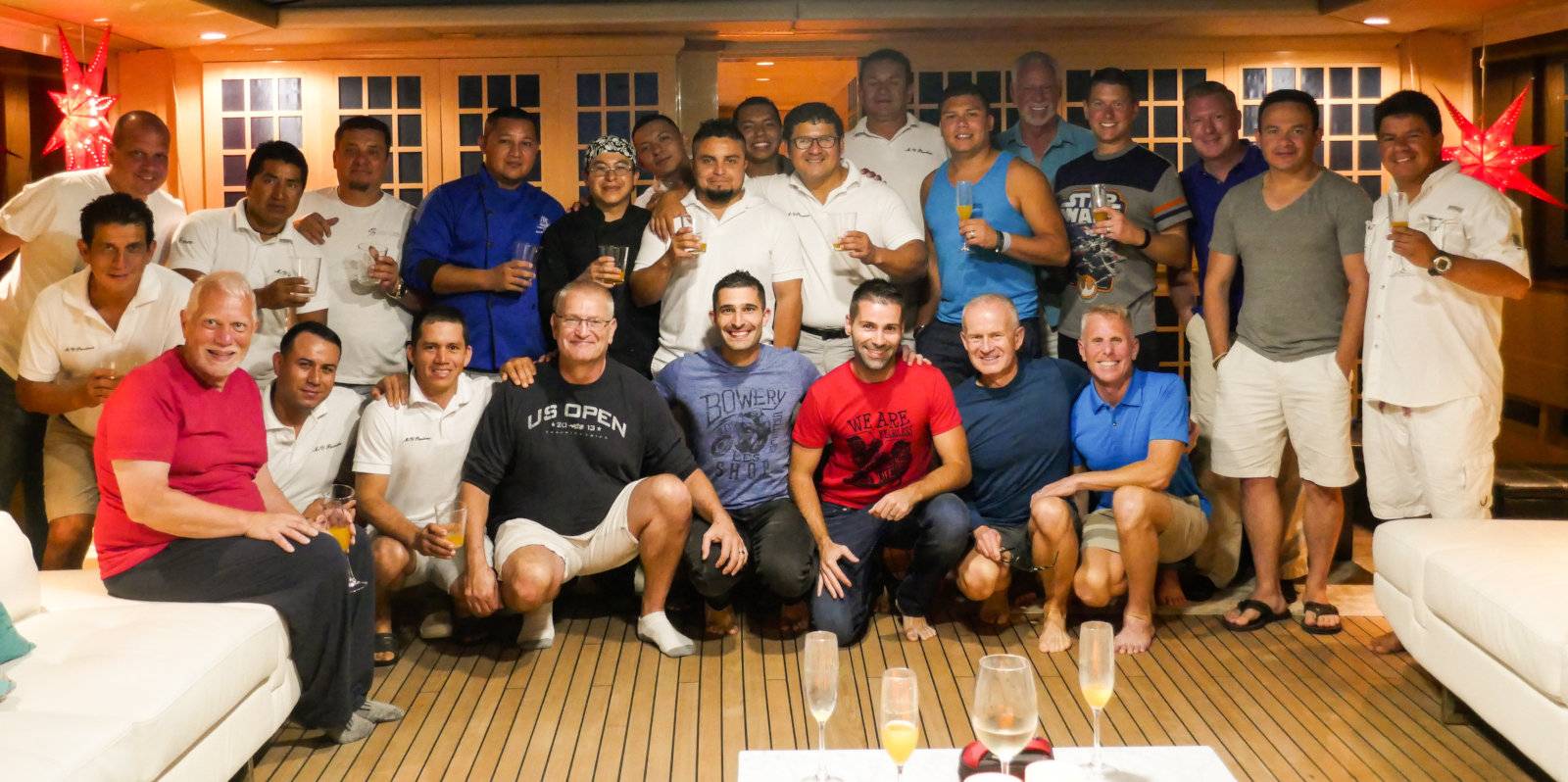 The cruise at a glance
---
Prices start from $8,195
Dates: November 13-22, 2023
Luxury private yacht with max. 16 passengers
Ideal for intimate luxury with all gay travelers
Out Adventures is one of the best gay tour companies out there that organizes exclusive trips for LGBTQ travelers.
They provide a luxury cruise around the Galapagos Islands aboard their private yacht, The Grand Queen Beatriz, and oh boy she sure is absolutely grand!
Amenities include sundecks, a hot tub, a bar, and very spacious bedrooms, some with private balconies.
You'll spend seven nights onboard the yacht as well as two nights in a lovely four-star hotel in Quito at the beginning and end of the trip. Quito is the second-highest city in the world -with an altitude of 2,850m. Looming above the city is the Pinchina volcano! The ever-felt presence of the landmark casts the city in a gothic-like shadow. But, fear not! It will likely not explode during your visit there. In fact, the last eruption was in 1660…so the only heat you'll have to fear is the catty gossip you and your fellow LGBTQ travelers will indulge in during a cocktail brunch.
With seven full days of action-packed cruising, you'll get to see many remote islands, with lots of opportunities for hiking on each one and water sports – including kayaking and snorkeling. For us, the highlight will always be playing with the incredibly cute sea lion pups in the water! The creatures absolutely stole our hearts and had us racing to Google search on how to adopt one for ourselves!
The whole yacht is outfitted with sleek polished wood and looks oh so glamorous! The indoor dining room is where you'll be provided with all your meals onboard. This is also where you can hang out with everyone over a few cocktails to mull over the day's events and be prepped about what to expect for the next day's adventures.
Some of the highlights during this fabulous cruise are: swimming through Pinnacle Rock – one of the most iconic natural landscapes in the region. It looks like a lion's tooth dangling off the edge of the cliff! You will also adore Black Turtle Cove, though you'll have to be careful with your movements so as not to scare away any creatures.
02
HE Travel Galapagos Islands Gay Cruise
May/June 2023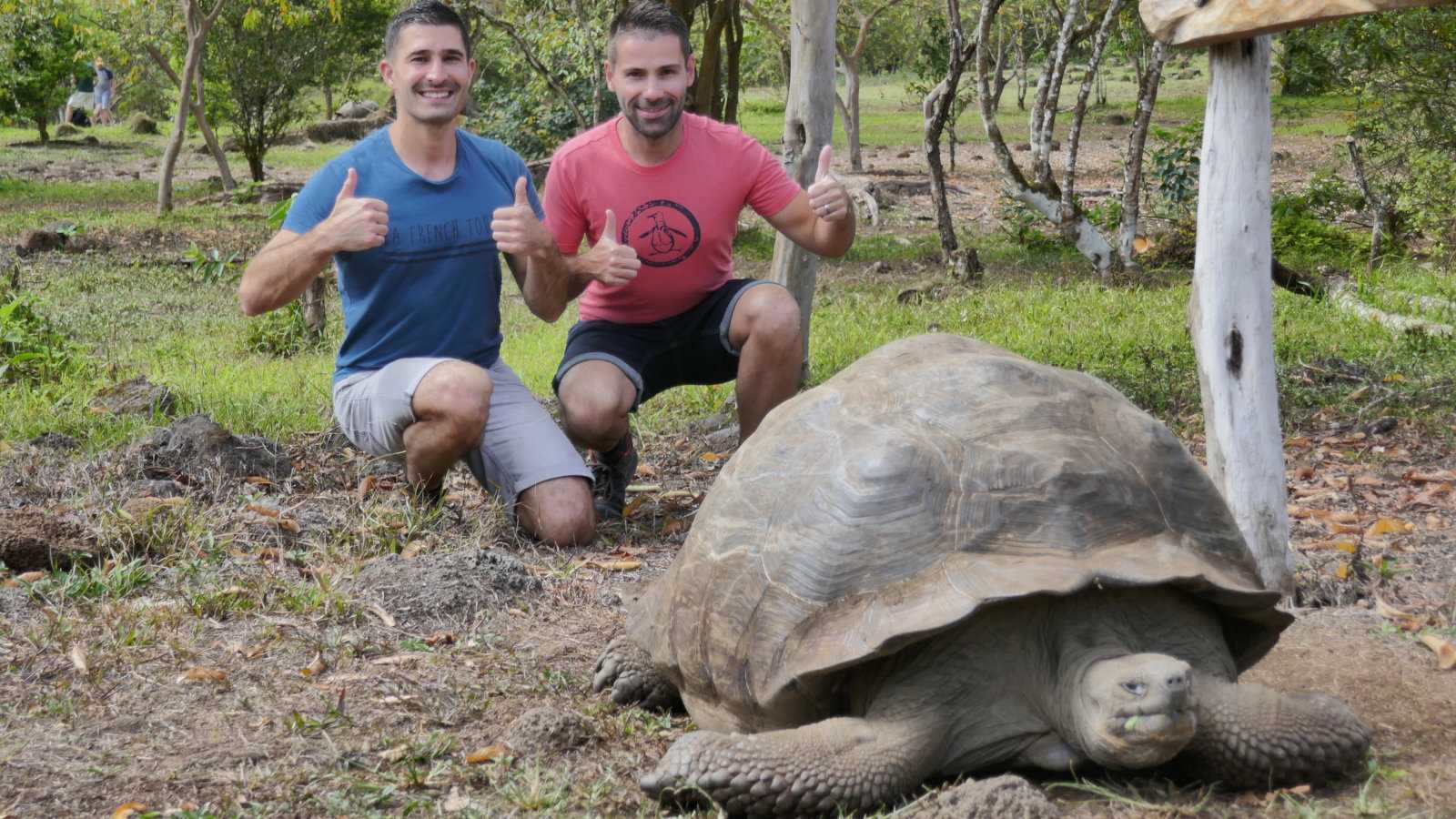 The cruise at a glance
---
Prices start from $6,298
Dates: May 27 to June 2, 2023
Luxury private yacht with max. 40 guests
Ideal for luxury with plenty of amenities
If you can't make the dates for the Out Adventures' Galapagos gay cruise, HE Travel is offering another chance to see the Galapagos with a gay group within a larger cruise between May and June.
This tour starts with an overnight stay in Quito, then you fly over to the islands to board the opulent Isabella II yacht. The exact itinerary (West or East islands) is dependent on the Galapagos National Park Service, but you are allocated a naturist tour guide who will always keep you informed on all the next ventures.
Whether your gay group takes the West or East islands itinerary, all cruises start on Baltra Island where the Galapagos airport is. Santa Cruz Island is also included in all itineraries – an island notorious for its large bird colony. Flamingos, pelicans and stilts are just some of the many beautiful birds you can expect to see here.
One of our favourite activities on a Galapagos cruise is snorkelling in the chilly waters (don't worry they have wet suits on board!). The highlight for us was playing with the curious and playful sea lion pups in the water whilst a family of turtles just swim on by! In terms of scenic highlights, look out for Pinnacle Rock.
After all these exciting excursions you'll head back to your luxurious accommodations onboard the Isabella II. There's a Jacuzzi to rest your weary muscles, or you can relax in the elegant lounge with a drink.
He Travel is offering our readers an exclusive 5% discount valid for their gay cruise to the Galapagos.
03
Galapagos Cruises with Ecuador Nomadic
May/June 2023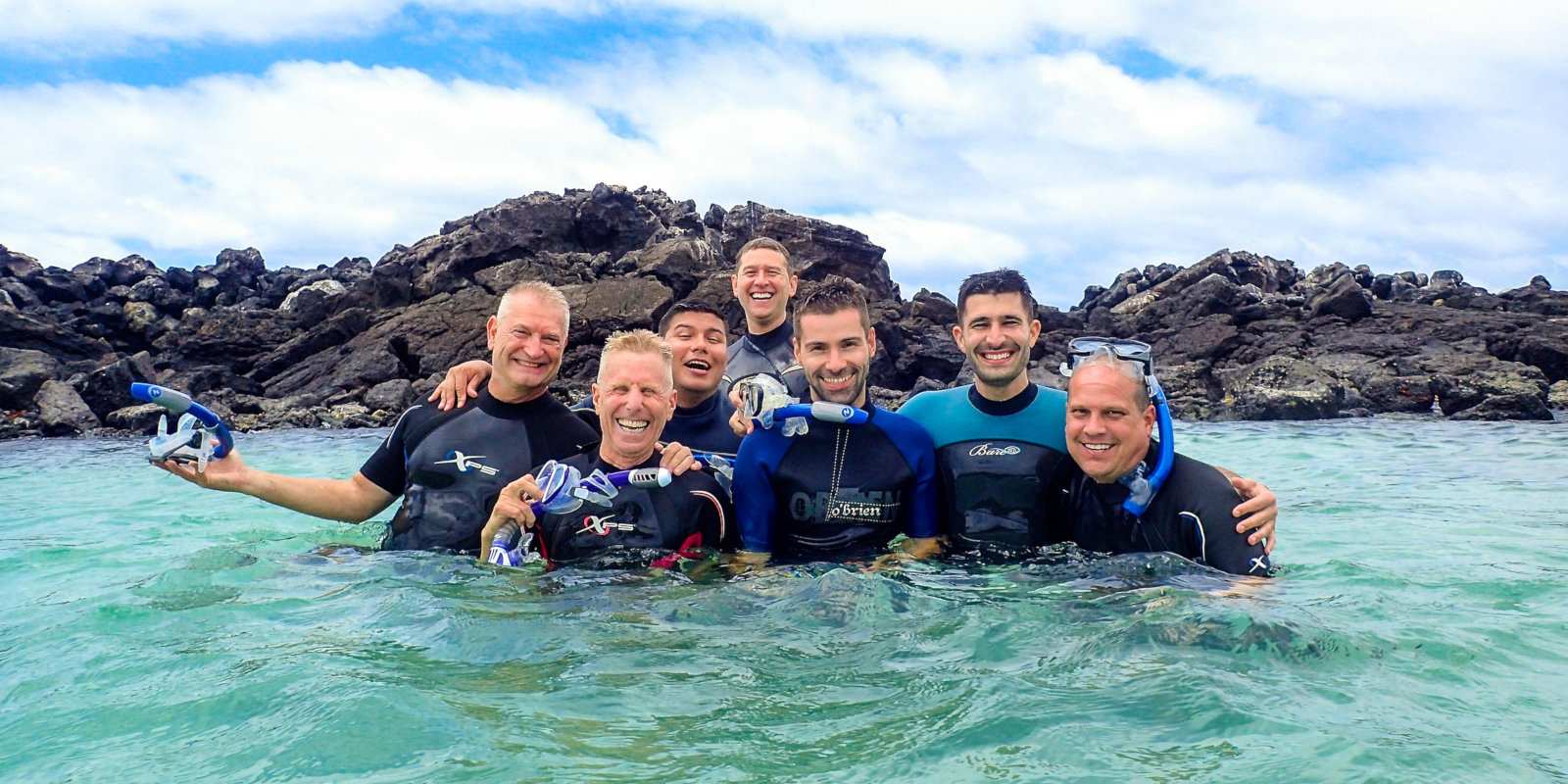 The cruise at a glance
---
Prices start from $2,600
Dates: May 30 – June 3, 2023
Luxury private catamaran with max. 16 passengers
Ideal for comfort, romance and privacy
Ecuador Nomadic offers exclusive luxury gay friendly cruises in the Galapagos, which you can charter, or you can join the unforgettable Pride Month cruise!
Proud members of IGLTA, Ecuador Nomadic strive to be inclusive of all travelers, so you can join this exciting cruise with the confidence you'll be traveling with a very gay friendly company.
This cruise takes place on the Galapagos Treasure, a stable and luxurious catamaran which only has room for a maximum of 16 passengers. This means the entire experience will be much more intimate and romantic than some other options, with private balconies for all cabins. Enjoy the sunrise at sea, or fall asleep to the deep ocean red, as the sun slips behind the waters! It is the definition of romance.
For those who might suffer from seasickness, this is also the best choice, as the stable catamaran navigates between islands much more quickly than larger cruise ships and floats in sheltered anchorages at night so that you can get a peaceful night's sleep.
All of Ecuador Nomadic's Galapagos cruises offer plenty of opportunities to explore the islands on foot, as well as snorkel. The groups always have at least one guide/naturalist to lead you through each island and help you get right up close to the native sea lions, lizards, and other wonderful wildlife
Each cruise thrusts you into the midst of each island's unique culture. See the wildlife, breathe in the island air and explore nature; you'll experience a magical part of the world you never knew existed.
Ecuador Nomadic is offering our readers an exclusive 5% discount valid for their all their gay chartered cruises to the Galapagos.
04
Source Journeys Galapagos Cruise
September 2023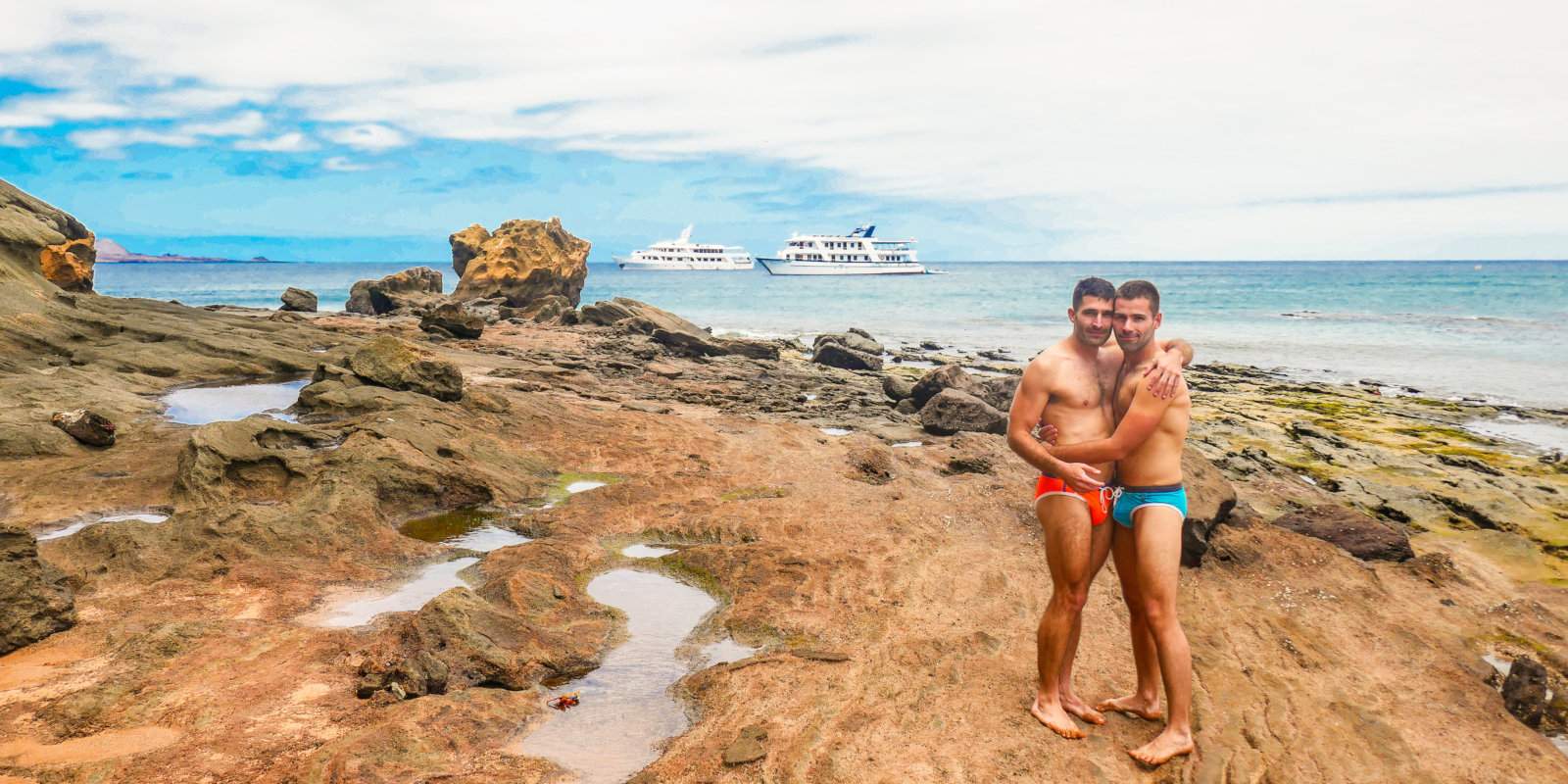 The cruise at a glance
---
Prices start from $9,699 per person
Dates: September 9-17, 2023
Luxury private yacht with max. 20 guests
Ideal for total luxury and adventure
If you want to explore the Galapagos Islands while also feeling like you're staying in a floating five-star hotel, then this is the one you should pick!
Taking place on a luxury yacht that's part of the Relais & Chateaux Collection, you'll be getting up close to nature while also being totally pampered with organic gourmet cuisine, a Jacuzzi on the sundeck and even a fitness center.
One of our favorite aspects of this cruise is that along with the delicious food you're served to eat, you can also enjoy cooking demonstrations and a fancy afternoon tea service – it's perfect for foodies like us! And you're going to need to eat well with all the activities you'll be doing, from excursions on glass-bottomed boats or kayaks to snorkeling with wildlife and even having a go at stand-up paddleboarding.
Of course, even though you'll be sailing in absolute luxury, the Evolve ship is also designed to have as little impact on the natural environment as possible so that the delicate ecosystem you'll be exploring is not harmed. The cozy library is stocked with books on the Galapagos, plus your expert naturalist guides are on hand to tell you everything you want to know about this incredible destination.
During the land excursions, there are opportunities for hiking amongst beautiful geological formations, visiting a tortoise ranch, snorkeling in a sunken crater and seeing more cute critters than you ever thought possible. That's the whole reason you're here after all!
05
Intrepid Travel Galapagos Islands Tours
Dates vary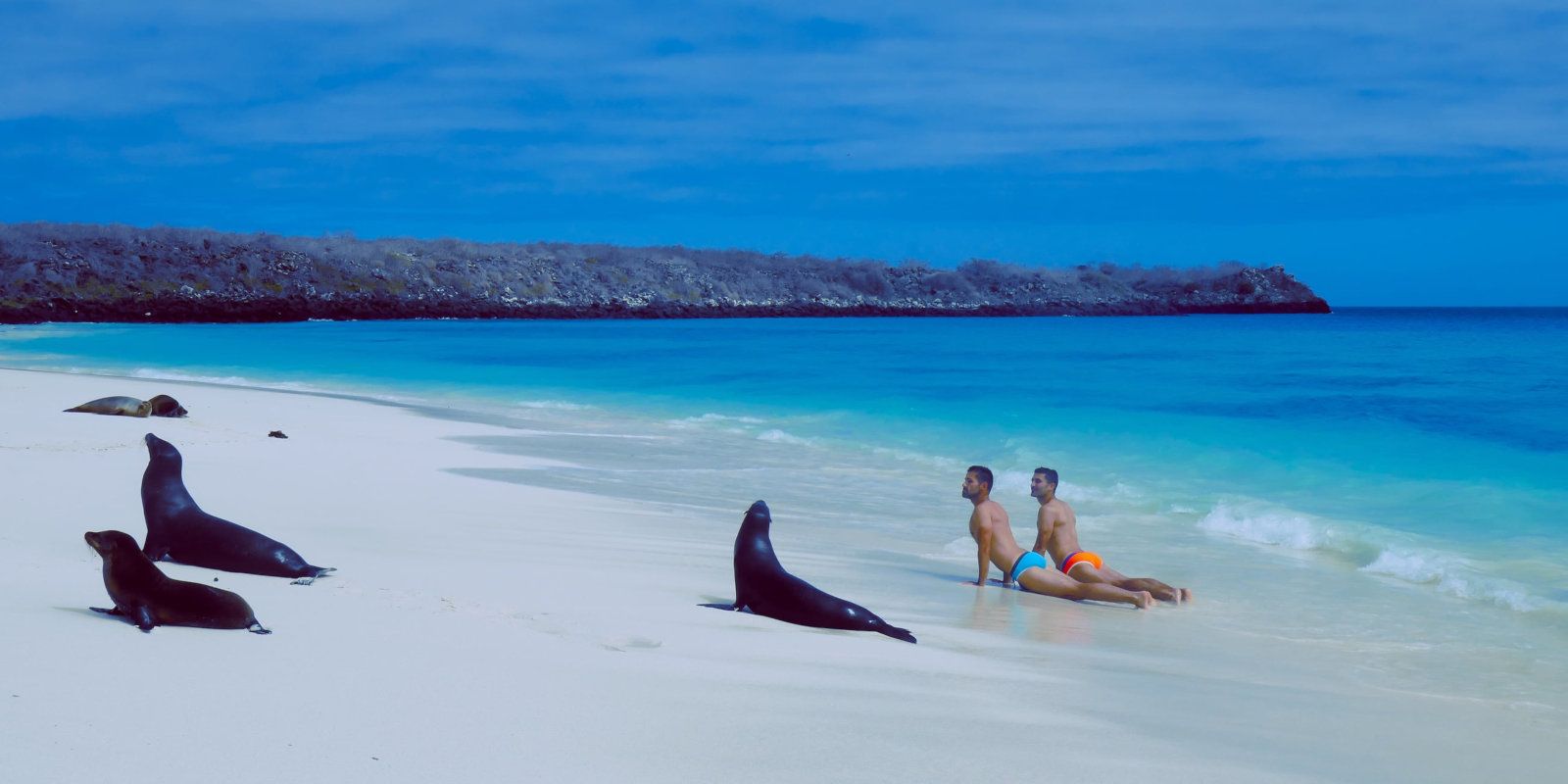 The cruise at a glance
---
Prices start from $1,845
Dates vary, but there are departures every month
Small and intimate or larger luxury yacht
Ideal for young and budget gay travelers
Intrepid is a small-group travel company that gets off the beaten path, makes efforts to be sustainable, and prioritizes working with local communities.
They're also super gay friendly, with many articles on their blog written by fellow LGBTQ travelers about their experiences traveling on Intrepid's group tours. They currently have some great last-minute deals for cruises leaving soon, which is perfect if you're flexible with your dates.
Their cruises are also a great choice for young gay travelers, as well as those who don't want to spend quite as much as the other choices we've mentioned. You can choose from a variety of cruise lengths, depending on your budget and how many islands you want to visit.
We particularly recommend their cruises that take place on the ship called Daphne because you'll be traveling with a small group of a maximum of 16 passengers but still have a spacious sundeck for relaxing. They also provide the equipment to take you hiking and snorkeling all over the islands.
This is the best way to explore parts of the world that have gone untouched by man. Over 300 animal species can be found around these islands. Choose between swimming with sealions or having a stroll with penguins. Either way, it is an experience you will likely have not had before.
---
Like this post? Pin it