Seby took one look at the dark green colour of the Amazon River, turned to Stefan and declared:
"I am NOT swimming in there Stefan. I will NOT become piranha fish food!"
Stefan got his way in the end and managed to persuade Seb to jump in, to the joy of the staff on board the Anakonda cruise who found our bickering (and Seb's irrational fears) highly amusing.
Irrational fears? Contrary to popular belief, swimming in the Amazon River can be quite safe. Our guides knew the spots where tourists like us could swim safely and conquer their Piranha-phobia. Piranhas are not aggressive or territorial, but more like scavengers. They will not go anywhere near you.
Despite this, Sebastien lasted a whole 7 seconds in the Amazon River before he jumped straight back into our boat.
There are many ways to explore the Amazon jungle in South America, the two most popular are taking a cruise on the Amazon river or staying in a jungle lodge. Both offer a unique and memorable way to see the Amazon, each one with its pros and cons. Ultimately, there is not one answer, it depends on your travel style and how you want to discover the Amazon.
During our travels in Ecuador, we had the opportunity to experience both an Amazon luxury cruise and a jungle lodge. We have put together our Jungle Lodge versus Amazon Cruise article to help you decide which is more suitable for you.
FIRST UP: THE AMAZON BASIN
The Amazon is the world's largest tropical rainforest covering 2.5 million square miles. It is spread over 9 countries in South America, in particular Brazil, Peru and Ecuador. The Amazon Rainforest and River were both voted as one of the New 7 Wonders of Nature by a global poll in 2012.
The Amazon is also home to a large diversity of wildlife. There are 427 mammals, 1,300 species of birds, 378 reptiles, more than 400 amphibians and around 3,000 freshwater fish, including Sebastien's best friends: the piranhas.
The Amazon river runs through the Northern part of this giant rainforest, connecting many jungle villages and communities. At 6,400km long, it is the second longest river in the world after the River Nile (6,650km).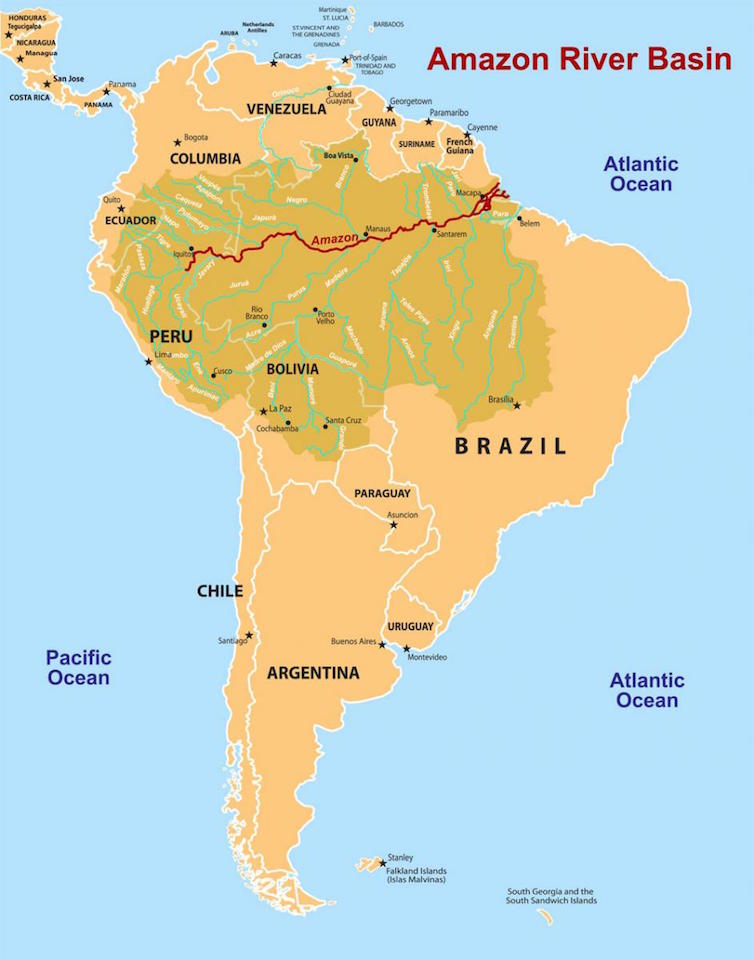 #1

LUXURY v AUTHENTICITY:
Amazon Cruise: luxury cruises such as the Anakonda in Ecuador are of a very high standard with similar amenities to a 5 star hotel, including air con, hot water, baths, Jacuzzis and gourmet food. You quickly forget you're anywhere near the jungle when on board.
Jungle Lodge: by staying in a jungle lodge such as Sacha Lodge in Ecuador, you are surrounded by nature offering a more authentic and rustic experience, akin to barefoot luxury. It is very comfortable, but keep in mind that most lodges will rely on power generators, using electricity for the bare minimum, so don't expect air con.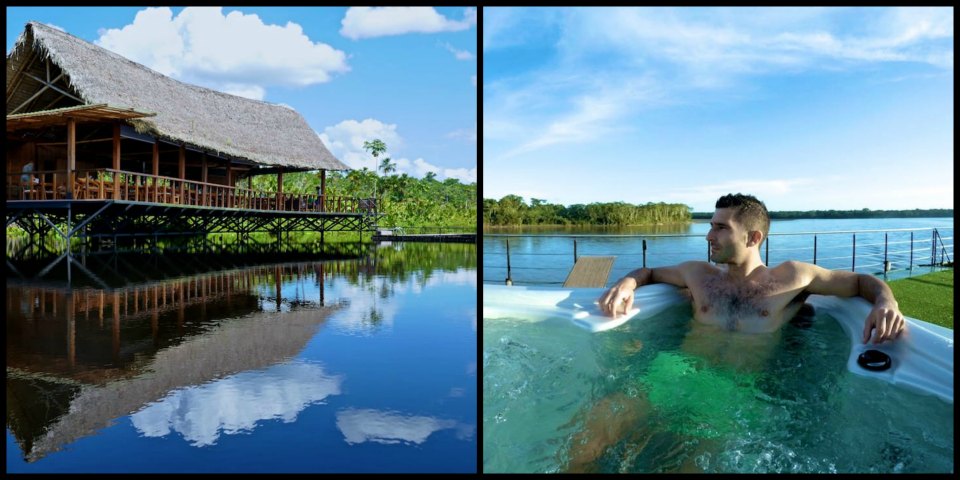 #2

EXPLORING THE JUNGLE:
Amazon Cruise: cruises have the advantage of mobility, allowing them to cover a greater range of the Amazon. However, it doesn't mean you'll see more wildlife as the only time you're in contact with the jungle is during the excursions.
Jungle Lodge: you are deep in the jungle so you're exploring it all the time. You will not cover as much distance as you would on a cruise, however you have all the wildlife right on your doorstep, which makes a big difference. Excursions aside, we saw a lot more jungle life staying at Sacha Lodge, than we did during our cruise.
#3

HOW FLEXIBLE ARE YOU?
Amazon Cruise: the Amazon cruises have set departure dates, so you have to fit your schedule around that. In addition, the excursions are pre-organised for you based on the cruise's timetable, so whilst you can choose whether or not you want to go on them, they cannot be rescheduled.
Jungle Lodge: unlike the Amazon cruise, you can arrive and leave when you want. Most lodges will have excursions arranged with a naturalist guide, who will tailor things to suit your schedule, giving you far more flexibility.
#4

ARE YOU SCARED OF BUGS?
Amazon Cruise: when you're on the boat, there are no bugs. You may come into contact with them during the excursions, but that's it. Then you return to the comfort of the boat. This is a relief if you're squeamish or suffer from arachnophobia.
Jungle Lodge: if you're scared of bugs, this is not the place for you. You're in the jungle and they're all around you. The bungalows are usually built with traditional materials and high thatched roofs, which make them more "open" to insects. Whilst the staff makes every effort to make your bungalow bug free, they will inevitably find a way to get in. Then, as soon as you step out to go to the restaurant or attend an excursion, you come into contact with them. We saw tarantulas on a daily basis as well as flying bugs, bees and more.
SO WHAT SHOULD YOU DO?
If you're a person who's scared of bugs and cannot travel without luxury, then an Amazon cruise is the right thing for you. You will definitely see wildlife and bugs, but only during the excursions, with the confidence of knowing that you will return to the comfort of the boat and sleep bug free!
We explored the Amazon in Ecuador on board the luxurious Anakonda. Prices start from $2,196 for a double room for a 4 days / 3 nights cruise.
If, on the other hand, you can live without air con and don't mind the bugs, then we recommend staying in a jungle lodge as you will get a much deeper experience of the jungle. A 4 days / 3 nights stay at Sacha Lodge in Ecuador starts from $1,290 for a double room, which includes all meals, transportation from Coca town to the lodge and excursions with naturalist guides.
Final tip: the former President of Ecuador, Rafael Correa, produced this excellent 57 minutes video called The Royal Tour with the Ecuadorian Ministry of Tourism, which we strongly advise you watch. You will note that Sacha Lodge was featured as part of his jungle visit.
For more inspiration:
Happy travels are safe travels
We recommend you always take out travel insurance before your next vacation. What happens if you suffer from illness, injury, theft or a cancellation? With travel insurance, you can have peace of mind and not worry. We love World Nomads travel insurance and have been using it for years. Their comprehensive coverage is second to none and their online claims process is very user friendly.
Some of the links in this post are affiliate links. This means that if you book your accommodation, an activity or your insurance, we'll earn a small commission. There is never an extra cost to you for using these links and it helps us keep the site going.
Pin for later