Lima – famous for its ceviche, Paddington Bear, and the birth city of a very handsome chef (have you seen THAT video of Franco Noriega cooking in his boxers?!)…
The "City of Kings" is the transport hub and capital city of Peru – also rated by many as THE foodie capital of South America. And we can't agree more! Lima is a melting pot of culinary creativity with a handful of world-famous top 50 restaurants including Central, Maido, and Astrid y Gastón. Even venturing into a local market is a top foodie highlight in Lima such as the Festival Gastronomia every Sunday in the Plaza Municipal in Barranco.
Lima is also a pretty sweet base for gay travelers. There are around 9 million people living here. That's statistically almost 1 million gay boys waiting to have a few Pisco sours with you. The gay scene of Lima is certainly exciting. On weekends, the gay bars and clubs are buzzing with local Peruvian gays (and their fans!) getting their groove on to the latest Latino beats.
We've been several times to Lima as part of our big trip around Latin America and loved it. It's an inexpensive city to base yourself in, and also an important transport hub in South America. Most gay travelers to Peru will enter the country from Lima and spend a few days here.
We've put together this detailed gay guide to Lima from our firsthand experience with practical safety tips for LGBTQ travelers, the best gay hotels to stay, top gay bars, clubs, events, and more.
Is Lima safe for gay travelers?
As a gay couple, we found Lima to be quite safe, especially in the main touristic areas of Miraflores and Barranco, which is also where the bulk of the gay scene is. However, we were cautious to avoid any public displays of affection except when we were in a gay friendly place. The reason, Peru is still a very religious and conservative country with quite a hostile attitude towards homosexuality (ahem: Catholic Church!)
Change is slowly happening in Peru. For example, each year, more cities host Pride events, attracting not only large numbers of people but also prominent politicians. In addition, more progressive LGBTQ laws are being debated and passed each year including a range of anti-discrimination laws in 2017 and hopefully very soon, laws to recognize gay couples.
Despite this, we think you should stay cautious and limit all PDAs to areas you know are gay friendly. Put it this way, even in Barranco or Miraflores we rarely saw any public displays of affection by local gay couples. Read more about what gay life is like in Peru in our interview with our gay friend Aaron from Lima.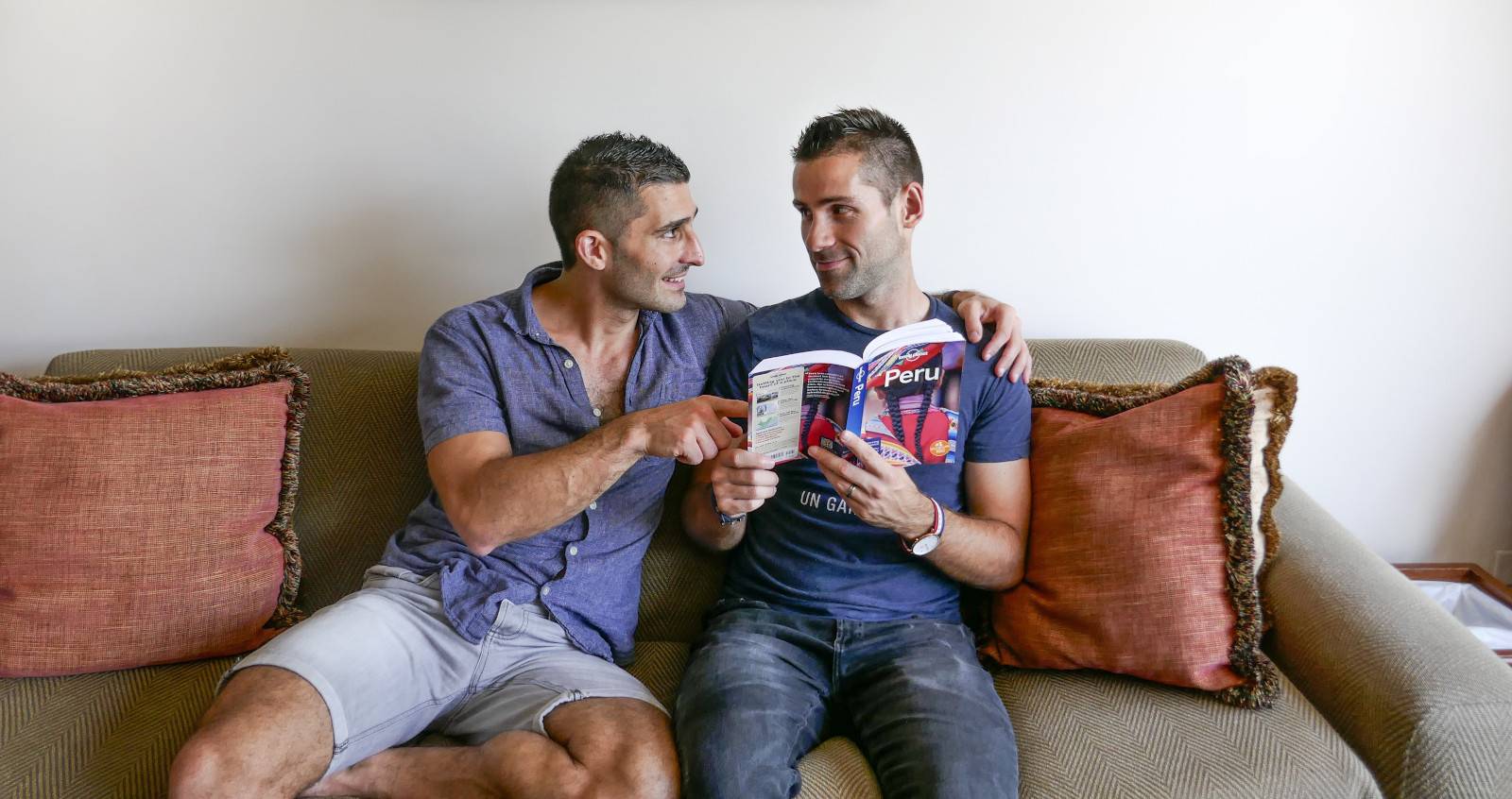 Lima gay area
Lima does not have a specific gay area or "gay neighborhood". The gay-friendly bars and clubs are spread out all around the city but mainly in the Miraflores, Barranco, and Centro Historico (Downtown Lima) districts.
The best bars and restaurants of Lima can be found in the affluent beachside districts of Miraflores and Barranco, which is also where most tourists base themselves. Miraflores is the most tourist area of the city where the bulk of gay friendly venues can be found. Barranco lies just south of Miraflores and has a more Bohemian vibe. It is where many artists, musicians, designers, and photographers live. Although Barranco doesn't have any official gay bars or clubs, we liked it the most because we found it to be the most liberal and tolerant place in Lima with lots of mixed gay friendly hangouts.
In terms of a gay area in Lima, sadly it was reduced to ashes when Covid hit. All LGBTQ venues were forced to close and most have not recovered. Open Deck now appears to be the only gay bar in Lima, with the owner planning to gradually expand, so watch this space! In terms of gay clubs, ValeTodo in downtown is still going strong and the new kid on the block to watch out for is Out & Pride in San Isidro.
Gay hotels in Lima
Tourists usually base themselves in busy Miraflores and bohemian Barranco. Most hotels in these districts are international and therefore more than accustomed to LGBTQ tourists. These are the gay friendly hotels in Lima that we tried, loved, and can confidently attest to being welcoming to LGBTQ travelers:
Heading to Cusco soon? This is where most travelers head to see the ancient Inca city of Machu Picchu. Check out our gay guide to Cusco for advice on the best gay friendly places to stay, where to go out, eat, and top things to do.
Gay bars in Lima
The main gay bars of Lima all shut down during Covid and most have sadly not recovered. In the post-pandemic era, Open Deck sprang up with plans to expand. Watch this space – we strive to keep this information as up-to-date as possible. Things are changing rapidly at the moment in the gay scene of Lima. Sadly, Lolita, Lupe, and Picas bars did not survive the Covid-19 Pandemic and have closed their doors.
Open Deck is open daily until around midnight and is located at Avenida la Paz 580, Miraflores 15074.
---
La Jarrita is only open from Thursday to Sunday evenings from 5 pm until around 4 am. It is a bar until midnight when the tables/chairs are cleared away and it becomes a dancing venue. La Jarrita is located at 949 Jirón Camana in Downtown Lima.
---
Gay clubs in Lima
We found that the gay nightlife of Lima comes alive mostly at weekends. A typical night out will start with drinks at one of the bars then over to ValeTodo to party from around midnight. There are, of course, many other gay clubs to check out in Lima (all scattered randomly around the city). We've included some of the best ones below. Note that the iconic Legendaris gay club in Miraflores did not survive the Pandemic and has since closed its doors for good.
Gay Pride and other events in Lima
June is when the bulk of the main gay events in Lima take place. Starting with the Out Fest Peru week-long gay film festival and then the Pride week, which usually spills into early July. We suggest checking out the gay bars and clubs during Pride week as they usually host large parties and events at this time.
Gay saunas in Lima
There are a handful of gay saunas in Lima that frequently close down, rebrand, and reopen in other locations. With the help of our local friends, we strive to keep this updated as much as we can:
Where to eat in Lima
Lima is well known for being the foodie capital of South America. And for good reason: the fusion of Japanese, African, and Chinese with traditional Peruvian cuisine makes dining out here a real treat. These are some of our favorite restaurants in Lima we recommend trying out:
Things to do in Lima
Most will use Lima as a transport hub in/out of Peru, but there are plenty of things to do here that easily justify staying several days at least! We've put some of our favorite activities and sights to see in Lima based on our first-hand experience, which we hope will inspire you:
Plan your trip
Gay map of Lima
Here's our gay map of Lima to show you all the gay bars, clubs, hotels, and sightseeing highlights we've mentioned in this post. Use it to plan your own amazing gay trip to Lima!