Arequipa is Peru's second city with just under 1 million inhabitants. It is nicknamed the White City because it is almost completely built out of a white volcano stone called sillar.
Most come to Arequipa as the base for treks to Colca Canyon, one of the deepest canyons in the world.
The White City is also one of the few Peruvian cities outside of Lima which has a gay scene, albeit very small, with a handful of bars and gay owned businesses worth checking out.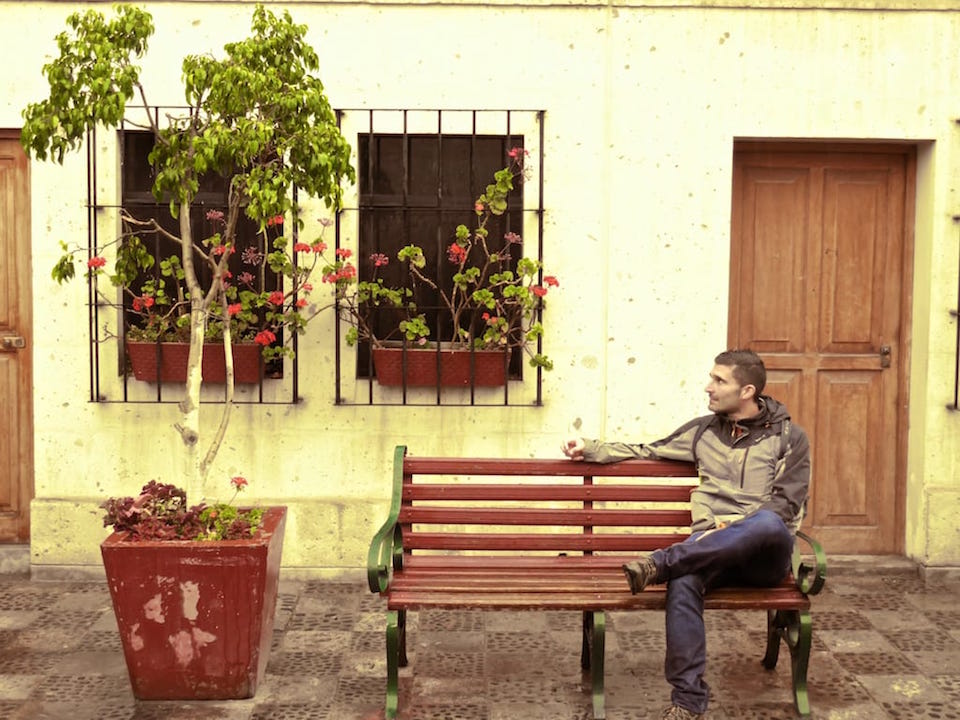 GAY FRIENDLY HOTELS IN AREQUIPA
Most will want to base themselves right in the centre, close to Plaza de Armas. However, we found if you go a little bit further out, it becomes more neighbourhood-like, peaceful and well worth the extra minutes walk (or short taxi ride). These are the gay friendly hotels we tried and loved in Arequipa, who welcomed us as a gay couple:
STAY WITH A GAY LOCAL
Misterb&b is the Airbnb equivalent for the LGBTQ community. Unlike on Airbnb, you know your host is gay, avoiding any nasty surprises when you check in. It is also a great way to meet gay locals and discover the underground gay scene. Click below to get 10 € (or $10) off your first booking.
For a more sophisticated stay in Arequipa, the Libertador is a great option. They are welcoming to gay travellers, not only in Arequipa, but as well as in their other hotels across Peru.
Their restaurant is highly rated and does yummy Peruvian dishes for both lunch and dinner. The breakfast buffet has so much variation, our favourite was the freshly squeezed mango juices and an entire counter devoted to Peruvian olives.
They have a large outdoor pool with heated jacuzzi which is perfect to lounge in when it's sunny.
Rooms at Libertador start from $115/£90.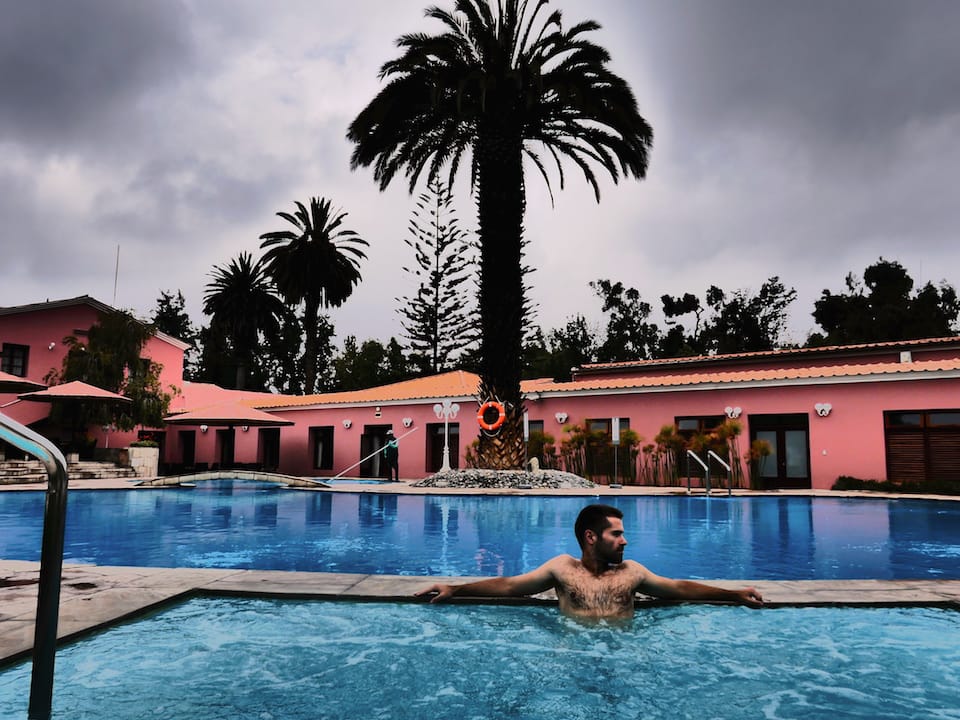 A charming gay owned boutique hotel we found in Arequipa, located around 20 minutes walking distance to Plaza de Armas.
The communal area is beautifully decorated with its own library, fireplace and comfortable sofas. Their suites are very spacious with very comfortable king sized beds.
Breakfast is in the restaurant located on the rooftop terrace. On a clear day you get some pretty awesome view across the city and can even see El Misti volcano in the distance.
Rooms at Casa Arequipa start from $95/£75.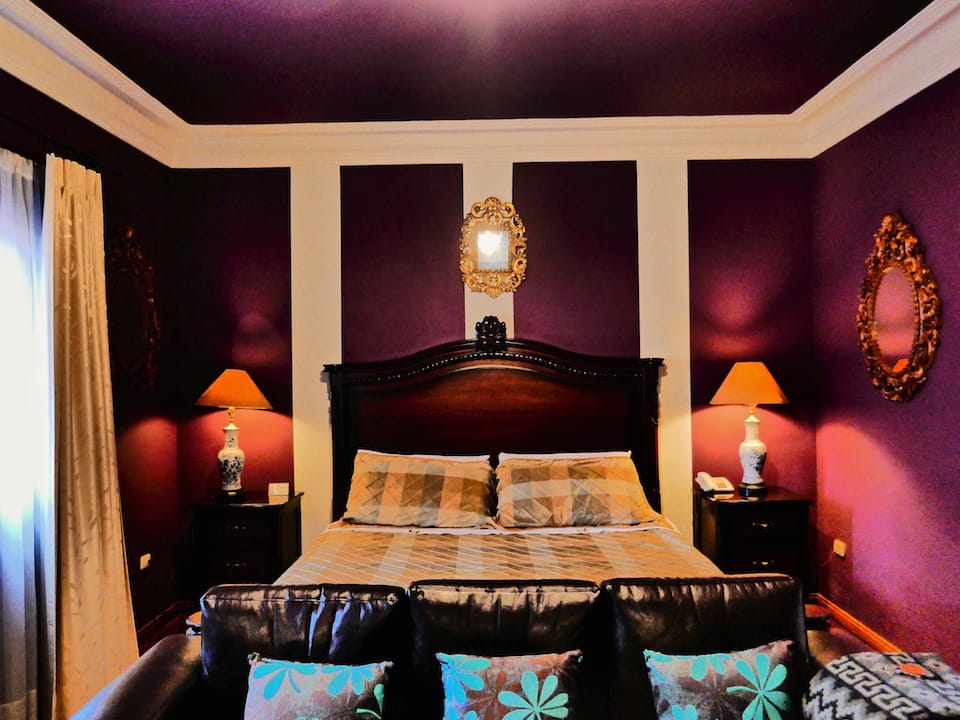 Affordable family guesthouse located in the quiet neighbourhood of San Lazáro, around 10 minutes walking distance to Plaza de Armas.
We loved that we were met by the matriarch of the family who welcomed us and didn't bat an eyelid that two men wanted to share a double bed.
They have a cool roof terrace to lounge in and the breakfast was all home made, freshly prepared by the mama of the house.
Rooms at Hostal Cleofé start from $46/£37.
GAY MAP OF AREQUIPA
The gay scene in Arequipa is not as big as the gay nightlife of Lima but it has a few gay hangouts. The city is easy to navigate with most of the restaurants and bars located around the central Plaza de Armas:
GAY BARS AND CLUBS OF AREQUIPA
Gay Arequipa is small but there are a few fun places worth checking out:
Imperio / Freetown Disco / Open Mind: the main and only gay club in Arequipa. It has 3 different names, (Imperio, Freetown or Open Mind) but most refer to it as just Imperio. It's the place to come on a Thursday, Friday or Saturday evening after 11pm with drag shows and themed nights like Sailor Night. It goes on till late, closing at 6am. Imperio is located at Calle Jerusalén 201i, just a few blocks from Plaza de Armas.
Deja Vu: a popular gay friendly bar in Arequipa with a roof terrace and pretty waiters making delicious pisco sours. Deja Vu is popular with gay locals as an alternative hangout during the week when Freetown is closed. It is open daily from midday until 3am and it is located on Calle San Francisco 319 – B, 054 Arequipa.
Crepisimo: although not strictly speaking a gay hangout, this was our favourite cafe in Arequipa and we noticed many local gay boys hanging out here. They serve up delicious crepes, much to our Frenchman's delight. Crepisimo is open daily till 11pm and located at Calle Santa Catalina 208, a few minutes walk from Plaza de Armas.
THINGS TO DO IN AREQUIPA
Free Walking Tour: this is an excellent way to introduce yourself to Arequipa. A local guide will take a small group around the main attractions and bring them to life. They rely on tips for payment and worth every penny in our opinion. It is also the ideal moment to get a few restaurant recommendations from a local.
Colca Canyon: one of the deepest canyons in the world, with some spectacular landscapes, making it the main attraction in the area. You can visit as a day trip, which starts at 3am, or at a more relaxed pace, staying overnight at one of the local villages like Chivay. If you get lucky, you may even spot a few condors.
Santa Catalina Monastery: this is Arequipa's architectural gem, a city within a city, built in 1579. It has its own Cloisters, picturesque streets and squares, which have remained intact over the centuries. You get an idea of how the nuns used to live several centuries ago, namely in quite lavish surroundings with their own servants. You can also visit at night-time when it's lit up with candles.
Happy travels are safe travels
We recommend you always take out travel insurance before your next vacation. What happens if you suffer from illness, injury, theft or a cancellation? With travel insurance, you can have peace of mind and not worry. We love World Nomads travel insurance and have been using it for years. Their comprehensive coverage is second to none and their online claims process is very user friendly.
For more inspiration:
IF YOU ENJOYED READING PLEASE PIN ME: