Why you should not do the Inca Trail in January
The Inca Trail to Machu Picchu is one of the most famous treks in the world. We did it in early January 2017, during the rainy season. Whilst we loved our experience a great deal, we think you should avoid doing the Inca Trail in January, or at least carefully consider the risks.
The weather in Peru's Sacred Valley has two seasons: wet and dry. Wet season is between October to April and the dry season from May to September. February is considered the worst month with very angry storms, heavy downpour and mudslides, so this is the one month the government closes the Inca Trail to carry out maintenance works. Some tour companies also refuse to go in late January because it becomes too dangerous.
The heavy rain makes the steps slippery and therefore unsafe. In addition, the views are extremely limited because of the thick clouds. Had we known how bad it gets, we would have rescheduled our plans to another time of year.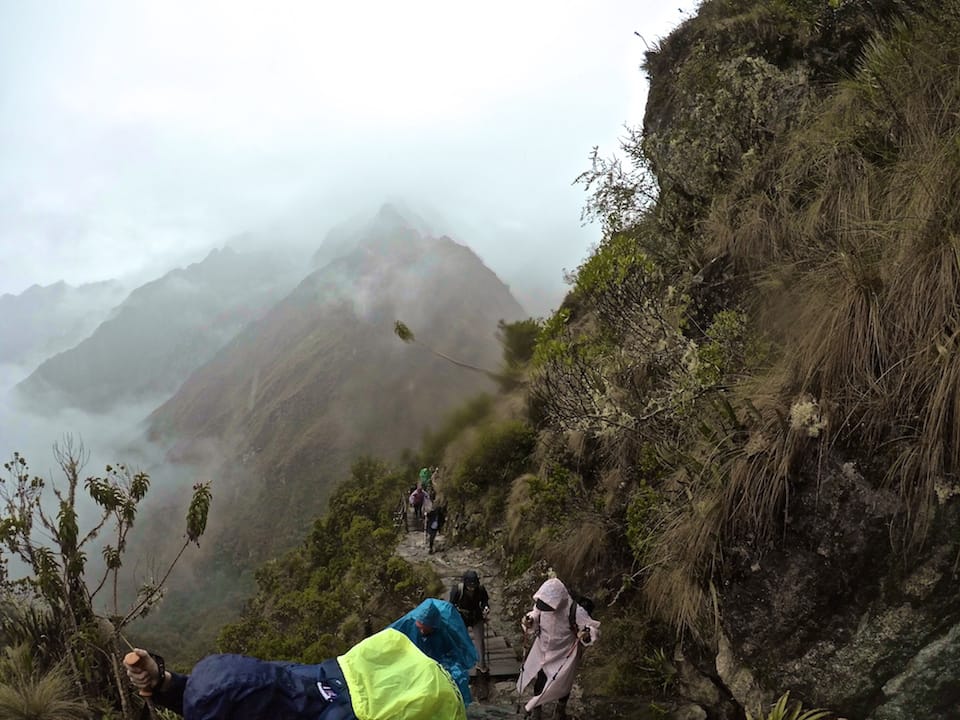 WHY TREK THE INCA TRAIL?
Let's get something straight. We're not saying don't do it. This is an incredible experience and we strongly recommend trekking the Inca Trail to Machu Picchu. As well as being one of the most famous treks in the world, this 44km (27 miles) trail was initially part of a highly advanced network of around 40,000 trails built by the Incas to connect the distant corners of their kingdom.
This particular trail is the most popular because it had religious and ceremonial importance. It was part of the Incas' route of pilgrimage to Machu Picchu and included rituals to honour the mountains. In addition, the views of snow capped mountain peaks, cloud forests and various Inca ruins you pass along the way is what makes this trek so rewarding, and of course, world famous.
Despite the rain. we loved our Inca Trail experience. It was tough and intense, but we got a real feeling of satisfaction and accomplishment when we finally reached Machu Picchu. However, if we were to repeat it, we would strive to go during the dry season in May-September, when it is dryer, safer and the views are clearer with fewer clouds.
WEATHER CONDITIONS ON THE INCA TRAIL IN JANUARY
The rainy season in the Sacred Valley runs from October to April, with the heaviest storms in February. In January, the weather is not as severe, but it is guaranteed to rain almost every day, sometimes very heavily.
During our trek, we had sunny clear weather on our first day and heavy rain for the next 3 days, with very poor visibility. Trekking the Inca Trail is already very challenging, but when you factor in the rain, it goes from a gratifying challenge to an unpleasant and even dangerous one. Many times we had to walk through flooded paths, with the rain making the steps more slippery than normal.
With some of the narrow paths carved into the faces of the sheer precipices, you couldn't help but wonder, what if I take one false step?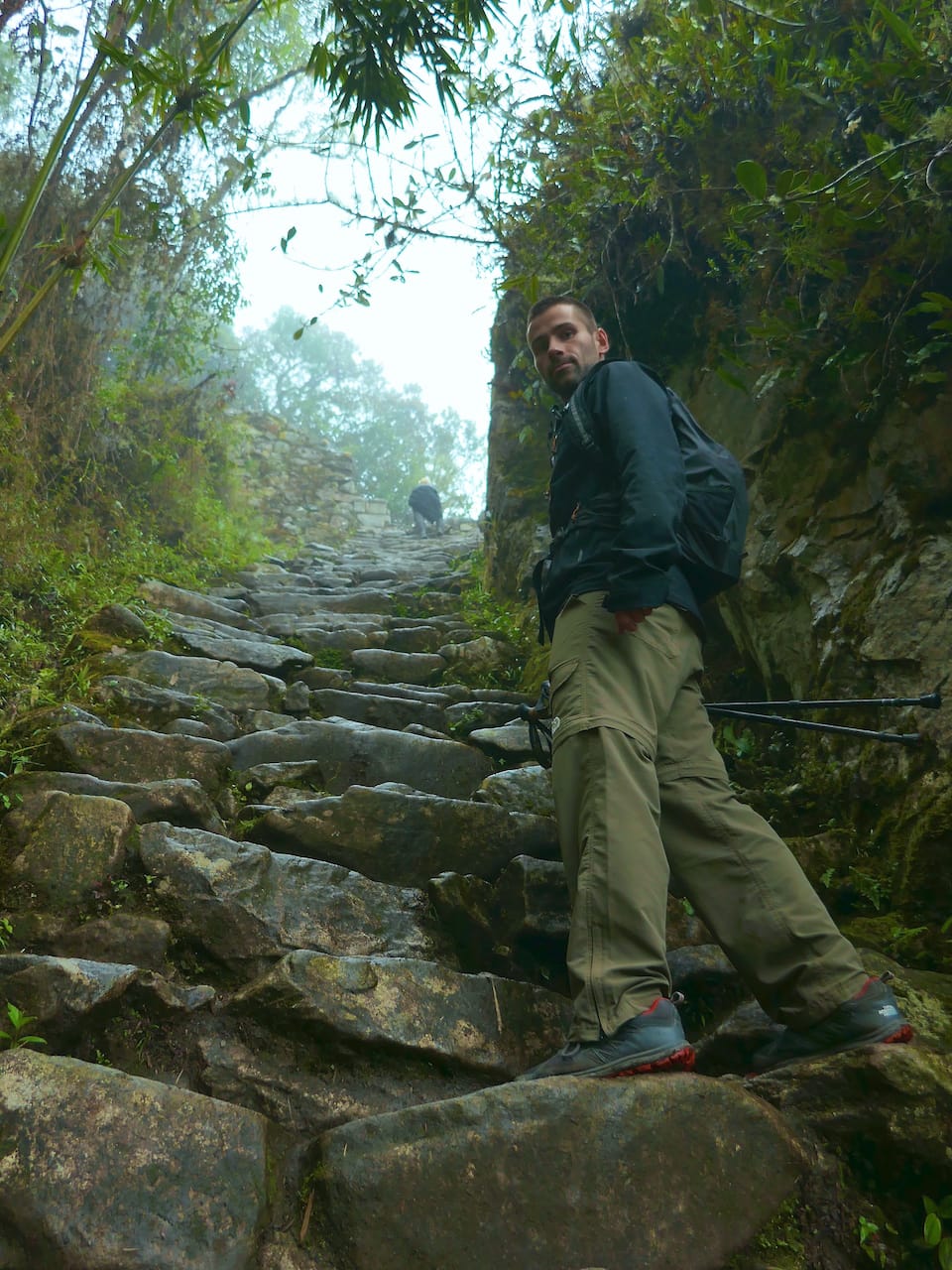 In January 2010, there was a severe mudslide which was so bad, some tents got crushed during the night and the weather left hundreds of people stranded with 5 fatalities. The camp sites are usually located along a hill, surrounded by mountains, so if it rains heavily, there's a high chance of your tent getting flooded.
We were very fortunate to have an experienced team of porters who knew the best places to camp at each site. They always rushed to get there first in order to secure the highest site possible, knowing these to be the safest spots during heavy rain. On day 3, after one of the strongest downpours during our trek, one unfortunate group had to move camp in the middle of the night because they were too far down on the hill that their tents got completely flooded.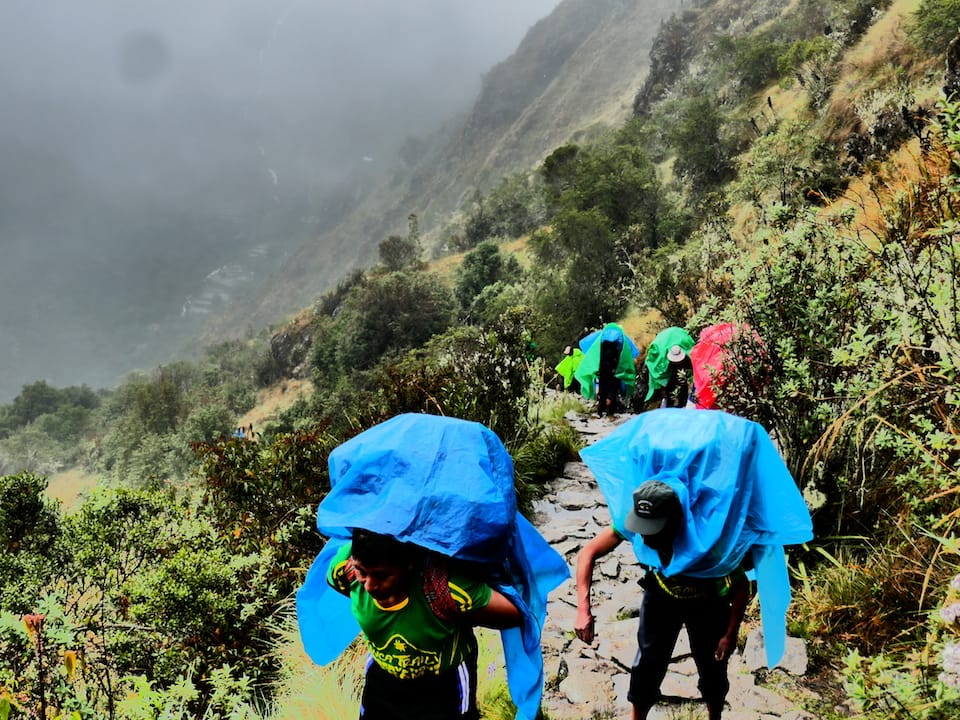 WHY DO PEOPLE STILL TREK THE INCA TRAIL IN JANUARY?
The Inca Trail to Machu Picchu is a bucket list item for most people visiting Peru. The Christmas and New Years Eve holiday means tourism is at its peak. Therefore, despite the rainy season, the last two weeks of December and first two weeks of January are very busy in Cusco, with full departures for the Inca Trail every day.
We trekked in the first week of January, knowing it was rainy season, but we didn't appreciate just how bad it can get.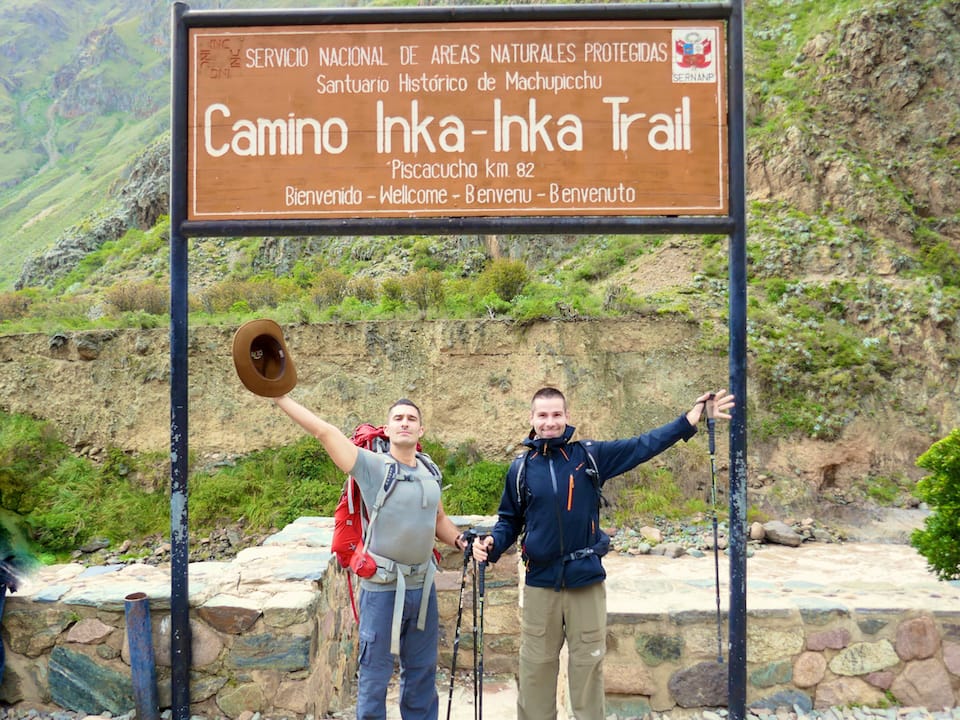 WHY DOES THE PERUVIAN GOVERNMENT ALLOW THE INCA TRAIL TO STAY OPEN IN JANUARY?
The trek closes every year in February for maintenance, such as cleaning the paths, treating any damaged floors, and carrying out any maintenance works to the camp sites.
As January is such a busy season, it comes down to an economic judgment versus safety. For some tour companies, trekking in January is peak season, so missing out on this opportunity would be commercially damaging to their business. The company we used, Journeyou, told us that they do not do any treks in the last 2 weeks of January because it is too risky.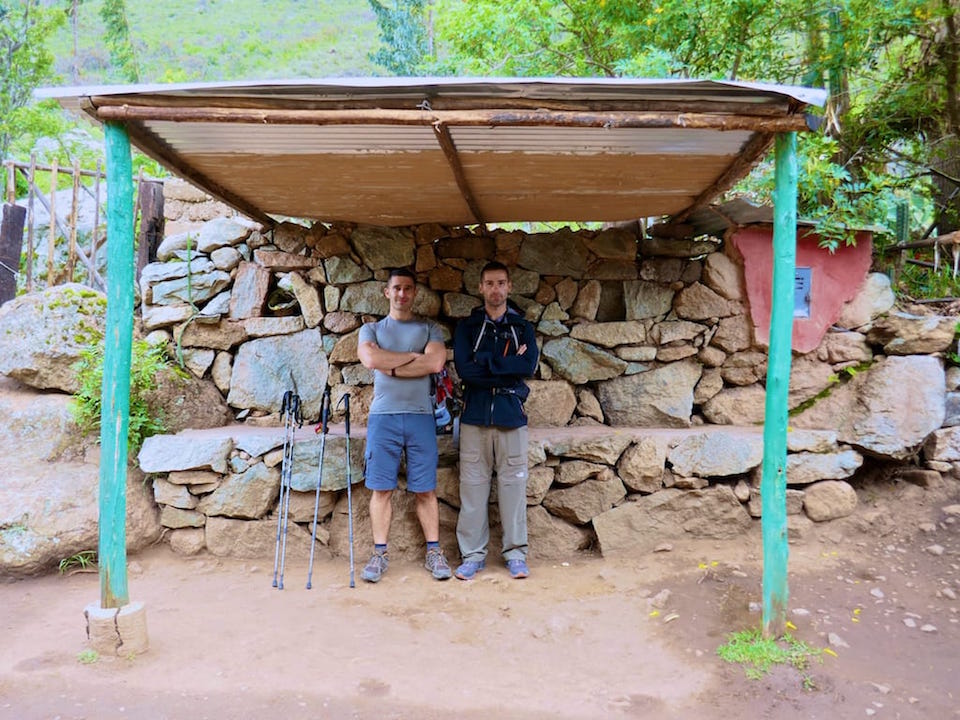 IS IT SAFE TO VISIT MACHU PICCHU IN JANUARY?
Yes it is. Despite the rainy season, Machu Picchu remains open throughout the year, even in February, so you can always visit as a day trip, or stay the night in nearby Aguas Caliente (also called Machu Picchu village).
One splurge we definitely recommend is the Hiram Bigham Belmond luxury train ride there and back, which includes a full 3 course gourmet meal, unlimited drinks, super attentive (English speaking) waiting staff and a live band on board.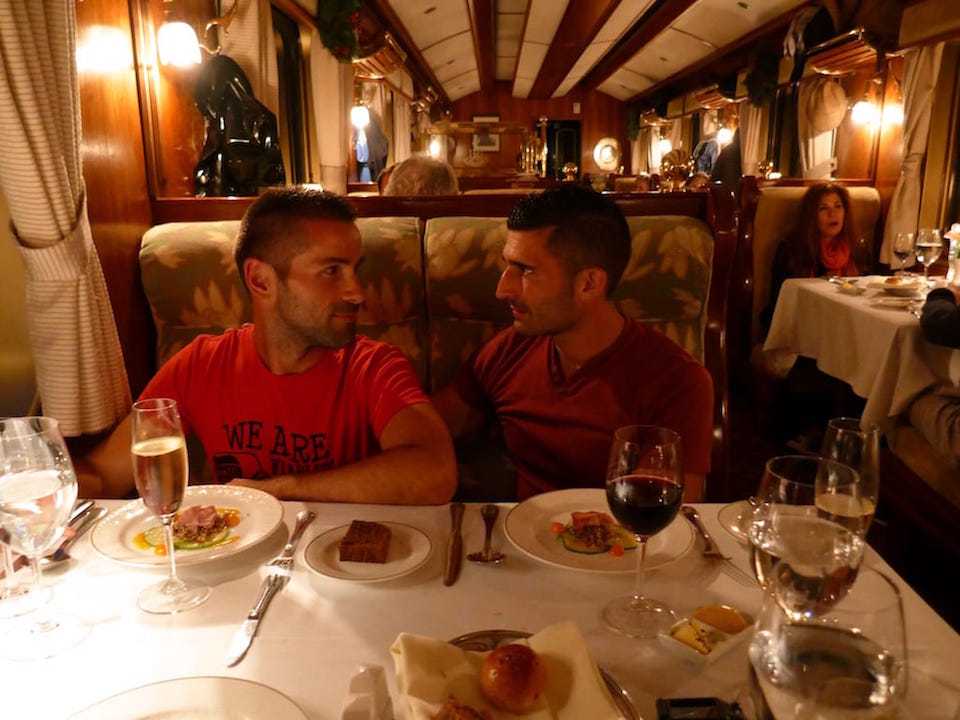 WHAT IS THE BEST TIME OF YEAR TO TREK THE INCA TRAIL?
The best time to trek the Inca Trail is during the dry season between May-September, when there is little rain, but most importantly, you're more likely to get the best views across the Sacred Valley.
Stefan first trekked the Inca Trail in May 2005 so was able to compare and much preferred the drier experience!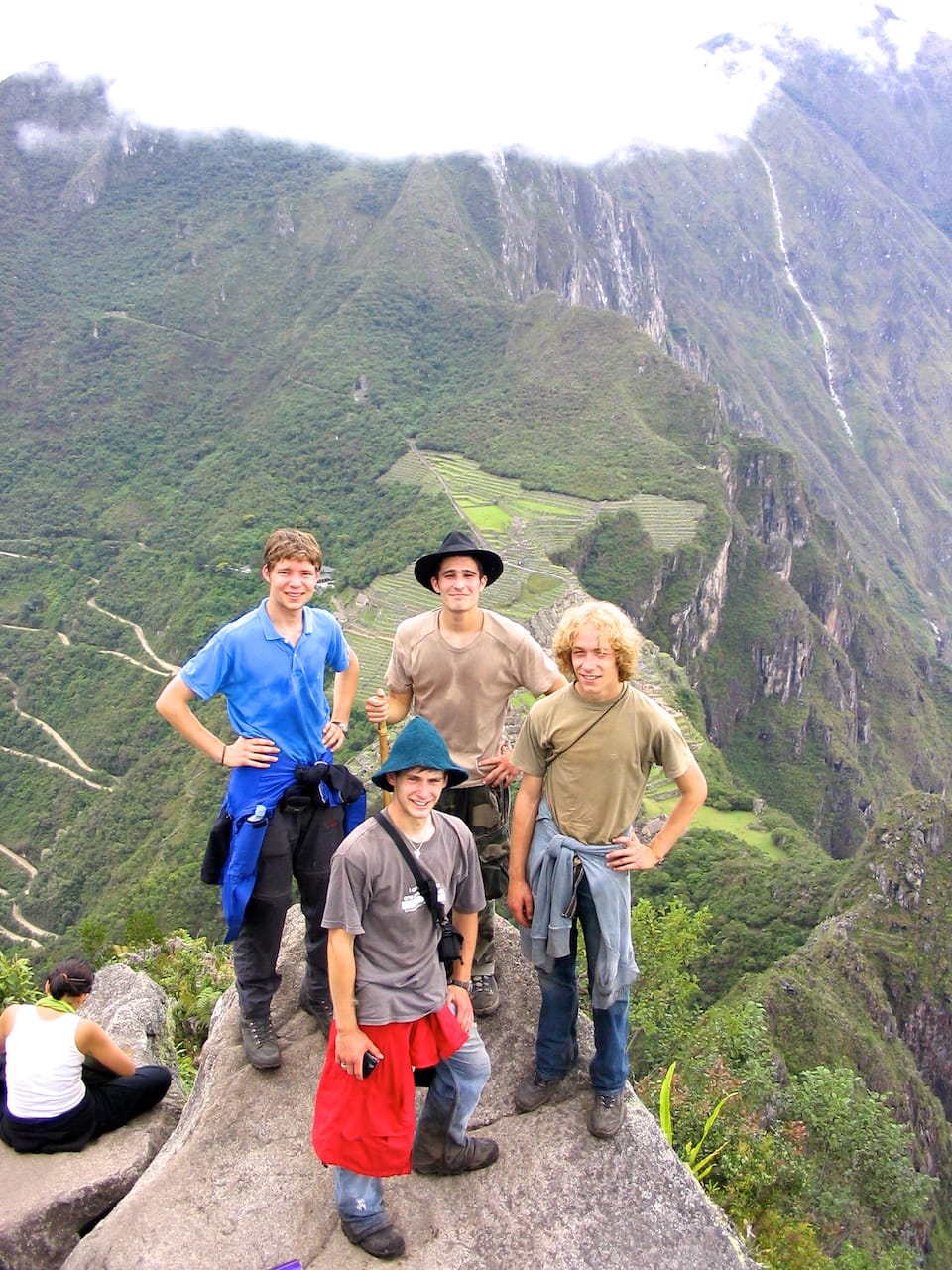 ARE THERE ANY ALTERNATIVE TREKS IN JANUARY?
We contacted many companies specialising in guided tours in the Sacred Valley, including the Inca Trail and the alternative Lares and Salkantay treks. Most companies said they would not offer these treks in January because it is too dangerous.
An alternative trek in Peru when it's rainy season in the Sacred Valley is the Huayhuash (pronounced why-wash) Circuit, near the coast and around 200km North from Lima. This is a 7 days trek that reaches altitudes of over 5,000m (16,404ft) and was made famous by Joe Simpson's book and subsequent film, Touching The Void.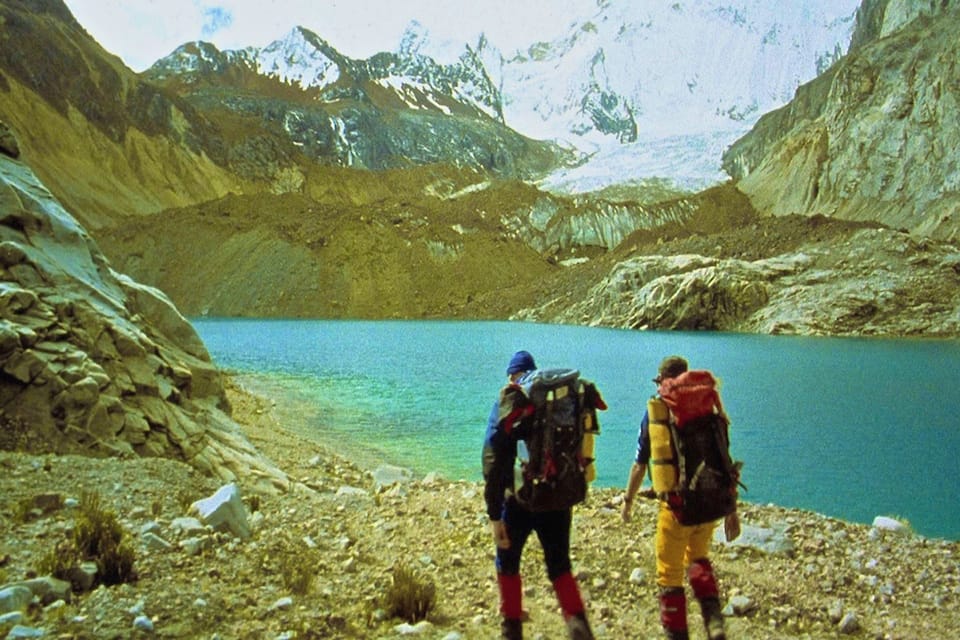 WHICH TOUR COMPANY TO USE?
We booked our Inca Trail 4 months beforehand with Journeyou, a company we found based on recommendations from friends who also used them before. The booking process was clear, efficient and they gave us plenty of advice and packing tips before arriving in Peru.
We were also really impressed with our guide Darwin and his team of porters. Despite trekking in the height of the rainy season in January, they did everything to make it an unforgettable experience for us. Darwin was always full of good cheer, which made the more difficult moments of the trek more bearable.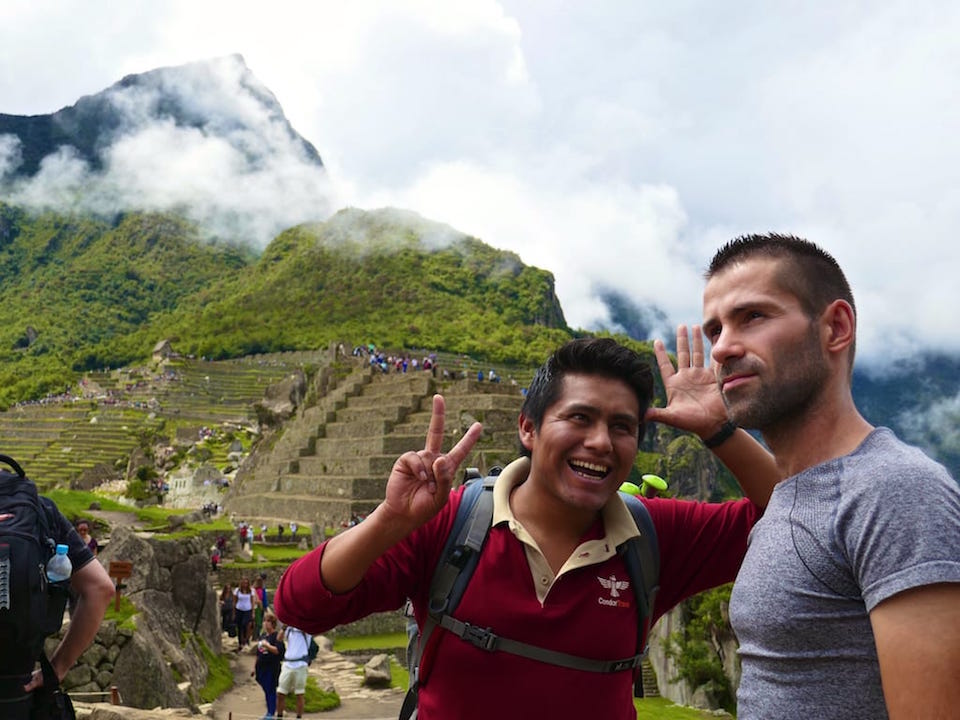 THE BOTTOM LINE
This article is solely based on our experience and we totally understand that someone else may have had a different perspective about trekking the Inca Trail in January. At the end of the day, this is your choice, and for you to decide whether you should trek or not in January.
You could be lucky and have 4 days of dry, clear weather, or you could be unlucky like us and have to endure heavy rain for most, if not all of it. This is just a way to warn you so you know what the risks are of trekking the Inca trail in January.
OUR FAVORITE TRAVEL RECOMMENDATIONS
⭐️ TRAVEL INSURANCE — We recommend you always take out travel insurance before your next vacation. What happens if you suffer from illness, injury, theft or a cancellation? With travel insurance, you can have peace of mind and not worry. We love World Nomads travel insurance and have been using it for years. Their comprehensive coverage is second to none and their online claims process is very user friendly.
⭐️ SAFETY & SECURITY — All travelers can sometimes encounter danger when traveling. CloseCircle is your "virtual body guard" mobile app which provides security alerts and support wherever you are in the world. They have a 24/7 emergency response team monitoring their users who will contact you immediately if the SOS swipe button is activated. Support can include anything from practical advice, to free evacuation from areas with extreme weather or security risks. You can read more about CloseCircle in our article about how to stay safe whilst traveling.
⭐️ ONLINE ANONYMITY — A VPN (Virtual Private Network) is a must in many countries: it allows you to surf anonymously and maintain your privacy whilst traveling. You'll particularly need it in countries where dating apps are blocked by the government. We recommend ExpressVPN, a reliable and cost effective service which we used and loved during our travels.
⭐️ HOTELS or APARTMENTS — When we plan a trip, we always look for the best hotel deals. We love Booking.com because not only do they have a comprehensive listing of accommodation options, they also offer the best prices. Added bonus: they provide 24/7 support and free cancellation for most listings.
⭐️ SIGHTSEEING and ADVENTURES — When we travel somewhere, we like to seek out the best experiences, whether it is cooking with locals in Bangkok, hiking on a glacier in Patagonia, or going on a wildlife safari in Sri Lanka. Our favorite place to look is GetYourGuide because they have over 30,000 highly rated activities, a user-friendly booking process with free cancellation and a 24 hour customer support.
This article contains affiliate links. If you click on them, we may receive compensation which keeps our website alive and helps us bring you to more destinations.
For more inspiration:
IF YOU ENJOYED READING, PLEASE PIN ME: