Is it worth going to Lake Titicaca?
When we were planning our trip to Peru, we were close to skipping Lake Titicaca altogether, mainly because of all the bad press it receives about being so touristy.
But if you avoid the tourist traps, you will discover some of the most beautiful, serene and tranquil places in Peru, such as Amantaní island. You can have an authentic experience, living within a welcoming community, rich with culture and no foreigners for miles.
WHAT IS LAKE TITICACA?
Lake Titicaca is considered to be the origin of the Inca civilisation, where the creator god, Viracocha made the moon, sun and stars from the islands in the centre of this large lake. It is also believed to be the birthplace of the first Inca king, Manco Capac, the sun god's son.
Lake Titicaca straddles the border of Peru and Bolivia at an altitude of 3,800 metres (12,500 feet). It is not only the world's highest lake, but also one of the oldest, thought to be over 1 million years old.
There are several indigenous communities living here, the most prominent are the Uros in the floating man-made islands, the Quechua speakers of Amantaní Island and the Taquile people of Taquile island.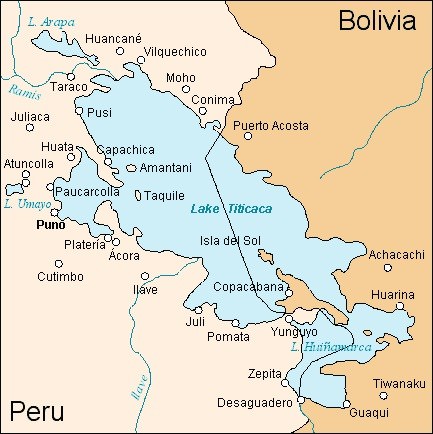 WHY IS LAKE TITICACA CONSIDERED A TOURIST TRAP?
Lake Titicaca gets a bad reputation mainly because of the Floating Islands of the Uros people. Most tour companies in Puno will sell you a day trip to the Uros Islands with promises of a unique and authentic indigenous experience. Regrettably, you won't get it here.
You can't help feel like it is completely staged and orchestrated for tourists. The experience involves a 30 minutes well rehearsed talk about their way of life and how the islands are made. Then you're swiftly directed to their handicraft souvenirs and invited to take a $25 tour in their water taxis. Unfortunately, they are quite pushy with the way this is done, which makes you doubt the authenticity of it all.
It hasn't always been this way. For centuries the Uros people have lived undisturbed, as fishermen and hunters, in the middle of the lake. However in 1986, a severe storm devastated their man made homes, pushing them to rebuild closer to the security of Puno.
As a result, new opportunities arose from tourism, but with every touristic experience, if it is not regulated properly, it falls into the trap of turning into a Disney-fication of the culture. Sadly, this is what we found has happened to the Uros people.
CAN YOU FIND A MORE AUTHENTIC EXPERIENCE ON LAKE TITICACA?
If you spend some more time venturing beyond the islands near Puno, you will quickly discover a more authentic and far more rewarding experience. We recommend spending a few days in a homestay at one of the more remote islands, like Amantaní.
Amantaní island is one of the larger islands, located 40 km (25 miles) from Puno. It has around 4,000 inhabitants with 10 communities, each with its own chief and outfit! It takes around 3 hours to reach it by boat. As such, very few tourists come here.
We spent 2 days on Amantaní Island and what we loved the most was how welcoming the locals are. They are not only very friendly, but also curious and excited to show off their island.
The most touching moment was as we were leaving, one mother who was also on our boat taking her children to school in Puno said to us proudly in Spanish "thank you for visiting us on Amantaní". There was no hidden agenda, she didn't work for anyone, she wasn't trying to sell us anything, she was simply excited and proud to see people taking an interest in her island.
WHERE TO STAY ON AMANTANÍ ISLAND?
Amantaní island has a mix of traditional homestays to immerse yourself with the local life. It also has a new exclusive lodge available, offering a barefoot luxury experience and still allowing interaction with locals.
Two exclusive suites offering incredible views over Lake Titicaca with private terraces, fireplace and delicious gourmet food using local ingredients like alpaca, fish and quinoa.
Luxury yes, whilst maintaining authenticity: the rooms are built using traditional materials like wood, mud, reed (the main material in the lake) and are decorated with straw roofs, typical of the island.
Prices at Amantica Lodge start from $670 / £540 a night and includes all meals and transportation. You can read more about it on Tripadvisor.
This is a homestay offered by Osvaldo and his family, who are native to the island. The rooms are rustic but cosy, clean with comfortable warm beds. The real highlight is the food. Every meal was unique, made from local ingredients.
Prices at Titicaca Lodge start from $44 / £35 a night, which only includes breakfast. Lunch and dinner is available for an extra cost. You can read more about it on Tripadvisor.
LAKE TITICACA: the highest blue sea in the world
Lake Titicaca is not just about the people and their culture. The landscapes are breathtaking and the lake reminded us of the Mediterranean Sea.
One of our favourite moments at Amantaní Island was watching the beautiful sunsets on our private terrace, listening to the sound of the waves and just soaking up the peace and serenity of the place.
SO IS IT WORTH GOING TO LAKE TITICACA?
If you're tight with time and only have a few hours to spend, then skip it. At best you'll visit the floating islands of the Uros people near Puno and won't enjoy it.
But if you have 2-3 days, then we strongly advise investing your time heading to one of the most remote islands like Amantaní. It truly is an experience everyone should add to their Peru itinerary.
For more inspiration:
IF YOU ENJOYED READING, PLEASE PIN ME: