Our experience trekking the Inca Trail with Journeyou
We made it! A magical memory from our Nomadic Boys journey we will share forever.
This was what was going through our minds, whilst sat atop Wayna Picchu mountain, peering down at the Inca world wonder beneath us.
After an intense 4 days trek along the acclaimed Inca Trail through the Sacred Valley in the Peruvian Andes, we finally reached the climax point.
This is our Inca Trail review of our 4 days trek to Machu Picchu with Journeyou.
The Mighty Machu Picchu!
Machu Picchu is the highlight of most people's itineraries to not only Peru, but also to the entire continent. It receives over 1.2 million visitors annually, most of who come by train as part of a day trip from Cusco.
The famous Inca site is 2,430 metres (7,970 feet) above sea level. The name Machu Picchu means old mountain in the Quechua language and was initially built in around 1450 at the climax of the Inca Empire. It was then abandoned in 1572 when the Spanish invaded, until 1911 when it was discovered by the American explorer Hiram Bingham.
To really get a feel of what the Sacred Valley and the Inca culture is all about, the Inca Trail is a must. This is, after all, the famous route of pilgrimage the Incas used to take to reach Machu Picchu.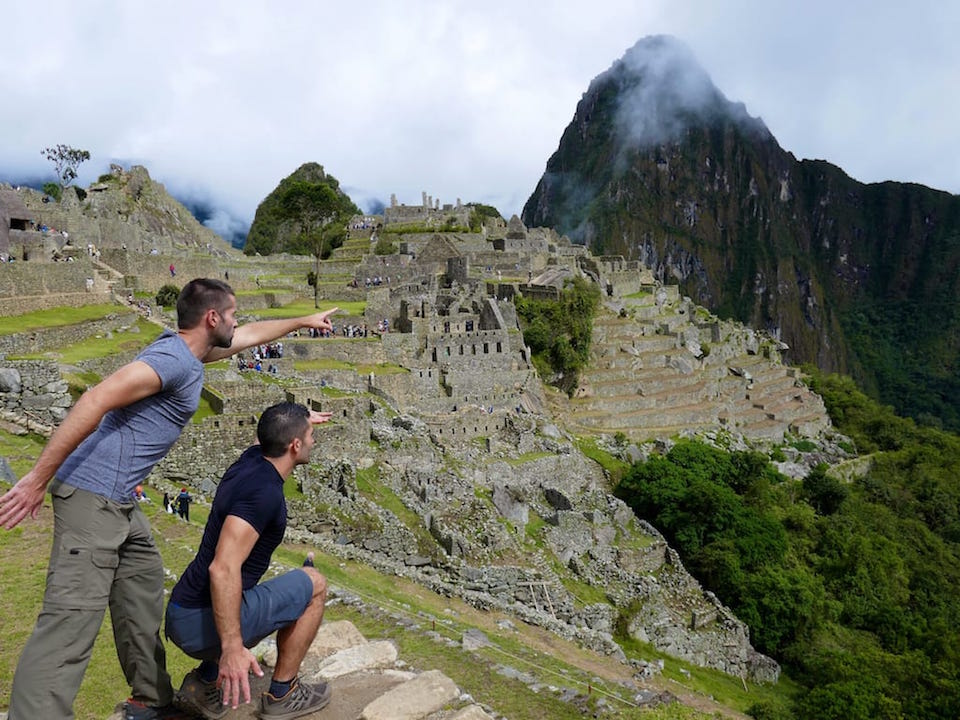 What is the Inca Trail?
As well as being one of the most famous treks in the world, this 44km (27 miles) trail was initially part of a highly advanced network of around 40,000 trails built by the Incas to connect the distant corners of their kingdom.
This particular trail is the most popular because it had religious and ceremonial importance to the Incas. It was part of their route of pilgrimage to Machu Picchu and included rituals to honour the mountains.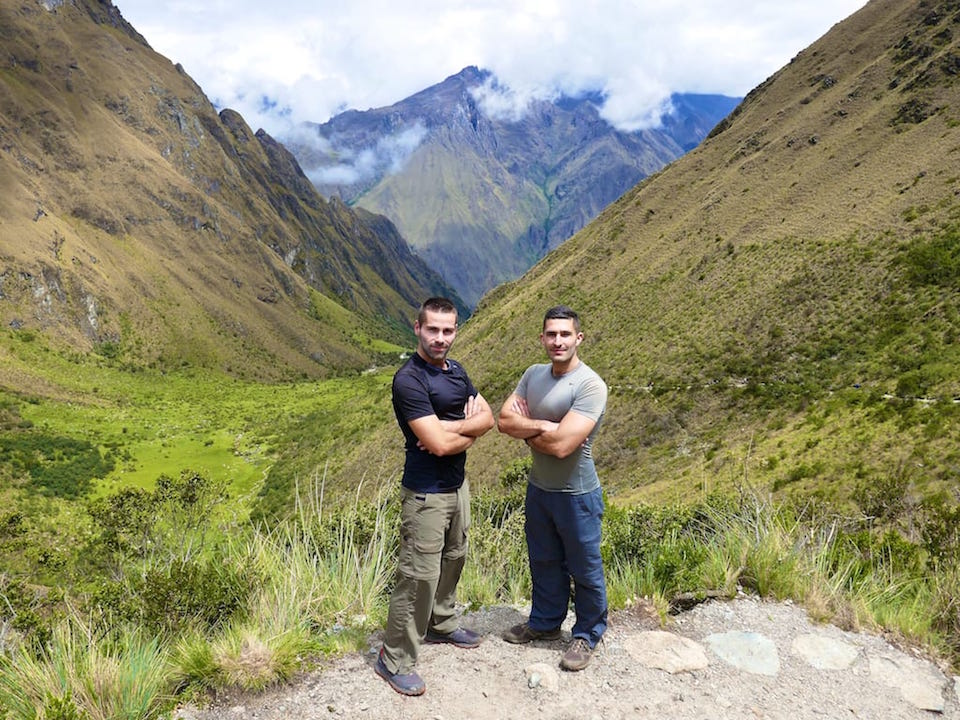 Whilst the trail itself is only 44km (27 miles), it winds its way up, down and around the mountains, snaking over 3 high passes, one of which reaches 4,200m (13,800 ft): Dead Woman's Pass.
The views of snow capped mountain peaks, cloud forests and the various Inca ruins you pass along the way is what makes this trek so rewarding, and of course, world famous.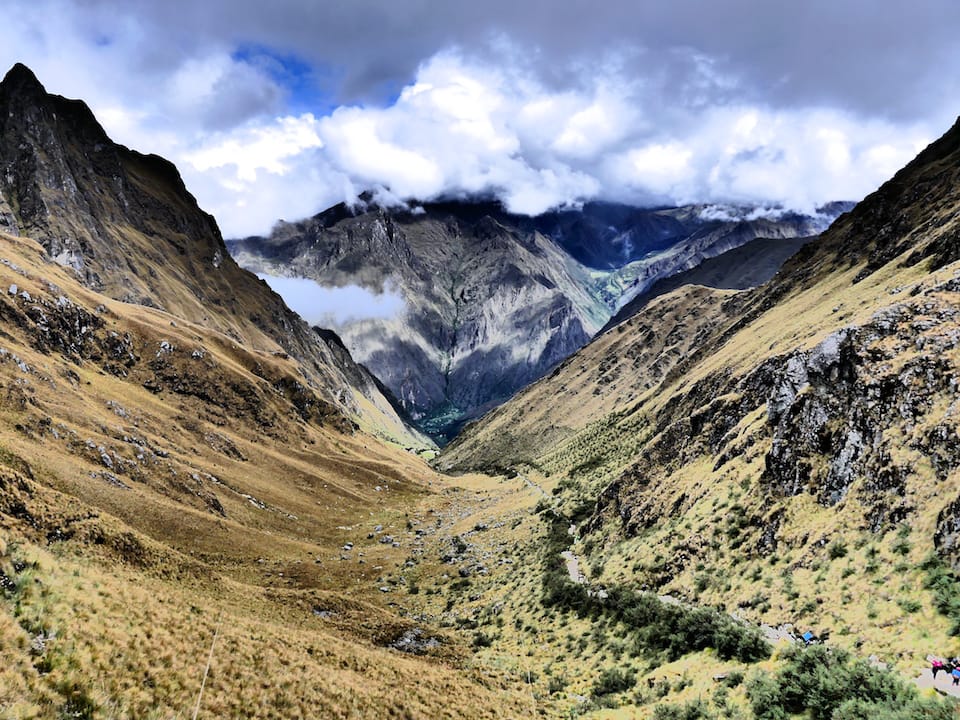 How we booked our Inca Trail
To avoid overcrowding the Inca Trail and to make it safer, the Peruvian government implemented strict rules to regulate access. As a result, it is limited to just 500 people a day of which 300 are guides and porters. You therefore need to book it several months in advance to avoid disappointment.
We booked our Inca Trail 4 months beforehand with Journeyou, a company we found based on recommendations from friends who also used them. The booking process was clear, efficient and they gave us plenty of advice and packing tips before arriving in Peru.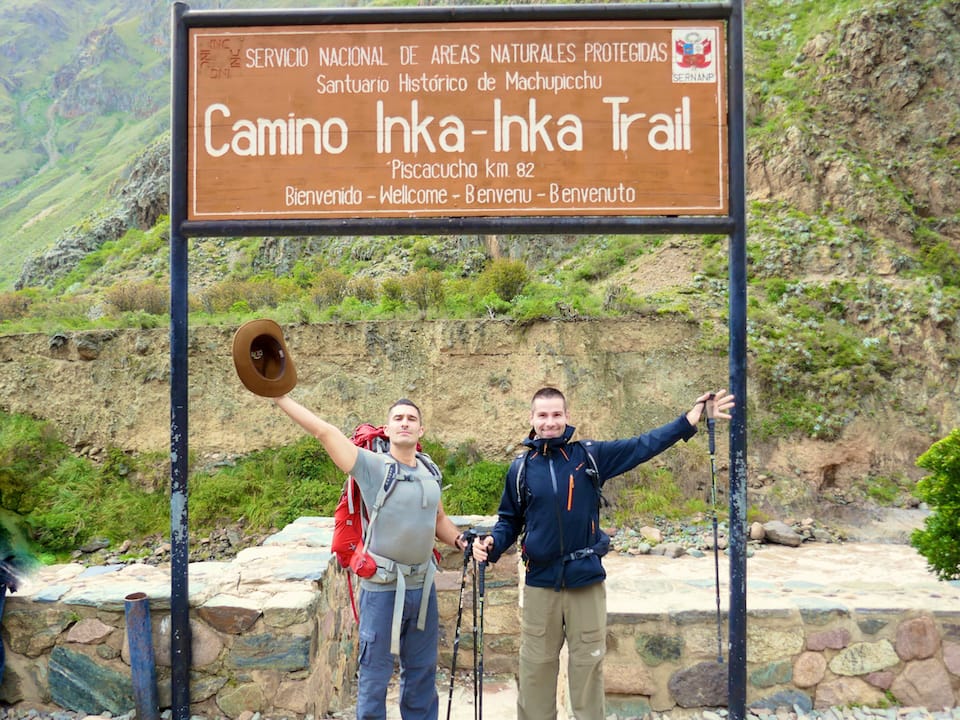 Acclimatising in Cusco
We cannot stress how important it is to spend a few days acclimatising in Cusco (located at 3,500m / 11,4800ft) before attempting the Inca Trail. The trek is hard, certainly harder than our Annapurna trek in Nepal and our Rinjani trek in Indonesia, and the altitude can take its toll on you if you're not prepared for it.
For more information about where to stay and what to do in Cusco, check out our gay travel guide to Cusco and the Sacred Valley.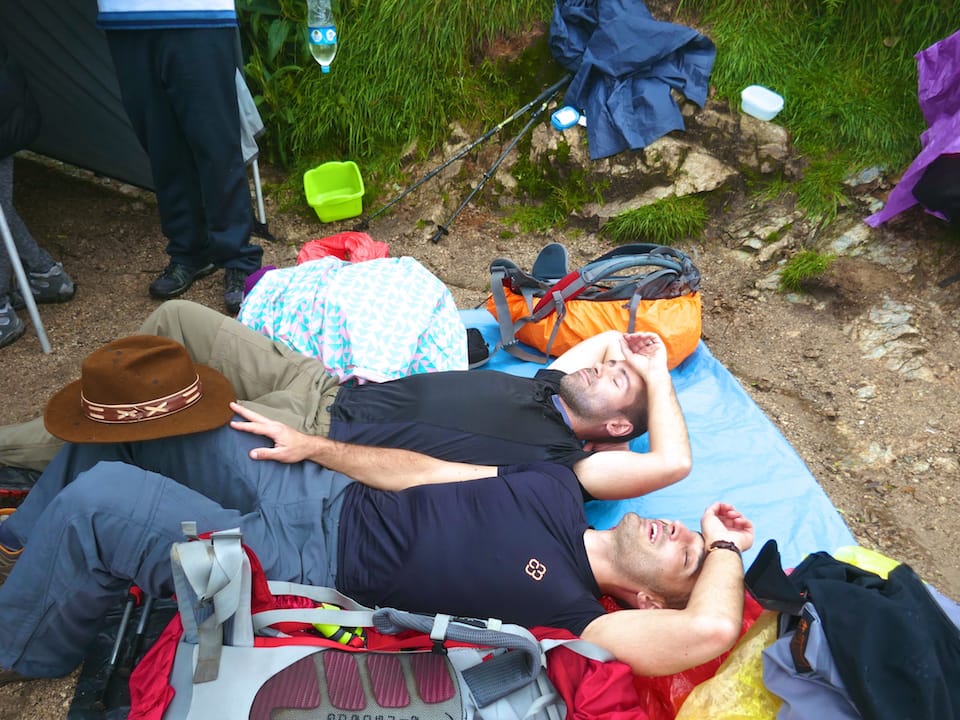 Two days before the Inca Trail
We met our guide, Darwin, at our hotel in Cusco two days before setting off on the Inca Trail. He is a very funny, enthusiastic and passionate guide, full of good cheer and at all times extremely professional.
Darwin gave us a briefing of what to expect and the latest recommendations for last minute shopping items to buy in Cusco before the big adventure. He also provided us with our duffle bags to pack our clothes for the journey and pointed out to us that we should aim to limit this to 5kg per person – imagine the look on Seby's face who had already packed an entire suitcase of outfits!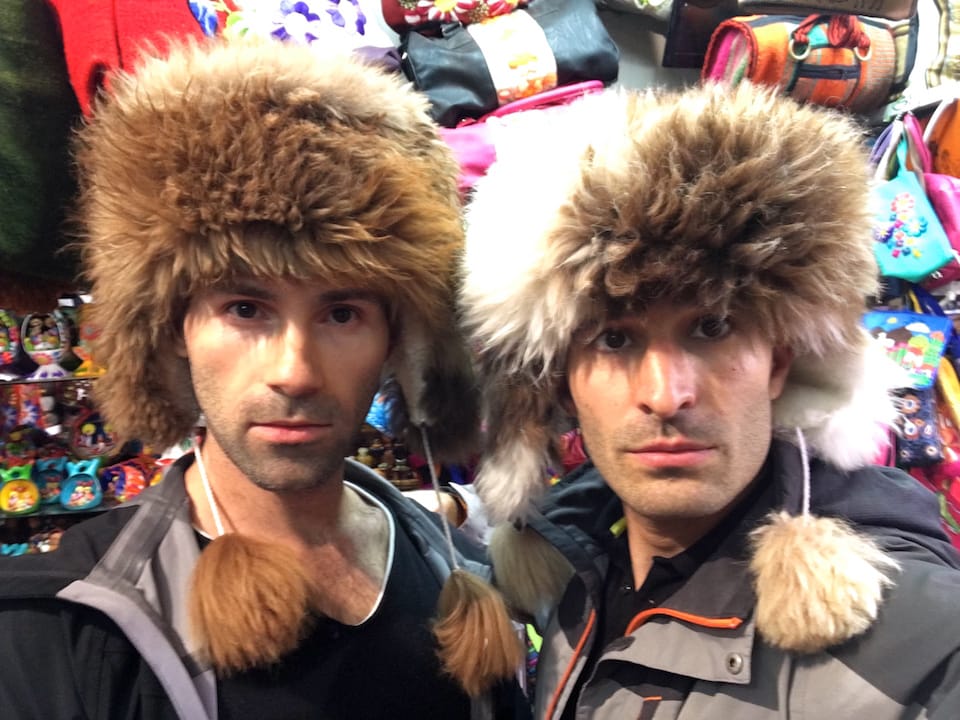 Our experience trekking the Inca Trail
Trekking the Inca Trail was one of the most rewarding things we've accomplished. But it was damn tough, involving lots of steps up and down, up and down… You're guaranteed buns of steel by the time you arrive at Machu Picchu on the final day.
The hardest part we remember through gritted teeth was trekking down from the highest point at Dead Woman's Pass (Warmihuañusta), which is 4,200 metres (13,800 feet) high. This involved going down some pretty high and steep steps for hours, which felt never-ending. If you have weak knees, this is not the place for you.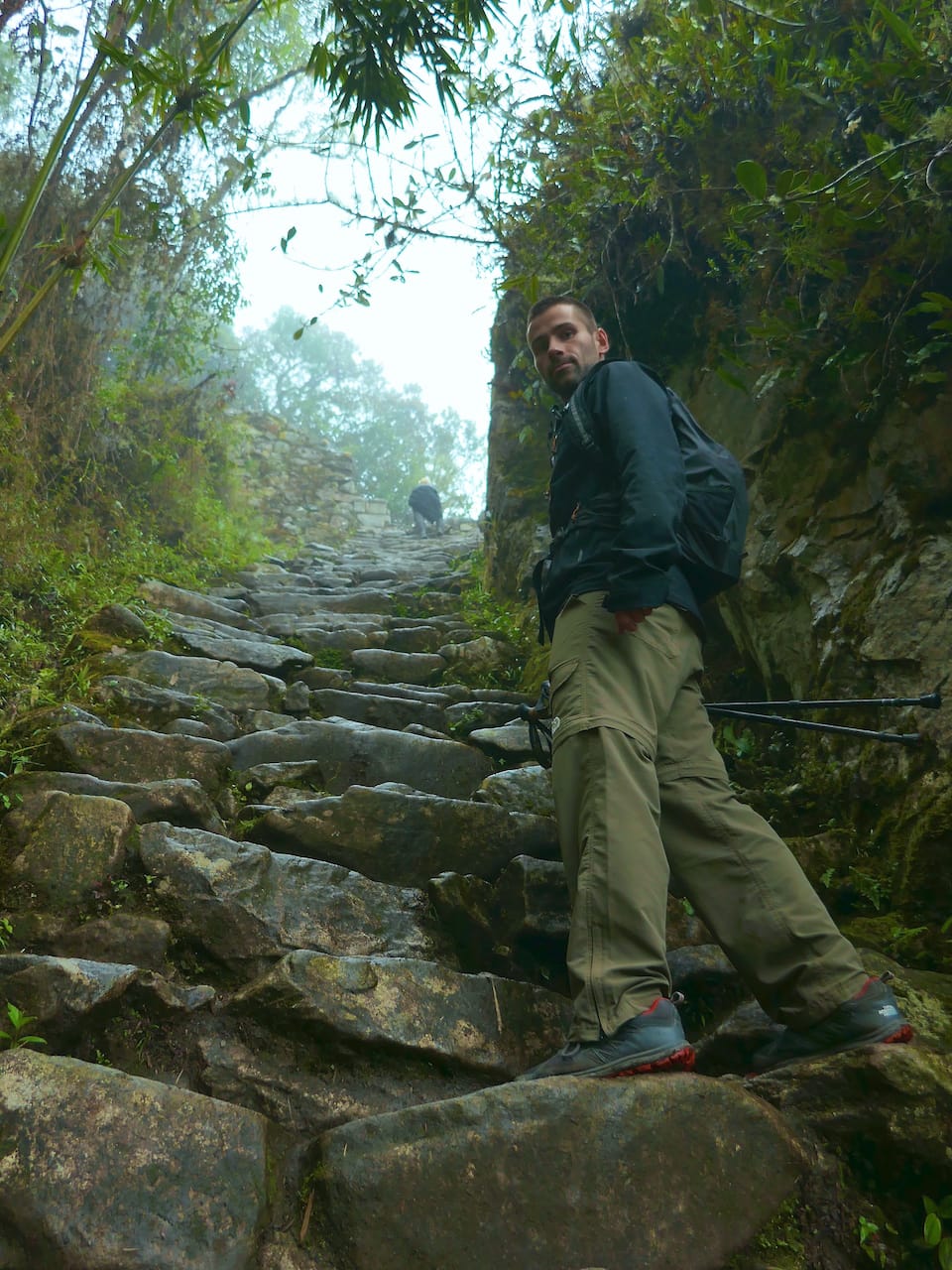 A typical day involved waking up at around 5/6am, with 1 hour to get ready, pack, have breakfast and then trekking until noon. Lunch would take around 1 hour and then we'd do a further 3-4 hours trek in the afternoon to the evening's base camp. Dinner was around 7pm and given how exhausted we were each day, we were fast asleep by 9pm.
Remember, there are no hot showers along the way. Some of the camp sites have cold water showers available, but given how low the temperatures drop at night, you're better off using baby wipes to clean yourself during the 4 days.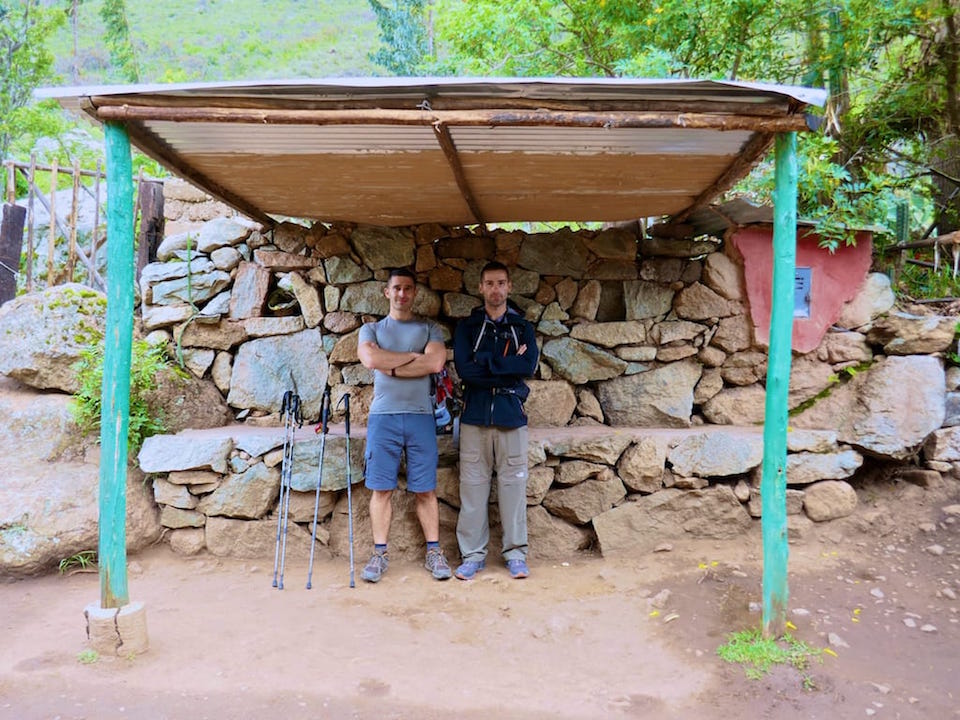 Our porters and guide
One of the things that stood out the most for us when we booked with Journeyou was that all their guides are licensed, speak English fluently and clearly enjoy their job.
Darwin was our guide who had over a decade experience leading Inca Trail treks. What we loved about him was his cheery nature and cheeky sense of humour. This is what helped us conquer the tough moments during the trek, such as Dead Woman's Pass.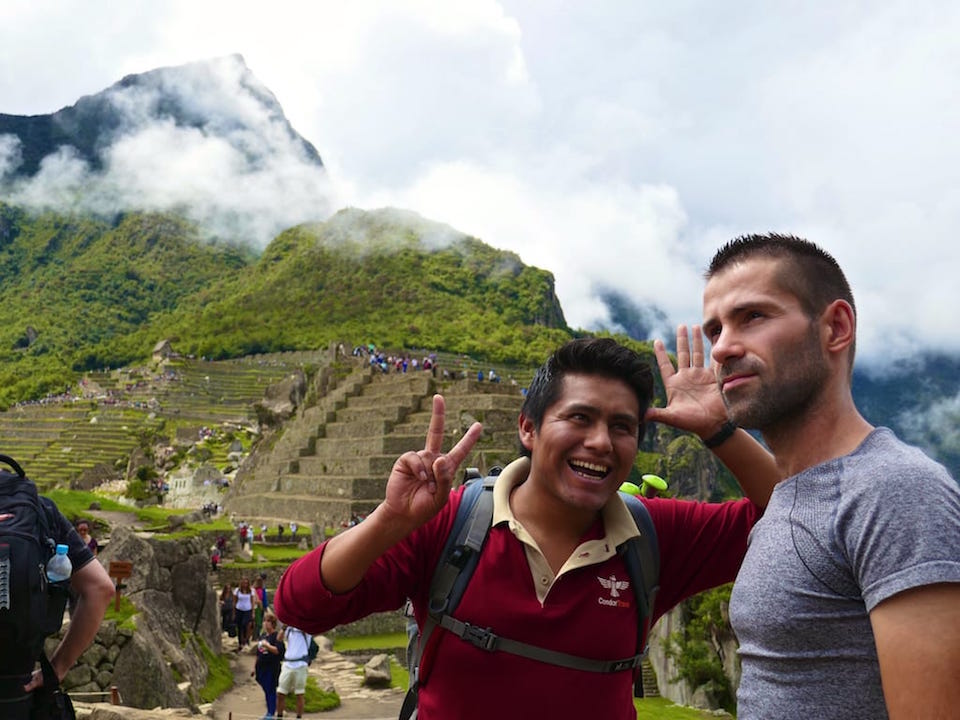 Darwin uses the same team of porters for his treks, so he has an excellent relationship with them.
The whole operation is damn impressive…they go running ahead of you carrying your dinner whilst you're slowly lagging behind huffing and puffing with every step, trying to cope with the altitude!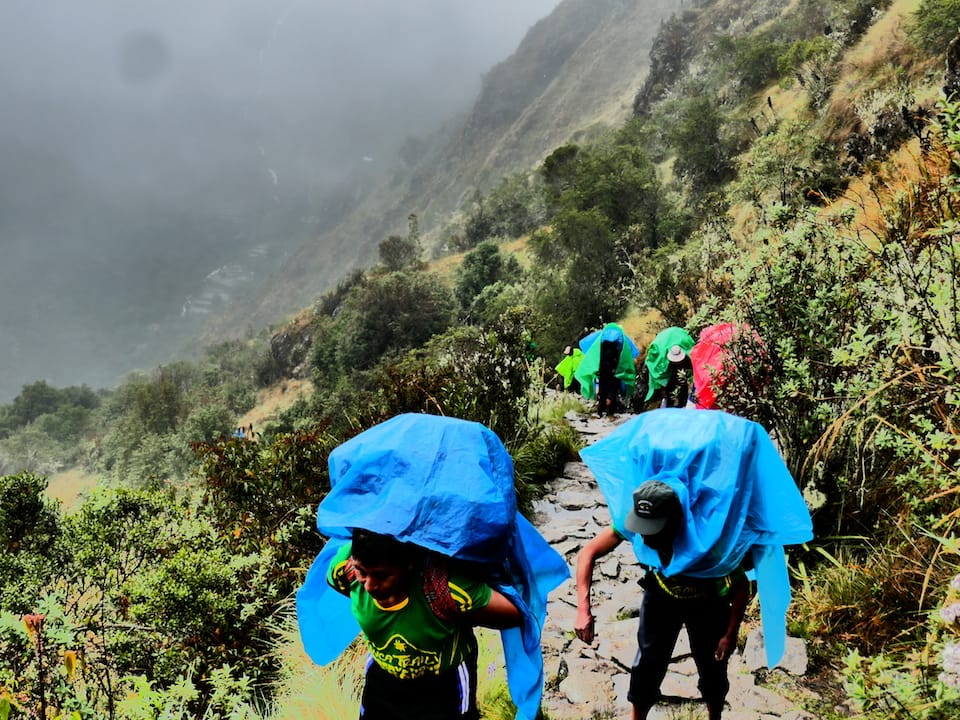 Camping equipment
The camping equipment provided by Journeyou was comfortable, in excellent condition and top quality. It included:
spacious tents: we had a large tent, which was more than enough for the two of us
Therm-a-Rest: they supplied us each with a Therm-a-Rest inflatable camping mattress
thick sleeping bags rated to 5-degrees: which keep you warm to temperatures that fall as low as 5 degrees Fahrenheit / -15 degrees celsius
oxygen: our guide always carried 1 small oxygen can to help with altitude sickness
First Aid Kit: our guide carried a First Aid Kit at all times
cooking equipment: the porters carried all cooking equipment including a gas canister, a dining tent, table and chairs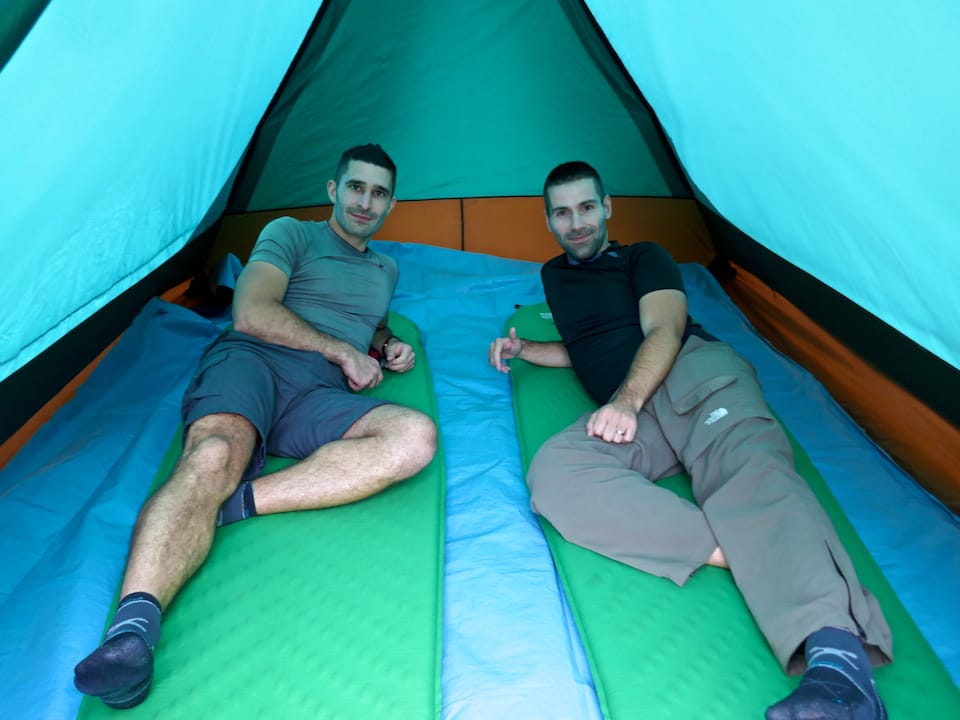 The toilet situation!
Sadly, this is the only complaint everyone has about the Inca Trail. The squat toilets at the camp sites are not in the cleanest condition. They are nonetheless useable but it goes without saying you'll need to bring your own baby wipes.
Journeyou gets around this by providing their own portable toilet tent for the exclusive use of its clients. However, due to the strict requirements by the government, tour companies are not allowed to carry the heavy chemical toilets, nor are they allowed to dig a hole in the ground to use. Instead you literally only have a plastic bag as a toilet in these portable tents, which is fine if you're the first person to use it, but it then takes a very brave individual to go in afterwards!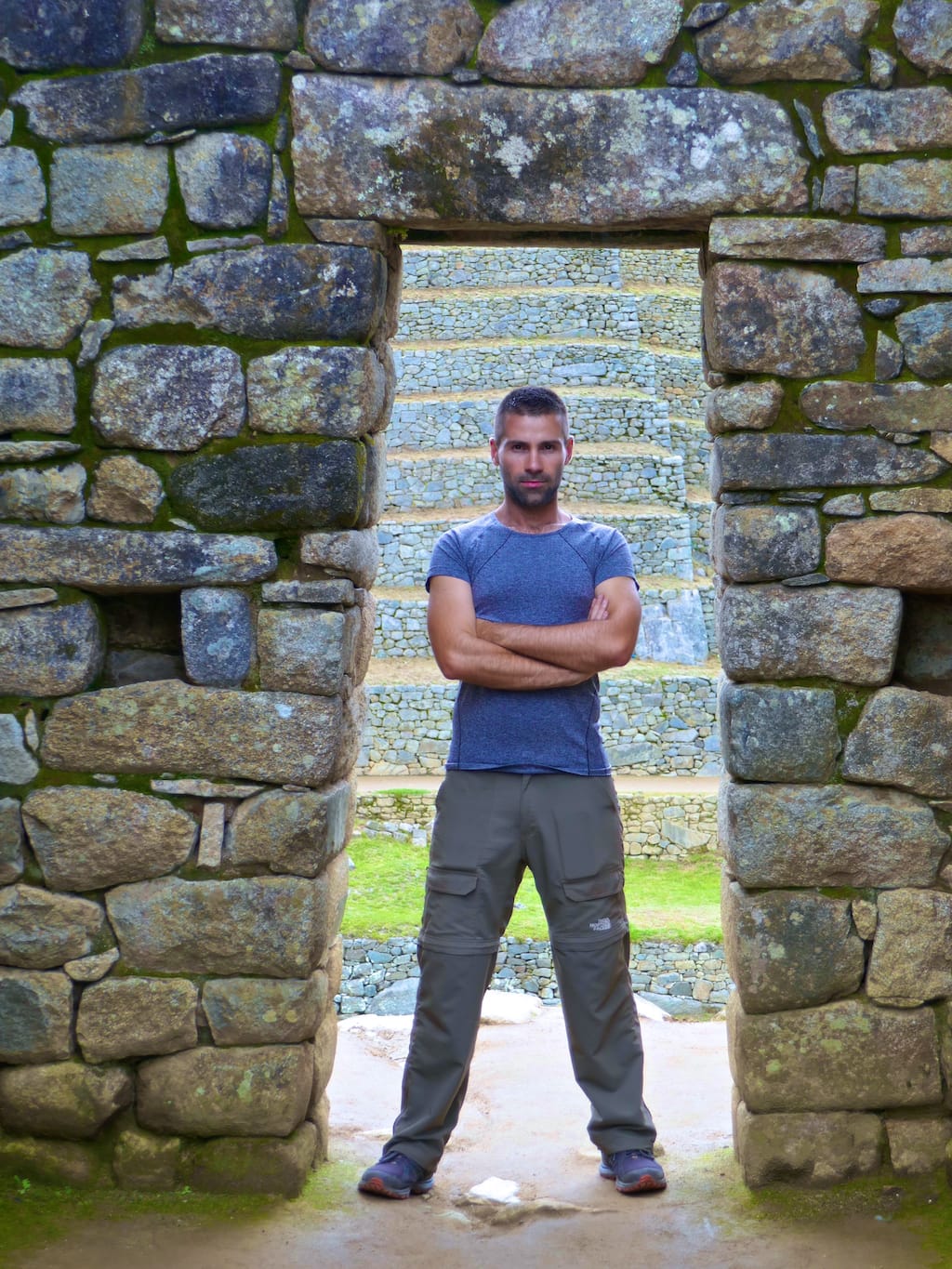 The bottom line
Trekking the Inca Trail with Journeyou was an incredible experience, one which we'll never forget.
The Inca Trail is tough, especially with all those steps, but the porters and our guide Darwin made it much easier due to their cheery nature.
The bottom line? Despite the challenge, all the hard work and all those many hundreds of steps, it's definitely worth it! Read more about our Inca Trail adventure on Mr Hudson Explores.
How much does it cost to trek the Inca Trail?
When we were researching trekking companies, we found Journeyou to have the most competitive prices for the 4 days / 3 nights Inca Trail, taking into account the quality of food, equipment and professionalism of its staff.
The 4 days / 3 nights Classic Inca Trail with Journeyou starts from $650/£520 per person.
If you have the budget to do it in luxury, they can upgrade the experience to glamping, which includes proper beds and champagne. Prices for the 10 days Luxury Inca Trail start from $6,200 per person.
For more inspiration:
OUR FAVORITE TRAVEL RECOMMENDATIONS
⭐️ TRAVEL INSURANCE — We recommend you always take out travel insurance before your next vacation. What happens if you suffer from illness, injury, theft or a cancellation? With travel insurance, you can have peace of mind and not worry. We love World Nomads travel insurance and have been using it for years. Their comprehensive coverage is second to none and their online claims process is very user friendly.
⭐️ SAFETY & SECURITY — All travelers can sometimes encounter danger when traveling. CloseCircle is your "virtual body guard" mobile app which provides security alerts and support wherever you are in the world. They have a 24/7 emergency response team monitoring their users who will contact you immediately if the SOS swipe button is activated. Support can include anything from practical advice, to free evacuation from areas with extreme weather or security risks. You can read more about CloseCircle in our article about how to stay safe whilst traveling.
⭐️ ONLINE ANONYMITY — A VPN (Virtual Private Network) is a must in many countries: it allows you to surf anonymously and maintain your privacy whilst traveling. You'll particularly need it in countries where dating apps are blocked by the government. We recommend ExpressVPN, a reliable and cost effective service which we used and loved during our travels.
⭐️ HOTELS or APARTMENTS — When we plan a trip, we always look for the best hotel deals. We love Booking.com because not only do they have a comprehensive listing of accommodation options, they also offer the best prices. Added bonus: they provide 24/7 support and free cancellation for most listings.
⭐️ SIGHTSEEING and ADVENTURES — When we travel somewhere, we like to seek out the best experiences, whether it is cooking with locals in Bangkok, hiking on a glacier in Patagonia, or going on a wildlife safari in Sri Lanka. Our favorite place to look is GetYourGuide because they have over 30,000 highly rated activities, a user-friendly booking process with free cancellation and a 24 hour customer support.
This article contains affiliate links. If you click on them, we may receive compensation which keeps our website alive and helps us bring you to more destinations.
Pin for later