TERMS OF USE: There is a chance that some of the content on this page has changed since it was last updated. By reading this article, you consent to our Terms of Use and Disclaimer. Happy Travels!
DISCLOSURE: Some of our posts may contain affiliate links which we may receive a commission if you choose to book something through one of our links.
We love the gay beaches of Barcelona! We've explored them at length and have summarized them for you in this article.
With its epic beach parties, stunning crowds, beautiful weather and lots of activities, Barcelona has a beach to suit every mood. There are beaches for when you need some private time or for when you want to become the life and soul of the party. Each beach has a unique energy and attracts different crowds. However, they all have one thing in common: they're all fabulous and worth shouting about!
This is our guide to the best gay beaches in Barcelona to check out:
What is the official gay beach in Barcelona?
Barcelona is well-beloved for its beaches and is recognised globally for how incredible they are. In fact, National Geographic has listed it as the number one best beach city in the world.
Whilst only two out of Barcelona's beaches are considered officially "gay", we found that every single one we went to is gay-friendly. The official gay beaches of Barcelona are San Sebastian and Mar Bella. However, there are a few others to check out, particularly as you head into Sitges.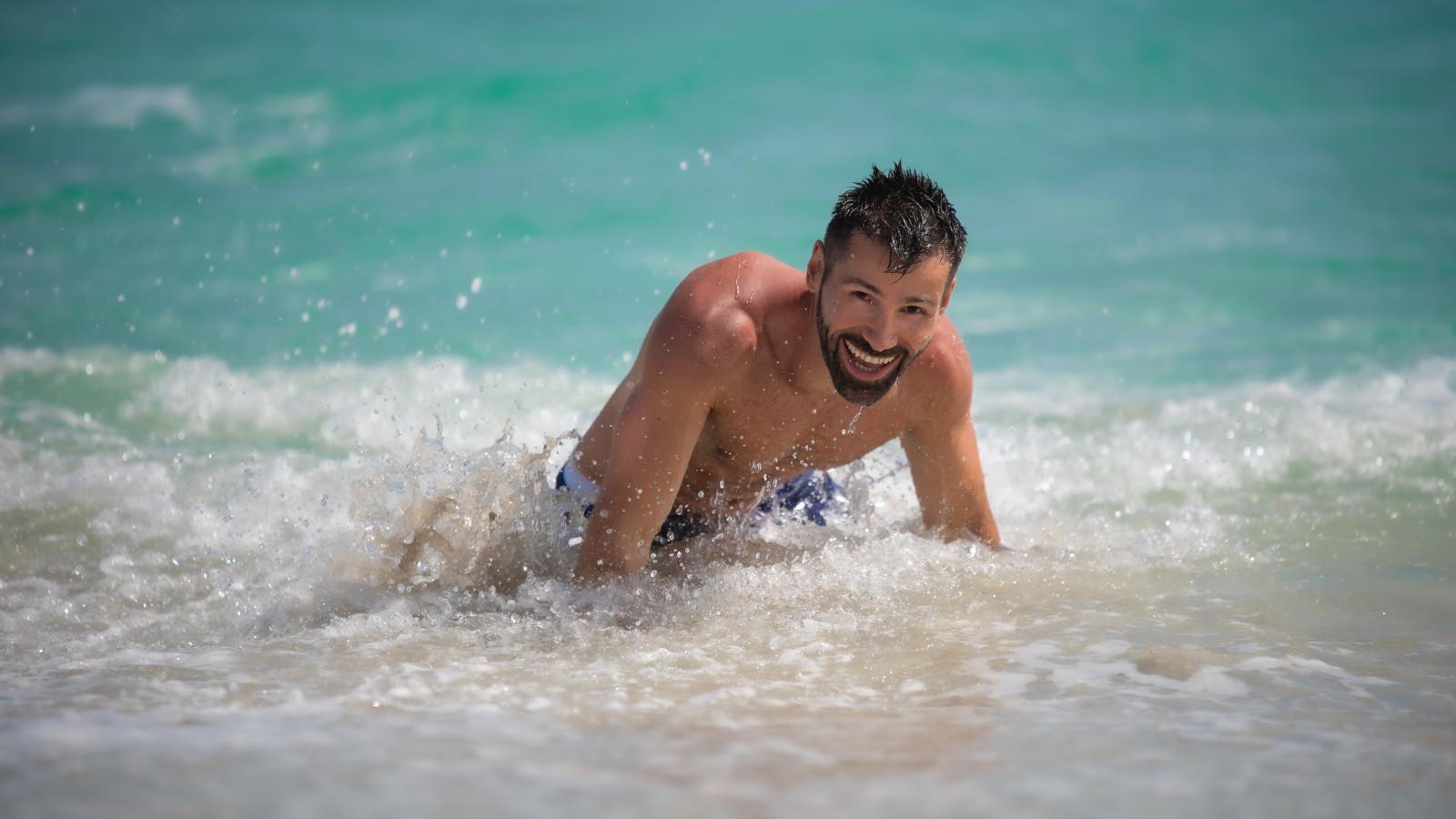 Platja de la Mar Bella
Mar Bella is our favourite beach in Barcelona and in our opinion one of the best gay beaches in the world. It's also The official gay nude beach of Barcelona. If you come here during the summer months, it gets crowded full of gay boys, particularly during the Circuit Festival in August. This is when you'll want one person in your group to go early and lay down some towels for the rest!
The crowd here is mainly gay guys and gals with a dash of the token queen bee. We've occasionally seen families hang out here too.
Most of the action happens in front of the Chiringuito BeGay bar – just look out for all the rainbow flags and gays in tight Andrew Christian speedos!
How to get to Mar Bella beach
Take the metro L4 line to the Poble Nou station and from there walk straight down Bilbao Street towards the sea for about 10 minutes. Or you could hop into a taxi from Gaixample area, which will cost around €20.
Eat and drink at Mar Bella beach
Get yourself to the Chiringuito BeGay bar. It's a fantastic hangout that really makes Mar Bella special. They sell snacks and cocktails (albeit a bit on the weak side). We've made many new friends here, especially in the queue for drinks!
We also recommend stocking up on supplies (sunscreen, water!) at the supermarkets along the way as you walk from Poble Nou station.
Playa de San Sebastiàn & Barceloneta
By far, one of the most popular beaches in Barcelona, San Sebastian is adored by tourists and locals. Considered to be one of the oldest beaches in the city, this is the main official gay beach in Barcelona. We found the crowds here tend to be on the maturer side.
What we love most about the beach isn't its glorious waterside restaurants or sports tournaments, but its accessibility. With amphibious chairs available, it allows for people of all abilities the chance to admire the stunning Mediterranean waves.
It is the closest gay beach to the city centre, and it can get very busy at the weekends. However, it's also the most popular spot for pickpockets and vendors, so you're always bothered by someone every few minutes. Be careful!
For nudists, you'll want to head over to Mar Bella (see below).
How to get to San Sebastian beach
To get there, you can take the metro L4 line to the Barcelona station and walk 10 minutes following the Juan de Borbón Promenade. A taxi costs roughly €15 from Gaixample.
Eat and drink at San Sebastian beach
San Sebastian's beach is located a stone's throw away from the W Hotel, which has a fabulous beach bar to grab a drink or snack. Plus, if you were looking for a gay friendly hotel place to stay that was right next to a beach, then we highly recommend checking it out. For a more full-on meal, we recommend Buenos Aires Grill and Restaurante Bivio.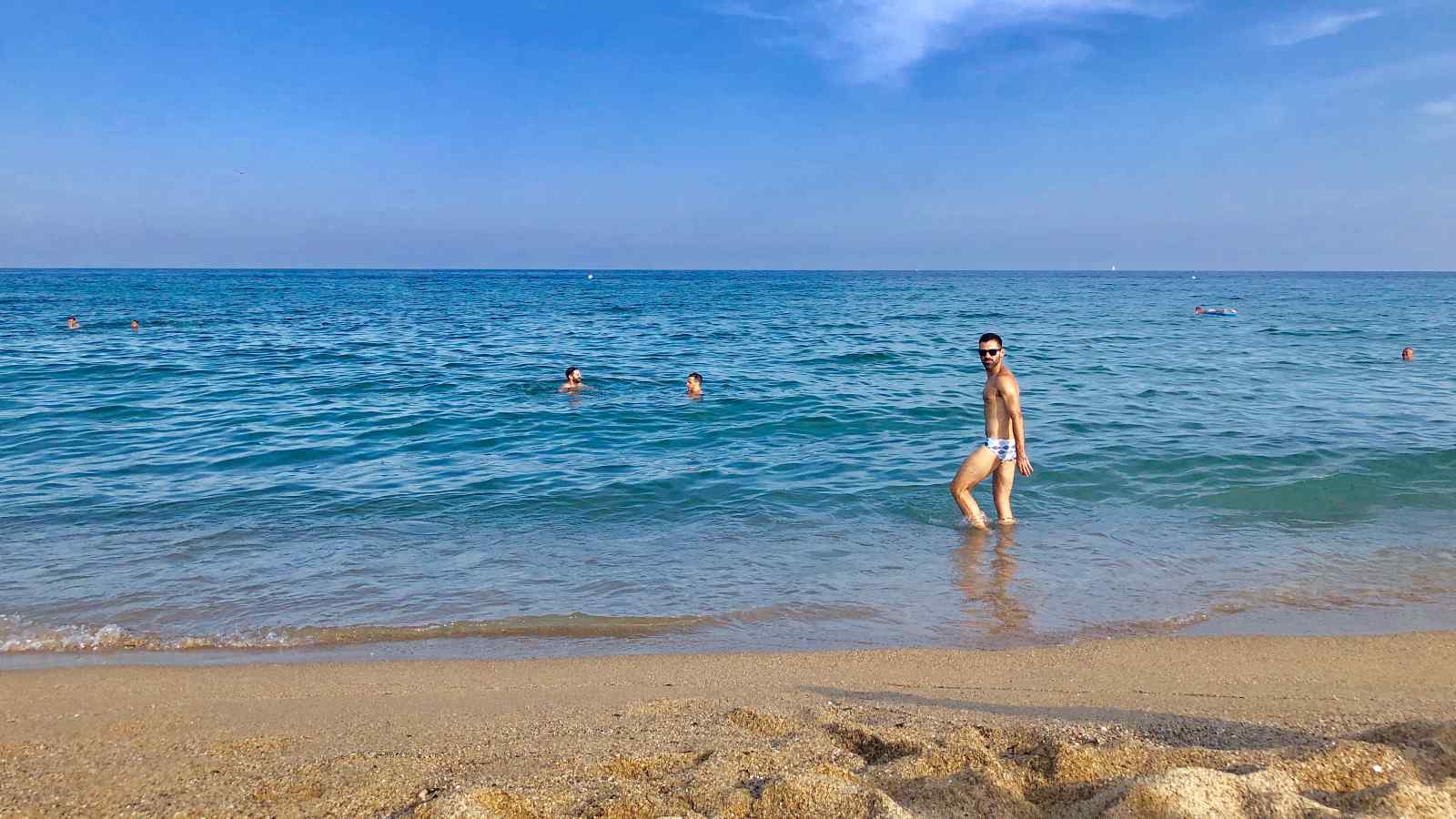 Platja de la Nova Icària
Whilst some like to party, others just like to chill, read a book and soak up some quiet time. After a late-night of dancing on the Barcelona nightlife scene, we needed some space to recover. Send in the glorious gay beach Plata de la Nova Icaria!
A peaceful spot along the Barcelona coastline, the only sounds here are the gentle cawing of the seabirds and the waves hitting against rocks.
Even though Nova Icaria beach is located between the Mar Bella and San Sebastian beaches, it's more of an introverted and relaxed spot with a more laidback vibe.
How to get to Nova Icaria beach
Nova Icaria is fairly easy to get to. If you hop on the H16 bus at Ronda Universitat (which is a 7-minute walk from Axel Hotel), it'll take around 30 minutes to reach the beach. Or take the metro by going via the L1 line. A taxi fare will cost you around €15 from Gaixample.
Eat and drink at Nova Icaria beach
Three words – El Cangrejo Loco! Delicious seafood, a fresh ambience and friendly staff make this place shine. Inside, it's rustic colours and maritime decor celebrate all that is great about the beach. Just down the promenade is another fabulous restaurant called La Fonda del Port Olimpic, which is also notorious for its tasty seafood.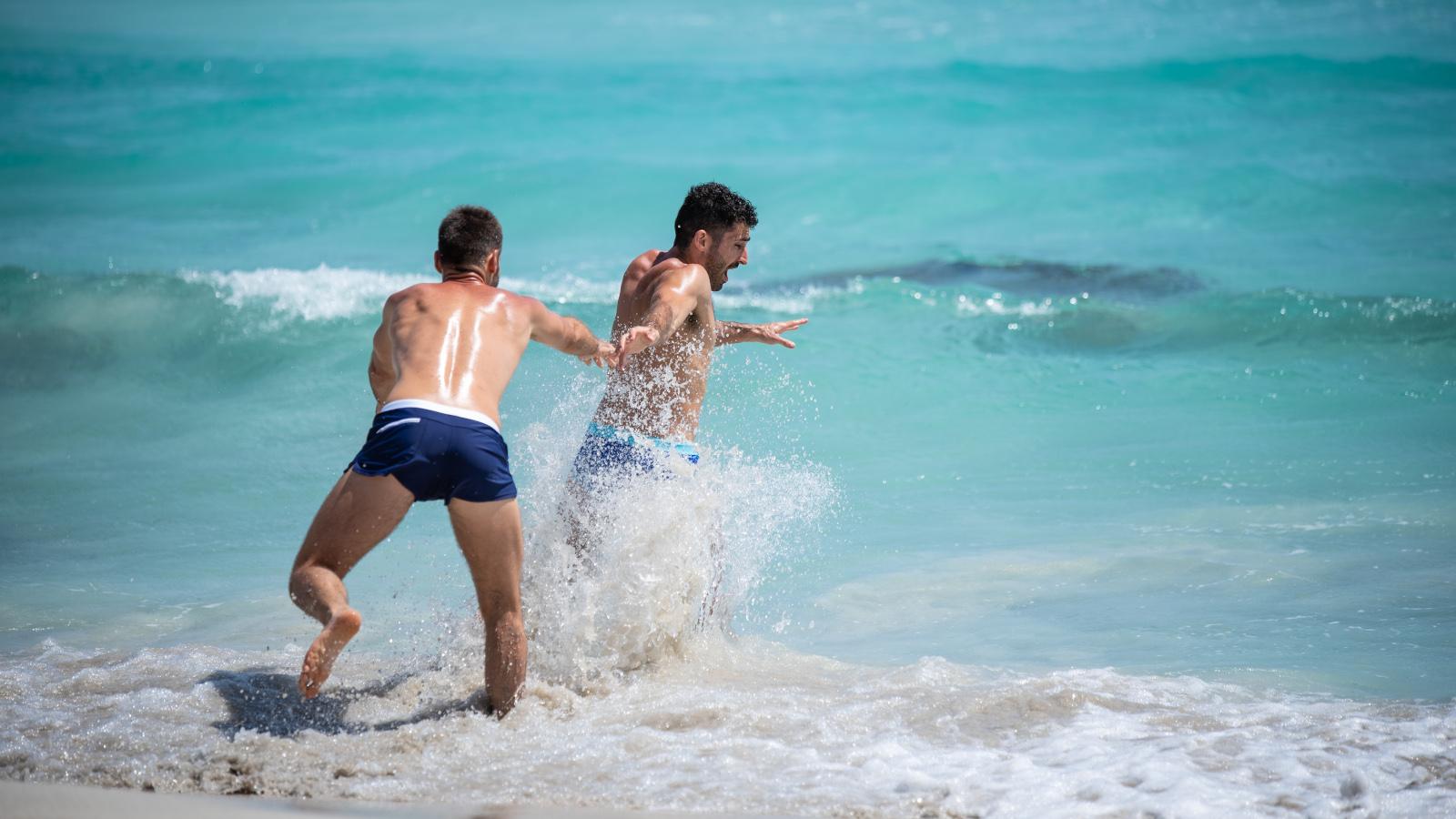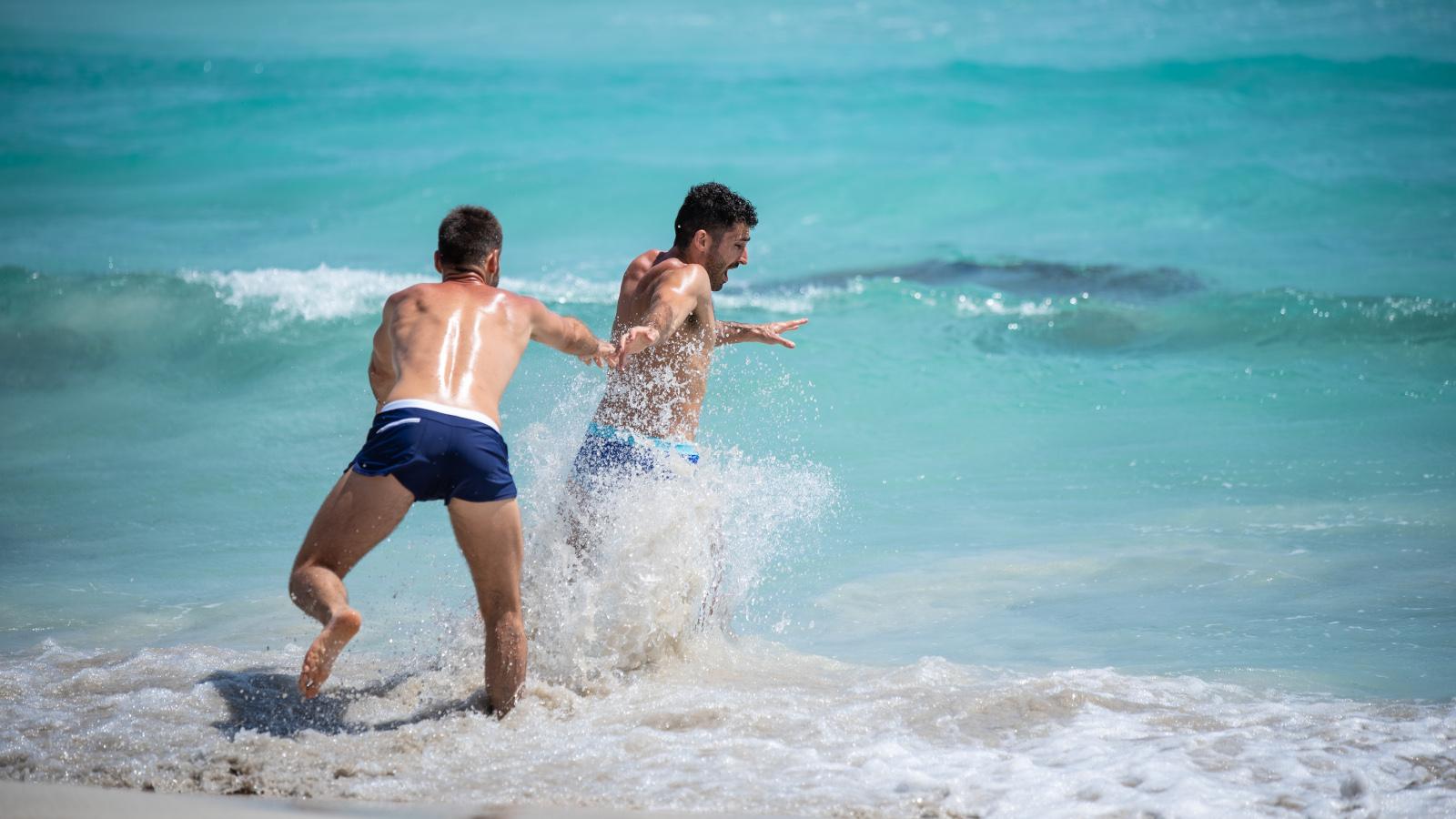 Playa de la Bassa Rodona in Sitges
We know what you're thinking: Sitges is not in Barcelona! You're right, however, we decided to mention it in this guide because Sitges is easily accessible from Barcelona and it makes a fun day out. Plus this is where you'll find some of the best gay beaches in Europe.
Found right in front of the Hotel Calipolis, you'll know you've found Playa de la Bassa Rodona when you see tons of super buff men striding around in tight speedos in front of lots of rainbow flags!
Bassa Rodona is the main beach of Sitges, located right in the centre of town. As such it's always busy here with the gay boys, as well as families and locals. The atmosphere on this beach feels truly electric. The only downside is that it can get quite crowded and busy. Read more in our awesome LGBTQ guide to Sitges.
How to get to Bassa Rodona beach
Bassa Rodona beach is around 10 minutes walking distance from the Sitges train station. From Barcelona to Sitges it's around 45 minutes on the RS2 train. Otherwise, it's a 30 minutes tax ride costing around €50.
Eat and drink at Bassa Rodona beach
Picnic! No seriously, there is a restaurant here called "Pic Nic" and it's pretty good! It's ideal for a quick bite, drinks or a meal. Otherwise, you're minutes walking distance to the gay scene of Sitges.
Platja dels Balmins in Sitges
Balmins beach is around 15 minutes from Sitges train station, just outside the centre of town before the Port d'Aiguadolç. Unlike Bassa Rodona, Balmins is a clothing-optional gay beach, although it's not officially an exclusively gay beach. However, we found it to have a predominantly male crowd.
Balmins is our favourite gay beach in Sitges because it's not too far away to reach, but located outside the main strip of the city so you're away from all the crowds and screaming kids. We also love it because it's in a little hidden enclave, which lends itself perfectly to nudism.
For gay cruising at Balmins beach, head to the tunnel behind the beach where the train tracks are.
How to get to Balmins beach
After the 45 minutes train journey from Barcelona, Balmins is around 20 minutes walk from the Sitges railway station.
Eat and drink at Balmins beach
There are no beach clubs or restaurants at Balmins beach, so be sure to bring supplies with you. Otherwise, as you head from Balmins into the centre of Sitges, you'll pass the Vivero Beach Club. This is one of the best places to come for romantic sunset cocktails and a few snacks.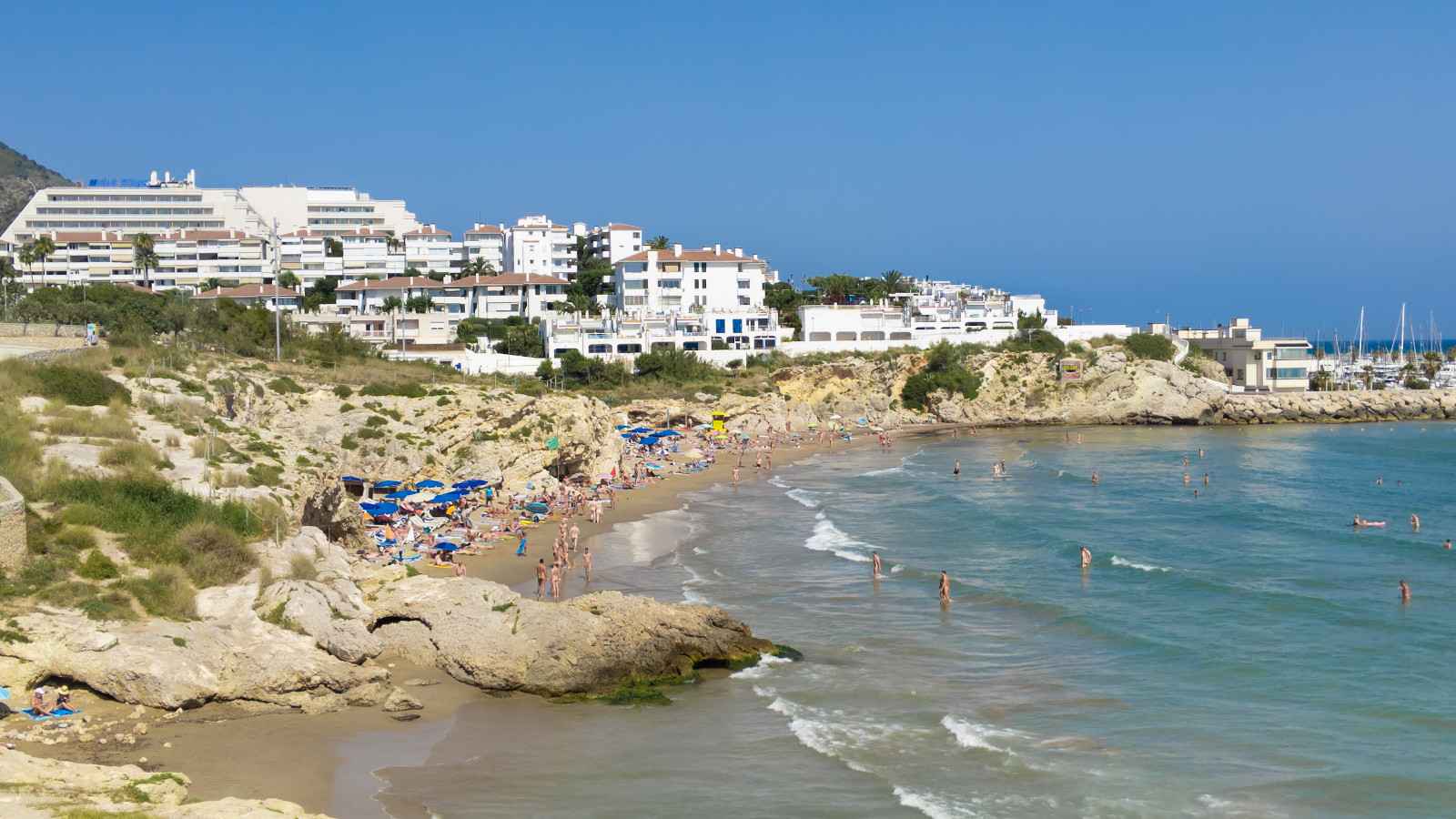 Playa del Muerto in Sitges
This is the official gay nude beach of Sitges located at the bottom of a small cliff. It's much quieter and peaceful than the others, mainly because it's quite far out. If you're up for it, it's worth the trek, but be warned it's a good hour walk from Sitges Railway Station. If (understandably) you can't be bothered, then we recommend just heading to Balmins in Sitges or Mar Bella in Barcelona.
We personally love Playa del Muerto for the carefree nature of the visitors and how it feels to be totally cut off from the rest of the world. This alone makes the long trek worthwhile!
For gay cruising at Playa del Muerto, head to the woods behind the train tracks, especially at sunset, but just remember to wear lots of mosquito repellant!
How to get to Playa del Muerto
First, it's a 45-minute train journey from Barcelona on the R2S train. From Sitges Railway Station it's around 1 hour walk to Playa del Muerto. We recommend either walking along the railway track between the pine forest or follow the promenade from the centre of Sitges. We did the later on one of our morning jogs in the city.
Eat and drink at Playa del Muerto
There is a pricey cafe for snacks on the beach, but otherwise, there isn't much else here. It's very isolated and remote, which is what we love about it. However, definitely plan ahead and bring your own food and drinks.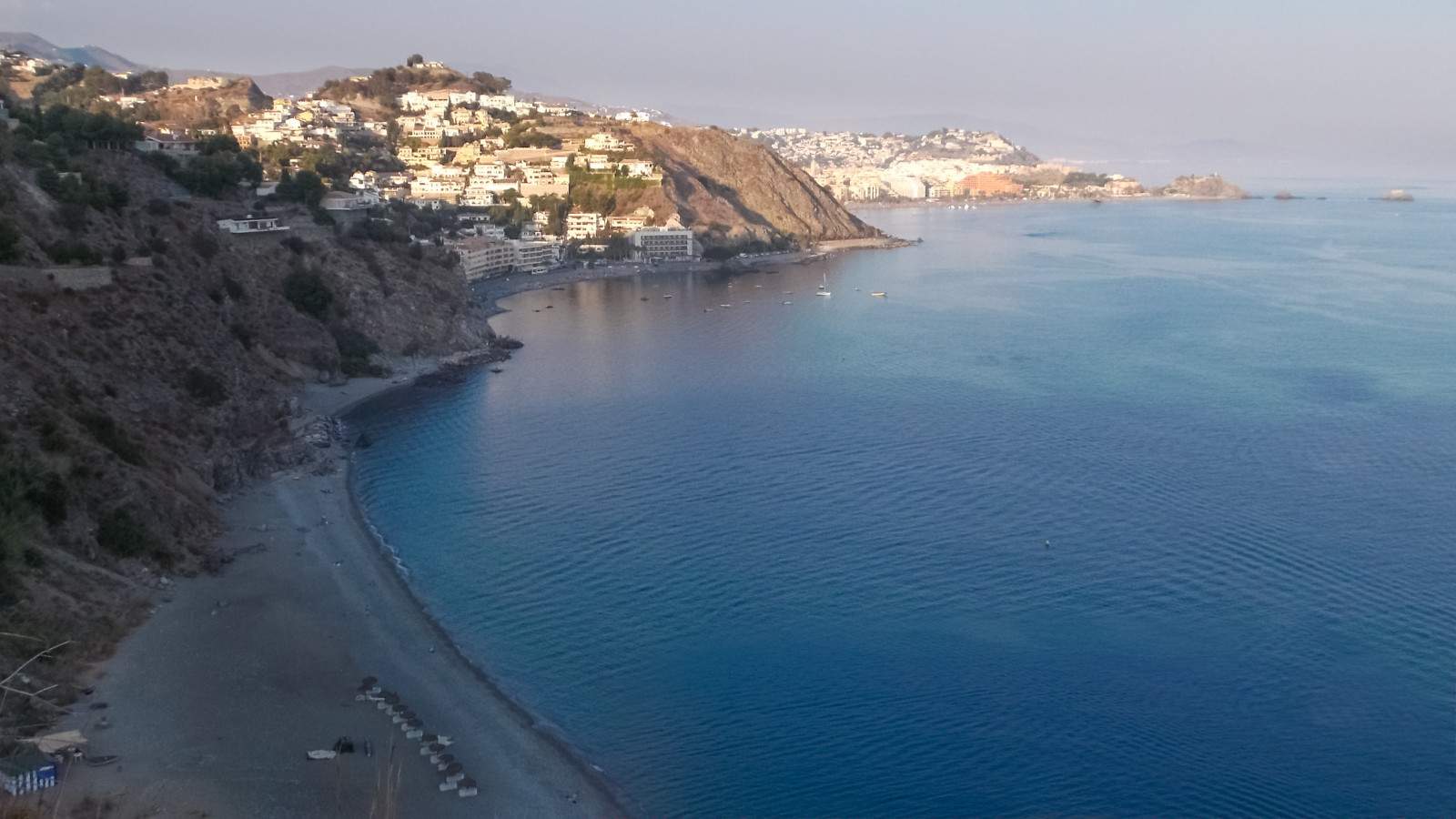 ---
Like this post? Pin it