Madrid Pride…Barcelona Circuit…Sitges gay nude beaches…Gran Canaria Yumbo Centre...
a mere humble sprinkling of some of the gay highlights happening across Spain each year!
But what about for living? Which are the best gay places to live in Spain?
We've been coming to Spain religiously every year since we came out as baby gays many many moons ago…! We love it here – not only is Spain one of the most gay friendly countries in the world, but almost every big city has its own gay scene, complete with fantastic gay events – like Madrid Pride (one of the largest Pride events in the world), Barcelona's Circuit Party (the biggest international gay festival in the world), and the Sitges Bear Week every September (one of the best bear events).
But what we love most about Spain is that society is so welcoming to its LGBTQ community. It's no wonder that gay boys migrate here in their numbers every year, particularly from the USA and the UK. And that's even before we've touched on the gorgeous weather, delicious food, inexpensive rent… and some of the hottest guys on the planet!
In short, when it comes to finding a new place to live, Spain pretty much ticks all the fabulous boxes. In this article, we explore some of the best gay places to live in Spain, highlighting what each has to offer its LGBTQ community.
Heads up: We just wanted to let you know that this post contains affiliate links. That means if you book something through one of those links, we'll get a small commission, at no extra cost to you. It helps us keep our blog going – so thank you in advance for your support! ♥
1. Madrid
Madrid is famous for being very gay. Your Grindr is guaranteed to cɾash here from the moment you switch it on for the first time! But in all seriousness, the city's large LGBTQ community makes it the ex-pat haven that it's grown to become.
Madrid is not only famous for being the gay capital of Spain but also one of the best gay places to live in the country. We also rate it as one of the gayest cities in the world! We love it and would move there in a heartbeat.
The gay neighborhood in Madrid is called, Chueca, with loads of bars/clubs like Bears Bar, Barbanarama, Organic, and El Bulldog. Just one word of advice, the Madrileños LOVE to party till the early hours of the next day – so be sure to factor in a disco nap before heading out! The gay neighborhood of Madrid also has gay bookshops, saunas, and LGBTQ Centres.
Chueca is also the focal point for the big gay parties that take over the city throughout the year when the crowds and festivities transform the streets into one glorious gay party! The mother of all gay events is Madrid Pride ("Orgullo Gay de Madrid"), which takes place every July. It is huge. It's not only one of the best Pride events in the world but also one of the largest with around 3-4 million people attending each year! The climax is the WE Pride Festival – 5 days of some serious partying! Another large gay party in Madrid is the We Party New Year Festival, which is the biggest gay winter event in Europe, attracting around 20,000 people to see in the New Year.
And this concludes what we love most about Madrid. There is always something happening for our divine LGBTQ community throughout the year, not to mention some world-class museums including our favorite, the Museo Nacional Centro de Arte Reina Sofía.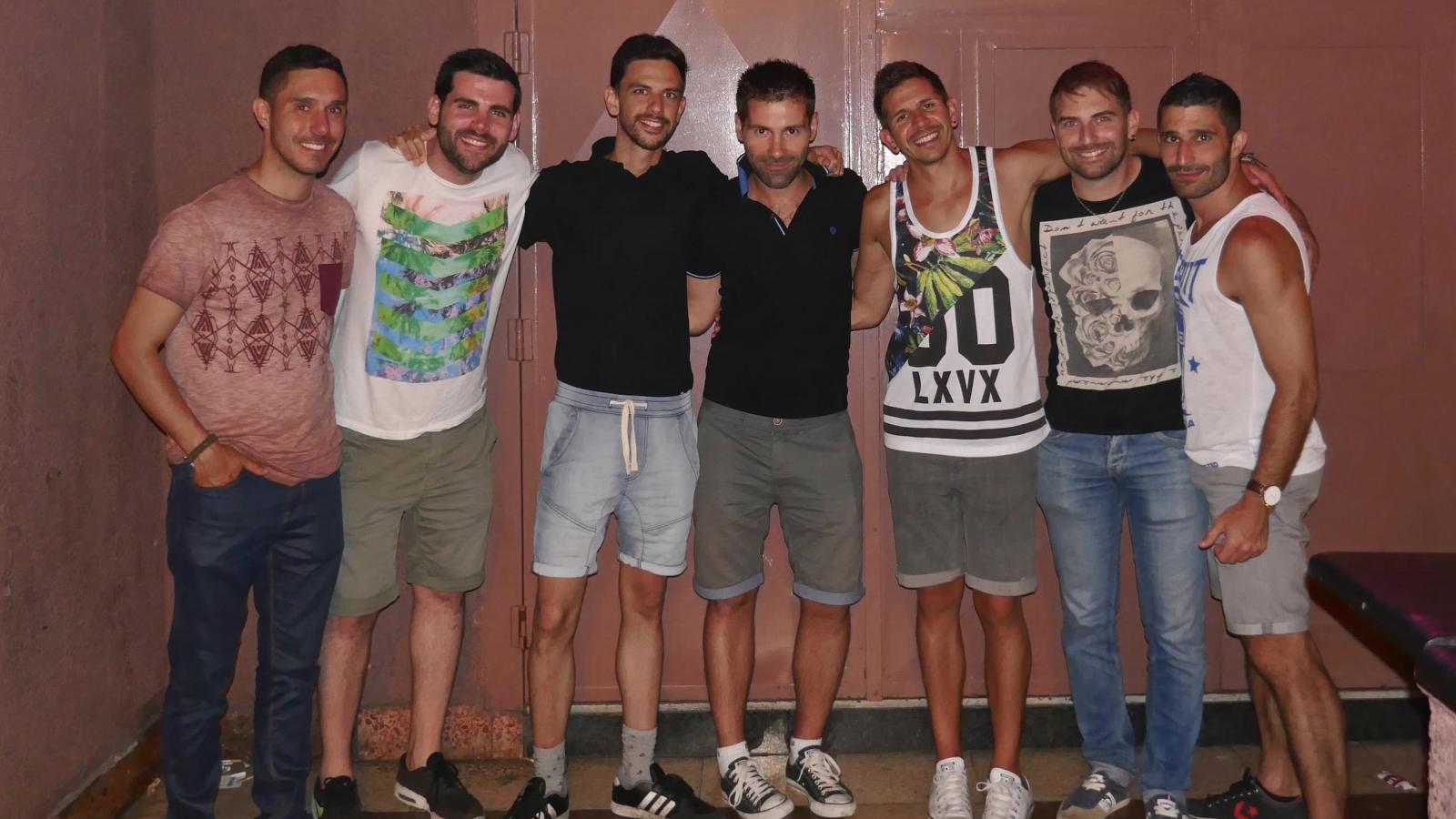 2. Barcelona
Barcelona v Madrid?
This has always been our dilemma when we consider which is the best place to live in Spain. Whilst Madrid comes out on top in terms of gay scene and parties, Barcelona has the beaches, including a few magnificent gay beaches!
Whether it's during the deepest winter months or the peak of summer, the gay beaches of Barcelona are always ready to offer you your daily dose of both Vitamin D and Sea. Our favorite is the clothing-optional Mar Bella gay beach. However, whilst the luxury of having a beach on your doorstep gives Barcelona the edge over Madrid, the downside is that rent is slightly higher.
When it comes to the gay scene, whilst it may not be as vibrant as Madrid's, Barcelona's "Gayxample" gay neighborhood (pronounced "gai-sham-ple") is a lot of fun and very diverse. The gay scene of Barcelona has loads of drag shows, parties, cafes, cruising clubs, restaurants, and saunas. In terms of gay parties, Barcelona is famous for its annual 10-day Circuit Festival in August, when nearly 100,000 gays from all around the world descend on the city to attend one of the many parties.
The other huge highlight of Barcelona beyond the gay beach life is that it's a focal point of culture. The city is ripe with architectural gems including the super famous Sagrada Familia, Casa Battló, and Casa Milá to name a few. The Gothic Quarter is also a joy to explore with lots of narrow medieval streets to get lost in with lots of little bars, galleries, vintage shops, and charming squares to stop for coffee.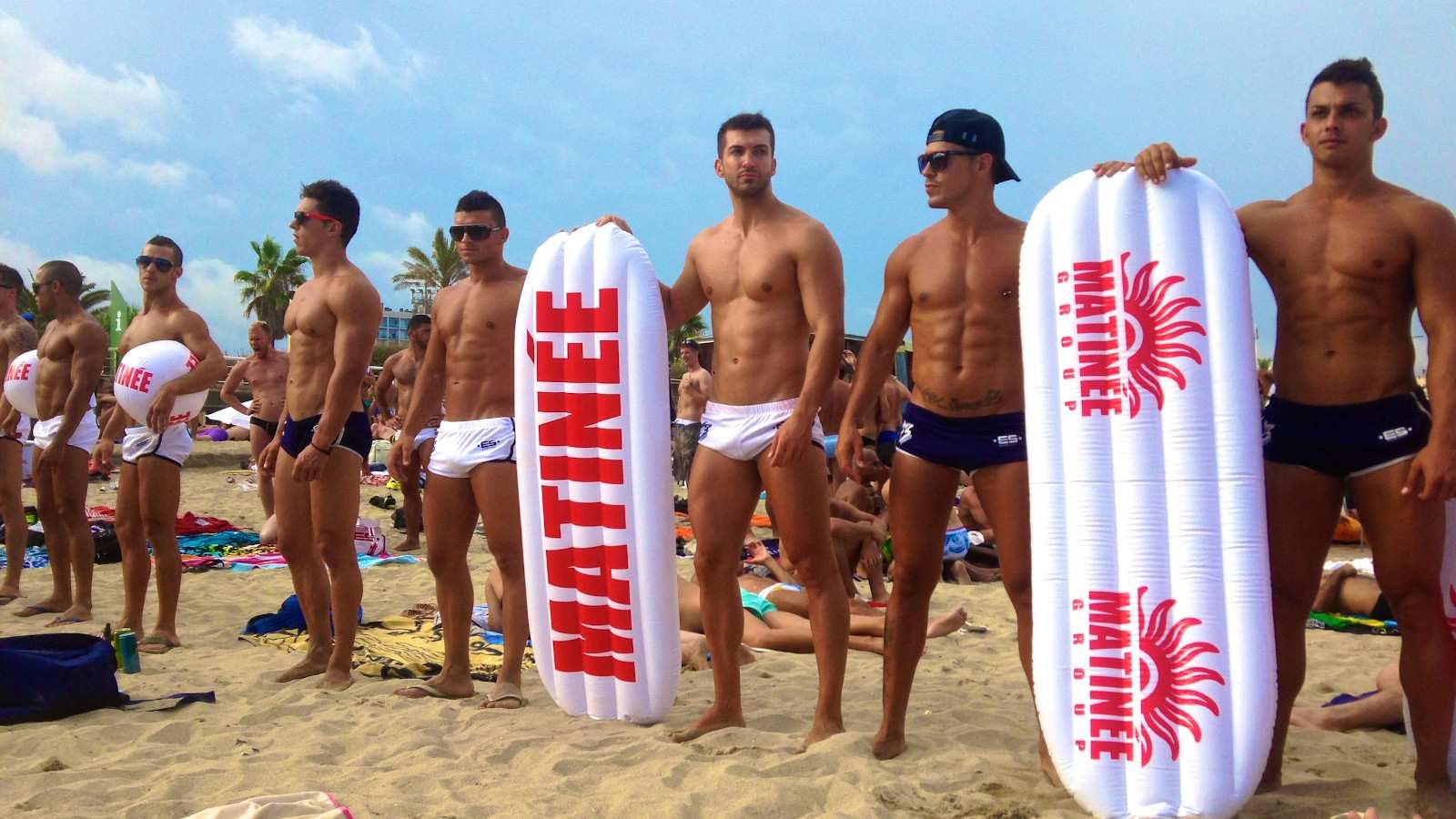 3. Sitges
Sitges is one of Europe's top gay destinations and another excellent gay place in Spain to live in, especially if you don't fancy living in a big city like Barcelona or Madrid.
Sitges is also very gay. Like, super uber gay! So gay that the 30,000 locals have just come to accept the fact that this is a gay mecca, and warmly embrace it. In fact – most of those locals are LGBTQ themselves – during the high season, the gay community here mushrooms to a whopping 30% of the town's entire population!
Sitges used to be a humble fishing village, which over time morphed into the fabulous coastal town we know and love. It's retained its bohemian charm with lots of pretty, narrow cobblestone streets to get lost in. Located just 45 minutes train ride from Barcelona, Sitges is far out enough to feel like you're out in the country, but close enough not to feel too remote.
Sitges also has gay beaches galore, with a selection of clothing-optional ones too! We'd go so far as to say it has some of the best gay beaches in Europe, especially "Playa de la Bassa Rodona", "Playa del Muerto", and "Playa de las Balmins".
When it comes to its nightlife, the gay scene of Sitges is vivacious! Starting at Parrots along Carrer de Joan Tarrida street you pass the bulk of the town's gay bars including El Horno, Bukkake and XXL. What we love about it is that towards the end of the evening, most of the crowds from each of the bars spill out in the street, merging into one.
Sitges is also for its remarkable gay events, in particular, Sitges Gay Pride in June/July, Europe's largest Bear festival in September, and the carnival in February.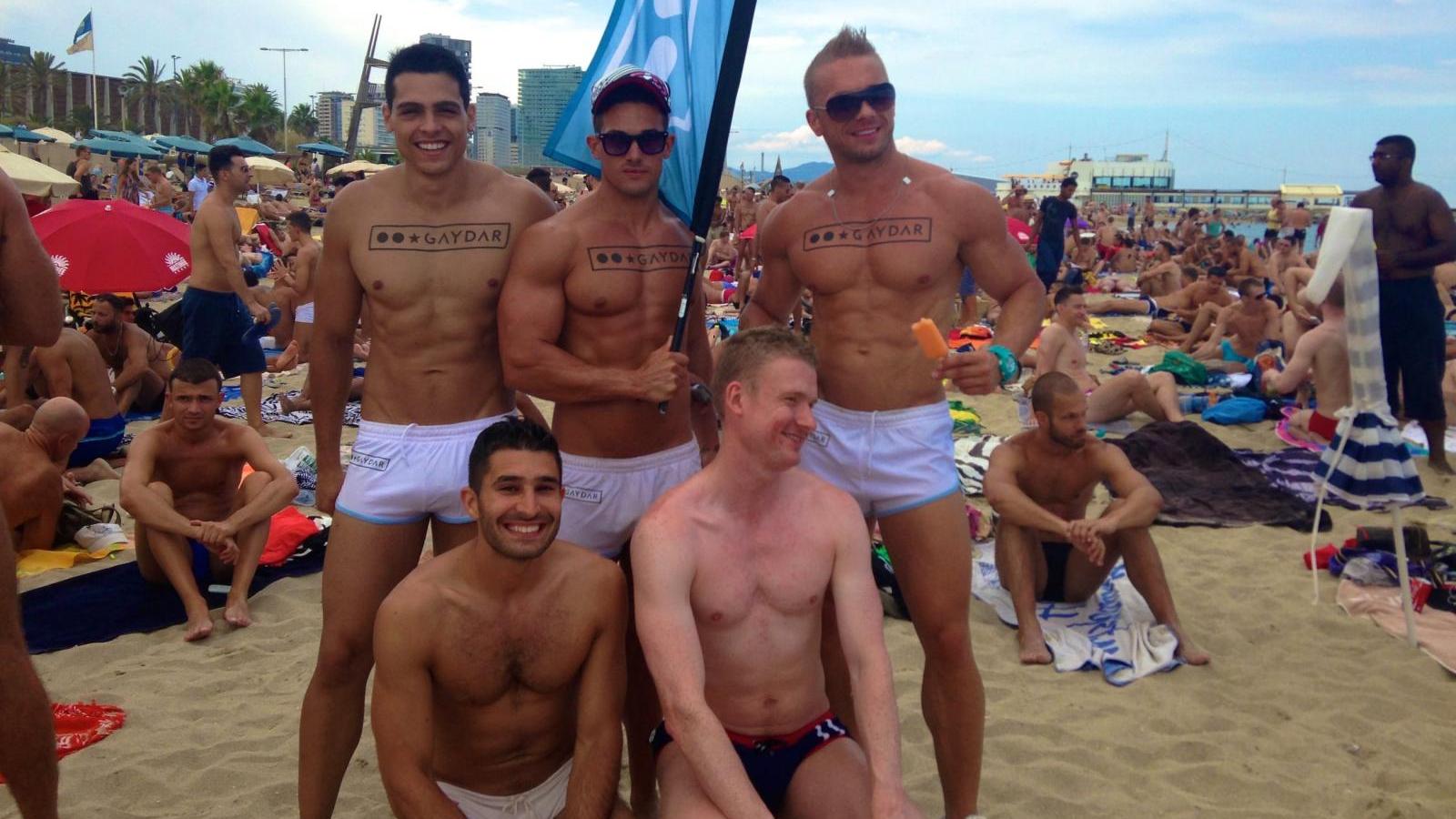 4. Valencia
Whilst being the 3rd largest city in Spain, it still manages to exude a small home village kind of vibe. A tranquil and laid-back city, Valencia is the perfect place for the introverted, less-party more-arty couple or singleton. But that's not to say it is boring by any means.
Most Spanish cities are quite affordable to both live and travel around, but Valencia is even more so. The metro makes it super easy to get around, with both underground and overground lines. It's a relatively easy system to work out too, so even if you think you're hopeless with directions (i.e. me!!!), you'll still be able to work it out. There are also lots of co-working café spaces, so if you are working remotely in an English-speaking role, you can avail of these.
Idle days are mostly spent at the beach or in the city park, Jardín del Turia, where you can take part in yoga classes or group meet-ups. There is a gay nude beach, known as Playa de l'Arbre del Gos in the south of the city, where you can bask in the gorgeous Spanish sun.
As for the nightlife, this is when Valencia transforms itself into a party-centric cosmopolitan dream. There are lots of gay bars and clubs to choose from. From drag shows in Cross to epic dance music in Discoteca Deseo 54, a night out in this city is unforgettable. The Valencia Gay Pride takes place every year in June, which is usually the busiest time of the year. The city comes alive with parties, concerts, an LGBTQ film and book festival, plus art exhibitions. Also, be sure to look out for the Valencia Gay Games in 2026.
5. Seville
One of the smaller cities on this list, Seville is by no means dull. With flamenco dancing bars, tapas bars, art shows, and bustling festivals, this southern city is an incredible place to seek your dwelling.
Seville is a great place to live, not just for the culture but for how accessible it is as a city. Housing and rented accommodation are very centralized, so you are always close to tons of amenities and it's all still very affordable. Transport is excellent and the land is relatively flat making it easy to get around.

Be warned though – Seville often has the hottest summers in all of Europe. And not just because of our visits! Temperatures can reach up to the late 30s, and you could get seriously burned if you aren't careful.
In terms of things to do, there are plenty of LGBTQ spaces for you to get lost in. Mainly the Alameda de Hércules, a giant plaza surrounded by tons of creative and queer establishments where artists, gay folk, and young people like to hang out. There is a space for all kinds of people. Bears and older gay men have the GuadalkiBear bar, whereas ITACA and Men to Men clubs are where all the younger, college-type guys like to hang out in.
Seville Pride takes place in June each year which kicks the city into a full, unapologetically queer fantasy land. From the city-wide celebrations to the giant parade, it is the must-attend event of the entire calendar year.
6. Torremolinos
Gay spring breaks? Bear beach parties? Massive pride parades? 300 days of sun? Torremolinos couldn't be more gay if it tried.
While it is a very touristy area, Torremolinos is much more quintessentially Spanish than some of its neighbouring cities. With quaint shops and cafes, bistro restaurants, and small bars, it retains a very homely atmosphere. And yet, it still has touches of unabashed party vibes sprinkled throughout. The La Nogalera district has gay bars and clubs to socialise and dance with fellow LGBTQ people, be it travellers or locals.
The beach is one of the cleanest in Europe with sky-blue waters and golden sands. During time off, you could hang out there all day and never get bored of the adventures that happen. By night, the beach at Los Alamos opens up beach bars which only increases the party-centric nature of the city.

In terms of living here, as with much of the rest of Spain, accommodation is quite affordable. Public transport is very reliable, with frequent trains and buses that stretch across the region. This makes it so easy to get around and visit nearby regions like Malaga. There are tons of gay events that pop up throughout the year. As mentioned, there is the Pride parade. Taking place in June each year, in the height of summer, the celebrations take over the whole city, from parades to dance parties on the beach.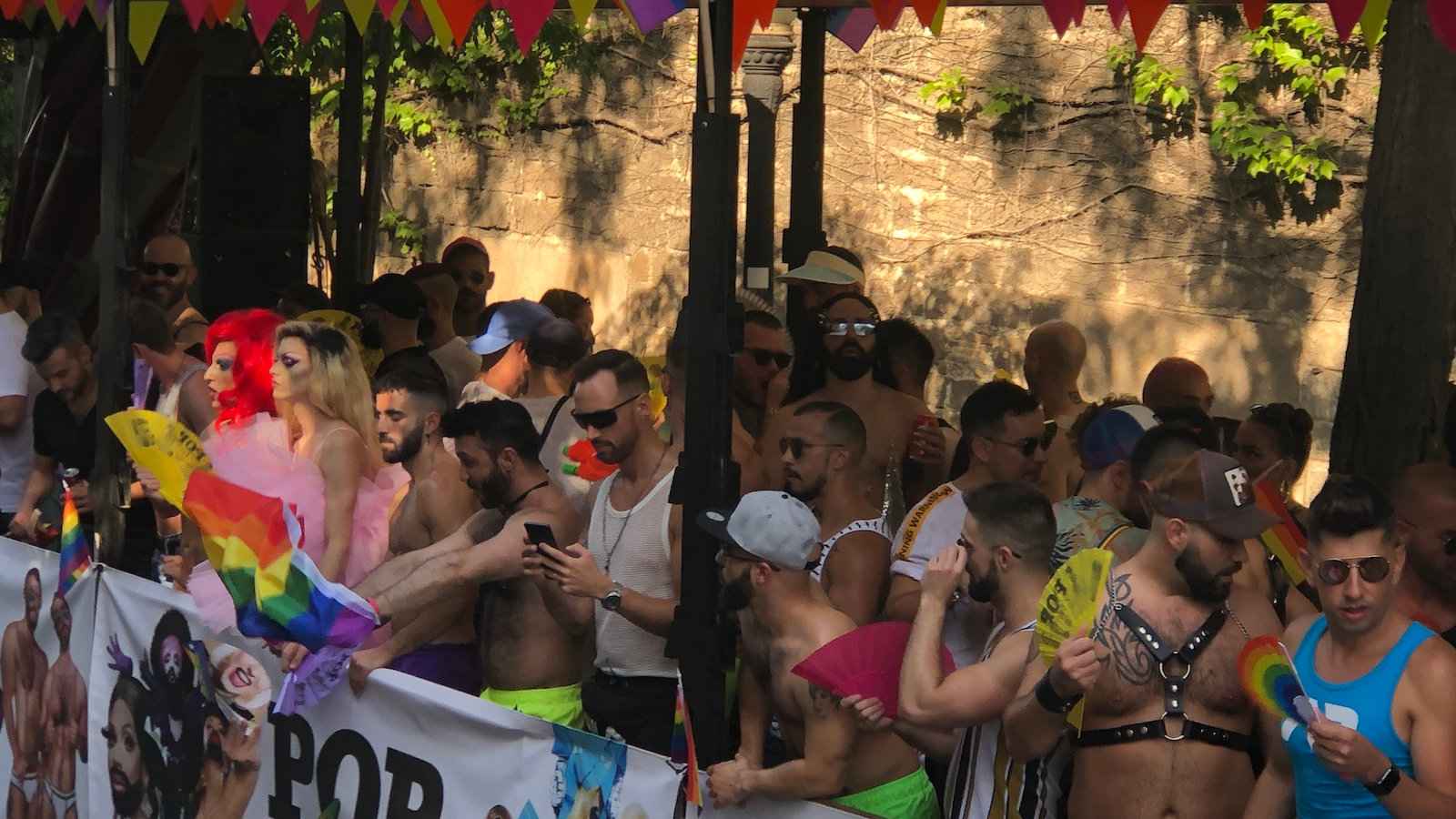 7. Benidorm
Benidorm is a friendly and colourful city, with a massive party scene and fabulous beaches. If you're looking to live somewhere for a short period of time, either on a career break or gap year, Benidorm is 100% the best shout. It's a fun, frivolous, and beautiful city that is perfect for losing yourself in. Those who enjoy sleep may be best placed to check out other areas…
Though just because it is a 'party city', it still has very affordable accommodation and the cost of living expenses are low. It's an extremely accessible city with most amenities, like shops and offices, within walking distance of each other.
It has been crowned the Spanish Manhattan, so by living here you basically get to be the Spanish Carrie Bradshaw. Or Samantha… let's be real, we all want to be the Samantha.

Though it may not be as much of a cultural hotspot as Manhattan, it is every bit as magical and effervescent. After all, there are over 50 establishments that cater to LGBT people, such as bars, clubs, restaurants, and cafes. The gay village is situated around the Old Town area and attracts LGBT people of all ages. We particularly love the Mercury Disco-Pub, a dance party where you can boogie all-night to incredible music.
Benidorm Pride takes place in early September, which includes a parade through the city and an after-party on Levante Beach. It's the biggest LGBTQ themed event of the year and never holds back in turning the already delightfully gay city that much gayer.
8. Gran Canaria
Whilst Gran Canaria has become synonymous with being an island gaycation hotspot for North Europeans looking to escape the gloomy winter months, it's also a prime spot to live in. This is where gay expats should head if they don't mind being cut off from everything: Gran Canaria is located around 685 miles (1,100km) from mainland Spain in the Atlantic Ocean. It's closer to the west coast of Africa than Europe!
The upside of Gran Canaria's location is the incredible climate. This is one place where you're pretty much guaranteed to have almost 365 days of fantastic weather.
We also rate Gran Canaria as one of the top places to live in Spain because of its vast LGBTQ community, particularly in Maspalomas. This has led to the island having a pretty colossal gay scene – there is an entire shopping complex with many gay bars, clubs, restaurants, and boutique shops. We're talking about the Yumbo Centre – the beating heart and soul of the gay scene of Gran Canaria.
Beyond the Yumbo Centre lies the infamous sand dunes (formerly a notorious cruising area), which is the gateway to the island's gay beach called Kiosk #7.
When it comes to gay parties, there's always something happening in Gran Canaria. Some of the best include Maspalomas Gay Pride in May, the Maspalomas Fetısh Week, and the Bear Carnival in March.
If like us, you love adventure, Gran Canaria is perfect for boating, diving, and trekking – the hike up to Roque Nublo being our favorite.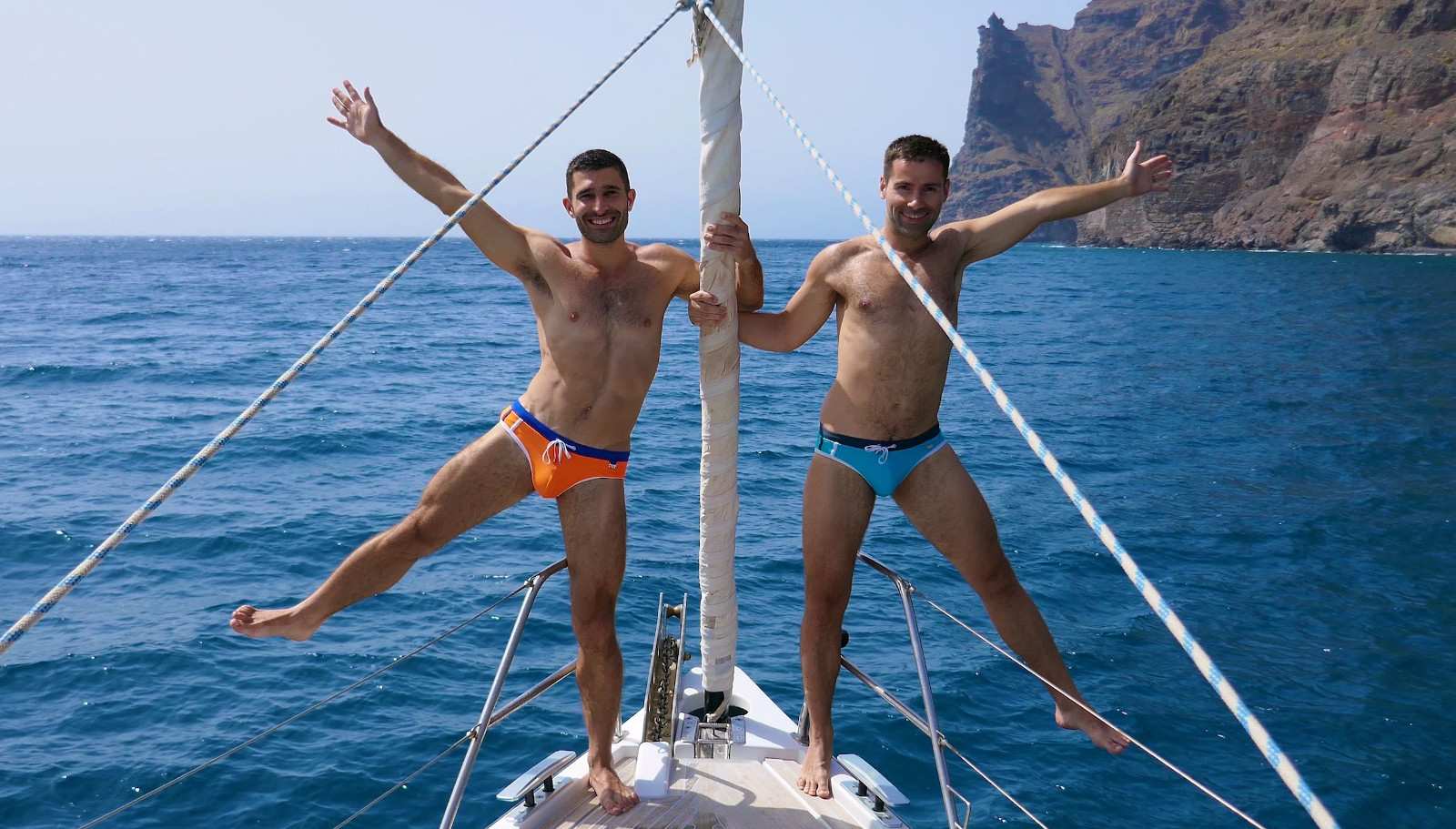 ---