Spain is famous for being very gay friendly and we absolutely love it!
As well as having some of the hottest men you'll ever see, it also has some of the best gay parties we've been to, from the famous Madrid Pride, to Barcelona's Circuit festivals. We've put together our 5 favourite gay cities in Spain to come and party like crazy.
STAY WITH A GAY LOCAL
Misterb&b is the Airbnb equivalent for the LGBTQ community. Unlike on Airbnb, you know your host is gay, avoiding any nasty surprises when you check in. It is also a great way to meet gay locals and discover the underground gay scene. Click below to get 10 € (or $10) off your first booking.
What we cover in this guide
Madrid, gay capital of Spain
The Spanish capital is famous for being the best gay city for partying in Spain. We love visiting Madrid, whether it's for Pride, or just an ad hoc weekend of partying. Either way, we know that a visit here is always going to be a lot of fun.
The Madrid Pride ("Orgullo Gay de Madrid") takes place every year in June/July, and it is huge. It is famous for being one of the best and largest gay pride parades in the world with around 3-4 million people attending. We absolutely love it because as well as guaranteed beautiful weather (remember to pack plenty of sunblock cream!), the entire city gets involved and it becomes one giant rainbow street party. The focal point is around the gay neighbourhood in Chueca, where the bars spill out into the streets, and free outdoor concerts take place.
The annual WE Pride Festival in July is another huge party highlight in Madrid. It is 5 days of parties with the biggest brands and famous DJs.
During the winter months, there is another huge gay party: the We Party New Year Festival. This is the biggest gay winter event in Europe, with around 20,000 people attending to see in the New Year.
The gay clubs of Chueca always have a party taking places every weekend. The main ones are Boite, DLRO, MalaMala, Kluster and Baila Cariño. Just one word of advice, the Madrileños LOVE to party till the early hours of the next day – so fact in a disco nap before heading out!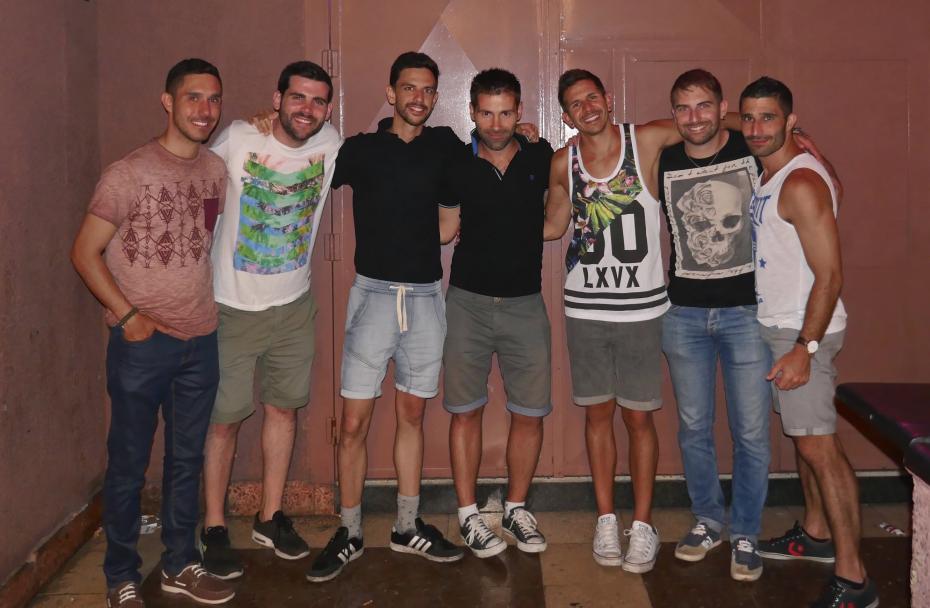 Barcelona
Barcelona is our happy place! It's one of the cities we have totally fallen in love with, and just like Montreal, we could definitely see ourselves living here one day. We love the proximity to the beach, especially the two gay beaches – Mar Bella and Sant Miquel. The gay scene is also a lot of fun, based mainly around the "L'Eixample" neighbourhood (nicknamed locally as "Gayxample").
In terms of gay parties, Barcelona is famous for its annual 10 days Circuit Festival in August. Each year nearly 100,000 gays from all around the world descend on the city to attend one of the many parties during Circuit. There's a different themed one every day. Our favourite, not-to miss event is the "Water Park Day" at Illa Fantasia. This is a whole day of wet fun in the Spanish sunshine, with an open air party, followed by more partying at the park's club venue till the early hours of the following day.
Outside of the Circuit Festival in August, Barcelona has a gay party taking place somewhere in Gayxample, especially at clubs like Matinee at the Pervert Club, Arena Madre and Metro Disco. Read more in our detailed gay guide to Barcelona.
Sitges
Sitges is one of Europe's top gay destinations, just 45 minutes train ride away from Barcelona. We love coming here whenever we visit Barcelona. It used to be a small fishing village, but today has grown into a small coastal town with around 30,000 inhabitants. It's a super cute coastal town with pretty, narrow cobblestone streets, lots of gay bars, clubs, restaurants and boutique shops. Sitges also has one of the best gay beaches in Europe – the "Playa de la Bassa Rodona", as well as 2 nudist beaches: "Playa del Muerto" and "Playa de las Balmins".
The best event is the Sitges Gay Pride, which take place every June/July along the beach promenade. Although it's smaller than the Madrid and Barcelona prides, with "just" 50,000 people attending, it's more party orientated, with popular events like the Poseidon Pride Boat Party, and the Gay Beach Party.
Other big gay events in Sitges include Europe's largest Bear festival every September and the carnival in February, which although not officially a gay event, it attracts around 300,000 people, most of which are gays. For more, check out our comprehensive guide to gay Sitges.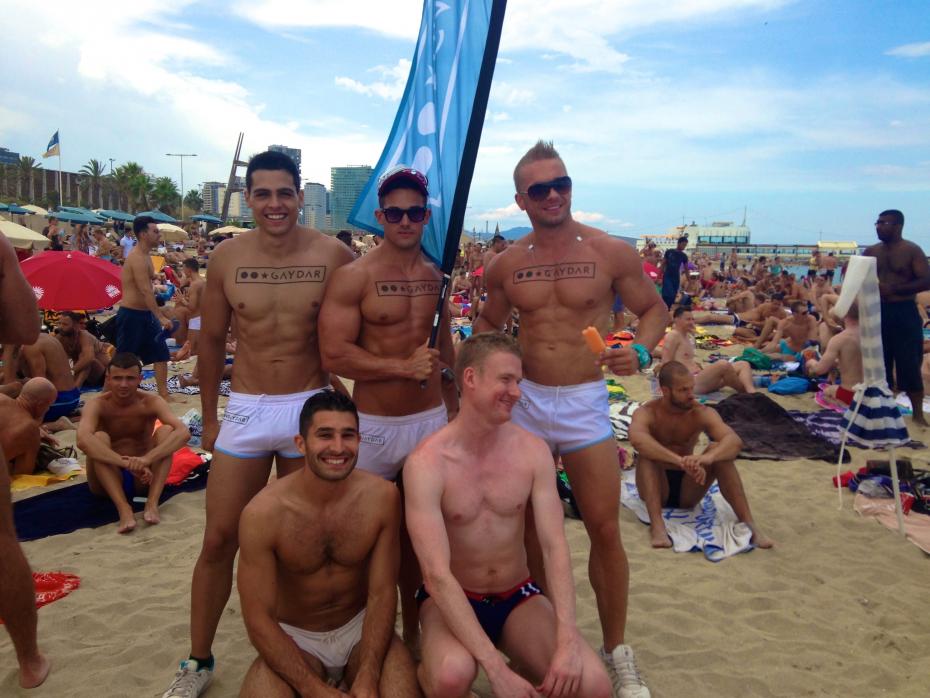 Ibiza
Ibiza is one of the 4 Balearic Islands in the Mediterranean Sea, just 55 minutes flight from Barcelona. It's famous for being the #1 clubbing destination in Europe with some of the largest clubs in the world. We love the exciting, party-like atmosphere here: we arrived at 3am on a Wednesday morning and the place was completely alive – buzzing with people and life!
During the summer months, the main gay clubs host huge gay parties. The most famous are: SuperMan by SupermarXé and La Troya at Club HEART. In Ibiza town there is a smaller, but just as fun gay club called Lola's. There are other gay parties announced at different clubs throughout the summer months. Our advice is to look out for the flyer boys, who we saw during the day at the "Es Cavallet" gay beach, and in the early evening at the Mona Lisa gay bar in Ibiza town.
Other gay events to watch out for include the Ibiza gay pride in June, as well as the women-only "Velvet" event in April.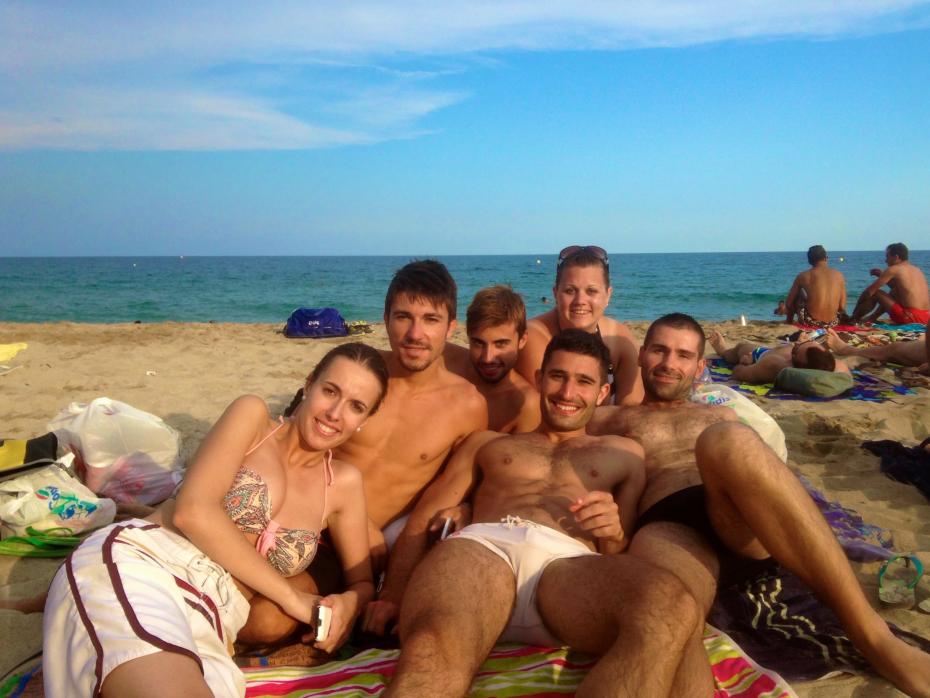 Gran Canaria
Gran Canaria is part of the Canary Islands, located off the west coast of Africa, therefore guaranteeing 365 days of great weather. We also love it because it has a massive gay scene in the south at the "Yumbo Centre" shopping mall.
The Yumbo Centre is a huge complex with many gay bars, clubs, restaurants and boutique shops. Slightly further south of this, past the sand dunes, is the gay beach. You can find out more in our gay guide to Gran Canaria.
One of our favourite gay parties in Gran Canaria is the Maspalomas Gay Pride in May. This is a 10 days festival of shows, parades and pool parties. In October, the Yumbo Centre comes alive with the Maspalomas Fetish Week and includes a variety of themed parties like leather, chains or underwear, with fetish art exhibitions and pornographic shows. Also look out for the Bear Carnival parties, which usually take place in March/April and in August.
When we visited Gran Canaria we had a great time exploring the gay scene, but also did many other non-gay related things, like visiting bodegas, hiked up to Roque Nublo and our favourite, we rented a boat for the day and visited a secluded beach.
Read more in our guide to the best gay cities in Europe and the world!
SPECIAL OFFER FOR GAY TRAVELLERS TO SPAIN!
If you're heading to Spain, check out the gay tour company Spain Seven Degrees who offer a whole range of tours specifically targeted to LGBTQ travellers. You can claim a €100 discount by using our code "NOMADICBOYS100" when booking.
Happy travels are safe travels
We recommend you always take out travel insurance before your next vacation. What happens if you suffer from illness, injury, theft or a cancellation? With travel insurance, you can have peace of mind and not worry. We love World Nomads travel insurance and have been using it for years. Their comprehensive coverage is second to none and their online claims process is very user friendly.
Some of the links in this post are affiliate links. This means that if you book your accommodation, an activity or your insurance, we'll earn a small commission. There is never an extra cost to you for using these links and it helps us keep the site going.