TERMS OF USE: There is a chance that some of the content on this page has changed since it was last updated. By reading this article, you consent to our Terms of Use and Disclaimer. Happy Travels!
DISCLOSURE: Some of our posts may contain affiliate links which we may receive a commission if you choose to book something through one of our links.
We've rounded up the best gay hotels in Barcelona to include something lush, romantic options, boutique picks, and those close to the gay bars in Gaixample.
Sassy, cosmopolitan, super cool and sooo gay!
That sums up just why we love Barcelona so much and why we keep returning every year for more! Regardless of how long you plan to visit, how much ground you hope to cover, and the kind of vibe you want to be around, Barcelona is filled with multiple options for gay travellers. We've always found the perfect place to suit our needs – whether we were just craving a short city break or a full-on romantic reenactment of our honeymoon.
There are plenty of choices for those willing to paint the town green (with those dollah dollah bills y'all), or who need to keep a tight grip on those purse strings. Either way, Barcelona is a calling you…so it is your duty to answer!
We've rounded up our picks of the coolest gay hotels in Barcelona in this guide, so you will have all the info you need to book your own perfect fabulous stay.
Smart shortcut…
Where to base yourself in Barcelona
Situated in the Eixample district, the main gay area is nicknamed, Gaixample (pronounced: gay-sham-pleh). Here you can find tons of LGBTQ bars, clubs, cafés, restaurants and shops to explore. It's an entire gay village that we get all to ourselves! Who will be the Queen of the village? That's a hard question as there are tons of candidates vying for the spot…but obviously, it's us! If you want to be walking distance to the most hip-and-happening gay hangouts, as well as the main tourist sights of Barcelona, then this is where we recommend you base yourself. Read more in our gay travel guide to Barcelona as well as our guide to the city's best gay bars.
Then again, if you aren't as much of a city junkie, you can always look at areas closer to the beach. The neighbourhood and beaches of Barcelonetta are extremely gay-friendly, plus there is a gay, clothing-optional section here. With loads of hotels and amenities to enjoy in the surrounding areas, it's a great spot to base yourself if you're just looking to chill-out and get a tan.
01
Axel Hotel Barcelona
Eixample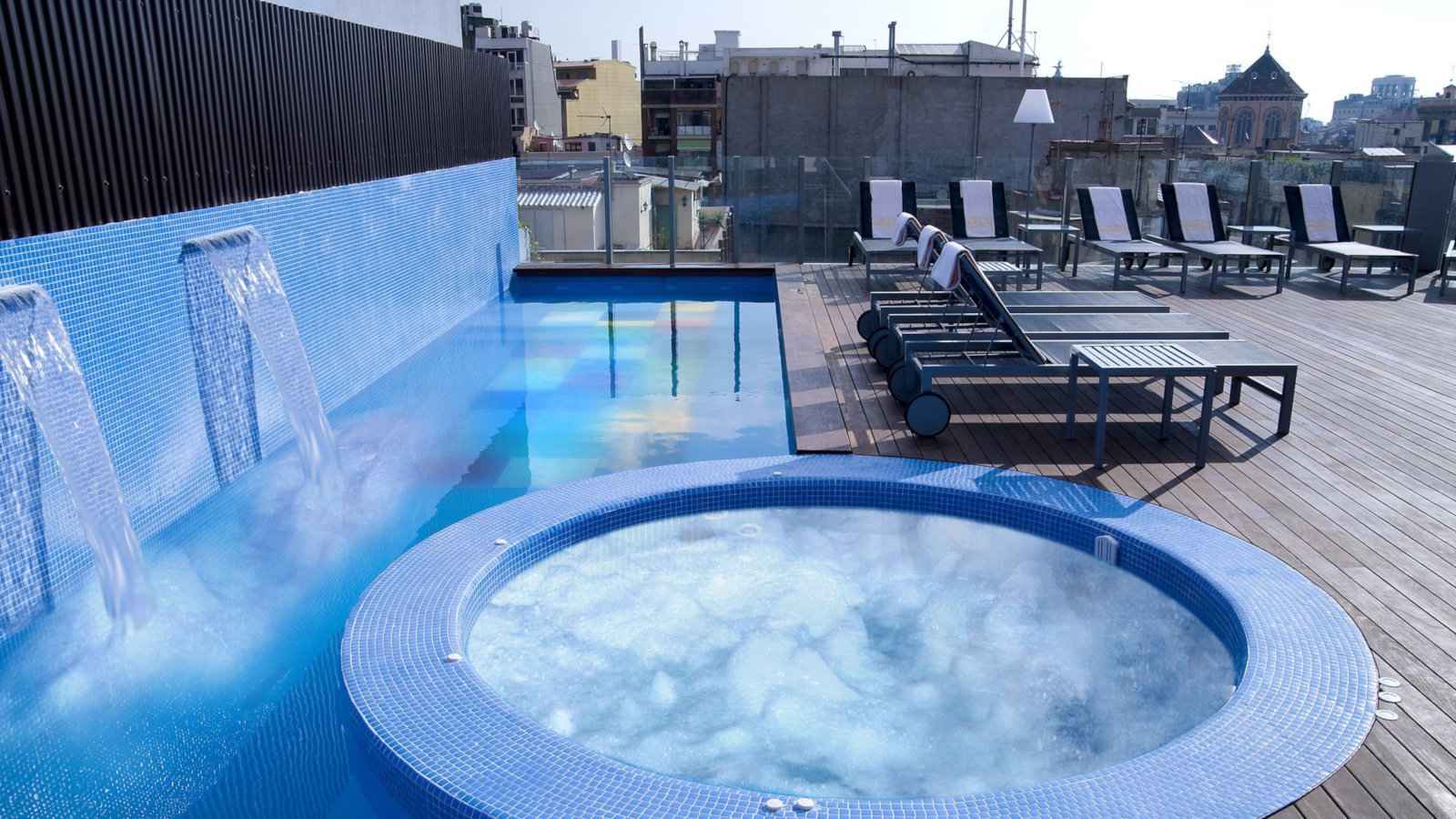 Why we love it
---
"Hetero-friendly" adults-only hotel
Rooftop bar, pool and Jacuzzi
Located in the heart of Gaixample
Luxurious wellness centre
The only thing you need to know about Axel is that it classifies itself as "hetero-friendly". That's right, this place is so gay, they have to advertise that straight people can stay here!
Based in the centre of the LGBTQ-mecca that is Gaixample, it is your straight identifying peers that will feel out of place in this joint. It's also an adults-only establishment, which you'll quickly realise after seeing all the icon "Do Disturb" signs on the doors!
It's always busy, always thriving, always fabulous, and we love it! With a 95% occupancy rate throughout the year, it is worth booking months in advance. In fact, it's so popular, that they've had to open up a second branch just down the street (called "TWO Hotel Barcelona Axel" – see more about it below). With stylish rooms touched with modern excellence and Mediterranean warmth, the Axel Hotel embodies all things quintessentially Spanish. From the bright use of colouring that is found throughout the halls and dining areas, to the fine woods of the furniture. It just oozes elegance here! A complimentary breakfast is also included in the room rate.
The Sky Bar is also a huge factor in what makes the hotel so popular, with even non-guests popping in for a drink. We personally found the bar a tad on the pretentious side, but it remains a staple on the gay scene of Barcelona. It has panoramic views of the city, a pool, and deck to lounge around in whilst sipping something delicious from the bar. Parties, art exhibitions and shows take place here regularly. There's also Wellness Club 333 by Axel, an indulgent space for gym bunnies, as well as a cruisy sauna to meet Mr Right Now!
For us, Axel represents the hearts of the Barcelona gay scene. It's the focal point from where we get our bearings when hanging out in Gaixample. All the main gay bars and clubs of Barcelona are just around the corner from Axel, as well as Barcelona's main tourist sights.
Getting around Barcelona
Barcelona is a big city but you can get around by using public transport links including bus, metro, trams and trains. To make life easier when exploring Barcelona, we like to use the Hola BCN public transport ticket. With just one payment you have a card that gives you unlimited access to the entire transport system for up to five days!
02
Mandarin Oriental Barcelona
Eixample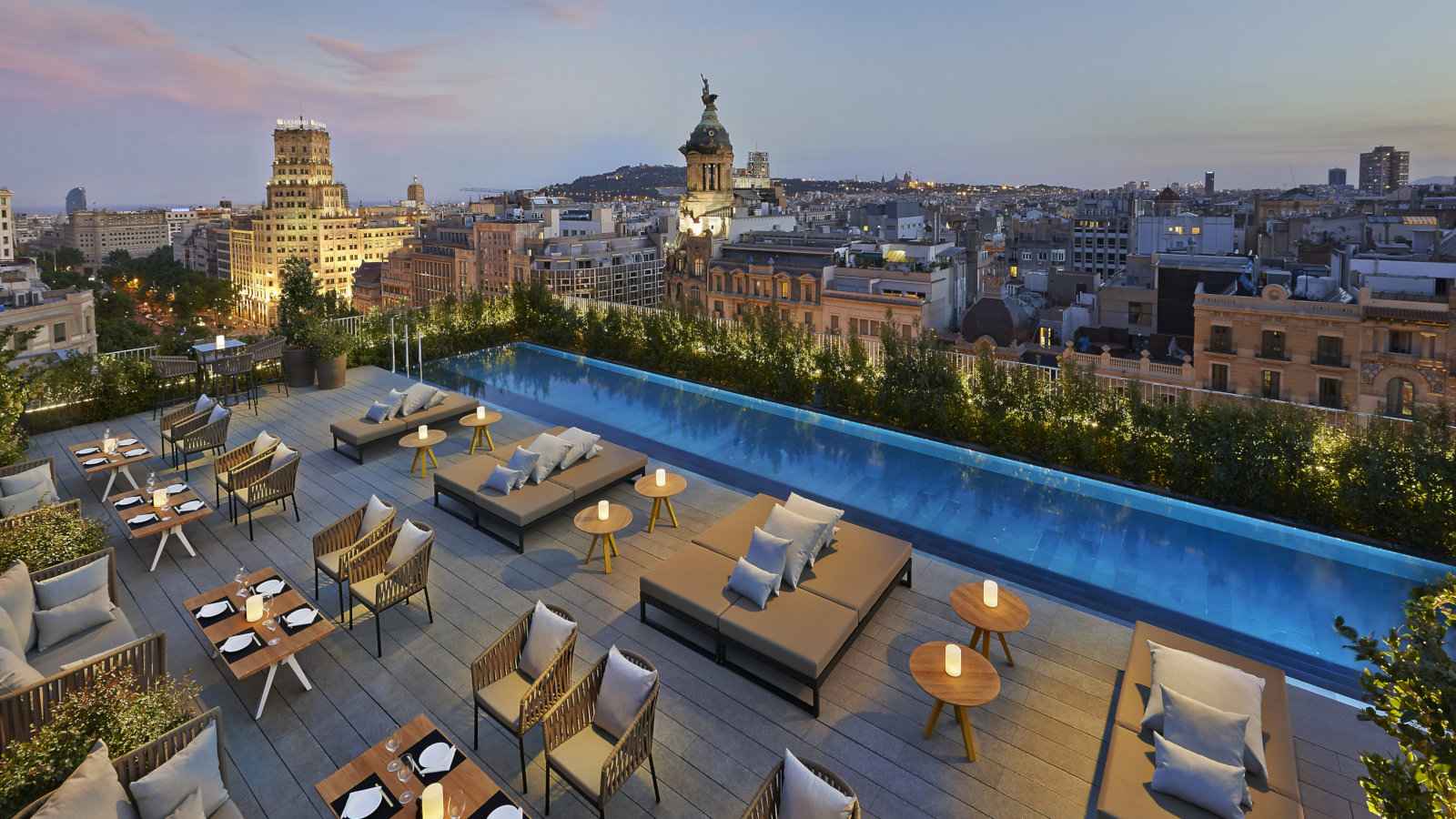 Why we love it
---
Luxurious five-star hotel
Incredible dining options
Rooftop terrace with pool and bar
Ultra-relaxing spa and hammam
Combine Asian and Mediterranean, and you have yourself the Mandarin Oriental Hotel!
This is a super luxurious gay friendly hotel, perfect for honeymoons or special anniversaries where you are looking to really treat yourself.
It also has spectacular views of the famous Casa Batllo from the rooftop pool and terrace – art lovers rejoice!
There is a wide variety of room choices to select from, depending on how much you are able or willing to spend. There are also various kinds of suites fitted with outdoor terraces, master beds and dining spaces. All rooms have a modern and contemporary style, with French rugs, wooden floorings and soft furnishings. Even walking into the room helps you feel more relaxed. Located on Passeig de Gracia, the Mandarin Oriental is ideally situated for you to explore Gaixample's happening nightlife.
A-list celebrities from around the world have been known to stay at the Mandarin, and after a night spent here ourselves, we understand exactly why! Rami Malek, the gorgeous actor who stepped up to the challenging role of Freddie Mercury in 'Bohemian Rhapsody' partied with the surviving members of Queen in this hotel during his stay. He said it will always have a special place in his heart.
The Mandarin Oriental houses four different dining options, and the head chef of the hotel is the world-famous Carme Ruscalleda, the only woman that holds 7 Michelin stars! Moments restaurant holds two Michelin stars and serves healthy cuisine inspired by Catalan culinary culture. The staff at the Mandarin Oriental Spa are committed to wellness – with treatments inspired by their Oriental heritage, as well as local culture. From yoga to meditation to beauty therapies, treatments go beyond the physical by offering a holistic approach that will seep into your mind and soul.
03
W Hotel Barcelona
Barcelonetta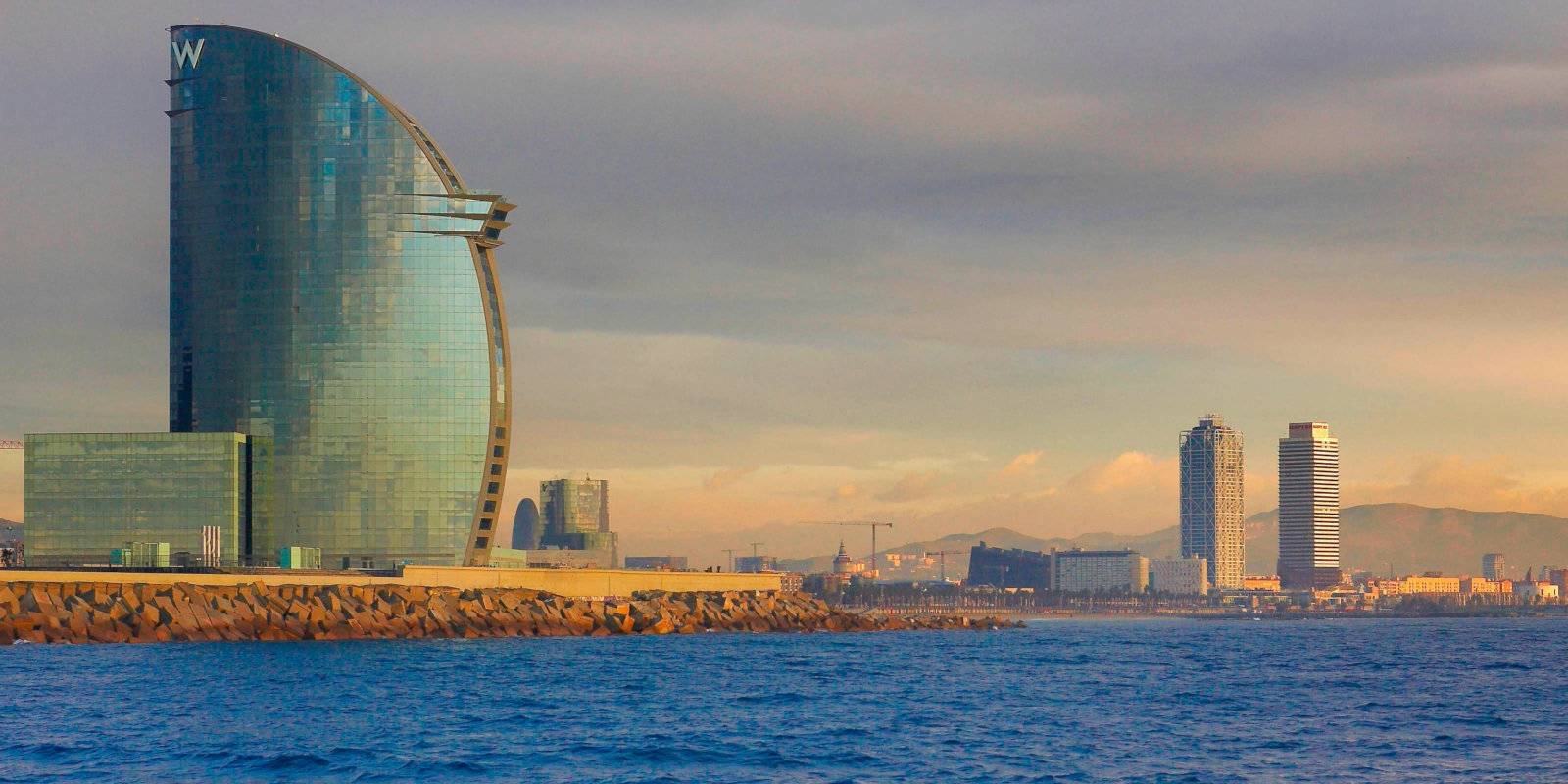 Why we love it
---
Incredible-looking hotel and views!
Located right next to the beach
Rooftop bar and infinity pool
Luxurious spa and multiple restaurants
One of our favourite places to stay in Barcelona, the W Hotel boasts a unique design, pampered atmosphere and close proximity to the beach.
If you are looking for a holiday that is half-city break and half-beach getaway, then the W Hotel perfectly fits the bill.
The hotel building itself is incredible, designed to look like a sail, towering over the Barcelonetta beach, to which you can enjoy direct access.
Committed to bringing you the full Spanish experience, complete with unique dishes bursting with flavour, La Barra restaurant encapsulates all things wonderfully Mediterranean. A seafood restaurant with a Michelin star, the food here will honestly take you to newfound levels of appreciation for cuisine. If you're looking for something a little more relaxed then SALT restaurant serves juicy burgers and innovative cocktails right on the beach.
The W Lounge and Bar is perfect for a drink before heading out or a nightcap before turning in. With plush couches, delicious cocktails and sizzling views of the beach and sea, it's a gorgeous spot on the ground floor. You can also ascend to the WET deck for cocktails and light snacks beside (or in) the pool. There's even a club called Eclipse on the 26th floor if you feel like dancing the night away!
For true pampering and relaxation head to the W's spa where all manner of treatments await for you to get glowing. From massages to waxing, manicures and men's services, you will be in true heaven. The infinity pool and sun deck are also magical, with private cabanas you can rent to enjoy the stunning views over the beach. There's also a fitness centre where you can workout while still enjoying the view from the floor-to-ceiling windows. The W is truly an incredible spot for a luxurious getaway.
STAY WITH A GAY LOCAL
Misterb&b is the Airbnb equivalent for the LGBTQ community. Unlike on Airbnb, you know your host is gay, voiding any nasty surprises when you check-in. It is also a great way to meet gay locals and discover the underground gay scene. Click below to get 10 € (or $10) off our first booking.
04
TWO Hotel Barcelona by Axel
Eixample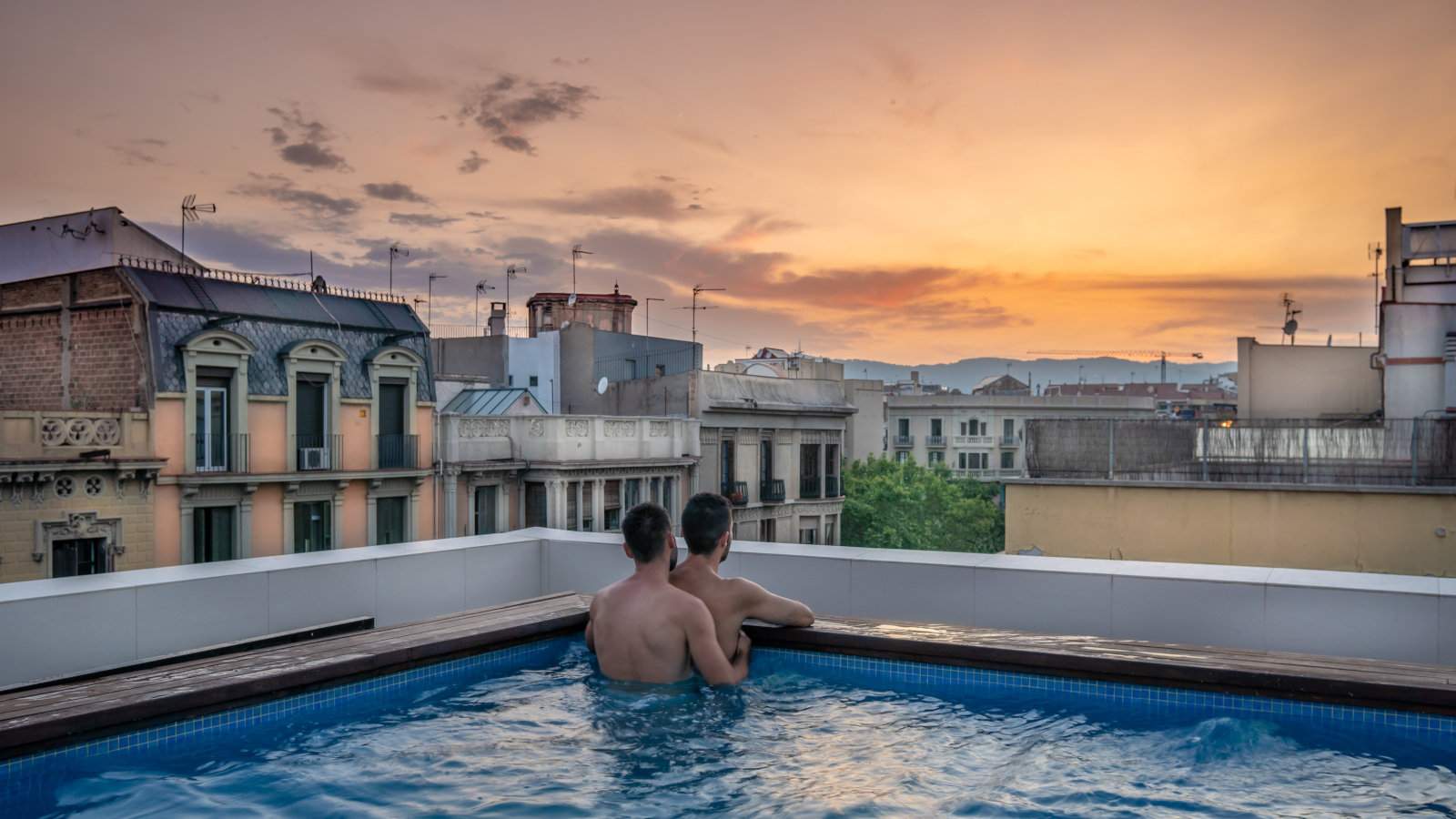 Why we love it
---
Adults-only gay hotel
Neon pink decor on the rooftop
Fabulous rooftop pool and bar
Wellness centre with sauna and gym
This is an exclusively gay hotel that was born right off of the original Axel's Hotel extreme popularity. If you can't beat em'… well, just open up another branch down the road!
TWO Hotel Barcelona by Axel is located sort of on the fringe of Gaixample, so it's a bit quieter and more intimate, but still walking distance to the best gay bars/clubs in the city.
A single night here is enough to show you just why it is beloved by the queer community from around the world. Not only is the staff's attention-to-detail second to none, but the interior looks like it came straight out of a gay man's daydream. Neon pink deck chairs lay by the pool, a rooftop bar serving all kinds of delicious cocktails, and a small gym to get you pumped up. It's like a Barbie and Ken dreamhouse!
It's also situated right beside Boyberry, one of the best gay cruising saunas in Barcelona. If you book your stay at TWO for a minimum of 3 nights, at least 60 days in advance, you get an 18% discount. Plus, you are free to go to the original Axel Hotel, saunter up to the rooftop bar and enjoy a drink there. The atmosphere in both hotels is bursting with so much energy. Everyone there is just looking to have fun, make new friends and be their fabulous, merry gay selves.
The rooms at TWO are spacious, modern and elegant with all of the Axel brand's bathroom amenities. They're also completely soundproofed, so no one will know what's going on with you and the sexy fella you met at Boyberry, or just so nobody will be bothered by Stefan's snoring! While a buffet breakfast is served each day you will need to explore further afield for dinner, but that's not a problem since there are so many fantastic restaurants close by to choose from.
05
Soho Hotel
Eixample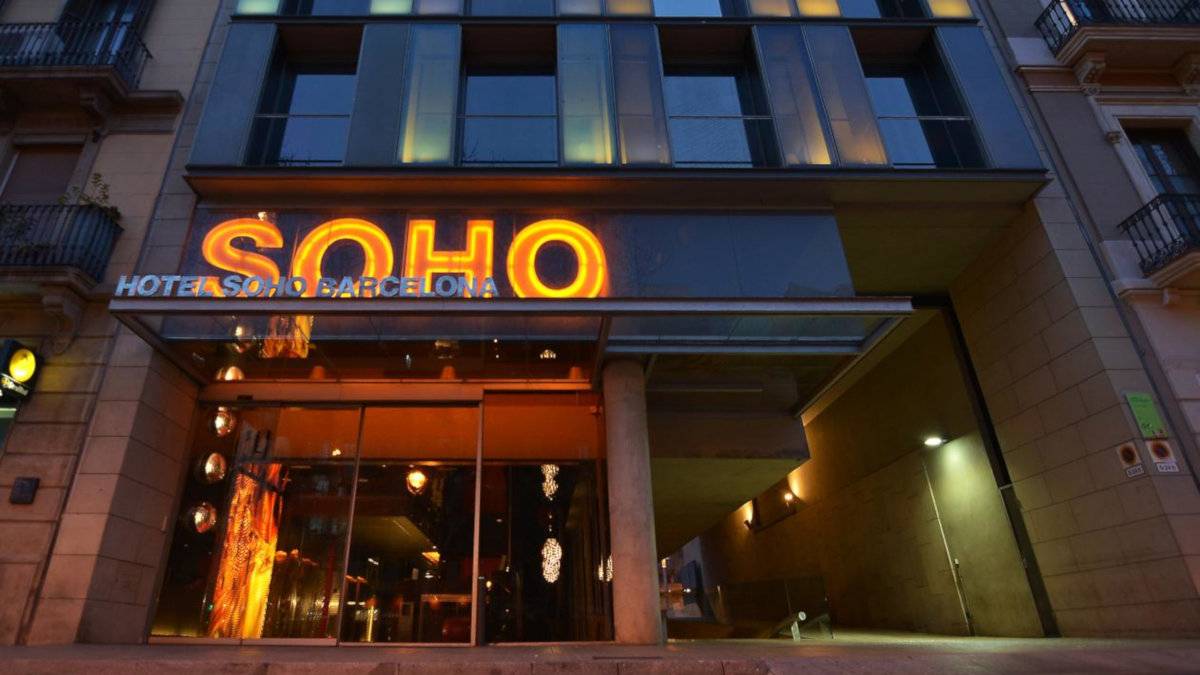 Why we love it
---
Gay friendly hotel
Stylish budget accommodation
Excellent location in Gaixample
Rooftop pool and solarium
If you're on a budget, then the Soho hotel is for you.
Though just because it is on the cheaper side, it doesn't make its charm any less shiny. It's so stylish it manages to make you believe you are in a 4-star hotel even though it only has 3!
Rooms are sleek and minimalistic, but we love the pops of orange throughout the building.
The name gives it away, as the Soho takes after the kind of boutique ones you find in Manhattan or London. With bright, modern spaces, and scenic views from the rooftop terrace (with pool), you'll feel right in the centre of the city action. It's also based in the heart of the gay district Gaixample, so you have easy access to queer clubs, bars, shops and restaurants. You'll be close to sights like Plaza Cataluña, Paseo de Gracia, the Rambla and the Gothic Quarter.
An extensive buffet breakfast is served each day in the cosy lounge, but it's the rooftop terrace that really shines. There are plenty of spots to sunbathe or relax with a drink, and the small pool is great for cooling off on hot days. The rooftop area is only open during the summer months, but let's face it, nobody wants to freeze their bits off in winter anyway!
Hotel Soho is gay-friendly, with an LGBT Route on their website giving you the lowdown on the best places to eat and party if you're a gay traveller. There are also gastronomic, architecture, culture, and green routes, so everyone will find something to pique their interests. Hotel services include in-house massages and complimentary access to a nearby gym, so you'll probably forget you're even staying in a budget hotel!
06
Pol & Grace Hotel
Grazia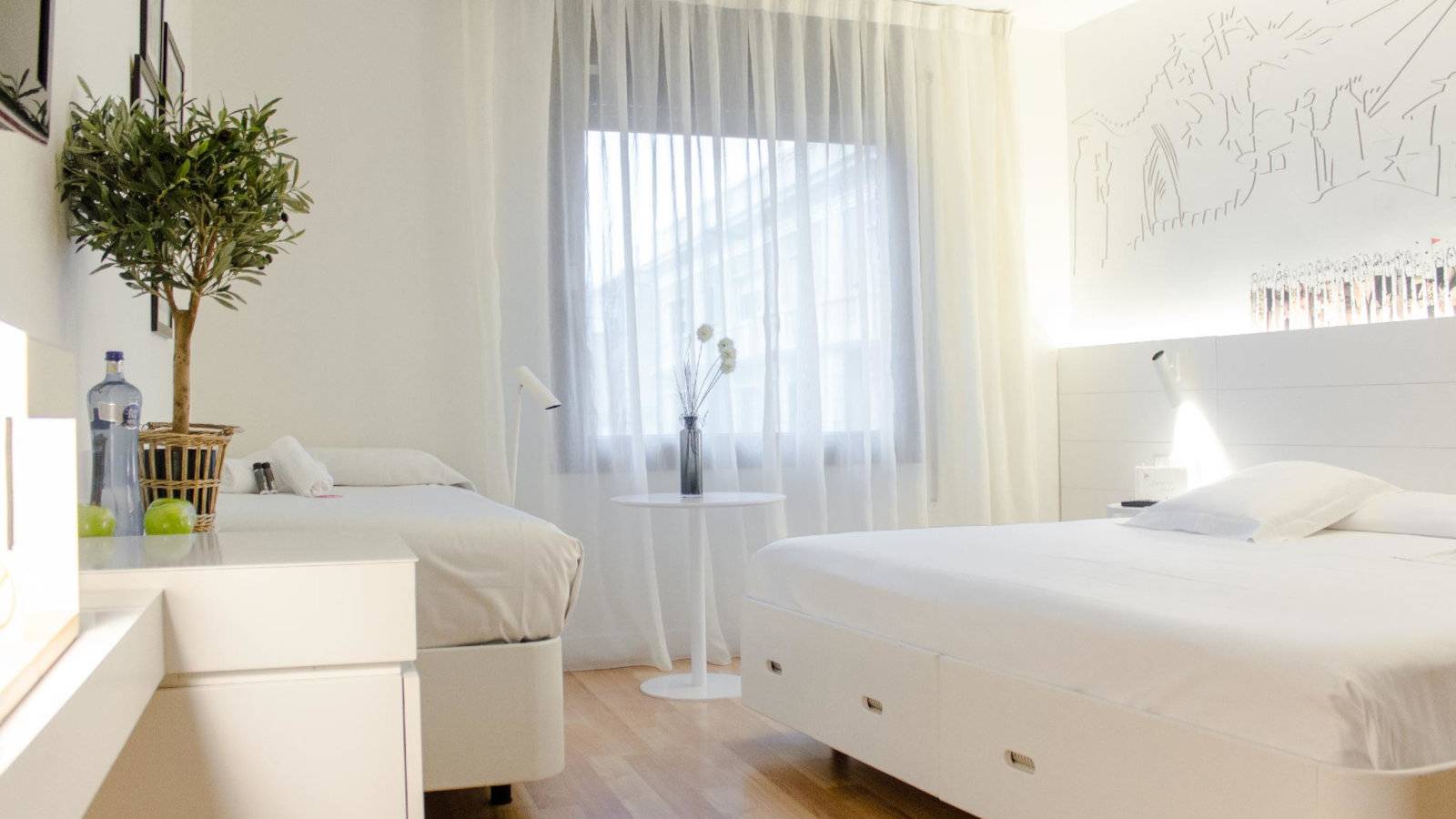 Why we love it
---
Gay-owned boutique hotel
Very pet-friendly
Full of gorgeous art
Free coffee and tea service
A gay-owned boutique, Pol & Grace embraces all things art, creativity and individuality.
It's a fabulous space for writers, painters and sculptors to stay as the hotel walls are decorated with work by the artists who have enjoyed art residencies with them.
There's also a recently opened terrace on the 7th floor where you can relax in the sun.
As enthusiasts of all things art and literature, we love the idea of creatives having such a space in a busy city like Barcelona. There is no place quite like a city to help artists burst through their creative blocks. Staff are always upbeat, friendly and super knowledgeable about the best things to do in the city. Pol & Grace is also very pet-friendly, even welcoming large dogs into their spacious Double Superior rooms.
We also love how comfortable and serene the rooms are here. Everything is designed to be muted and relaxing so that you can press the reset button after a busy day of exploring, plus the beds are huge! There's a lovely library to chill out in, while a free coffee and tea service is offered from mid-morning onwards. They have snacks like cake available for a small fee.
Situated in a quiet part inside the bustling city, it is a serene and tranquil place to come home to after a busy day of sightseeing. It's located right beside the Gràcia neighbourhood, which is itself an artistic hub. There are plenty of places to eat, shop and take beautiful snaps for Instagram-land nearby! Breakfast is served in typical Catalan style, with artisan breads, traditional sausages, granolas, cereals, an assortment of fruits and yummy hot dishes.
07
Claris Hotel & Spa
Eixample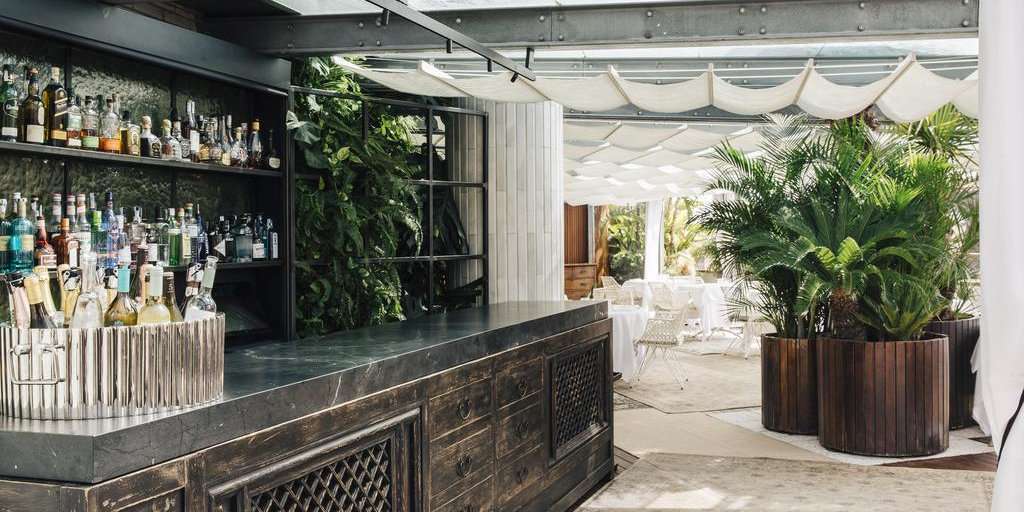 Why we love it
---
Gorgeous 5-star hotel in a 19th-century palace
Amazing art collection displayed throughout
Incredible Mayan-inspired spa and sauna
Two beautiful restaurants with impeccable cuisine
Claris is a luxurious gay friendly five-star hotel located in central Eixample.
The building is a nineteenth-century palace turned into a stunning hotel, complete with a gourmet restaurant, cocktail bar and 124 different rooms.
We particularly love the sort of urban jungle/British imperial explorer feel they've got going on, with lush green plants and art pieces everywhere.
In fact, Claris Hotel holds an art collection that draws people from all over the world. The art pieces, that are sprawled between both public spaces and guest's rooms, represent all kinds of backgrounds and cultures. From 18th century English furniture to the Turkish kilims of the 19th century and Roman sculptures, you will feel as if you are having your very own "Night at the Museum" – art museum that is! Hotel guests can even take advantage of free entry to the Barcelona Egyptian Museum next door.
When we're looking for a new place to stay, we are always won over by mention of a good spa. And Hotel Claris' Mayan Secret Spa is utterly magical. The range of treatments on offer will be the perfect way to centre yourself, allowing you to find balance and harmony in your body. We adored the Temazcal sauna, based on the traditional handcraft of the Mayan Culture, where volcanic stones are heated, then water with aromatic medicinal herbs is poured on them to release steam.
The hotel is close to Passeig de Gracia, where you will find a string of high-street shops, cafes and restaurants. Although you may not want to go out for fine dining, as Claris is also home to two fantastic and mouth-watering restaurants. La Terraza del Claris serves innovative Mediterranean cuisine on the rooftop terrace while Mr Kao is an intimate dim sum club inspired by the golden age of Shanghai's private clubs. There's also a swimming pool on the rooftop terrace where you can enjoy unparalleled views over the city while cooling off in the water.
08
Olivia Balmes Hotel
Eixample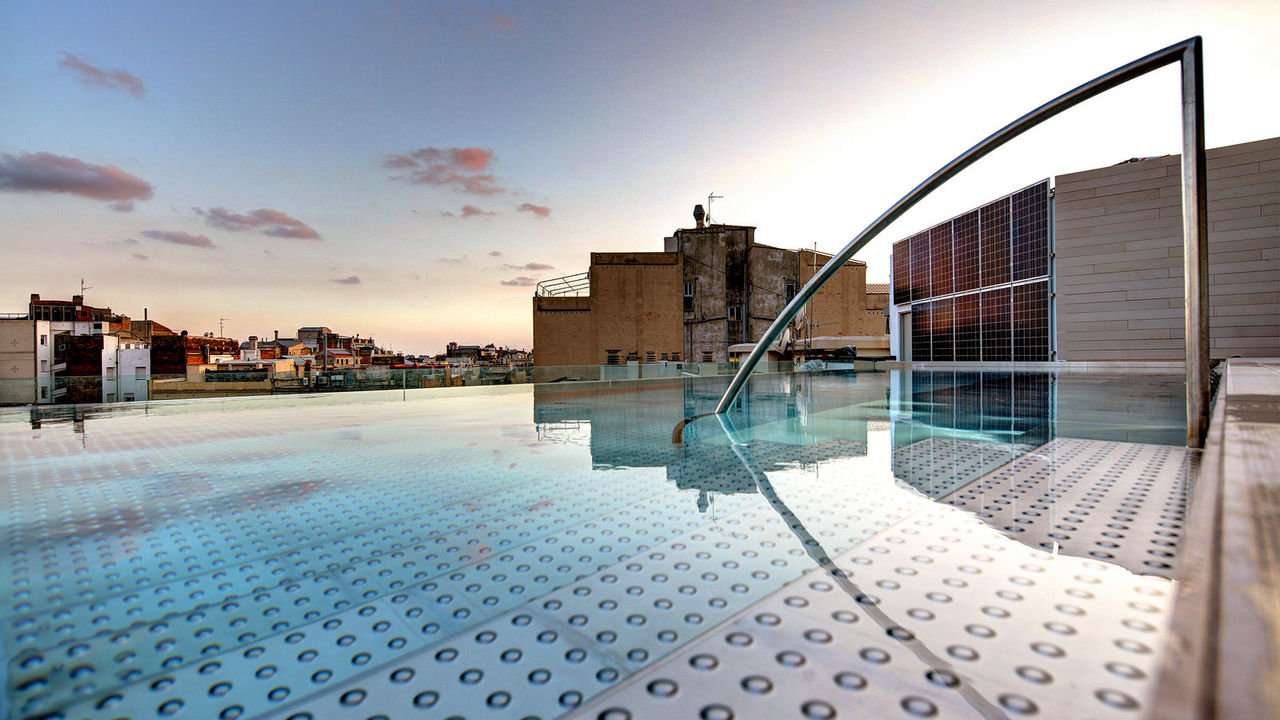 Why we love it
---
Modern, spacious and stylish 4-star hotel
Lovely rooftop pool and solarium
24-hour well-equipped gym
Excellent on-site restaurant
Carefully designed to allow in as much natural sunlight as possible, Olivia Balmes Hotel is a bright, spacious and ultra-modern gay frienldy place to stay in Barcelona.
For lovers of art, history, or a spot of shopping, the Olivia Balmes centres you right in the beating heart of Barcelona. Close to the sites of the Sagrada Família, La Pedrera, Camp Nou and Las Ramblas, it allows you to feel right by the action, whilst simultaneously serving as the perfect place to recharge.
With a rooftop pool and solarium, you can do some laps in cool waters or stretch out on the patio furniture while still admiring the beautiful views of Barcelona city. It's a great place to chill out, have a drink and meet new people. From jumping in and out of the pool to just absorbing some much-needed Vitamin D, the rooftop is definitely a must-visit spot for all Olivia Balmes guests.
Just off the terrace and pool is the hotel's gym, which is open 24 hours a day for anyone who really needs to get a workout in at 3am! There are also six different room types available at Olivia Balmes, so you'll find your perfect stay no matter your budget or desires. They're all modern and spacious, but you can choose from ones with balconies, basic rooms, superior or even the huge exclusive suites.
For dining, the Seventeen Restaurant draws in people from all over the city. Fusing Catalonian and Mediterranean cooking into their dishes, the food is bursting with flavours and passion. The terrace allows you to enjoy your meal outdoors. Sit back and give a toast with some fine wine, whilst breathing in the cool Spanish air. This is also where you can enjoy a varied breakfast buffet each morning, before beginning your day exploring the city.
09
Hotel Acevi Villarroel
Eixample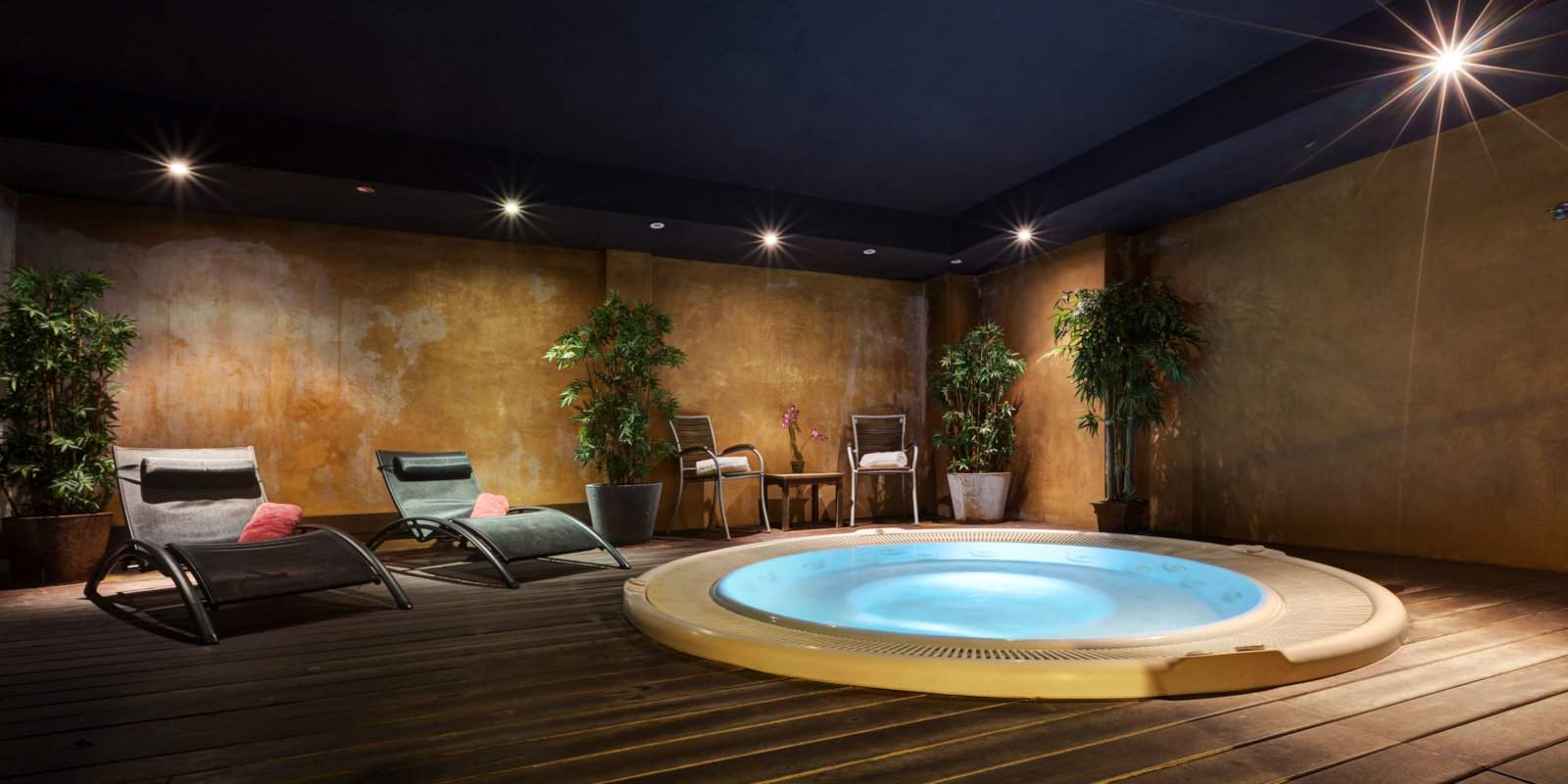 Why we love it
---
Lovely 4-star hotel
Excellent spa with sauna and Jacuzzi
Rooftop swimming pool
Gym and on-site restaurant
Warm and gay friendly, the Hotel Acevi Villarroel is a shining example of Spanish hospitality.
From the minute you first walk in, to the moment you leave, you are treated like a part of their big, happy Mediterranean family. The staff are exceptionally friendly and don't just speak to you like a guest, but as if you were their friend. It helps the place feel so much less formal and adds to the enjoyment of your stay.
They work hard to ensure everyone feels personally catered for, taking the time to get to know you and tailor the experience for your needs. Whether you are taking a dip in the rooftop outdoor pool or relaxing on the patio surrounded by plants and flowers, the Acevi Villarroel is a budget-friendly way of re-energising. There's also a small gym for keeping fit during your travels.
The Kunu'u Spa features an array of services, from massages to chromotherapy, saunas and steam baths. This is also where the big outdoor Jacuzzi from the photo above is located. Hotel guests get a 60% discount, or free entry if you book the deluxe room with spa access. Breakfast is served each day in the elegant and minimalist restaurant, which also offers international cuisine for dinner.
Rooms are spacious, well-equipped and ultra-modern, with options to suit all kinds of budgets. Choose from a minimalist single/double room, or a luxury Jacuzzi Junior Suite for a truly romantic setting. These come with an incredible jacuzzi spa-bath in a fabulous marble bathroom. Lounge around in your own private spa, order some room service and enjoy a night in. Now that is what we call an intimate date night!
10
Hotel Center Gran Via
Eixample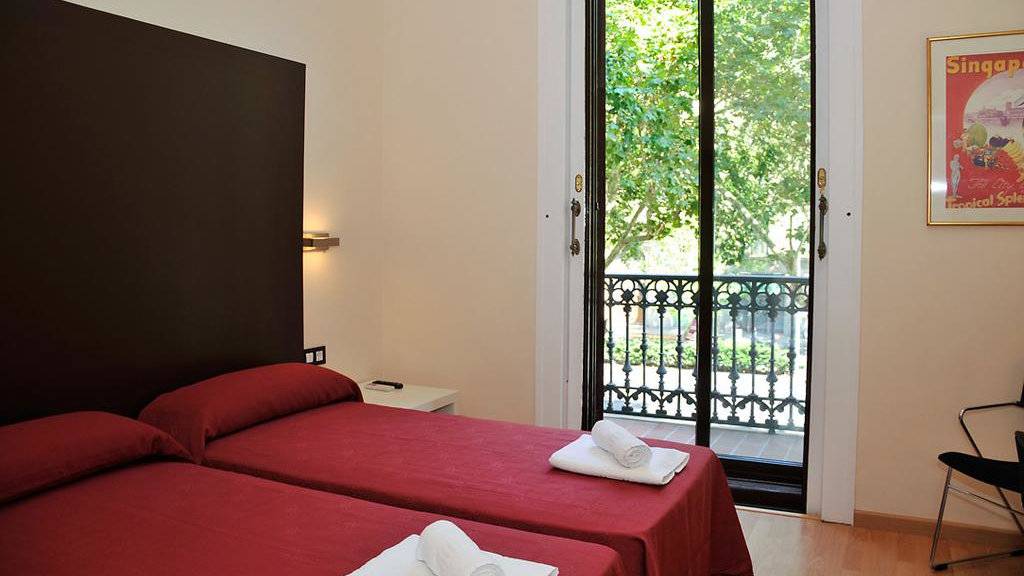 Why we love it
---
Clean and comfortable budget hotel
In a beautiful Modernist building
Rooms with lovely private balconies
Excellent location in Eixample
Center Gran Via is a boutique hotel with just 15 rooms, so guests receive very personalised service. Such intimate and cosy quarters create the illusion that you have the whole place to yourself. It's perfect for couples looking for a quiet getaway on a budget or for small families.
The bedrooms have beautiful little French balconies opening up onto the leafy street below, which are especially romantic!
It's budget-friendly, with simple and functional rooms. Fitted with flat-screen TVs with international channels, you can choose to have a few cosy nights in here and there. Though based on the hotel's location, we're not sure why you would want to. In the middle of the Eixample district, with dozens of shops, restaurants and cafes on your doorstep, you're just a few minutes away from the thriving Paseo de Gracia – one of Barcelona's busiest avenues.
The staff are super helpful and will be happy to offer tips and information on what to do around the city. We made great friends in the foyer staff, who proved you can inject a little fun into looking after your guests, whilst still remaining professional. We also loved that the hotel is in a beautiful Modernist building, with splashes of red throughout. This isn't a luxury hotel but if you want somewhere clean and comfortable without forking out lots of cash, then it's a great choice.
11
Hotel Villa Emilia
Eixample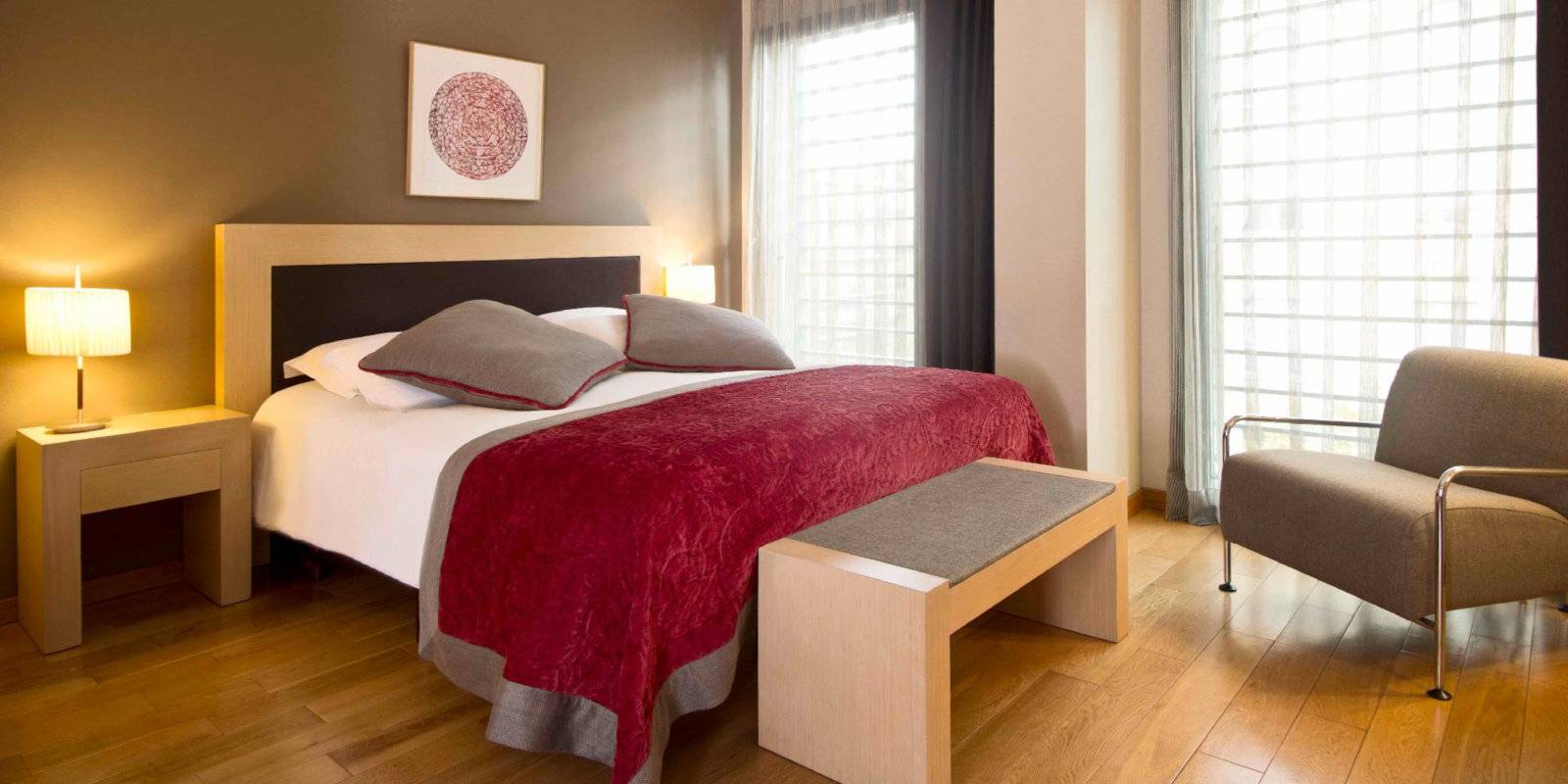 Why we love it
---
Pet-friendly hotel
Stylish, elegant and cosy design
Excellent bar and restaurants on-site
Good location right by a metro station
'The pleasant feeling of returning to a place you've never been' – this is a strong mantra from the Hotel Villa Emilia and it couldn't ring truer.
Walking into the lobby and you truly feel at home. Its modest decor is stylish, yet understated. It doesn't try to win you over with supreme elegance, as it knows its strengths lie in just upholding a welcome atmosphere. Plus, it welcomes pets! So you can bring along your little furry creatures on your travels.
Not only is the hotel pet-friendly, but all the rooms come with a pet bed for your four-legged pal. The rooms are also spacious and bright, with sleek, modern decor. You're located on the edge of the Gaixample area, right next to a metro station so it's easy to get to all the fantastic gay bars and clubs.
Zinc bar is a must-see. Sure you might be dying to get out and explore all the city has to offer, but don't forget that the very place you choose to rest in may also have some magic! The bar often features musical guests, from soothing jazz singers to New York-style piano bar realness. We love the little touches at Villa Emilia as well, like the fact that they serve free coffee and pastries every afternoon.
The terrace is a lovely place to share a quiet evening drink or meal with your lover. They have weekly barbecues each Sunday or you can enjoy some delicious vermouth with olives at any time. There's also an excellent bistro serving Catalan dishes made from seasonal produce for lunch and dinner. We recommend saving it up for the last night and toasting off your fabulous adventure in Barcelona.
12
Renaissance Barcelona Hotel
Eixample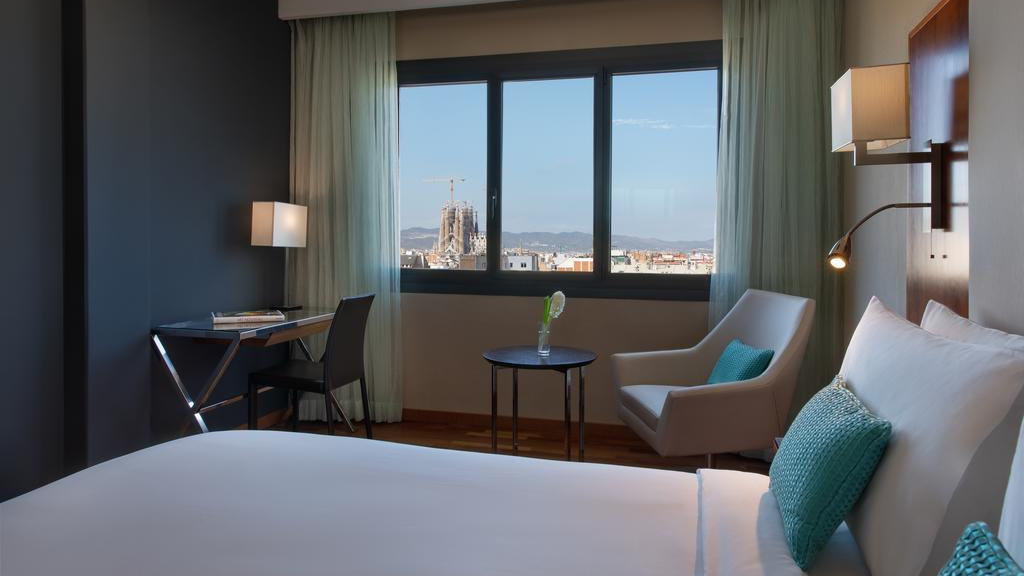 Why we love it
---
Stylish recently renovated hotel
Delicious rooftop restaurant with panoramic views
Lovely luxurious spa
24-hour gym
You guessed it – this gay friendly hotel is Renaissance-inspired! Each space has its own unique design, fitted with modern art pieces, plus furniture and wide windows to allow for natural light to pour in.
It's newly-redesigned and ready for action – close to Barcelona's most attractive sites. From the Paseo de Gracia to Las Ramblas, there are tons of things to do right on the hotel's doorstep.
The staff are all about maximising your comfort. Whether it be through serving up some delicious cocktails or pointing you in the direction of some must-see landmark in the city, they are always making sure you have a great time! Whilst the city offers much to be discovered, don't overlook the magic that lies within the hotel itself. You might even be able to spot the Sagrada Familia from your bed!
The Mayan Luxury Spa has non-guests pounding down their doors. The treatments here are definitely something you wouldn't want to miss out on. Particularly after a long day of exploring the city, you'll want to avail yourself of their world-class massages and luxurious saunas. There's also a gym that's open 24 hours a day and provides plenty of fitness machines to keep you looking trim.
With their superb Goja Rooftop Experience serving up exquisite Mediterranean cuisine, you'll always have an optimal option for dining if you are ever stuck for a bite. They've somehow managed to embody everything magical about Spanish food and sprinkle it throughout every dish. Day or night you can enjoy panoramic views of the city from here, plus the decor is so cute and quirky, with chairs that look like eggs!
13
Ako Suites Hotel
Eixample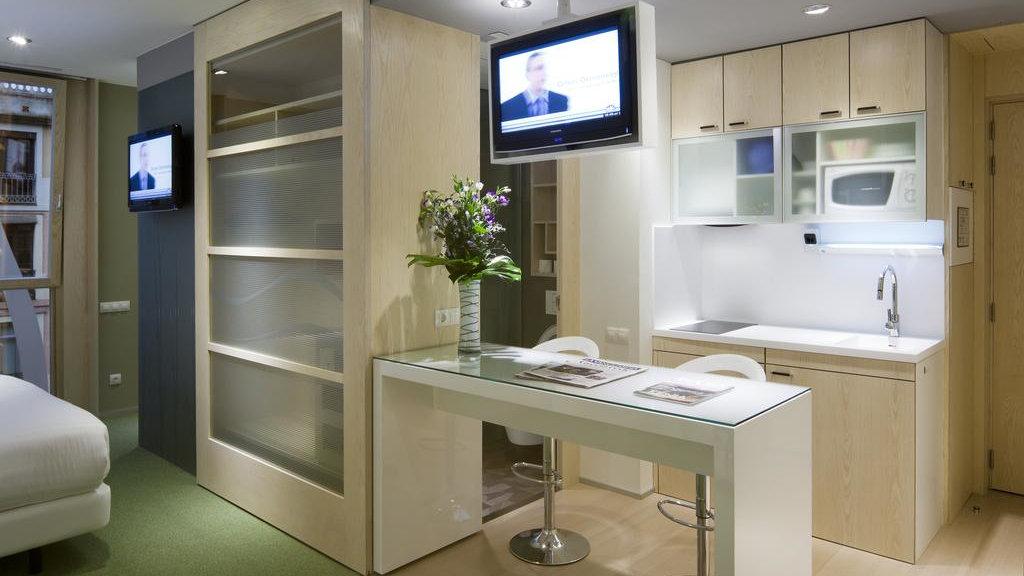 Why we love it
---
Private affordable suites
Rooftop pool and solarium
Kitchenette for cooking and saving money
Excellent location in Eixample
If you're looking for accommodation that's more like staying in private apartments than a proper hotel, then you'll love the Ako Suites Hotel.
The suites for 2, 3 or 4 guests come with kitchenettes for you to do your own cooking, along with elegant bathrooms and comfortable beds. Everything is compact and stylish, perfect if you just want somewhere to base yourself for experiencing the city.
While it's not exactly a hotel, you can still enjoy fabulous hotel amenities like the rooftop swimming pool and solarium. The views from up here are fantastic, plus the pool has some cool running waterfall-type features to splash around under. We also love how the deck chairs have big green leaf-shaped sunshades and there are plants all around making you feel like you're in a little rooftop jungle!
The front desk is open 24 hours a day and the staff are happy to provide you with all sorts of info about the best things to do in the city. While there isn't a hotel restaurant, you can order room service and enjoy an a la carte breakfast in your room. Since the suites are in the heart of Eixample you'll also be able to enjoy all the nearby restaurants, bars and clubs. If you're looking to save money there's also a supermarket just around the corner, as well as a laundromat to keep your clothes fresh.
14
The Corner Hotel
Eixample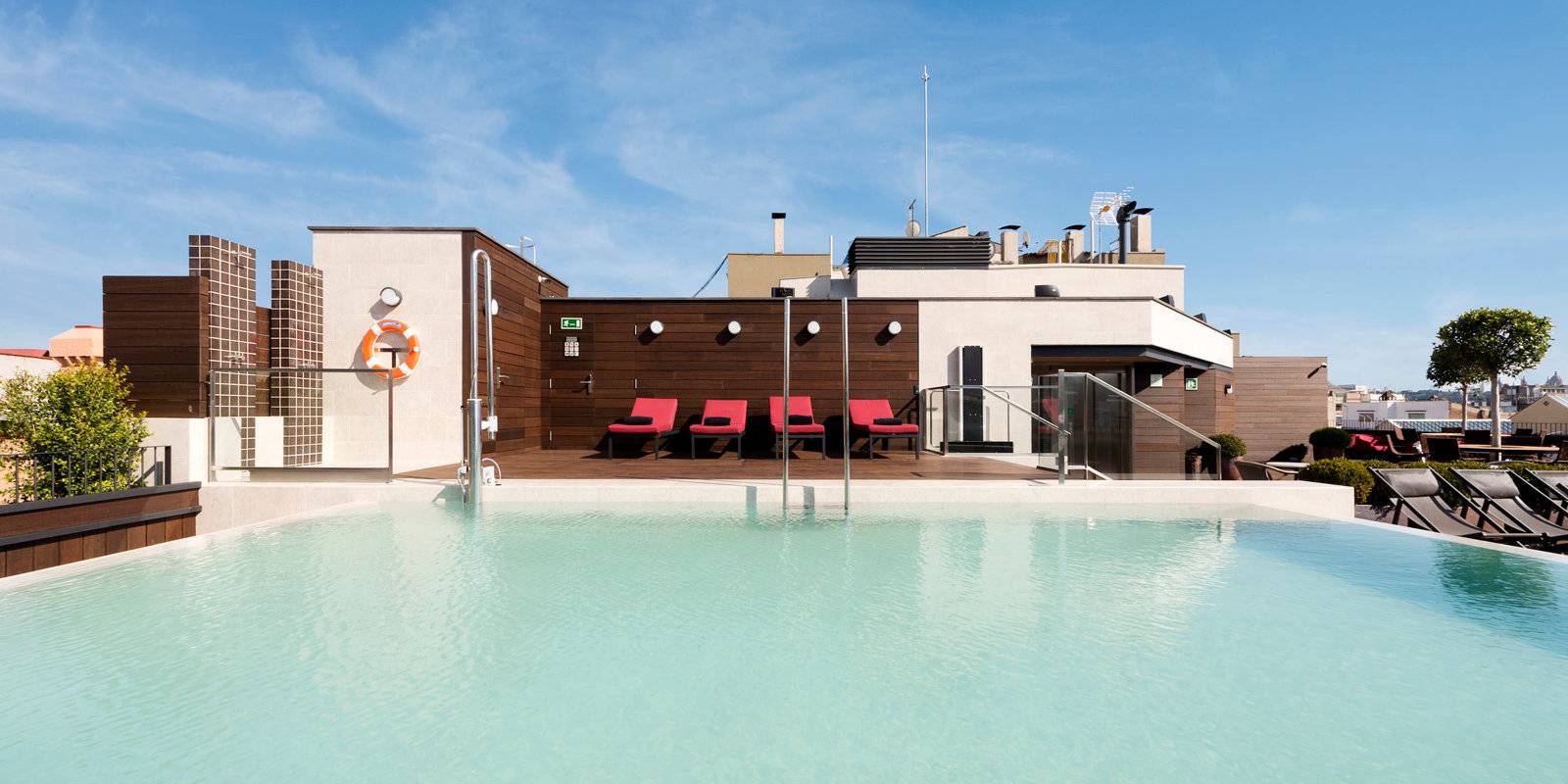 Why we love it
---
Gorgeous hotel in an elegant building
Rooftop pool and terrace with stunning views
Lovely friendly staff
Bright, spacious and comfortable rooms
The staff at this hotel sure know how to work a corner!
The Corner Hotel can be found within the Eixample district, in the form of an elegant and impressive looking building.
Hidden up on the rooftop is a gorgeous swimming pool with plenty of spots to sunbathe while enjoying views that stretch all the way to Tibidabo.
Having undergone an extensive facelift, this gay friendly hotel has endured centuries of transformation throughout Spanish history. Whilst the design incorporates snapshots of times gone by in its structure, the hotel itself still feels brand new. The interior combines modernity, comfort and convenience, to create an incredible atmosphere. It's the perfect place to collapse into after a night of partying or shopping in the sprawling, energetic city.
Throughout the whole hotel is a true communal spirit. Staff want to get to know you. Fellow guests are eager to make friends. The bar is always full of life and chatter and has the kind of vibe where you feel like you can approach just about anyone. Hotel rooms are bright and spacious, equipped with state-of-the-art technology to make your stay as pleasant as possible. It can be hard at times to pull yourself out of your room, but alas Barcelona is calling….
15
Cram Hotel
Eixample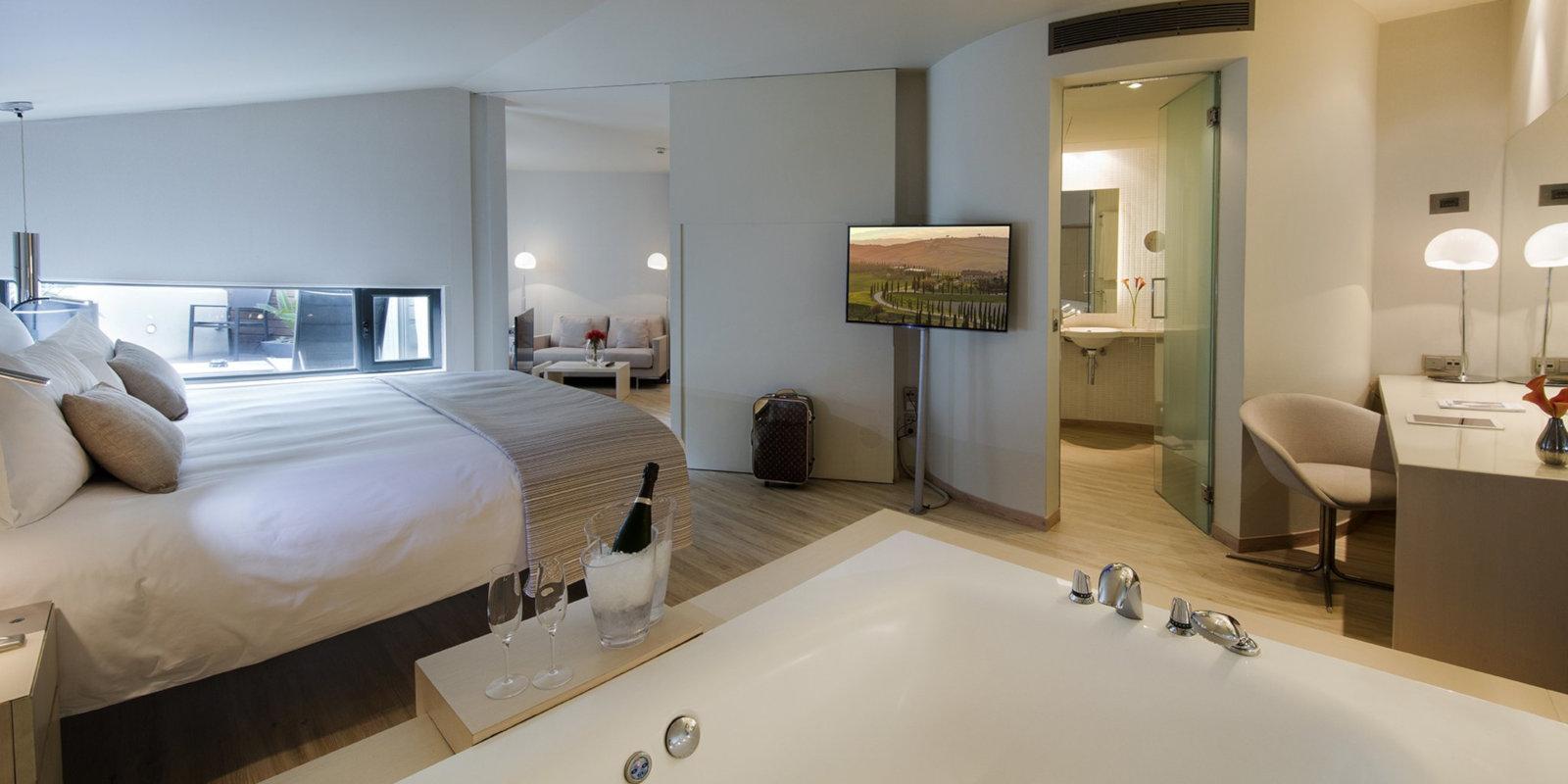 Why we love it
---
Incredibly romantic restaurant
Stunning rooftop bar
Gorgeous rooms with balconies or in-room spa baths
Delicious on-site restaurant
Now, this is the kind of life a gay can get used to!
Hotel Cram is in love with romance – so much so that it has created a special Romantic Getaway experience. Couples will receive a bottle of cava to their room, a buffet breakfast, a cocktail at Mareva or Anemos bar, and a welcome bath with bath-salts and perfumed silk petals! Now if that doesn't describe the perfect honeymoon, we don't know what will.
Plus, if that didn't sound like it came straight from a rom-com movie, then a night spent at the Angle Restaurant will. Ancient dishes that harken back to age-old Spanish traditions, sprinkled with elements of modernity, fill out the menu. A favourite of ours had to be the grilled red mullet with cabbage textures and kimchi, as well as the scarlet shrimp bouillabaisse infused with aniseed and saffron. Occasionally, the genius chef Jordi Cruz will give guests a masterclass in cooking, so it is worth asking the staff as you arrive when the class will be on.
There is also a rooftop bar, where you can admire views of the city, have a drink and meet new people. There are views of the surrounding mountains, so you have a nice juxtaposition of seeing both scenic and city wonders. Though don't get too caught up in Cram's charm. There is still a city out there, pulsing with action and begging for you to explore. Close by are sites like the Casa Batlló modernist museum and the Sagrada Família church that you can't come to Barcelona and not visit at least once!
16
Hostal Boutique Khronos
Eixample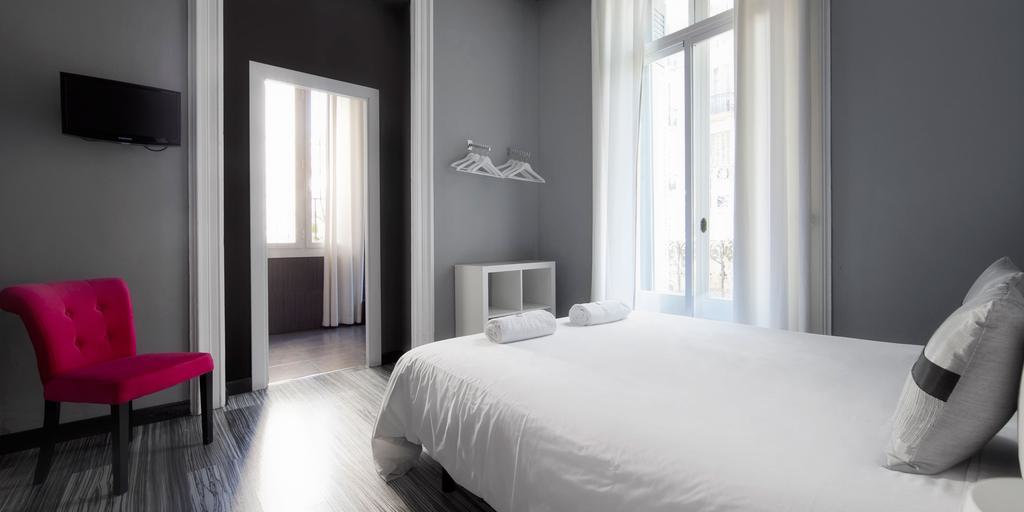 Why we love it
---
Sleek and stylish budget accommodation
Lovely rooftop terrace
Excellent location for tourist sights and gay scene
Friendly, kind and helpful staff
Minimalist and economical, the Hostal Boutique Khronos is best suited for a holiday with friends and family.
It may not look like much from the outside, but within its walls, is a group of fantastic people working hard to bring a fabulous experience to those travelling the world. Khronos provides a unique concept, combining the budget of a hostel with the style and comfort of a hotel!
With rooms that can accommodate up to 5 people, you'll have everything you need from a hotel served to you. If you're with friends – think of it as the perfect sleepover. Plus, the rooms are super cosy, sleek and stylish, so you won't even notice that you are in budget accommodation. We especially love how everything is decorated with soothing tones of grey, black and white, with occasional pops of bright pink.
Close to the main tourist sights, Khronos is right on the periphery of the gay scene. Perfect for when you are simply passing through the city on a small break, the hostel is a cost-effective way of absorbing the magic of Barcelona. There's a beautiful rooftop terrace for relaxing in the sun, and we really enjoyed looking at all the gorgeous historic buildings across the road.
The staff here are knowledgeable and ready to point you in the direction of all the most exciting sights around the city. They manage to strike a great balance between professional hotel staff, and the good-natured approach of hostel workers. You feel like you made a friend whenever you speak with any of them. This is a theme throughout the entire establishment – with all guests holding a totally laid back and carefree attitude.
17
Hostal Centric
Eixample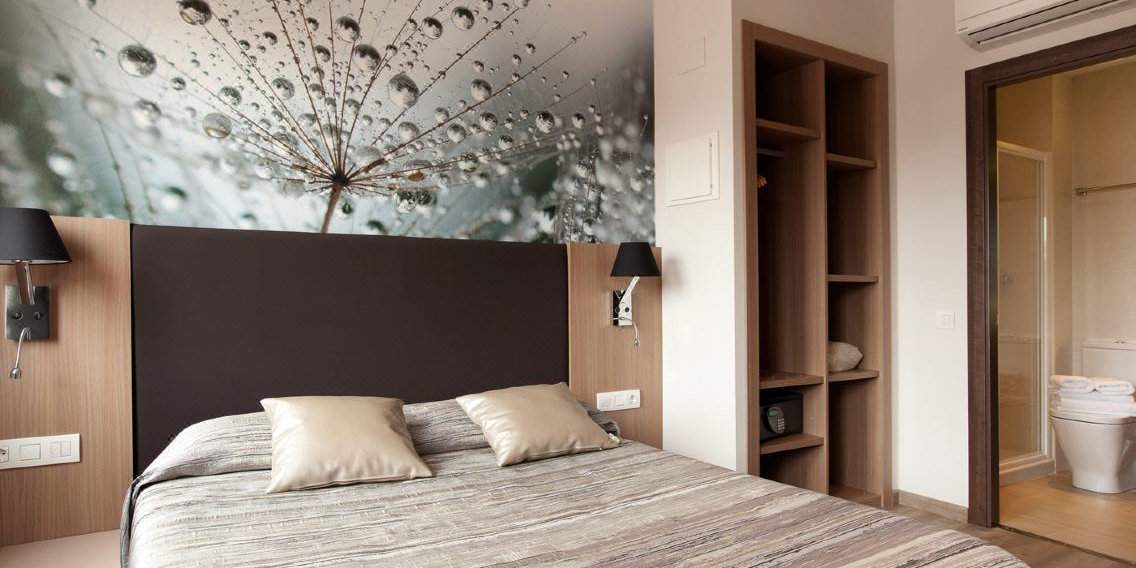 Why we love it
---
Clean, cosy and minimalist space
Hotel-style rooms for hostel prices
Excellent location for exploring
Some rooms with private balconies
For when you need a simple, yet cheap gay getaway, Hostal Centric allows you to fulfil all your basic needs, whilst still allowing you close access to the city.
Situated in Eixample, the Hostal Centric is just a short walk from Las Ramblas, the Gothic Quarter and other must-see Barcelona sights. If you just want a clean and cosy private space to base yourself while exploring, this is perfect.
From the outside, the Hostal Centric looks like a simple, brick building, with arched doorways and plants perched inside the windows. Inside, it is a bright, white, modern space with avant-garde art hanging on the walls and compact-style furniture. Some of the rooms have private balconies or you can simply access the shared terrace with table and chairs for relaxing in the sun.
Suited to the solo traveller, or a bigger family, Centric always feels super roomy and cosy. Oozing Scandanavian style, with its clean lines, minimalist design and smooth, wooden furnishings, the Hostal Centric feels more like a 4-star hotel than a modest hostel. They may refer to themselves as 'basic but cosy', but there is nothing basic about this place. What's basic about a 93% occupancy rate all year round?
What to do in Barcelona?
Once you've got your hotel sorted it's time to explore Barcelona's museums, art, parks, restaurants and more! Find out the best things to do during your visit…
18
Hostal Balkonis
Eixample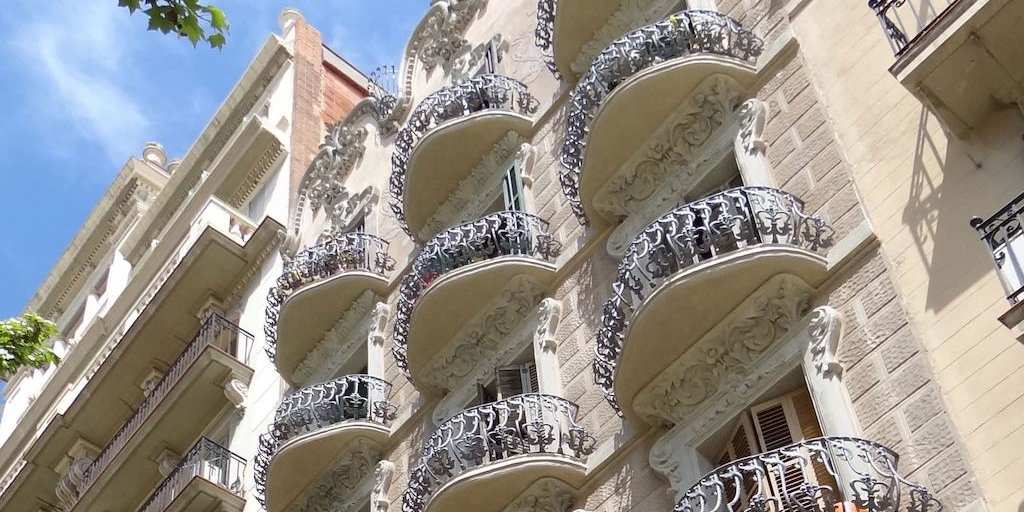 Why we love it
---
Lovely affordable accommodation
Rooms come with private bathrooms
Some rooms feature private (beautiful) balconies
Excellent location in Eixample
Modest and modern, the Hostal Balkonis is best suited for families and couples. Rooms come in various shapes and sizes, suitable for 2-5 guests.
Obviously it's named for the elegant balconies facing the street, plus you're within walking distance of many of Gaudi's architectural delights, as well as Paseo de Gràcia and Las Ramblas. You're also ideally situated for enjoying the best gay bars and clubs the city has to offer!
You can go simple with just a single or a double room, or you can opt for a room with a balcony. We'd definitely recommend doing this as it allows you the chance to step out every morning and soak up the sounds and sights of the city. There are also family-sized rooms and an apartment-style room for groups of 5 people. Perfect for college mates looking to do some travelling over their summer break.
A visit to Balkonis is a great way to experience Barcelona on your first visit. It's cheap, though very central, and the staff here are super knowledgeable. The interior design oozes Mediterranean charm, from the tiled walls to the artwork and arched doorways. The hostel also features a charming common area, with comfortable furniture, blooming flowers and leafy green plants. This is a great spot to meet fellow travellers, chat, play games, or just relax.
---
Like this post? Pin it