TERMS OF USE: There is a chance that some of the content on this page has changed since it was last updated. By reading this article, you consent to our Terms of Use and Disclaimer. Happy Travels!
DISCLOSURE: Some of our posts may contain affiliate links which we may receive a commission if you choose to book something through one of our links.
These are the 5 best gay Pride events in Spain – a place we rate as one of the most gay friendly countries in the world!
Shirtless men dancing on floats. Drag queens lip-syncing for their lives. Friends running through the streets with faces smeared in glitter and dressed in rainbow colors!
Pride is as much a party as it is a protest. Often used to highlight issues where LGBTQ citizens are not granted the same rights as their straight peers, such as blood donation, the existence of conversion therapy, or loose discrimination laws, the Pride march is a fantastic way to get society to listen up, and address the issues at hand.
Spain is home to some of the best Pride events in the world. With progressive laws, tolerant citizens, hot gay Spanish boys everywhere, and gorgeous weather, each Pride in Spain is truly, a glorious celebration and we love them all!
Here are our 5 favorite gay Prides in Spain that you need to check out.
Madrid Pride
You cannot be a self-respecting gay in this world and not have attended Madrid Pride at least once in your life. The first time we experienced Madrid Pride, we were blown away by the sheer scale of it. Everyone in the whole city gets involved. It's so inspiring to be a part of.
Madrid is not only the largest Pride in Spain but one of the biggest Pride events in the world. The week leading up to it sees exciting parties (both indoor and out), music performances, artistic showcases, LGBTQ walking tours and tons of drag-gy brunches!
Stretched across 5 days, Madrid Pride culminates on the first weekend in July each year. It started in 1979, after the passing of Fascist dictator Francisco Franco, when the LGBTQ community enjoyed a rise in public acceptance and a shift towards more liberal laws. Queer people felt like they had risen from the ashes after many years of oppression. Since then, gay marriage and adoption rights have been ushered in, and LGBTQ people enjoy (almost!) the same rights that straight people do.
But it's the use of the word "almost" that means Pride is still an important event to be held – and Madrid pulls out all the stops!
With around 2 million in attendance each year, many people travel from all around the world to experience this gigantic gay street party. Stretching across the entire city, Madrid Pride holds multiple mini-concerts, so no one ever feels too crowded in one particular space…they'll be plenty of gay Spanish boys for everyone!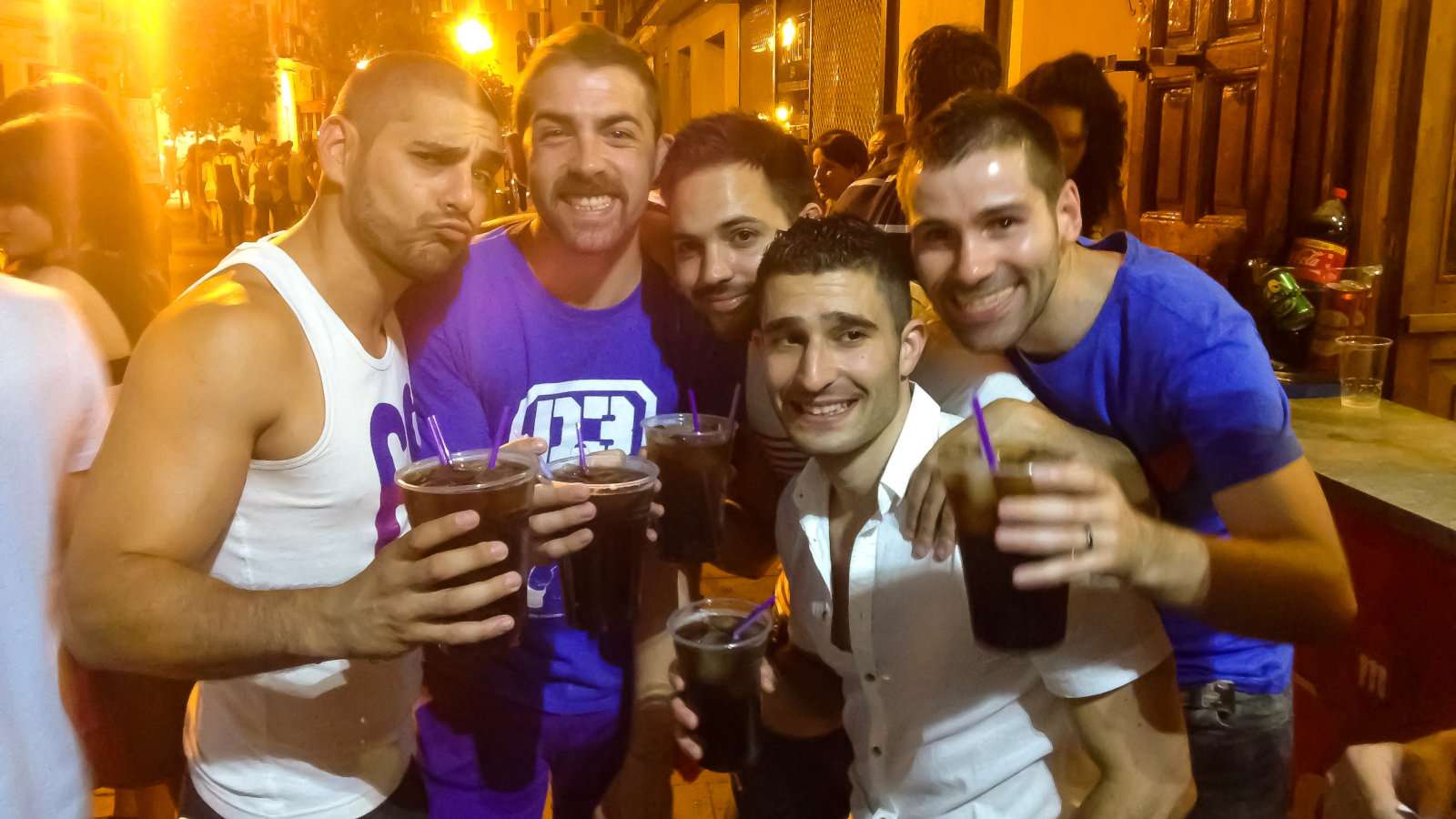 Barcelona Pride
When in doubt, go to Barcelona!
Barcelona Pride will rock you…it certainly rocked us! The atmosphere here is electric. Watching the massive crowd singing Queen's "We Will Rock You" was one of the most exciting moments for us.
In a celebration of diversity, individualism, and queer identity, self-love is gospel at Barcelona Pride!
Barcelona was the birthplace of Pride in Spain, with activists in 1977 congregating on the streets holding posters and picket signs, and chanting about how LGBTQ people were deserving of equal rights. They wanted to inform the public that the queer community were not monsters, but normal people, deserving of love and respect. Despite police getting involved and the protestors being disbanded by authorities, they certainly ensured their voices were heard, for homosexuality was decriminalised the following year.
The parade of Barcelona gay Pride climaxes at Plaza España with a huge concert taking place around Montjuic Park. It's packed full of people celebrating our LGBTQ community, which gave us goosebumps. There is nothing like seeing a group of people bursting with…well, pride!
With 300,000 queer people (and their allies) descending onto the streets of Barcelona, you'll never feel more confident and in love with yourself than you will here. We found ourselves dancing with some gorgeous gay Spanish boys dressed as angels, before being whisked away by an excitable crowd marching to a nearby stage to see a drag artist vogue the house down!
The action here is fast-paced, but you'll feel infused with loads of adrenaline…especially with all those Catalan hotties around!
Barcelona Pride takes place on the last weekend of June every year. Be sure to check out our detailed gay travel guide to Barcelona, as well as our guide to the best gay bars in Gaixample.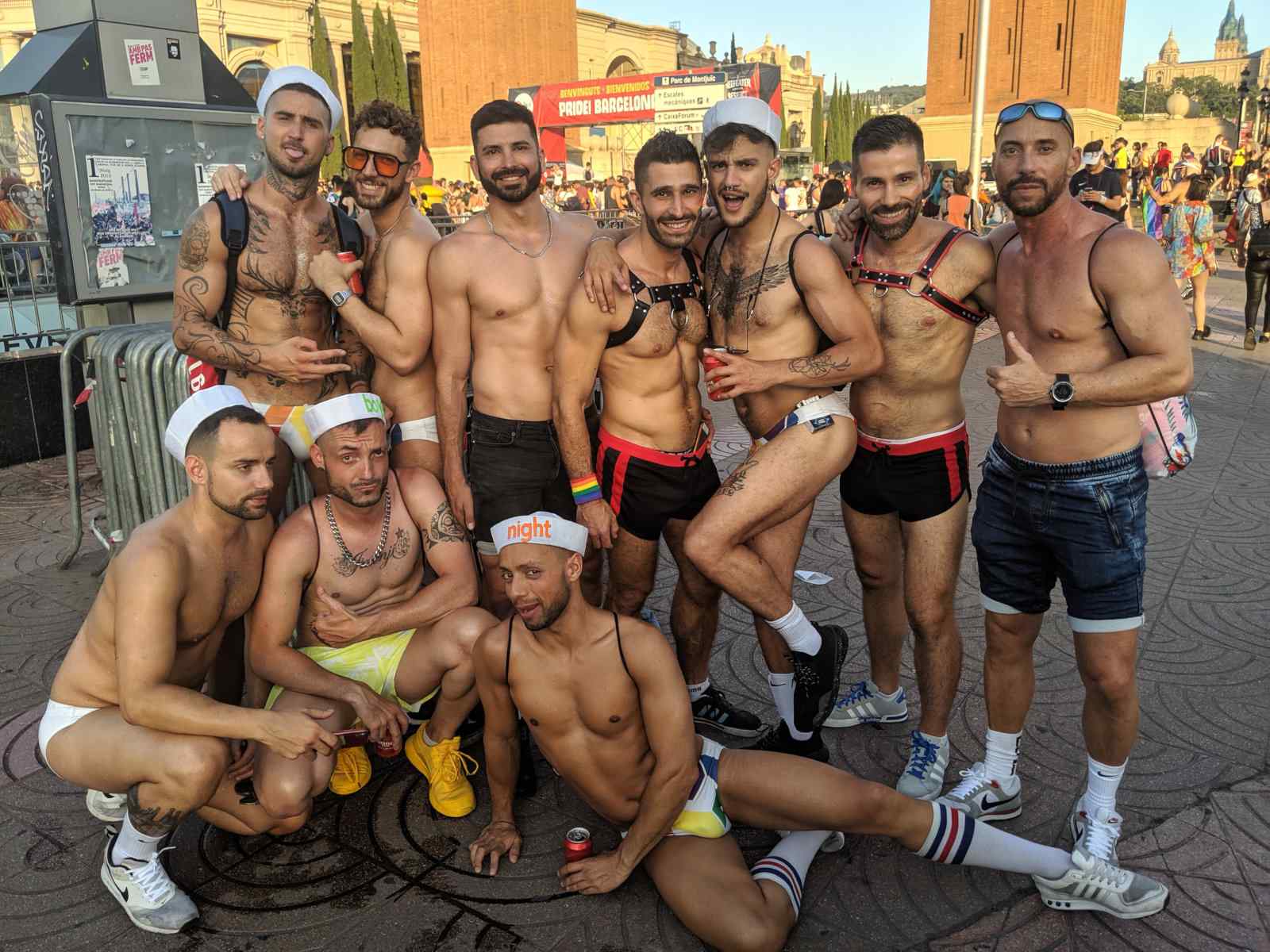 Sitges Pride
Did somebody say beach party?
Oh, what we wouldn't give to return to the scenes of golden beaches, half-naked gay Spanish boys, sparkling waters, fruity cocktails, pop music blasting from speakers, and seaside sporting games…oh wait, all we need is a flight ticket?
The Sitges Pride is the golden child of Pride parties. It generally takes place in early June, so you needn't worry about it clashing with other Pride events around Spain. With a BBQ and drinks, we've been converted to the idea that if you're not doing it on the beach, then you're not doing Pride!
With 10 whole days of music performances, water polo tournaments, pool parties, and festivities, Sitges Pride is one of our personal favourites to attend. After all, which other Pride events would see the likes of Kylie Minogue AND ABBA (cough, tribute band, cough!) performing on the same stage? When we say we almost fainted when the Swedish quartet launched into 'Dancing Queen', would be an understatement…who cares if they weren't the real deal, it's still ABBA music!
Plus, with stunning seaside hotels nearby, you needn't even worry about having to travel too far away for the parties! We made sure to book ours almost a year in advance though (yep, that's how quick the best rooms get snapped up), but it meant we got to dance into the small hours of the morning, and not worry about getting back to our warm beds.
Sitges Pride takes place every year in mid-June. For more, check out our detailed gay guide to Sitges.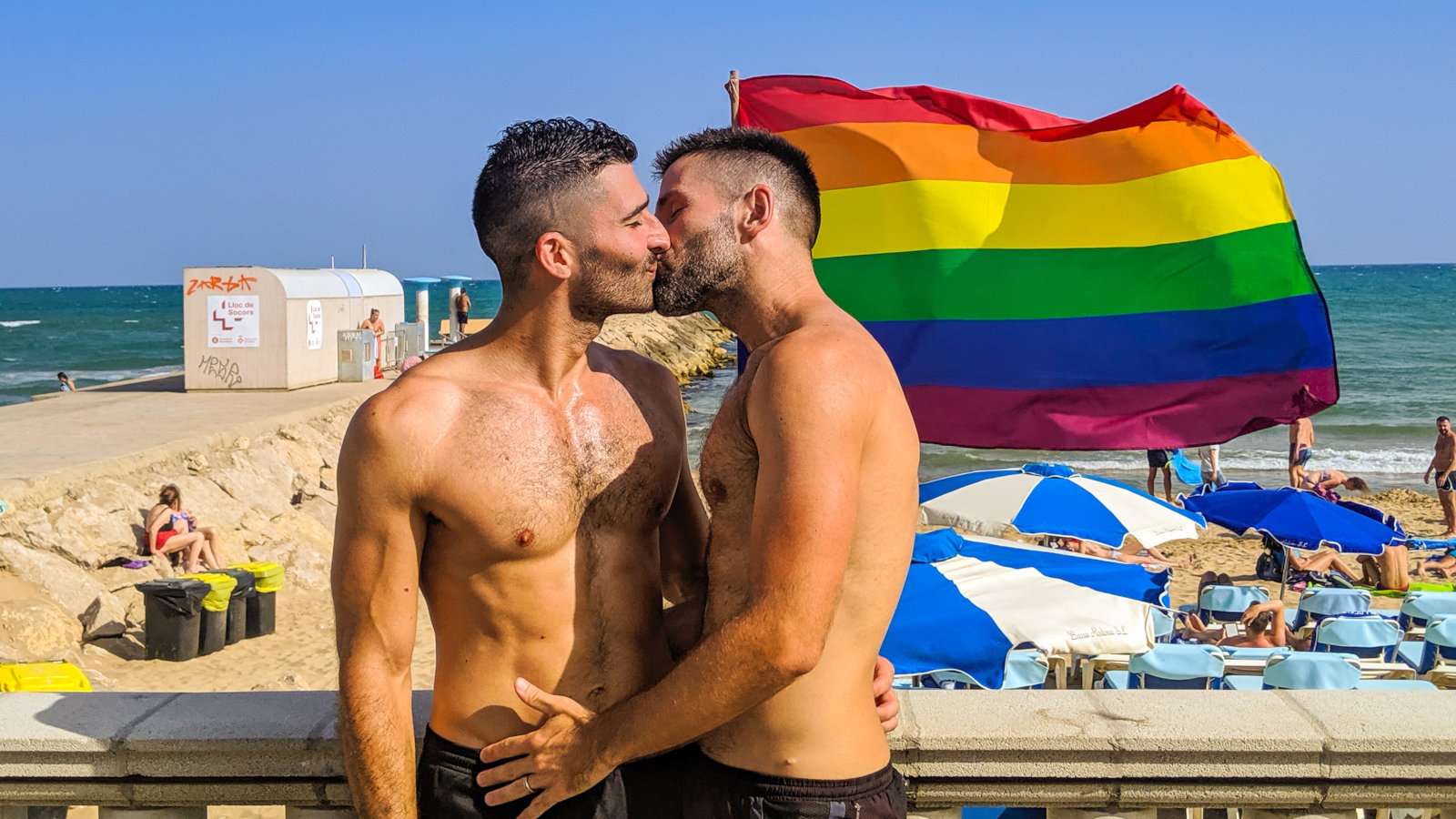 Maspalomas Pride
Located just off the coast of Africa are the Canary Islands. One of them, Gran Canaria, has a huge gay scene, with one of the best gay Pride events in Spain: Maspalomas Pride! Going strong for 18 years, it just gets better and more popular each year.
Maspalomas doesn't just have one, but two Pride events each year: one for the summer, and one for the winter. So when you're suffering from withdrawals during the cold, dark evenings, you'll still be able to head here for sunshine and rainbow frolics!
The Summer Maspalomas Pride takes place in May, across a span of 10 days. With 100,000 attendees descending into the city, it's a guaranteed party. Our highlight was taking a boat excursion with a bunch of gay friends aboard a cruise liner. With lunch buffets, riveting DJ sets, and stunning views of the Spanish coast, the party just kept on going into the early hours.
The Winter Maspalomas Pride takes place in early November. With dashing music artists from around the world delivering high-energy performances, this event is bound to kick you into the festive spirit! We were disappointed Father Christmas didn't make a cameo appearance (we thought he'd love the gays enough to show his bearded face), but hey, we had plenty of bells to jingle for ourselves…
Find out more in our gay guide to Gran Canaria.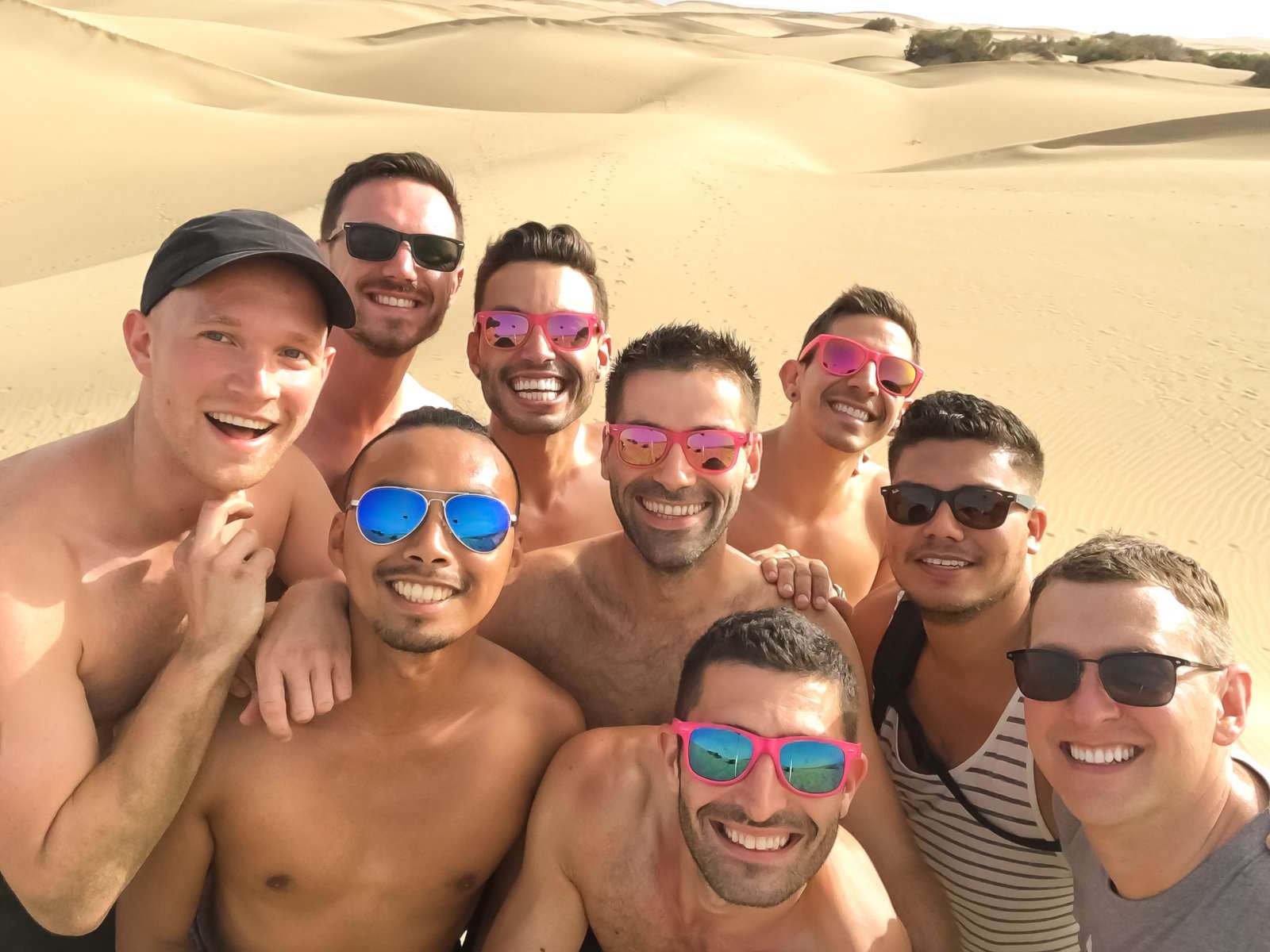 Torremolinos Pride
40,000 people. Four days. Two excited travellers. One amazing party.
Torremolinos is in Spain's popular Costa Del Sol region in the south of the country. Torremolinos Pride is a colourful, exciting and campy festival that celebrates the beauty of our LGBTQ family. It's also the third-largest gay Pride in Spain after Madrid and Barcelona.
Our first time attending this event, we didn't know what to expect. It was also our first time in that particular region of Spain, and first impressions certainly count…but boy did it deliver!
As we made our way down to the main area of action, in the thriving La Nogelera, our eyes were treated to some seriously attractive gay Spanish boys, spellbinding drag acts, and enough rainbow colours to make you go blind! Taking place in the last week of May each year, the main parade of Torremolinos Pride starts on Saturday at around 6 pm. Marching into the night, we laughed as the crowds turned from the beautifully golden tanned specimens that they were, into glow-in-the-dark pixies (having been doused in so much glitter!)
Torremolinos Pride takes place every year in early June.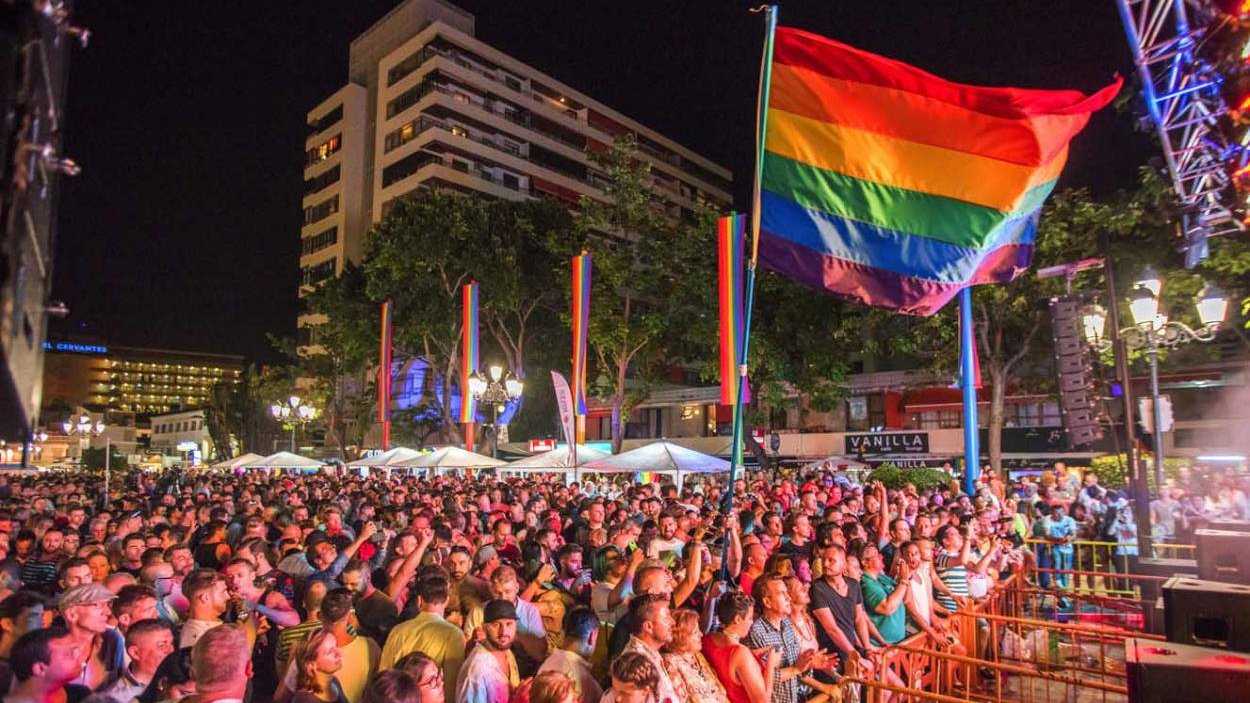 ---
Like this post? Pin it