TERMS OF USE: There is a chance that some of the content on this page has changed since it was last updated. By reading this article, you consent to our Terms of Use and Disclaimer. Happy Travels!
DISCLOSURE: Some of our posts may contain affiliate links which we may receive a commission if you choose to book something through one of our links.
Wondering what to wear for your next Pride event? This is our selection of the best gay Pride outfits from the many awesome Pride events we've been to.
Who doesn't love a bit of dress up?
We sure do! Whether it's for Halloween, or transforming into a geisha in Japan, or even into beautiful mermen in the Philippines…
Pride is one of our favourite events for dressing up. There are always so many different fabulous and sexy options to try out. Most importantly of all, dressing up for Pride gives us the chance to publicly celebrate our LGBTQ community's hard-earned right to live freely, to love who we want, whilst having a great deal of fun at the same time!
What began as a protest march for basic human rights in 1978, has today morphed into a positive celebration of being queer, and not feeling ashamed of it. Sadly, there are still many parts of the world where being gay can get you arrested, or even murdered! Even for us, when walking the streets of say, London or Toronto, before we dare any public displays of affection, first we look around and carry out a full risk assessment.
For these reasons alone, Pride matters today more than ever, and we embrace each one with buckets of enthusiasm and love.
We especially love dressing up for Pride, simply because: we can!
You don't have to dress up for Pride if you don't want to of course. There is no strict dress code, and everyone is welcome. But this is the perfect time of year to really let loose and go wild with feather boas, glitter, angel wings and lots and lots of rainbow accessories. So for those of us who love a bit of dress up, here are our 10 best Pride outfits to feel sexy and fabulous.
DON'T MISS OUT!
Join our newsletter
Subscribe now to receive in-depth FREE travel guides, along with inspiring stories, savvy planning tips, and exclusive discounts on gay tours.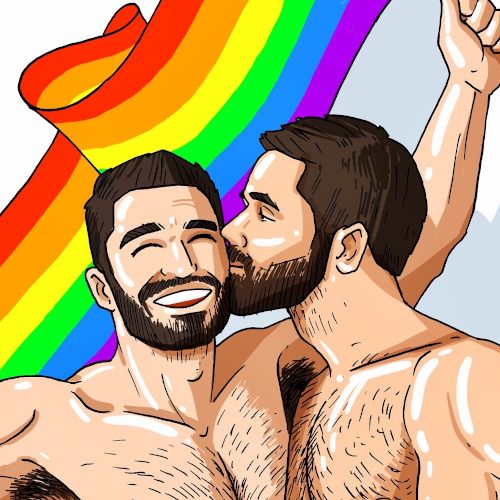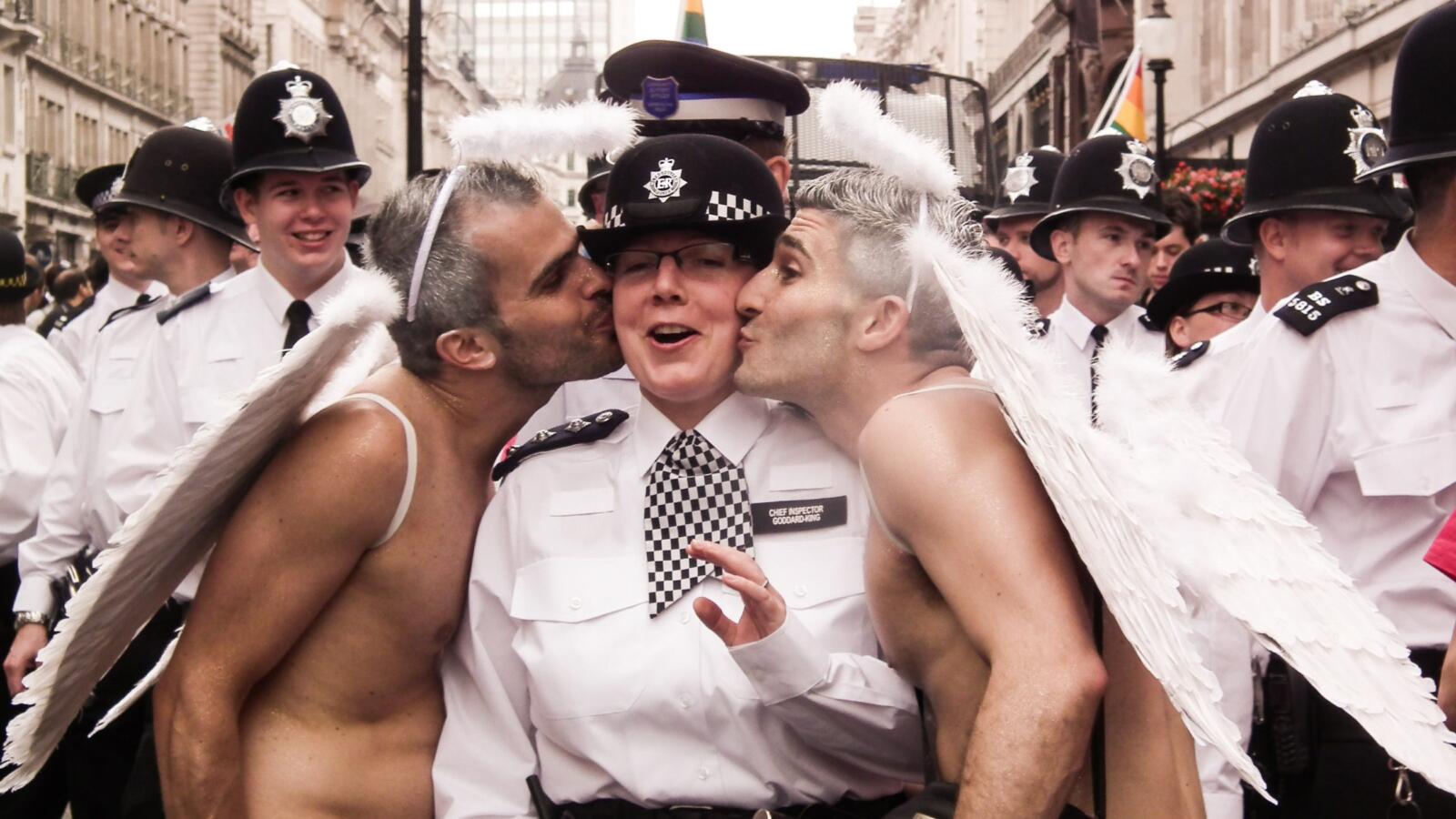 1. Sweet innocent angels
There will always be a bunch of cute topless twinks at every Pride donning a pair of wings and full-on angel paraphernalia. Whether or not you think it's cliché, we think its fun and super sexy. So, we tried it for ourselves at London Pride with a group of friends: clad in hot pants, halo and of course, beautiful white wings.
Dressing up as angels reminds us a lot of Eros (Cupid) – the cheeky and mischievous Greek mythological god of desire. He was also regarded as the protector of homosexual love. So it's no surprise that we gay boys love to commemorate this Ancient Greek god!
One cool thing about dressing up as angels for Pride is that it's such a strong Biblical image, that it almost turns into an ironic way to give the finger to religion. We certainly feel this way, given the inevitability of seeing a religious-led "anti-Pride" protest rearing its ugly head at almost every Pride event we've attended. On that point, it brought tears to our eyes when we read about local volunteers dressing up as angels to literally block out anti-gay protesters from the hateful Westboro Baptist Church at the funerals of the Orlando gay nightclub victims. They also offered to do the same at Pride events, such as Atlanta, which the Westboro idiots also try to disrupt.
The great thing about this outfit is you don't need much. It's very easy to doll up as a sweet innocent angel: buy a pair of wings, a halo, some sexy pants and you're good to go!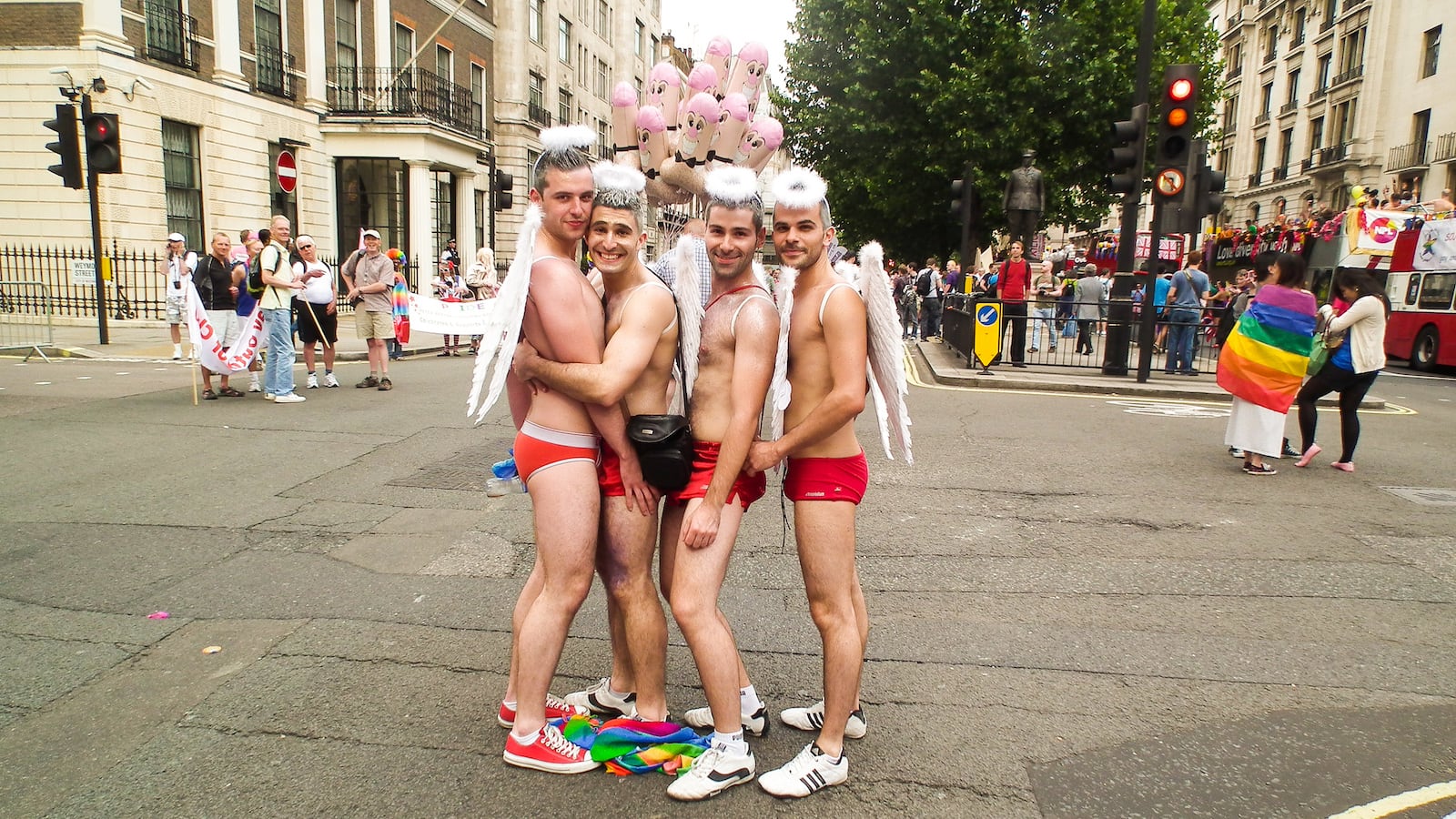 2. The not-so-innocent demon
Not pure enough to pull off a sweet innocent angel? Then go for the opposite! Or if you're two friends, or a couple, you can mix and match. One of you as an angel, and the other dressed up as the devil.
This is also another satisfying way to to piss off those anti-gay protesters waving the Bible at you arguing stupid things like homosexuality is a manifestation of Lucifer's Pride!
Grab a pair of devil horns and embellish with red face/body paint, devil fork and maybe even a tail to complete the look. And of course, don't forget the sexy tight red shorts…!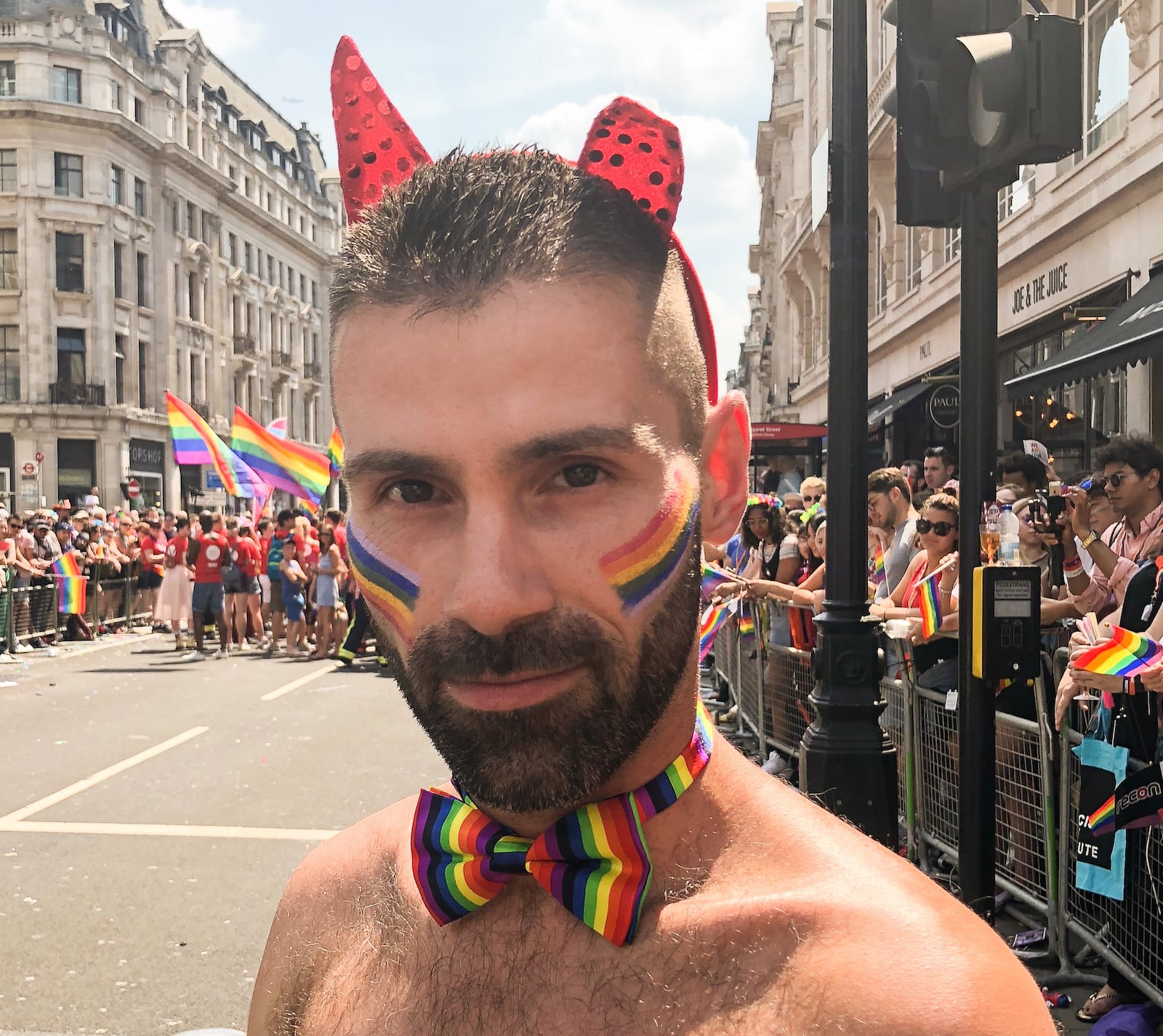 3. Rainbow rainbow and more rainbow
Nothing is more iconic of LGBTQ culture and Pride than the rainbow flag. It was created by the late Gilbert Baker in the 1970s, consisting of 6 colours: red, orange, yellow, green, blue and violet. Today, the rainbow has become the essence of all Pride events around the world.
What better way to honour our community than to accessorise with all the colours of the rainbow. You can get an array of items like rainbow sunglasses, wrist bands, bow ties, the flag itself, shoelaces, face paint and even rainbow umbrellas.
When it comes to the rainbow, we strongly believe you can never have enough. This is one place where you can really go all out and accessorise with as much rainbow as you want…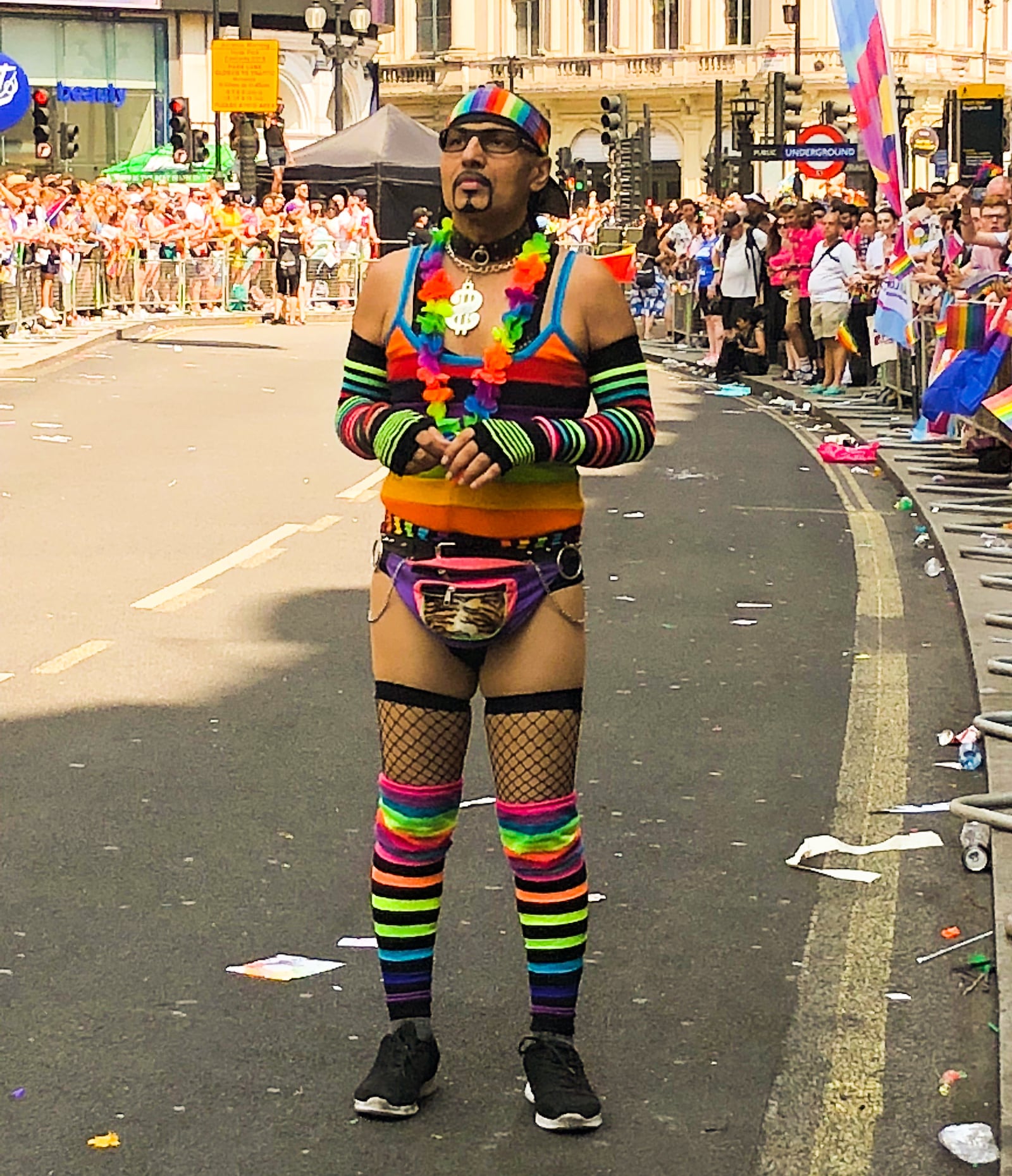 4. Leather fetish outfits
Leather fetish outfits are a stalwart of Pride. They've always been there from the start, and for good reason. When Pride started as a protest movement in the 1970s and 1980s, there was just one division: the heteronormative, and everybody else. So all the underground communities, including the fetish community (ie anything not considered "normal"), naturally allied and united together.
The fetish community has since gone on to develop it's own unique sub-culture (think leather parties in Berlin, BDSM, rubber, the handkerchief code, the Folsom Street Fair in San Francisco), but continues to be a strong presence at Pride events.
A fetish representation at Pride is nothing about public acts of sex. It's about being able to express an aspect of your sexuality in common with others and not feel ashamed about it. It's also important because Pride is where a young queer kid can go and see the entire LGBTQ world around him and find his tribe: whether it's a political party, the local trans alliance group or the fetish leather bikers.
The most popular representation of fetish in our community is the leather harness, whether at Pride or at a big Circuit party. You can purchase an inexpensive faux-leather harness online, or really go for it and invest in the entire leather/rubber outfit, complete with handcuffs, jock harness, lace zip-up hoods, neck restraints, chastity belts, and oh so much more!
One of the most famous fetish representations recently, was when the adorable Olympic figure skater, Adam Rippon, wore a leather hardness with his suit at the 2018 Oscars ceremony. As he did so, he stated:
"fashion is all about self expression and I chose to wear what I wore on the red carpet because I felt cool AF"
…and we sure as hell salute him for this bold (and very sexy) move!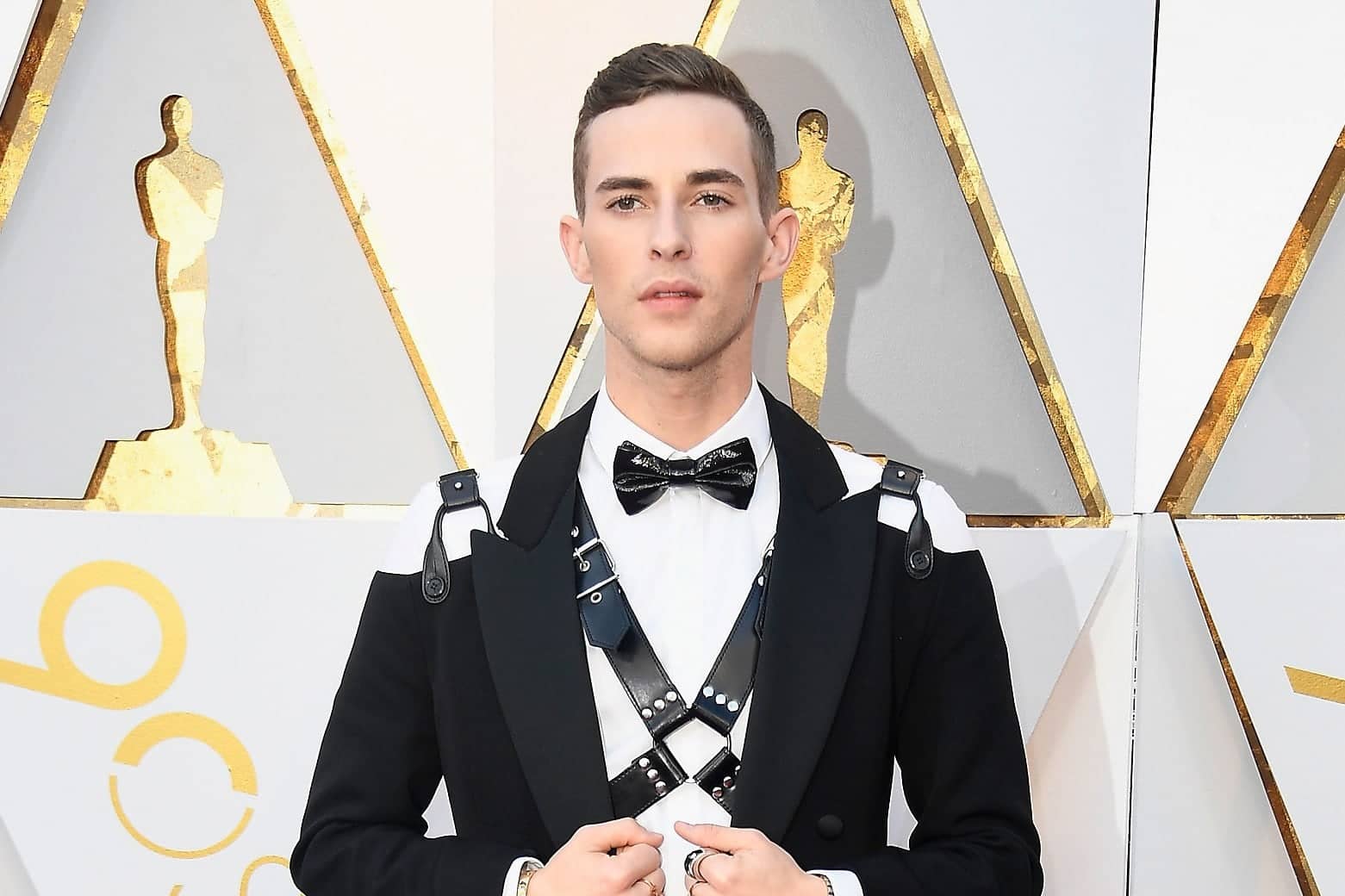 5. Pup play fetish
The Pride pups are one of the most iconic and ubiquitous fetish styles at Pride.
Pup play is when one person takes on the role of a pup, and the other is its handler. The pups act like cute doggies, and their trainer handles them like he would any puppy. To be clear, this has nothing to do with bestiality; no animals are involved! Also, it's not always sexual, simply a way to shed your human personality and find release in the carefree existence of being a pup! There are many websites and communities devoted to pup play. Check out this documentary to find out more about it.
Pride simply wouldn't be the same without the group of pups and their handler(s). If you want to join in, your starting point is the leather dog mask, embellished with a dog collar, leather harness, leashes, tails, and puppy toys.
DON'T MISS OUT!
Join our newsletter
Subscribe now to receive in-depth FREE travel guides, along with inspiring stories, savvy planning tips, and exclusive discounts on gay tours.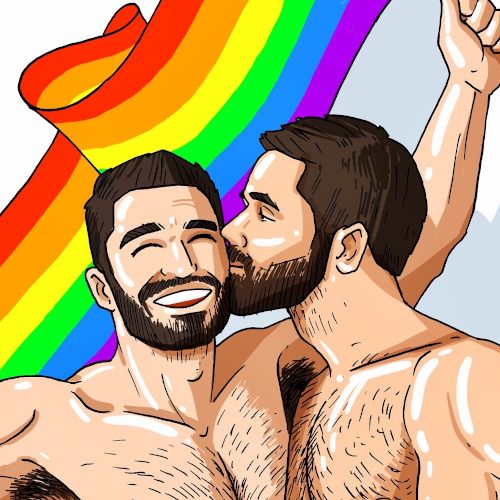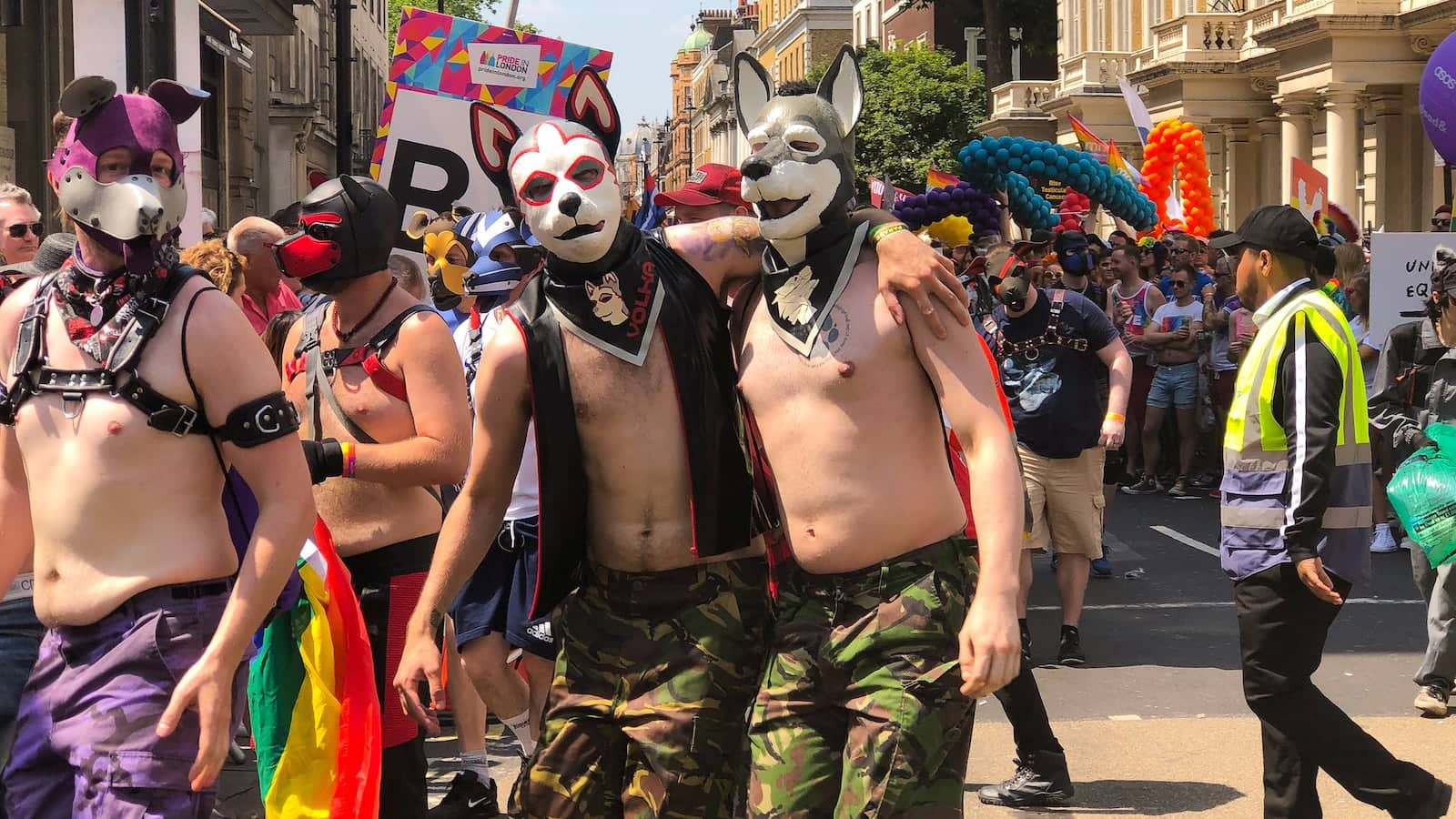 6. Sexy Roman and Ancient Greek outfits
Paying homage to ancient Greek mythology and to the Romans is always a lot of fun at Pride. We all know that sexuality was more fluid amongst the Ancient Greeks and Romans. Back then there simply wasn't a word for "heterosexuality" or "homosexuality". Men were free to enjoy sex with other males without a perceived loss of masculinity, or social status.
In Greek mythology, most of the gods had homosexual relationships, especially Apollo, Dionysus, Hermes, Heracles, Poseidon and even Zeus himself with his cupbearer boy, Ganymede. The Romans were notorious for their male concubines and man-on-man relationships. There were even two Emperors (Nero and Elagabalus) who each had a same-sex marriage.
So why not pay homage to our ancient homo-loving ancestors at Pride? We sure did: at one Pride with a group of friends, we dressed up as a mix of Roman gladiators, Roman senators and Greek goddesses.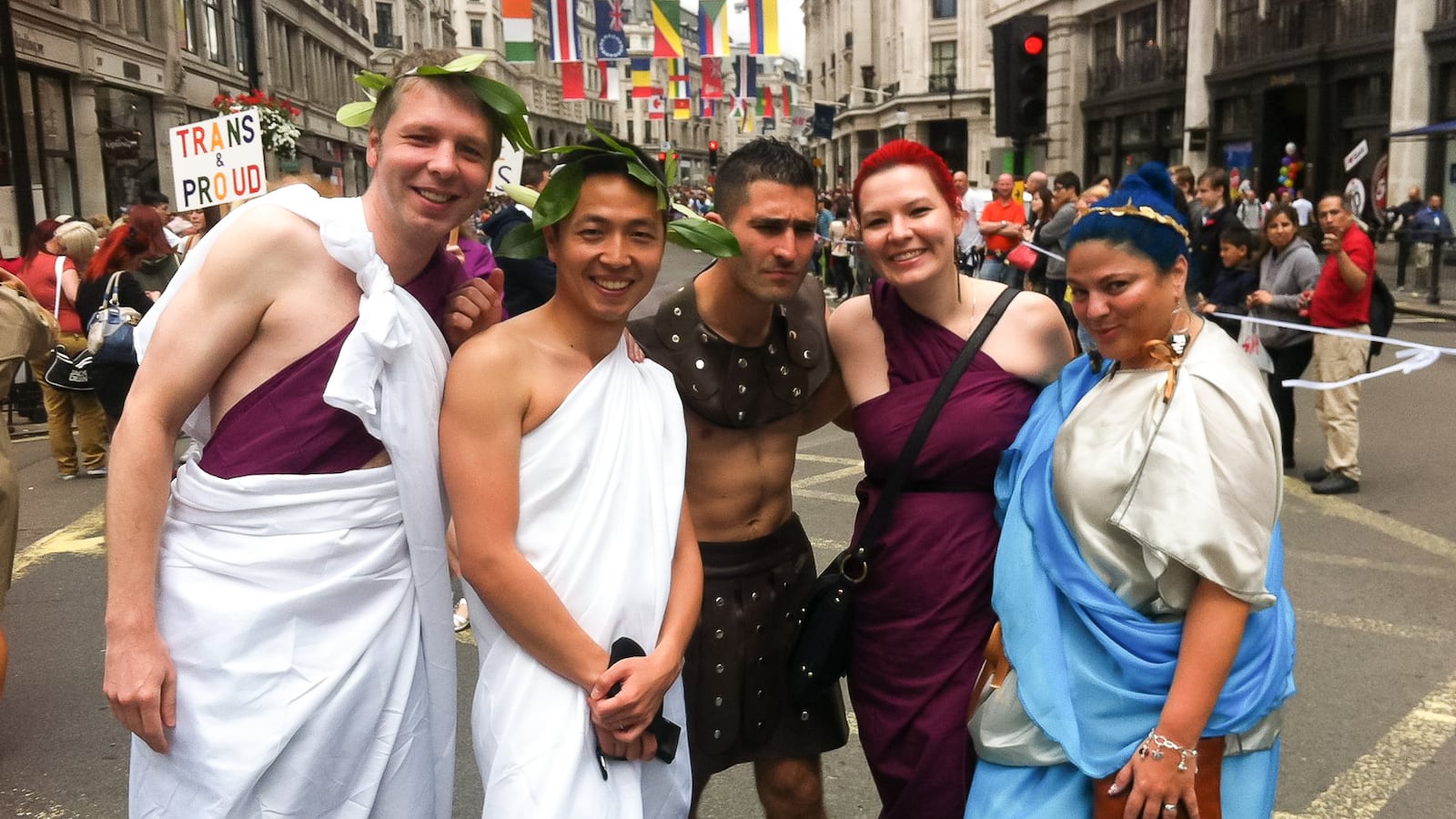 7. Superhero outfits
Dressing up as a superhero is another popular outfit at Pride, particularly now that Marvel announced its first queer superhero will soon be unveiled!
As Marvel geeks, we always love to dress up as superheroes. It's also perfect because anyone can dress up as a superhero, regardless of your body shape. For example, skinny guys can easily pull of a cute Robin or Spiderman, larger guys can channel Hulk, or you could even drag it up and go as Catwoman. As a gay couple, we've tried combinations of Batman+Robin and Batman+Superman (taking inspiration from the iconic Batman kissing Superman street art mural in Manchester).
Ultimately, you will need a cape as your starting point, which is easy to order online. Then depending on which character you choose, you need to accessorise. If you can't find what you're looking for, then just grab the body/face paint, and fill in the missing detail you need, even abs…!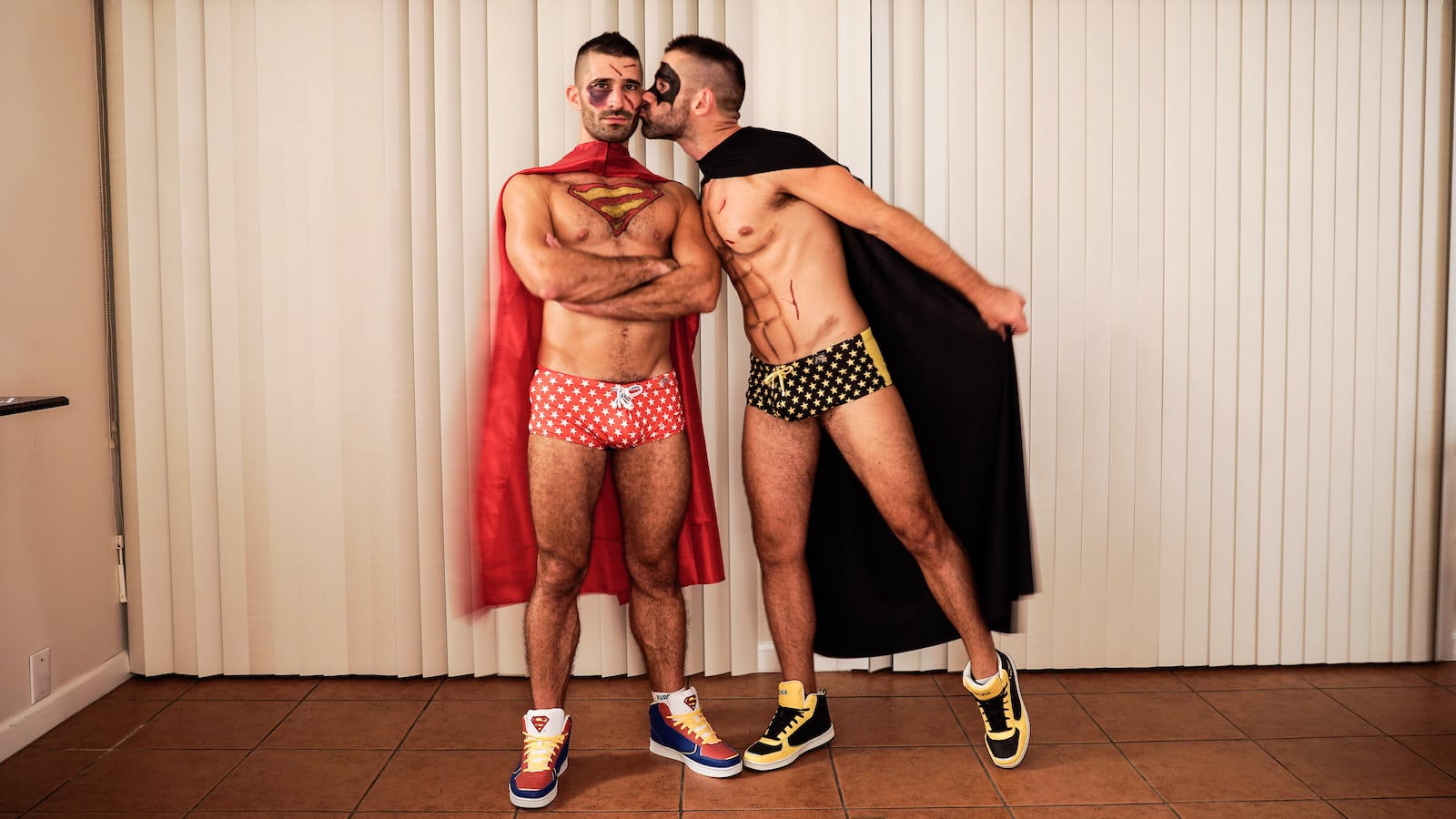 8. Sports gear fetish
Gays and sports generally don't mix very well, with both British and American football each having a history of inherent homophobia. Thankfully, this is constantly being tackled with more and more gay sports groups emerging.
Whilst some of us love the sport itself, others of us are more into the masculinity behind it, whether it's the shorts, the trainers, or even the hot players!
Dressing up for sports fetish depends on which sport takes your fancy. We went to one Pride as footballers, having purchased the kit of Portuguese Benfica FC (don't ask why we just loved the golden colour), which included top, shorts, football socks and shoes. If you've got the balls to be more risqué, and want to show off more skin, try out a wrestling bodysuit singlet.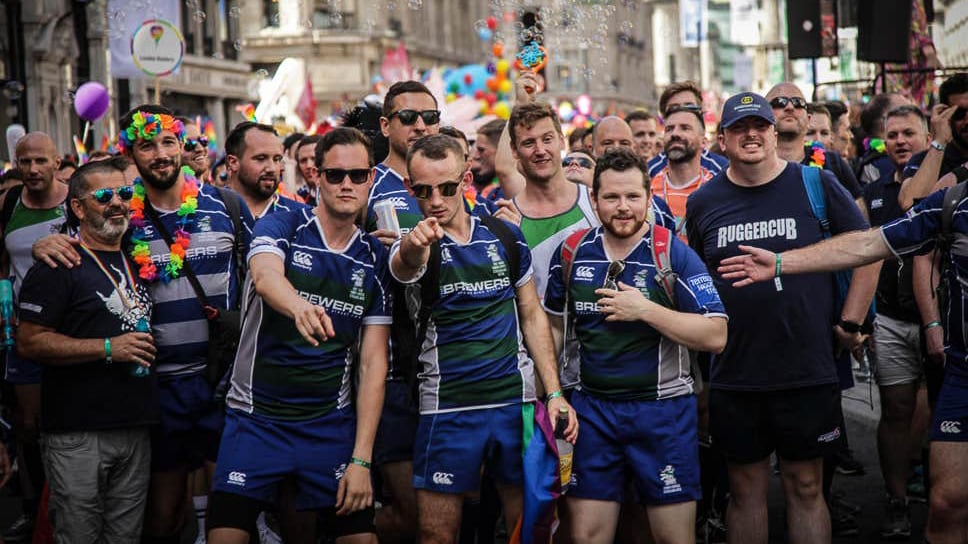 9. Be a drag and be a Queen
Drag queens are the essence of Pride. The whole Pride movement itself began thanks to the efforts of infamous drag queen activists during the 1969 Stonewall Riots, like Marsha P. Johnson. Throughout our history, drag queens have always been the strongest activists and advocates for the LGBTQ movement. A Pride event would just not be the same without them!
Thanks to RuPaul's Drag Race, drag queens are more prominent in modern-day pop culture more than ever, and we love each and every single one of them! For many of us aspirant drag queens, Pride is usually the first time we feel comfortable to try out drag in public. Even Bob the Drag Queen's first time in drag was at a Pride event.
For our Seby, Pride was when the beautiful Mademoiselle Eva Butterfly made her first public appearance, with her fabulous companion, Brenda to hand (see photo below).
Remember, this is the one day in the year we can live openly and truly express ourselves, without fear of judgement or persecution. So if you've ever wanted to try out a bit of drag in public, this is the ideal time to go for it!
Just remember to bring a change of shoes because wearing heels during a loooong 4 hour parade is not pleasant!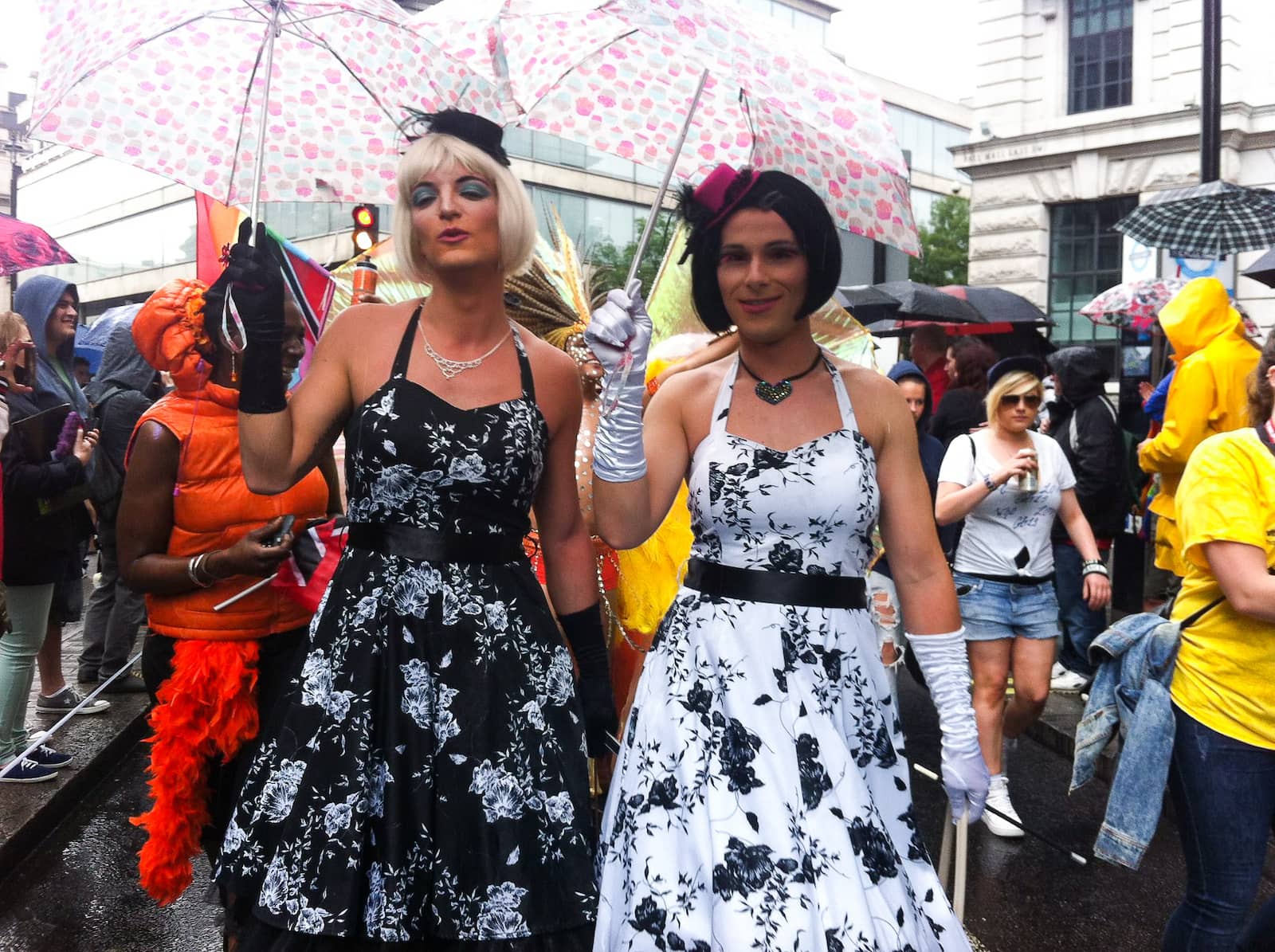 10. The more dramatic, the better!
Pride is where you are going to spot some of the most dramatic outfits ever! As we said above, there is no such thing as "too much" when it comes to dressing up for Pride. The bigger, and more outlandish, the better!
There is no other time of year you can easily sashay down the streets of your city wearing your biggest, brightest and most fabulous number. Remember, this is when you can really go all out!
Some take this to the full extreme and we LIVE for it. We have nothing but total respect for all the effort that goes into some of the more extraordinary Pride outfits.
And now you know what sort of outfit we'll be planning for our next Pride event…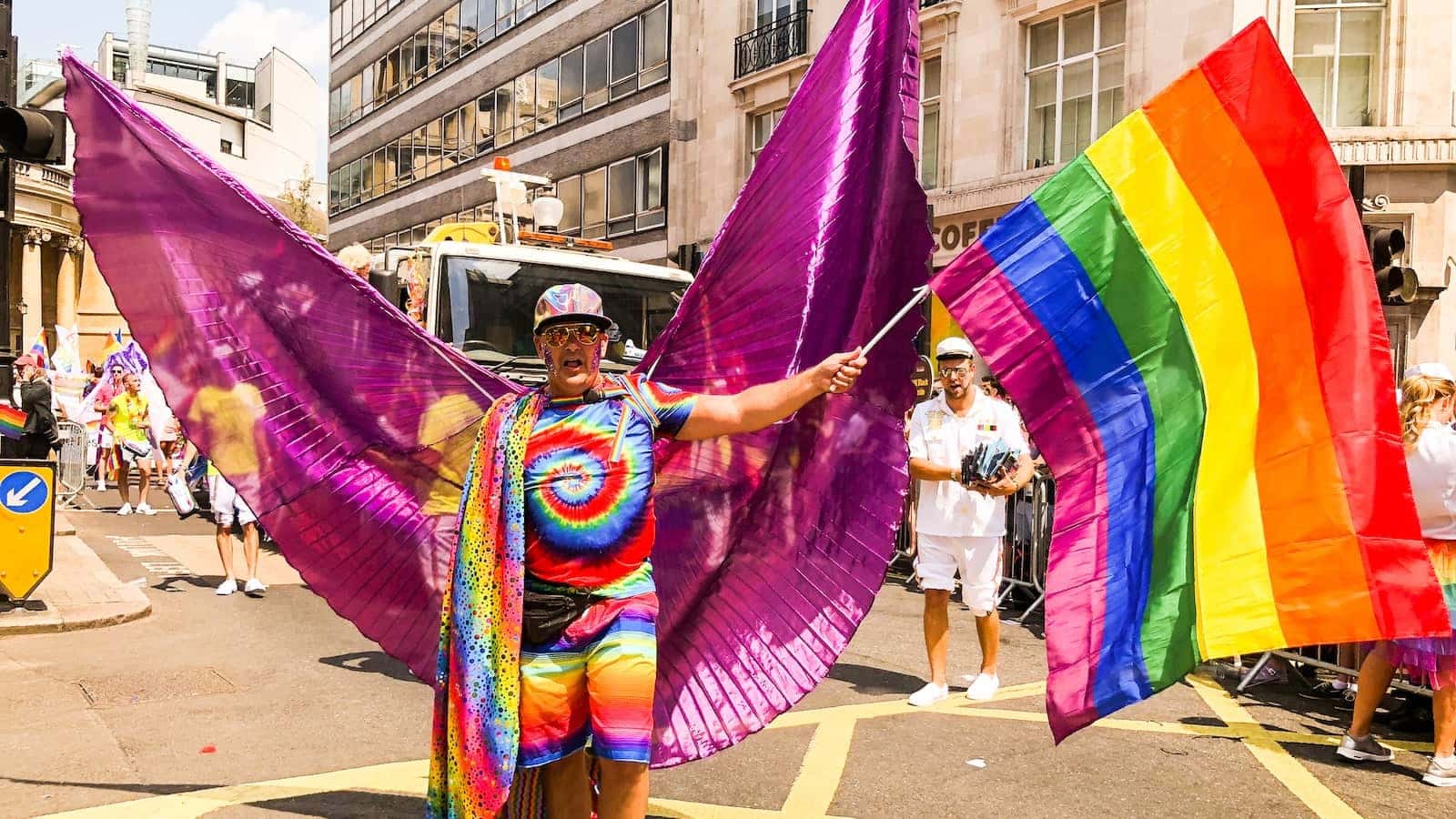 Bonus outfit: just come as you want!
Whilst we talk about being as outlandish and OTT as you can, this is by no means a prerequisite of Pride. The most important thing is to come as you are, and to have an awesome time.
Pride means so many things to different people. It could be reminiscent of the first time you came out, or the first time you dared try drag in public, or even just a chance to party all weekend long.
Whatever Pride means to you, just come as you want. Whether this means squeezing into those tight white angelic hot pants, or your normal jeans + T-shirt, you'll always be welcome!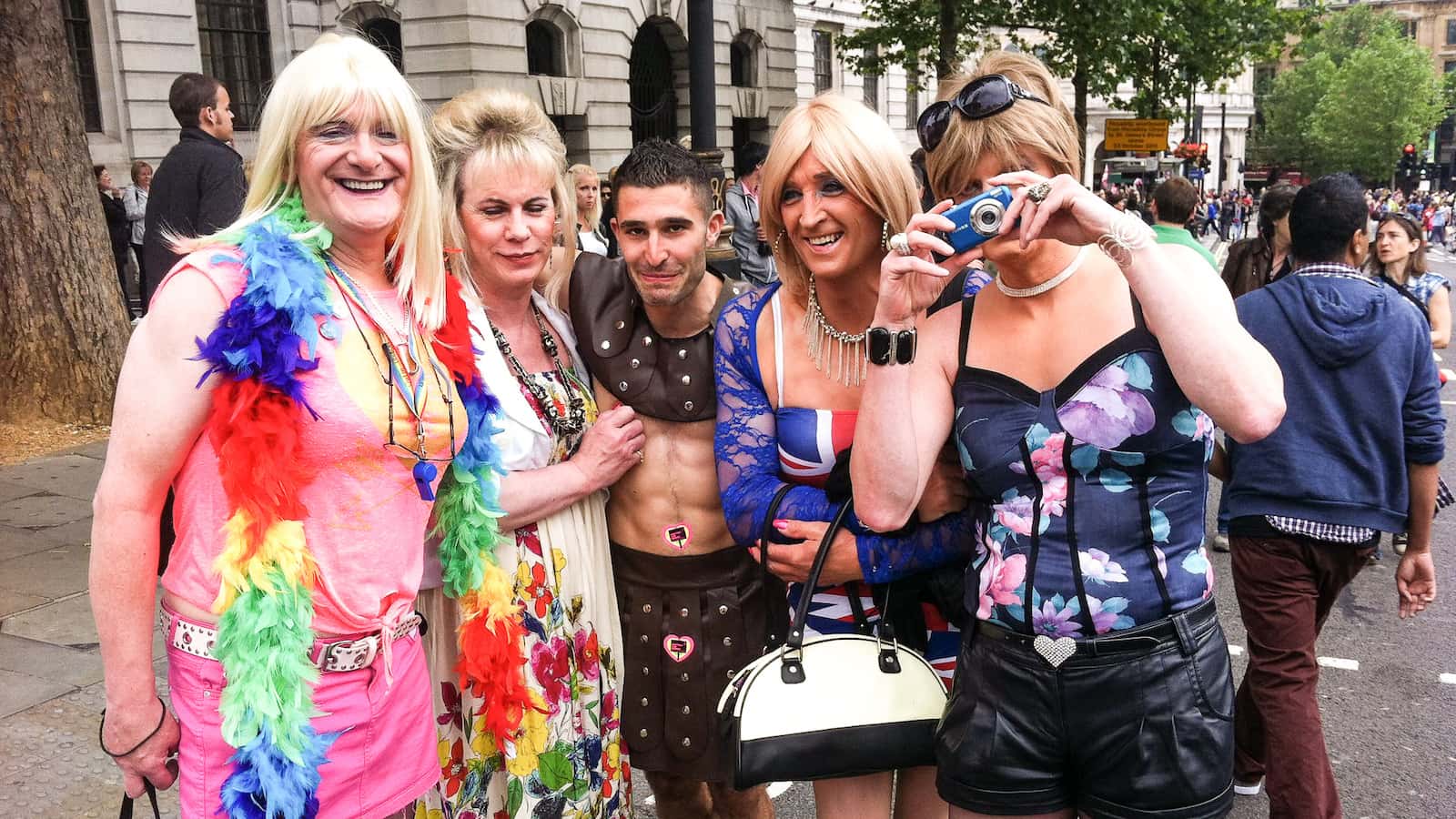 ---
DON'T MISS OUT!
Join our newsletter
Subscribe now to receive in-depth FREE travel guides, along with inspiring stories, savvy planning tips, and exclusive discounts on gay tours.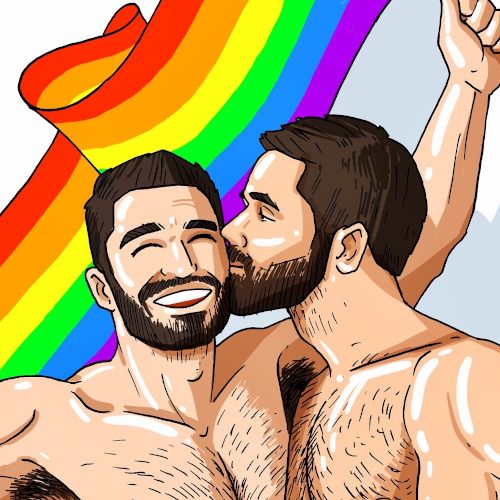 For more inspiration:
Read what it's like travelling as a gay couple in Asia for 2 years and why we think it's important for us to visit countries that are lacking with comprehensive LGBTQ rights.
Like this post? Pin it