The day we learnt to swim like a mermaid on Boracay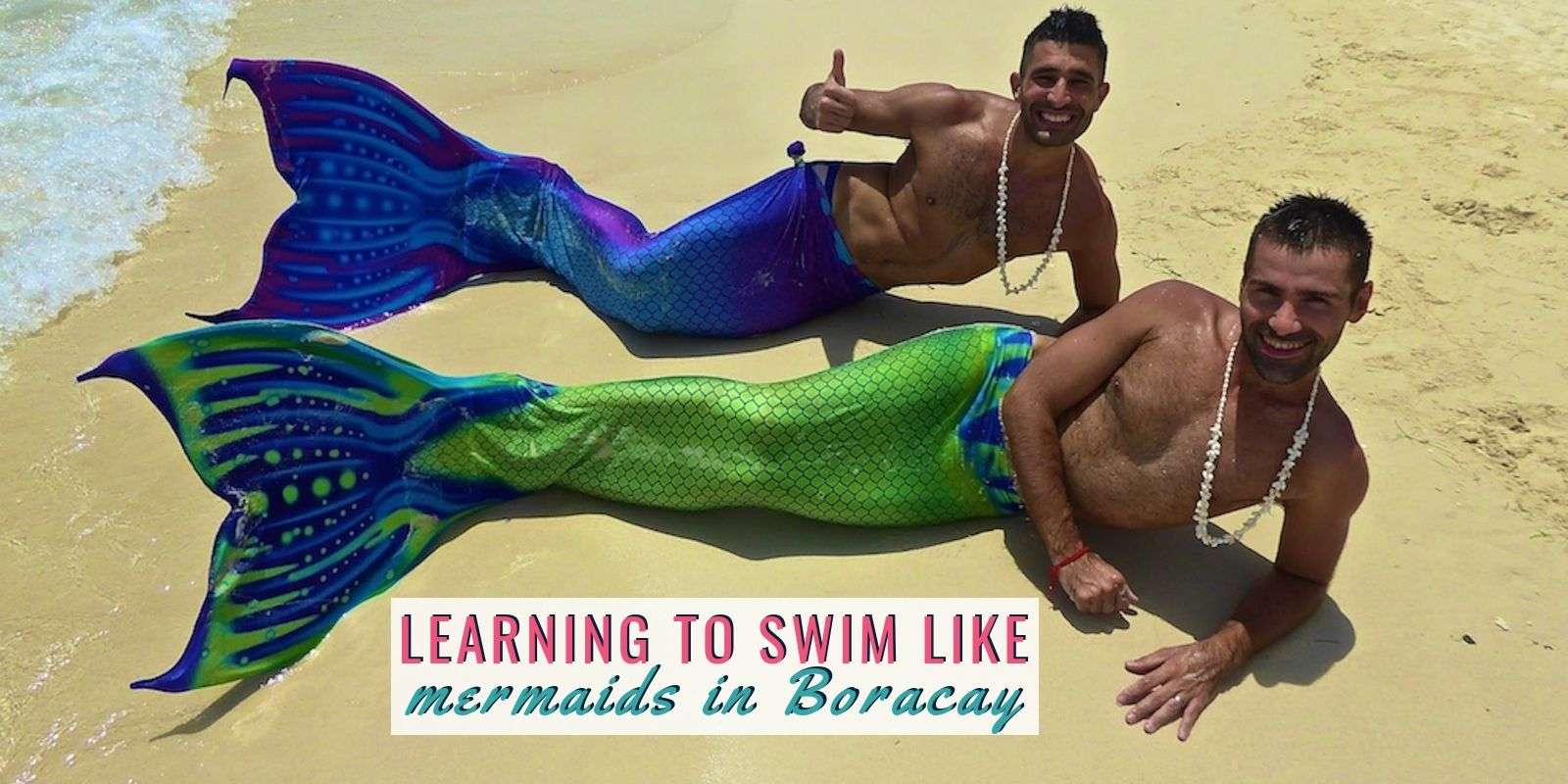 Boracay is a unique place. Why?
You can take a mermaid swimming lesson of course! Where else in the world can you dress up and learn to swim like a mermaid…?
Well in fact you can, in mermaid schools in Gran Canaria, Florida and Copenhagen, where there's even a bronze statue devoted to the Little Mermaid.
Daryl Hannah in the film 'Splash' and Arial in THAT famous Disney film (!) was always a source of inspiration for birthday boy Sebastien to swim like a mermaid.
But when Seb set eyes on the Little Mermaid statue in Copenhagen, that sealed the deal and swimming like a mermaid in tropical waters became his #1 life long ambition!
Boracay is one of the few places in Asia where you can learn to swim like a mermaid. So for Sebastien's birthday in May 2015, his life long wish came true and we took a mermaid swimming lesson with the excellent Philippines Mermaid Swimming Academy.
Stretching to warm up
Swimming like a mermaid is actually hard work, involving a lot of core movement and upper body strength as the legs are essentially 'tied' together.
The muscles need to be warmed up before starting class to avoid any cramp, so our pretty mermaid teacher, David started us off with some yoga like stretching:
Dressing up and getting into the water
The monofins are elaborately decorated and very delicate. Stefan wore pretty purple and Sebastien a more, er, masculine (!), green.
With our fins well fastened, it's was time to get into the water and learn to swim like a mermaid!
So, how does one swim like a mermaid?
Swimming like a mermaid is hard work. It's an intense workout on the core and not for the light hearted.
The legs need to remain straight but not locked and your arms stretched out in front of you. Swimming like a mermaid is perfected by moving with a subtle ripple like wave effect throughout your entire body from your legs, core and all the way to your stretched out arms.
Swimming like a mermaid is also about being graceful and elegant. Unfortunately Stefan was more like a clumsy whale trying to dive, but birthday boy Sebastien didn't do too badly:
By the end of our mermaid swimming lesson, we were exhausted and welcomed the chance to just relax in the sun.
How to pose like as a mermaid
Swimming like a mermaid is fun and knackering (in a satisfying way), but the real excitement for birthday boy Sebastien was the chance to pose as a mermaid…
… and boy did we do plenty of mermaid posing!
Learning to swim like a mermaid in Boracay is a lot of fun and we recommend all travellers to do it with the Philippines Mermaid Swimming Academy and tag us in your photograph on the social media!
We'd love to share your mermaid memories!
Travel with us as we swam our way through Boracay and Palawan in our Philippines travel video.