TERMS OF USE: There is a chance that some of the content on this page has changed since it was last updated. By reading this article, you consent to our Terms of Use and Disclaimer. Happy Travels!
DISCLOSURE: Some of our posts may contain affiliate links which we may receive a commission if you choose to book something through one of our links.
Inside every gay man lies a beautiful mermaid waiting to break out, right? We got to live out our mermaid fantasy on Boracay Island in the Philippines.
We want to be a part of their world…
Boracay is a magical place. Why? With its colourful coral reefs, palm trees, and white beaches, the Filipino island is a place of wonders. If you look beneath the surface, of the cool, blue waters, you'll find an assortment of marine life, abandoned shipwrecks….and maybe even a mermaid, or two?
That's right!
Sightings of mermaids have been confirmed by multiple coastguards on the beach…but maybe mostly it's just people warming up their muscles and taking mermaid classes. (Sorry to disappoint!)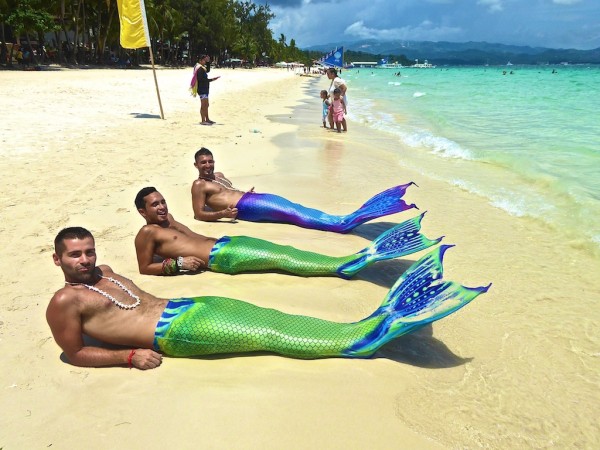 Having dreamt of living the ocean life since we were little, we thought this training course would be the perfect way to spend Seby's birthday. Where else in the world can you dress up and learn to swim like a mermaid…?
Well, in fact, you can, in mermaid schools in Gran Canaria, Florida, and Copenhagen – the latter even has a bronze statue devoted to The Little Mermaid. When Seby first set eyes on the famous statue in Copenhagen, that sealed the deal, and swimming like a mermaid in tropical waters became his #1 lifelong bucket list ambition!
Boracay is one of the few places in Asia where you can learn to swim like a mermaid. So we decided to make Seby's lifelong wish come true and take a mermaid swimming lesson with the Boracay Mermaid Swimming Academy.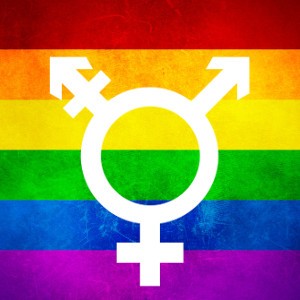 Advice for LGBTQ travellers to the Philippines
The Philippines is a very easy destination for LGBTQ travellers. English is widely spoken and the Filipinos are one of the most welcoming people in Asia – we love them! We never had any problems as a gay couple travelling in the Philippines. Getting a double bed in hotels and guesthouses was never an issue. However, homophobia is still prevalent in rural areas, so be cautious when heading to small towns and villages. A word of warning to all travellers whether straight or gay, avoid all travel to the south of the country, especially in Mindanao, the Sulu Archipelago and the Zamboanga Peninsula as kidnappings by pirates and violent crime is prevalent there. Read more about gay life in the Philippines in our interview with LGBTQ local Rione.
Stretching routine before the transformation
We know it takes a lot of effort to look flawless – but we couldn't have been prepared for how difficult learning to swim like a mermaid was going to be! The lesson requires a massive amount of upper body strength, as your legs are confined in a tube of material.
We started off the lesson with our super cute instructor, David, who showed us how to stretch our muscles and prepare for swimming. Blending together elements of yoga with aerobics, we made sure our muscles were flexed before squatting down on the sand and squeezing ourselves into our mermaid outfits.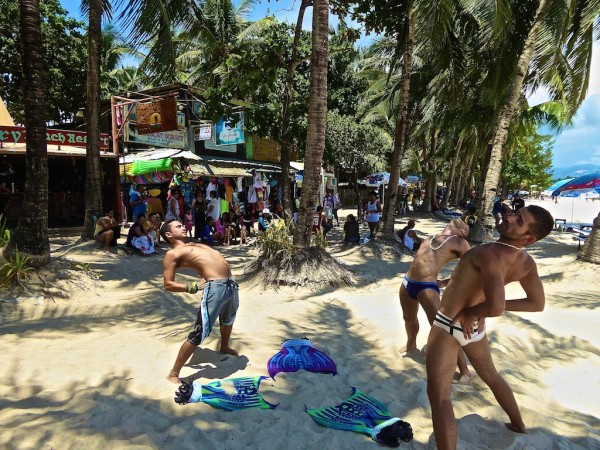 How to dress up like a mermaid
Leave your macho pride aside for the day, for no one can escape looking like a glittery and sparkly little queen when dressed as a mermaid. Those of us who grew up watching "The Little Mermaid" and "H20: Just Add Water" will live for their marine fantasies. Mermaids were always a personal favourite mythological creature for both of us (unicorns are so '80s…!), so getting to see our fishy silhouette in the waters was utterly breathtaking.
Whilst Stefan wore pretty purple fin, Sebastien went for a more, er, masculine(!), green. Nevertheless, both of us served fish-tastic realness! With our fins well fastened, it's was time to get into the water and put our beautiful fins to the test!
How to swim like a mermaid
Swimming like a mermaid is hard work. It's an intense workout on the core and not for the light-hearted. The legs need to remain straight (a first for many of us, we know) whilst your arms must remain locked stretched out in front of you. Getting into the perfect groove takes a bit of time, but once you keep in mind that your body should be moving with a subtle ripple-like wave effect, you'll be doing just fine!
Swimming like a mermaid is also about being graceful and elegant. Unfortunately, I looked more like a clumsy whale trying to dive, but birthday boy Seby didn't fare too badly.
By the end of our mermaid swimming lesson, we were exhausted and welcomed the chance to just relax in the sun. Maybe the mermaid life isn't cut out for us. Next time, we'll have a stab at transforming ourselves into the iconic sea witch – Ursula!
How to pose like as a mermaid
Swimming like a mermaid is fun and knackering (in a satisfying way), but the real excitement for birthday boy Sebastien was the chance to pose as a mermaid…
… and boy did we do plenty of mermaid posing!
We mean, what's the point of dressing up and swimming around like a mermaid if you don't have a month's worth of Instagram photos to upload? To strike that perfect pose, we recommend having a quiet, zen moment all to yourself, and let go of all humanlike thoughts. Become at one with monofin…and don't forget to smize!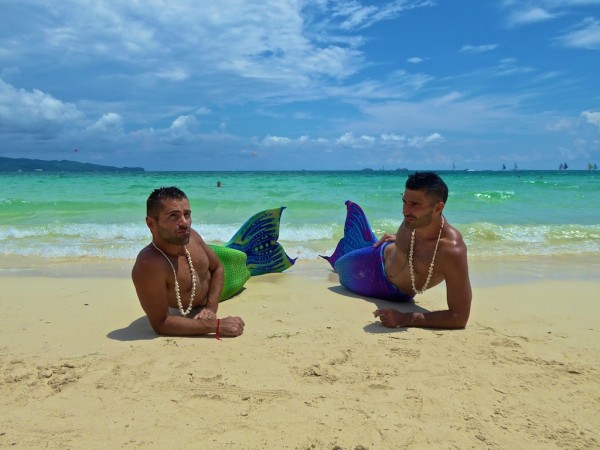 We must say, learning to swim like a mermaid in Boracay is a lot of fun and we recommend all gay travellers do it!
We were a little bit devasted when we had to take our monofins off, but at least we didn't have to sacrifice our voices to get our legs back….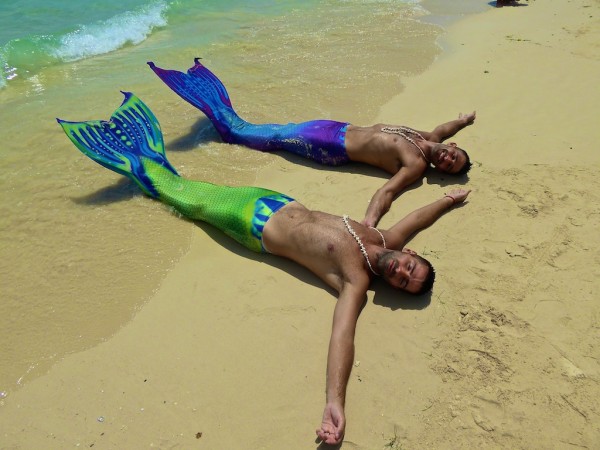 How much is a mermaid swimming lesson?
The Mermaid Swimming Academy must be booked in advance. You can contact the team via email or give them a ring to book an appointment.
There are different kinds of classes available depending on your level of experience and interest.
The Introduction to Mermaid Swimming (Level 1 and 2) is a basic introduction to swimming like a mermaid. Best suited to beginners, you'll get to put on the lovely mermaid tail, and get a 90-minute class on how to wag that tail like Ariel. Plus, you'll get a gorgeous shot of you on the beach with your tail.
The Advanced Mermaid Course (Level 3) takes things to a new level. In this 3 hour class, you will learn breathing techniques and various underwater tricks to fool even the oldest fish in the sea into thinking you're the real deal. Plus, you'll get tips on how to self-rescue should you face any troubles in the water – if only someone could give us self-rescue tips for our real-life problems!
The Performer Course (Level 4) is taken over 5 days with 4 hours per day, and brings you up from amateur mermaid, to professional. By the end of this course, you'll be able to perform synchronised, and ultra-glamorous manoeuvres in the water. You'll also be filmed by a professional videographer moving through the water, for you to take home and keep forever. Bear in mind you will have had to have completed Level 1, 2, and 3 before taking on this class. Then, if you spend your training looking at your instructor and feel compelled by their career, then you're in luck! For there is a Mermaid Swimming Instructor Training course, where you can learn how to pass on the torch to other wannabe mermaids. You'll receive a certification of completion and access to one year's membership of the International Swimming Mermaid Association.
The 4-hour scuba mermaid course adds a twist to your typical diving lesson. You'll get the chance to dive even deeper than you do with any of the other courses. Complete with scuba diving equipment, swim deep under the waters and see what treasures lie on the ocean floor. But be careful of running into any sea witches.
Also, if swimming ain't your thing, then fear not! The Academy offers separate photo opportunities for you to climb into a mermaids tail and pose for stunning photos! With 30 minutes to find that perfect angle, you'll take gorgeous photos of you all done up like a pretty little mermaid!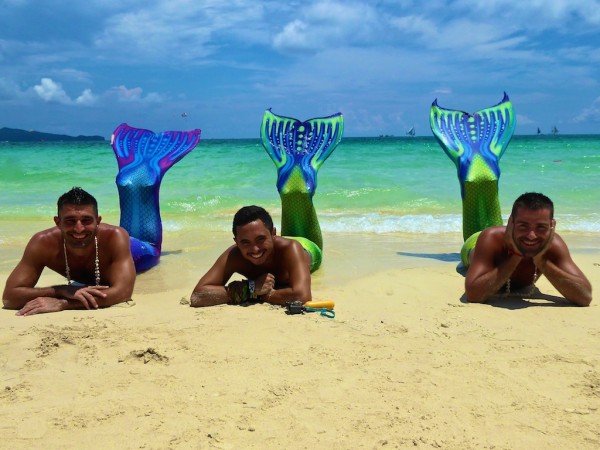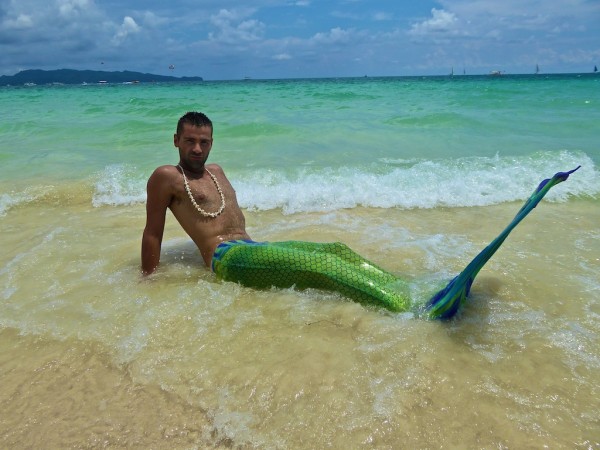 Where is the Mermaid Swimming Academy
Harry Potter had to learn how to become a wizard. The same you'll need to learn how to become a mermaid. Luckily, the trainers at the Mermaid Swimming Academy aren't as mean as Snape or harsh as McGonagall. In fact, they're perfectly lovely!
The Academy is located on Boracay Island, but you need to contact them via their website for details of where they are and meeting. Otherwise, they also have an office at Pool Aquarius, LG/F Citigym, Waterfront Hotel and Casino, Lahug on Cebu Island.
---
Like this post? Pin it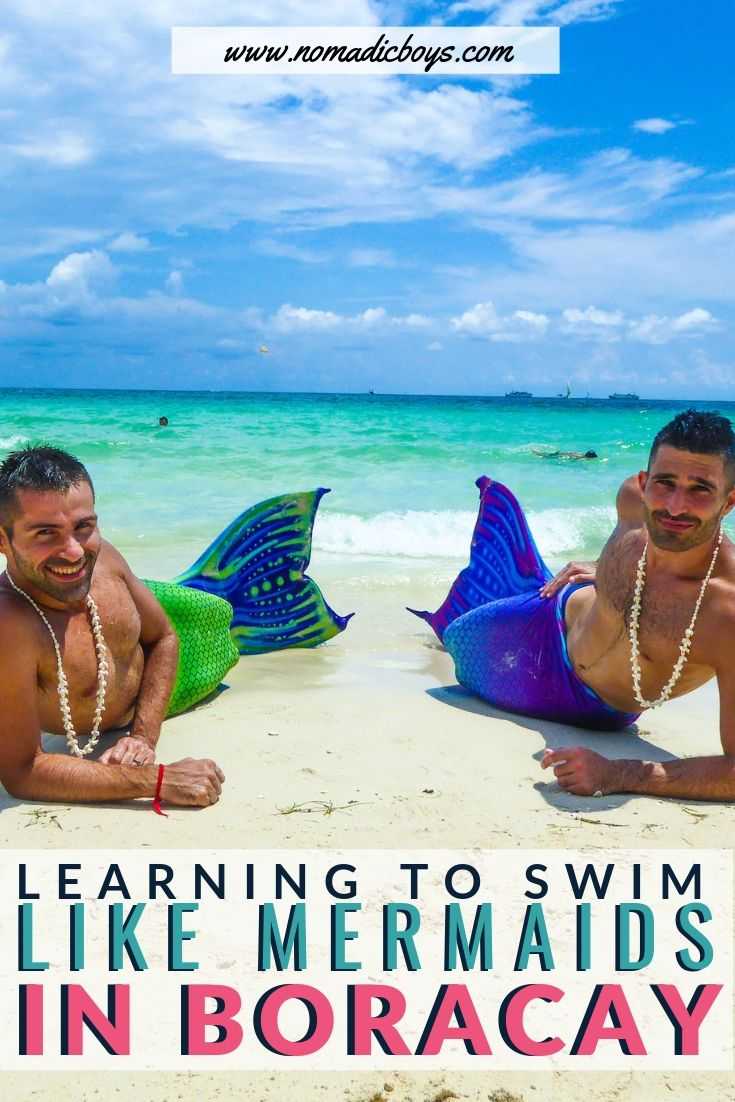 Happy travels are safe travels
We recommend you always take out reputable travel insurance before your next vacation. What happens if you suffer from illness, injury, theft, or a cancellation? Many gay travelers forget about it and regret it when something happens. Better to pay a small price and have peace of mind and not worry.