Discover Manila gay scene with local boy Rione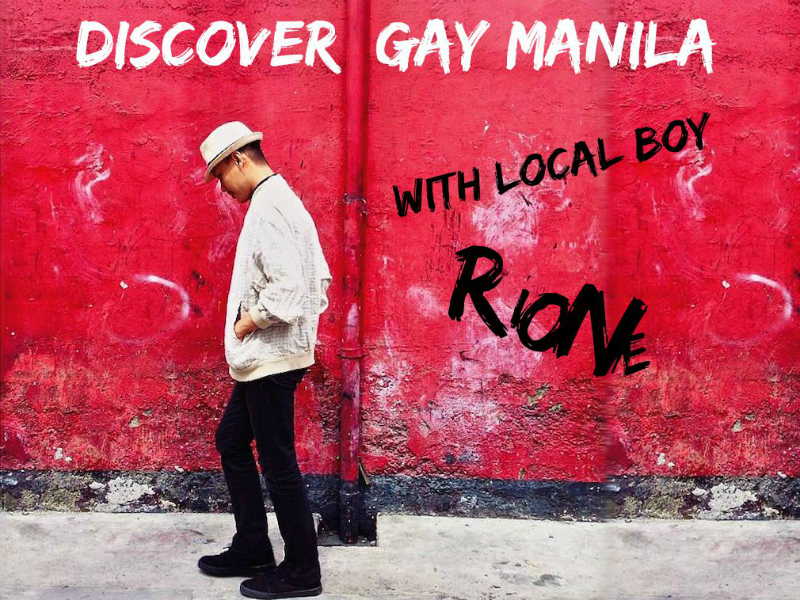 The Philippines pretty much out-pink-ed all other countries in Asia from our point of view as foreigners.
In all those "most gay friendly countries in the world" type surveys, The Philippines is always up there. Yet at the same time, it's a staunchly religious country with over 76 million practising Catholics – the highest after Mexico and Brazil.
But regardless of the strongly held religious views, we found the Filipinos to be extremely warm hearted and friendly individuals and totally open minded to us as a gay couple. At no point did we ever feel we had to tread carefully about being gay, compared to our experiences in the Maldives or in Sri Lanka.
That's our point of view as tourists, but what's it like from the inside? In Manila we met local boy Rione Palacios, who told us more about what it's like being gay in the Philippines and the Manila gay scene.
#1

Magandang umaga Rione! Where are you from and what do you do?

Bonjour boys! I am Rione Palacios, originally from Cebu City. I moved to the big city (Manila) to pursue bigger dreams and of course to find my Mr Big.

After writing for The Philippines Star, one of our large national newspapers, I became the marketing communications manager of a publishing firm.
#2

Are you openly gay to your friends and family?

Oh yes! But I never felt the need to hide who I am to anybody. I strongly believe that if you can't be true to your friends and family, then how can you be honest with yourself and look the world in the eye?
#3

What's it like growing up as gay in the Philippines?

It certainly came with its challenges and it still does. I was raised a Catholic and went to a Catholic school. Most gay Filipinos who are Catholic must grapple with the fact that the Catholic Church still holds a very arcane, anti LGBT stance.

There are struggles that are definitely specific to growing up in a country that is predominantly Catholic and has a very macho culture.
#4

Did you ever encounter any employment discrimination?

I am very lucky because the industry I work in (ie media and arts) is very tolerant and accepting towards the LGBT community. But the corporate sector is more conservative: some of my friends who work in this sector would just not risk being out at work for fear of it negatively affecting their career.

Having said that, in one job interview with the VP of a big mall chain, he kept focusing on questions about my sexuality (like, 'who do you live with?' and 'are you single?'). Luckily it didn't get too graphic, but probably because the look on my face told him not to go there!
#5

Are there any popular gay events that take place in the Philippines?

There are quite a few but mainly in Manila. The Metro Manila Pride is the most popular and in fact was the first one in Asia when it started in June 1994.

It has since not only turned into a popular summer event every June, a second annual Pride also takes place in Quezon City each March.

We also have the Quezon City International Pink Film Festival every December (since 1995) and in 2004, the CCP Dream Theatre in Manila hosted the opening of the Pride International Film Festival (PIFF).

And of course, in line with our Filipino obsession with beauty pageants, we always send our Mr Gay Philippines to the Mr Gay World competition since it began in 2009. As well as hosting it in 2011, guess who is the current title holder? 

Hehehe – you guessed right: our very own John Fernandez Raspado, Mr Gay Philippines won the competition and became Mr Gay World 2017!
#6

Why do you think ladyboys are more accepted by society in the Philippines compared to other parts of the world?

We Filipinos are on the whole, a very accepting society. But despite appearances, our society is largely conservative and can sometimes be very unkind to people who are considered different. It's a strange mix.

For example, the bouncers of the Valkyerie club in BG City (one of the 16 cities that makes up Metro Manila) barred transgender fashion designer, Veejay Floresca from entering because she was not wearing pants to match the 'male' sex identity on her ID card and was instead wearing a sexy yellow dress.

It was however humbling to see the media backlash to this club, forcing them to issue a pro transgender statement stating they do not discriminate against transwomen and transgender individuals, and stating they needed to provide further training to their staff in this regard.
#7

The Philippines is often regarded as one of the most gay friendly places in the world. Why do you think she has this reputation?

I think this really comes from our culture. We are very friendly, warm-hearted people and always look forward to having guests over as you boys found out with Miss Palawan ha ha ha:
#8

Which are the popular gay bars and clubs in Manila at the moment?

The Manila gay scene used to be based in Malate, but most places there have either closed down or moved. Chelu bar in Malate is still going strong though. 

Otherwise, the main popular gay hangouts in Manila are:
Adonis: in Quezon City, a staple on the scene with go go dancers and attracts a young-ish, mainly local crowd.
O Bar: in Ortigas City, does some really fun drag shows, which you sit and watch, then it becomes a fun club afterwards for dancing.
Nectar: in Bonifacio Global City, the newest club gay club in Manila, a really fun, cool, hip place, with drag shows and sometimes dating games for gay guys.
#9

 Are there any gay friendly hotels you recommend?

Manilla is quite open to gay tourists, so it should not be difficult to find a room as a gay couple. The options below have been quite popular among my gay friends:
Located in Malate, this gay friendly hostel is a good option for budget travellers.
The staff are very super cute, very welcoming, love LGBT travellers and have great advice about the Manila gay scene.
Prices start from $15 (£10) for a bed in a dorm.
Also based in Malate but more high end. Friends stayed there in the past and said the staff was very gay friendly
Rooms start from $170 (£110) a night.
A popular chain and well-known for its friendliness towards the LGBT community.
The hotel offers great rooms, with an amazing view and a gigantic pool.
Rooms start from $300 (£200) a night.
You can also rent an apartment on Airbnb if you want your own place or if you're watching the purse strings.
(Note from the Nomadic Boys: we are offering our readers £25/$20 off your next booking if you sign up here).
#10

 Apart from yourself, are there any other famous out Filipino gay celebrities?

Ha ha, I wish but I'm not particularly famous boys! There are quite a few though, like comedians Allan K and Vice Ganda, TV presenter Boy Abunda, singer Aiza Seguerra and many more.

But unfortunately there's a shortage of openly gay actors, presumably because they fear that coming out will compromise the roles they will receive. Whilst this may be the same in Hollywood, you still get famous gay actors like Ian McKellan, Neil Patrick Harris, Jodie Foster and Portia de Rossi.
#11

 Finally, how's the search going for Mr Big?

Well boys, I'm still waiting for him…If you find anyone from all the travelling you do, just send them all my way.

Catch me on Twitter via @Le_Skinny_Bitch and let's take it from there!

Read more about backpacking in the Philippines from our buddy Will and travel with us as we swam our way through Boracay and Palawan in our Philippines travel video:
IF YOU ENJOYED READING, PLEASE PIN ME: