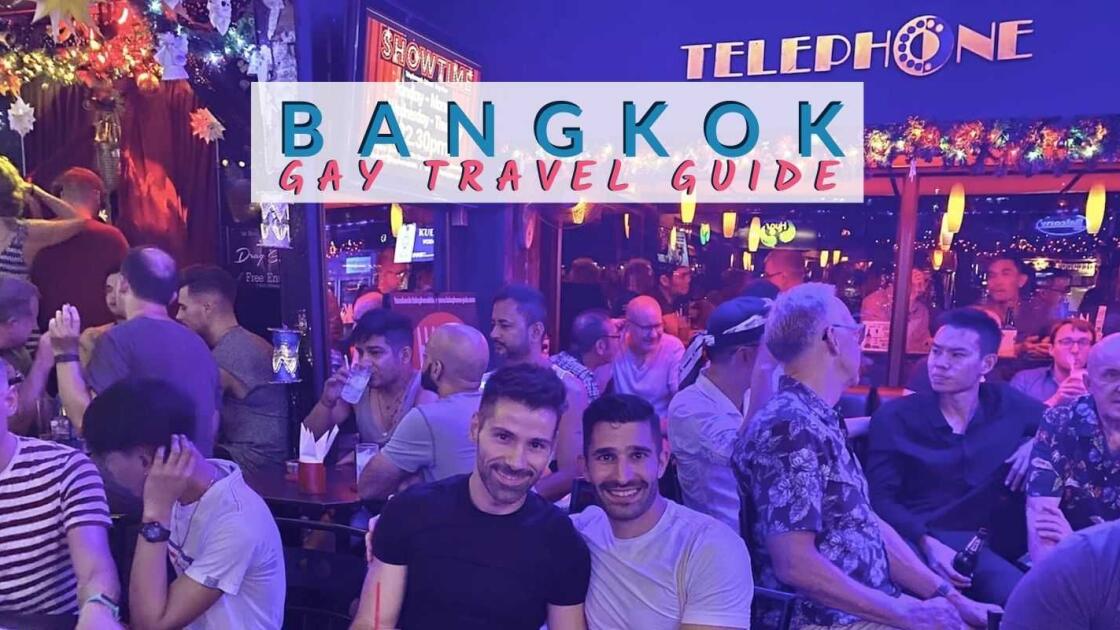 Bangkok. Practically the definition of a hot mess. Crowds of thronging people and a confusing but delightful mix of traditions meeting modernism. Wonderful food that is quite literally heaven in our mouth. The weather is great too! Though let's be real here, it doesn't take much to beat the dreary British weather… With beautiful natural scenery at our doorstep, exotic adventures and amazing cuisine, it's no wonder we love coming back here!
Thailand is famous for being one of the most gay friendly countries in Asia, with the capital city of Bangkok its beating heart. The gay scene here is thriving, with so many gay bars, clubs, hotels, massage parlours, restaurants and more – largely centred in Silom. We love the gay scene of Bangkok and definitely rank it as one of our favourite in the world.
We also love that no matter how many times we come to Bangkok, it's always a culture shock, from the mouthwatering Thai food to the hectic polluted traffic – to give you an idea, you MUST try going in a tuk-tuk – the little rickshaws that you see in movies. They are absolutely bonkers and a great way to really get out to see what the city has to offer!
This is our comprehensive gay guide to Bangkok based on our many trips here. We've highlighted the best gay friendly hotels, bars, clubs, restaurants, things to do, and more.
How safe is Bangkok for gay travelers?
Oh, it's very safe! Bangkok is frequently rated as one of the most gay friendly cities in Asia due to its inclusivity and safety.
We've been to Bangkok many times and have never had hassle from any of the locals for being gay. Thai people are seriously friendly. They have a genuine interest in what is going on in your life. We also found that due to their varied and vibrant culture, they tend not to be judgmental. Which is fantastic! We know it's not just towards westerners that they are friendly, but they also treat each other with respect. We have quite a few friends in Bangkok who are adamant that their lives are parallel with gay lives in London.
Naturally, if you're visiting any big city in the world there are still dangers like pickpocketing to watch out for. For Bangkok, we recommend the obvious common-sense awareness which you would apply to say London, Paris, Barcelona, Sydney or New York. Bangkok is one of those cities where if you act the way you normally do back home, you'll be just fine!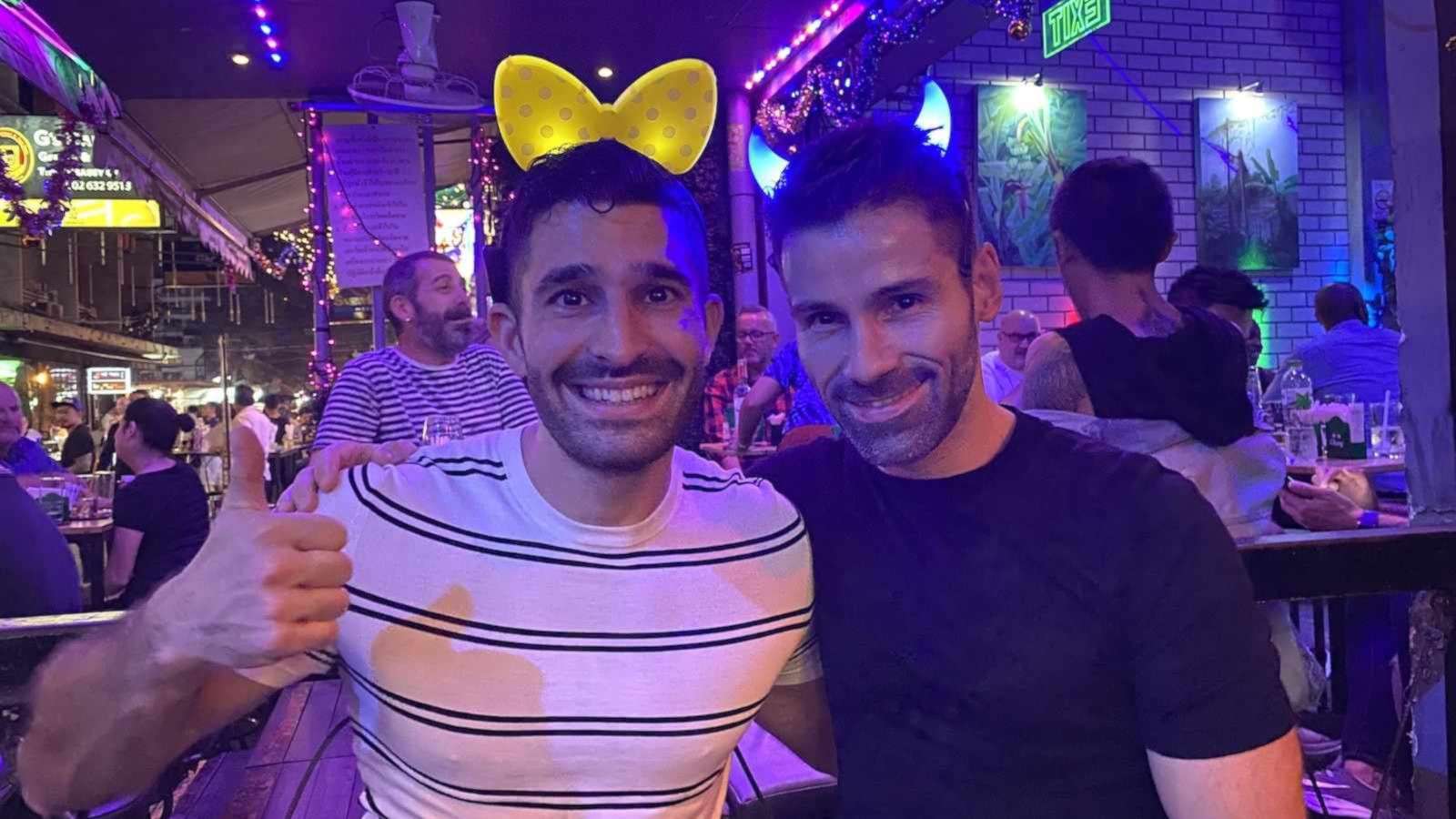 Silom – Gay Street of Bangkok
Silom is a street in Bangkok with a less than glamorous beginning, starting off as part of a dyke and irrigation system in the 1850s. Fast forward to the present where it is now the pulsing heart of the bustling gay district of Bangkok.
If you are looking for more of a drink and a chat with friends, the alley known as Silom Soi 4 is where you want to head as it's packed with gay bars with large outdoor terraces like Balcony, Circus, and Stranger Bar. We love it here. There's always something happening, every day of the week!
A few blocks down from Silom Soi 4 is Silom Soi 2 is where the majority of the gay clubs of Bangkok can be found, in particular DJ Station and G Bangkok (aka GOD).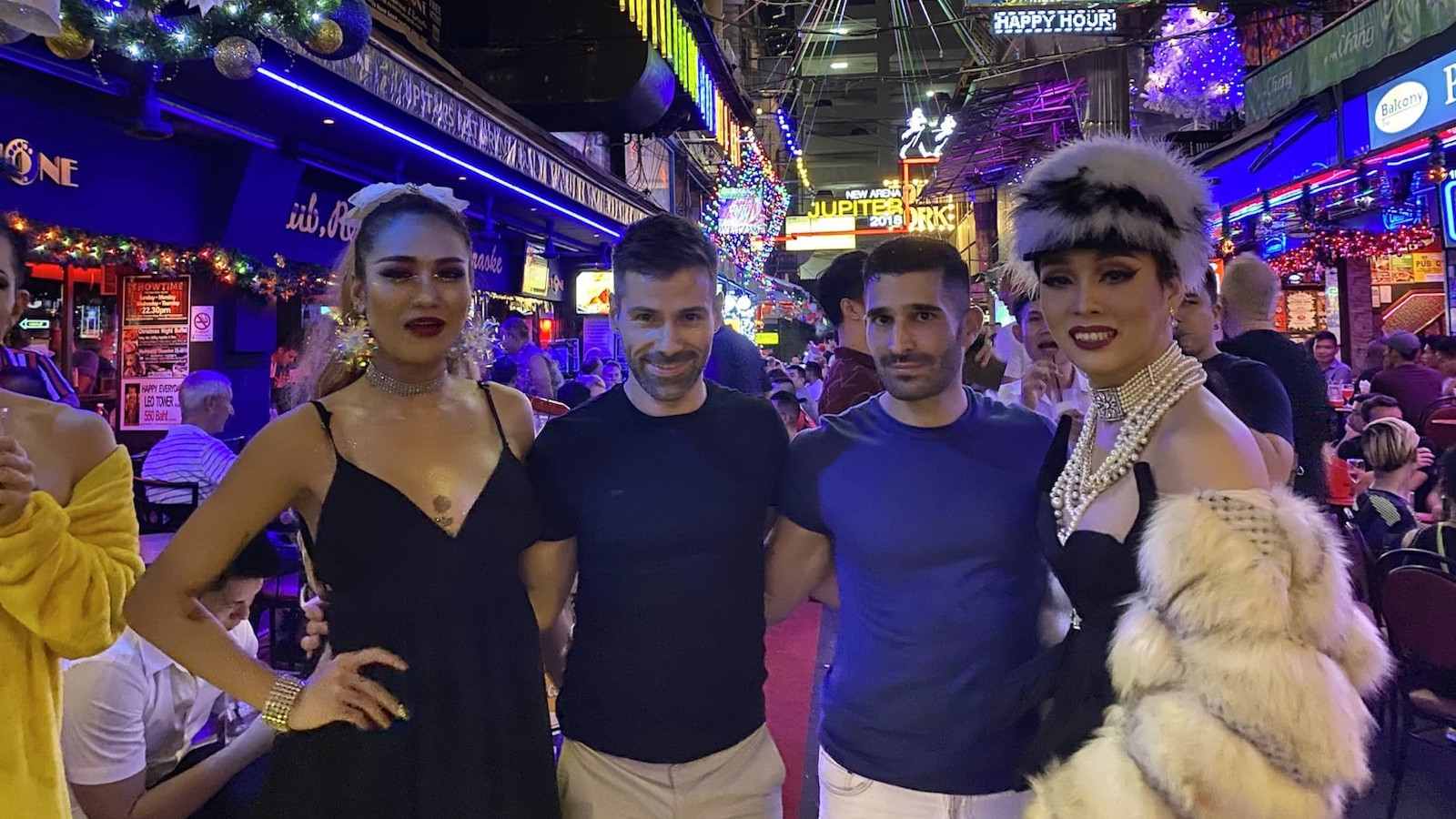 Gay Hotels in Bangkok
Though we are obviously comfortable in our relationship as a gay couple, we'd be lying if we said that we are not at least a little bit nervous when entering a new hotel for the first time – would this place make a scene? Would we really be welcome, or would there be judgment?
Thankfully in all cases when travelling through Bangkok, these were all just the nagging worries of divas. We couldn't have been made to feel more welcome! We never had any problems booking a double bed in any of the hotels we stayed at in Bangkok. We summarise our favorite gay hotels to stay in Bangkok below:
Gay Bars in Bangkok
The Silom Soi 4 is where we come to strut our stuff. Walking down the alley under all the dazzling lights and you can practically taste the good times! Each of the gay bars has a terrace that sprawls out into the street, making sure that there will be a messy street party later. In short, it's EPIC! And among these jewels, there is a clear standout, the Stranger Bar…
Gay Clubs in Bangkok
Just like Silom Soi 4 is the main place to go for gay bars, Silom Soi 2 is the place to go for gay clubs. They are also crazy close to each other so it's so easy to go from one to the other. There is nothing quite like the excitement of going into a club for the first time and just letting yourself experience it. It is intoxicating. Though the drinks we had in Silom Soi 4 may have contributed to that!
When we first came to Silom Soi 2 we weren't sure what to expect exactly. We just knew that we were in the mood to dance the night away and get a little sweaty. When we arrived, it looked surprisingly organised. We had assumed it is as chaotic as Silom Soi 4, but the street was not as tumultuous as the rest of the city. We could hear the music starting to pound through the clubs we were passing, and our heartbeats started to quicken in excitement. Having said that, come on a Saturday night and it's one huge disorganised busy mess (and we LOVE it!)
Gay Sex Shows in Bangkok
Think of everything we have been talking about up until this point, the blissful tropical weather, the liberated attitudes and the totes amazing drinks, does it really surprise you that there is a thriving naughty show scene in Bangkok? Here you can find tantalising guys willing to get it on in front of you for your viewing pleasure. There are loads of guys to see, but by far the most common is the Asian twinks. Prostitution is illegal in Thailand though, so do keep it in your pants though boys!
The gay shows used to be located in a street called Soi Pratuchai, which was affectionately called Soi Twilight, but in 2019 this street was closed down and the shows relocated to Patpong – just around the corner from Silom Soi 4. After all, you are here to have a good time, right? And who knows, you may meet someone who'll also be looking for a good time. Just make sure to be safe!
This place is great to get a big cock gay show, sometimes size does matter! Saturdays here can be really busy. The gay shows start fairly early, usually at 10.30 pm and finish up in the early hours of the morning. Giving you plenty of time to get your eye candy fix. And as a cheeky bonus, the performers walk around *on point* asking for tips. Sometimes in every sense of the word… All in all, this is a new gay bar that has established itself well into the gay show life of Bangkok, if you are looking for a more authentic experience, this may be for you! Entrance fee is 450 THB (approx. $14.00) which covers your entry and the first drink.
Located at 3 Soi Patpong 2, Dream Boys is open every day from 8pm until 2am.
Located in what used to be called Fresh Beach Boy bar, the Fresh Boy bar is a relatively new spot that combines drag shows with sexy Go-Go dancers. Most of the performers are young and 'fresh' (!) and the bar has a real nightclub atmosphere. You can sit along the walls to watch the performances and many of the dancers will be happy to sit with you for a drink (you're paying, of course), or even come back to your accommodation for some fun…
Fresh Boy is located on the second floor at 37/9 Soi Patpong 2 and is open daily from 8pm until 2am.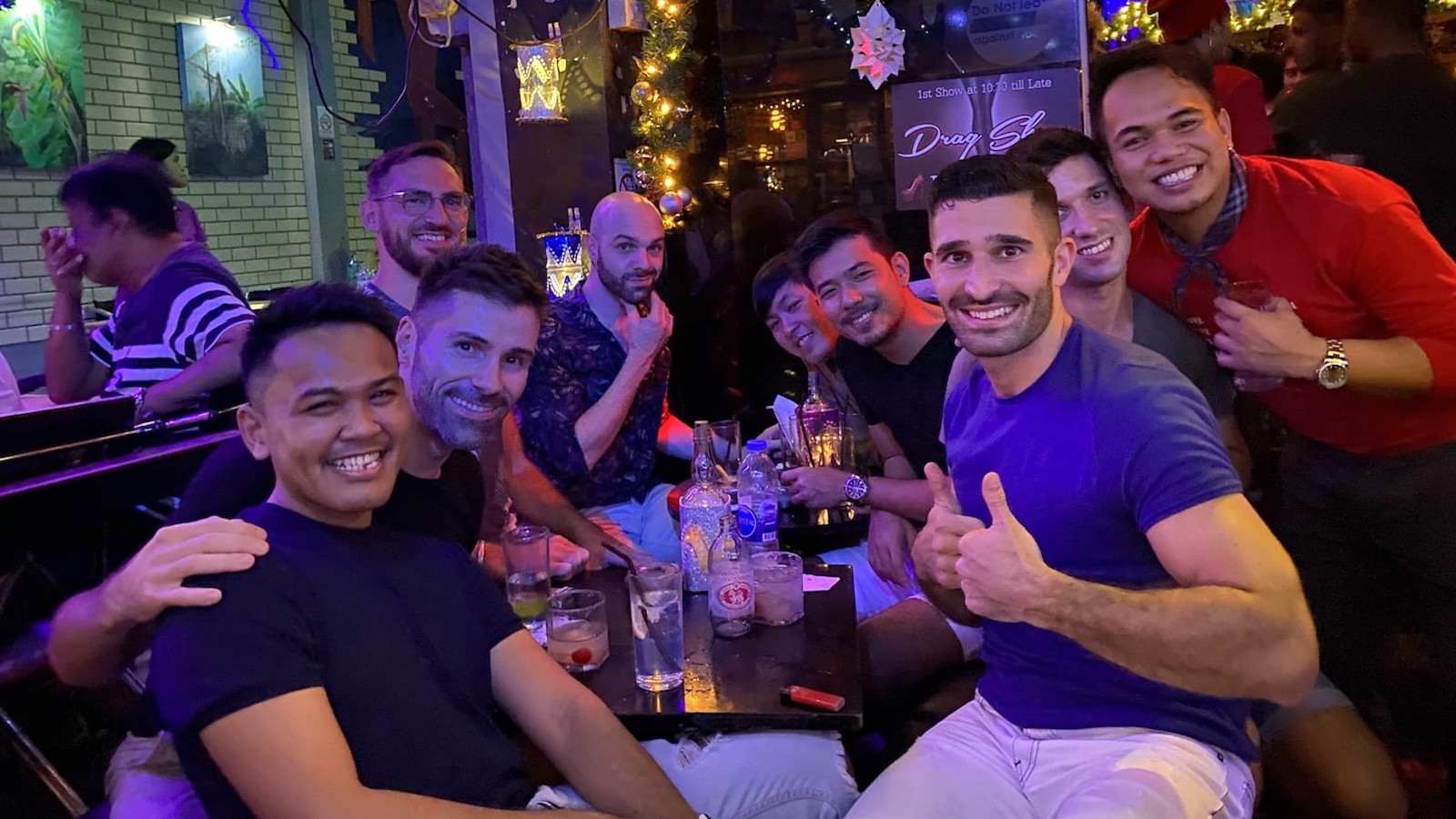 Gay tours of Bangkok
Over all the years we've been coming to Bangkok, we've made loads of friends who have shown us the best of the city's gay scene. Obviously we'll never have the real nitty-gritty history that a local will have, which is why we always seek out tours led by locals when we want a deeper insight into the big city. We also love gay tours because they are a great way to quickly make new friends whilst discovering the gay scene together. Below we've set out some of the best gay tours of Bangkok we think you should check out:
Gay Saunas in Bangkok
Sometimes a little steamy action is just what the doctor ordered. And this is something that Bangkok can offer in abundance. With the tropical climate, sometimes just walking around can feel like you're in a sauna…
There are plenty of options for you to explore here. Variety is the spice of life! These are some of the best gay saunas that you can find in Bangkok. As always, make sure that you take the right precautions. Have intercourse both with condoms and also for your own actual safety. Side note – the most popular gay sauna in Bangkok (pre-Covid days!) was the infamous Babylon… Sadly it is now officially permanently closed.
Phoenix Sauna
Looking for something a little more discreet and intimate? The Phoenix sauna (formerly known as the Edok sauna) is a small little sauna located in Bukkhalo, around half an hour by train from Silom Soi 4. As it's quite off the gay beaten track, the crowd is almost all local Thai guys. Though considered small, it is spread out over three floors and even has a karaoke bar downstairs for those who are in the mood to croon! It can get busy and it has a strong weekend trade. Prices range but are reasonable from 100 THB to 180 TBH ($3-$5). There is a steam room, a sauna, a small gym and some showering facilities. One thing to note though is that this is very much a local gay sauna and not a lot of people speak English so be prepared to really get immersed in Thai culture here!
Phoenix Sauna is open from 5pm until morning on Friday and Saturday and the rest of the week from 5pm until midnight.
This place is also right in the heart of the gay scene of Bangkok down by Silom road. It's spread out over 5 floors and includes a rooftop terrace, a small gym, bar, sauna, steam room, Jacuzzi and darkroom…a great place to take a breath and let go of your inhibitions!
Located at 35/2 Soi Phiphat 2, Sauna Mania is open daily from midday until midnight.
Formerly named R3 Sauna (and it still says that on their Facebook page), Ratchada Sauna is a fun gay sauna located a bit north of the main gay scene close to the Phra Ram 9 metro station. It's very popular with local Thai men in their 20s. Facilities include the sauna, steam room, Jacuzzi, dark maze, large gym, fantasy spaces, soft drink bar, internet access, private cabins and a movie room. Each night has a different theme, usually clothing optional or underwear and there's an exciting O-Party each Saturday night which gets pretty wild! Think lots of handsome Asian guys and some very attractive paid performers. Once the party is officially over there's still plenty of opportunities for some naughty playtime, especially since its's open so late, or early, depending on how you look at it. Just remember to bring your own condoms and lube as they don't provide them – stay safe people!
Ratchada Sauna is located at 502/373 Ratchada Soi 3 and is open from midday until 6am every day.
You don't have to die to get into Gay Heaven, just take the elevator to the 4th floor of the B.I.S Building in Silom! Heaven Sauna is an intimate gay spot that's popular with bears and offers a relaxed atmosphere to unwind or socialise. The staff are friendly and helpful, plus you can do a spot of karaoke downstairs, perhaps when your skin starts to get too pruney from sitting in the steam? Heaven Sauna is quite small but it has an open-air Jacuzzi on the rooftop garden as well as a nice gym area if you want to get a workout in. The best thing about Heaven is how inclusive and welcoming it is, all body shapes are accepted without judgement. It's always spotlessly clean here too and smells like intoxicating essential oils instead of the sweat that can get worked up at times…
Heaven Sauna is located in the B.I.S Building at 119 Soi Mahesak and is open every day from 1pm until midnight.
This place is highly recommended, and we can see why. It's not just a gay sauna, it's an experience. It's spread out over 5 floors with 2 of them dedicated to play time!. On the other floors, it's more leisure orientated. There are spas, pools, massages and a sauna. The best time to come is around 7:30pm when the action really gets going. One thing that is highly noted about this sauna is how clean it is kept although recent Tripadvisor reviews may suggest otherwise…! Entry is 120 THB to 360 THB ($3-$12) depending on the time of day you go.
Located at 32 Soi Ari 4, Chakran Sauna is open from 3pm until midnight every day and opens at 2pm Friday-Sunday.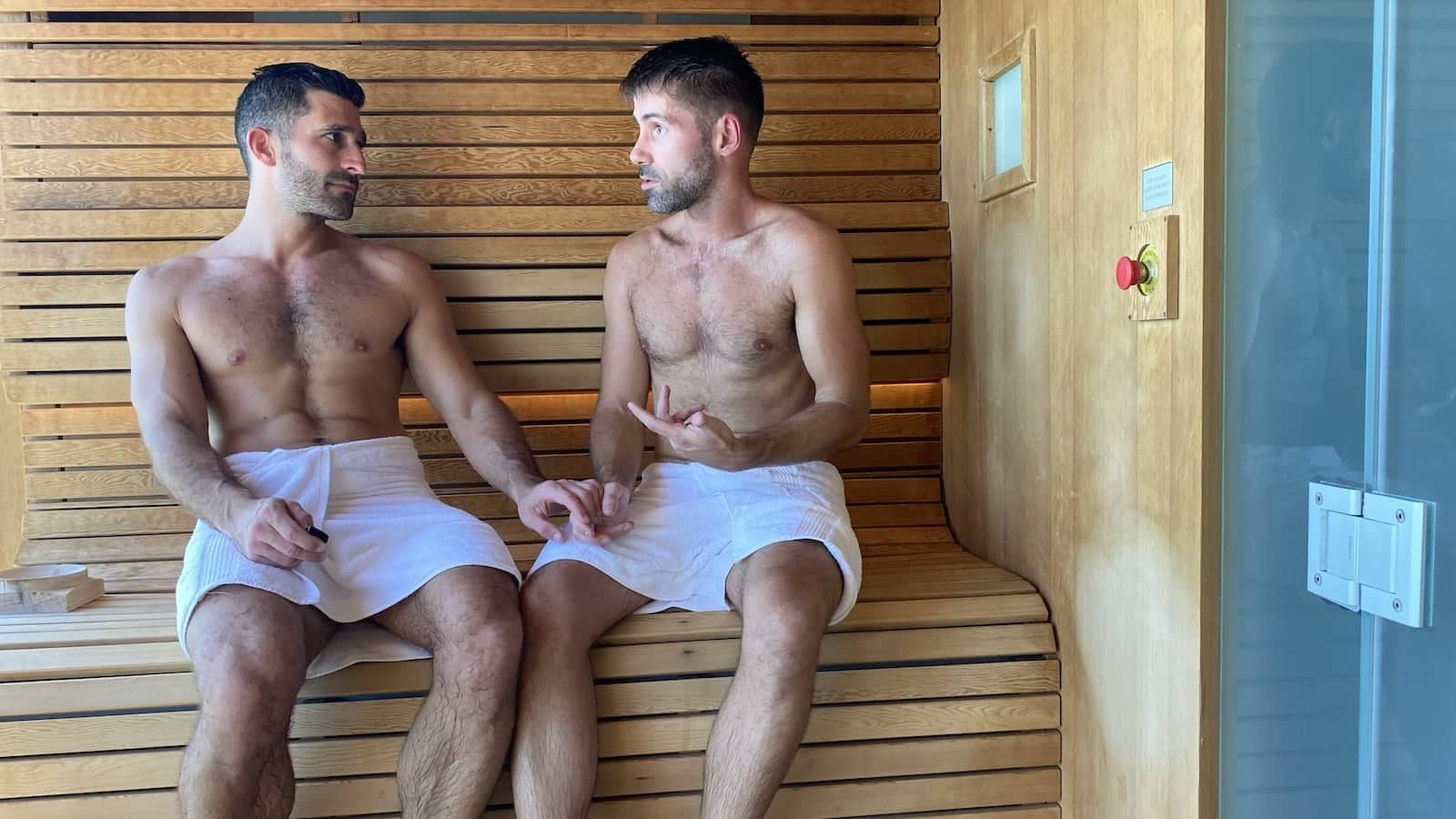 Gay spa and massage in Bangkok
While gay saunas are a wonderful way to relax in a steam room and meet some hot fellas, sometimes what you really need is a vigorous massage to soothe your sore muscles. Whether you've been stuck in an aeroplane for 18 hours or just have tired legs from all the shopping you've been doing, Bangkok is one of the best places to go for a massage. And yes, you can get ones with a "happy ending" if that's what you're in the mood for, but don't feel pressured if it's not really your cup of tea! These are our favourite gay massage parlours and spas for a good rubdown…
In the heart of Silom Soi 4 is The Adam Massage, and don't worry about seeing any Eves here as it's purely for gay men to enjoy! There are five different massage styles available for you to choose from and the masseurs are all very easy on the eyes as well. Not only is the whole business spotlessly clean, but there's always delightful essential oil scents wafting through the air. The decor is also enchanting, with lots of plants, flowers, candles and cute water features. With a purple and gold colour theme, we certainly felt like royalty here, of course being pampered like queens certainly helps with that too!
The Adam Massage is located on Silom Soi 4 and is open every day from 11am until midnight.
Located right next to DJ Station on Silom Soi 2, Paradis Massage is a very convenient stop between the gay bars and gay clubs. The boys working here are really cute, give excellent professional massages and are also amenable to finishing it off with a little somethin' somethin' if you know what we mean… The place is very spacious as well, spread out over multiple floors with plenty of private massage rooms and lovely big showers to freshen up. They do really wonderful oil massages in particular, which are great for sore muscles. There's also none of that amateur rubbing for ten minutes and straight to a handjob (and expecting a big tip) that you sometimes encounter in other locations.
Paradis Massage and Spa is located next to DJ Station on Silom Soi 2. It's open every day from midday until 11.30pm.
Yes, we know the name is similar to the one above, but this is another gay massage spot a bit further down Silom Road in Silom Soi 6. You can still get there from the gay bars and clubs by walking, so it's definitely worth checking out. This is a massage and spa business, so along with relaxing massages, you can also enjoy treatments such as an aroma spa, manicures, pedicures or a body scrub. Everything here is very elegant, with marble floors, towels shaped like swans and a huge private Jacuzzi if you book the VIP deluxe room. While the place is very classy don't be worried if you're looking for some fun, as the cute masseurs are happy to offer a bit more for a tip!
The Paradise Massage & Spa is located on Silom Soi 6 and is open daily from 10am until 1am.
Just a little further down the same street as the Paradise is The Prime Massage, another one of our favourite gay massage places whenever we're in need of some R&R. The staff are always so friendly and polite, plus we've never had a bad massage here! It's so popular, in fact, that there can be lines to get in on weekends, with everybody wanting a heavenly traditional Thai massage or oil massage. We recommend visiting on a weeknight to get more personalised attention when it's less busy. The scent of lemongrass floats over you as soon as you step foot inside, getting your senses ready to be ultimately relaxed, which you soon will be!
Located at 128/23 Silom Soi 6, The Prime Massage is open daily from midday until midnight.
Another gay massage parlour we love is The Green Massage on Surawong Road. This is just around the corner from the Prime, so you could easily sample them both and then choose your own personal favourite gay massage. The Green Massage is a small and unassuming business, but the service of the friendly staff makes you feel like you're in a palace. There are private rooms for a full-body massage or you can enjoy the social atmosphere while having a foot/leg massage in one of the comfy couches. Along with aroma or oil massages they also offer invigorating body scrubs to keep your skin looking fresh. You can also combine treatments if you wish to be truly pampered.
The Green Massage is located at 119 Thanon Surawong and is open every day from 10am until 1am.
Gay cruising in Bangkok
Historically, Bangkok was one of the most popular gay cruising hotspots in Asia, particularly around Saranrom Park and Lumphini Park.
However, with the rise in popularity of the gay dating apps over the past 10 years, the outdoor gay cruising scene of Bangkok has been pretty much quiet. Today you'd struggle to find any outdoor cruising spaces in Bangkok, so Grindr is your friend if this is what you're looking for.
Gay clinic in Bangkok
If you need to get an urgent test during your trip, PEP, or running low on PrEP, check out the excellent PULSE Clinic. They offer a full check-up, tests, treatment as well as emergency PEP, and more. They have two locations in Bangkok: Silom and Nana. For more, check out the PULSE Clinic website.
Gay gyms in Bangkok
It's no secret that we like to keep our bodies looking good, both when we're travelling and at home! But the last thing you want is to get harassed by hairy hetero-apes while you're just trying to use that rowing machine. We like to read reviews of gyms when we're travelling to make sure they're going to be gay friendly. Luckily Bangkok has quite a few of these, including one that's exclusively just for us gay folk!
Inside the massive Siam Paragon shopping mall, you'll find a gym that's popular with local gays: the flagship location of Fitness First. Fitness First Platinum Siam Paragon is huge, with two different floors housing multiple areas for free-weights, cardio, cycling studios and even a boxing ring. You can join classes, be guided by a personal trainer or just work out by yourself here. There are lots of amazing extras included in your entry or membership fee, like free towels and gym gear. There's also a lounge with complimentary drinks, WiFi and even iPads for you to use! This gym also provides some pretty stunning views out the windows of the Skytrains and the rest of the city.
Fitness First Platinum Siam Paragon is located on the fourth floor of Siam Paragon, on Thanon Rama I Road and is open from 5am until midnight on weekdays, and from 8am until 10pm on weekends.
As part of the Pathumwan Princess Hotel, the Olympic Club is a gorgeous, HUGE fitness centre that boasts sports courts, a swimming pool and a running track as well as the main gym area. There are a large number of gay members who enjoy this club, but even if you're only visiting Bangkok for a short time you can get a daily membership to enjoy the facilities. If you enjoy playing basketball, squash or tennis you can do so here, and there are plenty of different classes to join as well. You can learn how to do Muay Thai boxing or perhaps just get your downward-facing-dog on in a yoga session. The Olympic Club is definitely our top pick in terms of variety!
The Olympic Club is located in the Pathumwan Princess Hotel at 444 MBK Center, Phayathai Road. It's open on weekdays from 6am until 11pm and on weekends from 7am until 10pm.
Bangkok Gay Pride and Events
Although Bangkok does not have an official Pride event, they instead have Songkran G Circuit as their main "big gay event". Songkran G Circuit takes place in April, coinciding with the Buddhist new year celebrations. If you're visiting at other times of year make sure you check out what's on at the gay bars like Stranger Bar and HUGs because there are often fun themed parties throughout the year. Otherwise, if you want to experience any of the following fab events, here are all the deets:
Songkran is the festival for celebrating the Thai New Year, which takes place in April. While the official date is the 13th of April, the Thai government gives everyone the 12th-15th off work in order to travel and spend time with family. The Songkran G Circuit is an epic gay dance festival (the biggest in Asia actually) that takes place over four days of parties at multiple locations throughout the city. Many of these gay parties are of the pool variety, so you'll have ample opportunities to get wet (wink, wink!) as you're entertained by top DJs from around the world. There are different ticketing options available as well, so you can mix and match which events most interest you, or go to them all if you think you have the stamina!
There has never been an official Pride event in Bangkok due to the fact that street parades aren't allowed here, but since 2019 there has been a fabulous alternative: the Pride Cruise! So far these gay cruises have taken place in December, March and April, so you'll need to keep an eye on the Facebook page to check if the next one will be on when you're visiting the city. But if you time it right you'll be in for a real treat. Taking place on a four-storey party boat with two different stages and room for 320 people, you'll get to live out all your sailor fantasies! You won't have to worry about seasickness either, as the boat cruises up and down the river from sunset till late.
If you live in Bangkok then you kind of get to celebrate New Year twice each year! Along with the famous Songkran G Circuit for Thai New Year, the 'regular' New Year sees Bangkok's White Party giving the gays a night to remember. While it's officially called a party, there are in fact multiple parties that take place in the lead-up to the new year, from the 27th December until the wee hours of January 1st. This is also the largest gay New Year Festival in Asia, so it's definitely one of those once-in-a-lifetime experiences! Picture thousands of hot shirtless men, dancing to the pumping beats in huge venues with world-class DJs and incredible drag performances, then you'll have a small idea of what the White Party Bangkok is like!
Gay friendly restaurants in Bangkok
If you want to stay close to Bangkok's gay neighbourhood then we definitely recommend having a meal at Balcony Pub or Tapas Cafe on Silom Soi 4. There are plenty of other lovely restaurants and cafes nearby, as well as slightly further afield. These are our personal favourite places to eat when we're Bangkok that we always make some time for:
Best things to do in Bangkok
Bangkok is a city of contrasts, with lots of fun and interesting things to do no matter where your interests lie. Whether you're into art, history, shopping, partying or learning a new skill, you will find plenty of options. We've visited Bangkok multiple times and still have things on our to-do list, but these are our personal top recommendations for gay travellers!
Before you go
Gay map of Bangkok
Here is a detailed map of Gay Bangkok which includes our favourite gay friendly hotels, gay bars and clubs as well as all the best things to do in Bangkok. Use it to help plan your own fabulous gay trip to this exciting city!
---