"OMG Stefan, we almost hit that car…I can't…I'm going to keep my eyes firmly closed! Just let me know when we've arrived safely at Stranger Bar while I pray to the gay gods for safe passage…"
Nothing beats the rush of adrenaline as we whizzed through the CRAZY traffic jams of Bangkok hanging on for dear life inside a cutesy tuk-tuk with its driver smiling at these two hysterical giggling foreigners in the back…
We both love it – the feeling of the humid, almost putrid air hitting your face as you swerve from one end of the street to the other, car horns manically beeping at each other.
We'll be frank, Bangkok is by no means a pretty city. Our initial reaction on our first visit was: what a hot mess! It's polluted, it's dirty, rats compete for space on the busy pavements, the traffic is mad, and concrete blocks line the streets as far as your eyes can see.
Yet, we love everything about Bangkok!
We've been traveling to Thailand every year since we started Nomadic Boys and its capital is a place we often talk about moving to permanently. It is exciting, unpredictable and in our opinion has one of the best gay scenes in the world. For example, on any given day, the gay streets of Silom are on fire, packed with gays from all over (Bangkok is a major transport hub) with drag queens on hand to entertain.
We hope our gay guide to Bangkok will inspire you to visit in 2023 and help you to fall in love with this city as much as we have.
Travel restrictions to Thailand
As of January 9, 2023, all COVID-19 entry restrictions have been dropped. However, keep an eye on the rules as they are likely to be reintroduced if the global situation deteriorates. Make sure you have good travel insurance coverage for your trip should anything be changed or canceled last minute.
In terms of tourist visas, most nationals can get one for free on arrival at the airport. You do not need to do anything in advance, other than ensure you have a passport with at least 6 months of validity. Most foreigners will be allowed a period of 30-60 days. If you intend to stay longer than this, you can apply to extend your visa. In our case, we just hopped over the border to Vietnam, Laos, and Cambodia and then got 30 more days on our return.
For the latest entry requirements and travel restrictions to Thailand, we recommend looking at the US Department of State advice for Thailand as well as the British Foreign Office Thailand page.
How safe is Bangkok for gay travelers?
Oh, it is very safe!
The Thais are the most tolerant and chilled people we've ever encountered. This has helped a very international LGBTQ community thrive all across the Thai capital. Just switch on your Grindr when you arrive and you'll see what we mean…
We've been to Bangkok many times and have never had any hassle from anyone for being gay. We found the Thai people to be respectful, humble, and above all else, so welcoming. They shy away from confrontation, opting for peace and tranquility. Not once did we ever feel put out anywhere. This is one of the main reasons why we rate Thailand as one of the most gay friendly places in Asia.
This is also why we feel so safe when walking the streets in Bangkok. Not once did we feel dodgy as we would in a city like Delhi or Cape Town where valuables must be out of sight or locked away!
Obviously, all travelers, straight and gay, should exercise the same level of commonsense caution as you would back home… "Stefan, pay attention when you're walking – get off your phone!" – a phrase Seby harks at me whether walking down the streets of Silom or sashaying down the boulevards of the Gaixample in Barcelona…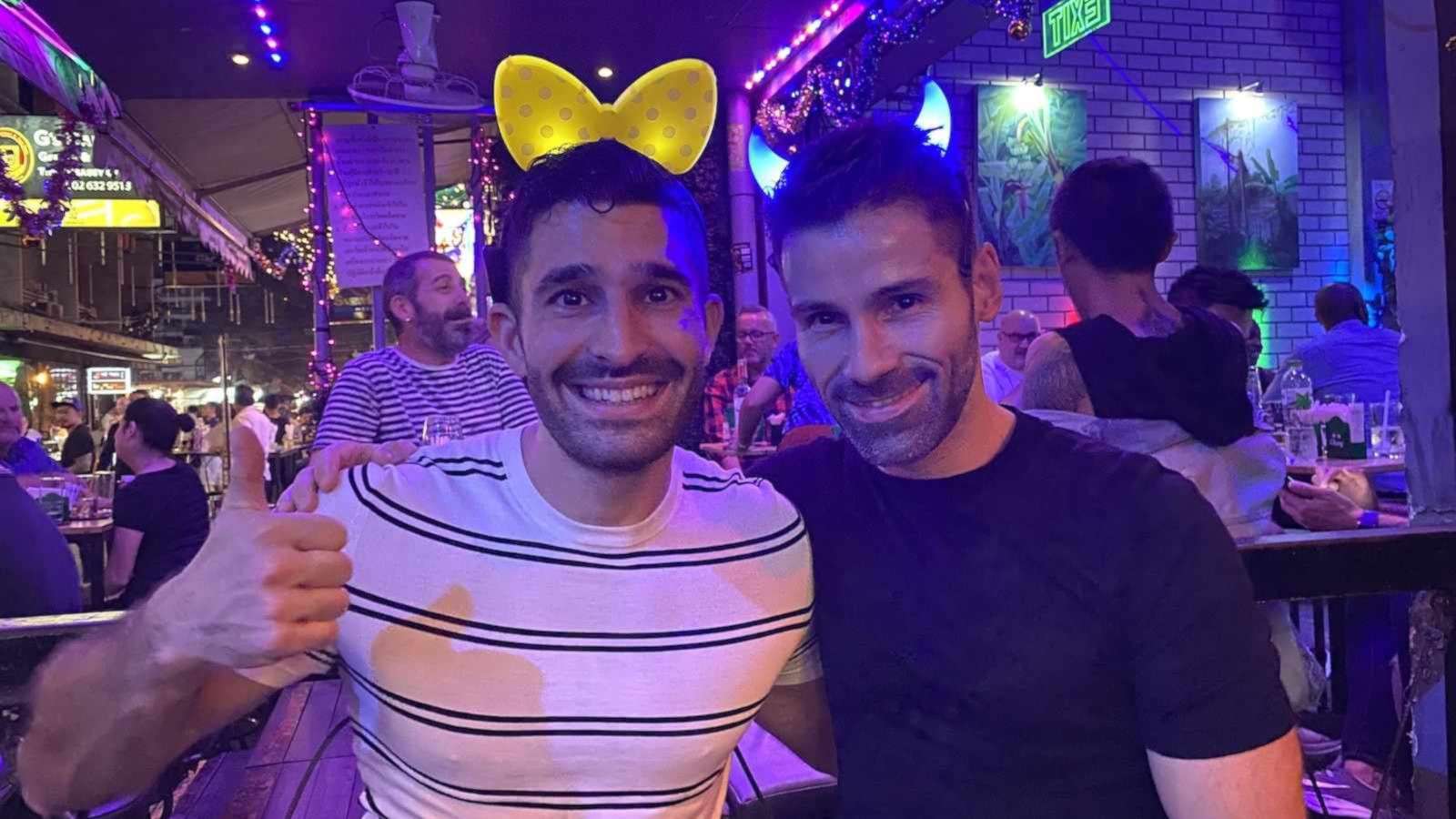 Where is the gay area of Bangkok?
Silom is the OFFICIAL gay area of Bangkok with a less-than-glamorous beginning, starting off as part of a dyke and irrigation system in the 1850s. Fast forward to the present where it is now the pulsing heart of the bustling gay district.
Silom Soi 4 is the main gay street in Bangkok. It is packed with gay bars with large outdoor terraces like Balcony, Circus, and Stranger Bar. We love it here. There's always something happening, every day of the week!
A few blocks down from Silom Soi 4 is Silom Soi 2. This is another gay street full of small gay clubs, dominated by DJ Station. Round the back from Silom Soi 2 is another famous gay club called G Bangkok (aka GOD).
Finally, if gay massage is your thing, you'll wanna head over to Silom Soi 6 which is where the bulk of the gay massage parlors can be found.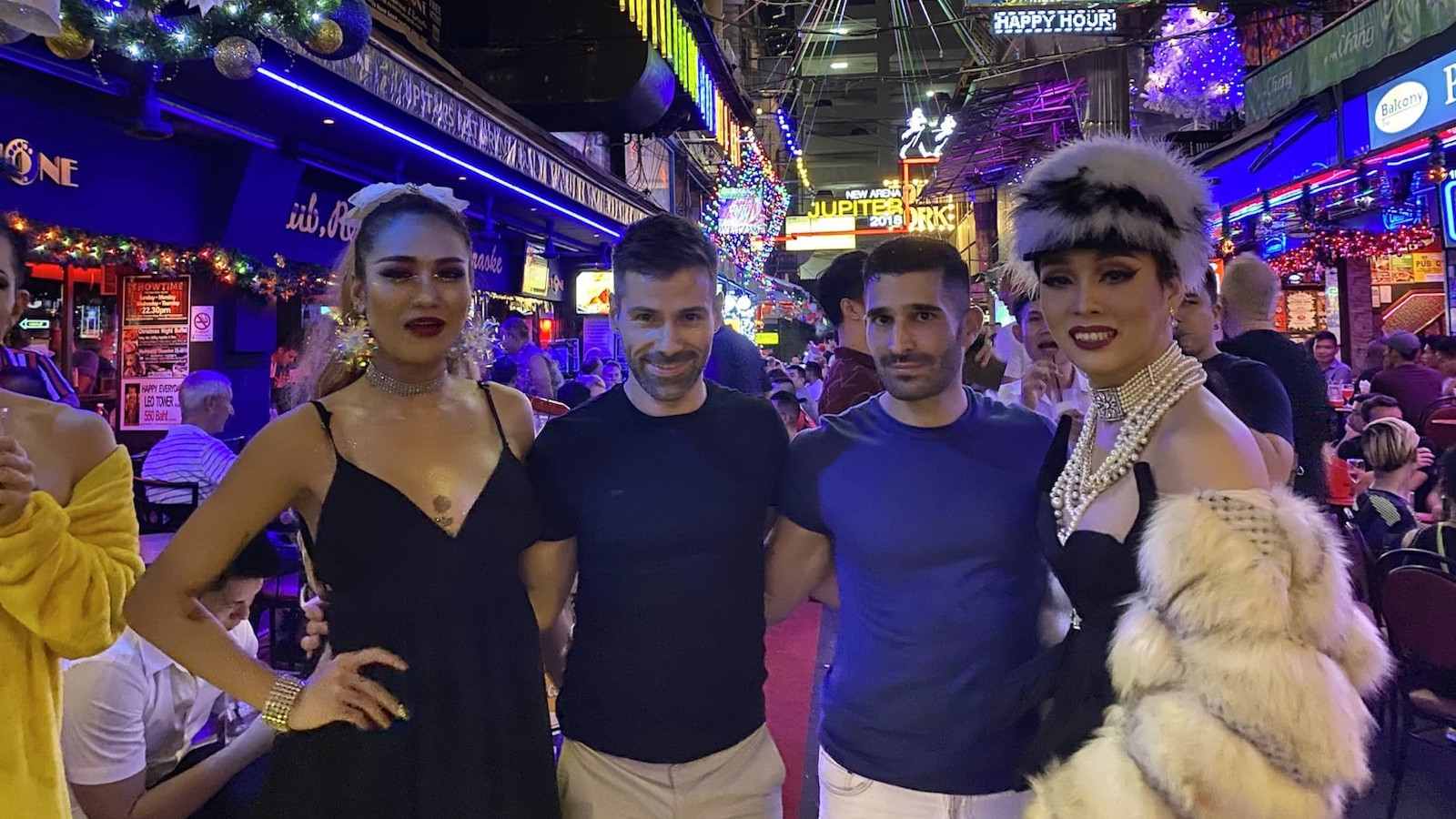 Gay hotels in Bangkok
Though we are obviously comfortable in our relationship as a gay couple, we'd be lying if we said that we are not at least a little bit nervous when entering a new hotel for the first time – would this place make a scene? Would we really be welcome, or would there be judgment?
Thankfully in all cases when traveling through the capital city, these were all just the nagging worries of divas. We couldn't have been made to feel more welcome! We never had any problems booking a double bed in any of the hotels we stayed at. We summarise our favorite gay hotels to stay in Bangkok in 2023 below:
Gay tours of Bangkok
Over all the years we've been coming to Bangkok, we've made loads of friends who have shown us the best of the city's gay scene. Obviously, we'll never have the real nitty-gritty history that a local will have, which is why we always seek out tours led by locals when we want a deeper insight into the big city.
We also love gay tours because they are a great way to quickly make new friends whilst discovering the gay scene together. Below we've set out some of the best gay tours that we think you should check out:
Gay bars in Bangkok
Silom Soi 4 is where we come to strut our stuff. Walking down the alley under all the dazzling lights and you can practically taste the good times! Each of the gay bars has a terrace that sprawls out into the street, making sure that there will be a messy street party later.
In short, Silom Soi 4 is EPIC! The only exception to the Silom Soi 4 gay bar bubble is Pangina Heal's own resident bar, House of Heals, which we've also included in this section. For gay bars beyond Silom Soi 4, check out our bumper guide to the best gay bars in Bangkok.
Gay clubs in Bangkok
Silom Soi 2 is the place to head for the gay clubs. Located just 2 blocks from Silom Soi 4, we'd head here from around 11 pm onwards. We start at DJ Station first for the drag shows and then dance through each of the other small bars clustered together in this tight small street.
For gay boys who want to dance topless and get sweaty, we recommend heading over to G Bangkok just behind Silom Soi 2.
When we first came to Silom Soi 2 many moons ago we weren't sure what to expect exactly. We just knew that we were in the mood to dance the night away and get a little sweaty(!). When we arrived, it looked surprisingly organized albeit heaving!
We could hear the music starting to pound through the clubs we were passing, and our heartbeats started to quicken in excitement. Having said that, come on a Saturday night and it's one huge disorganized busy mess (and we LOVE it!)
Bangkok gay pride and events
Surprisingly for what we deem to be the gay capital of Asia, the city doesn't really have a very active gay Pride event. Bangkok Pride took place in June 2022 for the first time in 16 years and the plan is for it to continue annually, but watch this space!
The other main gay event to look out for is the Songkran G Circuit, which takes place during the Thai Buddhist New Year celebrations in April. We've included a few other gay events and parties – the Pride Cruise boat party is another one you should look out for:
Pride Cruise Bangkok – dates vary
The Pride Cruises take place at various times throughout the year, usually in December, March, and April. They take place on a four-story party boat with two different stages and room for 320 people, you'll get to live out all your sailor fantasies! You won't have to worry about seasickness either, as the boat cruises up and down the river from sunset till late.
Next Pride Cruise Bangkok party: takes place at various times throughout 2023. Check the Pride Cruise Bangkok Facebook page for the latest info and also reach out to locals on Grindr who will no doubt have the latest insider knowledge about it.
Location: usually takes place on Bangkok island on Sathorn Pier
Price: tickets start from around 500 bahts ($15).
Songkran G Circuit and Songkran Festival – April
Songkran is the festival for celebrating the Thai New Year, which takes place in April. While the official date is the 13th of April, the Thai government gives everyone the entire working week off in order to travel and spend time with family. The Songkran G Circuit takes place during that week and is one of the biggest (and best!) gay festivals in all of Asia.
Outside of the G Circuit parties, every gay venue will have something happening during Songkran, mainly involving water. The tradition is to throw water at someone you find cute in the streets, so expect to get soaking wet! Thankfully, April is the hottest month in Bangkok.
Next Songkran G Circuit festival: April 12-15, 2024
Location: various parties at different locations – check the Songkran G Circuit website for the latest info
Price: tickets start from 2,200 bahts ($65) and go up depending on which party you book and how early you book them. We recommend booking them online as soon as you can for the best offers.
Bangkok Gay Pride – June
A welcome addition to the gay scene of Bangkok! For years – almost 2 decades(!), Bangkok has been without a gay Pride event, which is bizarre given that it is THE gay hub of Asia. Despite this, in 2022 and in 2023 Bangkok Pride went ahead, and was a hit.
Although details of the next Bangkok Pride are not yet set in stone, it should take place on the first Sunday of June.
Bangkok Pride is a month-long celebration during Pride month and includes a drag brunch, film festival, cruise party, and a parade. Check the Bangkok Pride website for the latest details of the next event.
Next Bangkok Gay Pride: first Sunday of June, but 2024 not yet confirmed.
Location: various – to be confirmed very soon!
Prices: some events are tickets, and others are free and open to all. We will update you as soon as we find out more info about it.
White Party Bangkok – December/January
If you live in Bangkok then you kind of get to celebrate New Year twice each year! Along with the famous Songkran G Circuit for Thai New Year, the 'regular' New Year sees Bangkok's White Party giving the gays a night to remember.
While it's officially called a party, there are in fact multiple parties that take place in the lead-up to the new year, from December 28 until the wee hours of January 1st. Picture thousands of hot shirtless men, dancing to the pumping beats in huge venues with world-class DJs and incredible drag performances!
Next White Party Bangkok: the next white party in 2023 will take place daily from December 28th to January 1st.
Location: the parties take place at various locations. Check the White Party website for the latest info.
Price: tickets start from around 4,000 bahts ($120) depending on which party and type of "package" you buy. Check the White Party website for the latest info and aim to buy the tickets asap to get the best offers.
Gay saunas in Bangkok
Sometimes a little steamy action is just what the doctor ordered. There are plenty of options for you to explore here. Variety is the spice of life!
The most popular gay sauna (pre-Covid days!) was the infamous Babylon… Sadly it is now officially permanently closed. However, there are still plenty more worth checking out so we've highlighted our favorite gay saunas to check out in 2023.
KRUBB Bangkok Social Club & Sauna
Since Babylon closed down, Krubb is lauded as the best gay sauna in the city. It's a bit far out – around 25 mins taxi ride west of Silom Soi 4 but this is part of its charm – it's a very local crowd. The best time to come is in the early evening when guys are at their thirstiest!
Address: Krubb Bangkok is located at 112 112 Sukhumvit Plus 2 Alley, Phra Khanong, a 10 min walk Phra Khanong station on the Sukhumvit line.
Opening hours: Krubb is open from 2 pm – 12 am every day.
Entry fee (updated 2023): Krubb cost of entry is 220 Bahts before 5 pm and after 10 pm. Otherwise, it is 390 Bahts.
Sauna Mania
This is the best gay sauna for Bangkok if you want something within walking distance to Silom Soi 4. It's pretty large with 5 floors, with a gym on the ground floor and a rooftop terrace chillout area.
Address: Sauna Mania is located at 35/2 Soi Phiphat 2 in Silom, close to Sala Daeng MRT station.
Opening hours: Sauna Mania is open from 3 pm – 2 am every day.
Entry fee (updated 2023): Sauna Mania cost of entry is 300 Bahts.
Heaven Sauna
One for the bears and older men. Also located close to Silom Soi 4, Heaven is popular if you want to stay "local" and not travel far. It has a gym and a glorious open-air Jacuzzi on the rooftop garden.
Address: Heaven Sauna is located on the 4th floor of the B.I.S Building at 119 Soi Mahesak in Silom, a 10 min walk from Saphan Taksin BTS station on the Silom line.
Opening hours: Heaven Sauna is open from 1 pm – 10 pm every day (closed on Mondays).
Entry fee (updated 2023): The cost of entry is 180 Bahts Tuesday – Thursday and 200 Bahts Friday – Sunday.
Chakran Sauna
Chakran, spread over 5 floors, is very popular with locals and foreigners. It's around 20 minute's cab ride north of Silom Soi 4. The best time to come is around 7:30 pm when the after-work crowd reaches its peak.
Address: Chakran Sauna is located at 32 Chakran Building, Soi Ari 4 Soi Paholyothin 7 Phayathai Phaya Thai, a 7 min walk from Ari BTS station on the Sukhumvit line.
Opening hours: Chakran Sauna is open from 3 pm – 12 am Monday to Thursday and 2 pm – 12 am Friday to Sunday.
Entry fee (updated 2023): The cost of entry is 390 Bahts including one free drink.
Phoenix Sauna (formerly EDOK)
Phoenix is another popular gay sauna if you're looking for a more local experience thanks to it being off the gay-beaten track. Located in the Bukkhalo neighborhood, a taxi from Silom Soi 4 will take around 30 minutes. Of special note here is their karaoke bar downstairs!
Address: Phoenix Sauna is located at 72/5 Somdet Phra Chao Taksin Road in Thonburiopen, a 20 minutes wall from Thalat Phlut MRT station on the Silom line.
Opening hours: Phoenix Sauna is open from 3 pm – 6 am daily.
Entry fee (updated 2023): The cost of entry is 100 Bahts if you join their chat groups, see more info on their Facebook page.
Ratchada Sauna
Ratchada Sauna is very popular with young Thai men in their 20s. Each night has a different theme, usually clothing optional or underwear. There's an exciting O-Party each Saturday night which gets pretty wild! A cab ride to Ratchada Sauna will take around 25-30 minutes from Silom Soi 4.
Address: Ratchada Sauna is located at 502/373 Ratchada Soi 3, which is a suburb in north Bangkok. It is a 7 minutes walk from Phra Ram 9 station on the MRT Blue line.
Opening hours: Ratchada Sauna is open from 3 pm – 2 am every day.
Entry fee (updated 2023): The cost of entry at Ratchada Sauna is 200 Bahts.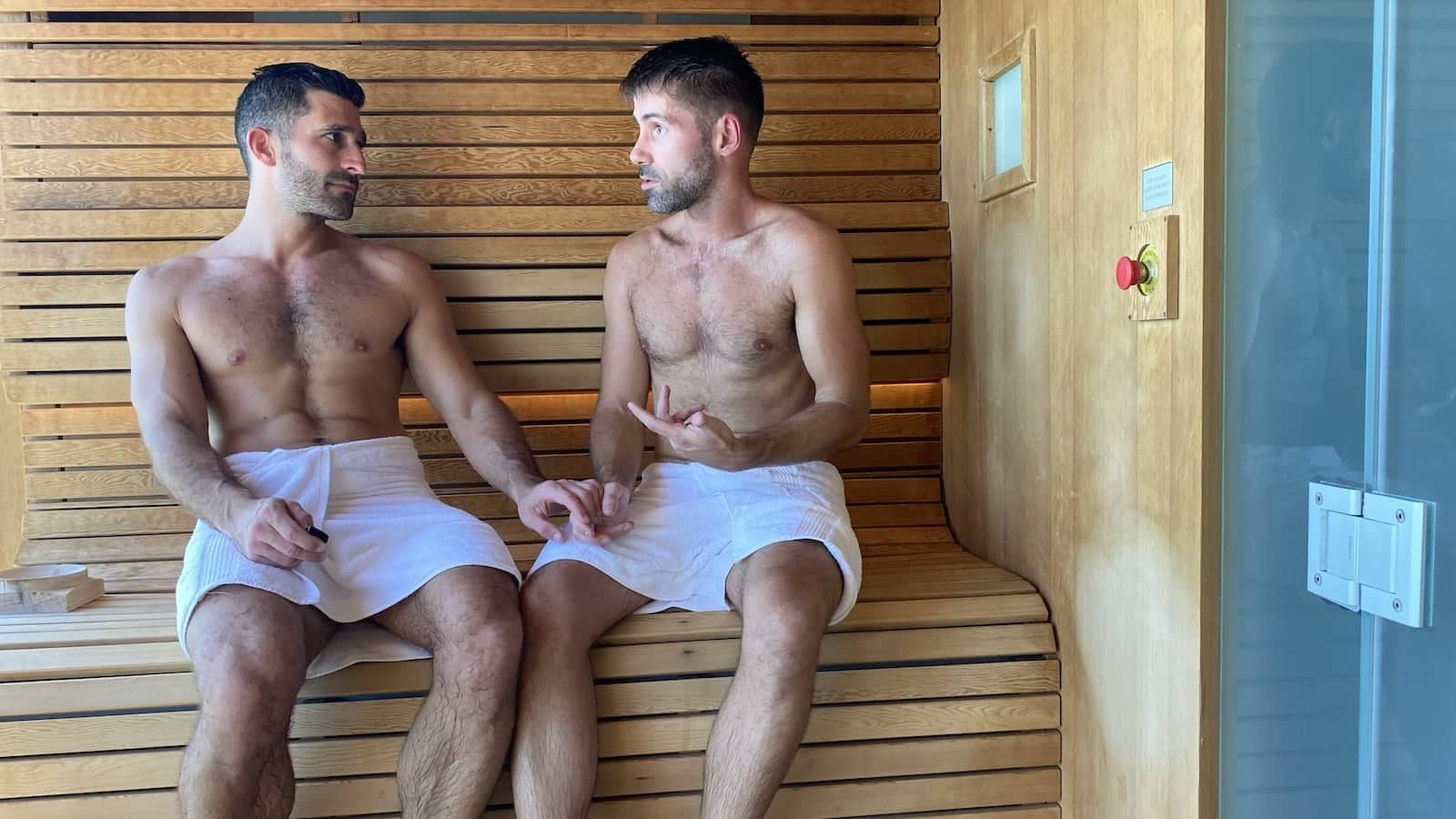 Gay spa and massage in Bangkok
While gay saunas are a wonderful way to relax in a steam room and meet some hot fellas, sometimes what you really need is a vigorous massage to soothe your sore muscles. Whether you've been stuck in an airplane for 18 hours or just have tired legs from all the shopping you've been doing, Bangkok is one of the best places to go for a massage. And yes, you can get ones with a "happy ending" if that's what you're in the mood for, but don't feel pressured if it's not really your cup of tea!
The bulk of the gay massage parlors in Bangkok is in Silom Soi 6 with a few spread out in other places. Also remember, the minimum tip expected is 100 bahts, regardless of how much your massage cost.
The Prime Massage
No Happy Endings here. The Prime Massage is very professional with excellent, clean facilities, and most importantly, brilliant massage. If you're not into the whole "Happy Ending" thing, then Prime Massage is your friend. You get to pick whether you want a male or female masseur/masseuse before starting and are then given a massage pajama-like outfit to wear: no skin-to-skin contact here! In terms of tips, budget for at least 200 bahts.
Address: The Prime massage is located at 128, 23 Si Lom 6, Suriya Wong, Bang Rak. It is in the heart of the gay scene, a 5 minutes walk from Sala Daeng station on the Silom line.
Opening hours: The Prime massage is open from 11 am until midnight every day.
Minimum tip: 100 Bahts.
Relax Thai Massage
In complete contrast to Prime Massage in Silom Soi 6 is Relax Thai. This is one of the smaller unassuming gay massage outlets on this street of which there are several clustered together. Each one has a group of cute masseurs standing outside enticing you in with their sweet smiles. Massages here are without clothing and naturally, they are likely to end in a very happy way but this comes down to what you want and what you agree on with your masseur.
We found that gay massage parlors like Relax are similar to all the others around – similar menu and price. Which one you pick comes down to which of the masseurs you click with so we suggest having a walk around and speaking with each of them. Tips vary from 200 bahts to whatever your masseur will "quote" you verbally during your massage for whatever style of happy ending you agree on!
Address: Relax Thai Massage is located at 9 Si Lom 6, Suriya Wong, Bang Rak, a 3 minutes walk from Sala Daeng station on the Silom MRT line.
Opening hours: Relax Thai Massage is open every day from 11 am to midnight.
The Adam Massage
Come here if you expect a Happy Ending! If you're partying the night away at Balcony or Stranger and fancy a massage, then Adam Massage has got your back. Located in the heart of Silom Soi 4, the Adam boys offer a range of treatments with delightful essential oil scents to choose from. If a Happy Ending is what you seek, then The Adam Massage will deliver (although budget for a hefty tip of around 1,000 to 2,000 bahts – your masseur will specify mid-way through the massage).
Address: The Adam Massage is located at 114 16 Si Lom, Suriya Wong, Bang Rak, a few minutes walk from Sala Daeng station on the Silom MRT line.
Opening hours: The Adam Massage is open from 11 am to 11 pm every day.
Minimum tip: 500 Bahts.
Gay cruising in Bangkok
Historically, Bangkok was one of the most popular gay cruising hotspots in Asia, particularly around Saranrom Park and Lumphini Park.
However, with the rise in popularity of gay dating apps over the past 10 years, the outdoor gay cruising scene has been pretty much quiet. Today you'd struggle to find any outdoor cruising spaces in Bangkok, so Grindr is your friend if this is what you're looking for.
However, local friends have told of pretty raunchy tales of going jogging in places like Lumpini Park, locking eyes with a stranger, then heading to the public toilets there for playtime. The same for the toilets in some of the Malls like Siam Paragon.
Gay gyms in Bangkok
It's no secret that we like to keep our bodies looking good, both when we're traveling and at home! But the last thing we want is to get harassed by hairy hetero-apes while you're just trying to use that rowing machine. We like to read reviews of gyms when we're traveling to make sure they're going to be gay friendly. Luckily Bangkok has quite a few of these!
Fitness First Platinum Siam Paragon
Inside the massive Siam Paragon shopping mall, you'll find a gym that's popular with local gays: the flagship location of Fitness First. Fitness First Platinum Siam Paragon is huge, with two different floors housing multiple areas for free weights, cardio, cycling studios, and even a boxing ring.
They have a range of classes, super hot PTs, and of course, a spacious gym area. There are lots of amazing extras included in your entry or membership fee, like free towels and gym gear. This gym also provides some pretty stunning views out the windows of the Skytrains and the rest of the city.
Hot tip: if you don't want to join a gym, consider booking an Airbnb in one of the many condos that have a gym (and sometimes a pool). Otherwise, head to Lumpini Park which has an excellent outdoor gym and calisthenics park…we like to come here just to gawk at the eye candy, to be honest!
Address: Fitness First Platinum Siam Paragon is located on the fourth floor of Siam Paragon, on Thanon Rama I Road.
Opening hours: Fitness First Platinum Siam Paragon is open from 5 am until midnight on weekdays, and from 8 am until 10 pm on weekends.
Entry fee (updated 2023): The cost of entry at Fitness First Platinum is 800 Bahts for a Day Pass.
The Olympic Club
As part of the Pathumwan Princess Hotel, the Olympic Club is a gorgeous, HUGE fitness center that boasts sports courts, a swimming pool, and a running track as well as the main gym area. There are a large number of gay members who enjoy this club, but even if you're only visiting Bangkok for a short time you can get a daily membership to enjoy the facilities.
If you enjoy playing basketball, squash, or tennis you can do so here, and there are plenty of different classes to join as well. The Olympic Club is definitely our top pick in terms of variety!
Address: The Olympic Club is located in the Pathumwan Princess Hotel at 444 MBK Center, Phayathai Road. The closest MRT station is National Stadium on the Silom line.
Opening hours: The Olympic Club is open from 6 am until 11 pm on weekdays, and from 7 am until 10 pm on weekends.
Entry fee (updated 2023): The cost of entry is 325 Bahts for a day.
Gay friendly restaurants in Bangkok
Eating out in Bangkok is a treat. It is inexpensive and Thai food is one of the best in the world. We've never had a bad meal every time we've come here. Our advice is to head to one of the many street food markets for a truly authentic experience. We've also a handful of places we love to dine at which we've set out right here for you:
Best things to do in Bangkok
What-oh? Wat Pho of course! Oh, the fun I had with this wordplay to anyone who'd listen. Seby just gave me his usual deadpan facial expression as we walked through Bangkok's Grand Palace…
We've listed out the main sites we think all first-timers should hit up – at least these are the ones we loved on our first visit here many moons ago…
Before you go
Gay map of Bangkok
Here is a detailed map of Gay Bangkok which includes our favorite gay friendly hotels, gay bars, and clubs as well as all the best things to do in Bangkok. Use it to help plan your own fabulous gay trip to this exciting city!
---