TERMS OF USE: There is a chance that some of the content on this page has changed since it was last updated. By reading this article, you consent to our Terms of Use and Disclaimer. Happy Travels!
DISCLOSURE: Some of our posts may contain affiliate links which we may receive a commission if you choose to book something through one of our links.
We would make a Bangkok joke… But that's a little too easy, don't you think?
Real talk, someone with an extraordinarily dirty mind must have been the one to name the city Bangkok. Believe it or not, the people of Thailand actually don't even use that name when discussing their capital, instead referring to the booming metropolis as "Krung Thep Maha Nakhon", which translates to City of Angels.
In our humble opinion, no matter what you want to call it, Bangkok is simply synonymous with having a good time. As the unofficial gay capital of Asia, the streets of this sprawling concrete jungle are always alive with sights that exude culture and sounds of a bustling nightlife crowd. No doubt about it, between multiple trips to historical monuments and countless stops at Thai street food stalls, your wallet will definitely feel the impact of your trip.
This is exactly why we've chosen to highlight a few of our favorite gay hostels scattered throughout Bangkok. Hostels get a bad rep for being a bit too grimy and claustrophobic for comfort, but times are changing. New hostels are cropping up every day, and each one seems to have cooler, more modern amenities than the last. Plus, it's always nice to meet new people on vacation, right?
So, without further ado, allow us to walk you through our well-curated list of Bangkok hostels so that you can find the perfect place to help you save a dime during your trip to paradise. Be sure to also check out our comprehensive gay guide to Bangkok to complement your travel planning and our article about the gay bars of Bangkok for a more in-depth review.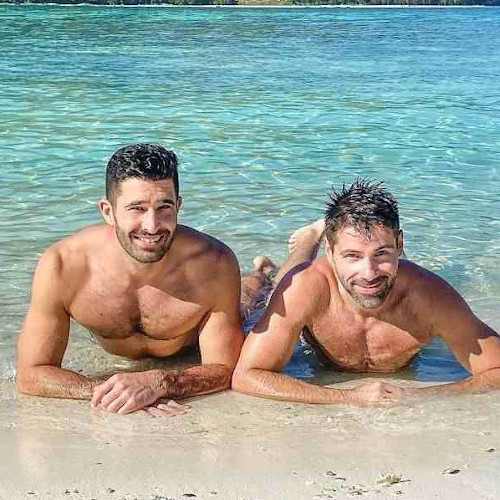 Gay tour of Thailand
Discover how Thailand earned its moniker 'The Land of Smiles' on this awesome gay tour with Out Adventures. The boys over at OA run four annual departures through the country with stops in Bangkok, Chiang Mai, Krabi, and Phuket. It's a fantastic way for first-timers to Thailand to get a thorough flavor of this incredible country with a fabulous bunch of squirrel friends to hand.
01
Blu Cabin Gay Poshtel
Phaya Thai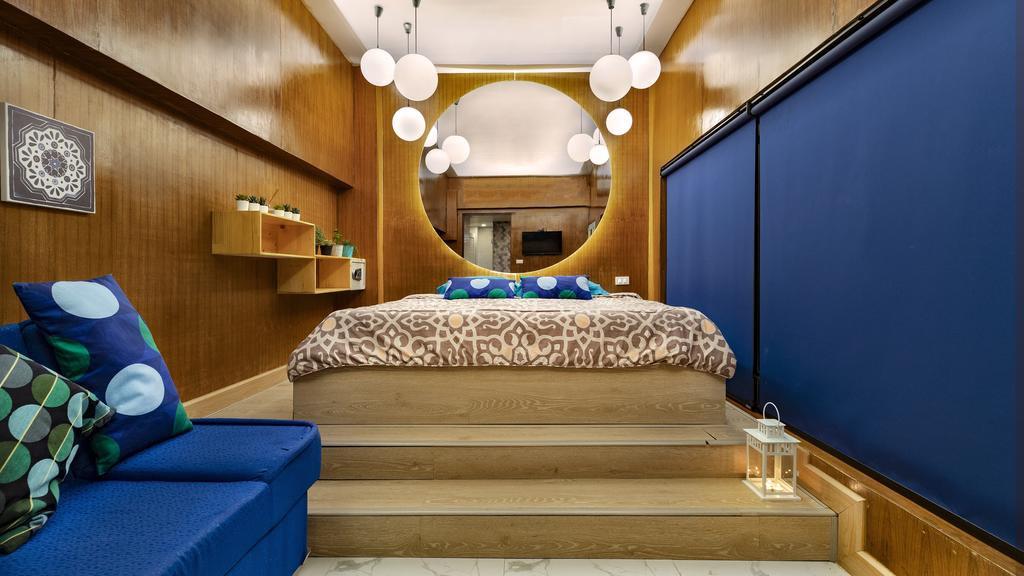 Why we love it
---
Gay only hostel
Spacious private rooms (no dorms)
Swimming pool, jacuzzi and steam room
Close to a metro station for exploring the city
Why stay at a hostel when you could instead stay at a gay Poshtel? Everyone deserves a little bit of style and sophistication in their lives, even when travelling on a budget!
The Blu Cabin Gay Poshtel provides accommodations only for gay travelers, so despite being located at a fair distance from the gay neighborhood of Silom, you'll still be surrounded by a fantastic company.
But again, the real draw to this modern gay space is the furnishings. There are no dorms and no bunks, only private single and double rooms that are decked out with gorgeous wooden paneling to bring some natural, cabin vibes to your trip. This not-so-quaint hostel combines the intimate atmosphere of your average guest house environment with the lavish luxury of a five-star hotel by offering gay travelers a chance to enjoy a dip in a heated saltwater pool or to take a trip to the rooftop to bask in the relaxation of their Chakran sauna and iKUZE onsen. And, as an added bonus for all you gym rats, they also have a full fitness center where you can happily chip away at those abs!
While we loved everything about Cabin Blu, Seby and I most appreciated that the hosts took their time getting to know each guest by serving up a delicious breakfast every morning and hosting regular parties in the shared lounge. Obviously, fabulous amenities are wonderful, but nothing could possibly beat good service coming from genuinely kind people. We loved this as an alternative to one of the many excellent gay hotels in Bangkok.
02
Ekanek Hostel
Bang Rak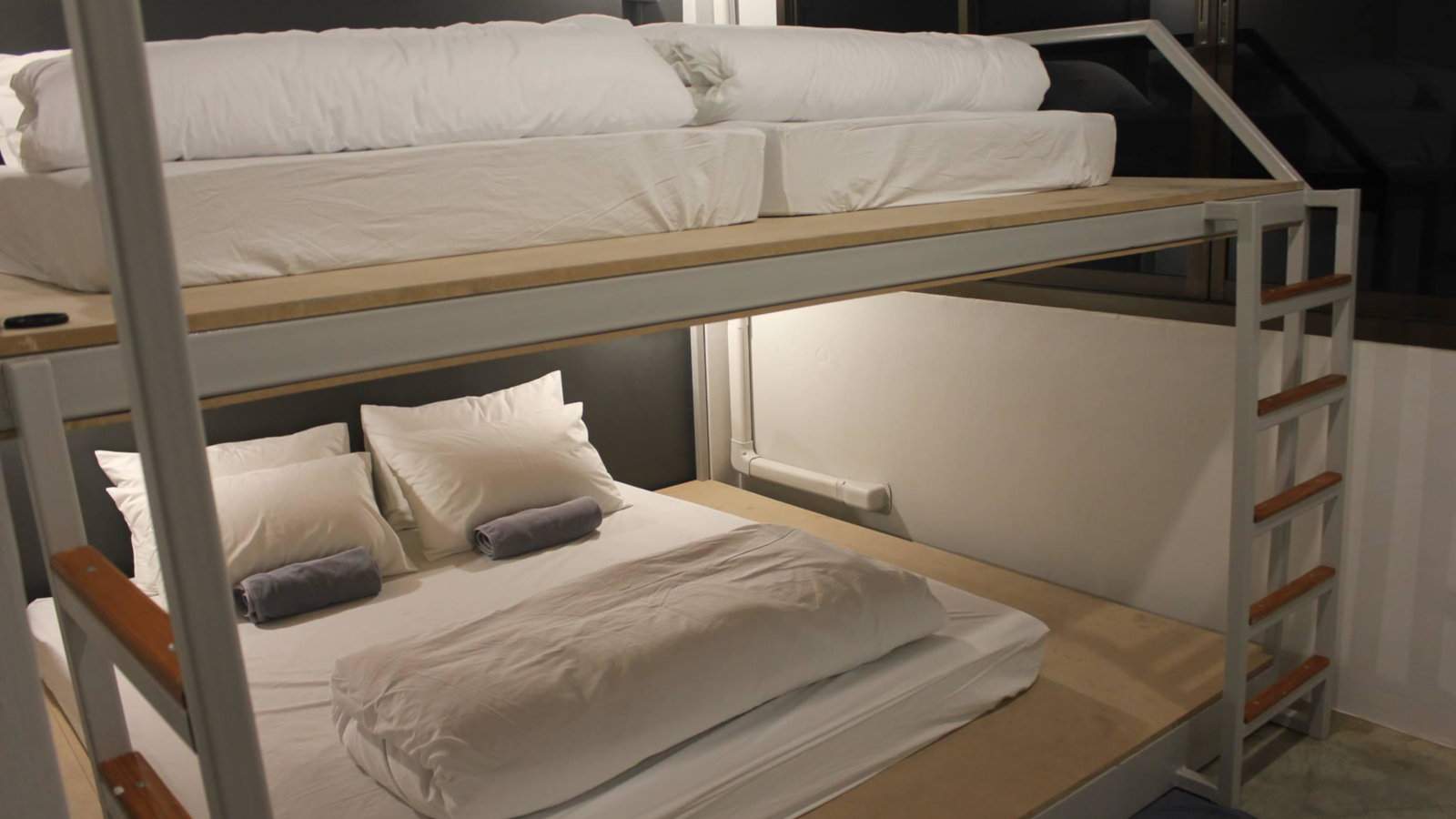 Why we love it
---
Right in Bangkok's gay neighbourhood
Yummy breakfast included in rates
Sturdy bunks in dorms and private rooms
Free toiletries, tea, coffee and water
Ekanek Hostel opts for an ultra-contemporary setup that's emphasized by the chic decor and cool shades of white, grey, and black.
From the city views lingering right outside the windows to the smooth concrete floors lining every hall, this gay friendly hostel represents all things corporate casual!
Thanks to the aforementioned concrete, the bunk beds offered by Ekanek are always held steady and secure, which means no more waking up in the middle of the night when someone comes home from the neighboring bars and clubs. And really, considering the hostel's prime location, a mere walking distance from the gay hangouts in Silom Soi 4, there are bound to be plenty of gay guests up and about during those late evening hours. However, if you'd still prefer more privacy than a curtain could ever possibly give, Ekanek also provides guests with the option to stay in a separate room.
If you ever find yourself a bit too hungover for comfort (and let's be honest, it's bound to happen at least once!) be rest assured that the hostel remains surprisingly quiet despite the constant comings and goings of guests. We can personally vouch that the gay friendly staff at Ekanek go above and beyond to ensure you walk away from your stay with a smile, whether by making small talk or giving extremely insightful tips about local attractions. Basically, Ekanek Hostel brings a whole new meaning to the phrase, "Satisfaction is guaranteed," and we will always be ready to shout about how much we adored our time there!
STAY WITH A GAY LOCAL
Misterb&b is the Airbnb equivalent for the LGBTQ community. Unlike on Airbnb, you know your host is gay, voiding any nasty surprises when you check-in. It is also a great way to meet gay locals and discover the underground gay scene. Click below to get 10 € (or $10) off our first booking.
03
Kinnon Deluxe Hostel Coworking Cafe
Bang Rak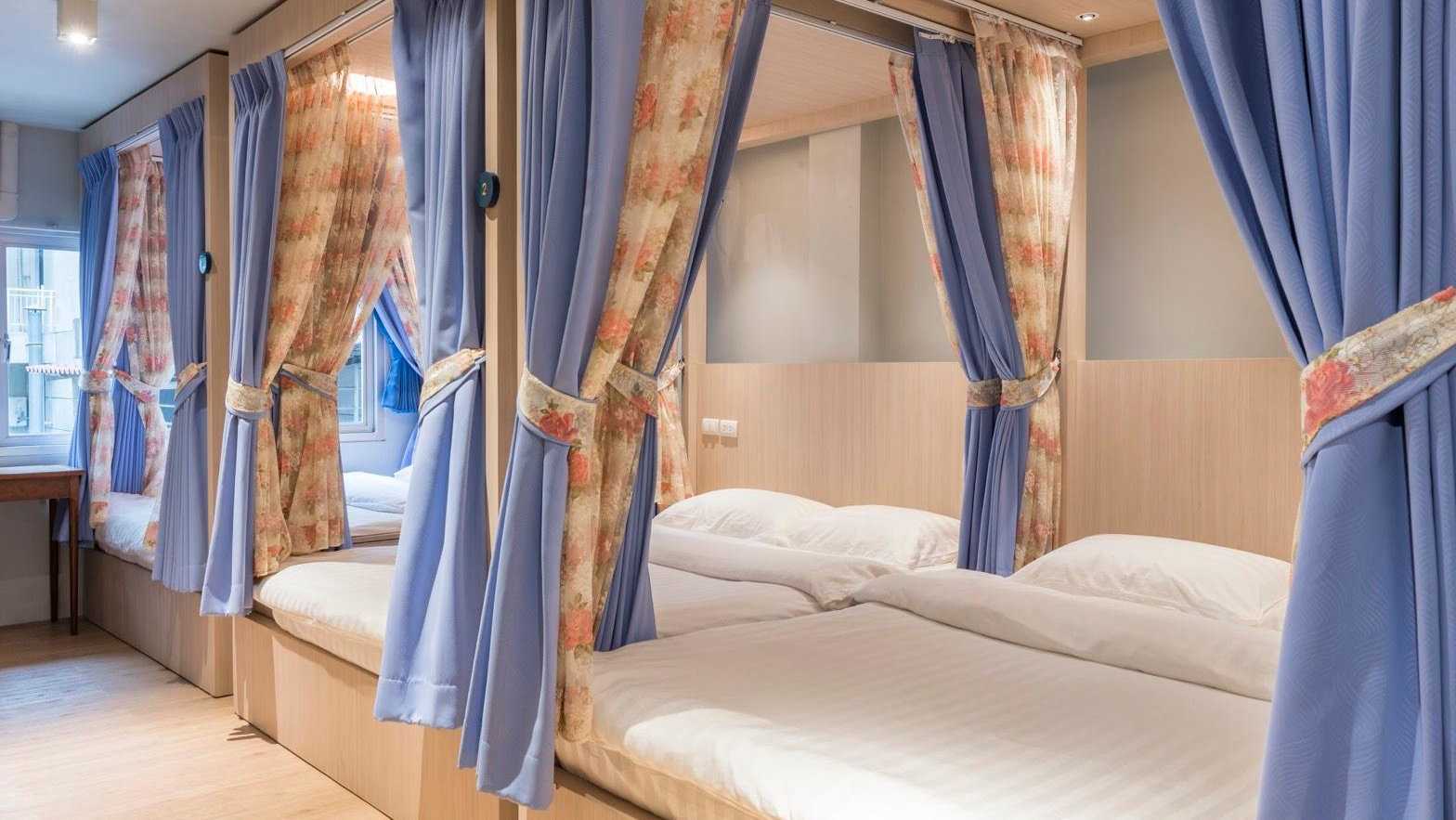 Why we love it
---
Located close to the gay area
Combined hostel, coworking space and cafe
Free breakfast for guests
Cool rooftop terrace with bar
Looking to combine your hostel with both a workspace and a cafe? Then look no further than Kinnon Deluxe!
As nomadic boys, finding the perfect hub where we can settle down and work as we travel is one of our top priorities, so naturally, we couldn't help but gravitate towards Kinnon Deluxe.
Their designated workspace captures an incredible balance between professional and comfortable with a variety of desks and couches up for grabs. It definitely doesn't hurt that we can also take a quick stroll over to the cafe for a delicious meal and a cup of coffee during our break times! As someone who functions best after ingesting a nice, healthy dose of caffeine, this is almost as essential as having the workspace itself.
Though, some days we actually decided to take our work outside to the gay friendly hostel's rooftop terrace. While you can find plenty of gay travelers socializing up there during the evenings, the mornings are exceptionally quiet and peaceful. Some days, as I was working on the rooftop, Sebastien would bring me our complimentary breakfast and sit by my side, reading a novel he plucked from the shelves of their shared library. My heart's fluttering just thinking back on it… My sweet Frenchman!
Whether staying in the dorm-style area or a private room, the sleeping arrangements at Kinnon Deluxe were just as pleasant as the common spaces. We expected some of the quirkier aspects of their decor, like the colorful patterned wallpaper, to bleed into the bedrooms, but to our surprise, the rooms appeared to be way more stylish and elegant. Perfect for impressing any boys you bring back from one of the gay bars on Silom Soi, which is only a couple of blocks away. Wink, wink!
04
Silom Space Hostel
Bang Rak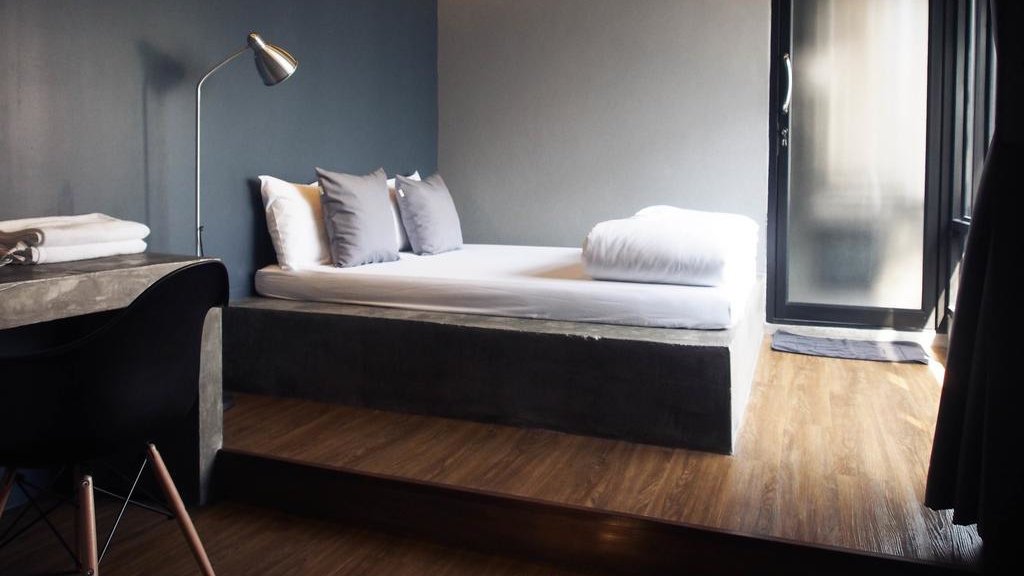 Why we love it
---
Located right in the heart of the gay nightlife of Silom Soi 2
Free breakfast and cup noodles available 24/7
Cute rooftop terrace area
Large lounge/workspace area
Silom Space Hostel leans into the dark decor, but that does not by any means make it drab! In fact, their seemingly simplistic design only adds to the cool, sophisticated aura they advertise to their guests.
Plus, I honestly think the darkness of the walls combined with the soft, warm lighting genuinely helped put me to sleep in the evenings…
…granted, that could just as easily be attributed to the fact that Silom Space keeps their rooms far more intimate than any other hostels we've ever visited… Not only do they offer four-bed, three-bed, and double-bed private rooms, but they also refuse to squeeze more than six beds into their largest dormitory, which is beyond impressive! Top that off with remarkably comfortable mattresses, and I'd say we have a lot of happy campers.
And with the epic gay club, DJ Station, waiting next door, I'd say providing travelers with the perfect place to rest their heads should take precedence. Don't want too many grumpy, hungover people roaming about the place, right? To keep their guests happy and smiling, the staff also guarantees round-the-clock service, free cookies, and cup noodles, and a complimentary breakfast consisting of the basics like bread, butter, jam, and fruit. Throw in their cute rooftop terrace and cozy indoor lounge, and I'm sold! When can I book a room? I'm ready to go back…!
05
Happy Traveller Home
Bang Rak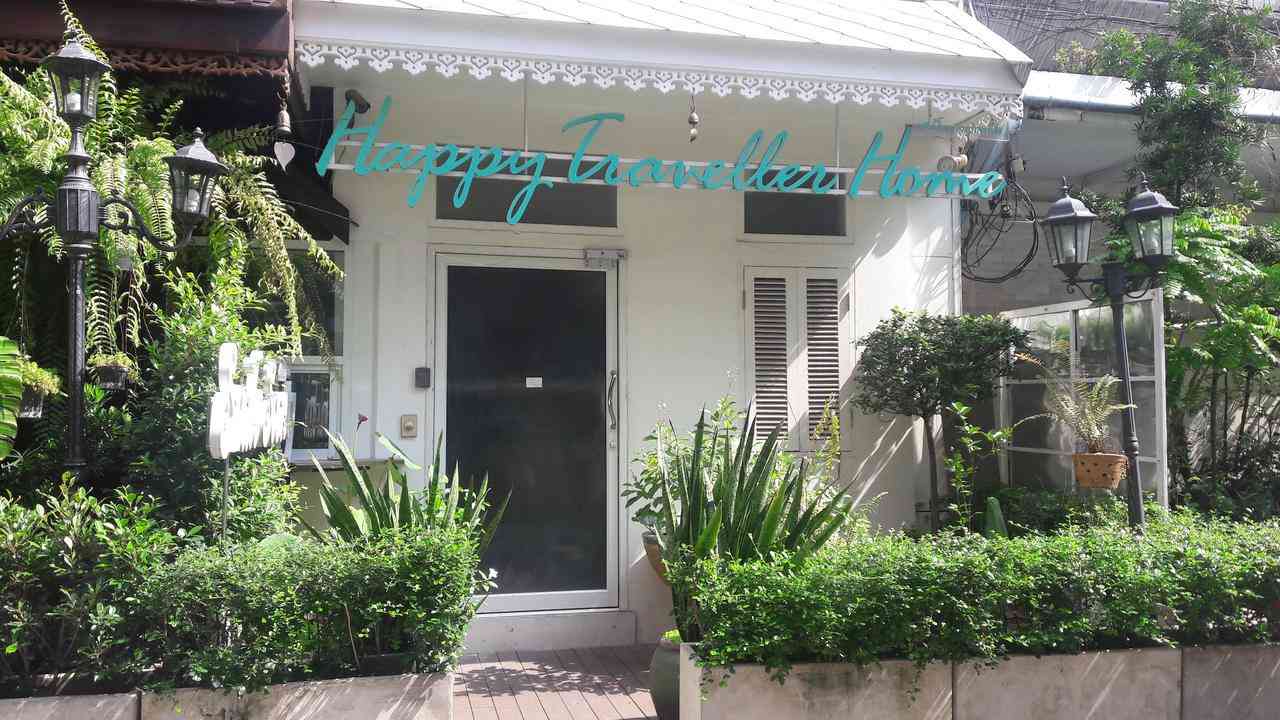 Why we love it
---
Very cosy and homey hostel
Environmentally-friendly with a small garden
Nice and quiet for a good night's sleep
Free toiletries and towels
Despite being situated just a couple of streets away from the craziness of Silom Soi 4 gay street, Happy Traveller Home gives out major cottage vibes that place it a world away from the realities of Bangkok.
Seriously, if your favorite part of any vacation is the ability to relax and find moments of tranquillity, then you'll be in awe at the space that the hostel owner, Ms Bee, has crafted for weary LGBTQ travellers longing to escape the busy city life.
The little mini-jungle that greets guests at the entrance is the first clue that your experience is bound to be warm and homey! Lush, verdant plants wait outside the door as a welcome sign, and Ms. Bee encourages her visitors to take as much time enjoying the garden as they possibly can throughout their stay…in particular – the mornings outside, basking in the heat with these lovely plants and sipping on a piping cup of fresh coffee. Talk about serenity!
The green of the plants follows you inside as an accent colour that offsets the crisp, clean white bedding. Whether residing in one of the hostel's private bedrooms, which can house between one to two people, or resting in one of their small dorms, you will undoubtedly feel right at home. Because that's the point of Happy Traveller Home! They make everyone feel safe, happy, and accepted, no matter who you are or where you come from.
06
HQ Hostel Silom
Bang Rak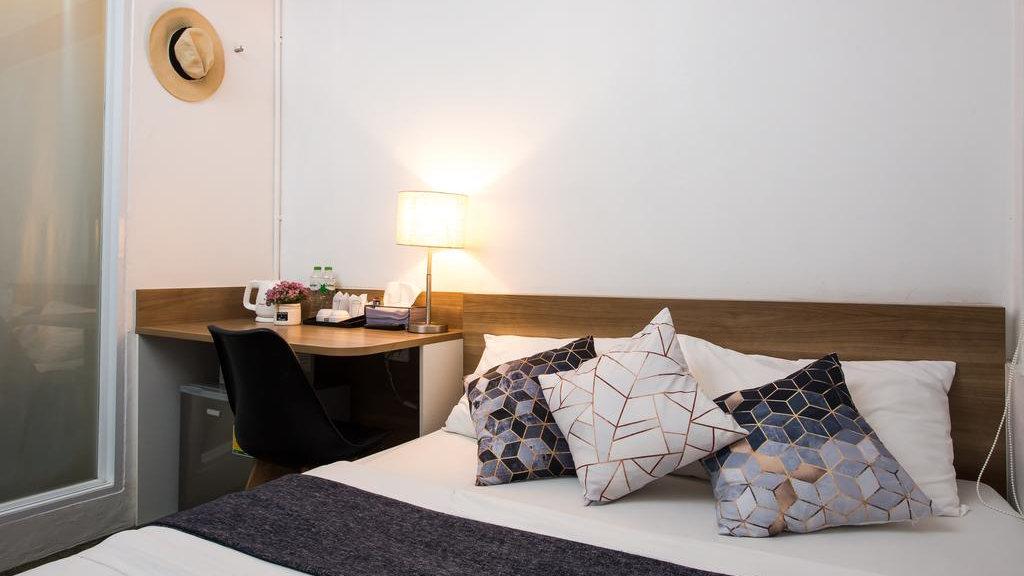 Why we love it
---
Clean and cosy gay friendly hostel
Fabulous location near Silom Soi 4
Free breakfast daily
Swimming pool available for a small fee
If vacationing for you means connecting with other people, then you'll probably want to place HQ Hostel Silom at the top of your list of candidates.
While most hostels will aim to showcase the shared spaces they provide for their guests, HQ goes above and beyond the standard.
With comfortable bean bags and couches for lounging, a TV with movies, and games like Jenga and Connect Four, I can guarantee that you'll want to spend a decent amount of time in this lovely gay friendly hostel. Or, if you're fortunate enough to have your stay fall on a date when the staff has organized social events, then you won't want to miss out. We were able to attend one of their pub crawls and had such a blast getting to know everyone. Nothing like an evening of drinks to help people bond.
If drinking isn't quite your style, you could also take a moment to chat with your fellow travellers over the free Western-style breakfast served every morning, complete with sausages and ham, eggs, bread, salad, and cereal. And the options don't even stop there. The cafe on the ground floor has fantastic offerings with lots of sensational restaurants in the surrounding area. The actual lodgings at HQ Hostel Silom are just as impressive as the rest of the building. The furnishings are trendy and brightly coloured. The rooms are decorated with cute throw pillows and fresh flowers to add an appreciated homey touch.
The decision is obviously yours to make, but HQ is a top-quality contender that we would certainly choose.
07
My Thai Hostel
Sathorn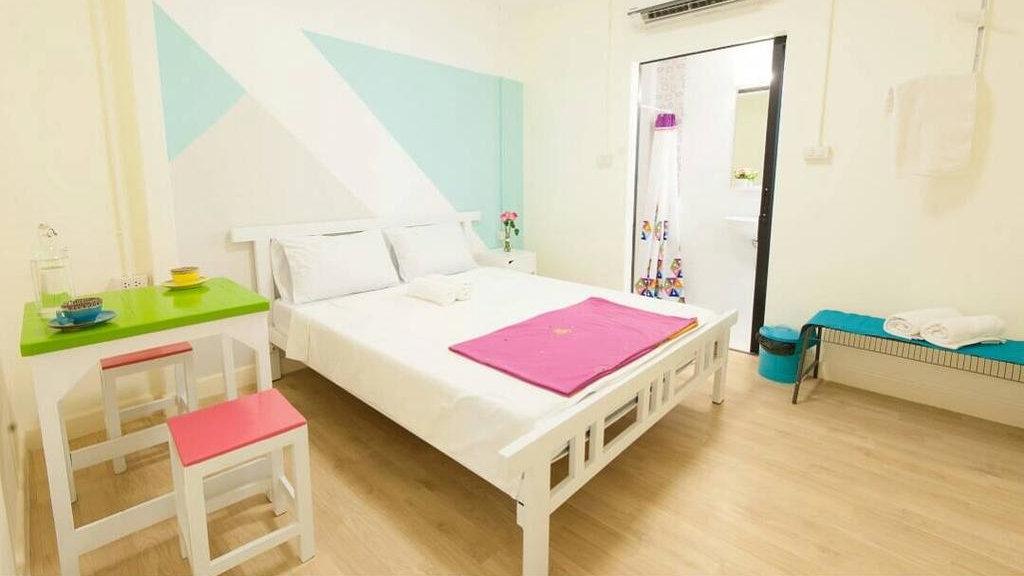 Why we love it
---
Spacious and colorful hostel
Short distance to the gay neighborhood
On-site restaurant and cafe
Lovely outdoor terrace/garden
Bright, colorful, and completely local – that's the way of My Thai Hostel. Have I piqued your interest?
If not, then allow me to paint you a picture of your typical day at My Thai. You wake up and enjoy a bowl of fresh, complimentary fruit before hopping down to the in-house cafe, Boomerang.
You down one refreshing drink, then ask your server if they wouldn't mind preparing you a packed lunch for your afternoon in the city. As the staff arranges your meal, you take a break in the terrace area, surrounded by the tranquil sounds of a water fountain splashing, the aroma of fresh plants, and an adorable mural of a Volkswagen van. Are you sold yet? Because I mean, really, My Thai Hostel is a sanctuary. It's a refreshing breath of fresh air among the stereotypical tourist traps. Many of our gay friends stayed here and kept saying how much they adored their time here!
Not only do the staff keep all areas of the hostel in tip-top shape, but they're also incredibly attentive to their guests. In fact, one evening, a staff member caught our friends discussing evening plans and proceeded to give them some pointers, and wrote out instructions for a taxi driver to ensure that they got back safely. The devil's in the details, folks, and I have to say that My Thai Hostel has a tight-running, people-oriented operation going for them!
08
The Cube Hostel
Bang Rak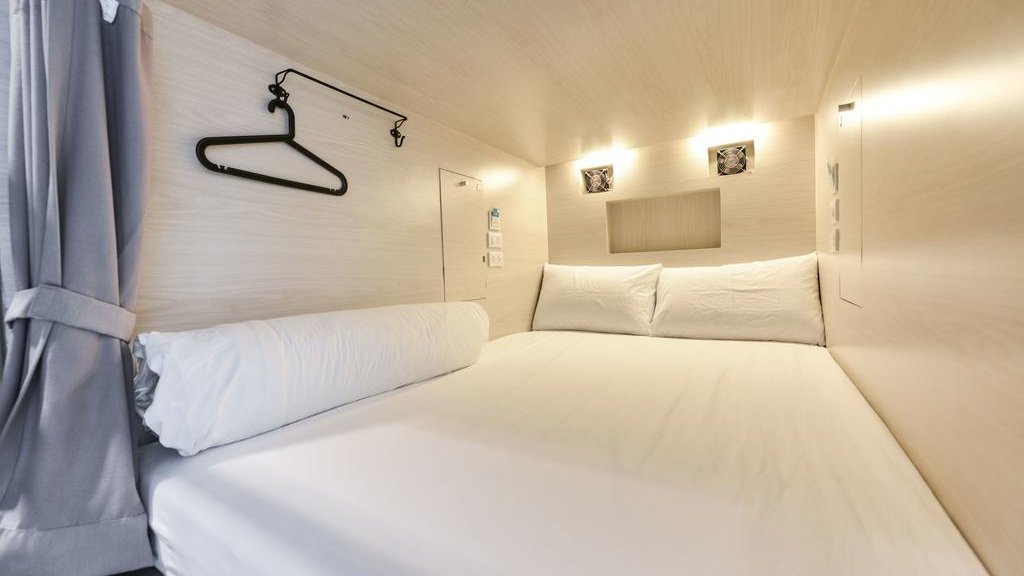 Why we love it
---
Cool Japanese pod-style hostel
Walking distance to the gay neighbourhood
Free toiletries and towels
Lush garden area with blow-up pool
Don't think you have to travel all the way to Japan if you want to experience one of their famous pod hostels!
The Cube Hostel in Bangkok offers both single and double bed accommodations in their capsules, meaning you'll have secured a ton of privacy at a low cost.
All cubes come with a small hanging rack for clothes, a reading light, a power socket, and a safe that actually doubles as a convenient folding table for those who work on the go. There are solid walls on three sides, and the fourth is supplemented by a heavy privacy curtain, so you'll be nice and snug inside of these little caves. Especially if you're staying in one of their doubles – ideal for the ultimate spooning environment!
To no surprise, the fun continues outside of the pods as well. The inside common space boasts computers, board games, a TV, and a small kitchen area, any of which could definitely make for an interesting evening with your fellow guests. The outside gets even better: alongside a lush garden area with long tables for communal dining stands a bright blue blow-up swimming pool. Now that's what I call an Insta-moment!
Despite being close to the gay bars and clubs of Silom Soi 4, the party does stop once you return to the cubes. That may sound like a bad thing, but truthfully, when you're just arriving home from a sweaty, exhausting night on the dancefloor, that level of peace is just heavenly. So, take a load off and relax for a bit at the unique Cube Hostel.
09
Plubpla Hostel
Bang Rak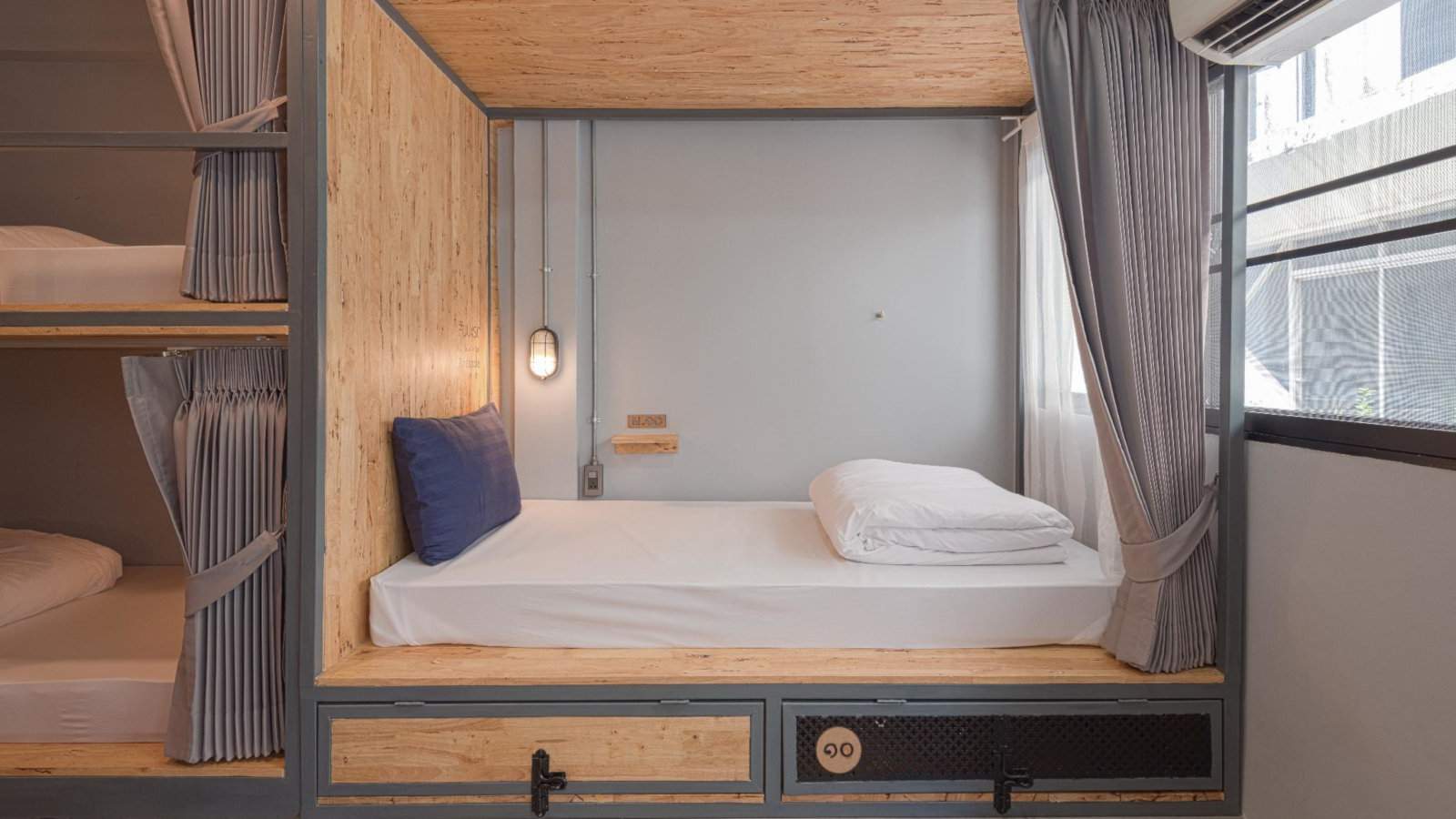 Why we love it
---
Convenient location close to gay area
Free breakfast each morning
Very spacious with multiple shared spaces
Quirky art and a rooftop garden terrace
Are you searching for a place that fits your indie, artsy vibes? Want a space that will inspire and encourage your creative endeavors? Then venture inside of Plubpla Hostel!
With common areas that closely resemble a hipster cafe, walls painted with gorgeous yet quirky murals and bountiful nature located on the rooftop, the atmosphere of Plubpla is simultaneously chic, stimulating and gay!
Whether lounging outdoors or indoors, be prepared to welcome a new aesthetic muse into the mix. As I'm the type of person who needs a bit of a pick me up before I begin crafting my blog posts – those unlimited espressos offered at the Plubpla would suit me just fine!
On top of the energizing dose of caffeine, Plubpla staff also offers a complimentary breakfast of milk, cereal, boiled eggs, toast, and jam every morning. Or, if you're more of an independent soul who prefers to make your own meals, the shared kitchen is a wonderful resource. Plubpla Hostel is also perfectly located within close proximity to Bangkok's gay neighborhood of Silom Sois 2 and 4 with some terrific restaurants surrounding it.
Overall, the bunk beds are rated as being comfortable, the private rooms are plenty spacious, and the staff is welcoming to everyone! I'd say that's the best combination for a 10/10 experience!
10
Smile Society
Bang Rak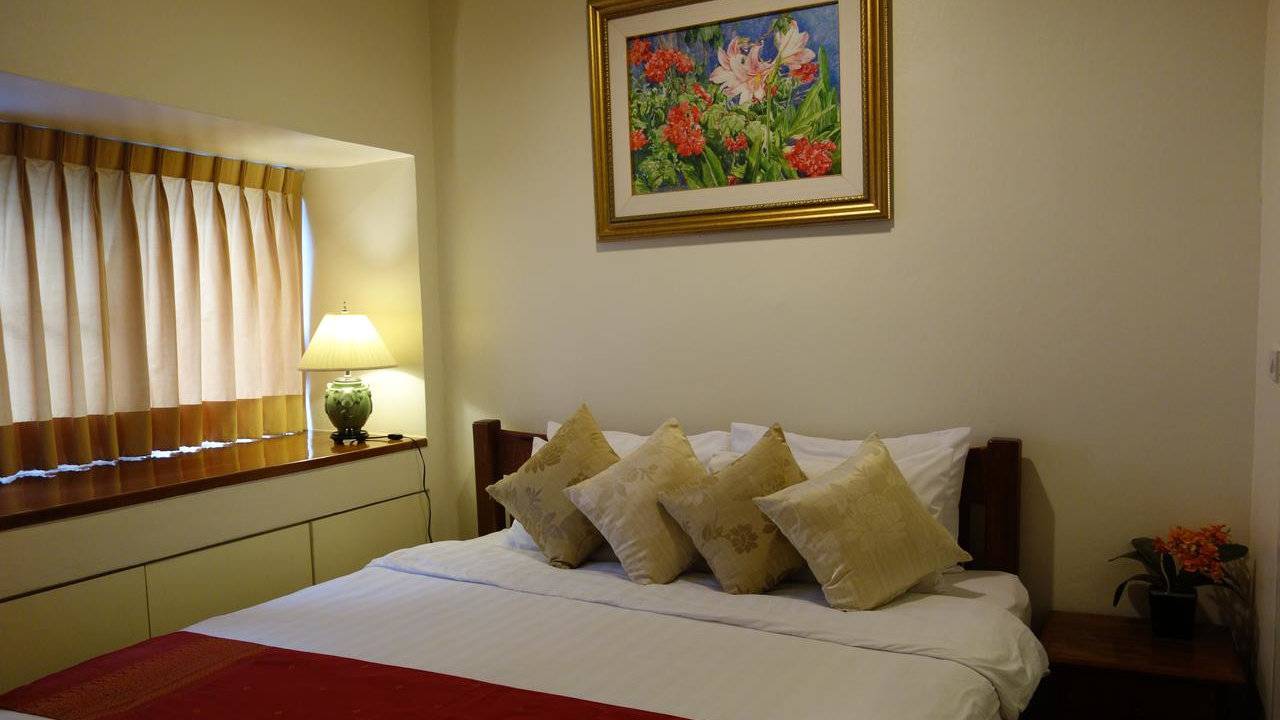 Why we love it
---
Comfy and clean with lots of greenery
Small terrace and garden to enjoy
Western and Thai breakfast included
Lots of activities to book at the desk
Get ready to wake up with a smile every morning at Hostel Smile Society!
Okay, yes, that line was cheesy, but I promise that it comes from a genuine place. Even my darling Sebastien, who always wakes up on the grumpy side of the bed, admitted that he felt comfortable and refreshed during our stay at this quaint gay friendly hostel.
The rooms are kept impressively clean by the incredibly friendly staff, and despite being located close to Bangkok's gay neighborhood, the area surrounding Hostel Smile Society stays quiet throughout the evenings. It also helps to be offered a generous portion of spicy Tom Yum soup for breakfast. That's enough to get anyone up and ready to face the day! Adding to the laid-back air of the hostel is the vibrant garden. Upon first glance, Smile Society could easily be confused for a greenhouse given the amount of vegetation around the entrance. What a pleasant surprise to find such a lovely boutique-style hostel waiting on the inside.
With so much space and multiple types of rooms, the hostel is ideal for group settings, whether that be families, partners, or friends who love traveling together. Plus, if you do visit the city with a group, the wonderful people who work the front desk will happily hook you all up with activities ranging from Thai cooking classes to romantic dinner cruises. At the end of the day, the objective of a vacation should be to have fun and create meaningful memories, and thankfully, Hostel Smile Society is here to help all of its guests achieve this goal.
What to do in Bangkok?
Aside from partying in the gay bars and clubs of Bangkok, there is a LOT to explore while you're in the Thai capital. From shopping to dining, live shows, and ancient architecture this is a city crammed with fun activities.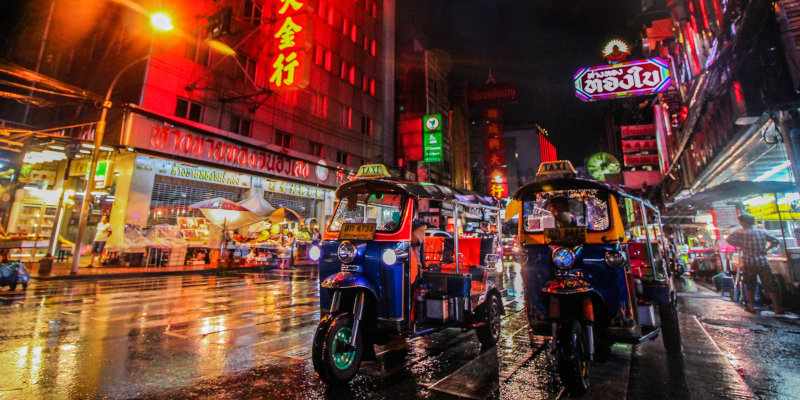 11
Lub d Bangkok Siam
Patthumwan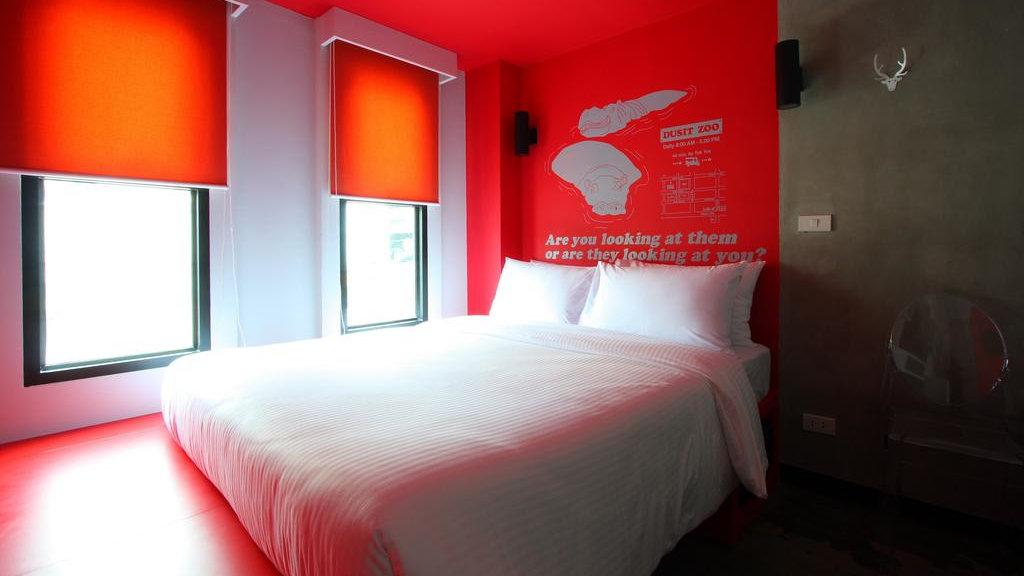 Why we love it
---
Cool and colourful rooms
24/7 restaurant and bar
Outdoor beer garden
Fun location and next door to a skytrain station
Location can be a deal-breaker when it comes to choosing a vacation spot.
While it's heartbreaking that Lub D is not as well located to the gay hotspot, Silom Soi 4 as the other hostels in this list are, that should not disqualify it as a leading contender for one of the best gay hostels in Bangkok!
First of all, Lub D is extremely gay friendly. Upon checking into our private room, nobody looked twice, which was an automatic comfort. Also, whether an intentional sign or not, the twenty-eight private rooms and eleven dorms provided by the hostel are completely decorated in different bright colors. We love a good rainbow aesthetic! Secondly, to bring us back to the location, the hostel is located right in the heart of Siam Square, meaning it is bordered by the most fabulous places to shop, eat, and explore for entertainment.
However, if you're not looking to be out in the city for whatever reason, Lub D provides guests with an in-house restaurant and bar called The Pumphouse. Open twenty-four hours a day, you'll be able to find a wide variety of meals and drinks. During our stay, we often wandered outside to the beer garden, where we kicked back with a quick beer and German sausages with our fellow guests. Afterward, it was always fun to head inside to the common room for movies and popcorn with our new friends.
If I had to describe Lub D with one specific word, I would simply call it eccentric! From its colorful furnishings to its wild nightlife, I think that just about hits the nail on its head.
---
Like this post? Pin it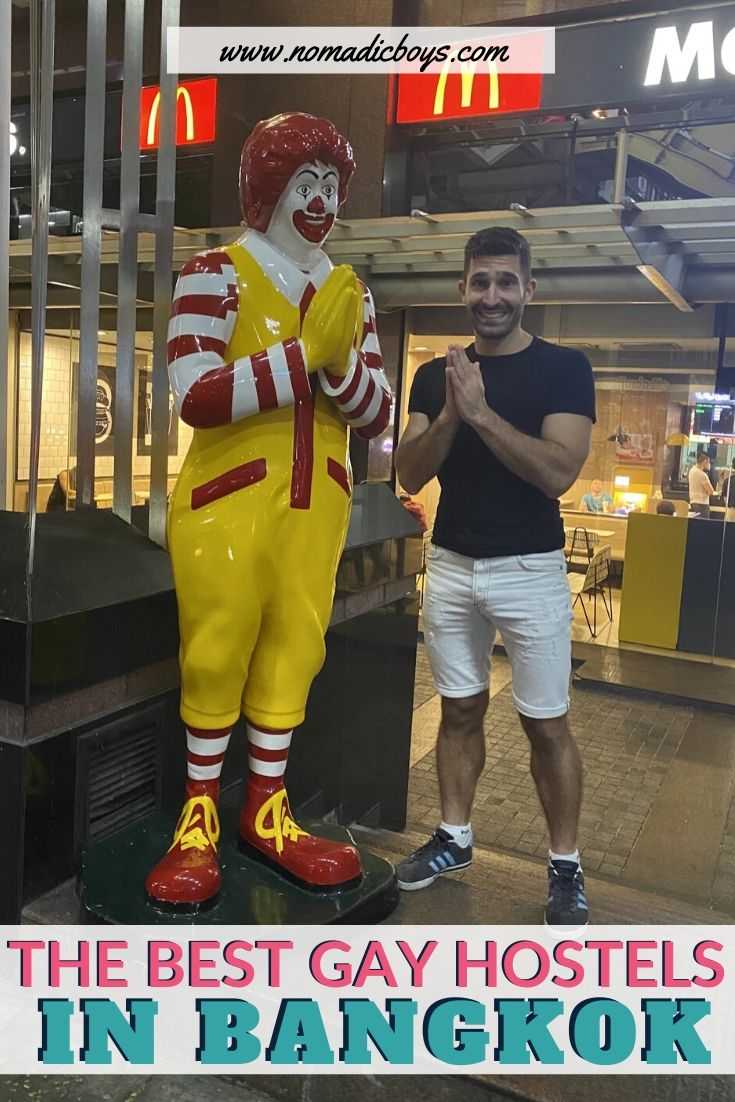 Happy travels are safe travels
We recommend you always take out reputable travel insurance before your next vacation. What happens if you suffer from illness, injury, theft, or a cancellation? Many gay travelers forget about it and regret it when something happens. Better to pay a small price and have peace of mind and not worry.