We love Thailand. It's got it all – best beaches, terrific food and the gay scene of Bangkok we think one of the most fun in the world.
Phuket is one of the most popular gay destinations to visit in Thailand, with a large gay scene in Patong. This large Thai island is also an excellent transport hub, with many international airlines flying here, making it very accessible.
These are our 5 favourite things to do in Phuket for gay travellers.
Get online while you're in Phuket…
by renting a pocket WiFi device. Doing so will give you unlimited internet access on multiple devices, perfect if you're travelling in a group or need to do some work on your laptop! Pocket WiFi also ensures you have a secure and private connection which isn't always the case when using public WiFi hotspots.
What we cover in this guide
Gay hotels in Phuket
There are many different gay hotels to stay in Phuket, to suit everyone. Some of the best medium/low budget hotels can be found right in the middle of the gay scene in the Paradise Complex, but be warned, it will be noisy. We advise checking Tripadvisor's "Speciality Accommodation" section to find the best one for you.
STAY WITH A GAY LOCAL
Misterb&b is the Airbnb equivalent for the LGBTQ community. Unlike on Airbnb, you know your host is gay, avoiding any nasty surprises when you check in. It is also a great way to meet gay locals and discover the underground gay scene. Click below to get 10 € (or $10) off your first booking.
We love Phuket because of the large number of high quality romantic boutique hotels you can stay at. One of our favourite gay friendly hotels in Phuket is the Impiana Private Villas boutique resort in Kata Noi. It's stunning! It's a little bit outside the Paradise Complex, but totally worth it. Here you have your own luxurious secluded private villa perched above the bay of Kata Noi, overlooking the stunning Andaman Sea, with panoramic sunset views. It's so gorgeous that it's a popular spot for LGBTQ weddings, which they can also organise.
Gay bars and clubs in Phuket
The Paradise Complex in Patong is the focal point for the gay life of Phuket, with most of the gar bars and clubs. This is where you'll want to come for a gay fun night out.
Most of the bars have a free show every evening, but guests are expected to buy at least one drink. They generally get busy from around 10pm when they start putting on street performances to attract customers. By midnight most of the gay bars in Phuket are crowded, especially on weekends. Some of the best hangouts of Patong include:
Boat Bar: this is one of our favourite gay bars in Patong, which we came to every night during our stay. It's open everyday, with at least 2 cabaret shows taking place every evening, the first at midnight, then again at 1:30am.
Zag Club: we love "Topless Tuesday" at Zag: you get 50% off your drinks if you stay topless all night long…! They also have "Farang Fridays" when foreigners get 50% off. Zag is men only, and is open daily from 8pm till late.
Tangmo Club: another fun gay club in Paradise Complex, which is also one of the largest. They have 3 nightly shows at 22:30, 23:30 and 01:00.
YES! Bar / My Way Cabaret: My Way is another staple bar and one of the oldest in the Paradise Complex. They have very cute Go Go dancers and hilarious drag shows every evening, with a large outside terrace, which we love for people watching:
Gay events in Phuket
There are two gay events taking place in Phuket every April, which are worth planning your trip around:
Tropout: a fun annual gay beach festival that takes place in mid-April during the Songkran Buddhist New Year holiday. It includes beach parties, boat parties and group events like yoga, cooking classes and more.
Phuket Pride festival: takes place on the last week of April and includes some of the best parties, art shows, charity auctions, concerts, parades and more. It began in 1999 and has been taking place each year with the exception of 2018, when the organisers decided to take a break. It attracts tens of thousands of gay boys from all around the world, making it one of the most popular gay pride events of Asia.
Best gay beaches in Phuket
Patong Beach is the most famous and developed beach on Phuket. It's around 3.5km (2.17 miles) long and has a large gay section in front of "La Flora Resort Patong" where the rainbow flags fly proudly. It's the closest beach to the gay scene of Paradise Complex, which therefore makes it the most popular gay beach of Phuket.
Karon Beach is another popular beach for gay travellers in Phuket, located 3km away from Patong beach. It has a 5km (3 miles) long beach of white powder sand, which is what makes it so popular. It's not as crowded as Patong, but still receives its share of crowds from the nearby guesthouses and resorts.
Bangtao (aka Laguna) Beach is a more remote beach, around 20 minutes drive away from Patong beach. Due to the distance, it's less visited and not as popular, which is of course part of its charm. The Dream Beach Club is located nearby, which is a popular spot for gay travellers.
A caution about public nudity: it is not socially accepted and is illegal in Thailand. As such there are no nude beaches or designated gay beaches in Phuket.
Gay massages in Phuket
Getting a massage in Thailand has a lot of seedy "happy ending" connotations. However, there are a handful of gay massages in Phuket that are clean, welcome gay travellers, and where you can feel safe, without being pressured into doing anything you're not comfortable with.
Aquarius Guesthouse & Sauna: this is one of the oldest saunas in Phuket, which is also a guesthouse. It's located right in the heart of the Paradise Complex of Patong. It has a steam room, Jacuzzi, fitness centre, rooftop terrace, saunas and of course highly qualified, licensed masseurs.
Aqua Spa at Avista Hideaway: although this is not an exclusively gay massage parlour, we love it because it's very luxurious. We love the infinity ponds here to relax in after a massage, and the views are stunning. It's expensive, but well worth the experience.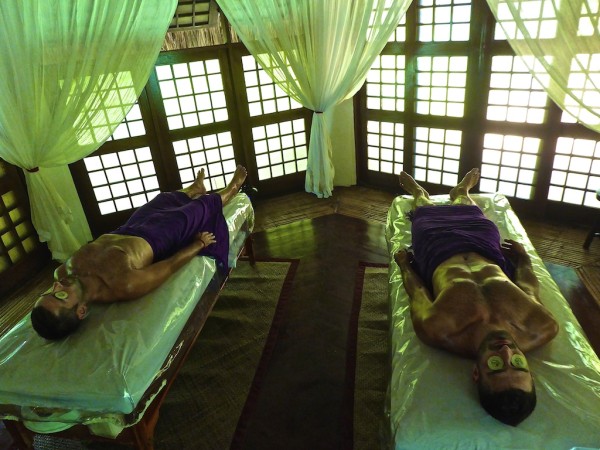 Gay map of Phuket
Here's a map of Phuket which includes all the gay bars, clubs, hotels and sightseeing highlights we've mentioned in this post. Use it to plan your own amazing gay trip to Phuket!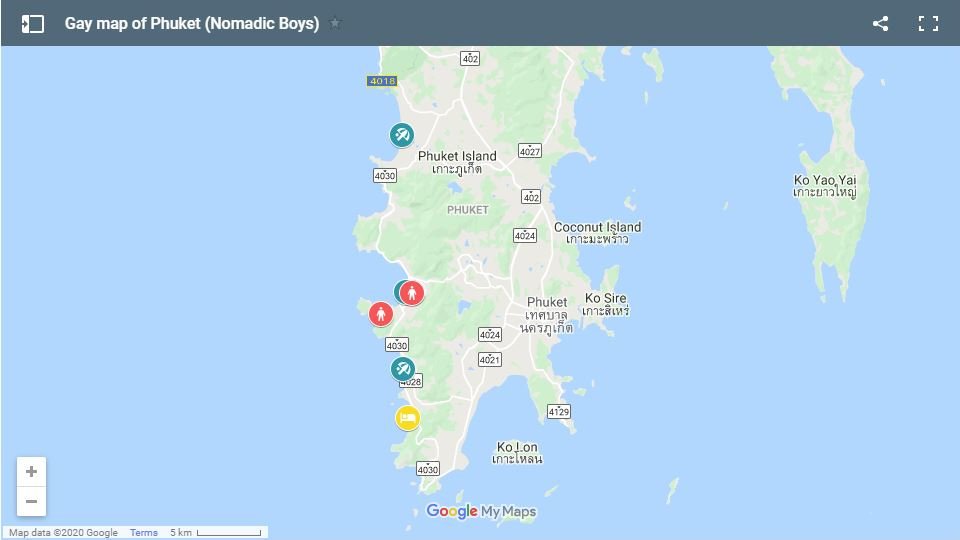 ---
Like this post? Pin it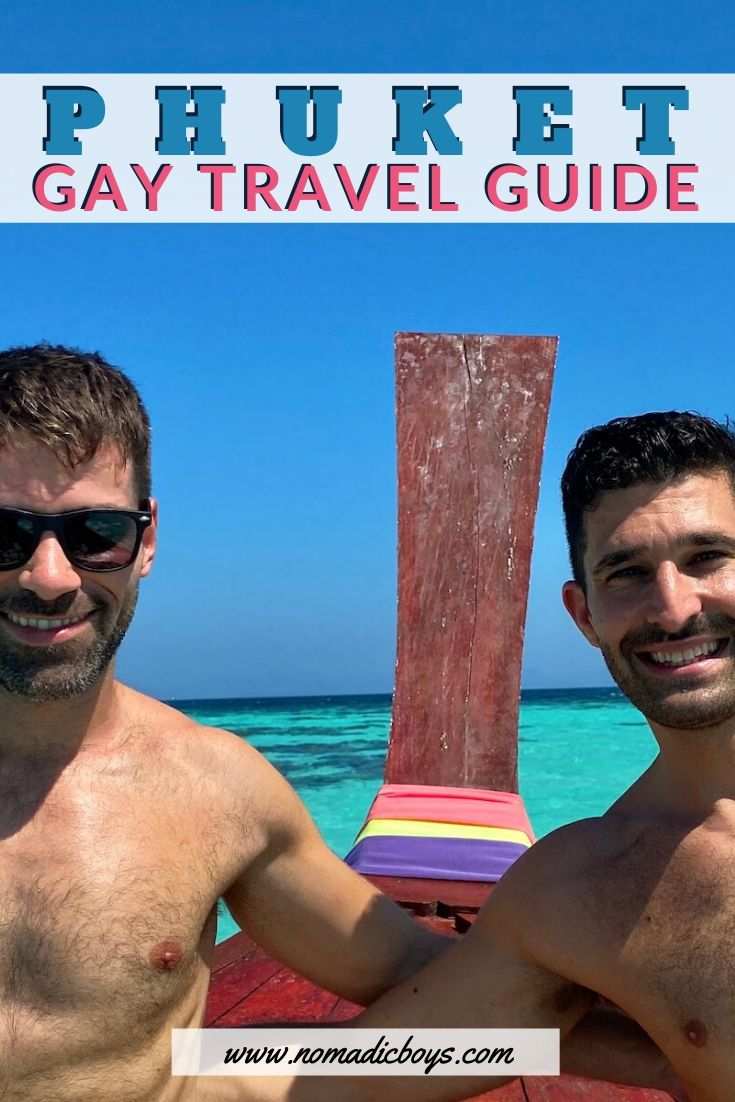 Happy travels are safe travels
We recommend you always take out travel insurance before your next vacation. What happens if you suffer from illness, injury, theft or a cancellation? With travel insurance, you can have peace of mind and not worry. We love World Nomads travel insurance and have been using it for years. Their comprehensive coverage is second to none and their online claims process is very user friendly.
Some of the links in this post are affiliate links. This means that if you book your accommodation, an activity or your insurance, we'll earn a small commission. There is never an extra cost to you for using these links and it helps us keep the site going.