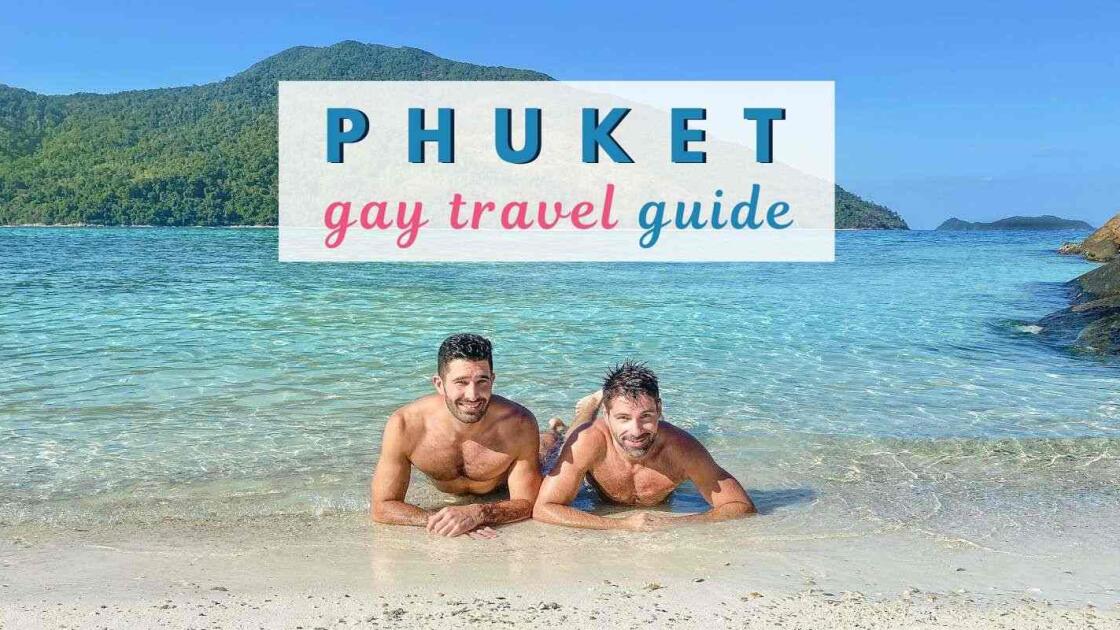 Grab a water gun, head here in mid-April and you have a legit free pass to spray water at any cutie you see walking down the street!
Songkran is the Buddhist New Year festival, which takes place every year from the 13th to 15th April. Around this time, Phuket and Bangkok host some of the biggest gay parties across all of Asia. But the thing to do in Songkran is chuck water at everyone.
Seriously – in Buddhism, this symbolises the washing away of bad luck from the previous year. It cleanses you! And oh boy do we gays love a bit of cleansing? Trust us to take this to a whole different level, using it as an excuse to sashay the streets topless (it is, after all, super hot here in April!), chuck water at each other and make it into a massive party!
Phuket continues the festivities right after Songkran when Phuket Pride kicks off. Though to be frank, we found Phuket to be one big gay partyville throughout the entire year. There's an entire area of gayness here in Patong affectionately nicknamed "Paradise Complex", where all the gay bars and clubs of the island are.
Head a few blocks from here and you reach Patong gay beach, full of hot speedo-clad guys posing, tanning, cruising, Instagramming, TikToking…suffice to say, if you're looking for a gay beach holiday in Asia, Phuket's got you covered!
This is our detailed gay guide to Phuket based on our trip here including the best gay hangouts, where to stay covering all budgets, gay spas, things to do and more. Note for LGBTQ travellers heading beyond Phuket, be sure to also check out our bumper gay guide to Thailand.
Phuket gay area
We loved gay Phuket. It was almost as fun as the gay scene of Bangkok, but right next to the beach!
The main gay strip of Phuket is based in and around the "Paradise Complex" of Patong. This is literally the Phuket gay area, all nicely concentrated within a few pedestrianized streets. More specifically, opposite the Royal Paradise Hotel, just off Thanon Ratuthit Songroipi Road.
The Paradise Complex is packed with bars, cafés, clubs, restaurants, hair salons, and travel agents – all catering to the LGBTQ crowd. Most gay boys will spend the day by Patong beach then slowly head over to one of the bars in the Paradise Complex before finishing up at ZAG club until the early hours. We've set out some of the best bars and clubs below, but Boat and ZAG were the most popular when we were there.
Other practical facts about the Phuket gay area – Patong itself is a beach resort town in the southeastern side of the island. Phuket International Airport is located in the northern tip of the island, around 1 hour's drive from Patong. Patong has two nightlife hotspots – Paradise Complex mentioned above (for us gays) and along Bangla Road, which is more straight orientated.
Gay beaches in Phuket and Patong
Phuket has no fewer than 35 beaches looking out to the Andaman Sea. Patong beach is where most of the gay guys come to hang out during the day in Phuket. It's the closest one to the Paradise Complex and always busy. However, if you want to go somewhere more chilled and less crowded, check out Karon and Bangtao.
Patong Beach
Patong is the most famous and developed beach on Phuket. It's around 3.5km (2.17 miles) long and has a large gay section in front of "La Flora Resort Patong" where the all the rainbow flags proudly fly in the wind. As it's the closest beach to the gay scene of Paradise Complex (literally a few blocks from it), it's become the most popular gay beach of Phuket where most of the gay guys hang out during the day…we certainly did! Patong beach is also the focal point of Phuket Pride in April.
Karon Beach
Karon is another popular beach for gay travellers in Phuket. It's located around 3km (1.8 miles) south from Patong beach. It has a 5km (3 miles) long stretch of white powder sandy beach, which is what makes it so popular. As it's quite far out, it's not as crowded as Patong. We came here one day to get away from the large Patong crowds, though Karon is still busy enough as it gets its share of crowds from the nearby guesthouses and resorts.
Bangtao (aka Laguna) Beach
Bangtao is where we recommend you go if you want a more remote beach. It's located around 20 minutes drive north from Patong in the direction of the airport. There were noticeably fewer crowds here due to the distance. And unlike Karon beach, there aren't as many resorts around here. The Dream Beach Club is located nearby, which is a popular spot for gay travellers to hang out.
Gay nude beaches in Phuket
As a general rule, nudism is not as prevalent in Phuket as it is in other gay destinations. Public nudity is illegal in Thailand and therefore not socially accepted. As such there are no official gay nude beaches in Phuket. There are a few remote beaches on Phuket where nudism is tolerated, simply because they are so remote that there's no one around to complain. The two main ones are Nui Beach in the south and Mai Khao located just north of the airport. Note: these are more places where women come to sunbathe topless rather than a place where gay congregate to cruise.
Gay men only resorts in Phuket
This is where you decide if you want THAT sort of holiday! What's great about Phuket is that it covers all the options – do you want to stay in a gay hotel (see below) or do you want something with a more intimate setting… If you do, we recommend checking out these all-male clothing-optional resorts in Phuket:
Gay friendly hotels in Phuket
Phuket has many different gay hotels to suit all LBGTQ travellers including luxurious boutiques to budget-friendly guesthouses. The first thing we advise is ascertaining what your priorities are. If you want to be close to the gay beach and the Paradise Complex gay scene, then we suggest booking a hotel in or around this area, like Adonis. If the gay scene is not your priority and you prefer something more akin to a romantic getaway, then we recommend lush hotels like the STAY Wellbeing in Rawai or Impiana Private Villas in Kata Noi. Here's a summary of some of the best gay hotel options in Phuket that we recommend:
Gay bars in Phuket
The Paradise Complex in Patong is where you'll find all the main gay bars of Phuket. The main thing we'd say about it though is it's no longer the big gay haven it once was. Back in the day, this place was heaving, with over 20 gay bars. Sadly, since the rise in popularity of gay dating apps, a lot of places here have shut down, leaving a small handful. The remaining few still manage to attract a fun and vibrant crowd, especially on weekends.
The other thing we'd say about a gay night out in the Paradise Complex is that most bars don't get going until after 10pm, with some putting on shows both inside and outside on the street to attract customers. These are the best gay bars in the Paradise Complex to check out:
Gay clubs in Phuket
As we said for the gay bars, the Paradise Complex is a fraction of what it was back in its heyday before the gay apps became so popular. You'd be hard-pressed to find many gay clubs beyond ZAG here. Boat Bar does become a dancing venue later in the night, otherwise, the main gay club in Phuket to check out is ZAG:
As the main gay club in Phuket, the ZAG crowd almost feels like one big gay family! It's the same guys who you saw earlier on the beach, cruising at Boat bar and now heading here to dance the night away. That's what it felt like for us when we were here. ZAG is a male-only club, complete with a shower on stage so you can help lather up the GoGo dancers, and a darkroom upstairs. ZAG has some of the funniest themed nights we've ever come across, like "Topless Tuesday" where you get 50% off your drinks if you stay topless all night long, and "Farang Fridays" when foreigners get 50% off. As well as the GoGo dancers, ZAG also has cabaret performances and drag shows happening through the night.
Gay massages and spas in Phuket
The number of gay massages and spas in Phuket has decreased a great deal over the past few years, mainly due to Covid and the rise in the popularity of gay dating apps. The main (and only!) gay sauna in Phuket is the one at Aquarius:
Aquarius prides itself on being the only male sauna in Phuket. It's attached to the guesthouse, located right in the heart of the Paradise Complex. It includes a steam room, Jacuzzi, fitness centre, rooftop terrace, saunas and a team of handsome highly qualified (licensed!) masseurs. Best time to come here to play is around 5-8pm when the Patong beach boys are looking for a play to hangout before taking over the Paradise Complex later in the evening.
Gay Pride in Phuket
Phuket comes alive during the big holidays, particularly Xmas/NYE when the Bangkok party boys head here for beach fun, and again during the Buddhist Songkran new year festivities in mid-April. However, the mama of all gay parties in Phuket is just after Songkran in late April – Phuket Pride!
Phuket Pride has a range of events from art shows, charity auctions, concerts, a large parade and of course, lots of parties. It started out in 1999 and has been taking place each year with the exception of 2018 and 2020. It attracts tens of thousands of gay boys from all around the world, making it one of the most popular gay pride events of Asia.
Gay restaurants in Phuket
If you're looking for gay gay gay, pick any restaurant in the Paradise Complex!
Otherwise, Phuket has several really good restaurants to check out. Sadly, being so touristic, there is also a lot of tourist traps with low-quality food. We've set out some of our favourites right here which we guarantee will leave you satisfied:
Top things to do in Phuket
Beaches, diving, remote islands and even a giant Buddha… Whilst most LGBTQ travellers will head to Phuket as a gay beach party destination, we've set out a few other activities we enjoyed here which we think you should make time for during your trip:
Plan your trip to Phuket
Gay map of Phuket
Here's a map of Phuket which includes all the gay bars, clubs, hotels and sightseeing highlights we've mentioned in this post:
---