TERMS OF USE: There is a chance that some of the content on this page has changed since it was last updated. By reading this article, you consent to our Terms of Use and Disclaimer. Happy Travels!
DISCLOSURE: Some of our posts may contain affiliate links which we may receive a commission if you choose to book something through one of our links.
Traveling to Japan soon? This is our gay friendly itinerary to Japan to help you plan a fabulous vacation.
Welcome to the future!
That's how we feel every time we set foot in Japan. It's one of our favorite countries to visit. On the one hand, it gives you that intense culture shock that we so crave from traveling, yet on the other, it's like you've hopped into a time machine and woken up years in the future.
Everything feels so advanced in Japan, done with such careful precision, immaculate attention to detail – and always with a smile! The Japanese culture itself is rich with tradition, dating back thousands of years, which manifests itself in not only the many beautiful temples but also in the delicious Japanese food and in the way the people behave towards each other.
As a gay couple traveling in Japan, we felt so welcome by everyone. We never felt any judgment or problems from anyone, which is why we rate it as one of the most gay-friendly places in Asia.
This is our gay travel itinerary to Japan for first-timers to discover the best the country has to offer, taking in the big bustling capital city, the Japanese countryside around Takayama, the rich culture of Kyoto, and an important educational visit to Hiroshima.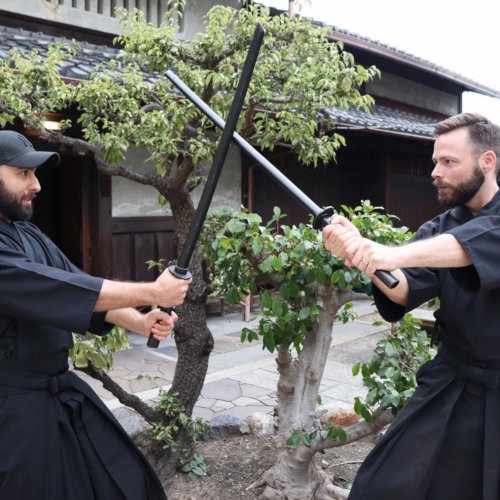 Experience Japan on a gay tour
Psst! Want in on a secret? Our friends at Out Adventures recently launched a super kawaii tour of Japan. On this all-gay foray, travelers will ride the Shinkansen bullet train between Osaka, Kyoto, and Tokyo. Highlights include a street food tour, samurai experience, a night in an authentic onsen, and an evening in Tokyo's gay district, Shinjuku Ni-chōme.
Is Japan safe for gay travelers
It sure is!
As a gay couple traveling in Japan, we never experienced any homophobia, anywhere. Booking a double bed in a hotel was never an issue. No one gave us funny looks, instead, we were always treated with the utmost respect with a warm smile and a respectful bow, from everyone!
That's Japan – and that's why we know you'll also very quickly fall in love with it!
Of course, it is worth noting that whilst this is our experience as gay foreigners, the situation is different on a local level. Japanese society remains very conservative. Despite this, the local LGBTQ community is making incredible strides forward, which you can read more about in our interview with local gay Japanese guy Shintaro from Tokyo.
At the end of the day when you compare Japan LGBTQ rights to the USA, Canada, or Europe, it's lagging massively. But if you compare it to the rest of Asia, a continent notorious for being super conservative towards LGBTQ rights, Japan is way ahead of the pack.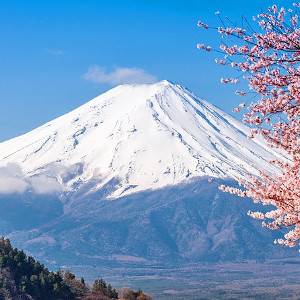 Your personalised gay friendly itinerary to Japan
We've teamed up with the excellent gay travel agency OUT Asia to offer our readers an exclusive 5% discount off the total cost of any trip to Japan you book with them. They specialise in crafting tailored trips and itineraries for LGBTQ travelers to Japan.
How to get to Japan?
Tokyo is the main point of entry into Japan. It's also one of the coolest places in the world to visit, so not a bad way into the country!
Most international flights to Japan first head to Tokyo. From here you can grab another flight or train to head to other parts of the country.
Tokyo has two major airports – Haneda (HND) and Narita (NRT). Both airports serve long-haul flights to destinations around the world. Haneda is around 13 miles from central Tokyo (around 40 minutes by taxi) whilst Narita is further out – 47 miles away (around 1.5 hours by taxi). Taxis can be pretty pricey in Tokyo – around $215 to Narita and $100 to Haneda. However, both airports are also served by the city's impressive and super-efficient public transport system. Everything is made so easy for foreigners arriving for their first time – signs are in English and staff are more than happy to assist you with buying tickets and pointing you in the right direction.
In terms of flight times, it takes around 14-15/ hours from New York, 11 hours from San Francisco, and around 12 hours from London + Paris.
Before you you fly….
One big tip before heading off, you may want to consider pre-ordering a pocket WiFi router to use throughout your trip to save you a lot of money on your roaming fees. We tried this out for our trip and loved that we could both always use our phones when on the move.
Day 1-3: Discover Tokyo
The first part of our gay itinerary to Japan takes us to the phrenetic, super crazy and absolutely awesome capital city: Tokyo! It's a crazy and super fun metropolis that never sleeps. Tokyo is also the main transport hub in and out of Japan.
You could easily spend 2 weeks in Tokyo and leave complaining it wasn't enough. However, for our 10 days itinerary, we suggest staying here 2 days on arrival to get a feel of the city and rest off the jet lag.
In terms of gay life, Tokyo has one of the highest concentrations of gay clubs in one place – in the 2 Chome section of Shinjuku. It's often described as a "gay bar buffet", a hilarious but very apt description we totally agree with! Some of the best gay bars in Tokyo to check out include Arty Farty, Campy! Bar and AiiRo. In terms of gay clubs, check out The Annex and Dragon Men. Outside of Tokyo however, the gay scene pickings are quite slim, so make sure you reserve at least one weekend of your itinerary for a gay night out in Tokyo.
For more, be sure to read our comprehensive gay guide to Tokyo.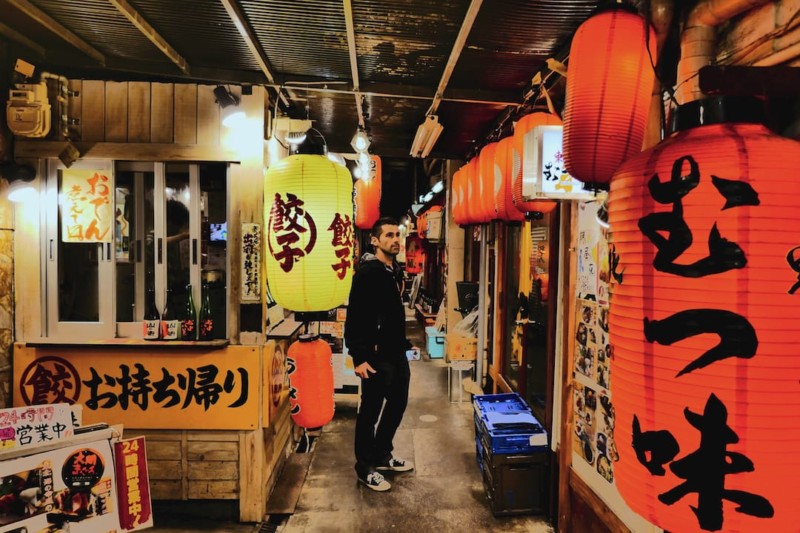 1. Top things to do in Tokyo
Transform into a geisha: Learn about the elusive geisha by transforming into one! You can read more about our geisha transformation experience at the Studio Geisha Cafe.
Onsen: onsens are at the very core of Japanese culture. These are public baths sourced by natural hot springs and the perfect way to conquer jet lag. Our favourite is the Maenohara Onsen (1180 yen/$11 per person) – closest metro station is Shimura-sakaue.
Food tour: an innovative way to discover downtown Tokyo and dive straight into some of the unique food prizes. We recommend Arigato Food Tours ($120 per person) who will show you the best izakayas (Japanese gastro pubs) around Ginza, Yurakucho and Shinbashi.
Toyosu Fish Market: the world's largest fish market is big fish business: in January 2012, a bluefin tuna sold for 56.4 million yen ($510,200)! If you miss the early morning 4am auctions, you can turn up before it shuts at midday for some of the tastiest and fresh sushi in the nearby restaurants.
Gourmet fine dining: the Nadaman restaurant at the Shangri-La is a perfect setting to experience Kaiseki: the Japanese traditional fine dining. It has incredible views of the city from up high and makes for a romantic special evening with your loved one.
Cooking class: learn to make sushi, Bento boxes and more in a cooking class.
Karaoke in Shinjuku bars: the Japanese love their karaoke and what better way to embrace Japanese culture than to belt out a few power ballads after a few sakes (Japanese rice wine). Most bars will have a jukebox, especially the ones in Shinjuku.
Shibuya crossing: this famous pedestrian intersection outside Shibuya Station is notorious for being the ideal spot to get a real feel of just how hectic Tokyo is. When the road signs turn red, an invasion of bodies take over the entire area.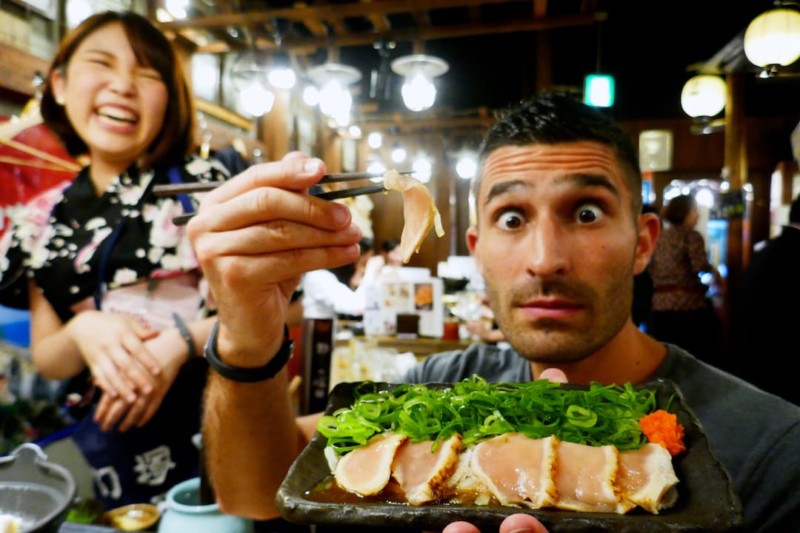 2. Gay friendly hotels in Tokyo
There are many excellent gay hotels and gay friendly places to stay in Tokyo. We set out some of the best below, but be sure to use our guide to the best gay hotels in Tokyo for a more in-depth analysis to suit all budgets!
The Shangri-La Hotel: Amazing luxury hotel in the heart of the city. From the moment you walk in, you are made to feel welcome and taken care of. It is located right next to Tokyo Station and also a handy base for the Shinkansen high speed bullet train. The rooms are high up so has some jaw dropping views of the bustling city below, along with a heated pool, spa and fitness centre. Rooms start from 71,200 yen ($650) a night.
The Hyatt Regency Tokyo: Located in Shinjuku, near the city's busy night life, the Hyatt Regency is a great mid-budget option. They've got a blow-your-mind entrance, beautifully decorated and popular for wedding receptions. Rooms start from 27,000 yen ($247) a night.
Imano Hostel: convenient budget option in Shinjuku with dorm beds starting from 3,500 yen ($32) a night.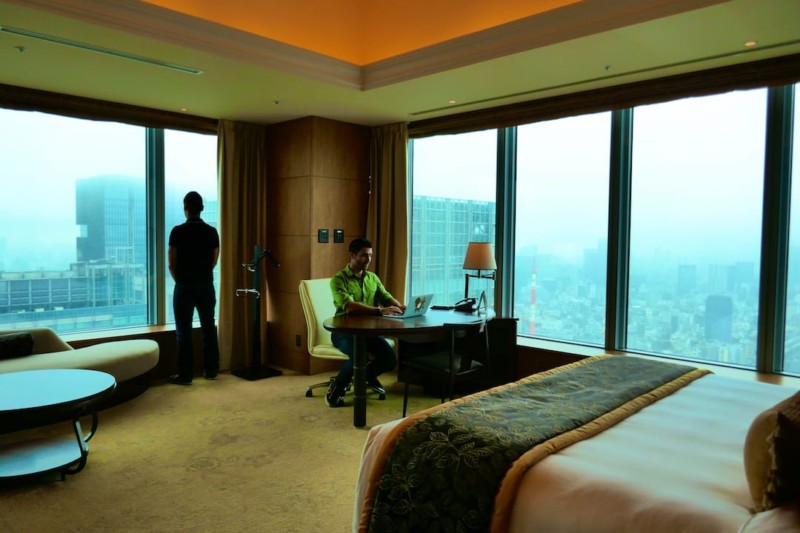 Day 3-5: Takayama, the Japanese countryside
For the next part of our gay itinerary to Japan, we've suggested something slightly off the beaten track, heading into the beautiful countryside.
Hida-Takayama is also known as the Japanese Alps and where you come to experience traditional village life in the countryside. Takayama itself has a pretty old town worth exploring and some top-rated ryokans to stay at.
1. Things to do in Takayama
Takayama Old Town has been beautifully preserved with many buildings and whole streets of houses dating from the Edo Period (1600-1868), when the city thrived as a wealthy town of merchants. The southern half of the old town, especially along Sannomachi Street is famous for its old homes, shops, coffee houses and sake breweries, which have been in business for centuries.
Cycling in the Japanese countryside: we did a guided cycling tour with Satoyama Experience around the countryside with beautiful views of the surrounding mountains, visiting local villages, waterfalls and learning about Japanese village life. Tours cost 7,300 yen ($67) per person.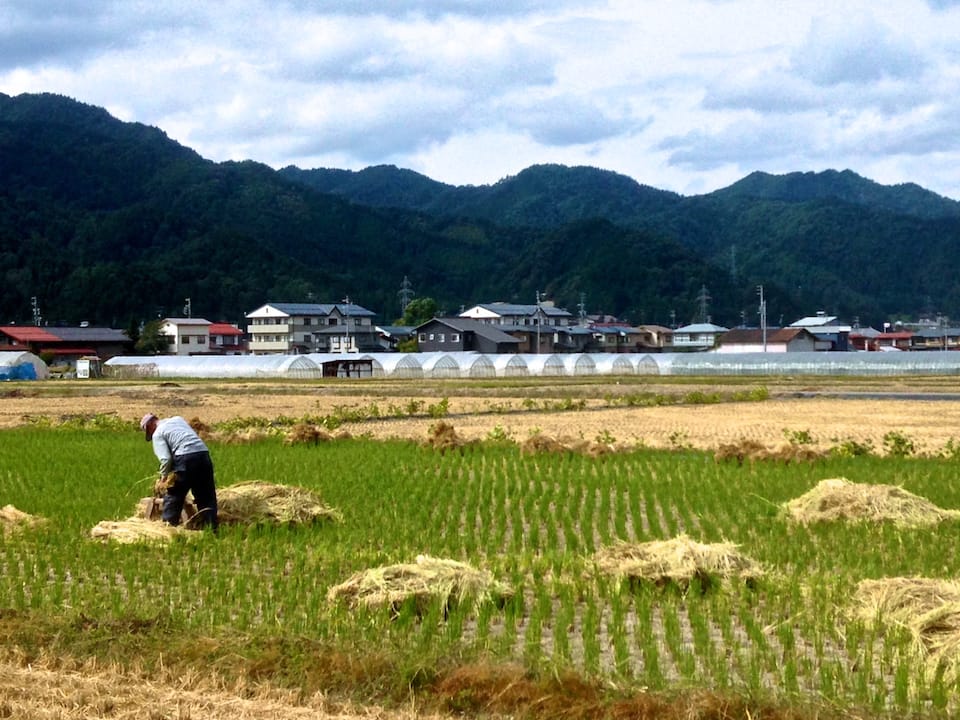 2. Gay friendly hotels in Takayama
Takayama is a great place to truly experience a Japanese ryokan: a type of traditional Japanese inn which originated in the Edo period when they served travellers along the highways. The ryokans have tatami-matted rooms and usually have their own onsen for guests to use.
We loved the gay friendly Sumiyoshi Ryokan, a truly unforgettable and one of our favourite romantic experiences in Japan. We felt totally welcome here as a gay couple – getting a double bed was not an issue at all!
The rooms are set up in traditional Japanese style with tatami woven straw mats laid on the floor, sliding doors and futon which you sleep on (and are surprisingly comfortable).
It has its own onsen, which is pure bliss.
They serve delicious Kaiseki – a traditional Japanese meal of a variety of small dishes, which are not only delicious, but each plate presented like a work of art.
Prices start from 160,000 yen ($145) a night.
Day 5-7: Temple fever in Kyoto
Kyoto is THE place to head to truly immerse yourself in Japanese culture. Remember all of those beautiful iconic scenes in Memoirs of a Geisha? They're set right here. This is a must for any gay traveller's itinerary to Japan!
Kyoto was the former capital city of Japan until it was moved to Tokyo in 1869. It has retained its regal charm and as a result, is packed with incredible gardens, beautiful monuments and heaps of blow-me-away temples.
1. What to do in Kyoto
The Golden Temple (Kinkaku-Ji): is the mother of all temples and the most iconic image of Japan. As such it's very popular, so come early in the day to avoid the crowds.
The Philosopher's Path: a pedestrian stone path that's just over a mile long, following a cherry-tree lined canal in East Kyoto and a popular spot to see the cherry blossom in the springtime.
The Silver Temple (the Ginkaku-Ji): located near the Philosopher's Path and famous for the beautiful, immaculately preserved gardens surrounding it. This was where former Emperors would come for contemplation and meditation.
Fushimuri Inari Shrine: this is the shrine to Inari, the Japanese god of rice and patron of business. It contains thousands of "torri" red gates, lined against each other, creating numerous corridors. These corridors take you up the Sacred Anari Mountain, 733 feet high, with some incredible views across the city.
Geisha spotting in Gion: Gion is the geisha district area of Kyoto where Memoirs of a Geisha is set. People come here to try and get their money shot of one of the 2,000 elusive geisha. Read more about our own geisha makeover experience!
The Sagano Bamboo Forest at Arashiyama: another iconic image of Japan you'll fall in love with. The forest is famous for the rustling sound of the wind as it blows amongst the bamboo. The path through it is serene, peaceful and very romantic. Arashiyama is a district in Northwestern Kyoto, 30 minutes by train and definitely worth the journey.
Check out our what to do in Kyoto guide for more about this magnificent city's cultural highlights.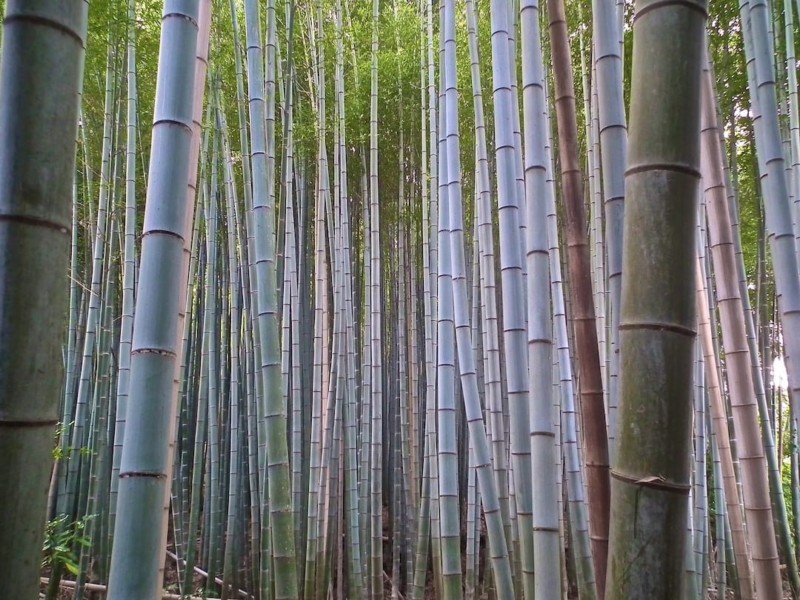 2. Gay friendly hotels in Kyoto
Hotel Granvia Kyoto: is the place to come and feel like you're royalty. The location is perfect, just above the JR Kyoto station. The architecture is modern and has a huge swimming pool. The buffet has a wide selection of fresh food, with both Japanese and Western options available. Prices start from 26,000 yen ($260) a night.
B&B Keiko: this guesthouse is set in a traditional old Japanese house, with a beautiful cosy garden. It is just 5 minutes walking distance to the Imperial Palace. We completely fell in love with Keiko, the owner. She ensures all her guests feel at home and will help you plan your stay in Kyoto thoroughly. Prices start from 10,000 yen ($100) for a double room and 7,500 yen ($75) for a single.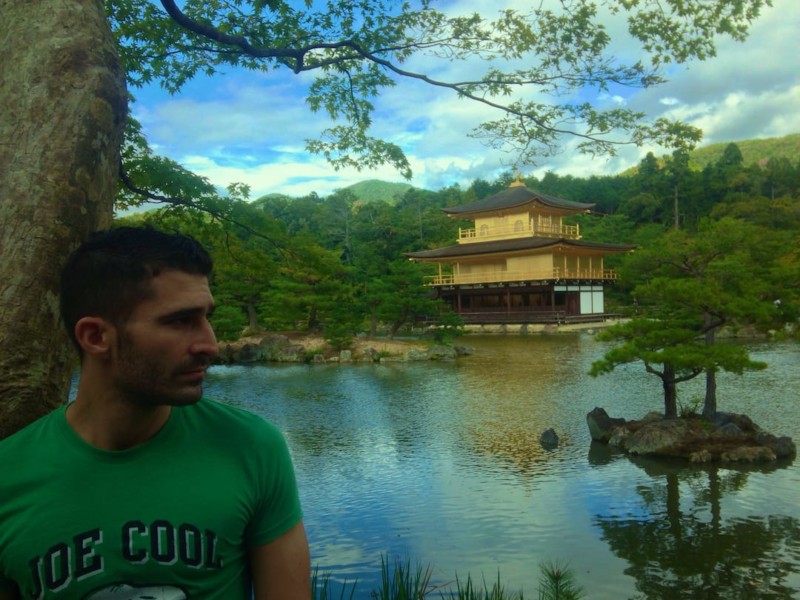 Day 7-10: Hiroshima
The final leg of our gay itinerary to Japan is to the infamous Hiroshima. The city is obviously famous for having an atomic bomb dropped here by the US at the end of WWII. Between 90,000 – 166,000 people died as a result of it, which makes this a sobering area to visit, particularly the Hiroshima peace memorial.
Today, the city has rebuilt itself and transformed into a vibrant and modern place to visit, with many fun things for gay travellers to check out.
1. Things to do in Hiroshima
Visit the Peace Memorial Park: To really get a feel for the tragedy that occurred in Hiroshima, you need to visit the Peace Memorial Park. There's a museum explaining the events and history, as well as a park filled with sculptures. It's a very intense experience but definitely a great way to understand the consequences of wartime. You can also see the A-Bomb Dome here, a building partly destroyed in the explosion that's been left standing and is also now decorated with paper planes for peace made by children from all over the country.
Visit Hiroshima Castle: Hiroshima was originally founded in 1589 as a castle town, and even though the original castle was destroyed in the atomic blast it has been rebuilt to look just as beautiful as the original. It's a great example of traditional Japanese architecture while inside you can marvel at the views over the countryside as well as seeing many traditional Japanese artifacts and artwork.
Take a day trip to Miyajima: About an hour from Hiroshima is the island of Miyajima, which is famous for its iconic Torii gate standing in the water. This is a great destination as a day trip from Hiroshima – don't miss out on the very friendly (and hungry) wild deer who will rush up to you if you have food!
Eat Okonomiyaki: Okonomiyaki is the most famous traditional food from Hiroshima, a savory pancake with a variety of ingredients mixed, like squid, egg, pork, and noodles. There are lots of different places you can eat okonomiyaki in Hiroshima, but if you head to the Wood Egg Okonomiyaki Museum you'll be able to learn about the history of this delicacy as well as try your hand at making some yourself.
Check out our guide on how to spend two days in Hiroshima for more fun things to do.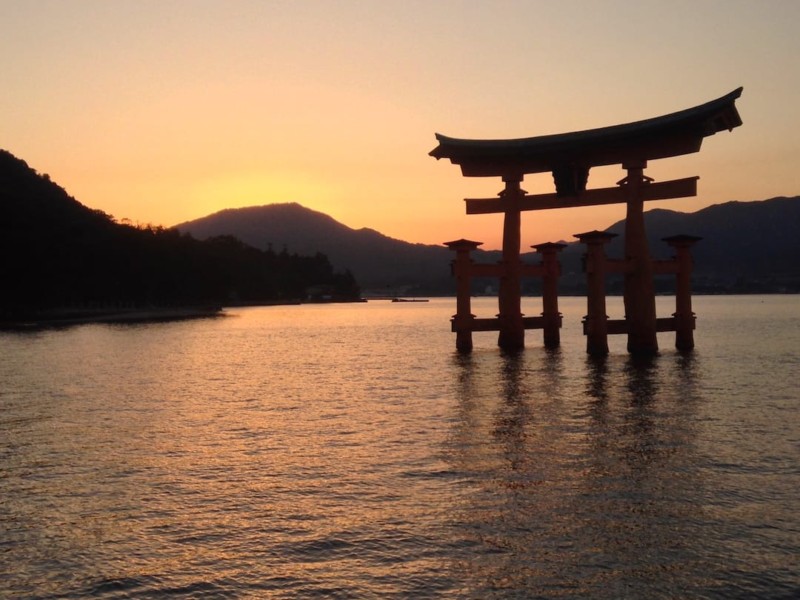 2. Gay friendly hotels in Hiroshima
Sheraton Grand Hiroshima: Sheraton hotels are an offshoot of the very gay-friendly Marriott brand, so the Sheraton Grand is a great luxury choice for accommodation in Hiroshima. The five-star hotel is a one-minute walk from the Hiroshima station, has four different dining options and an indoor pool. Gay gym bunnies rest assured, there's also a super sexy fitness center to check out! The gorgeous and spacious rooms also feature stunning views over the city.
Roku Hostel: The Roku Hostel is a family-owned and run hostel that really makes you feel like you're having a sleepover with friends. The hostel has a couple of very cute and rustic hang-out spots, like the bar or front verandah. It's very affordable, you can sleep in dorm rooms or privates, which even have traditional Japanese-style beds. They also welcome LGBTQ travelers, which is a huge plus in our books! Prices start from 2,900 yen ($26) per night.
---
Like this post? Pin it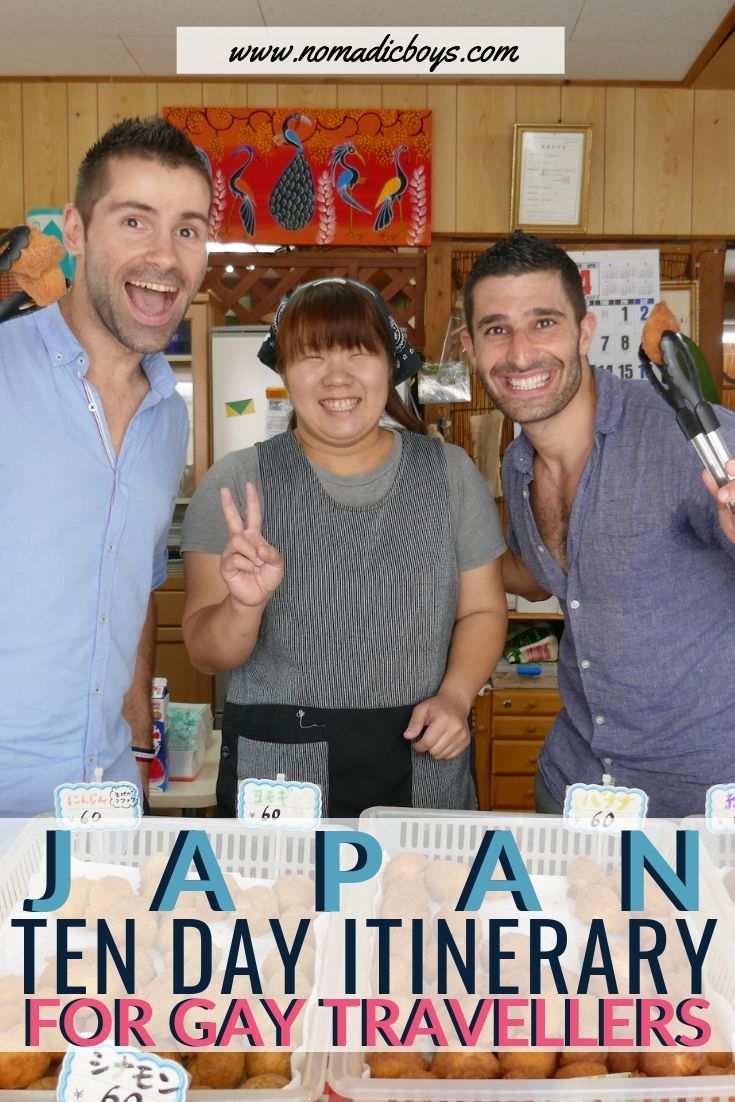 Happy travels are safe travels
We recommend you always take out a reputable travel insurance before your next vacation. What happens if you suffer from illness, injury, theft, or a cancellation? Many travelers forget about it and regret it when something happens. Better to pay a small price and have the peace of mind and not worry.