Japan is one of the leaders of gay rights in Asia. Surprising isn't it? Japanese society is so regimented, conservative, with strict social norms and little room for acceptance for anything different.
Despite this, Japan (along with Taiwan) is one of the few countries in Asia which has truly started to accept and protect its gay community to the point where it's opened the door to gay civil unions.
We enjoyed our time there so much that we decided to write our LGBT travel guide to Japan's capital city.
Stay connected in Japan
Tokyo Gay neighbourhood
The gay area of Tokyo is mainly congregated in Shinjuku's Ni-chōme (Area 2) where all the action happens. Shinjuku is a major transport, located in Central Tokyo, towards the west of the famous Imperial Palace. The station itself is like a mini city, with over 200 exits, serving over 3 million people daily, making it the world's busiest station.
Shinjuku is so big that it's directly connected to 5 other nearby stations, so definitely plan ahead where you're heading exactly before coming here, otherwise you'll get completely lost. We advise downloading the Tokyo subway map on your smartphone or view it here.
Ni-Chōme is a small area in Shinjuku, forming the hub of the gay scene. The 2 closest metro stations to the Ni-Chōme gay scene are:
Shinjuku-Sanchome: served by 3 lines: the Marunouchi, Fukutoshin and Toei Shinjuku lines
Shinjuku-Gyoenmae: served by the Marunouchi Line only.
Getting around Tokyo
Gay hotels in Tokyo
Over the years, we've visited Tokyo several times together and stayed in quite a few places. These are our favourite gay friendly options both in Shinjuku and around below. For a more in-depth guide, be sure to check out our 10 best gay hotels in Tokyo.
01
The Capitol Hotel Tokyu
The Capitol has three different on-site restaurants serving delicious food, as well as a club lounge for drinks with a view. In the basement of the hotel, you can access three different metro lines, which makes getting around the city a breeze.
We loved the well equipped gym for keeping fit and a hot tub to relax in after. Another highlight is the traditional, and delicious, Japanese style breakfast served every morning.
02
The Park Hyatt
The rooms at the Park Hyatt are very spacious and feature Hokkaido wood panelling plus Egyptian cotton sheets. If you can drag yourself out from your room (we couldn't) there's an indoor pool (which also has incredible views) and a spa with lots of pampering services available.
Foodies will love the Park Hyatt as it has three different restaurants; the New York Grill, Kozue (serving Japanese cuisine) and Girandole. There's also two different bars, a lounge, patisserie AND a delicatessan!
03
The Hyatt Regency
The pool, jacuzzi and gym are located high up so you can work out with a beautiful view. We particularly loved the penthouse wellness sanctuary where you can swim under a skylight roof.
There are no fewer than seven restaurants in the hotel, including authentic French cuisine at Cuisine Michel Troisgros, sushi at Miyako and traditional Chinese dishes at Jade Garden.
04
Imano Hostel
There are mixed and single-gender dorms available, as well as family rooms or traditional Japanese-style rooms. The communal relaxation areas are great here, indeed the whole place has a very fun vibe and regular social activities are organised by the friendly staff. The on-site cafe and bar is also a great place to chill out, socialise or have a snack.
Gay bars in Tokyo
Shinjuku's Ni-Chōme is famous for having the world's highest concentration of gay bars with over 300 crammed together. It can be quite overwhelming, so it might pay to have a private gay guide to show you around.
We discovered an excellent local company who offer private evening tours of the gay scene with a gay English speaking guide. Tours cost 20,000 yen ($200) per person, lasts for 3 hours and includes dinner and 1 drink in 1 of the gay bars during the tour.
If you would also like to do a gay evening tour of Tokyo, complete the form below for more information.
Most of these 300 bars are tiny, squeezed into unremarkable blocks. For example Usagi Bar is located on the 4th floor of a block (address: Shinjuku 2-10-2, Ebana Bldg 4F). When you arrive on the 4th floor, it's a corridor of doors – as if you're going to your friend's party in his flat. But go through the door and a tiny bar reveals itself.
These bars have a warm, friendly atmosphere, centred around the bar man, who is usually the owner (or mama-san in Japanese gay slang). Usually everyone knows everyone, and sometimes they bring home cooked food to share around.
There are of course more mainstream gay bars and clubs in Tokyo, which are more well known:
Gay clubs in Tokyo
These are the main gay clubs in Tokyo, which are also mainly based in the Shinjuku area:
The Annex: club open till 4am, owned by the same guys behind Arty Farty, which attracts a young crowd in their 20s and 30s. If you get stamped in Arty Farty, you can get in here free without paying entry twice. It's open till the early hours of the next morning. Look out for their Circuit after parties on weekends which go till 11am the next day.
Dragon Men: draws a mixed crowd of expats, foreigners and locals, great for a few cocktails and a boogie. It has a happy hour of 200 yen off all drinks from Monday to Thursday 6-8pm. Dragon Men is open everyday until 3am, on weekend till 5am.
Alamas: owned by the same guys behind AiiRo Cafe and have daily parties with a live DJ so check their schedules.
Gay events in Tokyo
Tokyo doesn't have as many events compared to the gay scene of Berlin for example, but there are a growing number of events taking place in the city:
Tokyo Rainbow Pride: takes place every April/May during the Japanese Golden Week holiday. The climax is the large parade, which culminates at Yoyogi Park with lots of parties and events taking place alongside it.
Rainbow Reel Tokyo: is the city's official LGBTQ film festival, which started in 1992. It takes place every July, featuring LGBTQ films from around the world.
For more up to date information of all gay events in Tokyo including monthly parties and Circuit events, check out the listings on DailyXtraTravel.
What to do in Tokyo?
Transform into a geisha
---
Discover Tokyo's gay nightlife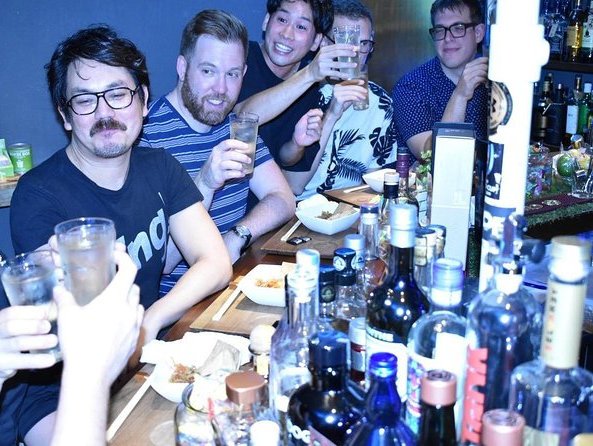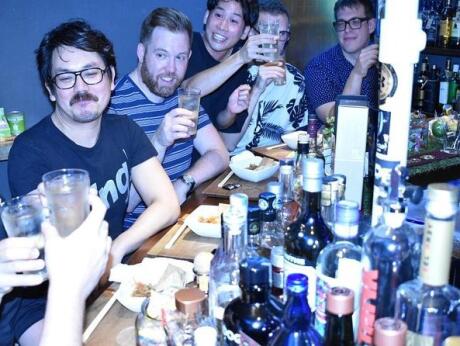 If you don't feel like going out to the gay bars by yourself then you could also join a Tokyo gay night tour which will introduce you to the best local gay bars. Your guide takes you away from the main touristy bars so you can hang out with gay locals in the Shinjuku Nichome area. One of the highlights includes a quirky basement bear bar run by a Japanese ex-pro-rugby player. You'll get a free drink in each of the three bars you visit, as well as being able to partake in some karaoke with your new friends. Just remember, you need to be at least 20 years old to buy alcohol in Japan!
---
Sample some delicious Japanese food!
---
Visit an Onsen
---
Learn to cook Japanese Food
---
See the Shibuya Crossing
---
Takeshita Street in Harajuku
---
Quirky Tokyo
---
Learn about Tokyo's history and culture
---
Tokyo's Coolest Museum
---
Where to eat in Tokyo?
Tokyo is a paradise for foodies with lots to keep your tummy inspired and content:
Sushi mania at Toyosu fish market: Tokyo is THE place to come for the best sushi, specifically at the restaurants around Toyosu – the world's largest fish market. The market caters to the nearby restaurants, so they inevitably serve up the most delicious, fresh sushi you'll ever try.
Izakayas: are gastropubs, after work bars, popular with salary men, where you come to drink sake or highball (Japanese drink of whisky and soda water) and order small inexpensive plates of food.
Point and hope! This became our favourite method of dining in Tokyo. In one unassuming bar we impulsively went to, Sebastien pointed to this item at random, which turned out to be a delicious plate of tempura:
Ramen bars: ramen is a seriously delicious and highly contagious meat or vegetable based broth with noodles and a variety of toppings. You can get a bowl from one of the many inexpensive ramen bars across the city, from as little as 800 yen ($8). For the best ramen bar, ask a local to point you in the direction of their favourite and check out Ramen Adventures for a deeper insight of the Tokyo world of ramen.
Kaiseki Japanese fine dining: involves many small plates of delicious Japanese prizes presented like works of art. We tried the Kaiseki at the Shangri-La's Nadaman restaurant, an incredibly romantic setting, dim lights, with jaw dropping views of the city. One of the dishes at the Nadaman includes the very famous and incredibly scrumptious wagyu beef.
Gay travel agents
If you're looking for a gay-friendly tavel company to organise your trip to Tokyo and the rest of Japan, we've partnered with Out Asia Travels, an excellent gay owned travel agency, who offer tailored tours and itineraries.
These guys are locals, passionate travellers and have a real insight of Japanese culture and the gay scene accross the country. They are offering our readers an exclusive 5% discount for bookings of 7 days or more when you quote NOMADIC5 in your enquiry.
Before you go
We've put together some handy hints and tips to help you plan your own trip to Tokyo. Read on to find out everything the gay traveller should know before they go.
---
---
---
---
---
---
---
---
---
---
---
---
---
---
Tokyo gay map
This is a detailed map of Tokyo which includes gay friendly hotels, gay bars and clubs as well as the best things to do in Tokyo:
---
Happy travels are safe travels
Some of the links in this post are affiliate links. This means that if you book your accommodation, an activity or your insurance, we'll earn a small commission. There is never an extra cost to you for using these links and it helps us keep the site going.