Tokyo ranks as one of our legit favourite destinations ever! It's clean, extremely safe, the people just impeccable, foodgasms galore and a fantastic gay scene with over 300 gay bars in Shinjuku's Ni-Chōme district!
Put it this way, Tokyo is so fabulous, even the gorgeous Queer Eye Fab Five team made it over here and filmed a few episodes exploring the queer culture of Japan.
We've visited Tokyo several times over the past few years and experienced the best Tokyo's gay scene has to offer. We've put together our LGBTQ travel guide to Tokyo based on our first-hand experience to help you have a fabulous holiday there.
How safe is Tokyo for gay travellers?
Short answer, extremely safe! Whether you're straight or gay, Japan is one of the safest places on the planet: crime is low, people are extremely respectful, particularly towards foreigners visiting. At no stage did we ever feel unsafe in Tokyo.
As a gay couple travelling in Tokyo, we repeat, we felt just as safe. Whilst Japanese society is very conservative towards LGBTQ rights, they are extremely respectful towards foreigners and Japanese people will do their absolute best to make you feel welcome. Getting a double bed was never an issue in any of the places we stayed in Tokyo, whether a local guesthouse or a hotel.
In our humble opinion, we rate Japan as one of the most gay friendly countries in Asia. Japan is one of the few countries in Asia which has truly started to accept and protect its LGBTQ community to the point where it's opened the door to gay civil unions, particularly in some of the District Courts of Tokyo.
One thing we guarantee, Tokyo is one fascinating destination you will fall in love with and will want to return to again and again. We certainly did!
For more inspiration about gay travel in Tokyo including tips on the best neighbourhoods to stay, things to do and more about the gay scene, be sure to listen to the Japan gay travel podcast I did with Out Adventures:
The gay neighborhood of Tokyo
The gay area of Tokyo is mainly congregated in Shinjuku's Ni-chōme (Area 2) where all the action happens. Shinjuku is a major transport, located in Central Tokyo, towards the west of the famous Imperial Palace. The station itself is like a mini-city, with over 200 exits, serving over 3 million people daily, making it the world's busiest station.
Shinjuku is so big that it's directly connected to 5 other nearby stations, so definitely plan ahead where you're heading exactly before coming here, otherwise you'll get completely lost. We advise downloading the Tokyo subway map on your smartphone or view it here.
Ni-Chōme is a small area in Shinjuku, forming the hub of the gay scene. Our local Japanese friends nickname it "Nicho". The 2 closest metro stations to Nicho Tokyo gay scene are:
Shinjuku-Sanchome: served by 3 lines: the Marunouchi, Fukutoshin and Toei Shinjuku lines
Shinjuku-Gyoenmae: served by the Marunouchi Line only.
Gay hotels in Tokyo
Over the years, we've visited Tokyo several times together and stayed in quite a few places. These are our favourite gay friendly options both in Shinjuku and around below. For a more in-depth guide, be sure to check out our 10 best gay hotels in Tokyo.
01
The Capitol Hotel Tokyu
The Capitol has three different on-site restaurants serving delicious food, as well as a club lounge for drinks with a view. In the basement of the hotel, you can access three different metro lines, which makes getting around the city a breeze.
We loved the well equipped gym for keeping fit and a hot tub to relax in after. Another highlight is the traditional, and delicious, Japanese style breakfast served every morning.
02
The Park Hyatt
The rooms at the Park Hyatt are very spacious and feature Hokkaido wood panelling plus Egyptian cotton sheets. If you can drag yourself out from your room (we couldn't) there's an indoor pool (which also has incredible views) and a spa with lots of pampering services available.
Foodies will love the Park Hyatt as it has three different restaurants; the New York Grill, Kozue (serving Japanese cuisine) and Girandole. There's also two different bars, a lounge, patisserie AND a delicatessan!
03
The Hyatt Regency
The pool, jacuzzi and gym are located high up so you can work out with a beautiful view. We particularly loved the penthouse wellness sanctuary where you can swim under a skylight roof.
There are no fewer than seven restaurants in the hotel, including authentic French cuisine at Cuisine Michel Troisgros, sushi at Miyako and traditional Chinese dishes at Jade Garden.
04
Imano Hostel
There are mixed and single-gender dorms available, as well as family rooms or traditional Japanese-style rooms. The communal relaxation areas are great here, indeed the whole place has a very fun vibe and regular social activities are organised by the friendly staff. The on-site cafe and bar is also a great place to chill out, socialise or have a snack.
Gay bars in Tokyo
Shinjuku's Ni-Chōme is famous for having the world's highest concentration of gay bars with over 300 crammed together into unremarkable blocks. If this is your first time in Tokyo, we highly recommend you join this tour with a local gay guide, who will show you the best gay hangouts in one evening. We've listed below our favourite gay bars in Tokyo.
One of the most popular gay bars of Tokyo, attracting an after-work crowd and people coming for pre-drinks before heading to sister club Annex next door (if you get your hand stamped here then you can also go to Annex for no extra cost). It attracts a fun crowd which is an even mix of foreigners and locals. There's a dance floor and the place gets packed on the weekends. With all the smoke and sweaty bodies this is also a good spot to hook up! Arty Farty is open everyday till 1am and is located at No.33 Kyutei Bld. 2F, Shinjuku-ku.
An uber-cool, colourful and welcoming bar, run by celebrity cross-dresser called "Bourbonne". The staff are all dolled up in drag, which adds to the fun atmosphere. It also has really funny shows taking place throughout the evening. Campy! is welcoming to all people, no matter their gender or who they're attracted to, so you can bring your straight friends along as well. It's the ideal spot to start your night, have a few drinks and laughs then continue to explore Tokyo's gay scene. Campy! is open every day till midnight and is located at 2-13-10 Shinjuku, Shinjuku-ku.
AiiRO is a popular gay bar for drinks any day of the week that's open till late. It is easily identifiable by the large "Torri" (Japanese Shrine) outside and the patrons that spill out onto the street because it gets so full! Look out for their 1,000 yen ($9) Beer Blast all-you-can-drink happy 'hour', daily between 6-9pm. They have drag queens and GoGo boy performers on the weekends, plus everyone you meet is just so friendly, whether it's the staff or other visitors. AiiRO is open every day until 2am and on weekends until 5am. It's located at 2-18-1 Shinjuku 7th Tenka Building 1F, Shinjuku.
The same guys from AiiRO Cafe are also behind this spot, which is more of a gay restaurant/cafe/bar mix but still totally fun! There's a DJ booth so you can listen to some tunes, perhaps while fortifying yourself for a big night of partying with some delicious green curry, tom yung goong, fried chicken or waffles. There are also plenty of yummy alcoholic drinks available, so this is a wonderful way to begin your evening in a truly inclusive open-air cafe. Alamas is open every day from 6pm 'til 2am (or 5am on weekends) and is located at 2-12-1 Shinjuku Garnet Building 1F.
A free atmosphere, cute trans guys, free karaoke, free popcorn…what's not to love? FTM Bois is an excellent event for the transexual community run by FTM cutie – Mizuki. The small cover charge also covers the cost of your first two drinks, at this fun event which takes place in the LGBTQ bar Gold Finger. Gold Finger also hosts women-only nights (Saturdays) and is open for all LGBT community members the rest of the time. FTM Bois is held on Mondays and every third Sunday of the month, from 6pm until 2am at 2-12-11 Shinjuku Hayashi Building 1F, Shinjuku.
Usagi Bar
Usagi is an example of one of the many tiny gay bars of Tokyo. From the outside, it looks like you're visiting your friend's apartment. You open the door and enter into a warm, friendly atmosphere, which is a gay bar, complete with karaoke! It is centered around the super charismatic barman, Mr. Take-san, who is also the owner. His hilarious nickname in Japanese gay slang is mama-san! It's a very local crowd here, where everyone knows everyone. They sometimes bring home-cooked food to share around! Usagi Bar is open daily until around midnight and is located on the 4th floor at Shinjuku 2-10-2, Ebana Bldg 4F.
Gay clubs in Tokyo
We've set out below the main gay clubs in Tokyo we enjoyed the most, located in Shinjuku. For more up to date information about the latest gay parties taking place in Tokyo including Circuit-like events, we recommend checking the listings on DailyXtraTravel. You can also join this tour with a local gay guide, who will show you the best gay hangouts in Ni Chome.
This club is an institution on the Tokyo gay scene and one of the best for drag shows. It's one of the oldest, standing proud since 1966 when it was a "gay disco" bar. True to its roots, it's retained this feel and is one of the best clubs for a gay night out. It was Freddy Mercury's favourite gay club in Tokyo – each time he'd come here, he would famously proclaim (in Japanese): "I'm home!" This is also where the Queer Eye boys filmed one of their Japan episodes so you know it's where all the Antoni Porowski fans (ahem!) are gonna want to top up their Insta Stories! New Sazae is only open on Friday and Saturday evenings from around 10pm until 7am the next morning, and is located at 2F, 2-18-5 Shinjuku.
One of the most popular gay clubs in Tokyo, owned by the same guys behind Arty Farty. It attracts a young crowd in their 20s and 30s. If you get stamped in Arty Farty, you can get in here free without paying entry twice. Look out for their Circuit after-parties on weekends which go till 11 am the next day. The Annex is open Monday to Saturday until around 4/5 am and is located at 1F Futami Bldg, 2-14-11 Shinjuku-ku.
Dragon Men
Dragon Men is one of the most famous gay clubs in Tokyo. It draws a mixed crowd of ex-pats, foreigners, and locals, basically anyone who is looking to have a few cocktails and get down on the dance floor. The very scantily clad (and cute) staff definitely add to the popularity of this place! There's a happy 'hour' of 200 yen off all drinks from Monday to Thursday 6-8 pm. Dragon Men is open every day until 3 am (on weekends until 5 am) and is located at 1/F Stork Nagasaki 2-11-4 Shinjuku Ni-Chome.
It might be called a lounge but in actuality, this is the biggest gay club in Nichome, spread out over two floors with two different dance areas and even a dark room. It's run by the same people behind AiRRO Cafe Bar, and they host lots of dance parties including events that are men-only or women-only. The staff is super friendly, the cocktails are amazing and if you're looking to cruise or just get down on the dance floor to some house music, this is the spot for you! AiSOTOPE is open every day, there's always some type of event happening so check the schedule for more info. It's located at 2-12-6 Shinjuku-ku.
Gay events in Tokyo
The two main annual gay events in Tokyo are the city's Rainbow Pride in April and the Rainbow Reel film festival in July. We've also included other annual events and festivals that we think LGBTQ travelers would be interested in set out chronologically:
Tokyo's Pride event takes place in late April with a week-long event called Rainbow Week. The climax is the large parade on the weekend, which culminates at Yoyogi Park with lots of booths and performances. There are also plenty of parties and events taking place throughout the week, so you'll have lots of ways to celebrate.
The Rainbow Reel is the city's official LGBTQ film festival, which started in 1992. It's actually one of the oldest and largest film festivals of its kind held in Asia. Rainbow Reel Tokyo doesn't just show films about lesbian and gay people, but also films about people with different LGBTQ minorities such as transgender, intersexual, and bisexual people. It takes place every July, with a week-long program featuring LGBTQ films from around the world.
VITA is a dance club/nightclub that organizes fun gay dance parties throughout the year, although the most famous and popular is their "Year-End Party" in December. The parties are epic, with international DJs, dancers, and shows. During the year they also occasionally have pool parties! If you like circuit/house-style music you will definitely want to experience a VITA event.
Gay onsen in Tokyo
Onsens are the traditional Japanese bathhouses, where men and women are separated and nudity is kind of obligatory. There are several different baths to bathe in, of varying temperatures. Aside from the traditional onsen, there are also a few gay onsens to check out, mainly owned by the 24 Kaikan brand:
24 Kaikan Shinjuku
This is part of the gay onsen chain called 24 Kaikan, targeted more to cruising than traditional onsen. Spread out over 8 different floors there's a dry sauna, steam room, jacuzzi, solarium, video room, private cabins, snack room and lockers. It's also one of the most popular cruising spots for gay men in Tokyo, so if you're looking for a hook-up, this is the right place! This branch of 24 Kaikan usually attracts a mixed crowd of internationals and Japanese, on the young to middle-age range. Located at 2-13-1 Shinjuku Ni-chome, 24 Kaikan Shinjuku is open 24/7.
24 Kaikan Ueno
Another Kaikan gay onsen located in the Ueno neighbourhood, this one is slightly smaller than the Shinjuku location, but just as fun! There's a dry sauna, mist room, steam room, communal baths, solarium, video room, private cabins and a common play area. This branch tends to attract more middle-aged men/bears and those that love them! It's located at 1 Chome 8-7, Kita, Ueno and is also open 24/7.
24 Kaikan Asakusa
The original 24 Kaikan gay onsen, which may seem slightly shabby compared to the newer branches, but is still an interesting experience. The clientele is usually older, frequently tattooed and sometimes a bit kinky. Patrons are mostly uncles, mature men and their fans. It's located at 2 Chome 29-16 Asakusa and, of course, open 24/7.
JIN-YA
While the 24 Kaikan kind of dominate the gay onsen scene in Tokyo, there's also JIN-YA, a compact gay sauna that's arguably the most foreigner-friendly in the city. Facilities include a dry sauna, communal baths, play areas, a video room and even a rooftop nude sunbathing terrace. It's open 24/7 and can be found at 2 Chome-30-19 Ikebukuro.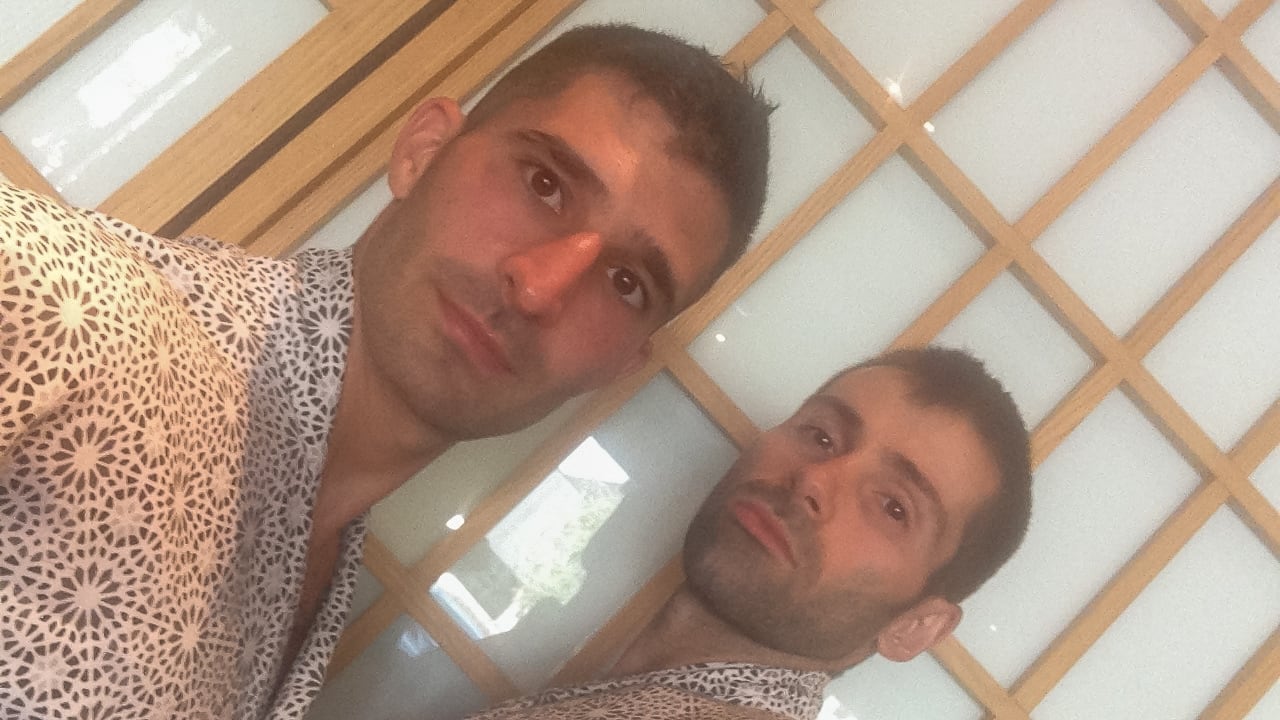 What to do in Tokyo?
We'll be honest, for us it's all about the food. We could just spend a lifetime eating our way around the streets of Tokyo! Beyond the food, Tokyo has so many different things to see and experiences to try out. But for us, dressing up as geisha will forever be our #1 favourite memory from our trip in Tokyo. This is our list of some of the best things to do in Tokyo to inspire your travel planning:
Transform into a geisha
---
Discover Tokyo's gay nightlife
---
Sample some delicious Japanese food!
---
Visit an Onsen
---
Learn to cook Japanese Food
---
See the Shibuya Crossing
---
Takeshita Street in Harajuku
---
Quirky Tokyo
---
Learn about Tokyo's history and culture
---
Tokyo's Coolest Museum
Where to eat in Tokyo?
Tokyo is a paradise for foodies with lots to keep your tummy inspired and content. Below are our favourite eating experiences we recommend to gay travellers:
Sushi mania at Toyosu fish market
Tokyo is THE place to come for the best sushi, specifically at the restaurants around Toyosu – the world's largest fish market. The market caters to the nearby restaurants, so they inevitably serve up the most delicious, fresh sushi you'll ever try.
Izakayas
THey're gastropubs, after work bars, popular with salary men, where you come to drink sake or highball (Japanese drink of whisky and soda water) and order small inexpensive plates of food.
Point and hope!
This became our favourite method of dining in Tokyo. In one unassuming bar we impulsively went to, Sebastien pointed to this item at random, which turned out to be a delicious plate of tempura:
Ramen bars
Ramen is a seriously delicious and highly contagious meat or vegetable-based broth with noodles and a variety of toppings. You can get a bowl from one of the many inexpensive ramen bars across the city, for as little as 800 yen ($8). For the best ramen bar, ask a local to point you in the direction of their favorite.
Kaiseki Japanese fine dining
Kaiseiki involves many small plates of delicious Japanese prizes presented like works of art. We tried the Kaiseki at the Shangri-La's Nadaman restaurant, an incredibly romantic setting, dim lights, with jaw-dropping views of the city. One of the dishes at the Nadaman includes the very famous and incredibly scrumptious wagyu beef.
Gay travel agents in Japan
If you're looking for a gay-friendly travel company to organise your trip to Tokyo and the rest of Japan, we've partnered with Out Asia Travels, an excellent gay-owned travel agency, who offer tailored tours and itineraries.
These guys are locals, passionate travellers and have a real insight of Japanese culture and the gay scene across the country. They are offering our readers an exclusive 5% discount for bookings of 7 days or more when you quote NOMADIC5 in your enquiry.
Before you go
We've put together some handy hints and tips to help you plan your own trip to Tokyo. Read on to find out everything the gay traveller should know before they go.
---
---
---
---
---
---
---
---
---
---
---
---
---
Tokyo gay map
This is a detailed map of Gay Tokyo which includes our favourite gay friendly hotels, gay bars and clubs as well as the best things to do in Tokyo:
---