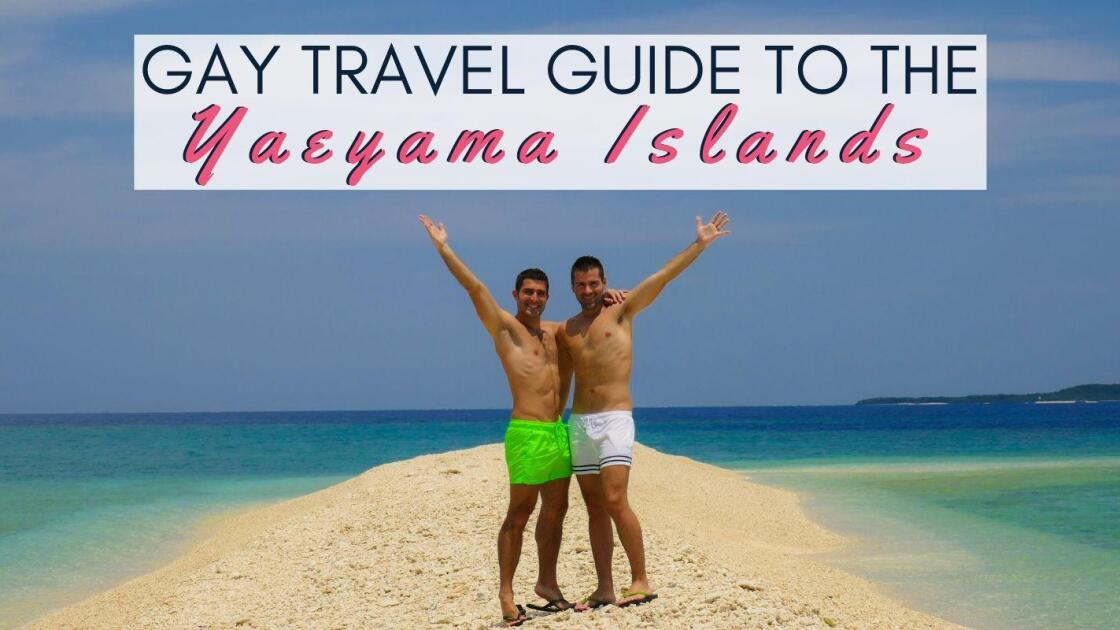 The Yaeyama islands make up the southernmost inhabited archipelago of Japan, some 2,000 kilometres (1,242 miles) from Tokyo. This group of untouched islands offer a total change of scenery in a subtropical climate.
We first heard about it amongst the diving community, who raved about the stunning coral reefs around the Yaeyama Islands, which put it straight to the top of our bucket list.
We loved our holiday to the Yaeyama Islands and can certainly attest to the world-class diving here. However, don't come here expecting a gay scene, as there is none! We recommend staying in Tokyo for that or even heading to Taiwan, which is not that far away. The Yaeyama Islands is a destination for gay travellers in Japan to come to unwind, whilst also experiencing the natural beauty of the Japanese jungle, unspoiled beaches and pristine reefs.
Following our trip, this is our gay travel guide to the Yaeyama islands featuring the best things to do and gay friendly hotels to stay that we tried out and felt welcome at as a gay couple.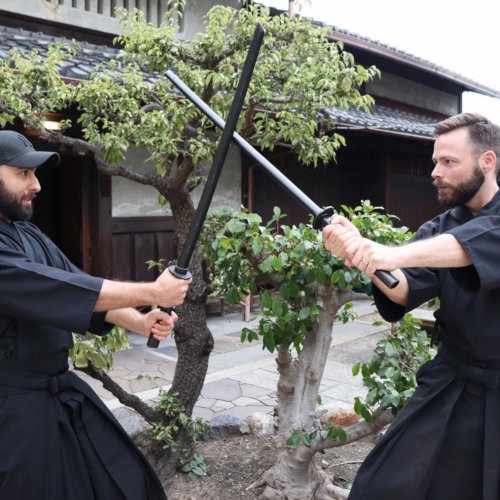 Experience Japan on a gay tour
Psst! Want in on a secret? Our friends at Out Adventures recently launched a super kawaii tour of Japan. On this all-gay foray, travellers will ride the Shinkansen bullet train between Osaka, Kyoto and Tokyo. Highlights include a street food tour, samurai experience, a night in an authentic onsen, and an evening in Tokyo's gay district, Shinjuku Ni-chōme.
Where are the Yaeyama Islands?
The Yaeyama Islands are located in the southernmost inhabited archipelago of Japan. They are around 2,000 kilometres (1,242 miles) south of Tokyo, forming part of the Okinawa Prefecture.
This is the most remote part of Japan, offering a total change of scenery from the mainland in a subtropical climate.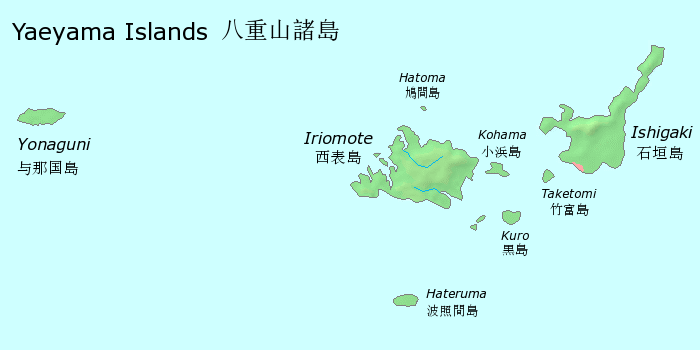 Which island should you stay at?
In order to maximise your time in the Yaeyama islands, we advise spreading your stay between Ishigaki island for the first few days, then Iriomote for the remaining period so you can explore the surrounding rainforest. Taketomi, most visit as part of a day trip, but depending on how long you plan to stay in the Yaeyama islands, you can also stay here overnight.
Ishigaki is the most populated island of the archipelago and the transport hub, with daily flights to/from Kyoto and Tokyo airports.
Iriomote is one of the largest islands, but least populated, with only 2,000 inhabitants. With 90% covered in dense jungle and mangrove swamps, Iriomote is an adventure sanctuary.
Taketomi is one of the smaller islands, just 1km long, with stunning white sandy beaches and at its centre, a village which has maintained its traditional charm from the Ryukyu kingdom.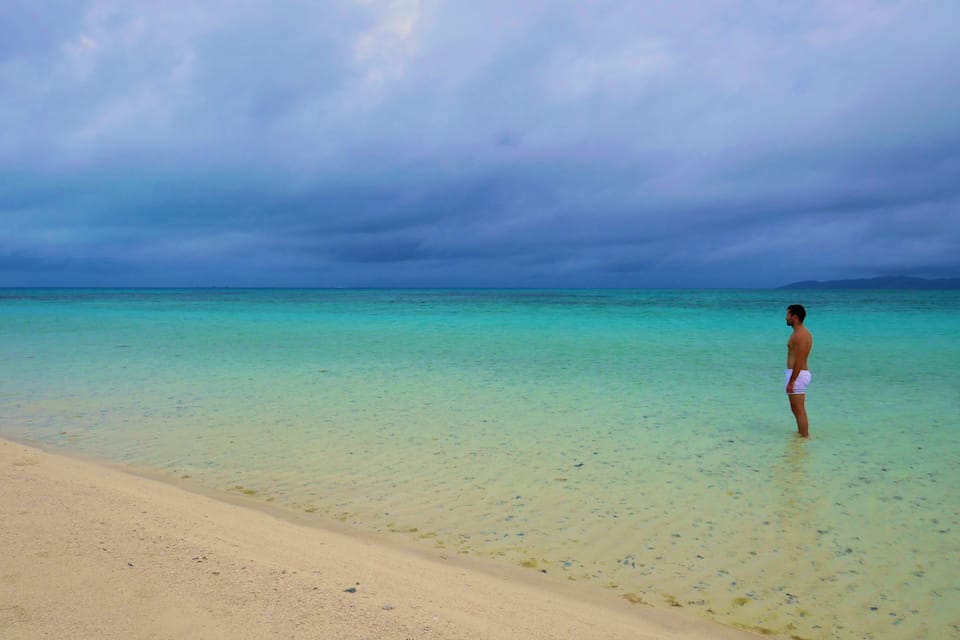 Gay friendly hotels in the Yaeyama islands
Ishigaki is the main island most tourists base themselves on because it is the most developed and the main transport hub into and out of the Yaeyama islands. As a result, it is more crowded but will have a greater variety of cultural activities, like the Yaima Cultural Village and of course more dining options.
Iriomote, on the other hand, is more remote, peaceful, with fewer tourists. Most come here as a day trip from Ishigaki and leave.
Where you choose to base yourself comes down to whether you prefer being close to all the action or away from it all, closer to nature. We chose to split our time between the 2 to get the most out of each island.
DON'T MISS OUT!
Receive our latest gay travel guides…
Get in-depth FREE gay travel guides, along with inspiring stories, savvy planning tips, and exclusive discounts on gay tours. No spam. Never. Not ever. Just fun and interesting blog posts delivered straight to your inbox.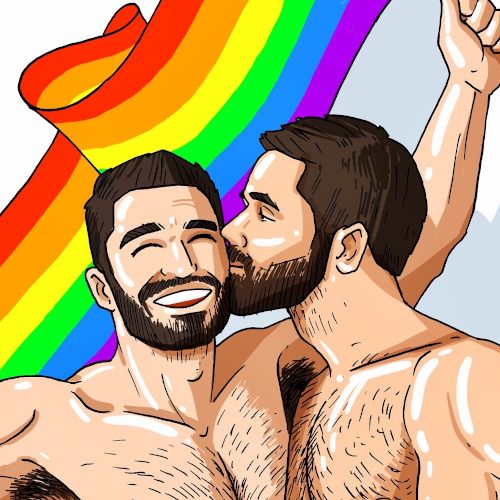 Gay friendly hotels in Ishigaki:
ANA Intercontinental Ishigaki Resort: popular with gay honeymooners. We love that it's minutes walking distance to Maezato beach. ANA has a heated pool, public bath, fitness centre and spa for that all-important holiday massage splurge. Note that if you are an IHG loyalty member, you get 20% off all food and drink. Rooms start from 24,000 yen ($230) a night.
Ishigaki Seaside Hotel: a more affordable gay friendly hotel, close to Kabira Bay and with beach access. The bungalows have Jacuzzis on their private terrace, making it super romantic for couples and an all-round winner for us! The rooms in the main building all have sea-facing views – this is a massive highlight because they are West facing, so expect some stunning #sunsetporn. Our main highlights however from the Ishigaki Seaside Hotel were the tres chic matching pyjamas they offer all guests. Rooms start from 21,000 yen ($200) a night.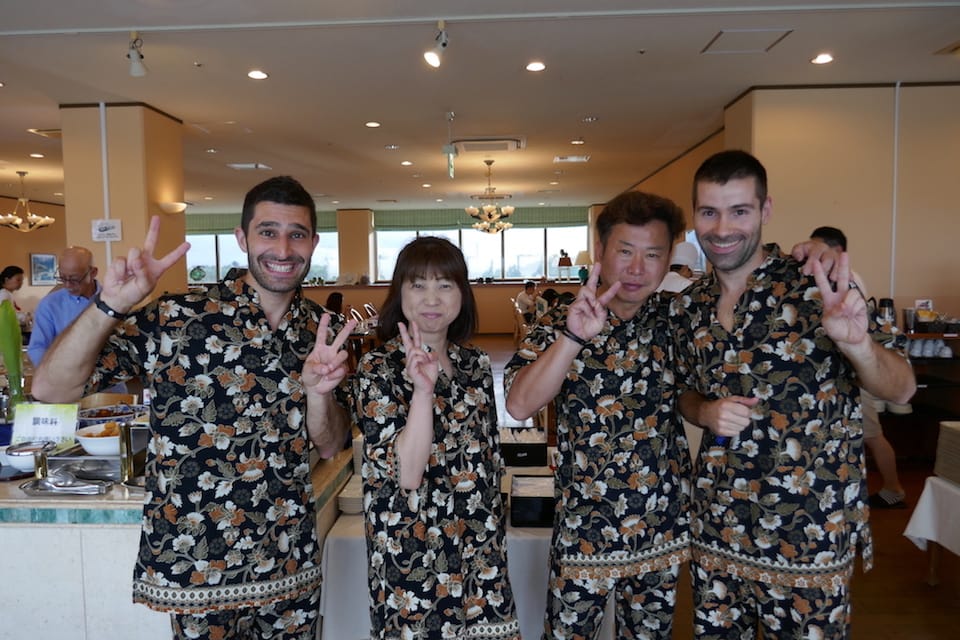 Gay friendly hotels in Iriomote:
Jungle Hotel Painu Maya: another hidden gem in the middle of the jungle. It's remote, so don't come expecting the fastest Wi-Fi, ATMs or variety of dining options. Just 1 place to eat…all part of the joy of being remote and away from everything. It's close to the beach and also has its own indoor and outdoor onsen. Rooms start from 17,750 ($170) a night.
Hoshino Resorts Iriomote Hotel: has a pristine, rubbish free beach where they do morning yoga classes. This is where celebrities are more likely to stay if visiting the island; we did spot a film crew during our stay here. Great beach to hang out at after a day of jungle trekking. Rooms start from 16,750 yen ($160) a night.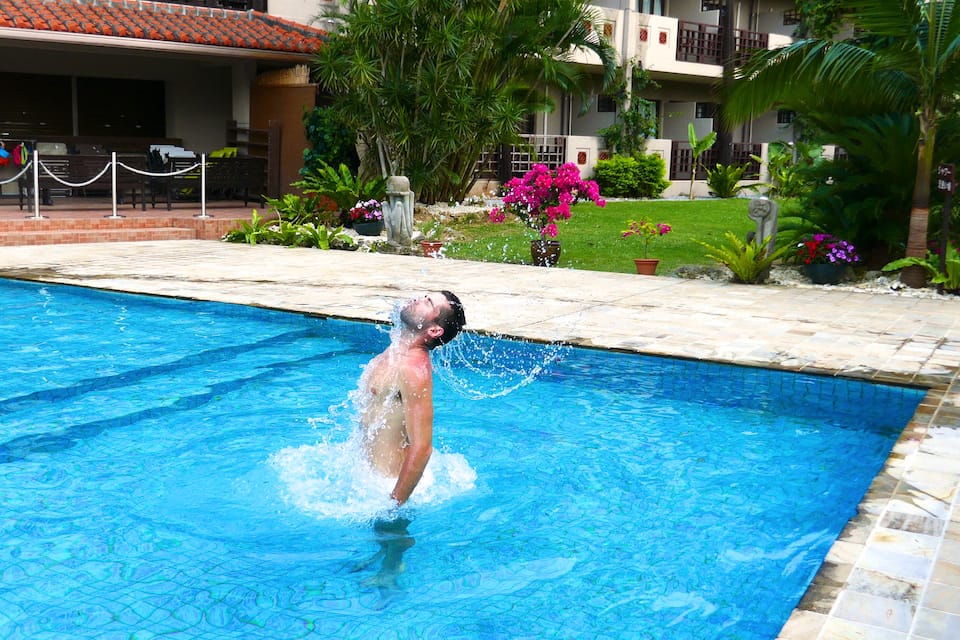 Things to do in the Yaeyama Islands
1) Diving and snorkelling
The scuba diving in the Yaeyama islands is the best in the whole country and after our outstanding diving experience in the Komodo National Park, we were keen to get back into the underwater world.
We recommend Prime Scuba Ishigaki Diving who have an established diving shop on Ishigaki island and speak English.
DON'T MISS OUT!
Receive our latest blog posts…
Get in-depth FREE gay travel guides, along with inspiring stories, savvy planning tips, and exclusive discounts on gay tours. No spam. Never. Not ever. Just fun and interesting blog posts delivered straight to your inbox.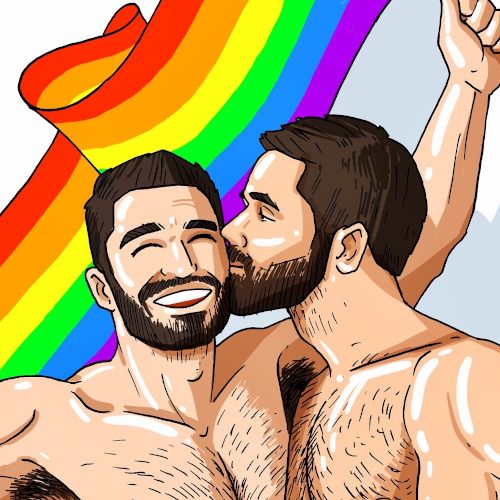 Some highlights from snorkelling and scuba diving in the Yaeyama islands include:
Manta Rays Scramble: this is a cleaning station near Kabira Beach on Ishigaki. You're almost guaranteed to spot Manta Rays from Spring to Autumn, particularly June to September.
Baras Island: the coral around Baras island is ideal for diving and snorkelling. It's worth spending at least a day just to explore the tropical world here. You can go on a day trip from either Ishigaki or Iriomote.
Yonaguni Monument: this is a submerged rock formation, off the coast of Yonaguni island and considered Japan's underwater "Pyramid". Since its discovery in the 1980s, it's caused so much controversy because experts can't determine if it's natural or man-made. The most popular rumours is that it could be the remains of an underwater city called Mu, dating back at least 5,000 years.
Hammerhead sharks: Yonaguni also attracts its share of Hammerhead sharks, which can be spotted throughout the year, particularly between December to February.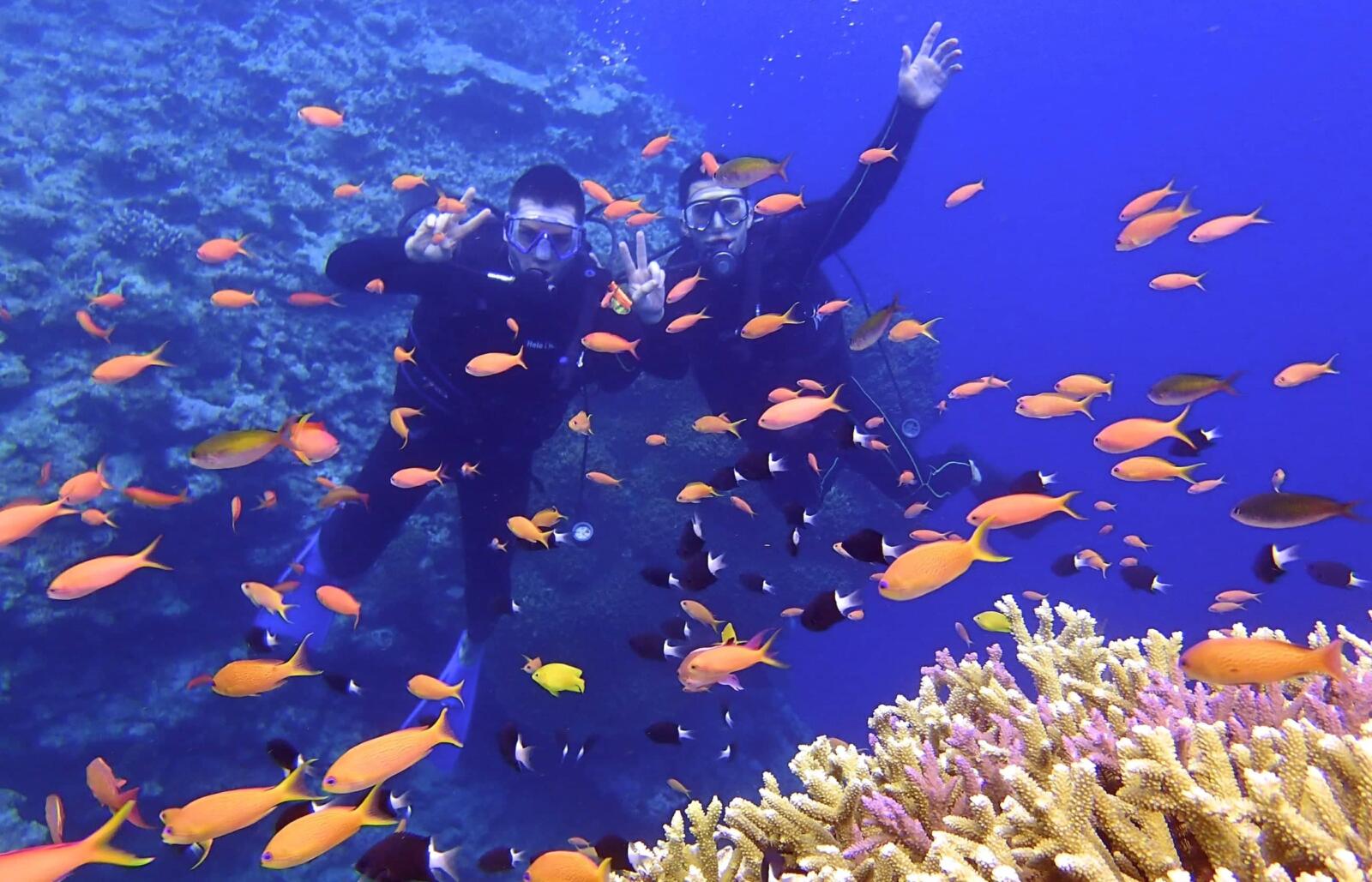 2) Exploring Ishigaki island
Try awamori: the unique type of sake (Japanese rice wine) from Okinawa. Unlike traditional sake from mainland Japan, awamori is distilled not brewed. You can get it in most restaurants in the Yaeyama islands, served neat with ice and a glass of water to mix.
Kabira Bay: attracts thousands of tourists every year who come to marvel at the turquoise waters promised by the guide books and (ahem!) blog posts you read online. Come here to hear cries of sugoi (amazing!) or kirei (beautiful!) by Japanese tourists also enjoying the views across the bay.
Yaima Cultural Village: you can spend half a day here experiencing the local Ryukyu culture, with dances and performances showcasing the music. The Yaima Cultural Village also houses a group of cute and playful squirrel monkeys, which are completely safe to interact with. Fancy a bit of dress-up? Try on the beautiful and super colourful Ryukyu kimonos on display here.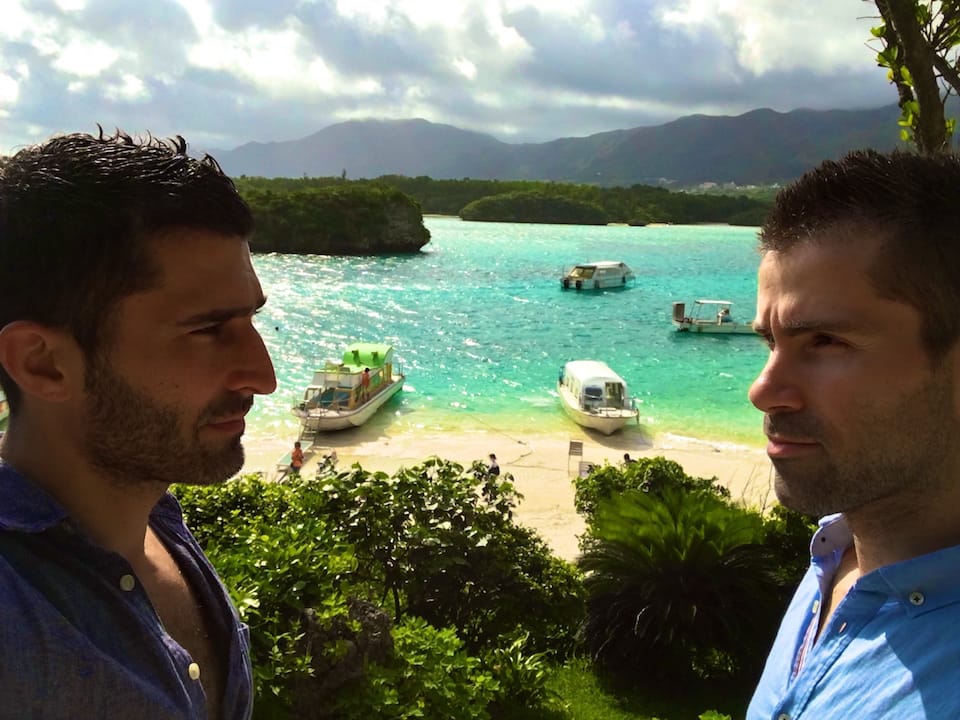 3) Taketomi island
Taketomi is a tiny inhabited island, just a few miles southwest of Ishigaki. There are frequent ferries from Ishigaki, which only take 10-15 minutes so perfect for a fun day trip. The village of Taketomi is crying out to be photographed, with traditional Ryukyu red-tiled one-story houses down the narrow lanes, each lined with white coral walls and the roofs decorated with traditional shiisaa good luck figurines.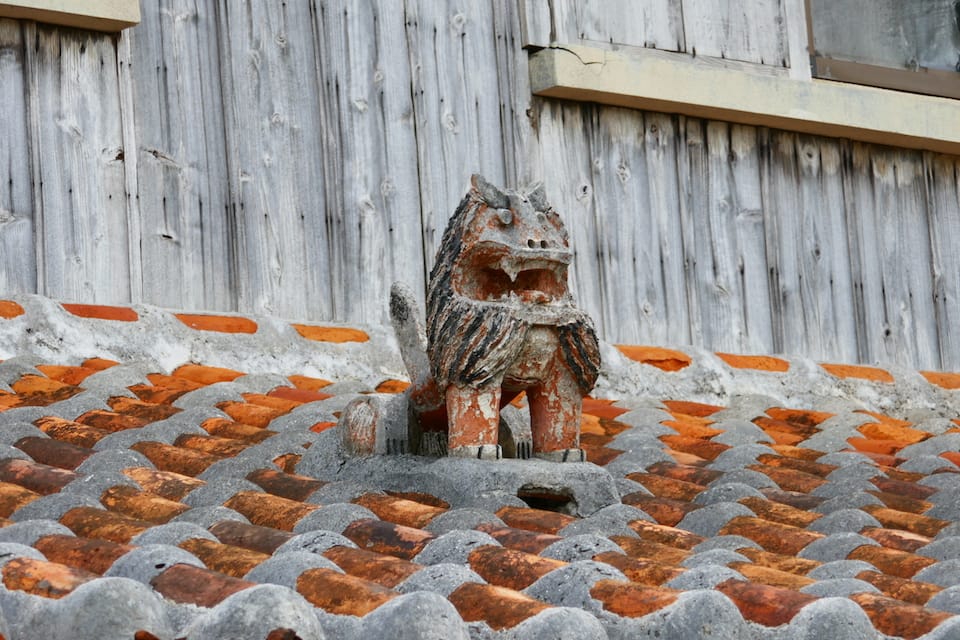 Cycling: Taketomi is small and flat, making it ideal for cycling. Bike rentals are widely available and it only takes a few hours to cycle around the entire island.
Beaches: Taketomi has some impressive beaches, in particular, Kaiji Beach, famous its tiny star-shaped sand. Also, check out Kondoi Beach which is much larger and ideal for lounging (and playing) in the sun.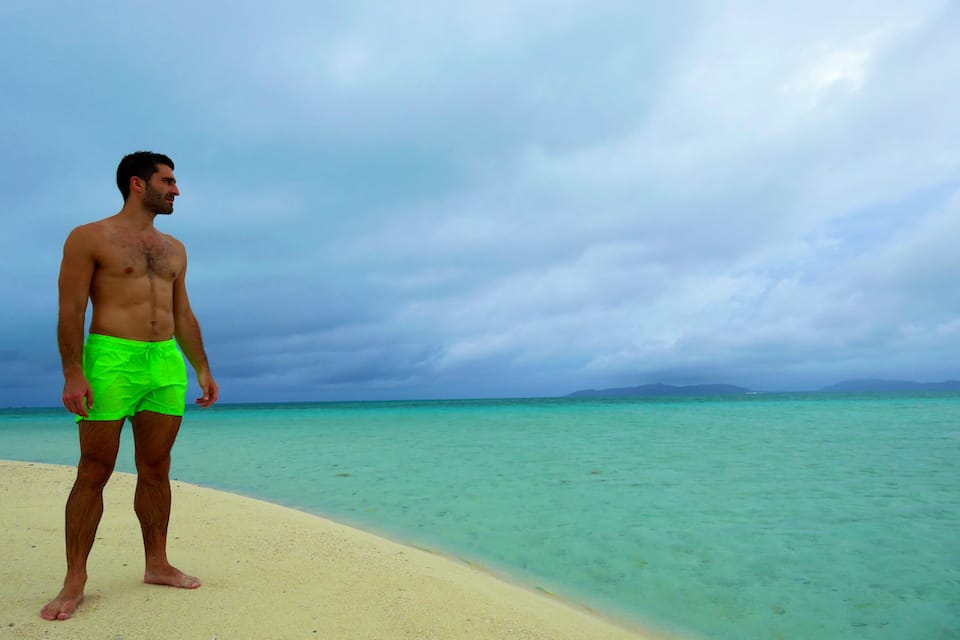 4) Things to do on Iriomote
Iriomote is Japan's jungle island and THE place to come for those seeking adventure. There's more nature than people spread across this large island as well as an abundance of wildlife ranging from wild boars to the elusive Iriomote cat.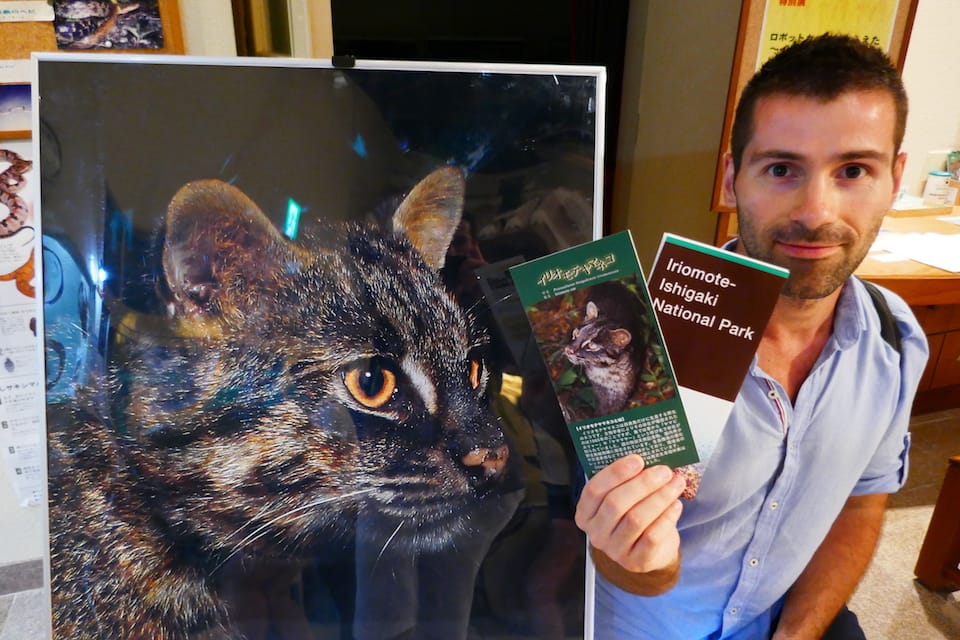 In order to get the most out of your time on Iriomote, we recommend doing a tour with a reputable company like Iriomote Kayak Tour Service who have friendly and attentive English speaking guides.
Some adventure highlights you need to include in your Iriomote itinerary include:
snorkelling and diving in the beautiful coral reef surrounding the island.
beach time in some of the many coves and inlets, each hiding a deserted beach.
kayaking in the tropical rivers, surrounded by mangroves.
jungle trekking through the thick, dense jungle.
cooling off at the base of a mighty waterfall with a picnic lunch and your lover to hand…
To read more about our experiences in the Yaeyama islands, read our article for Mr Hudson Explores.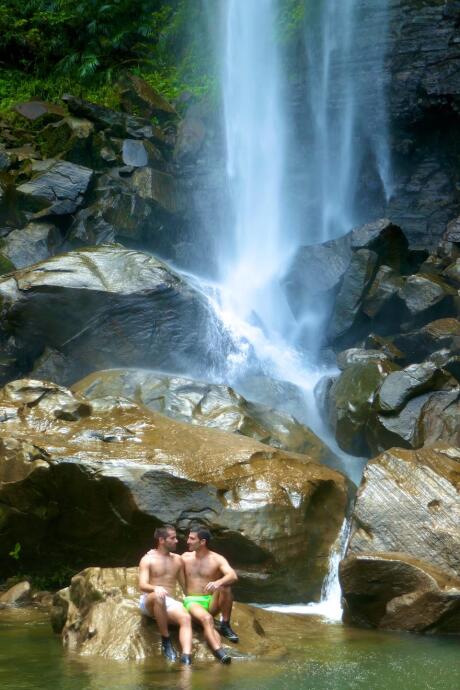 Getting around the Yaeyama islands
To get into the Yaeyama islands, there are daily direct flights to Ishigaki from both Kyoto and Tokyo airports.
To travel between islands, there are daily scheduled ferries to/from each island. Tickets can be bought on the day at the port terminal.
---
Happy travels are safe travels
We recommend you always take out travel insurance before your next vacation. What happens if you suffer from illness, injury, theft or a cancellation? With travel insurance, you can have peace of mind and not worry. We love World Nomads travel insurance and have been using it for years. Their comprehensive coverage is second to none and their online claims process is very user friendly.
DON'T MISS OUT!
Need More Gay Travel Inspiration?
Get in-depth gay travel guides, inspiring stories, savvy planning tips, and exclusive discounts on gay tours. No spam. Never. Not ever. Just fun and interesting blog posts delivered straight to your inbox.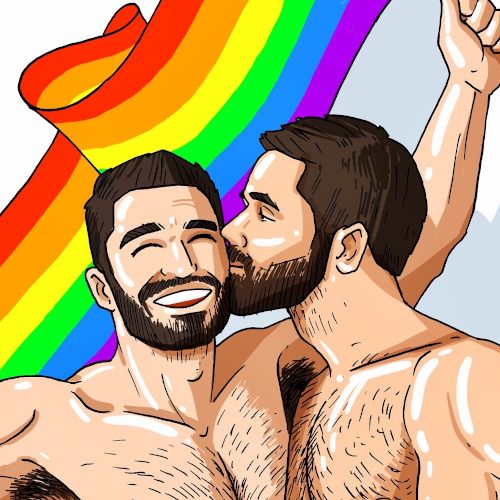 ---
Like this post? Pin it