The Komodo National Park just off the Flores island in Indonesia was some of the best scuba diving we've ever experienced. After learning to dive Koh Tao in Thailand, fun diving in Thoddoo island in the Maldives, Okinawa in Japan and in Palawan in the Philippines, we had very high expectations.
WARNING: you will be spoilt rotten diving here and everything afterwards will pale into comparison.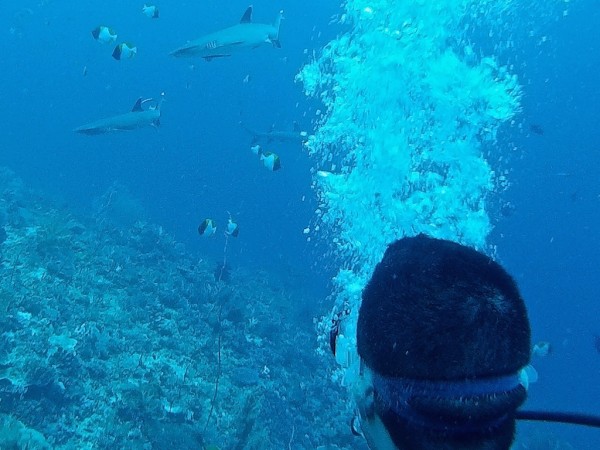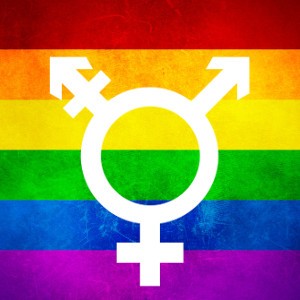 Advice for LGBTQ travellers to Indonesia
The Komodo National Park is part of Indonesia, a country not well known for being the most gay friendly. Whilst homosexuality is not illegal here, like gay Russia, homosexuality remains a huge taboo in society, which can get you into a lot of trouble. In addition, LGBTQ rights are constantly being curtailed on a daily basis in Indonesia by the Islamic influenced government, so gay travellers take extra care when travelling around the country!
Having said that, we found the Komodo National Park to be far more chilled than mainland Indonesia. It is touristic, with a large international crowd, which has brought with it more open-minded attitudes. Do take care though, and avoid public displays of affection to be on the safe side. For more, check out our gay guide to Labuan Bajo.
What's so good about diving in the Komodo National Park?
The waters surrounding the Komodo National Park form part of the Coral Triangle, which contains one of the richest marine biodiversity on earth: a paradise for divers.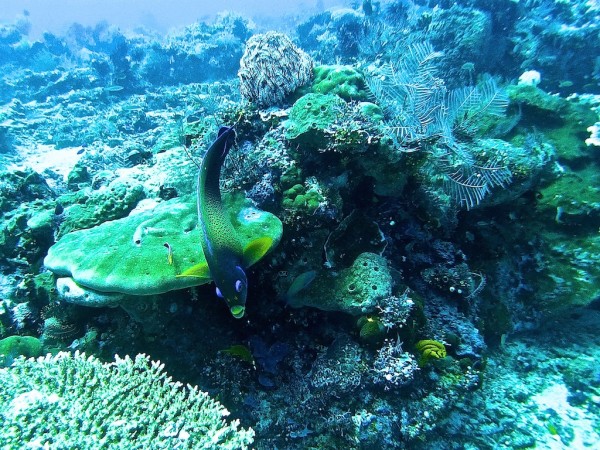 The Coral Triangle is the global centre of marine biodiversity, holding 75% of the world's coral species, 6 of the world's 7 marine turtle species and 3000 marine fish species.
The Komodo National Park is located at the Southern end of the Coral Triangle, forming part of the Lesser Sunda chain of Indonesian islands: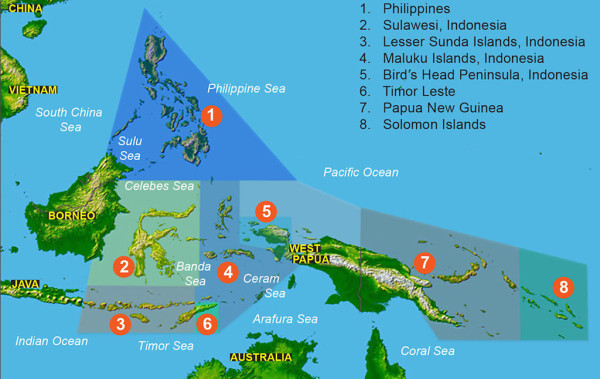 Labuan Bajo on Flores island is the main transport hub for the Komodo National Park. It has an airport with daily flights to other places in Indonesia like Bali. Labuan Bajo itself is a great base to stay, with some excellent diving schools. We based ourselves here and loved it. As a gay couple, we found it to be quite tolerant and open-minded, largely because it is touristic and international.

The Komodo National Park is also the meeting point of the Indian and Pacific Oceans. The Pacific Ocean towards the Northeast has a sea level of 150 millimetres above average, whilst the neighbouring Indian Ocean in the South is 150 millimetres below. This 30cm difference causes a tidal flow from the Pacific to the Indian Ocean, bringing with it nutrients and plankton to keep these waters rich and well-fed.
The result is a plethora of wildlife but with strong currents, making the diving more suitable (and fun) for advanced/experienced divers.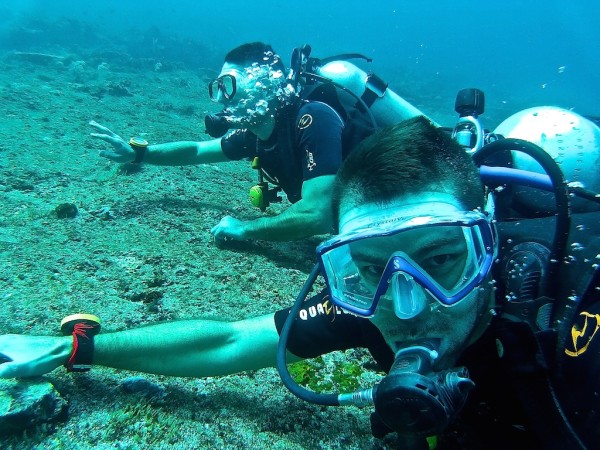 The dive sites in the Komodo National Park
The dive sites are typically affected by the seasons. The Northern dives sites around Castle Rock are rougher and not easy to dive between December to March, but the South diving sites are smoother during this time.
The Pacific waters keep the Northern dive sites warmer, with an average of 26 degrees celsius (79 Fahrenheit). The South is affected by the colder Indian ocean, with an average temperate of 24 degrees Celsius (75 Fahrenheit).
We visited in September and with 30 dives under our belt, we were experienced enough to tackle the more remote dive sites around Castle Rock.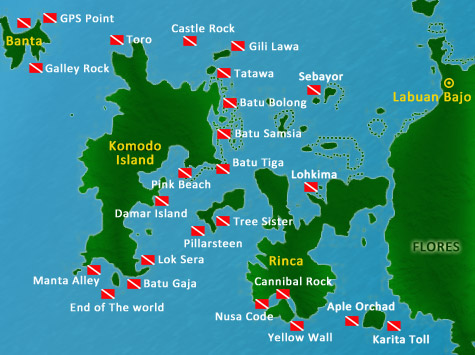 What you can expect to see diving in the Komodo National Park
After a few dives, you'll become so blasé about seeing another reef shark and another turtle. Not to mention schools of tropical fish everywhere, moray eels, giant trevallies and so much more.
Here's a few of our favourite friends and highlights whilst diving in the Komodo National Park: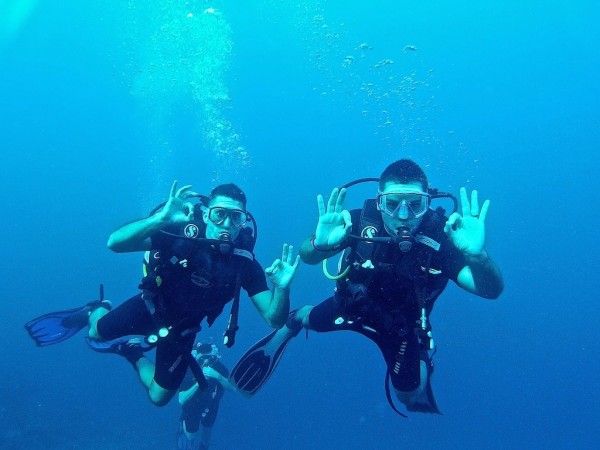 #1 Shakira the blacktip reef shark
We saw sharks in nearly every single dive in the Komodo National Park, mainly blacktip reef sharks and at one point a large grey reef.
At the Crystal Rock reef, Stefan found Shakira the white tip reef shark and they bonded. Shakira usually grows up to Stefan's height of 170cm (5ft 7), sometimes more.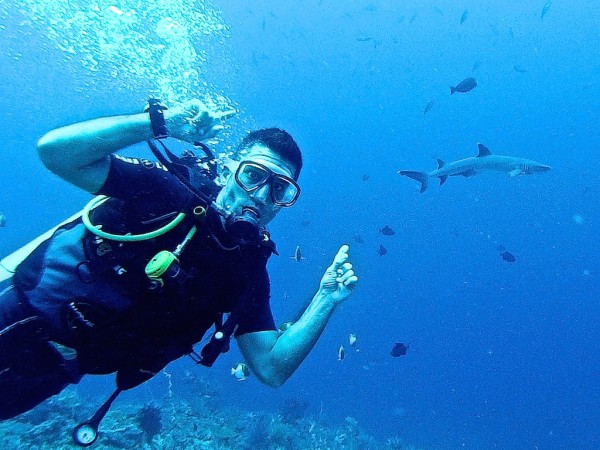 #2 Tatiana the Turtle
Tatiana the Turtle insisted on following us around the Komodo National Park during every dive. We just couldn't get rid of her! Well, who are we to complain?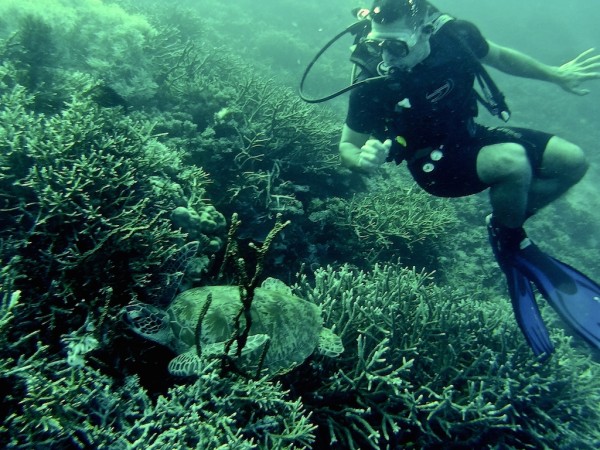 #3 Moray eels fighting
The moray eels we saw were not really ones you'd want to befriend too quickly. They were a mean pair and quite angry at something. In all our dives to date, we'd only seen moray eels popping their mouth out from the rocks. But during our dive at the Crystal Rock reef, we saw these 2 moray eels out in the open fighting.
We thought they were mating or courting with each other at first, but their behaviour was too aggressive (in a manner not too dissimilar to when Sebastien tries to steal Stefan's food…)
#4 Just existing within this tropical underwater paradise
At the end of the day, this is what it's all about, just "existing" alongside this incredible underwater heaven and watching it swim by around you…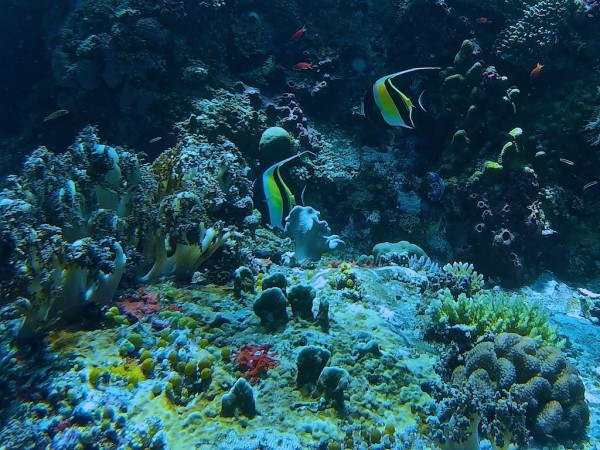 But let's be honest, spotting the occasional big fish does make it that little bit more exciting.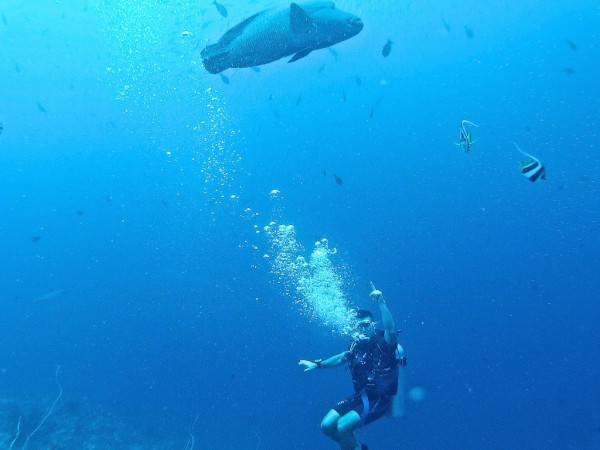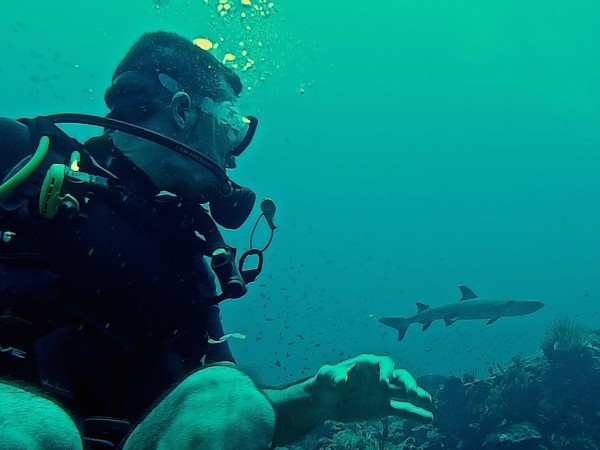 How to choose a good diving company in the Komodo National Park
We recommend searching on Tripadvisor reviews for the best companies and go around and speak to several of them. Doing this, we found Blue Marlin, who welcomed us s a gay couple.
When searching, check their equipment is all new, the Divemaster speaks good English and that they don't crowd their boats with people.
Also, a company with a speedboat is a plus because it means you will be able to reach the more remote dive sites quicker then them and have the site all to yourself.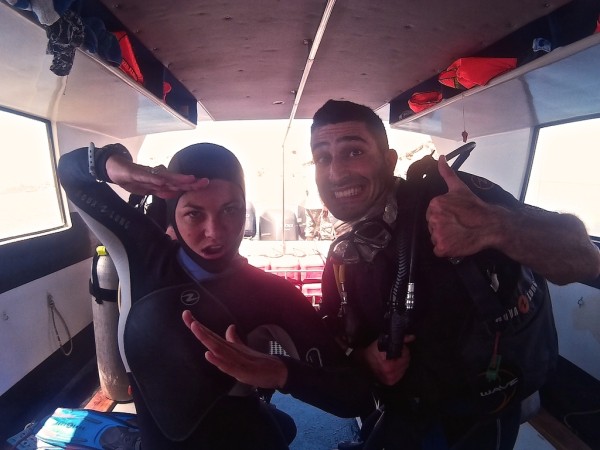 Diving in the Komodo National Park costing around $85-100 for 2 fun dives with an outrigger for, or more if going by speedboat.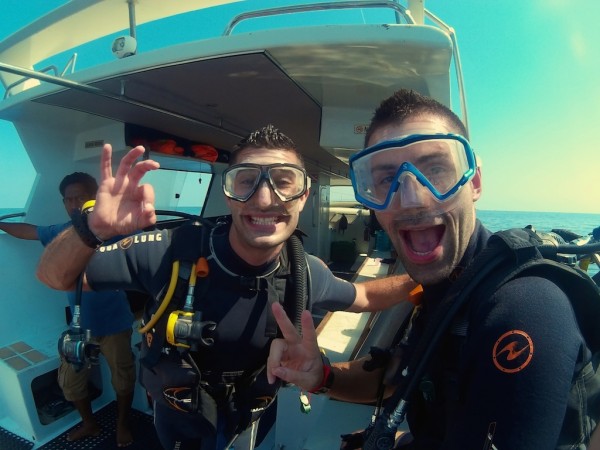 Gay friendly hotels to stay in Labuan Bajo
The diving schools will usually offer discounted accommodation if you choose one of their packages. Be sure you check them out – is the food ok, the rooms clean. We went for Blue Marlin, which although basic, had a stunning view from the balcony and were welcoming to us as a gay couple.
Another one we were recommended by other LGBTQ travellers but didn't try is Blue Parrot and the lush Plataran Komodo Resort.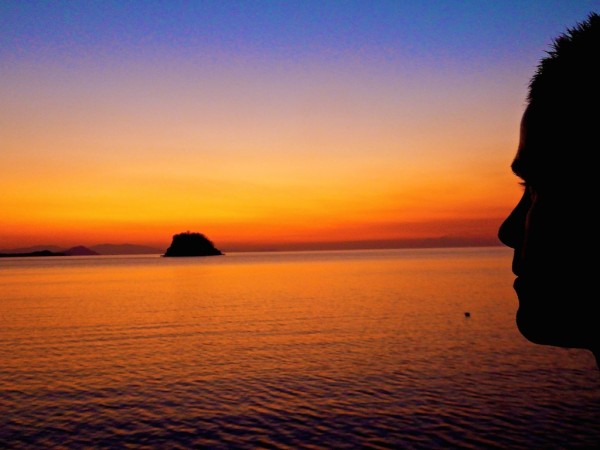 As we warned at the start, diving in the Komodo National Park will set your scuba bar very high and will be very very hard to beat!
Read more about our scuba diving experience in the Komodo National Park on Mr Hudson Explores.
Happy travels are safe travels
We recommend you always take out travel insurance before your next vacation. What happens if you suffer from illness, injury, theft or a cancellation? With travel insurance, you can have peace of mind and not worry. We love World Nomads travel insurance and have been using it for years. Their comprehensive coverage is second to none and their online claims process is very user friendly.