The Gili islands reminded us of Destiny's Child: a trio of talented divas but ultimately upstaged by a superstar.
Gili Trawangan is the Beyonce of the trio.
She's the most famous, the centre of attention where all the action happens. She has all the parties, bars, variety of restaurants, diving shops and of course people: holidaying couples, partying groups of friends, backpackers, hippies, that cute Australian guy who winked at you last week at the airport in Bali…everyone!
And then there's the other two…
We visited the Gili islands in September 2015 and set out to discover the best they have to offer. They are one of Indonesia's most popular destinations, famous for their white sandy beaches, warm tropical waters and abundance of sea turtles just metres from the beach.
We put together our gay friendly travel guide to these three Indonesian gems.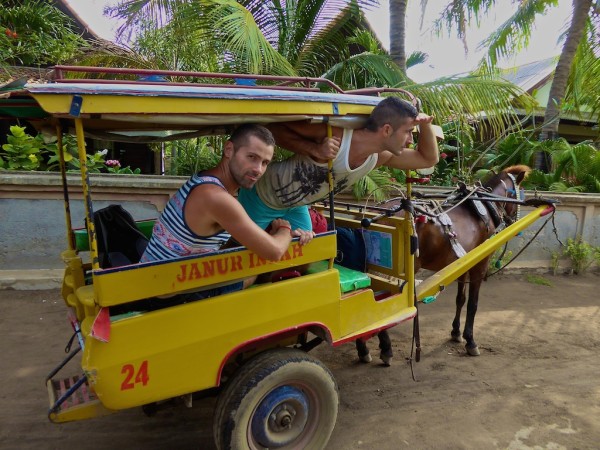 What we cover in this guide
Where are the Gili islands?
This tiny trio gets a lot of attention. But they are in fact just that: tiny! Gili even means small in the locally spoken Sasak language.
The 3 small Gilis are located just off the Northwestern coast of the much larger Lombok island, with Gili Air closest to the mainland, then Gili Meno and big time diva Gili Trawangan, the furthest away:
Which is the best island?
Each island has her own character with something unique to appeal to every type of traveller.
Gili Trawangan (Gili T): we've talked about the Beyonce of the trio. This is where you'll come to party hard, with the majority of all the fun on the Eastern side.
Gili Meno: is the Michelle Williams of the trio, sitting all unassuming and humble in between the two. She's the least famous and this is a good thing. There's very few places to stay/eat and no bars. This is where you come to experience that idyllic image of a deserted island paradise, far away from the crowds.
Gili Air: is a nice balance of the two, not as remote as Gili T but with more hotels, restaurants and bars then Gili Meno. It is kind of famous, just like Kelly Rowland who got kind of popular after being an X Factor judge right?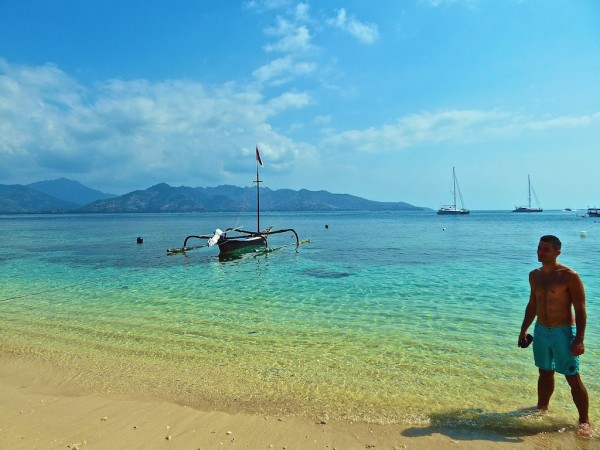 Gay hotels in the Gili islands
1. Gili Trawangan
We recommend 2 places, both welcoming to gay couples:
Located in the heart of the touristy strip of the island, near all the bars, restaurants and dive shops.
It has has a large pool and garden space area, perfect for nursing a hangover or just relaxing in after a day of diving. Bungalows start from 830,000 Indonesian Rupiahs (£40/$60).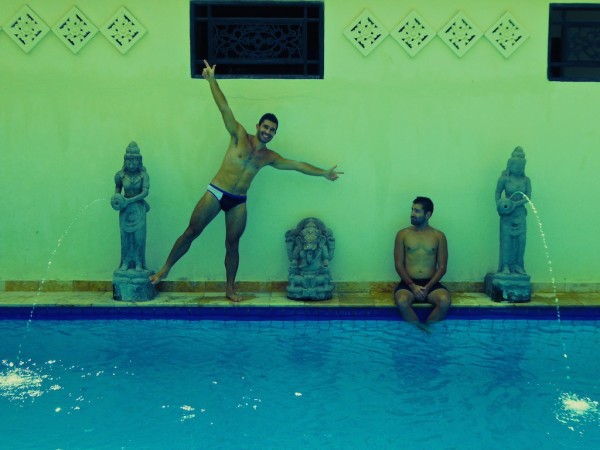 Khumba Villas is located on the West side of the island, around 25 minutes walk away from all the bars on the main tourist strip on the East side. This is perfect for those who want to be based on party island Gili T, but in a quiet spot far enough away from all the party noise.
Khumba has some very stylish villas each with a private pool, ideal for couples. Prices start from 700,000 rupiahs (£34/$52) a night.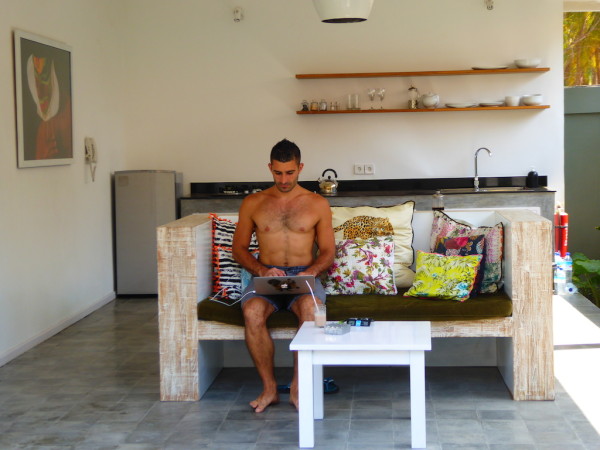 One of our favourite travel bloggers, Mapping Megan recommends the Gili Backpackers Hostel on Trawangan in her travel guide to the Gili Islands.
2. Gili Air
There were 2 places that stood out for us as gay friendly, ideal for couples who want something quieter than Gili Trawangan but not as Robinson Crusoe like as Gili Meno.
A hidden oasis with 10 private guest rooms and pool.
Prices start from 960,000 rupiahs (£47/$70).
The homestay is a good budget option, close to the beach, great for snorkelling.
Prices starting from 420,000 rupiahs (£20/$31).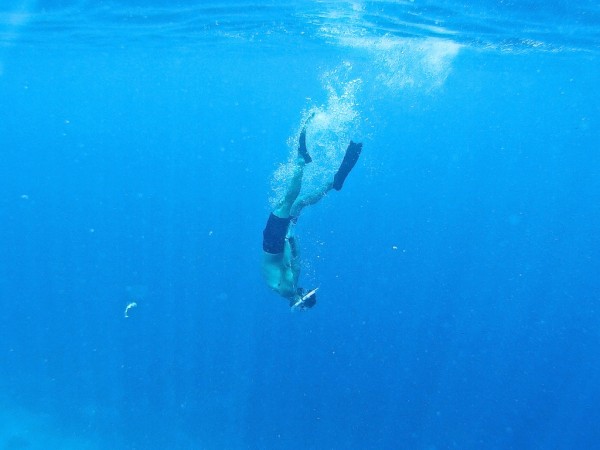 3. Gili Meno
A boutique and eco-friendly resort. Honeymooners, this one's for you, ideal for that romantic beach experience. And, for divers, the nearby Meno reef has plenty of underwater life and healthy coral.
The beach front villas start from 3,000,000 rupiahs (£150/$225) a night.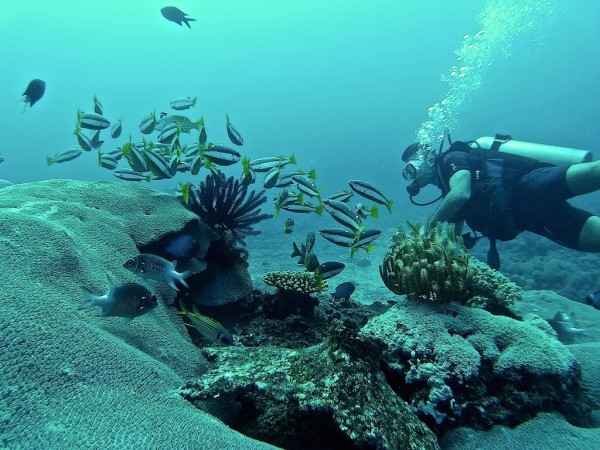 Gay bars and clubs in the Gilis
You want to be heading over to Gili T for all the fun, where there's a mix of bars for party and also for romantic sunset drinks on the beach.
1. Gili T popular gay friendly bars
Blue Marlin: this is a dive shop but on Mondays their bar is the place to be.
Evolution Bar: another popular bar right in the heart of the main tourist strip famous for their sushi.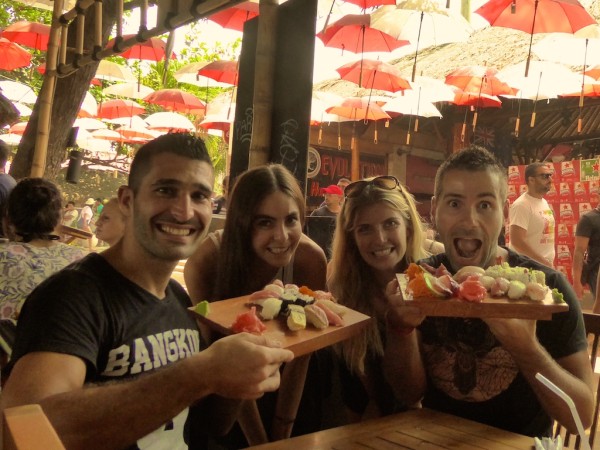 2. Gili T gay friendly romantic beach bars
Sea Breeze: part of the Ombak Sunset Hotel, on the quieter Western side of Gili T.
The Exile: very cool beach bar also on the Western side of Gili T and sometimes has live drummers.
Pearl Beach Lounge: very romantic bar where we celebrated Stefan's 9th 25th birthday.
3. Gili Air gay friendly bars
4. Gili Meno gay friendly bars
Gili Meno doesn't have actual bars, more bars tied to a cafe or restaurant located on the beach. This is the desert island experience of your dreams. So if party's your main draw, best head to Gili T. Otherwise you'll love the peace and tranquility on Gili Meno.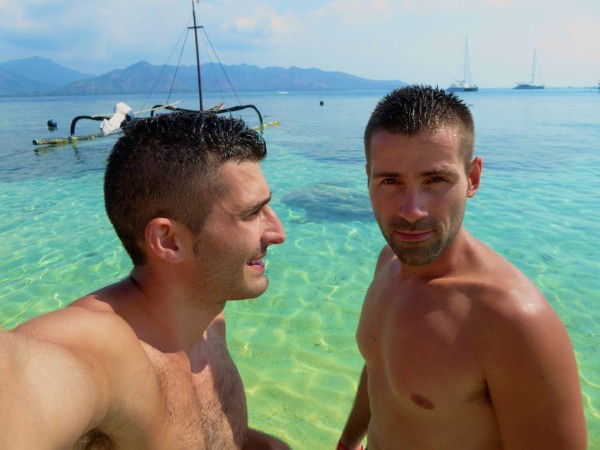 Fun things to do in the Gilis
We love our diving and after some sensational scuba diving in the Komodo National Park, we were desperate for more.
As well as diving, there are excellent spas, snorkelling trips and a new discovery: subwing. All of our activities were based on and booked from Gili Trawangan.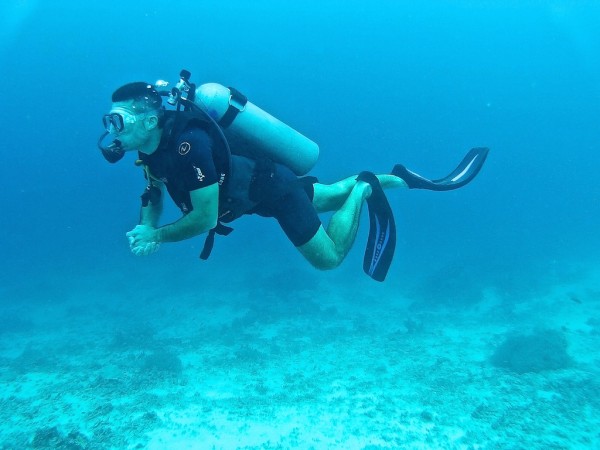 1. Scuba diving in the Gili islands
We had an excellent day of diving with Blue Marlin who we recommend. Their equipment is modern and the divemasters made every effort to maximise our chances of viewing turtles and sharks. They charge 490,000 rupiahs (£24/$36) for 1 fun dive and also offer diving courses.
There's a variety of diving sites spread across the 3 islands. We focused on the ones around Gili T and the Western side of Meno to avoid the strong currents (at the time) towards Gili Air.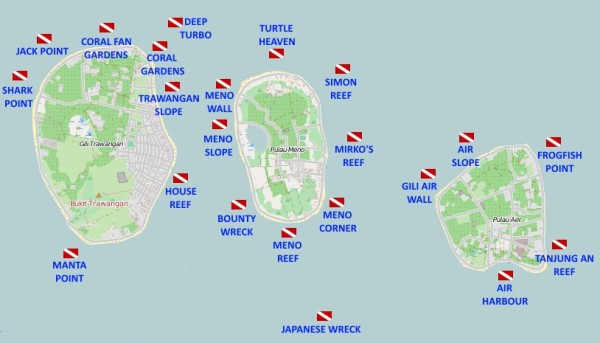 Along with the large variety of tropical fish such as trigger, clown, pirate and angel fish, we also saw several reef sharks and turtles just going about their day-to-day business, not minding these 2 nosy divers.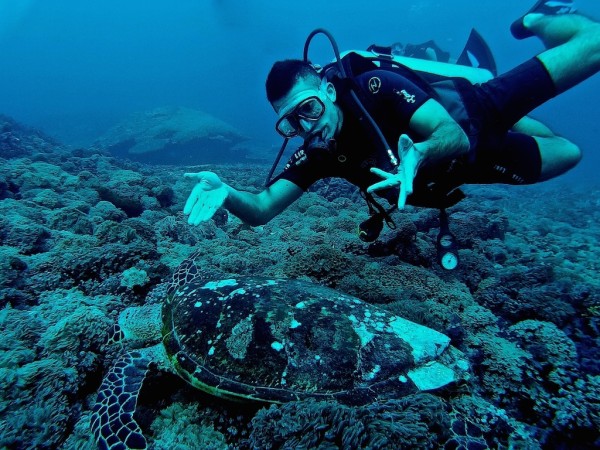 And the sharks? Oh boy did we see plenty of those!
In our dive at Shark Point reef we spotted 4 of them. At one stage, one of them started to swim a little towards Stefan, causing him to panic a bit (and use a chunk of the air in his tank):
2. Snorkelling in the Gili islands
A snorkelling trip can be organised, to visit reefs across the 3 islands.
You will see turtles…lots of them!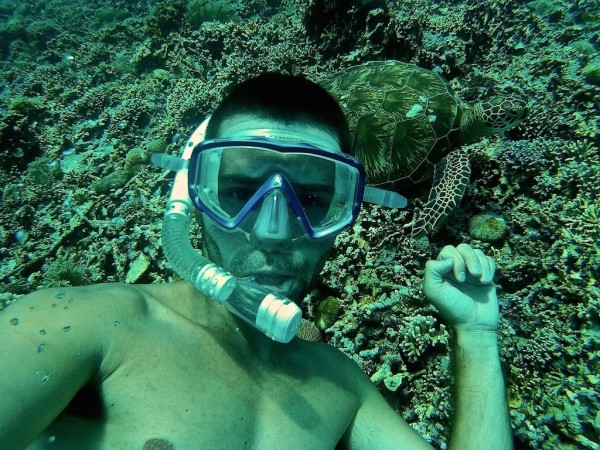 The starting point of the main snorkelling trip offered is on Gilli T and costs 115,000 rupiahs (£6/$9) per person including fins, snorkel, mask and drinking water. There is a stop over on Gili Meno for lunch.
You can also arrange private snorkelling trips, which you should be able to book via your hotel or guest house.
And for those who just want to see the fish but not get wet, the boats have a glass bottom. So you can just watch the underwater world drift on by…and even the Nomadic Boys if you get very lucky: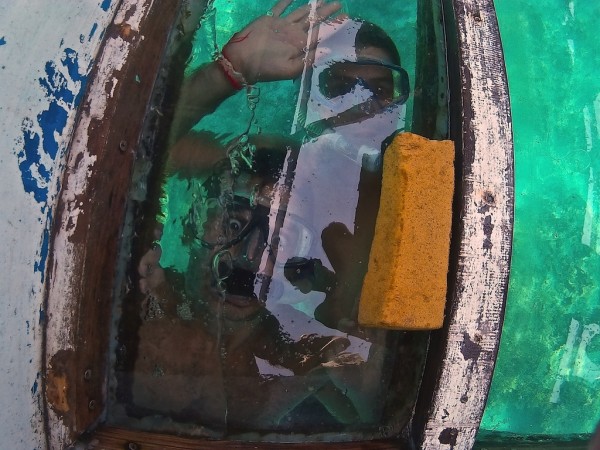 3. Try Subwing
Subwing is an alternative to snorkelling where you are pulled through the water by a boat. You hold on to plastic wings, which you manoeuvre in the direction you want to move (ie deeper, rise up for breath, left, right or even do loops).
As the boat is pulling you, you don't need to swim, just manipulate the plastic boards in the direction you want to go. You use a lot less energy then snorkelling, enabling you to hold your breath longer to go deeper then you normally would.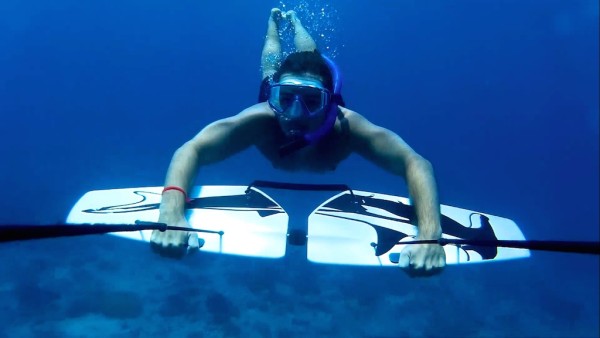 The subwing guys are based both on Gili Trawangan and Gili Air and offer 2 trips of 25 minutes each around the Gili islands for 350.000 rupiahs (£17/$26) per person.
This was probably the best thing we tried on the entire island. We've never done anything like it before and highly recommend it to everyone. It's a lot easier then it sounds, very safe and well worth the experience.
You will feel like you are flying in the water: check out Sebastien gliding through the deep blue sea on his subwing:
4. Sensational spa experiences
There are plenty of spas on the Gili islands, usually linked to resorts. We visited the Azure spa on Gili T, which is part of the Pesona Resort and located above the Dive Central diving shop in the main strip.
We celebrated Stefan's birthday at Azure Spa with a hot stone massage treatment.
A hot stone treatment starts with a relaxing oil massage. The stones are then prepared in a rice cooker and heated to a temperature which is just hot enough not to be uncomfortable, then placed strategically on parts of the body.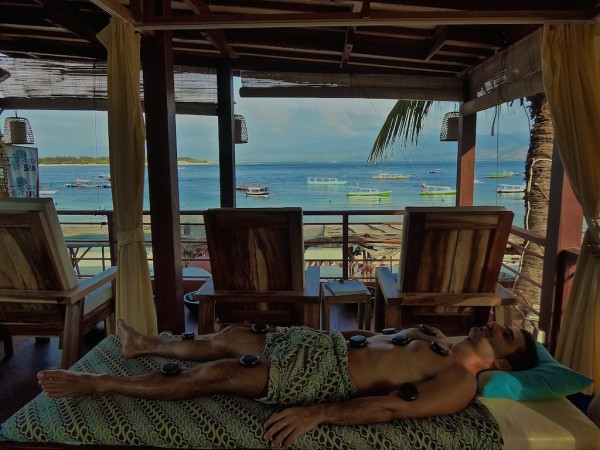 Our masseurs were extremely polite and very friendly. The hot stone massage at Azure Spa lasts for 90 minutes and costs 250,000 rupiahs (£13/$19).
You also get to wear pose in these quite fetching sarongs: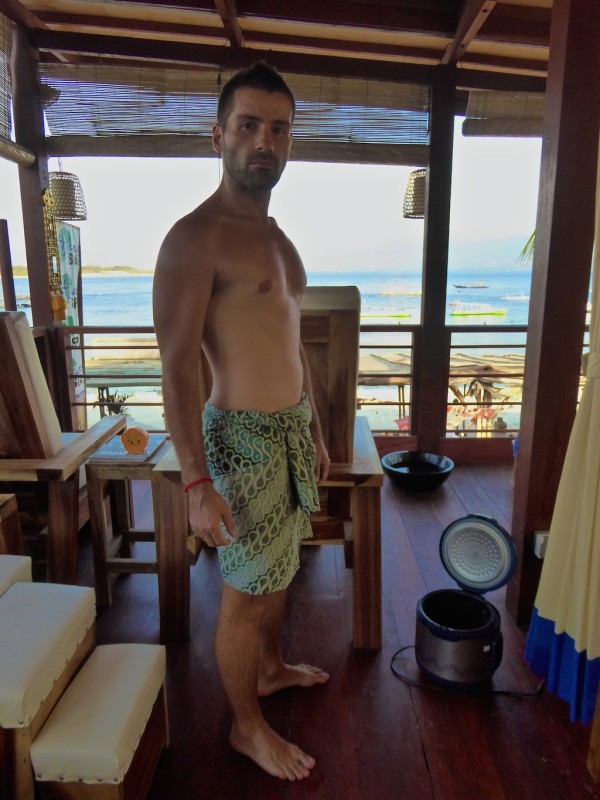 Best restaurants in the gilis
Gili T has more variety of places to eat. The options dry up a bit as you head to the other 2 Gilis but there's still a few gems to look out for:
Gili Trawangan:
Wilson's Bar and Cuisine: located right on the beach, on the Western and more peaceful side of the island. The restaurant does excellent French food, cocktails, and has super cute friendly staff. This was one of our favourite romantic meals.
Pizzeria Regina: makes yummy pizzas, but don't come here expecting the best service!
La Dolce Vita: an Italian cafe in the main tourist strip, great for lunch in between dives and does very good coffee.
Pearl Beach Lounge: this was another one of our favourite romantic meals: dinner on the beach with candles and unique food with a twist, like pumpkin gnocchi or duck Pad Thai.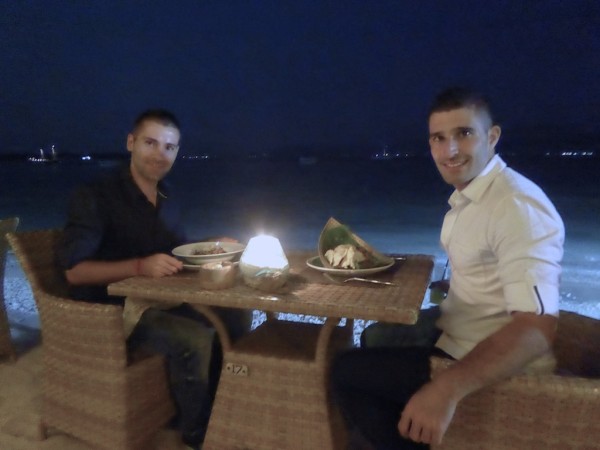 Gili Air:
Ruby's cafe: excellent reviews, delicious burgers, located right on the beach. What more could you possibly want?
Shark bites: great for comfort food and also does tasty burgers.
Gili Meno:
Sasak Cafe: perfect beach spot to watch the sunset with delicious curries and cocktails.
Ya Ya Warung Cafe: the perfect place for beach lunch to take a break from all that snorkelling.
Happy travels are safe travels
We recommend you always take out travel insurance before your next vacation. What happens if you suffer from illness, injury, theft or a cancellation? With travel insurance, you can have peace of mind and not worry. We love World Nomads travel insurance and have been using it for years. Their comprehensive coverage is second to none and their online claims process is very user friendly.
Some of the links in this post are affiliate links. This means that if you book your accommodation, an activity or your insurance, we'll earn a small commission. There is never an extra cost to you for using these links and it helps us keep the site going.
For more general information about the Gili islands, check out this very helpful guide.
IF YOU PIN ME, STEFAN WILL COME AND GIVE YOU LOTS AND LOTS OF BIRTHDAY KISSES: