Are we having a fabulous time in Indonesia? Gili-Ty as charged!
…we'd even go as far as saying the Gili Islands is one of our topest-bestest-most-favoritest beach destinations in all of Southeast Asia. In all seriousness, it's a place we always recommend when we're often asked – "Guys, can you recommend me an inexpensive beach getaway in Asia?"
Why? 'Cause these 3 small islands combine white sandy beaches, flat clear water, terrific diving sites, and plenty of activities (have you ever tried Subwing?). There's also plenty of partying for when you want it or complete remote island solitude when you just want to be completely cut off from the world. And then there are those phenomenal magical sunsets, every evening!
In summary, the Gili Islands impressed us a lot. They're nicknamed "the Maldives of Southeast Asia" for good reason. We've put together this detailed gay guide of the Gilis based on our firsthand experience traveling here as a gay couple, which we hope inspires and helps you have a fun and safe trip:
What and where are the Gili Islands exactly?
The Gili Islands are made up of 3 small islands that lie off the northwest coast of Lombok island.
Gili Trawangan is the largest and craziest of the three with a population of around 1,500 people. This is where you'll find the parties, most of the hotels, and best restaurants – essentially it's the main "hub" of the three islands. Party gay boys will want to base themselves right here.
Gili Meno is the smallest of the three (only 2km long and 1km wide) with a population of just 500 people. It lies in the middle between the two other islands. It's the quietest island, the most remote with very few facilities. This is the island for those of you who want to live out their Tom Hanks Cast Away-inspired fantasy!
Gili Air is the second smallest of the three and in our humble opinion, the best one. It's like a compromise between crazy hectic Gili T but not as remote as Gili Meno. This is the island most popular with gay honeymooners or couples seeking out a quiet beach retreat.
Are the Gili islands safe for gay travelers?
Overall they are…BUT…
Remember this is Indonesia, a country with a shockingly terrible reputation in relation to LGBTQ rights, which is getting progressively worse each year. To be clear, there are no LGBTQ rights in Indonesia. Instead, the government keeps pushing for quite nasty laws that negatively target the LGBTQ community, the most recent being the Family Resilience Bill.
Also, be mindful of recent crackdowns on LGBTQ businesses and certain gay travelers in Bali…we're not saying don't go, just be careful about being "out" in public, and perhaps save the social media posts for after your trip to be on the safe side!
But – the Gili Islands are so reliant on tourism that they are very international, with people from all over the world living/working here. We found it to be almost as tolerant and open-minded as Bali, just minus the gay scene. As a gay couple, we had no problem booking a double bed in any of the hotels we tried in the Gili Islands (most are foreign-owned and run which helps). However, we always took care to avoid PDAs unless we were in a spot that was completely isolated or we knew to be queer-friendly.
As such we were ok and never encountered any problems. In the worst-case scenario, locals would ask us if we are brothers – a common question we're now used to…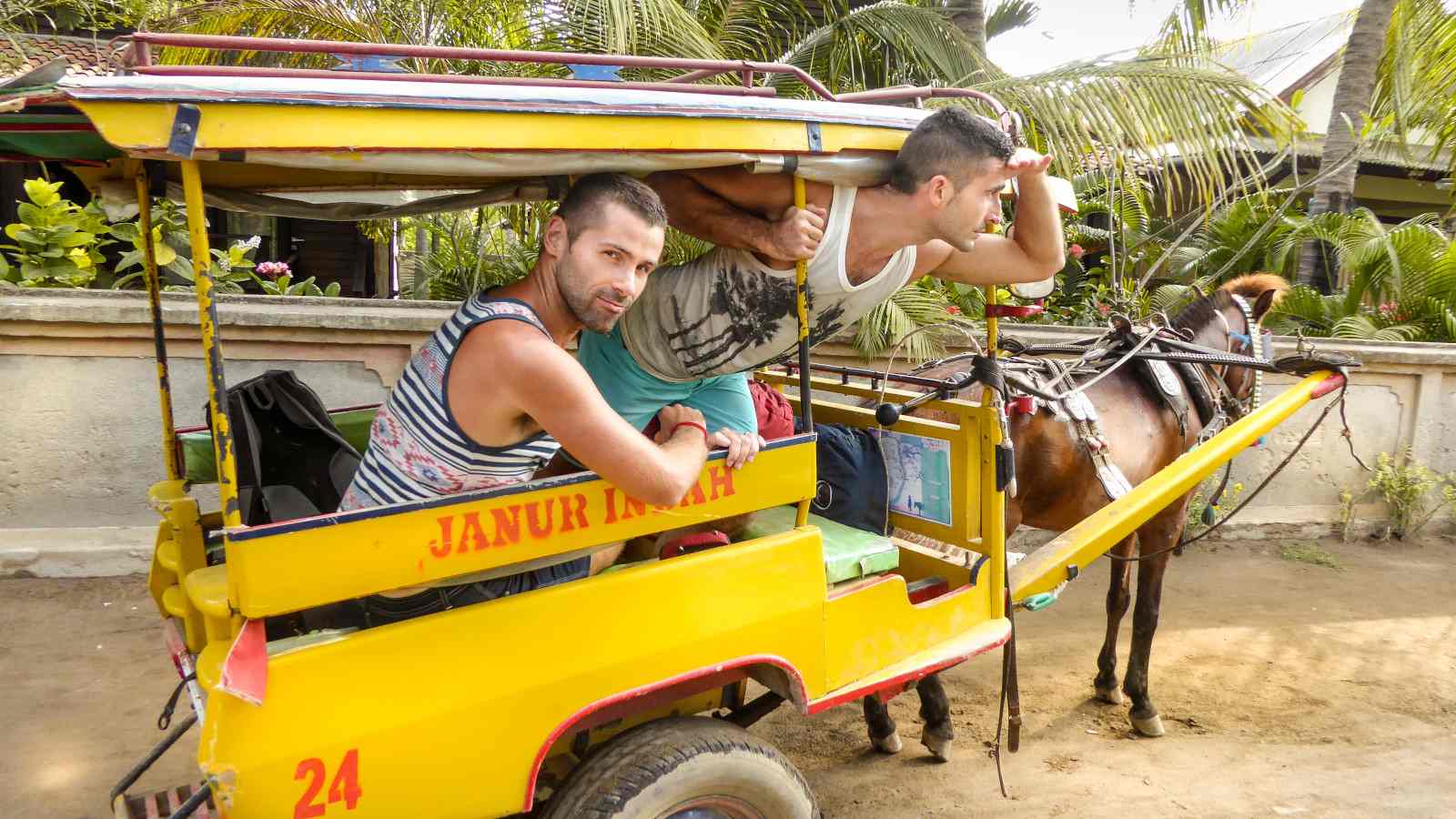 Gay hotels in the Gili islands
As we said above, the first thing we advise you to do is pick which of the 3 islands you want to be based on. Gili T offers more in terms of options for all budgets. It also has the best restaurants and most facilities. But it's also the noisiest, particularly if you stay on the Eastern side where all the bars are. Gili Meno in the middle is the best if all you want to do is chill by a beach with a book or your thoughts. Otherwise, Gili Air's your best bet if you want a mix of the two.
These are a selection of some of our favorite hotels from all 3 islands, which we can attest to being gay friendly.
BIG TIP: whichever hotel you choose, make sure you check how far it is from the nearest mosque loudspeaker. The call to prayer is relentless and happens throughout the day starting from 4 am! I'm a heavy sleeper so it never bothered me much, but for Seby this was a constant source of drama throughout our Gili trip…
Gay bars and clubs in the Gilis
The main thing to bear in mind about the Gilis is that there is no official gay scene here like there is in Bali. Bali has its own strip of gay bars/clubs, which you can read more about in our article about gay Bali. Therefore, we recommend getting all the gay party fun out of your system over in Seminyak before you head to the Gilis.
The Gilis do however have a bunch of bars and parties mainly on the eastern side of Gili T, locally referred to as "the main strip". As a gay couple looking for a queer-friendly space where we felt comfortable with PDAs, this is where we'd recommend heading. The reason, it's a very young, international crowd here, with people from all over the world. In addition, the bars here are mainly foreign-owned so they have a more open-minded and tolerant attitude towards LGBTQ travelers. We've listed below the bars we found to be the most queer-friendly across the 3 islands.
One tip to note about the nightlife on the Gilis is that it's a very small, tight and organised community. Each night, one bar is allowed to stay open late until around 3am whilst all the others have to shut around midnight. The trick is to find out which bar is the late-opening one for the day you're there. It's easy to spot it as you walk along the main strip as it will usually be advertised with a large banner.
Best gay friendly restaurants in the Gilis
The best restaurants are mainly on Gili T. You have more choice and variety here, followed by Gili Air. This doesn't mean there aren't any decent restaurants on Gili Meno, just fewer to choose from. Most of the places we've listed in the Bars section also double up as excellent restaurants. We've tried to avoid repetition, but Pearl Beach Lounge is the exception which we mentioned twice because we loved it both as an evening hangout as well as a restaurant:
Gay friendly spa in the Gilis
There are plenty of spas on the Gili islands, usually linked to resorts. We visited the Azure Spa on Gili T, which is part of the Pesona Resort, located above the Dive Central diving shop in the main strip. We came here as a birthday treat – Seby had booked me a 90-minute hot stone massage treatment.
A hot stone treatment starts with a relaxing oil massage. The stones are then prepared in a rice cooker and heated to a temperature which is just hot enough not to be uncomfortable, then placed strategically on parts of the body.
Our masseurs were extremely polite and very friendly. It was obvious we were a couple and they didn't have any issues about it. It was a lovely treat, which I recommend, least of all because the treatments here are very affordable and you have quite a unique ocean view: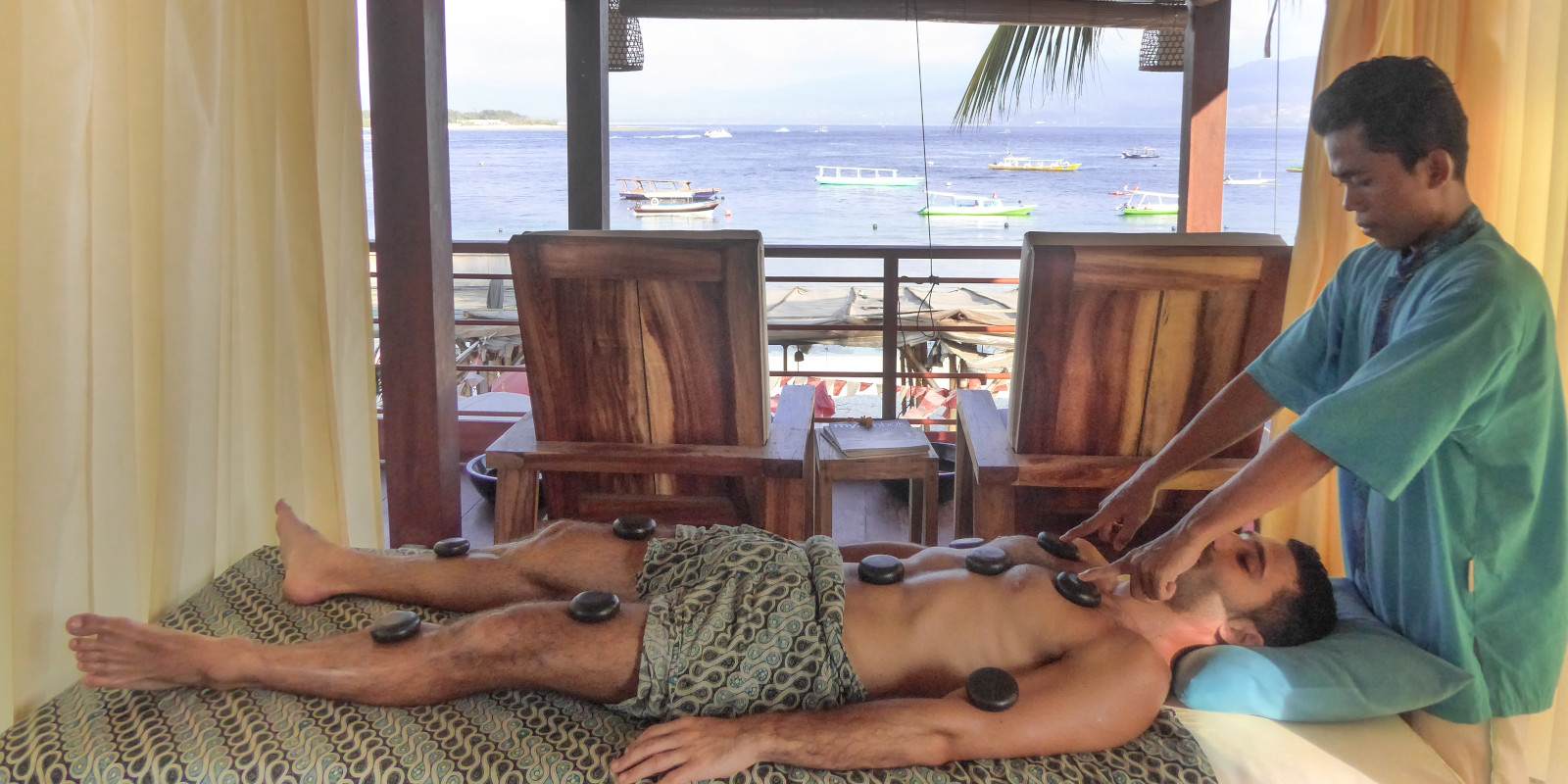 Top things to do in the Gili islands
We love our diving and after some sensational scuba diving in the Komodo National Park, we were desperate for more. The Gilis is perfect for this as well as snorkelling – in some cases, you just need to head into the water and you're face-to-face with a swimming turtle! Also: subwing – a new discovery we loved! Read more about all this and more below:
Plan your trip
Gay map of the Gilis
Here's our map of the Gilis showing where all the places we've mentioned in this article are located. We hope it helps you have a fabulous time on the Gili Islands!