Bali is a gay haven in a country which doesn't have the best record for LGBTQ rights. The strong Hindu influence and large international tourism community has made it more relaxed and accepting than other parts of Indonesia.
Our trekking in Mount Rinjani and scuba diving in the Komodo National Park left us feeling exhilarated, but quite frankly, knackered! We were ready to let our hair down…a visit to Bali was calling us.
Bali has a nice mix of luxury villas and spas in Seminyak, culture and scenic lush green rice terraces in centrally located Ubud. This is our gay guide to Bali including the best places to stay, things to do and of course the fun gay scene in Seminyak.
Get up to $55 off your next Airbnb booking
We've used Airbnb extensively during our travels because you can rent an entire home which usually works out a lot cheaper than a hotel room. It also allows you to have your own space with a kitchen, a living room and more. You can easily find places close to the gay scene by using the map function. If you've never used Airbnb before, simply click the button below to get up to $55 discount off your first booking.
SEMINYAK: best gay bars in Bali
Indonesia is not really well known as being very gay friendly at all, lacking any comprehensive pro LGBT legislation. But despite this, Bali is the gay oasis of the country, mainly due to its more relaxed Hindu influence. Sophisticated Seminyak with its luxury villas and high restaurants is also where you'll find the Bali gay bars. For more check out our interview about what it's like to be gay in Indonesia with Joko from Java island.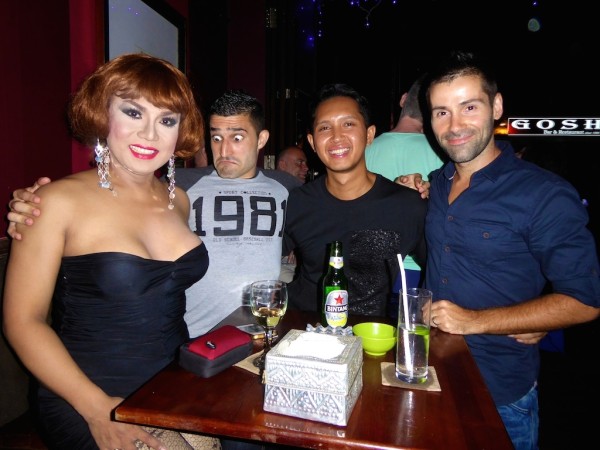 There are 3 gay bars in Bali, all next door to each other on the road called: Jalan Camplung Tanduk Arcade.
Mixwell: this is the main bar we always ended up in. Loved the drag shows and the cute Go Go dancers. Mixwell is open daily from 6pm to 3am.
Bali Joe: this has the best abbreviation ever for a gay bar! BJ is the other staple gay bar in Bali we always visited on a night out, with very cheeky Rihanna and Nicki Minaj impersonators. BJ is open daily from 4pm to 3am.
Face Bar: also known as F Bar is next to to BJ. The focus is more on the go go dancers, featuring a shower show and pole dancing. F Bar is open Tuesday to Sunday from 7pm to 3am.
SEMINYAK: gay hotels in Bali – Seminyak
There are many gay friendly hotels in Seminyak, some exclusively male only. These are the ones we tried and loved:
The W Hotel is a landmark in Seminyak and very popular with gay travellers. It's massive, like entering a mini city in Seminyak with its own long driveway entrance and entire beach section with very large plush pool space. It also has an array of excellent in house bars and restaurants.
Prices for a room at W start from 5,600,000 rupiahs (£265/$406 ) a night.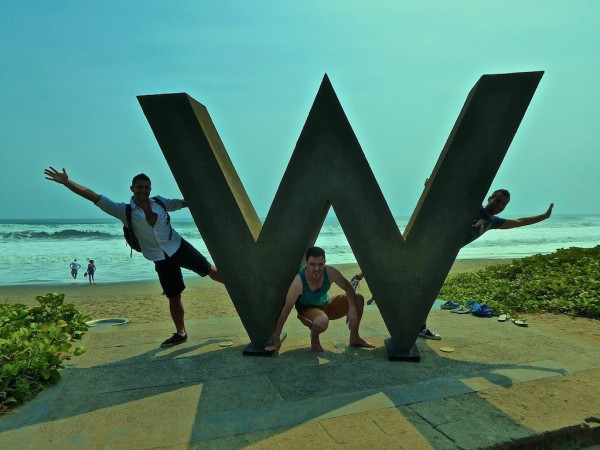 The Villas Bali is a luxurious and very gay friendly hotel in Seminyak. We stayed in a private villa, which has a large garden space, sun tanning area, private pool, kitchen and dining area decorated in traditional Balinese style. We also had our own private chef who prepared our breakfast in our kitchen every morning.
This is ideal for either a group of friends travelling together in one of the 3 bedroom villas, or for couples in one of the 1 bedroom villas.
A private villa at Impiana starts from $155 / £115 a night.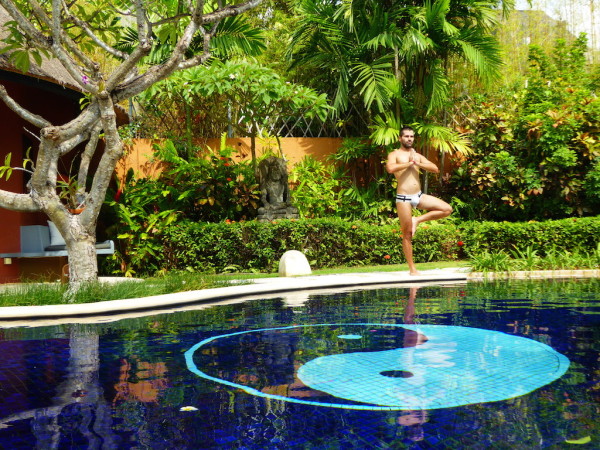 Check out the Flashpacker Family's blog for more information about where to stay in Bali.
SEMINYAK: best spas
We all love a good spa session and the Nomadic Boys will of course never shy away from one. These were our favourite spas we tried, loved and of course had no issue with us being a gay couple.
The massages at Chill Reflexology focus on massaging pressure points. We tried The Ultimate Chill, a 1.5 hours treatment (£13/$20), which was heavenly for our sore backs and legs after all that trekking on Rinjani mountain.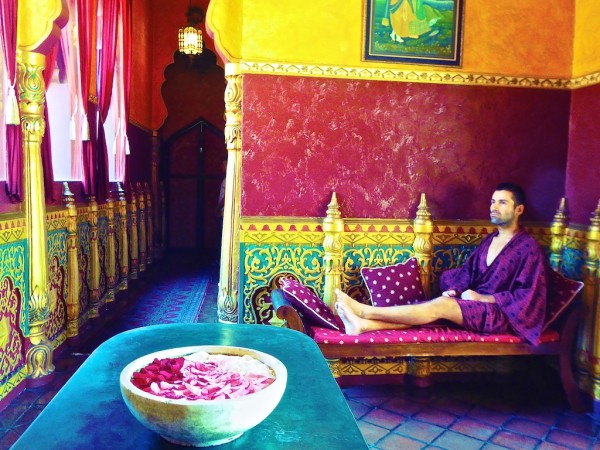 We tried the 2 hours Mystique Bali Package (£40/$60) here and it felt gooood! First we had a relaxing oil massage, followed by skin polishing and scrub. Then, a yoghurt wash. Yup you read right: a yoghurt wash! We stood in a shower clad in just spa underwear whilst our masseur cleansed our bodies with fresh yoghurt. Our Mystique Massage concluded with a romantic flower bath and tasty fresh herbal tea. We highly recommend it.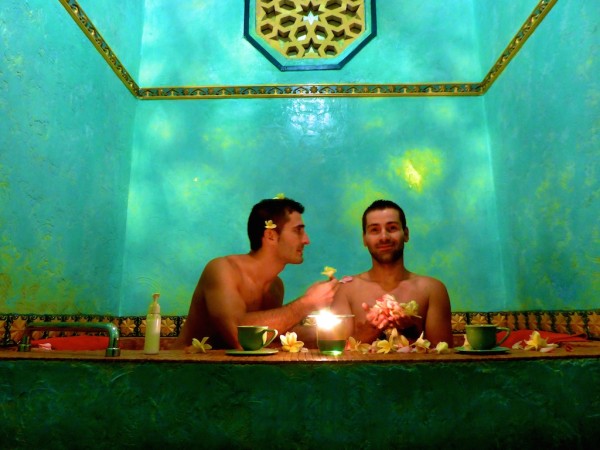 SEMINYAK: Best places to eat
Seminyak has its fair share of high-end restaurants. We particularly loved the Sunday Brunch at Fire and the Royal Rijstaffel experience at Husk, a truly unique Indonesian tradition.
The Royal Rijstaffel is a Balinese tradition dating back to the Dutch colonial era of the 19th Century and literally translates as rice on table. The rice is served with a variety of accompanying local dishes by a group of female waitresses who dance their way over to you, accompanied by traditional music.
The Husk Royal Rijstaffel dinner is every Monday 6:30-9:30pm (part of the Royal Beach Hotel) and costs £17/$26 per person.
Bambu is a highly rated restaurant in Seminyak and you need to book in advance. It's expensive, but well worth every penny, and perfect for a romantic meal. Our favourite dishes included the Gohu Ikan Tongkol (yellow fin tuna ceviche starter) and the Bebek Betutu (slow roast duck with galangal, lemongrass, toasted coconut and green bean salad).
They also do really innovative tasty cocktails like Ginger Honey Sling (rum based), Lychee Cooler (with vodka) and Pomelo Julep (also with vodka).
The Sunday brunch at the W Hotel's Fire restaurant is a lavish affair based on hawker street food. It has delicious fresh meats, cheeses and local street food type dishes cooked in front of you. The Sunday brunch at Fire costs £22/$34 per person and includes a welcome drink of bubbles.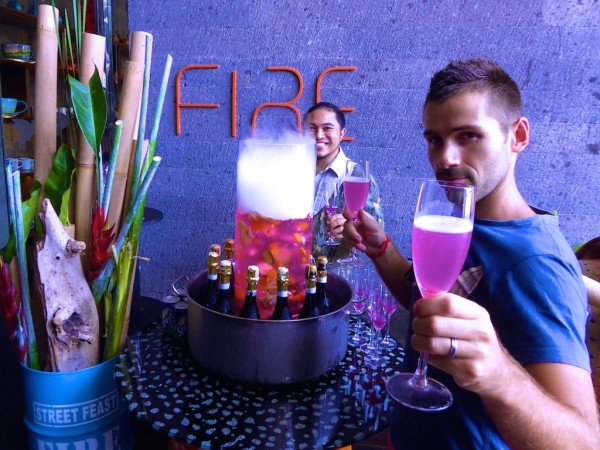 UBUD: gay hotels in Ubud
Ubud is known as the cultural capital of Bali. It is around 1 hour's drive away North from Seminyak towards the centre of the island. There's a handful of really lush places to stay, which are extremely gay friendly:
Awang Awang is a high-end gay friendly villa retreat in the countryside just outside the main town. Each villa has its own private infinity pool overlooking the surrounding tropical jungle. We loved it because we were right in the middle of the tropical Balinese countryside, with cheeky monkeys popping their heads in each morning to say hello.
Prices at Awang Awang start from £145/$220 a night.
We found Saudara based on the excellent reviews on Tripadvisor. It's based in the middle of the rice fields of the Pakudui village. It's green, serene, extremely gorgeous, and perfect for a getaway type holiday for lots of meditation.
Prices start at Saudara Home start from £30/$45 a night and includes breakfast, but you need to book a minimum of 3 nights.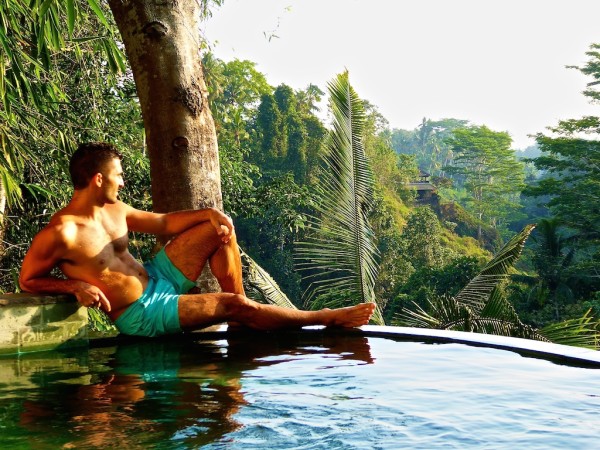 UBUD: best restaurants in Ubud
Ubud has many decent restaurants. Check out Tripadvisor's 10 best Ubud restaurants list for some of the highly rated options like Luxe Cafe or Swept Away at the Samaya. For us, we picked these 2 culinary experiences because they particularly stood out for us:
FRESH VEGAN RESTAURANT
Fresh is a super cool raw vegan restaurant. As vegan virgins we were pleasantly surprised: it was not only filling, but everything we tried was bursting with flavour.
Our favourite dish was the vegan answer to lasagne, called Living Lasagne, which consists of zucchini, sun-dried tomato, marinara, almond pesto and served with citrus salad.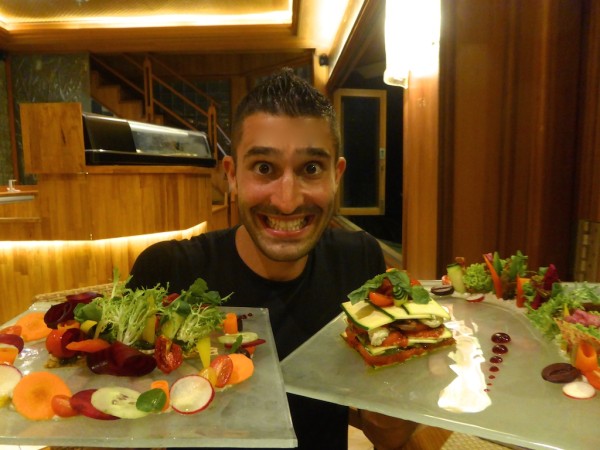 This is cheeky! You enter a darkroom of pleasure (!) where Chef Will Goldfarb hosts his 50 Shades of Grace desserts. Look out for desserts like the Coco Beware or the Chocobubbles Too with its mouthwatering raisin and kluwak crumble. As our fellow travel blogger Mar Pages of Once in A Lifetime Journey nicely put it, "Now boys, when in Ubud, make Room 4 Dessert!" :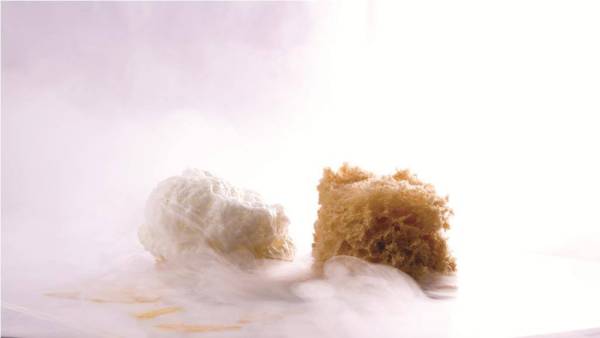 UBUD: BEST things to do
Ubud has plenty to keep you busy, whether you want to explore the countryside, do a cooking class or see a unique style of dancing. We set out our favourite things to do in Bali based on our first hand experience.
The Balinese Kecak monkey dance is one of the most popular attractions in Ubud. The dancers use their own body as percussion along with pieces of bamboo as stamping tubes.
You can watch a live Kecak fire and trance show in Central Ubud, every Wednesday and Saturday evening for around 75,000 rupiahs (£4 / $6).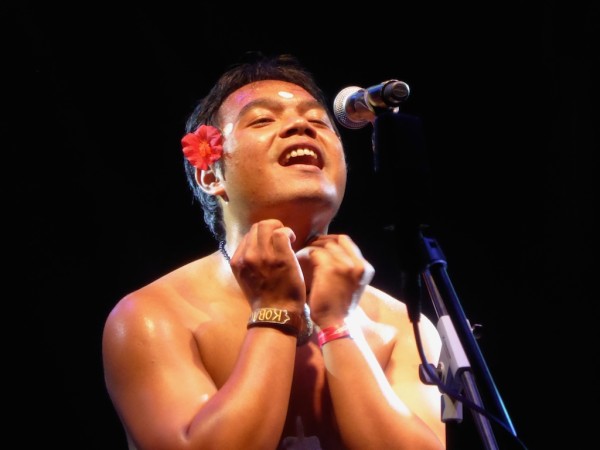 We set out to explore the scenic paddy fields and numerous little kampongs (villages) around Ubud by quad and buggy tour, which also included guided tubing down the Siap Stream in the Payangan area.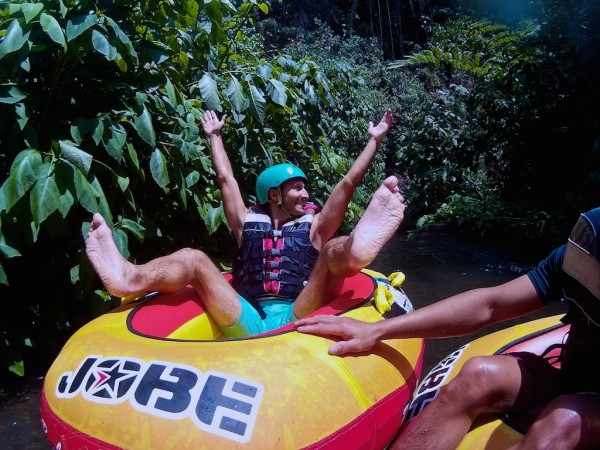 Prices start from 1,200,000 rupiahs (£59/$89) per person for just the tubing and 2,300,000 rupiahs (£112 / $169) for both tubing and quad/buggy driving. Prices include lunch buffet and hotel pick up.
We recommend it as a way to experience the Ubud countryside in quite a unique way.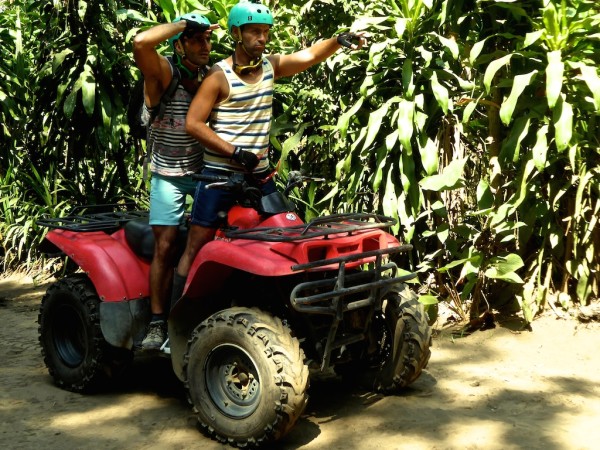 One of the best things we did in Ubud. We were hosted by a family at their organic farmrun. Indonesian couple, Kadek and Made, taught us to make a variety of local specialties like sayur urap (blanched vegetable salad with shredded coconut dressing), satay lilit (chicken satay served in a lemongrass stick) and perkedel jagung (sweetcorn fritters).
All was going so well until greedy Sebastien tried to steal all the freshly made perkedel jaguns…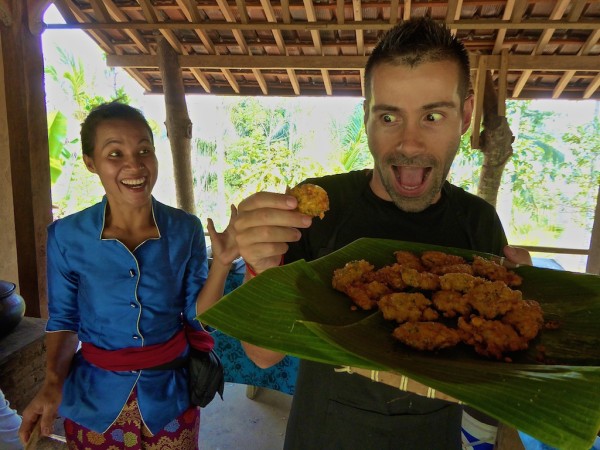 For more adventures from Ubud, check out Wanderlust Chloe's excellent post about her Mount Batur sunrise hike.
NUSA DUA: the ultimate romantic gay getaway
Nusa Dua is located right on the southern tip of Bali, around 30 minutes taxi ride from Seminyak. This is the place for that ultimate honeymoon retreat, where all the high end luxury hotels of the island are based. The hotels of Nusa Dua are designed so you do not need to leave them. Each one has a variety of excellent restaurants, spas, private beach and other in house activities.
We stayed at the St. Regis Bali Resort and bloody hell, wow! You're blown away from the moment you set foot into the St Regis and are met with your Butler (yes you read right, your own Butler!).
The St Regis is so huge, you need a buggy to go from one end to the other. We particularly enjoyed many peaceful, relaxing moments by the private beach. If that wasn't enough, the St Regis Bali has a massive 3,668 squared metres salt-water lagoon pool and you can rent a private villa which leads directly into it.
A night in a basic Suite at the St Regis Bali starts from £275/$420 a night.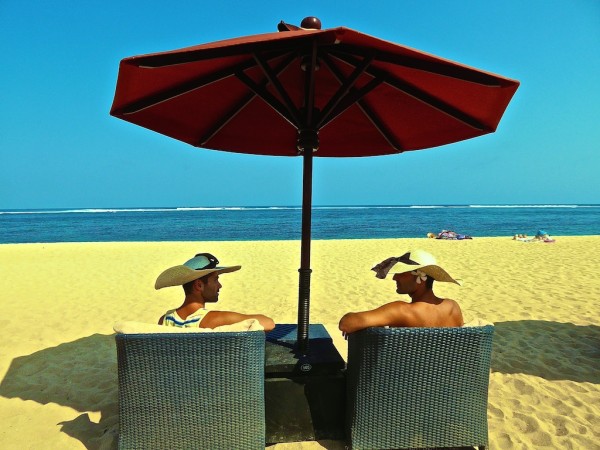 The Grand Nikko Bali is a more affordable exotic getaway hotel in Nusa Dua also with a private beach front. It welcomes gay couples, and it got its gay friendly reputation after hosting the second not for profit G-slam gay Tennis Tournament in 2012.
It has no fewer then 8 in house restaurants, 4 inter connected swimming pools, water slide, 3 tennis courts, fitness centre, spa and much much more…
Prices at the Grand Nikko start from £100/$150 for a double room with garden view and private balcony.
For a more romantic and remote experience, check out the stunning Nusa islands and read more about Bali from our friend Kathryn.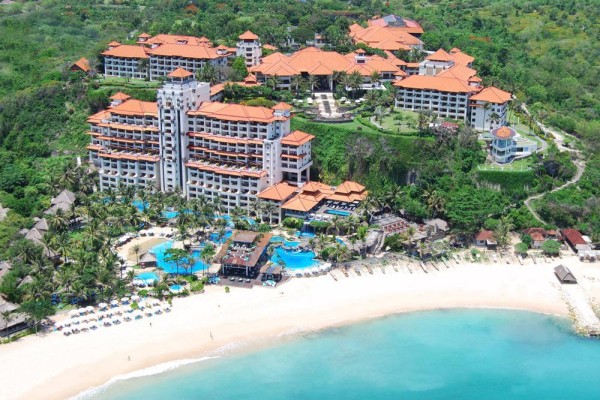 Happy travels are safe travels
We recommend you always take out travel insurance before your next vacation. What happens if you suffer from illness, injury, theft or a cancellation? With travel insurance, you can have peace of mind and not worry. We love World Nomads travel insurance and have been using it for years. Their comprehensive coverage is second to none and their online claims process is very user friendly.
Some of the links in this post are affiliate links. This means that if you book your accommodation, an activity or your insurance, we'll earn a small commission. There is never an extra cost to you for using these links and it helps us keep the site going.