"The Island of the Gods!"…
UPDATED AUGUST 2023: despite the draconian 2022 law that bans sexual relations amongst unmarried couples with a penalty of a prison sentence of up to 1 year, LGBTQ tourism to Bali has not been hampered too badly. Bali's governor confirmed this would not apply to tourists, but we advise being extra careful to ensure the place you're staying genuinely welcomes LGBTQ travelers.
And in our humble opinion: "The Island of the Gays"!
Bali is the quintessential tropical island getaway high up on most travelers' bucket lists, particularly amongst those of us inspired by the Julia Roberts movie, "Eat Pray Love". Surprisingly, Bali has historically been quite a popular gay haven in Asia: remember this is part of Indonesia, a country that has over the years become increasingly more homophobic.
Bali stands strong in the face of this rising tide of hatred toward our LGBTQ community in Indonesia thanks to its unique Hindu heritage and the diverse international community across the island.
For LGBTQ travelers, Bali offers a tropical paradise, gorgeous beaches, world-class restaurants, plenty of welcoming gay hotels, and an entire strip of lively gay hangouts in Seminyak. We've put all of this right here in our lengthy gay travel guide to Bali based on our first-hand experience.
Is Bali safe for gay travelers?
Before visiting Bali, we were wondering how such a gay haven can possibly exist in a country like Indonesia, where the Islamic government has been working ruthlessly to oppress its LGBTQ community. Over the years, more anti-LGBTQ laws are being passed in Indonesia.
Whilst homosexuality wasn't historically illegal in this former Dutch colony, the government has found ways to target the LGBTQ community via other laws. For example, under the "Pornography Act" police carried out various raids: a gay sauna in the neighborhood of Kelapa Gading (in Jakarta) and at a hotel where a gay party was taking in two of the rooms in Surabaya (on Java island).
Despite what's happening on the mainland, Bali continues to thrive, (more or less – see warning box below!) largely unaffected. Unlike the rest of the country, which has the largest Muslim population in the world, Bali is mainly Hindu – a religion that is more tolerant of our LGBTQ family. In addition, Bali is also very touristy, with a vast international community living/working here all year round. As a result, the gay scene has been able to thrive here for many years, BUT: crackdowns on businesses that advertise themselves as being "gay" have sadly become more commonplace, so do take care!
UPDATE DECEMBER 2022: gay couples need to be extra cautious in light of the new law that will be introduced in December 2025 which bans unmarried couples from sleeping together.
For more check out our interview about what it's like to be gay in Indonesia with Joko from Java island.
POLICE CRACKDOWN ON GAY HOTELS IN BALI!
Is There A Gay Area in Bali?
There sure is! The main gay neighborhood of Bali is along one road in Seminyak called "Jalan Camplung Tanduk Arcade". Here, you'll find the bulk of the gay hangouts, in particular, Bali Joe, Mixwell, and F Bar.
Most LGBTQ travelers will spend their evenings here. We certainly did and loved it. Each bar offers a mix of cocktails, hilarious drag shows, and handsome GoGo dancers throughout the night. It's busy on most evenings, and on weekends, it's packed. The crowds eventually merge into one and spill out into the street outside, which is what we love about it.
Elsewhere across Bali, there are other gay friendly bars, beach clubs, hotels, and even spas/saunas. These are all largely in and around Seminyak – see below for more. But as mentioned in our warning box above, be cautious of crackdowns by local police who target establishments that advertise as being "gay" or "gay friendly".
Where to stay in Bali?
As mentioned in our warning box above, Bali experienced a crackdown on gay guesthouses pre-Pandemic. To get around this, savvy gay hotels in Bali have toned down their gay rhetoric across their websites/social media and limited their listings to websites like this one which has a targeted gay male audience. We will continue to monitor and update our content at all times.
These are the hotels in Bali that welcomed us with open arms as a gay couple and can therefore feel confident to recommend to you. The bulk of these are in Kuta and Seminyak. We also recommend checking out Nusa Dua (around 30 minutes taxi ride south from Seminyak) where all the high-end luxury resorts can be found. See more about Nusa Dua later in this guide.
For the best gay hotels in Ubud, check out our detailed gay guide to Ubud but we've also included a section for Ubud towards the end of this guide.
02
W Hotel Retreat and Spa
Seminyak
Fire Restaurant serves excellent barbecued meat dishes like ribeye and wagyu, along with some pretty incredible cocktails. Starfish Bloo is perfect for pan-Asian cuisine as well as a seafood market on Friday evenings and an amazing brunch on Sunday mornings. The W also has lots of places to relax beside the pool or looking out over the beach, while you sip on a few delicious cocktails. The rooms and suites are also stunning here, decorated with splashes of green to make you feel like you're in a jungle treehouse while taking in the sea views from your balcony.
Along with the multiple pools and beach areas, we love their gym. It's modern, with full equipment and perfect for shaping up in before posting for all those Insta shots… If you can't be bothered with a gym work out, they have group classes like yoga, body pump and core. The Away Spa is open 24 hours a day and has a mix of treatments on offer ranging from body scrubs, foot baths, makeup services, massages and manicures.
03
PinkCoco Bali
Uluwatu
A new tapas restaurant is due to open on the property in April 2020, but there are also lots of excellent cafes, restaurants, and bars within walking distance, or a quick scooter ride. The staff at PinkCoco are absolutely wonderful and so helpful, offering suggestions on things to do or organizing a driver to take you around the area. Since there are only 30 rooms at the hotel you definitely feel like you get very personalized and friendly service here.
We particularly love the complimentary and eco-friendly items provided, like water in glass bottles in the bedrooms and fabric shopping bags for guests so you don't have to use plastic bags if you're doing some shopping. In fact, all the Pink Hotels strive to be both ethical and eco-friendly, as well as partnering with the Bali Pink Ribbon Foundation in the fight against breast cancer. This kind of conscious effort to do good is definitely an initiative we can get behind!
04
Impiana Private Villas Bali
Seminyak
These villas are ideal for either a group of friends traveling together in one of the 3 bedroom villas or for couples in one of the 1 bedroom villas. Each villa has its own private pool for a dip and there's also a luxurious private spa where you can be pampered in the Middle Eastern-styled rooms. You can choose from different massage, reflexology, and beauty treatments or join in on a yoga class. For the young at heart (like our Stefan!), you can even make use of the resort's collection of awesome floaties in your pool, perfect for that obligatory Insta shot of you on a floating pink unicorn!
As well as a private chef, you can also dine in the award-winning Prana Restaurant (or get a picnic basket to go!), plus the location in Seminyak means you are close to the gay bars as well as some of the best restaurants on the island (see more below). What really elevates Impiana Villas though is the service: the staff here are amazing! They were super welcoming to us as a gay couple, ready to go above and beyond to ensure our stay was as comfortable as possible.
05
M.A.N Resort OPENING SOON!
Kuta
M.A.N. Resort has also hosted some pretty cool pool parties in Bali, which we recommend looking out for, especially on weekends when they have hilarious drag shows. We think it's one of the best places to base yourself in Bali if you're a group of friends having a party holiday together. Oh – the cocktails? They've just gone for it – with hilarious names like "Sx By The Pool", "Strawberry Shag" and our favorite, "Golden Showers"…
Want to trim your hair whilst on holiday here in Bali but not sure where to go? Yeah, they've covered that too, with an on-site barber to hand to make you feel like Beyonce in no time! Every day they have a themed event, like 50% off food on Wednesdays and 50% off massages on Thursdays. Weekends are more orientated to parties. They also encourage LGBTQ locals to come and mingle, especially on Mondays and Fridays, when entry is free for locals.
Gay bars in Bali
The gay scene of Bali is dominated by the 3 gay bars in Seminyak along the road called: Jalan Camplung Tanduk Arcade. The fabulous 3 are: Mixwell, Bali Joe and F Bar, which are next door each other. They are all open from around 6pm until the early hours when they become popular dancing venues, particularly Mixwell and BJ.
For our guide, we've split these up, with F Bar in the "Bars" section and Mixwell/BJ in "Clubs" as we found that F Bar was better to head to for drinks to start the night and then we'd head over to Mixwell and Bali Joe for dancing, GoGo boys and drag shows. We've also included a few other gay friendly bars we loved in and around Seminyak that were a nice break from the main gay strip, but still gay friendly enough to allow us the luxury of a few PDAs!
Note: many online guides reference the gay bar called "Bottoms Up", which used to be part of this strip, but sadly this one has now permanently closed down.
F Bar (or Face Bar) is located on the "Jalan Camplung Tanduk Arcade" street right next door to Bali Joe. We liked F Bar more as a place to come for drinks before heading over to BJ or Mixwell later in the night, especially since the drinks are cheap. It gets busier later in the evening when the crowds of Mixwell/BJ and F Bar all merge into one along the street outside. Look out for the hilarious drag queens here doing the rounds across the 3 main gay bars of the strip (as well as their hot entourage of GoGo dancers!). F Bar is open Tuesday to Sunday from 7pm to 3am.
Ku De Ta is a super cool gay friendly beach bar, lounge and restaurant to hang out during the day. It was one of our favourite spots to come to for romantic sunset cocktails. After sunset, they usually have popular live DJs and the area gradually transforms into a dancing space. It's not an exclusively gay bar, but it's well known in the local LGBTQ community for being welcoming and gay-friendly. Ku De Ta is located at 9 Jalan Kayu Aya and is open daily from 8am until 2am.
Capris Beachfront Bar and Restaurant
Capris is a gay friendly beachfront bar attached to the Royal Beach Seminyak Hotel (located at Jalan Camplung Tanduk) and another favourite of ours for romantic sunset cocktails. They have tables to sit at, but we loved getting comfy on their cosy beanbags, right by the ocean. Capris is open every day from 11am until 11pm.
Even if you're not staying at the gaaawgus W Hotel (located at Jalan Petitenget Seminyak), we highly recommend visiting their Woobar. Think trendy, glam, chic…everything you'd expect from the W brand! During the day, entry includes complimentary access to the hotel's large pool area. In the evening, they have a live DJ, and the area slowly becomes a dancing area. Woobar is open daily from 10am until 1am.
La Favela is an amazing gay friendly restobar, famous for its themed parties. The indoor and outdoor seating areas are all decorated with plants (and model animals) to make it feel like a jungle. There's even a mini Christ the Redeemer statue on the roof like the one in Rio de Janeiro! It's located at 177x Jalan Laksamana Oberoi and is open every day from 5pm until around 4am.
For some authentic Mexican food, frozen margaritas and dancing, you'll want to head to the gay friendly Motel Mexicola restobar. As well as having some of the best Mexican food in Bali, they have a huge tequila list and some epic dance parties. Located at 9 Jalan Kayu Jati, Motel Mexicola is open every day from 11am to 1am.
The Lawn Canggu is a cool lounge that opens out directly onto the Canggu black sandy beach. Friday nights are their most popular evenings ("Lawn Friday's"), which attracts quite a sizeable queer crowd (helped by their two-for-one drink specials). Located on Jalan Pura Dalem, The Lawn Canggu is open daily from 10am until around 1am.
One for the cool hipster crowd, also located along Canggu Beach. We love it because the atmosphere is open-minded and welcoming to everyone. They have a different event taking place every day, from beer pong to acoustic guitar and even a monthly market. Old Man's is open daily from 7am until around 1am.
The Alila Seminyak Resort's beach bar is another gay friendly spot we loved in Bali for romantic sunset cocktails. And they go all out on them – check out their coconut and lime daiquiris or G+Ts with mango, black pepper or with olive, rosemary and a sea salt rim! The Alila resort is located at 9 Jalan Taman Ganesha and the Beach Bar is open daily from 11am until 11pm.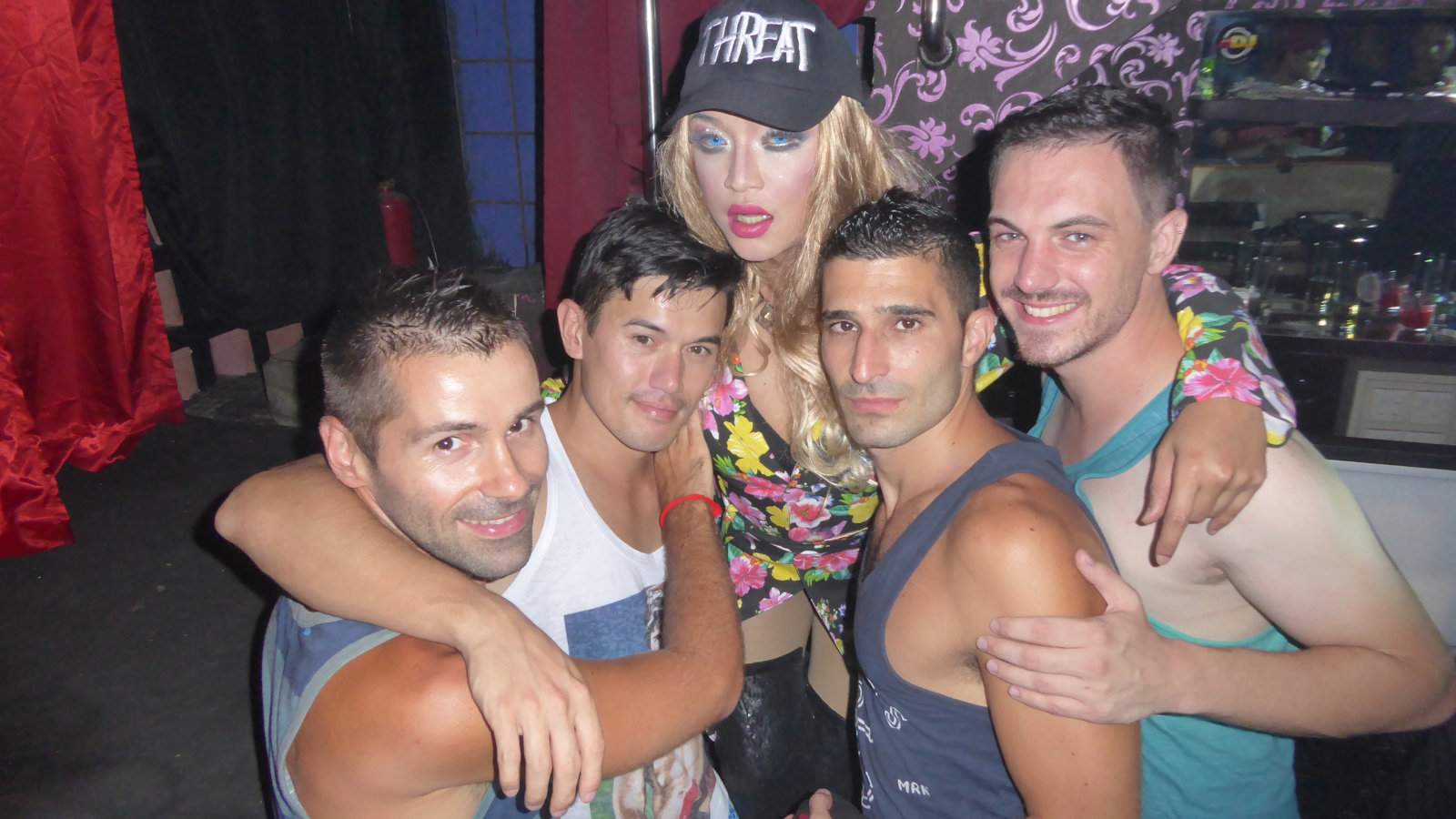 Gay clubs in Bali
As mentioned above, the best (and main) gay clubs in Bali are Mixwell and Bali Joe, located right next door to each other on the Jalan Camplung Tanduk Arcade strip in Seminyak. Whilst there is nothing else in terms of official gay clubs in Bali, look out for any ad hoc queer events that take place at other venues like the W Hotel.
Mixwell is the main and most popular gay bar in Bali, which we always ended up at whenever we went out in Bali – most LGBTQ travellers will end up here at some stage during their trip! We love the fierce drag shows and the hot GoGo dancer boys (see video below!). The waiters are super friendly, always joyful and full of smiles. It's also popular with local guys and the large LGBTQ expat community living/working in Bali. Mixwell is open daily from 6pm to 3am.
This has to be the best abbreviation for a gay bar ever! BJ is the other staple gay club in Bali, located right next door to Mixwell and F Bar. Look out for their fierce and super cheeky Rihanna and Nicki Minaj impersonators who loved pulling Seby up to the dance floor and stripping him down to his boxers! The drag queens also come out and mingle with you afterwards – they are hilarious and will make you wet yourself laughing! Bali Joe is open daily from 4pm until around 3am.
Pride at Sky Garden – reopening soon
Sky Garden is a huge party complex in Kuta, which used to be famous for its queer nights called PRIDE. It closed for a while for a big refurbishment but has started to open again, slowly. Rumour has it that they may also start up their PRIDE nights again, so watch this space!
Gay beaches and beach clubs in Bali
Whilst there are no official gay beaches in Bali, Batu Belig Beach is considered the main "unofficial" gay beach hangout. We've also included a few gay friendly beach clubs which are popular hotspots for LGBTQ travellers and locals during the day before heading over to Mixwell and Bali Joe:
Batu Belig Beach
This used to be gayer many moons ago when there was a cafe here proudly waving a rainbow flag. Whilst the cafe and flag are no more, the beach has retained its fabulous notoriety and still has tables, chairs and sun loungers to rent. The gay bit is located towards the northern side of Batu Belig beach, with some cruising in the nearby forested area. Batu Belig beach is located close to the W Hotel and minutes walking distance to the Grand Balisani Suites Resort.
Famous for being voted as one of the hottest beach clubs in Bali. This is one super gorgeous gay friendly beach club to hang out at, whether for romantic cocktails (cue us!) or for the Instagrammable decor. It's built from reclaimed wood from more than 500 old fisherman boats, resembling something out of Pirates of the Caribbean. We loved it! La Brisa is located on Echo Beach and open daily from 7am until 11pm.
Mr Potato Head was one place recommended to us by gay locals as a trendy queer-friendly beach club to hang out. From the outside, it's designed to look like a coliseum built from thousands of wooden window shutters, but once you get inside there are two beach-front infinity pools, three different restaurants, a swim-up bar, a groovy indoor cocktail bar and plenty of spaces to just relax. The Potato Head Beach Club is located at 51B Jalan Petitenget and is open Tuesday to Sunday from 10am until 2am.
We could almost put this under the club section because even though it's a beach club, Finn's is one of the most popular gay friendly party spots in Bali with huge and epic events. You can laze the day away here while listening to DJs from 9am and live vocalists from 4pm. There are no fewer than four pools and nine bars here (including two swim-up pool bars), along with five highly-rated restaurants! Finn's Beach Club also has some of the best pool parties, especially on New Year's Eve. Finn's is located on Jalan Pantai Selatan Gau and is open every day from 9am until 11pm.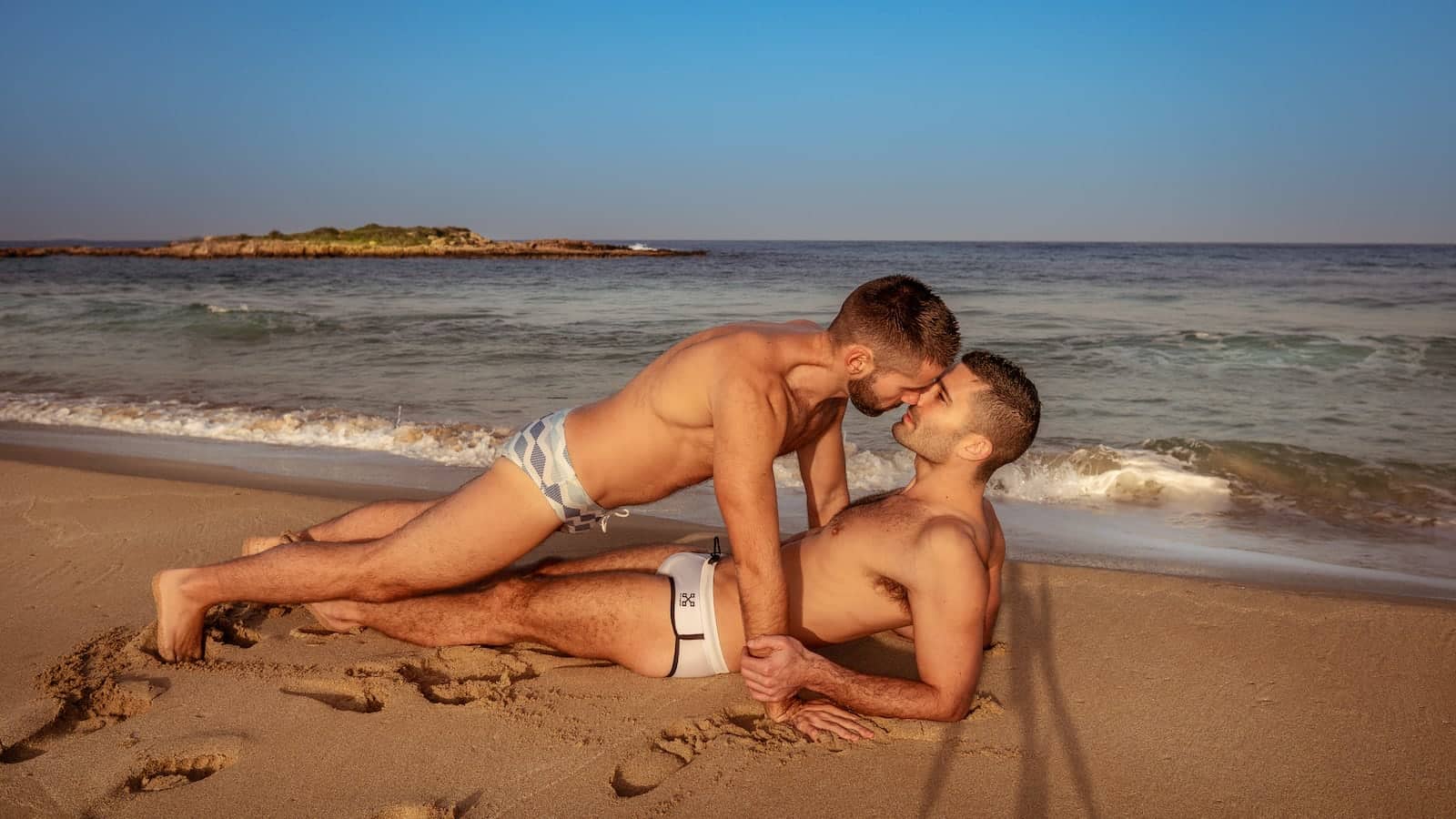 Gay saunas in Bali
Whilst Bali is synonymous with massage, you can be sure you'll find a heap of places that also offer that little bit extra! And there's quite a large number of them. These are some of the best gay saunas in Bali to check out, also referred to as spas locally:
Coco Grande is an exclusive gay men's spa which specialises in full-body massages using aromatherapy oils. All the staff are men, who are trained in the art of massage They also provide a call-out service if you want to have a massage in the privacy of your hotel room…! Coco Grande is located at 37 Jalan Plawa and is open daily from 10am until 10pm.
Teman Spa
Teman Spa is an executive gay-owned spa for men with all-male masseurs. As well as special massages for relaxation, tension or sensation they also provide facials and cleansing body scrubs. Teman Spa is located at 15 Jalan Mertanadi and is open every day from 10am until 10pm.
In what is possibly the biggest and most luxurious gay spa in Bali, Elegantz is a 5-star establishment spread out over two floors of an ancient Balinese mansion. There's a Greek-style steam room with aromatherapy, a Roman bath plunge pool, private relaxation rooms, a walk-through balcony, garden terrace, cafe and a gym! Handy tip: Elegantz gets very popular after 6pm. It's located at 18 Jalan Tangkuban Perahu and is open daily for massages from 11am-10pm, while the cruising area is open from 4pm-10pm.
Banana Spa is one of Bali's oldest, largest and most popular gay spas. It's more of a day club to hang out at, with all the fun extras that come with it! The all-male staff offer banana-scented oil massages, exfoliating scrubs and manscaping…and more! Located at 69 Jalan Drupadi, Banana Spa is open daily from 9am until 11pm.
With verrry chic black and white styling throughout, M2 Spa is a more traditional gay spa. We love it because they also cater to couples(!) offering a professional and relaxing couples massage – involving a traditional "Boreh" spicy scrub complete with flower bath. M2 Spa is located at 41B Jalan Petitenget and is open every day from 10am until 10pm.
The cosiest male massage in town! Adam's Apple is where you wanna head to get things like a decadent "Forbidden Apple Massage"(!) This bad boy combines Swedish, shiatsu, Thai yoga and Chinese acupressure. They also offer a call-out massage service to your hotel room. Adam's Apple is located at 69X Jalan Batu Belig and is open from 9am until 10pm daily.
Despite the name, Young Generation is for over 18s, with lots of different massages to try, including deep tissue, hot stone and foot reflexology…all of them with the promise of a "happy ending"! Located at 102B Jalan Tangkuban Perahu, Young Generation is open daily from 10am to 10pm.
Best gay events in Bali
While Bali does have a gay pride event, there isn't a huge amount of information available online about it (due to pressure from religious groups), so we recommend connecting with locals using Grindr to get the latest scoop. There are plenty of other exciting cultural and music festivals that we fancied and think you would as well:
Gay Pride Bali/Bali Art Festival (June)
Bali hosts Indonesia's only gay pride parade, which coincides with the Bali Art Festival in June. The art festival takes place over the whole month, with events to celebrate, preserve and develop Balinese art and culture. Most of the events take place at the Taman Werdhi Budaya Arts Centre in Denpasar, with something different every single day, from theatre to dance to documentary films and even puppet shows!
Silent Disco at the W (Aug/Sep)
About once a year (usually in August or September) the W Resort's Woobar hosts a really fun silent disco. When you arrive you get your own headphones which you can use to switch between the different music styles played by three different DJs. Keep an eye on the Woobar's facebook Page to find out when the next one will be.
Bali Spirit Festival (March)
One of the most inspiring festivals in the world, the Bali Spirit Festival, combines yoga, meditation, dance, martial arts and healing workshops. This week-long festival also includes market stalls selling handicrafts, vegan food, clothing and gifts, as well as concerts with music from all around the world. This is definitely a must for anyone interested in spirituality, wellness, world music and nature.
Makepung Races (July-Sep)
For something really unique, if you head to Bali between July to September, you'll get to experience the Makepung water buffalo races. Taking place in the western Jembrana Regency of the island, this tradition originates from the country's agricultural way of life. Farmers dress their bullocks up with colourful decorations, and along with the races, you can even watch a 'buffalo fashion show'! The races generally take place on Sundays from July to September when it's the dry season in Bali.
Bali Kite Festival (August)
A must-see for anyone visiting Bali during the dry and windy season is the Bali Kite Festival. Exact dates vary depending on the weather conditions but the main event takes place on Padanggalak Beach in Sanur. For Balinese Hindus, kites are used to send messages to the gods and ask for a bountiful harvest. Since the larger a kite is the higher it can go, most of the kites are massive and whole villages take part in the construction. Visitors to Bali can enjoy seeing thousands of colourful kites floating in the sky during the festival, while traditional gamelan orchestras play music.
Balinale (September)
We love international film festivals as they're always a great place to see local films from the region as well as more international ones. Balinale is the Bali international film festival which is recognized all over the world for the diversity of its programming with a wide variety of documentary, feature and short films. The festival has even attracted its fair share of Oscar, Emmy, BAFTA and Cannes award winners, so you might even spot a few celebs at one of the workshops and seminars!
Legian Beach Festival (November)
Nestled in between Kuta and Seminyak is Legian Beach, a gorgeous spot for swimming without the large suffocating crowds. The Legian Beach Festival is a four-day music festival which also includes lots of food stalls, activities, competitions and even a bartending show. Of course, there's plenty of exciting live music both day and night for you to have a boogie.
Gay Tours of Bali
If you'd prefer to explore Bali as part of a group, there are a couple of excellent gay tours going there. By joining a tour group you'll be able to relax and enjoy everything without worrying about logistics. You'll also be able to make friends with like-minded people so it's ideal if you'll be travelling solo.
1. Bali Gay Cultural Tour with HE Travel
HeTravel is offering our readers an exclusive 5% discount valid for this tour. Click the button below to find out more.
---
2. Gay Indonesia Island Hop Tour with HE Travel
HeTravel is offering our readers an exclusive 5% discount valid for this tour. Click the button below to find out more.
---
Best restaurants in Bali
For a small island, Bali sure has its fair share of high-end restaurants. With many international top chefs coming here to set up shop, you can expect to find cuisine from all around the world. These are some of our favourite gay friendly restaurants in Bali we absolutely loved:
FIRE at W Bali
---
Husk Restaurant
---
Rolling Fork
---
Moonlite Kitchen & Bar
---
Things to do in Bali
Bali is a magical island, with so many fun things to see and do. From enchanted rainforests to sacred volcanic peaks, emerald rice terraces, and some of the most Instagrammable spots ever, you'll never get bored! These were some of our favorite things we did during our trips to Bali.
Treat yourself to a world-class spa
---
Spend some time on the beach
---
Experience a romantic sunset
---
Take part in a cooking class
---
Swimming with manta rays
---
Go hiking on Mount Batur
---
Visit the Instagrammable northern side of Bali
---
Stand in the Gateway to Heaven
---
Learn about Indonesian culture at the theatre
---
Explore the famous rice terraces
---
Ubud: the cultural getaway in Bali
While Seminyak is synonymous with beach and nightlife, Ubud is Bali's cultural heart. It is nestled among the mountains and lush jungle in the middle of the island. Temperatures are slightly cooler here and has an overall more chilled vibe. A popular yoga retreat (especially after the success of "Eat, Pray, Love"), we found Ubud to be a wonderful spot to relax and explore the more cultural side of Bali.
There are some excellent gay friendly hotels to stay in Ubud, like Villa Awang Awang and Saudara Home, where you can feel like you're Tarzan living in a jungle treehouse. Delicious restaurants such as Taksu and the stunning Mozaic will keep you satisfied on the foodie front, while there are plenty of gorgeous museums and art galleries to inspire.
If you're brave enough, you can visit the infamous Ubud Monkey Forest, but be warned those monkeys are super cheeky – even more cheeky than our Seby! There are also lots of beautiful temples to visit and many boutique shops in case you need some retail therapy. Make sure you check out our gay guide to Ubud for more info (will be published soon).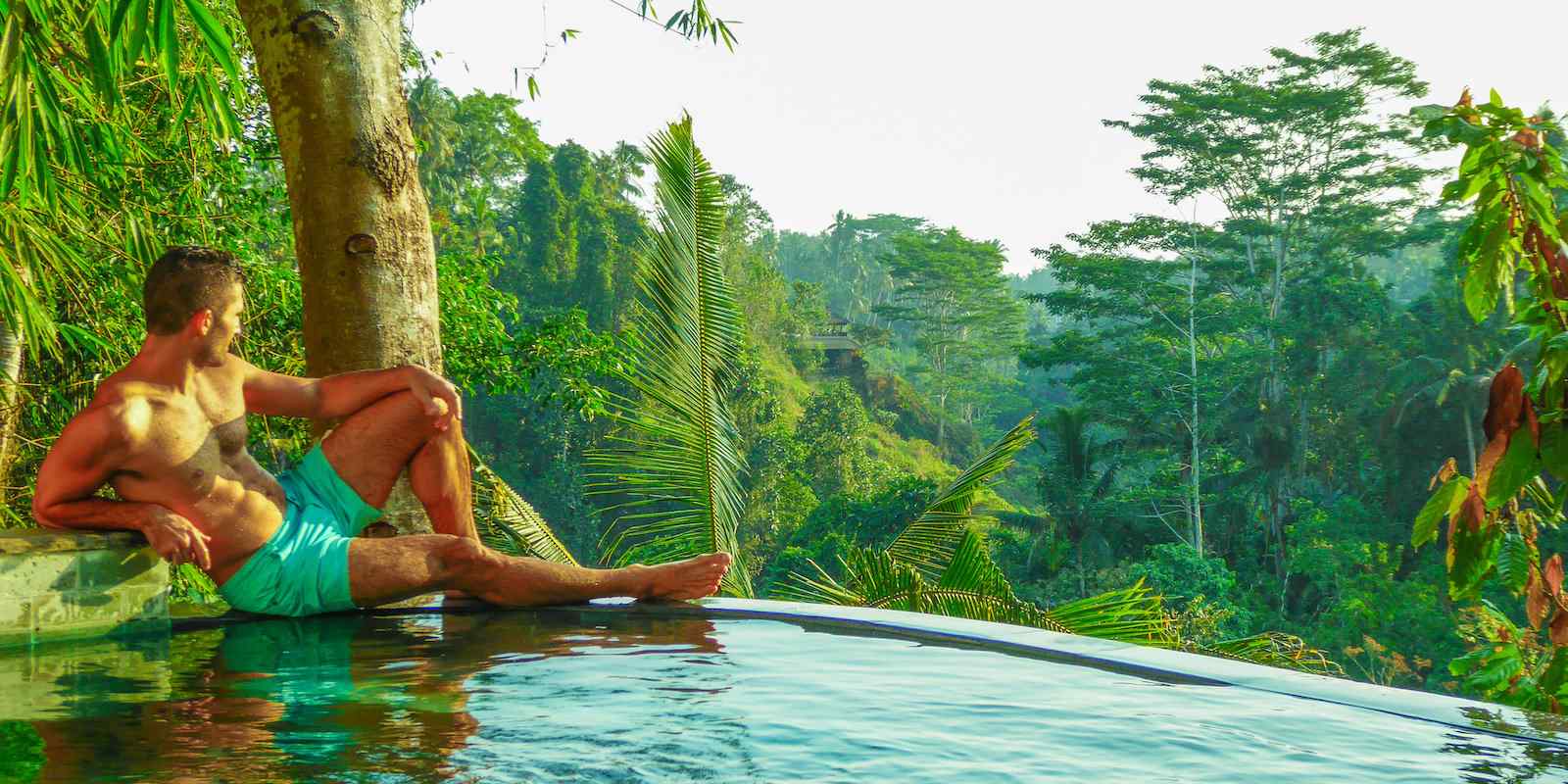 Nusa Dua: a honeymoon getaway
Nusa Dua, located on the opposite side to Kuta on Bali's southern peninsula, is known as the 'honeymoon' area of the island, owing to the large amount of incredible five-star resorts clustered here. This is probably the most upscale area to stay, so it's perfect if you're looking to splurge on a luxurious experience for a special occasion (like your honeymoon).
There are beautiful beaches and stunning cliffs to experience, but without the overly busy/party vibe you get around Seminyak and Kuta. The blowhole known as Water Blow is an exciting spot to visit to see the famous splash through the rocks. If you're looking for a more relaxed and romantic holiday, we definitely recommend this area. You can still easily visit other parts of the island but then come back to your resort or hotel when you want some peace and quiet.
While Nusa Dua means 'two islands' there are actually two headlands with a temple on each which enclose the gated community. We stayed at the gay friendly St. Regis resort during our time in Nusa Dua and can definitely recommend it as an opulent base for exploring the island.
The St. Regis Bali Resort
Nusa Dua
The St. Regis is so huge, you need a buggy to go from one end to the other. We particularly enjoyed many peaceful, relaxing moments on the private beach where you can also partake in exhilarating water activities like snorkelling and kite surfing. As if that wasn't enough, the St. Regis Bali has a massive 3,668 square metre salt-water lagoon pool with multiple spots for lounging on beds or deckchairs, and two thatched gazebos with whirlpools inside. All the villas and suites come with a balcony or terrace looking out over the gardens, pool or ocean, while some even have a private hot tub or plunge pool.
For more relaxation and pampering you can choose from a range of treatments at the beautiful Iridium Spa, which is located in the middle of a koi pond! There are also multiple, incredible dining options on-site, particularly the private Cloud Nine Crystal Chapel where you can dine with a private butler AND a private pianist under the Swarovski crystal chandeliers. For something slightly less extravagant, we loved the pan-Asian cuisine served at Kayuputi, with outdoor seating next to the lagoon pool.
Tips to plan your trip
We've put together some handy hints and tips to help you plan your own trip to Bali. Read on to find out everything the gay traveller should know before they go.
---
---
---
---
---
---
---
---
---
---
---
---
---
Gay map of Bali
Here's our gay map of Bali which includes all the gay bars, clubs, hotels and sightseeing highlights we've mentioned in this post. Use it to plan your own amazing gay trip to Bali!
---