TERMS OF USE: There is a chance that some of the content on this page has changed since it was last updated. By reading this article, you consent to our Terms of Use and Disclaimer. Happy Travels!
DISCLOSURE: Some of our posts may contain affiliate links which we may receive a commission if you choose to book something through one of our links.
Here's our gay guide to Labuan Bajo on Flores Island in Indonesia including gay friendly hotels to stay, where to eat, drink, what to do, and practical safety tips for LGBTQ travelers.
Get ready for sharks and the almighty Komodo dragons!
This is the homeland of the famous Komodo National Park, a part of the world that blew us away! We had our best ever scuba dives right here where we spotted everything from reef sharks feeding, lots of manta rays and turtles gliding, and even a pair of moray eels fighting. The standalone highlight of course: the Komodo Dragons! You read right, real live super dangerous, incredibly aggressive, yet seemingly docile, dragons…you can bet your bottom dollar we lived out our Khaleesi Mother of Dragons fantasies right here!
Labuan Bajo is the main town and transport hub on the Indonesian island of Flores. This is also where you head to as your base for trips over to the magnificent Komodo National Park, which we'll continue to rave about till we're blue in the face! In this guide, we've put together our detailed experience traveling on Flores Island and basing ourselves in Labuan Bajo.
Get online securely in Labuan Bajo
We strongly recommend investing in a good VPN for your travels in Indonesia. Whilst Labuan Bajo is reasonably gay friendly, the rest of Indonesia is not, and the Internet is heavily regulated. Lots of LGBTQ apps and website are blocked, including Grindr. Using a VPN means you will still be able to access your favorite apps and sites, while also allowing you to browse the internet anonymously and securely.
Where is Labuan Bajo?
Labuan Bajo is a fishing town on the western side of Flores island. Flores is located in East Nusa Tenggara on the Southern end of Indonesia, between Lombok and Papua islands. The waters around Flores form part of the Coral Triangle, containing some of the richest marine biodiversity on the planet – hence why it's such a paradise for divers.
The UNESCO listed Komodo National Park is made up of 29 volcanic islands, located several hours' boat ride away from Labuan Bajo. The 3 main islands are Komodo, Padar, and Rinca. The islands are home to around 5,700 giant aggressive lizards whose appearance has earned them the nickname of the "Komodo Dragons".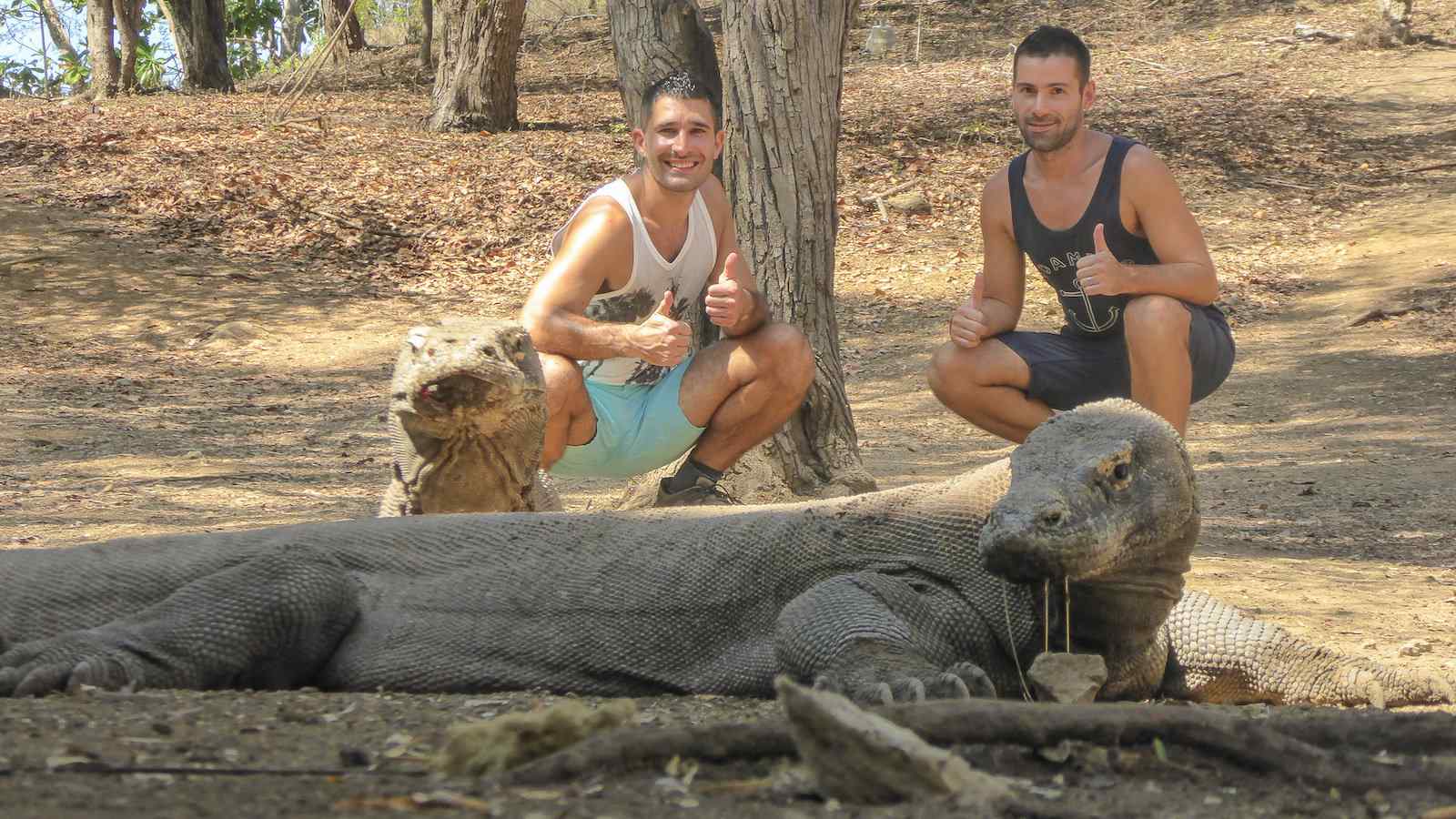 Is Labuan Bajo safe for gay travellers?
Yes, we think it is. We appreciate that Flores island is part of Indonesia – a country notorious for having quite a poor reputation for LGBTQ rights. However, like Bali, Flores relies so heavily on tourism that it has quite a large foreign and young population, particularly in Labuan Bajo. For this reason, we felt comfortable asking for a double bed in the places we stayed at.
But, remember this is still very much part of a country that is constantly getting bad press for targeting and bullying its LBGTQ community. Throughout 2020, for example, we received numerous reports of harassment on businesses that called themselves "gay" or "gay friendly" in Bali – an island famous for its lax attitude towards homosexuality. For this reason, we strongly advise erring on the side of caution – avoid all PDAs, be careful who you meet on Grindr, and be prepared to go back in the closet.
A final note on this, the locals we met on Flores Islands were nothing but sweet, kind and super welcoming. They love meeting foreigners and showing off their island. The worst sort of comments we ever received were "are you sure you're not brothers?"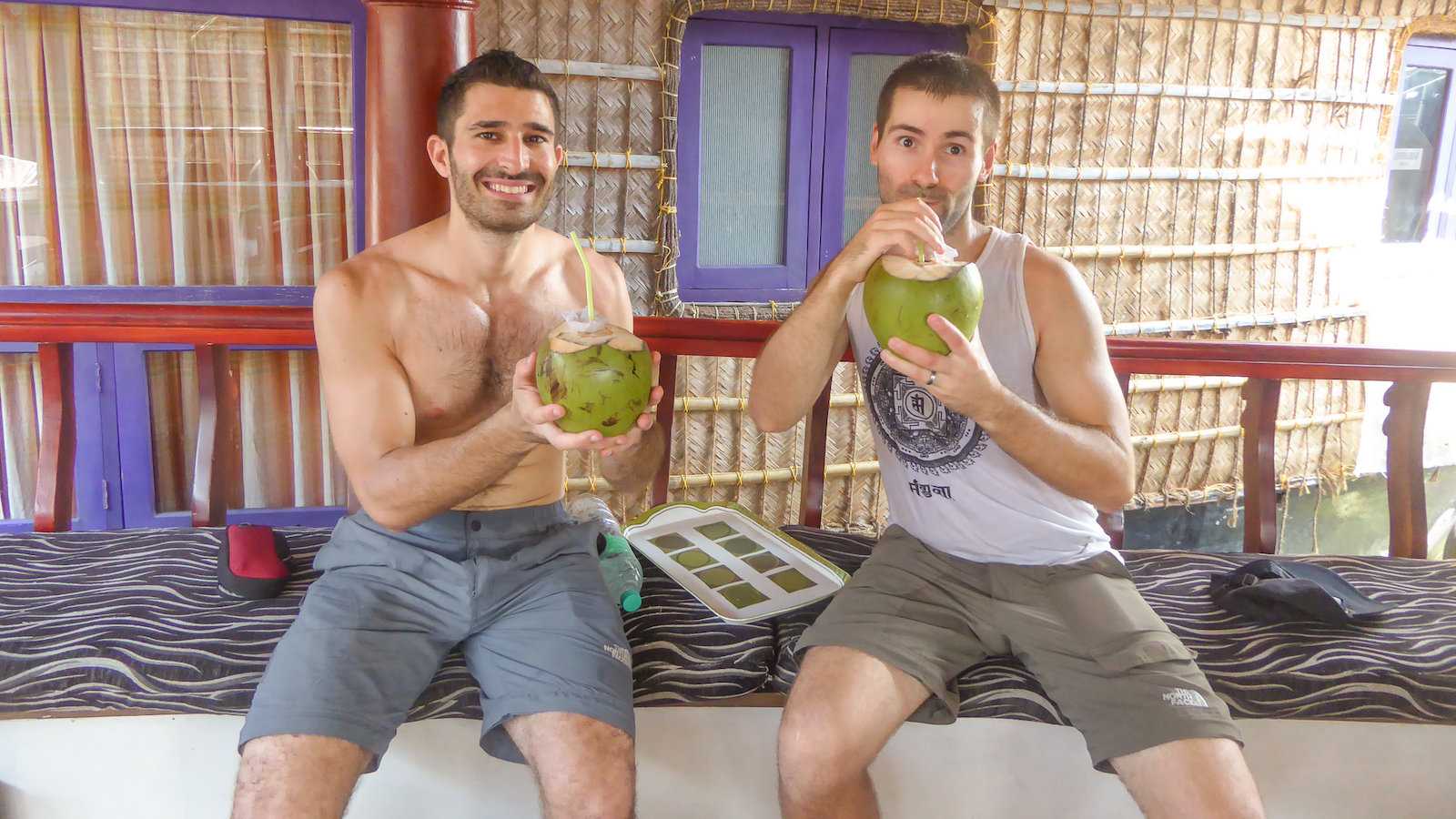 Gay friendly hotels in Labuan Bajo
There are lots of gorgeous gay friendly places to stay in Labuan Bajo and the local diving schools will usually offer discounted accommodation if you choose one of their packages. These were three main places that stood out for us and were very welcoming towards us as a gay couple:
01
Plataran Komodo Resort & Spa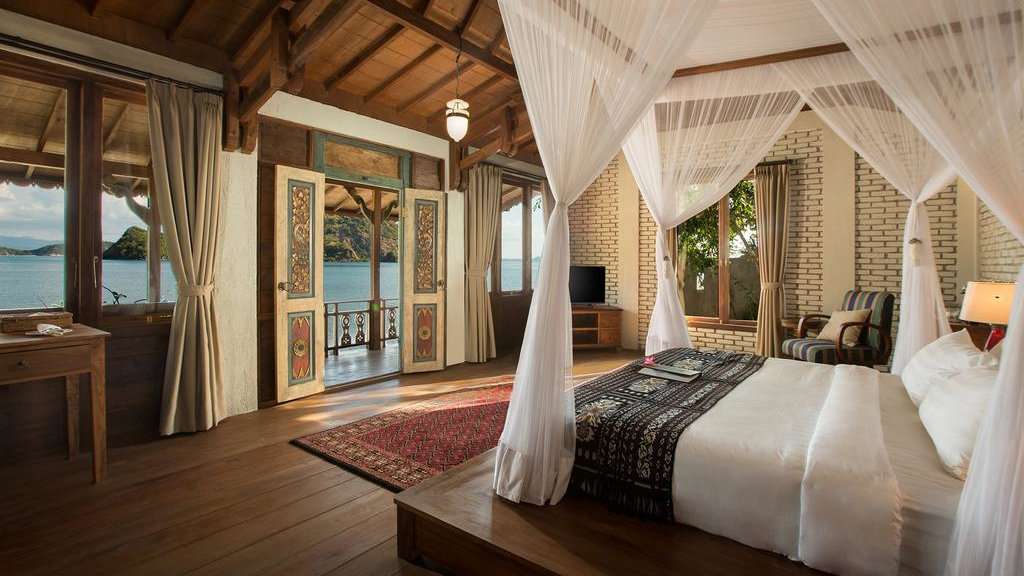 Why we love it
---
High-end luxurious option
Great for couples looking for romance
Beachside location and a swimming pool
Lots of fun excursions available
The Plataran Komodo Beach Resort is a stunning gay friendly luxury choice offering spacious beachfront villas and incredible views overlooking the sea. The bedrooms are so romantic, with mosquito netting and raised wooden platforms for the beds.
Some of the villas come with their own small private pool, but all of them include access to the main swimming pool and beach.
Plataran Komodo also houses a restaurant called Xanadu which serves delicious Indonesian dishes as well as other international fare. We enjoyed one of their special romantic candlelit dinners on the beach under the stars, as well a scrumptious seafood barbecue. The Padma spa is also a wonderful spot to relax, especially with your other half as they provide romantic couple's packages with massage, scrubs and a divine milk bath!
If you like your romance and relaxation with a side of adrenaline never fear, for Plataran Komodo has a wide range of exciting excursions to take part in as well. You can organize fishing, snorkeling, cave exploration and excursions to see Komodo dragons directly through the resort, along with cultural encounters across the island. There are so many options in fact, that it was really hard to narrow it down to just a few.
STAY WITH A GAY LOCAL
Misterb&b is the Airbnb equivalent for the LGBTQ community. Unlike on Airbnb, you know your host is gay, voiding any nasty surprises when you check-in. It is also a great way to meet gay locals and discover the underground gay scene. Click below to get 10 € (or $10) off our first booking.
02
Blue Marlin Dive Komodo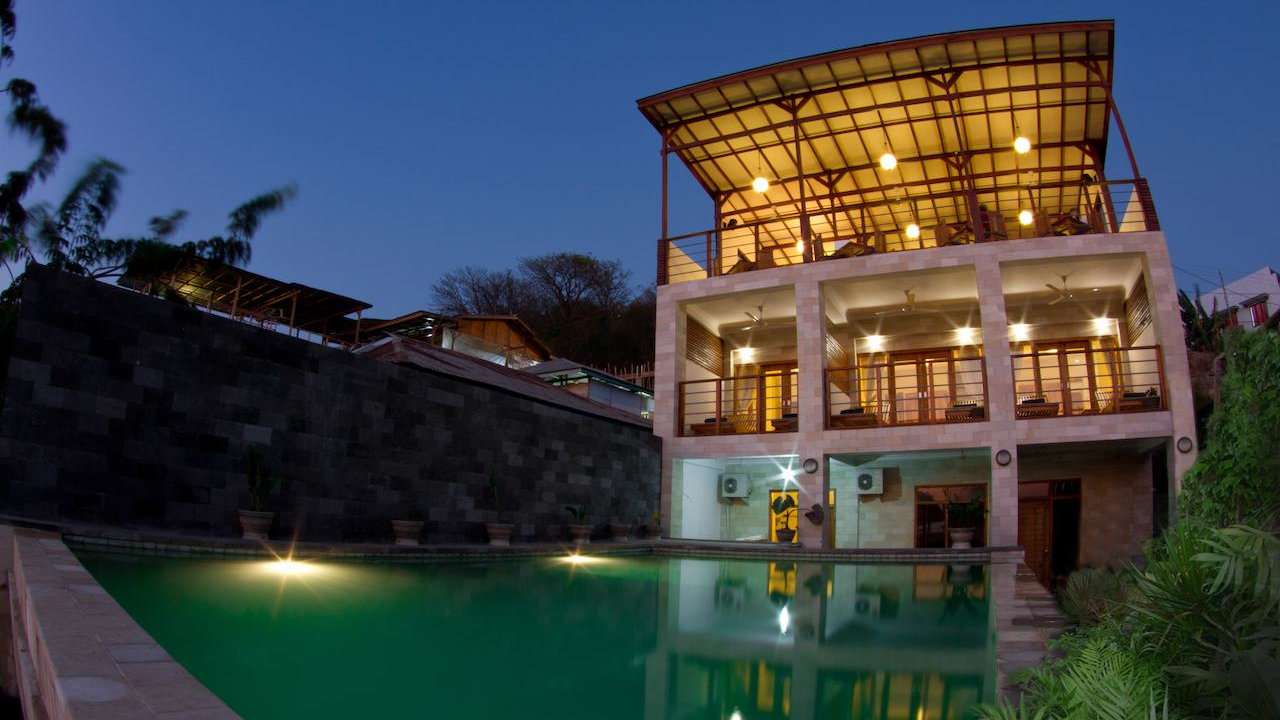 Why we love it
---
Only full-service dive resort serving Komodo National Park
Accommodation for a range of budgets
Excellent dive and stay packages available (with dive training if needed)
Yummy on-site restaurant with great views
We did our dives with Blue Marlin and decided to stay with them too. Their deluxe rooms are modern and comfortable, with a private balcony. A delicious full English breakfast is also available.
For gay travelers on a budget, or those diving with friends, Blue Marlin also offers 4-bed dorm rooms. The main thing we loved is their dive and stay packages, where you can choose from dorm or deluxe rooms as well as diving excursions or diving courses depending on your level of experience.
It was very convenient to be able to walk outside and meet up with our dive group each day and the package we booked also included a snorkeling trip to see the Komodo dragons. Obviously we didn't need to do a PADI course beforehand but we were very impressed by the on-site training pool and variety of PADI courses available. We'd definitely recommend Blue Marlin Dive Komodo if you are planning to learn how to dive in Labuan Bajo!
We found the deluxe room we stayed in very comfortable for a good night's sleep after a long day of swimming. Another highlight is the restaurant which serves western and Mexican food with delicious cocktails. The open balcony location is also perfect for enjoying a stunning sunset each night. If you really want to experience life on the high seas you can also do a liveaboard boat experience if you are already a confident diver.
03
Saesta Komodo Hostel & Hotel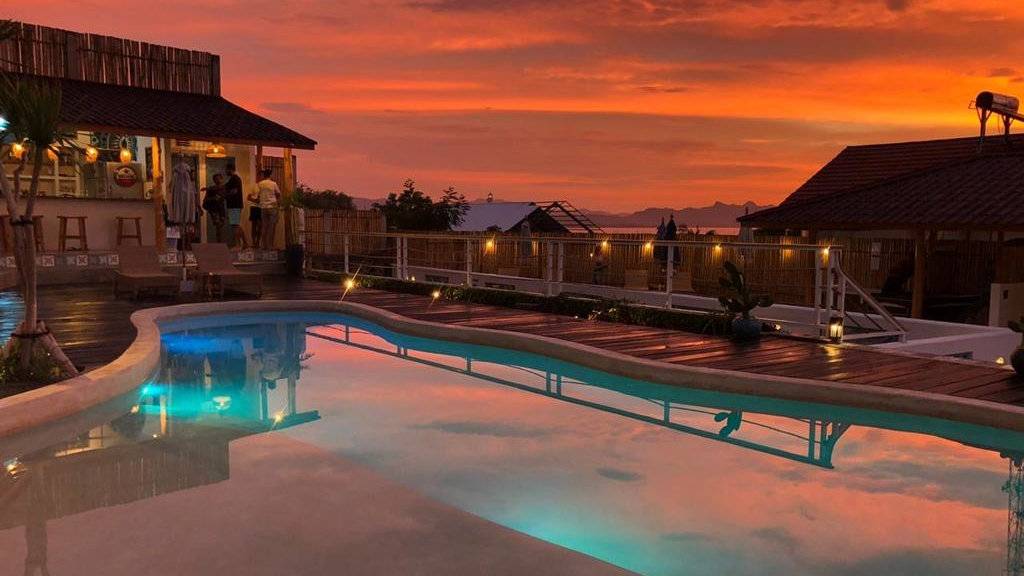 Why we love it
---
Great budget option with dorm and private rooms
Stunning rooftop pool with bar and restaurant
Short walk to the main town
Excellent gym
For gay travelers on a budget, you can't go past the boutique hotel/hostel Saesta Komodo. If all you need is a cheap bed then you can book a hostel dorm room but if you still like your privacy there are also comfy single or double rooms with private bathrooms.
Even the dorm rooms are spacious, clean and cozy, with very solid beds that come with privacy curtains.
The rooftop pool and hangout area is the heart of Saesta Komodo, with gorgeous views over the harbor. This is a popular spot for guests to hang out, have a dip in the pool, relax while working on their tans, and have a sunset cocktail or meal. There are also board games, table tennis and darts to keep you entertained, plus you're almost guaranteed to make friends with other guests. They even organize social events like movie nights and yoga classes to work on your mindfulness. If you need a more intense workout there's also a really good gym to keep trim.
Another thing we love about Saesta Komodo is their commitment to the environment – they aim to reduce waste from the hotel wherever they can, so you won't be finding any plastic straws here! The food in the yummy restaurant is locally sourced as much as possible while the staff team are also active with local beach cleanups and education. We loved eating at their restaurant, which does a mix of Mediterranean, Middle-Eastern and Indonesian dishes, along with divine smoothies.
---
Where to go out in Labuan Bajo
Let's get one thing straight(!) – just as we experienced at Senaru Village on Lombok island, don't come here expecting pink mania frenzy. There's none. However, there is a very mixed, international crowd, predominantly into scuba diving and/or involved with tourism. These were the most happening hangouts when we visited:
Paradise Bar is pretty much THE place to party in Labuan Bajo, with live music, sunset views and lots of yummy cocktails! Saturday nights are the busiest, with a small cover charge, but there's a fun vibe every night. If you just want to relax with a cocktail and watch the sunset with your lover then it's quite romantic, but if you want to get down and dance until late then you can do that too.
Paradise Bar is located a short walk up the hill from the harbor on the Jalan Binongko hilltop and is open seven days a week from 5pm until 1am.
The bar and restaurant area at Blue Marlin Dive (which we talked about in the hotels section) was a great spot for a drink after diving all day. There was always a fun atmosphere at the bar every evening after sunset as fellow divers compared notes over an ice-cold beer or cocktail and bragged about how many manta rays they saw. When we didn't feel like alcohol we really enjoyed their fresh mint and lemon juice – so refreshing!
The Blue Marlin bar is located upstairs at Blue Martin Dive on Jalan Soekarno-Hatta and is open daily from 7am until 10pm.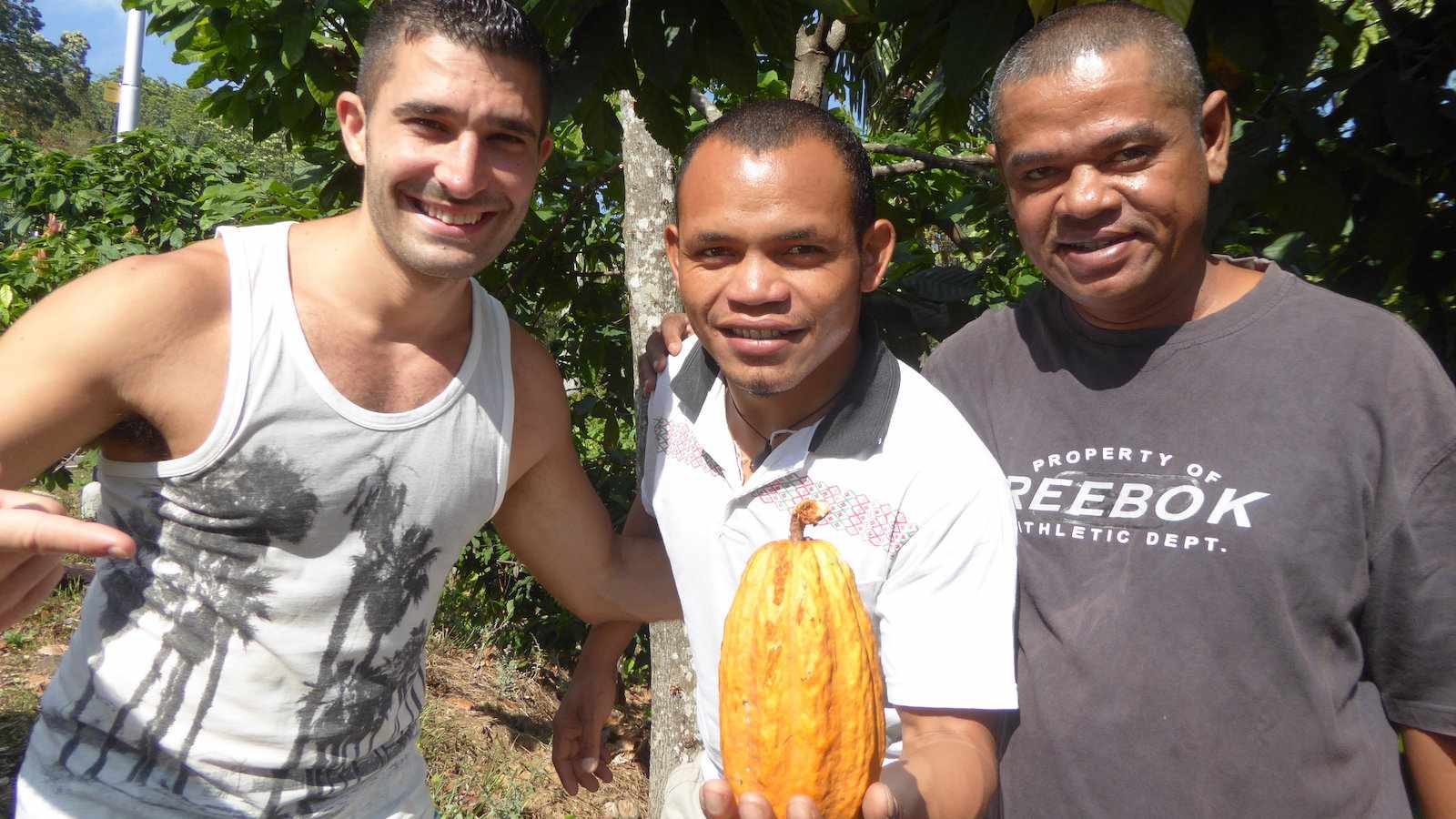 Where to eat in Labuan Bajo
With the rise in tourism in Labuan Bajo there's also an increase in excellent restaurants to feed all those travelers! You might need to venture beyond the main touristy street to find some authentic Indonesian food, but it is there. We experienced a number of decent places around Labuan Bajo to eat, here are our favorites:
Blue Corner is one of the best spots in town for proper local Indonesian food like gado gado and mee goreng. This is a family-run little spot, with the menu in Indonesian but there are pictures to help you figure it out. The prices here are also really good as it's more of a local business than some of the places that cater mostly to tourists. We recommend it if you want an authentic taste of Indonesia.
Happy Banana Komodo is a Japanese fusion restaurant in Labuan Bajo that is popular for sushi (not surprisingly!) and rated in the top five restaurants by Tripadvisor. Their reviews are glowing and the food is divine, especially the sushi but we also really enjoyed their udon noodles. Many of the options on the menu are vegan plus they do these really cool takes on the "Buddha bowl", serving up healthy and delicious 'sea goddess' or 'geisha' bowls.
Made in Italy is a very popular and sophisticated Italian restaurant that's highly rated for its pizzas. Chef Patron Marco Bertini brings dishes from his native Tuscan origins to Indonesia here, with everything made from scratch with locally sourced ingredients. The restaurant is very romantic so it's perfect for a special occasion dinner. You can even organize an incredible culinary journey on their Made In Italy boat or just pop by for a traditional Italian breakfast on Sundays and try some mouth-watering pastries.
La Cucina is another Italian restaurant we loved in Labuan Bajo, famous for its pastas and excellent coffee. This is a really cozy little restaurant with a lovely terrace overlooking the harbor and cute decor. The pizzas are the real drawcard here, with traditional favorites like margharita alongside more adventurous (but just as mouth-watering) choices like the Polipo & Peperoncino which comes with tomato, octopus, garlic and parsley. There are also gluten-free options for those who love their pizza and pasta but can't always have some!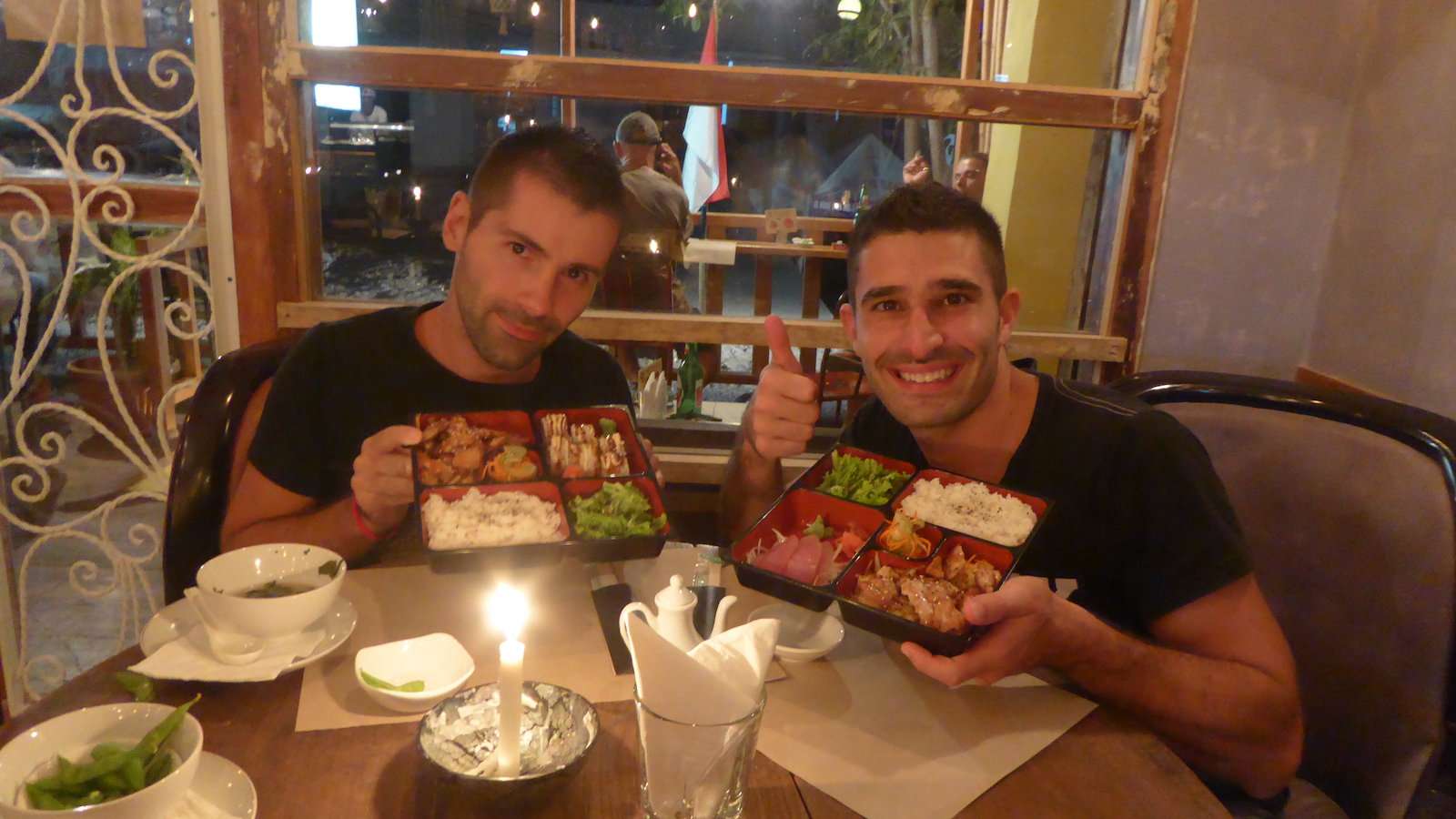 Things to do in Labuan Bajo and Flores island
The majority of people come to Labuan Bajo and Flores Island to see the Komodo dragons and for the diving. There is, of course, more to explore on Flores island, but as keen divers, the highlight for us was the underwater world! These are our must-do picks for the area:
All male sailing in the Flores Sea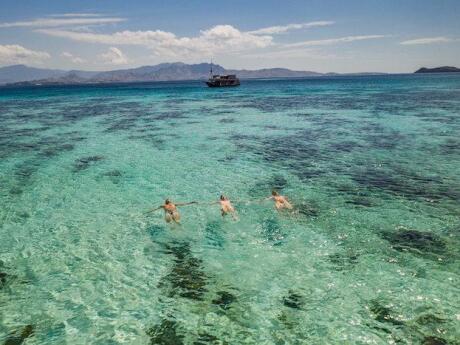 The best way to truly experience the Komodo National Park area is to spend a few days living on a traditional wooden vessel in the Flores Sea, diving, snorkeling and visiting remote islands you wouldn't otherwise be able to reach on a day trip with a bunch of other gay men. Everything to Sea is an amazing company that provides all that and more, so it's our number one choice for experiencing this spectacular part of the world. The best part is you'll be in the company of other gay men and free to be completely yourself as it's a clothing-optional trip.
---
Diving in the Komodo National Park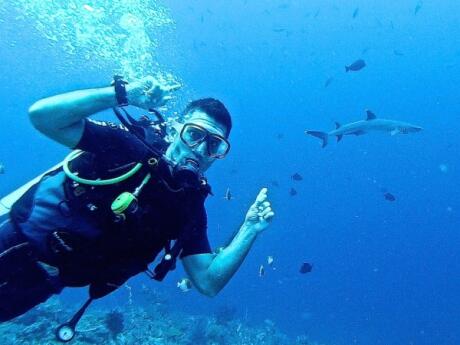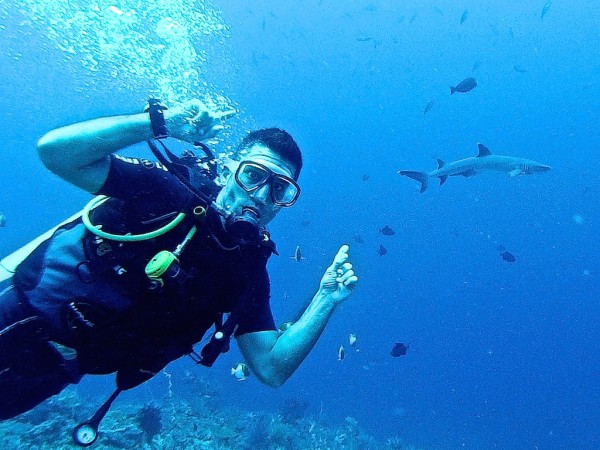 The Komodo National Park was established in 1980 and comprises the waters and islands surrounding Labuan Bajo just off Flores Island. It was declared a World Heritage Site in 1986 and has been well preserved since. It forms part of the Coral Triangle, which contains some of the richest marine biodiversity on earth. It was also selected as one of the New Seven Wonders of Nature in 2011. So be warned: after diving here, your expectations will be so high that subsequent dives will pale into comparison! We recommend organizing your diving through Blue Marlin Dive, we went with them and can't praise them highly enough.
---
Meet the Komodo dragons!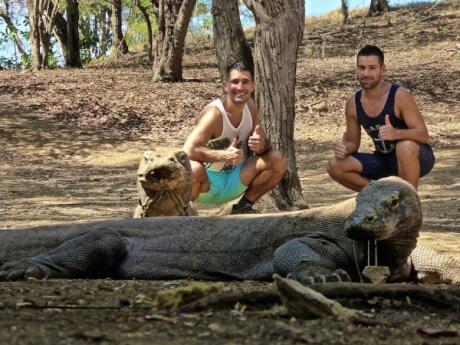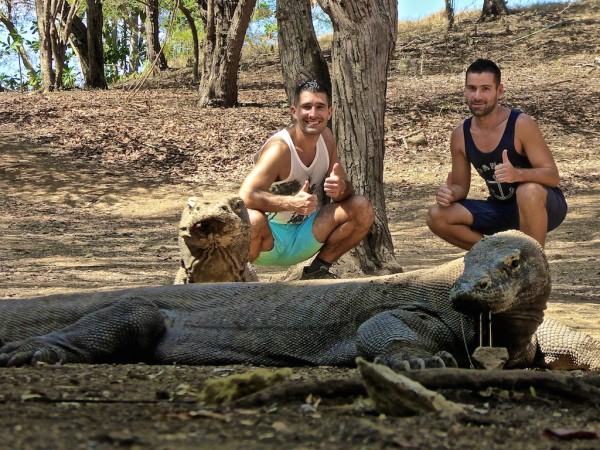 The Komodo National Park is most famous for being home to the largest living species of lizard. We visited the Komodo Dragons on Rinca Island and met the very charming Keith and Kenny, the new Nomadic Boys! Unlike Stefan and Sebastien, Keith and Kenny can grow up to 2-3 metres in length. They gained their nickname due to their dragon-like appearance and aggressive behaviour. You can visit the dragons either on Komodo or Rinca islands. The tours are with the park wardens who know how to safely manage the dragons and will help you stage some excellent photos with them.
---
Explore Flores Island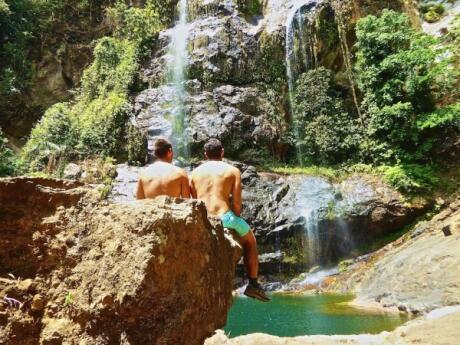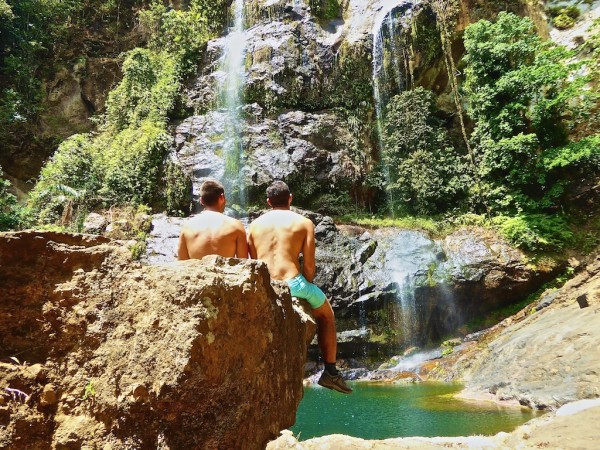 Flores Island's mainland also has a great deal of natural wonders to explore, like Mount Kelimutu with the Coloured Lakes, Batu Cermin cave and the awesome Cunca Rami waterfall. In addition to all the natural highlights, there are many coffee farms, paddy fields and cocoa plantations spread throughout the island. Another less famous activity on the island is tofu making, particularly at Merombok village where it is mass-produced. We watched a group of boys pounding the beans, soaking them, heating them up to then shape into cubes, drying them and eventually selling them in bulk. We recommend the very charming Juvens, who's a local guide and has his own tour company called Pure Flores. Juvens runs a variety of daily trips and multi-day tours aimed at exploring Flores!
---
Plan your trip to Labuan Bajo
We've put together some handy hints and tips to help you plan your own trip to Labuan Bajo. Read on to find out everything the gay traveler should know before they go.
Travel insurance: An absolute must! We never travel without the security of travel insurance and strongly recommend you do the same: Medical emergency? Cancelled flights? Stolen bags? Sorted! We love using Heymondo Travel Insurance because their cover is comprehensive, affordable and it's easy to make a claim online if you need to.
---
How to get there: You can fly into the Labuan Bajo Komodo Airport from nearby Jakarta or reach the island via ferry from Makassar, Lombok, and Sape. The airport is only 1.5km (1 mi) out of town and some hotels offer free shuttle services. Otherwise, a taxi will cost about $4.50 (US)!
---
Visa requirements: For most visitors to Indonesia (USA, UK, Europe, Australia, New Zealand and Canada), you can simply get a visa on arrival, which costs around $35. Make sure you check your personal visa requirements before making your travel plans though.
---
Getting around: Most places within Labuan Bajo are easily walkable, or you can hail an ojek (motorized scooter), bemo (minibus) or taxi to get around. They are all very affordable.
---
Power Plugs: Indonesia uses type C and F power plugs. These are the standard European plugs but if you're travelling from somewhere else (like the UK, Australia or the US) then you'll need to bring a travel adaptor with you.
---
Vaccinations: All travellers to Flores Island need to be up-to-date with all routine vaccinations like measles, mumps and chickenpox. It's also recommended you have a polio booster if you're planning to stay in Indonesia longer than four weeks. Some travellers may also need to be vaccinated against hepatitis A, typhoid, hepatitis B, Japanese encephalitis, malaria, rabies or yellow fever, so make sure you check the most recent information on the CDC website.
---
Currency: The official currency in Bali is the Indonesian rupiah which is abbreviated to Rp. The official currency code is IDR. $1 US converts to around Rp 14,057, €1 is worth around Rp 15,516 and £1 is around Rp 18,142. Confusing? Sure was for us! We relied heavily on the XE Currency app for conversions while traveling in Indonesia.
---
Tipping culture: Tipping is not really expected in Indonesia. However, as wages are generally pretty low, it won't go unappreciated if you tip a few extra rupiahs for good service at hotels, restaurants, your driver or your tour guide.
---
Internet access: Most hotels and guesthouses in Labuan Bajo will offer free WiFi but the quality may not be that reliable. If you will be needing to get online to work or just hate not being able to share your adventures on Facebook then we recommend bringing a portable WiFi device with you or purchasing a local SIM card when you get to the island. Note that a SIM card from Bali may not work properly here.
---
Online privacy: While Labuan Bajo may be a bit of a tourist bubble, remember it is still part of Indonesia where the internet is heavily monitored. As such, many LGBTQ apps and websites are being blocked all the time. This includes Grindr. If you want to be able to use all the gay dating apps without any issues, we recommend getting a VPN. In addition, your location is blocked, which allows you to browse the internet safely and anonymously.
---
Accommodation: There are plenty more excellent hotels and villas to book on Flores Island. We love using Booking.com when organising our accommodation because they have the best offers and usually offer free cancellation for most places, which allows some flexibility with your travel planning.
---
Sightseeing and adventure: We also love to use the GetYourGuide listings for inspiration for the best things to do in every new place we visit. They have a lot of ideas for Flores Island, which we recommend checking out. In addition, their tours are affordable and super easy to book.
---
When to visit: The weather in Labuan Bajo is warm year-round although it rains more during spring and summer between the months of September – February. The drier period between March – August is the busiest. It's up to you if you wish to have the best weather and busiest crowds or trade-off more rain for fewer other travelers and cheaper accommodation.
---
Gay map of Labuan Bajo
This is our gay map of Labuan Bajo to show you where all the best hotels, gay bars, clubs and attractions are located. Use it to plan your own vacation to Flores island!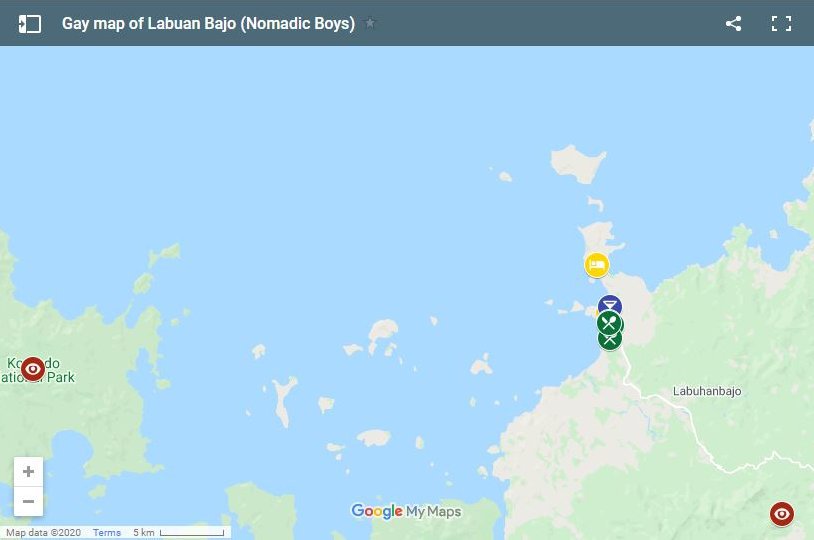 ---