Koh Adang or Koh Tarutao: which is best?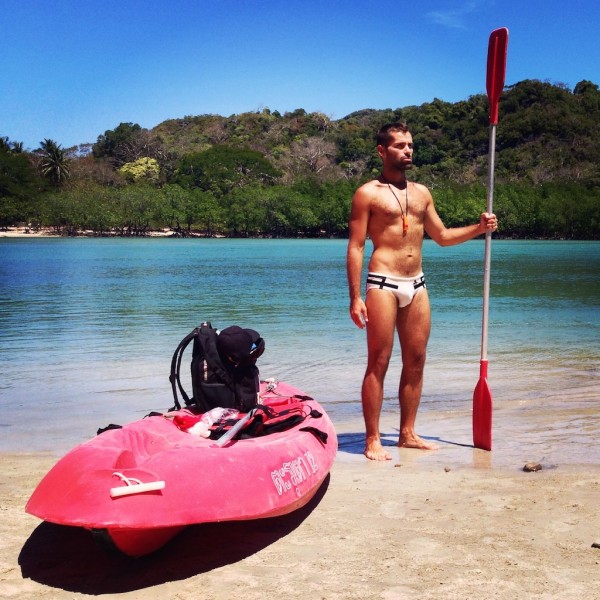 During our trip to Thailand's Southwest Andaman islands in February 2015, we wanted to spend a few days experiencing a Robinson Crusoe like island, cut off from it all, especially after the crowds of Koh Lipe and Koh Tao.
The Southwestern most islands of Thailand sit just before the Malaysian border and with the exception of touristy and over developed Koh Lipe, they form part of the Tarutao National Marine Park. These include the larger and uninhabited islands like Koh Adang and Koh Tarutao.
Don't get us wrong, we love partying, we love being tourists and would even go far as to say we love joking and posing for photos with all the coach loads of Chinese tourists.
We got all of this plus a beautiful beach on Koh Lipe. But we always had this romantic image of our little paradise getaway from everything, which could be visited on our backpacker budget.
We couldn't decide over Koh Adang and Koh Tarutao, so we visited both.
1. Koh Adang: Perfect as a day trip
Koh Adang is a large island near Koh Lipe and forms part of the Adang Archipelago group of islands.
Transport to Koh Adang: Koh Adang is reachable by tail boat from Koh Lipe, which are everywhere on the island. We paid 100 bahts (around £2 / $$3) per person each way, which seemed to be the standard price everyone paid. For the return, there is always a tail boat on Adang waiting or one about to arrive.
Entrance fee to Koh Adang: There is a 200 bahts (around £4/$6) National Park fee to pay, valid for 5 days on all the Tarutao National Marine Park islands.
Accommodation on Koh Adang: Bungalows can be rented from 600 bahts (£12/$18) a night or you can rent a tent for 200 bahts (£4/$6) a night. They come with mats and mosquito nets. You can also pitch your own tent for 30 bahts a day. To book accommodation in advance you can do it online or call the National Park on: 074783597 or 074783485.
Facilities on Koh Adang: There is a large communal bathroom and toilet area with showers and also a restaurant. Or, you can just take a tail boat over to Koh Lipe to stock up on supplies and come back again.
Snorkelling on Koh Adang: We loved snorkelling here and found it to be some of the best in the

 Thailand, rivalling

Thoddoo island in the Maldives because of the large variety of wildlife.

 We rented

 masks, snorkels and fins from a dive shop in Koh Lipe for around 250 bahts (around £4/$6.55) each.
Hiking on Koh Adang: There is a viewpoint in the mainland jungle which is nice to hike to, offering some incredible views of Koh Lipe.
2. Koh Tarutao: an adventurer's paradise
Koh Tarutao is the largest island in the Tarutao National Marine Park and a former concentration camp for political prisoners.
Transport to Tarutao: We went to Tarutao by speed boat, 1 hour away from Koh Lipe, paying 450 bahts (around £9 / $14) each. The nearest mainland port is Pakbara, also 1 hour away and also costs around 450 bahts. The entry point is Ao Phante Malacca in the north:
Entrance fee to Ko Adang: There is a 200 bahts (around £4/$6) National Park fee to pay, valid for 5 days on all the Tarutao National Marine Park islands. If you have a student card, you pay the half price children's fee.
Accommodation on Koh Tarutao: We stayed for 2 nights in one of the many bungalows huts available for 600 bahts (around £12 / $18). The prices for tents and contact details for booking are as set out above for Adang.
Facilities on Koh Tarutao: There is a mediocre restaurant at Ao Talo Phante Malacca and a great one at Ao San, 8km from the headquarters. The camping areas at Ao Talo Phante, Ao San and Ao Molee have clean public bathrooms with shower facilities.
Beaches of Koh Tarutao: There are many remote desert island like beaches on Koh Tarutao, especially at Ao Son, which you will most likely have it all to yourself.
Snorkelling on Koh Tarutao: Snorkelling is possible on the Northeast side but you have to rent a tail boat to take you and we were told it is not worthwhile if you've been to (or planning to go to) Koh Adang or Lipe.
Mountain biking on Koh Tarutao: You can rent excellent sturdy mountain bikes for 250 bahts (around £5 / $8) for 1 day and go from Ao Talo Phante Malacca to the more remote and pretty Ao Son, 6km away. The trail goes through the Tarutao mainland jungle and took us around 40 minutes each way.
Hiking in Koh Tarutao: There are some great hikes in Tarutao through the many jungle trails, such as the to the Lu Du Waterfall near Ao Son or to the 400m Tob-Bob cliff at Ao Talo Phante Malacca.
Kayaking on Koh Tarutao: Our favourite activity was renting a kayak (500 bahts / £10 / $15 for the day) and paddling through a mangrove forest to a crocodile cave towards Ao Rusi in the north east side of the island. This is a really fun day trip, but remember to bring head torches for the dark crocodile cave.
Koh Tarutao or Koh Adang
Koh Tarutao was probably the best part of our island hopping adventures in Thailand because of the variety of activities you can do, as well as having remote untouched beaches all to yourself.
Koh Adang was our favourite for snorkelling, possibly in the entire country, but being so close to Koh Lipe it lacked that remoteness we sought. We loved both and definitely recommend a visit to the adventure seekers and snorkelling enthusiasts.
Watch our video Thailand travel video and enjoy our underwater adventures as we island hopped through this beautiful country: