These are the best gay islands in Thailand to check out with everything you need to know to have a fantastic Thai gaycation!
With over 1400 islands to visit in the Land of Smiles, we say the Thai's the limit when it comes to your Thailand vacation!
Thailand offers everything that us gay boys want when we venture out into the world. There are beaches packed to the brim with speedo-clad hotties, cultural ventures lurking around every corner, a terrific gay scene in Bangkok, and most important of all, genuinely kind citizens who greet every visitor with a warm welcome.
And that's just the mainland! Believe it or not, the Thai islands are somehow even more perfect because each one is incredibly unique. Whether you're hoping to find a spot to get back in touch with nature, to explore the party animal within you, or to enjoy a romantic getaway with your sweet, sugar love, there is bound to be at least one island that suits your exact needs. Even if you're looking to stay within a strictly queer environment, we promise that there's an island out there for you. This is our comprehensive guide to the best Thai islands for gay travellers so that you can achieve your vacay nirvana. Be sure to also read alongside our detailed gay guide to Thailand.
Side note: 'koh' means "island" in Thai, so most islands will have Koh or Ko written before its name.
Heads up: We just wanted to let you know that this post contains affiliate links. That means if you book something through one of those links, we'll get a small commission, at no extra cost to you. It helps us keep our blog going – so thank you in advance for your support! ♥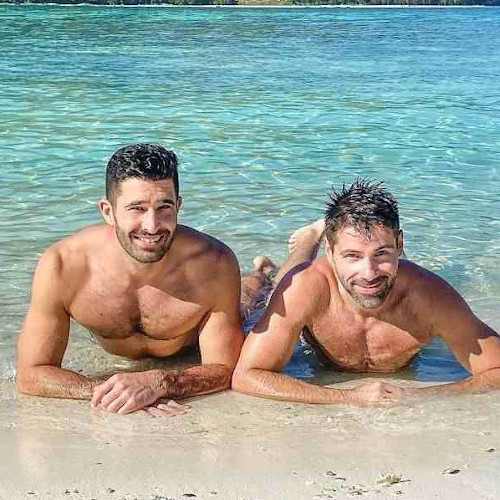 Gay tour of Thailand
Discover how Thailand earned its moniker 'The Land of Smiles' on this awesome gay tour with Out Adventures. The boys over at OA run four annual departures through the country with stops in Bangkok, Chiang Mai, Krabi, and Phuket. It's a fantastic way for first-timers to Thailand to get a thorough flavor of this incredible country with a fabulous bunch of squirrel friends to hand.
1. Koh Phuket
Ah, Phabulous Phuket… Where to even begin? There are hardly the words for this vast, beautiful destination. Perhaps the best way to describe it is by declaring it the largest and most famous gay island in all of Thailand!
Phuket is the most famous gay island in all of Thailand!
Unlike other islands, Phuket has an officially designated gay area known as the Paradise Complex where gay businesses flood the streets. Whether you're hopping into Zag Club, which is an energetic club most renowned for its outstanding dance music, or one of the many gay bars in Paradise Complex, it will be easy to see just how much this neighborhood thrives on its nightlife. Honestly, even without setting foot into a single establishment within the Paradise Complex, the gay scene of Phuket spills outside every evening when exotic dancers strut their stuff up and down the pedestrian roads.
Aside from the Paradise Complex, we found Patong Beach to be the most welcoming and entertaining place on the island. And by entertaining, I most certainly do mean naughty. While Patong is the focal point for Phuket Pride in April, the beach stays rather busy all year long with countless other riotous extravaganzas.
Essentially, if you're looking for some gay parties and want to escape the crowds of Bangkok, make your way out to Koh Phuket and get your freak on, gurl!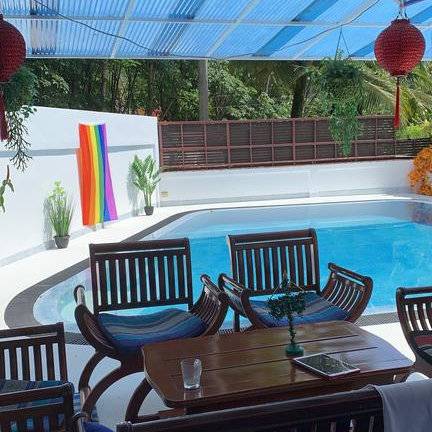 We strongly feel like Phuket Gay Homestay lives up to its name by providing its guests with a real home away from home. This quaint B&B houses only 10 people at a time, which makes it an easy task to meet others and share your vacation with friendly companions. Only gay men are allowed in the homestay, and the rules are kept very simple: no gambling, no drugs, and no drama!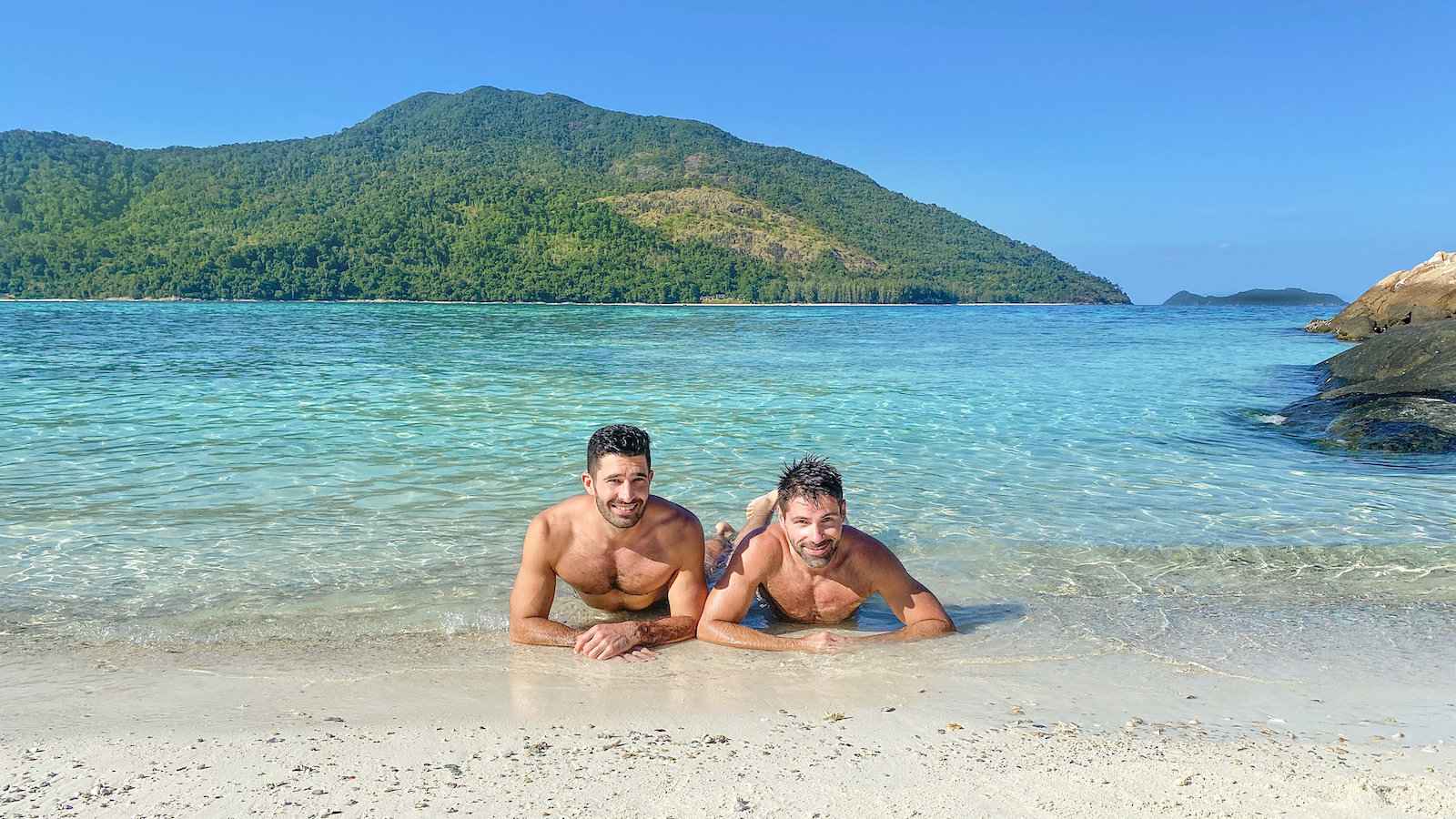 2. Koh Samet
Koh Samet is certainly popular among international tourists, but surprisingly enough, the most common visitor to this spectacularly queer island comes straight out of Bangkok. The gay boys of BKK love taking weekend trips to what they call "the gay island" for exciting evenings full of dancing and speedos!
Despite Koh Samet being claimed as a national park, there are still quite a few hotspots for gay partying. Ao Phai, for instance, is home to the Silver Sand gay bar and disco, which is likely the place you'll find those handsome BKK boys on a Friday or Saturday evening. If you can't find them there, then be sure to check Hat Sai Kaew. While it's the busiest beach on the island, and not necessarily a gay-only hangout, there are plenty of social gatherings with yummy Thai food, fabulous drinks, and flaming fire shows that are thrilling enough to draw any crowd. Trust me, you'll not want to miss these muscle men, giving their all and glistening with sweat up on their stage! It is… a memorable sight, for sure.
But of course, second to any attractive men, you will undoubtedly remember Koh Samet for its stunning jungle, crystal clear water, and fresh air. Traveling to any island will feel like a getaway, but this island in particular is an unparalleled natural luxury.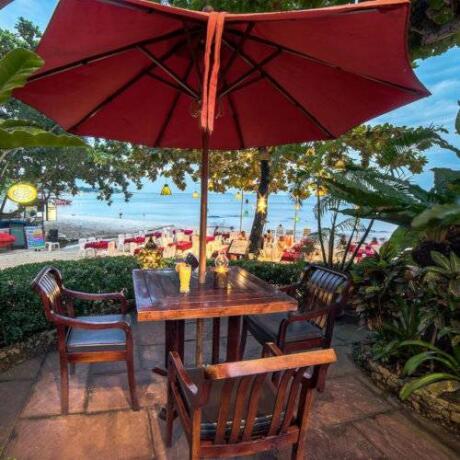 The Samed Villa Resort, similar to Silver Sand Resort, is located along the shores of Ao Phi Beach where the gay boys love to roam about, basking in the warm Thai sun. While the hotel itself is not gay-only, the staff treats all guests with the utmost kindness. Arguably the cherry on top of the entire resort is their restaurant, which serves locally-caught fresh seafood at a romantic, beachside setting.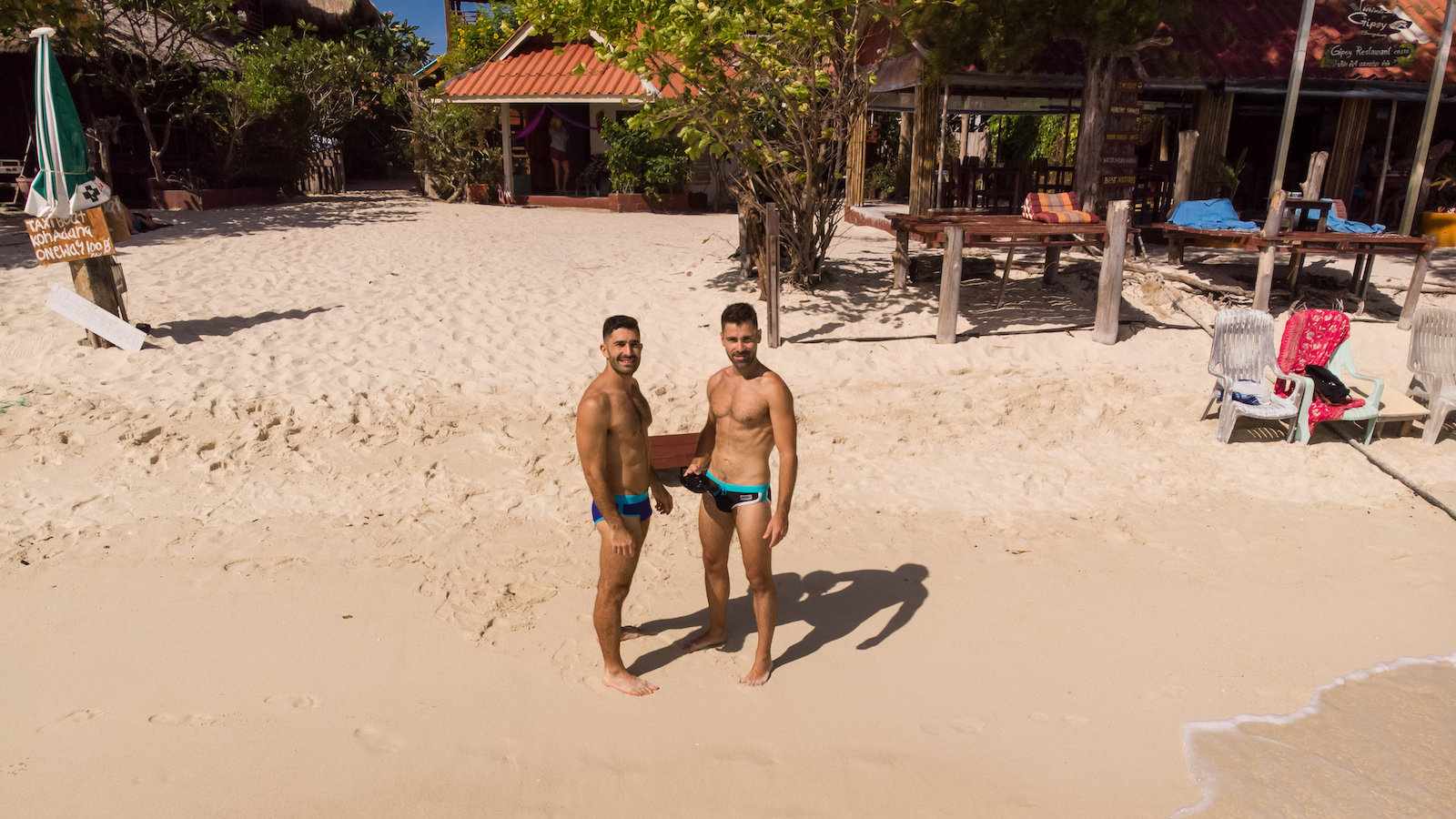 3. Koh Samui
Not only is Koh Samui one of the three main islands located in the southeast portion of the Gulf of Thailand, but it is also one of a few that actually hosts LGBTQ events. The most famous is the Samui Songkran Pride in April when the island comes to life with a colorful queer parade organized by the Alpha Gay Resort and Spa (see below).
Koh Samui's number one gay bar, which is fittingly titled Pride Bar Samui, acts as party central during Pride. However, for the remainder of the year, you can expect the bar to reflect the island's relatively laid-back vibes. You see, Koh Samui is not exactly the place to go if you want to experience wild nightlife. While you can sometimes head out to the Chaweng Beach area for a fun evening of gay volleyball and drinks, this island encourages relaxation of the soul above all else.
But hey, life is about balance, right? So, why not act as Seby and I did during our stay? Seek out the parties when they come, but always be sure to allow yourself a few quiet moments. Perhaps you can find that zen along the coastline, but if not, we recommend a trip to the Secret Buddha Garden, which is beloved for its verdant forests and rocky hills.
As well as hosting Pride on Koh Samui, this is also the largest gay resort in all of Thailand catering solely to gay men. They have thirty rooms and villas to choose from along with a super private 24-hour clothing-optional pool. We also love the fact that they have their own WhatsApp chat groups to encourage guests to connect and chat freely with one another.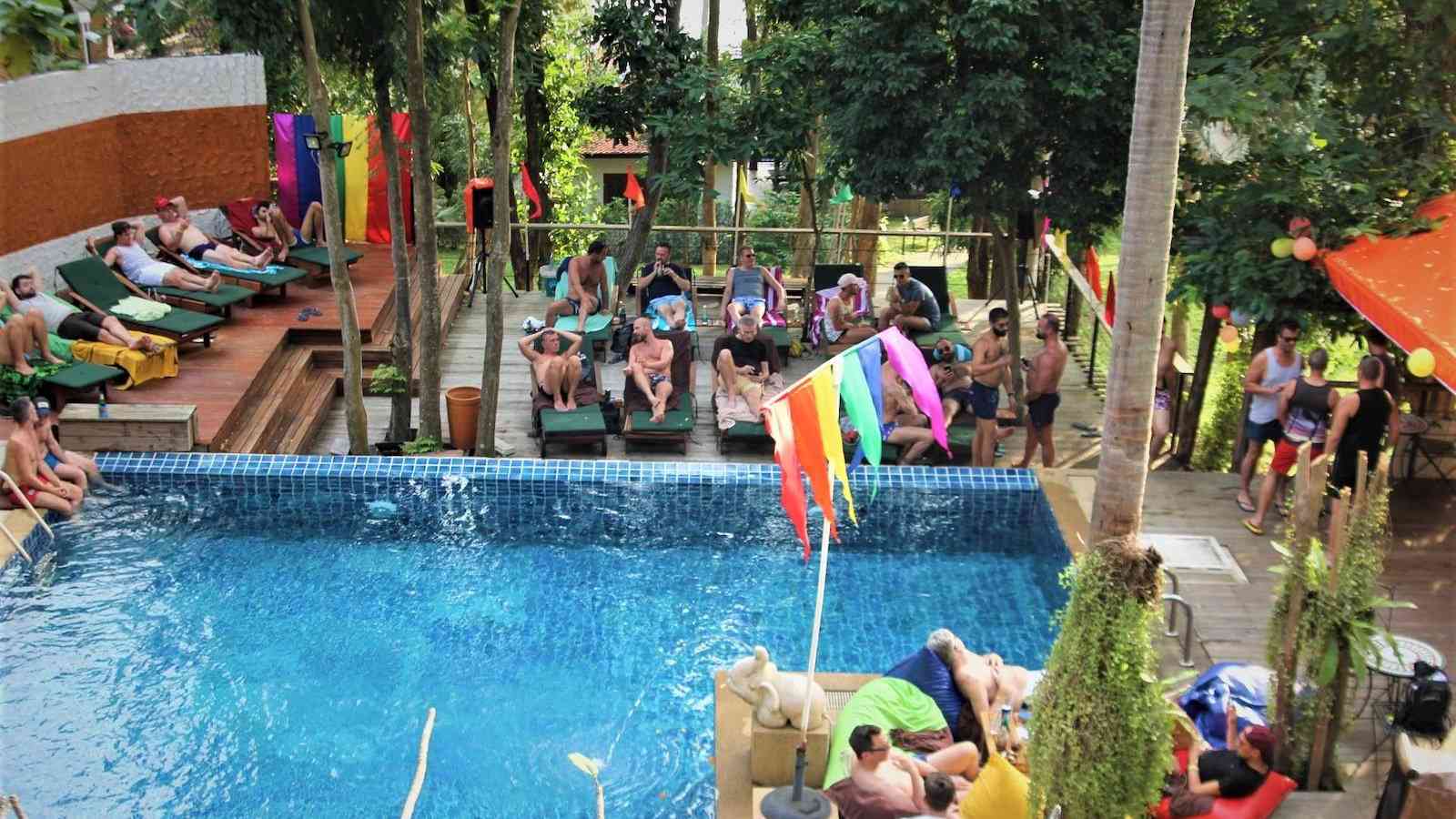 4. Koh Pha Ngan
With the majority of the local youth showing out for late-night full moon parties, on top of the additional half-moon parties and jungle experience parties, it's safe to say that your trip to Koh Pha Ngan will take you back to your younger years!
These monthly parties, which occur primarily on Hat Rin Nok Beach, are famous for hosting both local and international DJs. Truthfully, they better resemble dance music festivals than actual parties. I'm a bit embarrassed to say that even Seby and I, despite our tendency to keep a close watch of ourselves during our nights out, converted back to our younger selves at one of the Koh Pha Ngan full moon parties…
The hangover the next morning certainly made the nostalgia that little bit harder. Thankfully, Koh Pha Ngan is more than just fun and games! To cure our excruciating headaches, we sought out the peaceful Buddhist temples to unwind and find our bliss. Afterwards, we were able to visit the Haad Son beach area, which is frequented by both gay travelers and nudists who simply wish to enjoy the sun and the surf.
Overall, the party scene in Koh Pha Ngan is loud and vibrant. Whilst there are no gay bars or clubs on the island, most of the hangouts we went to had a young and open-minded vibe with people from all around the world. We found them to be gay friendly, especially during the Full Moon parties.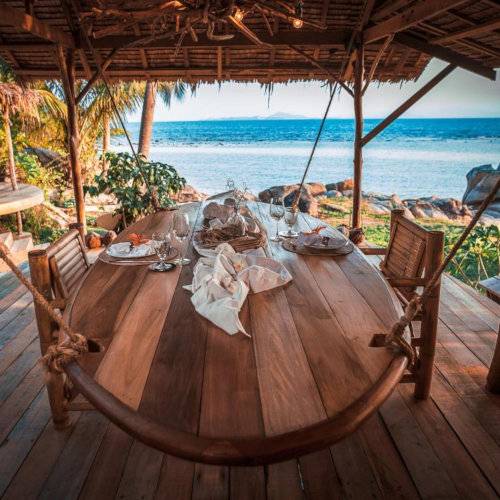 Somewhere Only We Know is an incredible secluded, luxury, gay-owned resort on Koh Pha Ngan that can only be reached by a short walk or boat trip. Once there, you'll find two of the most exclusive and romantic villas directly on a stunning private beach and be utterly pampered by top-tier service. Relax at the on-site spa, explore the three private beaches and dine on delicious meals at your own private restaurant. Unforgettable!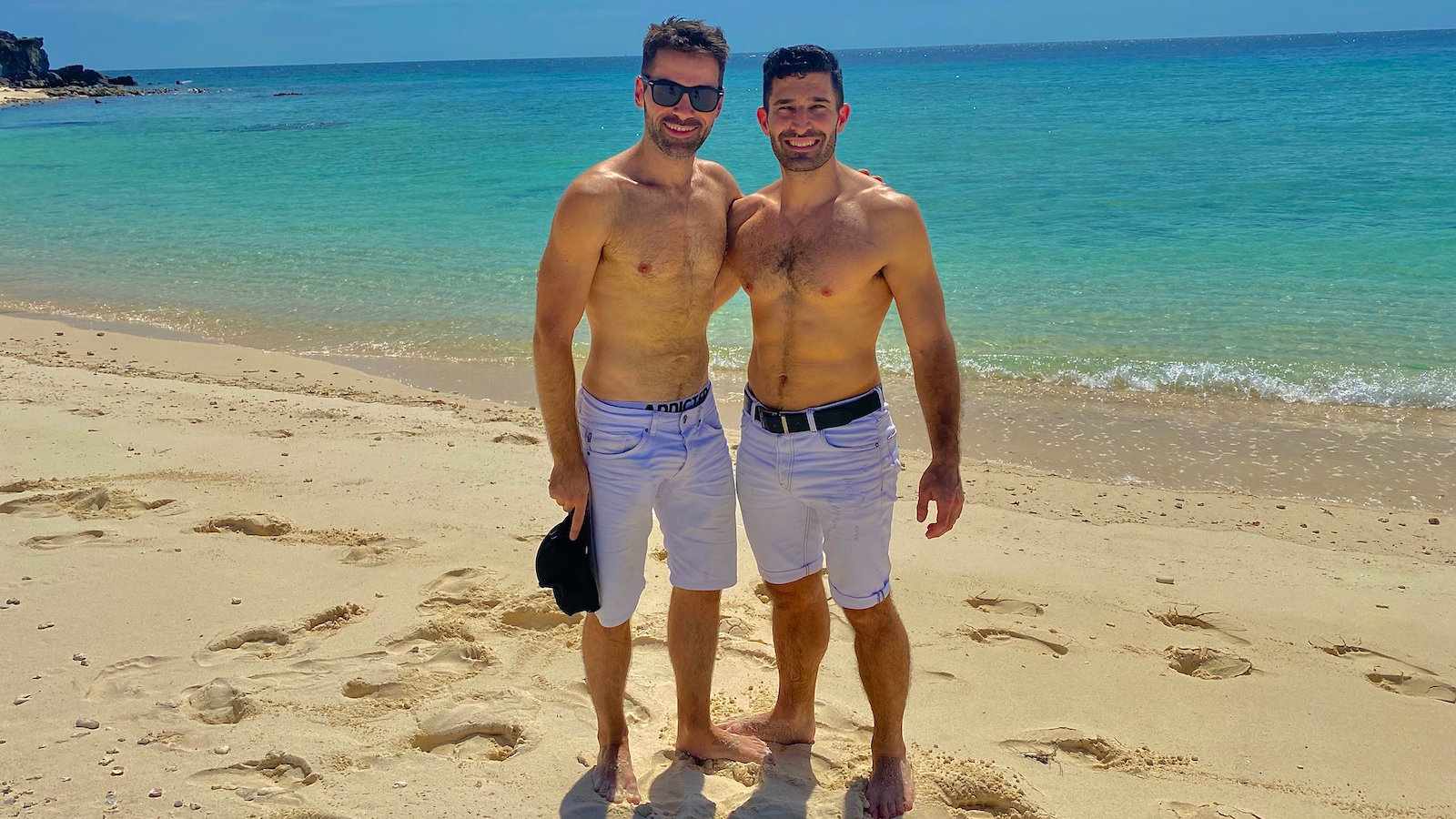 5. Koh Lipe
While Sebastien and I are definitely fans of the bigger islands, we firmly believe that no other place in Thailand could begin to touch the comfortable atmosphere of Koh Lipe. On this remote island, visitors get a true sense of detachment from the rest of the world. Though you can find plenty of establishments along Walking Street, Koh Lipe primarily serves tourists as a sanctuary where you may connect with both yourself and Mother Nature.
We liked to spend the majority of our time on Koh Lipe on Sunrise Beach where the sand is soft and the coral in the nearby water is very healthy, perfect for snorkeling. Our favorite memory here is waking up in the morning and going straight for a dip in the water to say "Good morning!" to the many clownfish before heading back for breakfast.
If we found ourselves missing aspects of city life, a simple wander along Walking Street did the trick. This is a pedestrianised road with the best bars and restaurants on the island. And none of this even goes to show the more intimate beaches like the scenic Cliff Beach and Sunset Beach (for the best sunsets) – all a short tuk-tuk ride from Walking Street.
Note, this is a very small island, so don't expect a huge gay scene in Koh Lipe. Instead, consider it more of a hidden gem retreat in paradise with your lover. We spotted many gay and lesbian couples doing just that each time we've visited. If I haven't sold you on Koh Lipe yet, then I guess it's just not your island! For me, on the other hand, I know for a fact that this is my little slice of heaven on Earth.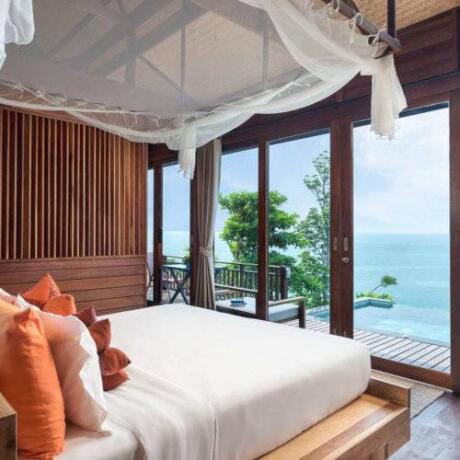 Serendipity Beach Resort is located at the southernmost tip of the gay-friendly Sunrise Beach, making it a secluded hideaway located within an already intimate area on Koh Lipe. The resort itself seems to melt away into the landscape, and the rooms within their villas bring nature right to your doorstep. The views are breathtaking, their gastronomy is delightful, and their service soars above expectations. What more could you possibly want?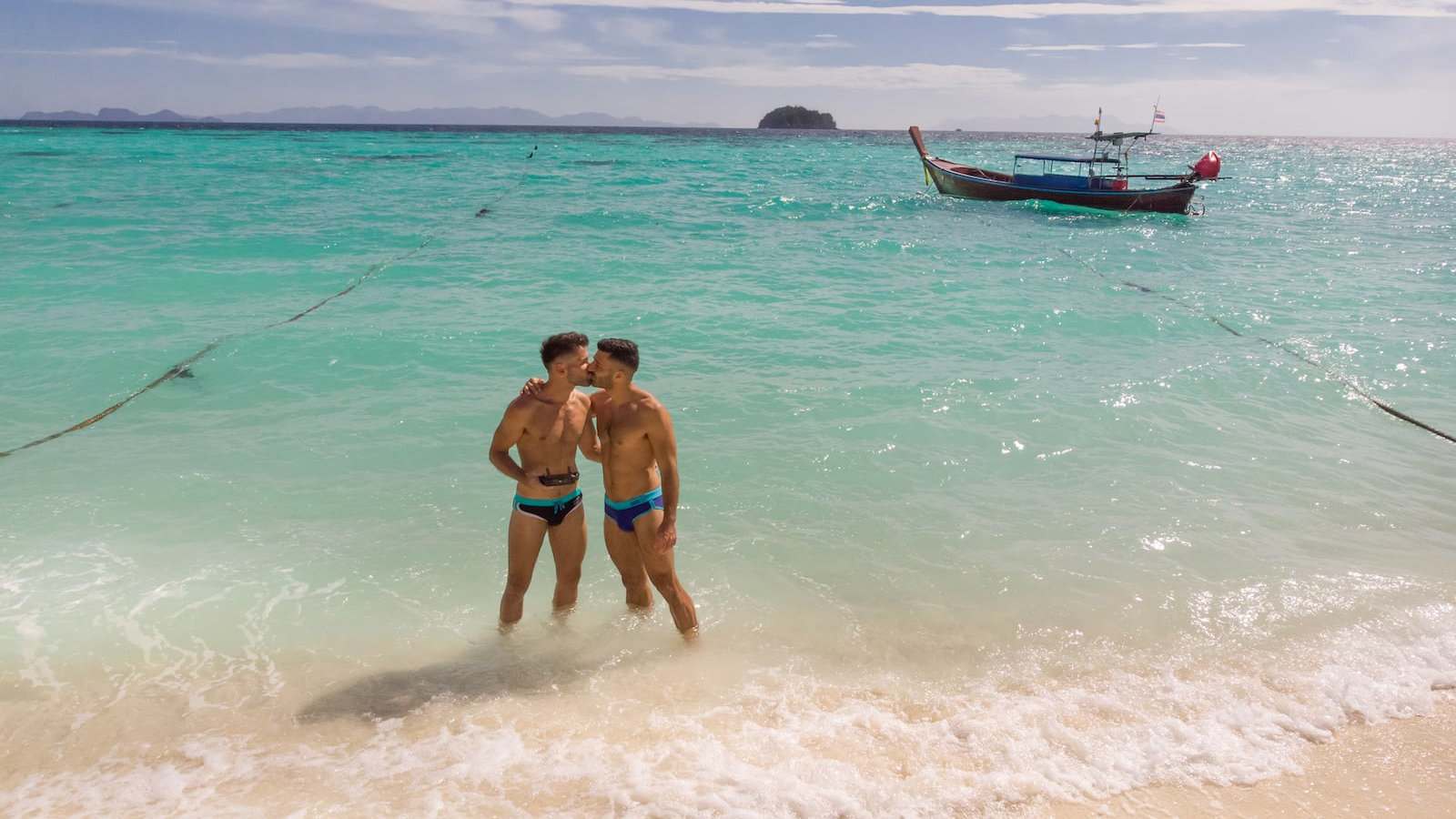 ---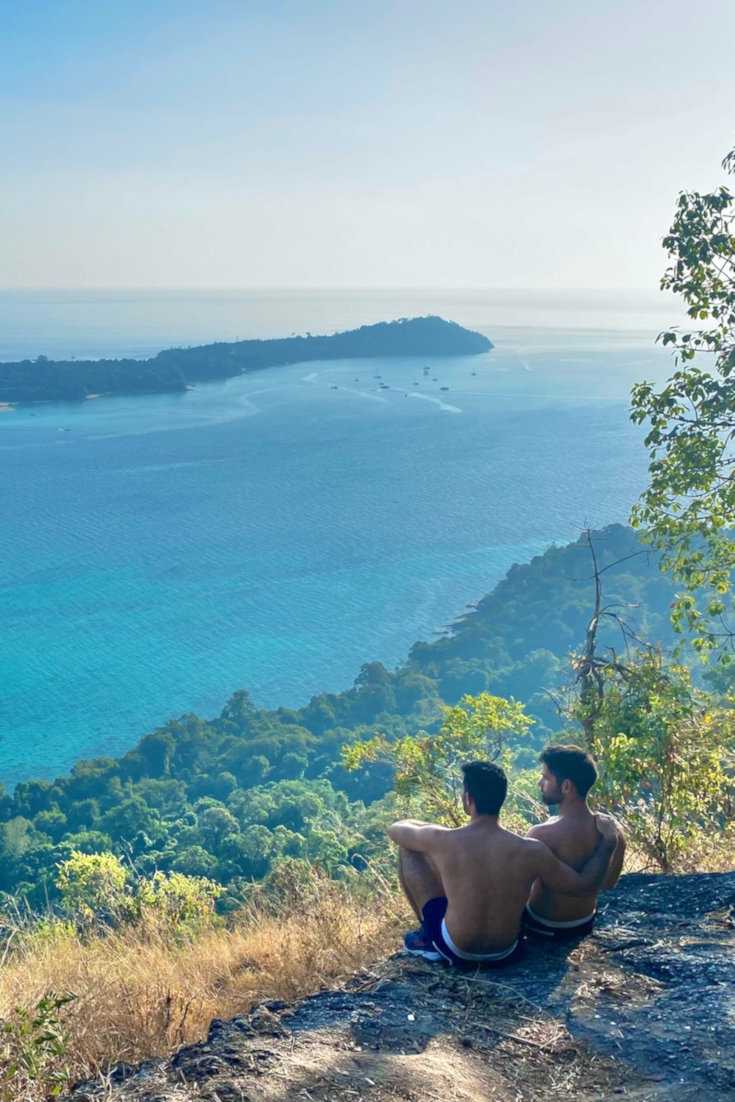 Happy travels are safe travels
We recommend you always take out reputable travel insurance before your next vacation. What happens if you suffer from illness, injury, theft, or a cancellation? Many gay travelers forget about it and regret it when something happens. Better to pay a small price and have peace of mind and not worry.