During our travels in Southeast Asia, we travelled extensively in Thailand, one of our favourite countries in the world. We particularly loved visiting the popular islands of Koh Lipe and Koh Tao. However, after a while, we were craving a remote island experience, cut off from it all. This is why we choose Koh Tarutao, a remote island, completely untouched and protected by the Thai goverment.
Koh Tarutao, a former concentration camp for political prisoners is one of the rare islands in Thailand which are unspoilt and spared from mass tourism. We've put together this comprehensive travel guide to Koh Tarutao to help you uncover the secrets of this beautiful island.
How to get to there?
Koh Tarutao island is located in Southwestern Thailand in the Andaman Sea, just before the Malaysian border. It is the main island belonging to "Tarutao National Marine Park". As we were at the time based in Koh Lipe, we took a direct speedboat from Koh Lipe to Koh Tarutao. However, depending on where you're based, there are several ways to reach Koh Tarutao from several departure points in Thailand:
Map of Koh Tarutao
Ao Phante Malacca is where the boat pier is and where the national park headquarters are. This is the area where more people stay, as it has a few bungalows, spaces for tents, a decent restaurant and clean bathrooms and toilets. Ao Molee also has some bungalows but is not so popular as a place to stay. Ao Son is where you will find the best beach on the island.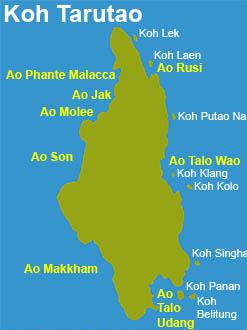 Entrance fee to Koh Tarutao
Koh Tarutao is the largest island in the Tarutao National Maritime Park. To keep this island protected and untouched, the Thai government requires visitors to pay a small entrance fee which helps them protecting the island and maintening the facilities. The entrance fee to Koh Tarutao costs 200 bahts (£4/$6) and is valid for 5 days across all the Tarutao National Marine Park islands.
Pro tip: if you have a student card, you pay the half price "children's fee".
Accommodation on Koh Tarutao
You can either rent a bungalow or a tent space. We stayed in one of the bungalows huts for 2 nights at Ao phante Malacca, which costs 600 bahts (£12/$18). You can also rent a tent for 200 bahts (£4/$6) a night. They come with mats and mosquito nets. If you have all the equipement with you, you can pitch your own tent for 30 bahts a day. To book accommodation in advance you can do it online or call the National Park on: 074783597 or 074783485.
Facilities on Koh Tarutao
There is a really nice restaurant at Ao Talo Phante Malacca and an even better one at Ao San, around 6km from the headquarters. The camping areas at Ao Talo Phante, Ao San and Ao Molee each have clean public bathrooms with shower facilities. There is no electricity from 6:00 to 18:00 everyday.
Things to do on Koh Taruatao
1. Best beaches on the island
There are many beautiful and remote beaches on Koh Tarutao. Our favourite was the beach at Ao Son. Although it's far from the bungalows/camping ground area at Ao Talo Phante Malacca, it's definitely worth the journey, and you'll most likely have it all to yourself. The sunsets here are stunning and the water is everything you dream.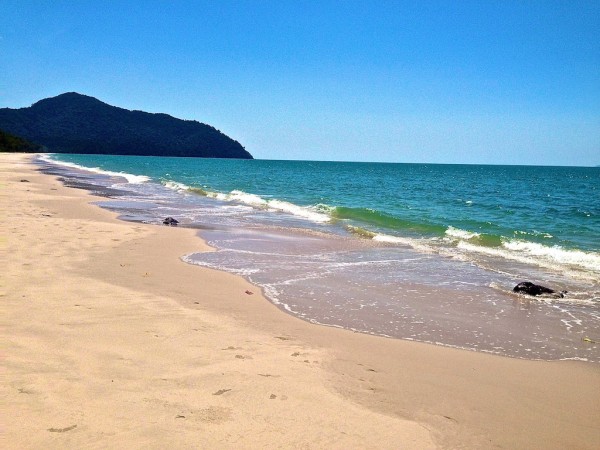 2. Mountain biking
You can rent excellent sturdy mountain bikes for 250 bahts (£5/$8) for 1 day and go from Ao Talo Phante Malacca to the more remote and pretty Ao Son, around 6km away. The trail goes through the Tarutao mainland jungle and took us around 40 minutes each way, which included a few stopovers for photos.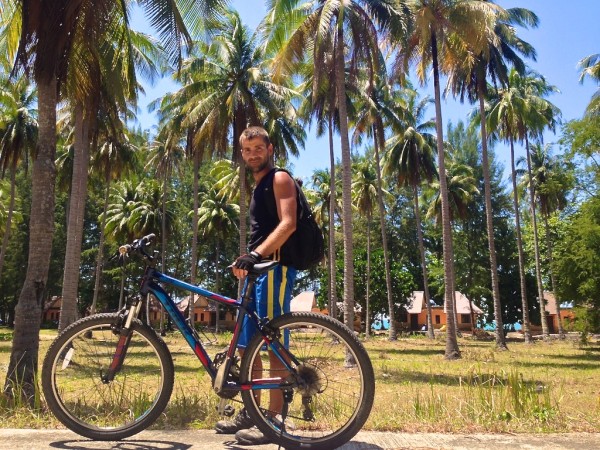 3. Hiking in Koh Tarutao
There are some excellent trails on Koh Tarutao, which take you through the vast thick jungle inland. The most famous is the trek to the Lu Du Waterfall near Ao Son as well as the hike up to the 400m Tob-Bob cliff at Ao Talo Phante Malacca.
4. Kayaking on Koh Tarutao
Our favourite activity on Koh Tarutao was renting a kayak and paddling through a mangrove forest to a crocodile cave towards Ao Rusi in the northeast side of the island. This is a really fun day trip, a work out, gorgeous natural environments and a unique cave experience all in one. Just remember to bring head torches for the dark crocodile cave!
We rented paddle boats from the National Park head office, which cost 500 bahts (£10/$15) for the whole day.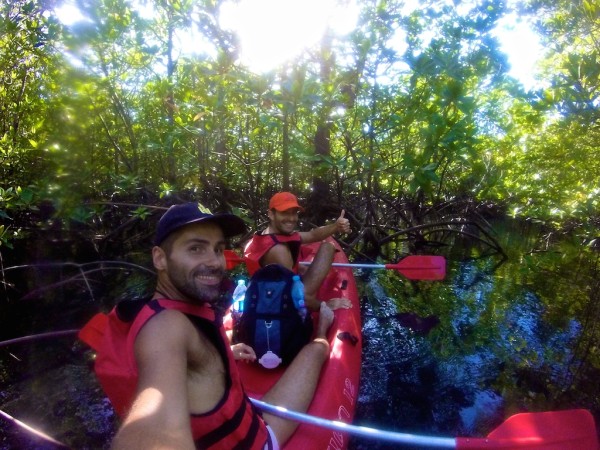 For more inspiration planning your trip, check out this awesome 3 weeks Thailand itinerary.
For more island fun read about our adventures in Koh Lipe, Koh Adang and Koh Tao. Watch more from our island hopping in our Thailand travel video:
OUR FAVOURITE TRAVEL TIPS
⭐️ TRAVEL INSURANCE — We recommend you always take out travel insurance before your next vacation. What happens if you suffer from illness, injury, theft or a cancellation? With travel insurance, you can have peace of mind and not worry. We love World Nomads travel insurance and have been using it for years. Their comprehensive coverage is second to none and their online claims process is very user friendly.
⭐️ SAFETY & SECURITY — All travelers can sometimes encounter danger when traveling. CloseCircle is your "virtual body guard" mobile app which provides security alerts and support wherever you are in the world. They have a 24/7 emergency response team monitoring their users who will contact you immediately if the SOS swipe button is activated. Support can include anything from practical advice, to free evacuation from areas with extreme weather or security risks. You can read more about CloseCircle in our article about how to stay safe whilst traveling.
⭐️ ONLINE ANONYMITY — A VPN (Virtual Private Network) is a must in many countries: it allows you to surf anonymously and maintain your privacy whilst traveling. You'll particularly need it in countries where dating apps are blocked by the government. We recommend ExpressVPN, a reliable and cost effective service which we used and loved during our travels.
⭐️ HOTELS or APARTMENTS — When we plan a trip, we always look for the best hotel deals. We love Booking.com because not only do they have a comprehensive listing of accommodation options, they also offer the best prices. Added bonus: they provide 24/7 support and free cancellation for most listings.
⭐️ SIGHTSEEING and ADVENTURES — When we travel somewhere, we like to seek out the best experiences, whether it is cooking with locals in Bangkok, hiking on a glacier in Patagonia, or going on a wildlife safari in Sri Lanka. Our favorite place to look is GetYourGuide because they have over 30,000 highly rated activities, a user-friendly booking process with free cancellation and a 24 hour customer support.
This article contains affiliate links. If you click on them, we may receive compensation which keeps our website alive and helps us bring you to more destinations.
If you like me, please pin me: