In this gay guide to Koh Tarutao, you'll find everything you need to know including how to get there, transportation options, accommodation, where to eat and more…
During our travels in Southeast Asia, we traveled extensively in Thailand, one of our favorite countries in the world.
We particularly loved visiting the popular islands of Koh Lipe and Koh Tao. However, after a while, we were craving a remote island experience, cut off from it all. This is why we choose Koh Tarutao, a remote island, completely untouched and protected by the Thai government.
Koh Tarutao, a former concentration camp for political prisoners, is one of the rare islands in Thailand which are unspoiled and spared from mass tourism. We've put together this comprehensive travel guide to Koh Tarutao to help you uncover the secrets of this beautiful island for yourself.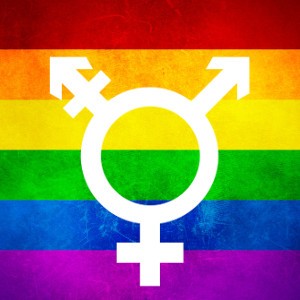 Advice for LGBTQ travelers to Koh Tarutao
Thailand is one of our favorite places on our planet and in our opinion, one of the most gay friendly countries in Asia. The Thais have long been accustomed to dealing with LGBTQ travelers and we only ever felt welcome here. Koh Tarutao is extremely remote, with mostly foreigners visiting. We felt very free and open here and highly recommend it to all LGBTQ travelers.
How to get to Koh Tarutao?
Koh Tarutao island is located in Southwestern Thailand in the Andaman Sea, just before the Malaysian border. It is the main island belonging to the "Tarutao National Marine Park". The best way to get there from Bangkok, is to fly to Hat Yai airport, then drive to Satun pier and take a ferry to Koh Tarutao.
As we were at the time-based in Koh Lipe, we took a direct speedboat from Koh Lipe to Koh Tarutao. However, depending on where you're based, there are several ways to reach Koh Tarutao from several departure points in Thailand.
Koh Lipe to Koh Tarutao: you can reach Koh Tarutao from Koh Lipe by speedboat. The journey takes around an hour and costs around $20.
Satun (Pakbara pier) to Koh Tarutao: Pak Bara is the closest port on Thailand's mainland where you can catch a boat to Koh Tarutao. Speedboats take around 30 minutes to reach Koh Tarutao and are quite frequent.
Krabi to Koh Tarutao: You can get a pickup from Krabi airport or any hotel in town. It is not a quick journey as it includes a minivan + ferry. In total, it takes 6 hours to reach Koh Tarutao from Krabi.
Hat Yai to Koh Tarutao: Hat Yai is the main airport in Southern Thailand and the quickest way to get to Koh Lipe and Koh Tarutao islands from anywhere in Thailand. The journey from Hat Yai airport to Koh Tarutao takes 4 hours.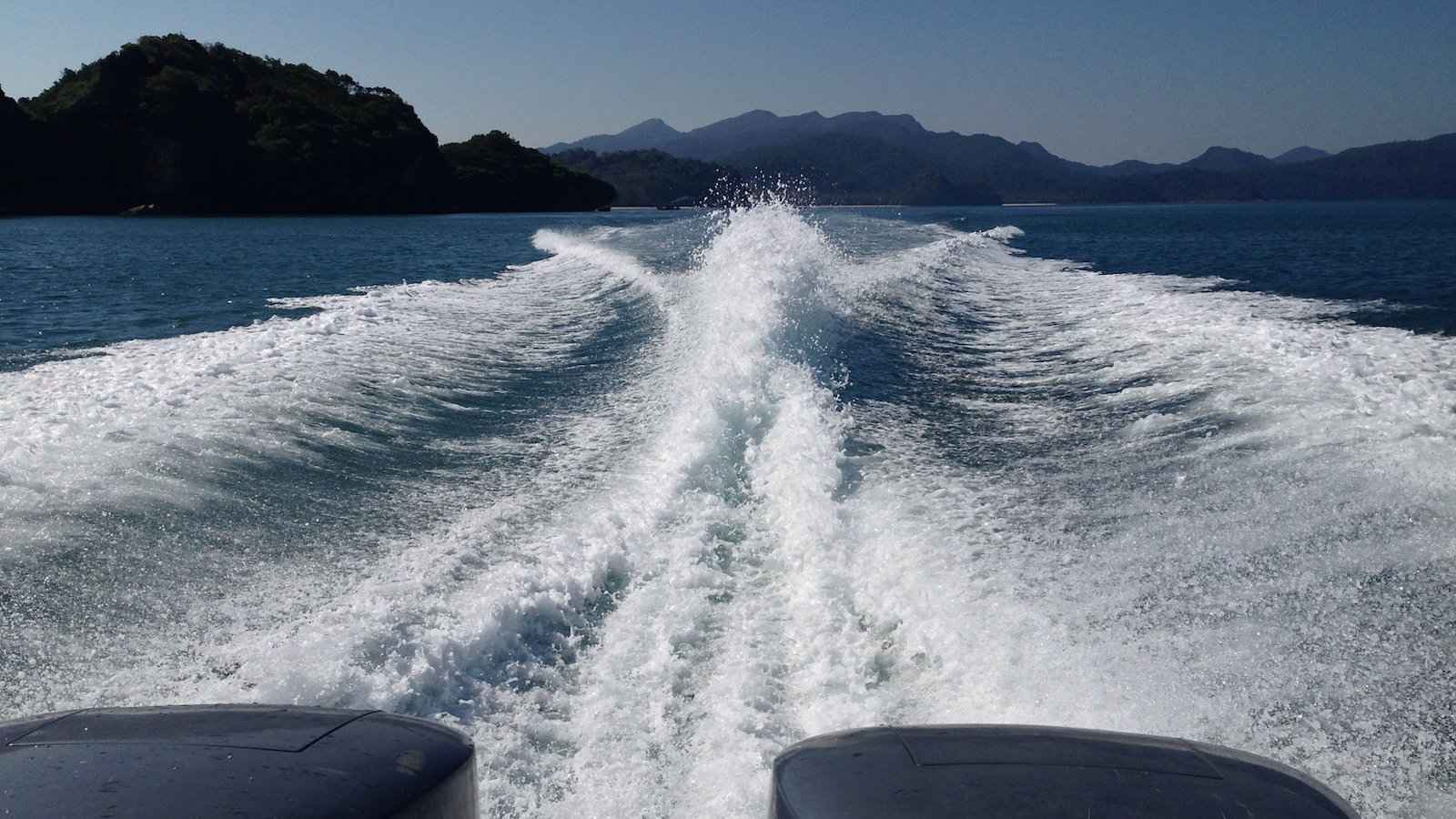 Where to stay on Koh Tarutao
You can either rent a bungalow or a tent space. We stayed in one of the bungalow huts for 2 nights at Ao Phante Malacca, which costs 600 baht ($18). You can also rent a tent for 200 baht ($6) a night. They come with mats and mosquito nets. If you have all the equipment with you, you can pitch your own tent for 30 baht a day. To book accommodation in advance you will need to call the National Park at +6674783597 or +6674783485.
Entrance fee to Koh Tarutao
Koh Tarutao is the largest island in the Tarutao National Maritime Park. To keep this island protected and untouched, the Thai government requires visitors to pay a small entrance fee which helps them with protecting the island and maintaining the facilities. The entrance fee to Koh Tarutao costs 200 baht ($6) and is valid for 5 days across all the Tarutao National Marine Park islands.
Pro tip: if you have a student card, you pay the half price "children's fee".
Facilities on Koh Tarutao
All boats arrive at Ao Pante, which is also the base of the National Park Headquarters where you check-in and book your accommodation on the island. The bulk of facilities are found here on Ao Pante, as well as at Mo Lae Bay and Ao Son Bay. These include:
Camping grounds: all three areas of the island have camping grounds. You can either bring your own tent and pay 30 baht to camp, or hire one of their tents for 200 baht.
Bungalows: available to rent for 350-420 baht a night at Ao Pante, Mo Lae Bay, and Ao Son Bay. They are pretty basic, with no resort-style luxury here. Some have hot showers, others don't.
Restaurants: there are just two on the island, one at Ao Pante, the other at Ao Son Bay. See below for more on this.
Kayaking: you can rent kayaks for the day at the National Park HQ in Ao Pante.
Biking: you can also rent mountain bikes from 250 baht a day at the National Park HQ.
It's also worth listing what you CANNOT find on Koh Tarutao:
Hotels and resorts: it's all about nature here – camping or bungalows.
ATMs: bring ample cash with you beforehand. There are zero ATMs on the island!
Aircon: just the fresh air of nature and fans in the bungalows.
Electricity: it is limited and available between the hours of 6 pm-6 am.
WiFi: no WiFi here so either embrace the break from the online world or buy a local Thai SIM card to use.
Mosquito repellant: just bring loads before you get here – you'll thank us!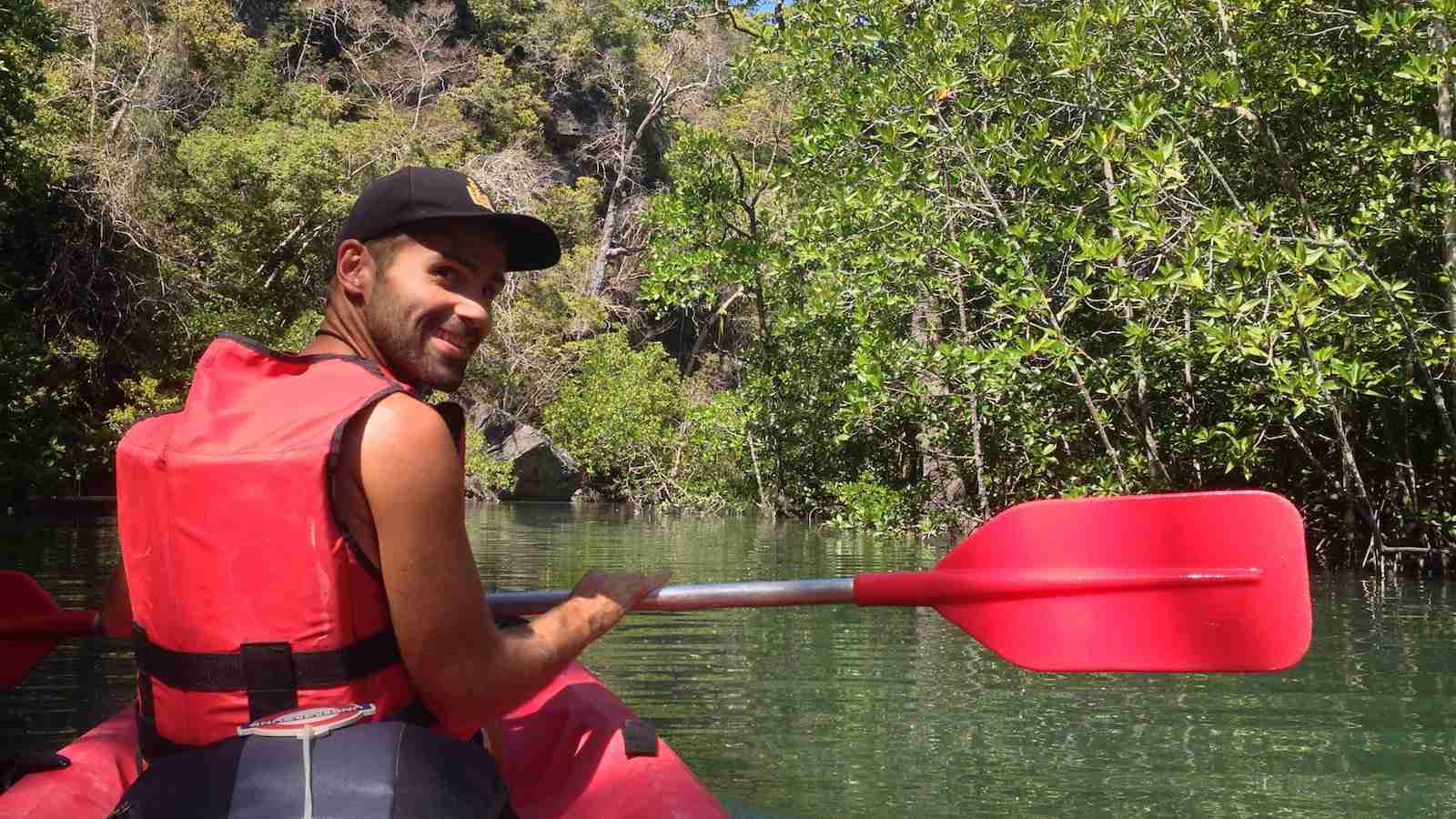 Things to do on Koh Taruatao
We loved our time on Tarutao. It was a rewarding break from the laptops to simply reconnect with life! Imagine remote empty beaches, thick jungles, mangroves, and the delightful silence of Mother Nature. Here's a slice of what we got up to on Koh Tarutao:
Lay on the beach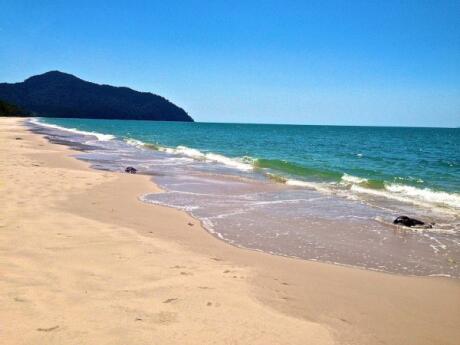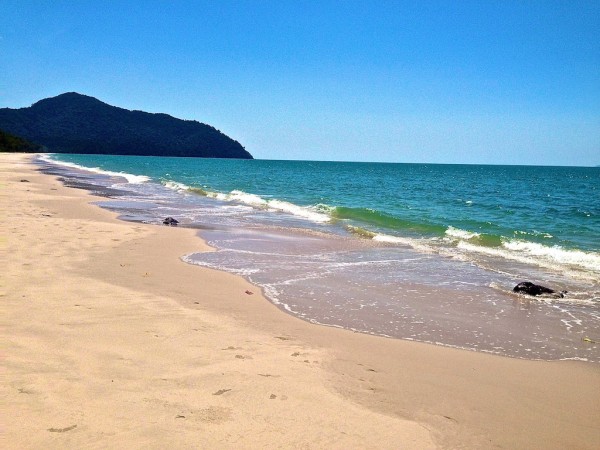 There are many beautiful and remote beaches on Koh Tarutao. Our favorite was the beach at Ao Son. Although it's far from the bungalows/camping ground area at Ao Talo Phante Malacca, it's definitely worth the journey, and you'll most likely have it all to yourself. The sunsets here are stunning and the water is everything you dream. The snorkeling isn't always the best, but staff at the National Park HQ in Ao Pante will guide you to the best parts of the island for this.
---
Mountain biking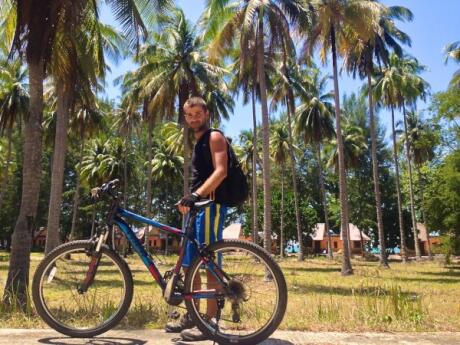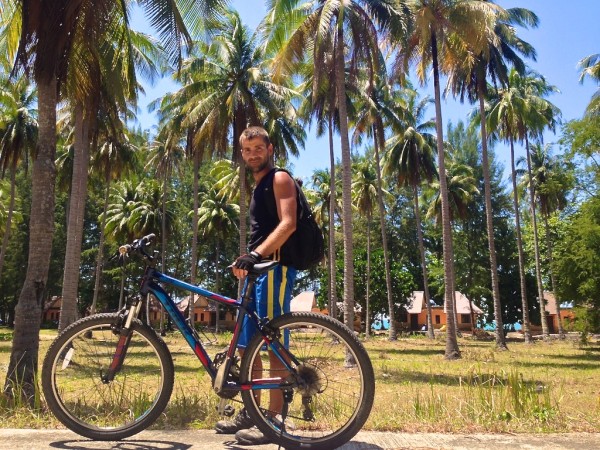 We rented mountain bikes for 250 baht ($8) for 1 day and cycled all the way from Ao Pante to Ao Son, around 3.7 miles (6km) away. It took us around 40 mins each way including stopovers for pics. We recommend it because the trail takes you right through the lush Tarutao jungle. When have you ever gone cycling through a jungle in your life eh? Truly unforgettable!
The bikes are in good condition and are sturdy enough to tackle the bumpy terrain. Just remember to wear a decent pair of shorts to support the 'Crown Jewels' over those bumps…
---
Hiking in Koh Tarutao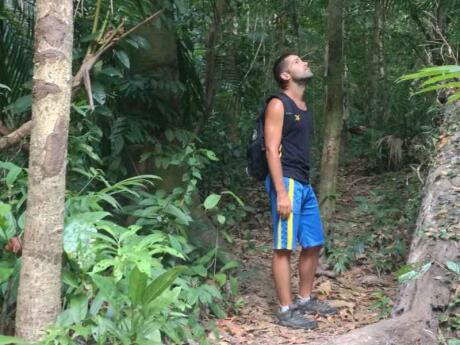 There are some excellent trails on Koh Tarutao, which take you through the vast, thick inland jungle. We recommend checking with the staff at the National Park Headquarters in Ao Pante for details of each trek. They will also give you a handy map.
The best treks near Ao Pante are to the Lu Du Waterfall and up to the Tob-Bob cliff – 1,300 ft (400m) high. We stress the importance of mosquito repellant and wearing long loose clothing to ward off those pesky mozzies!
---
Kayaking on Koh Tarutao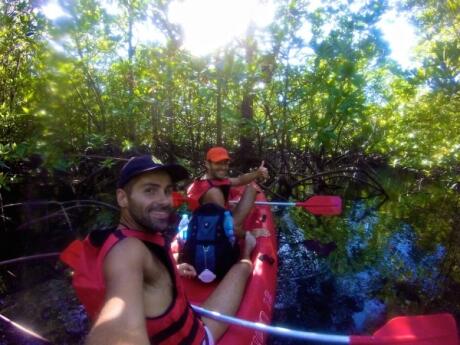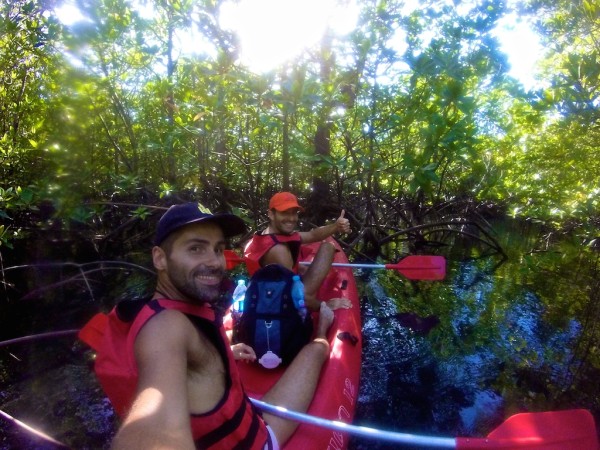 Our favorite activity on Koh Tarutao was renting a kayak and paddling through a mangrove forest to a crocodile cave towards Ao Rusi on the northeast side of the island. This is a really fun day trip, an intense workout, gorgeous natural environments, and a unique cave experience all in one. Just remember to bring head torches for the dark crocodile cave! They may have a few spares in the National Park HQ.
We rented paddle boats from the National Park HQ, which cost 500 baht ($15) for the whole day.
---
Where to eat on Koh Tarutao
There are just two restaurants on the entire island – the first one at Ao Pante, the other at Ao Son Bayon. Both of them serve good inexpensive local Thai food.
Ao Pante Restaurant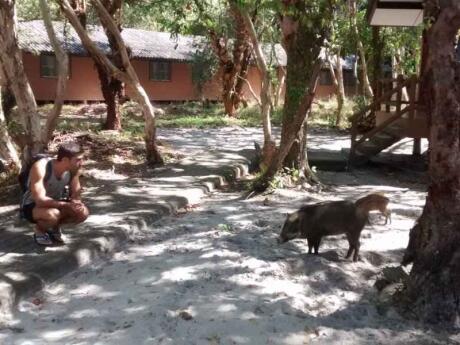 As this is the restaurant closest to the National Park HQ, it's the most popular which the majority of travelers head to, especially for dinner. Therefore it's the one where you're most likely to meet with other like-minded travelers in Tarutao. Expect Thai staples like Pad Thai, curries, rice, and noodle dishes. Also, keep an eye out for those pesky monkeys who'll sneak up on you when you're not expecting it!
---
Ao Son Restaurant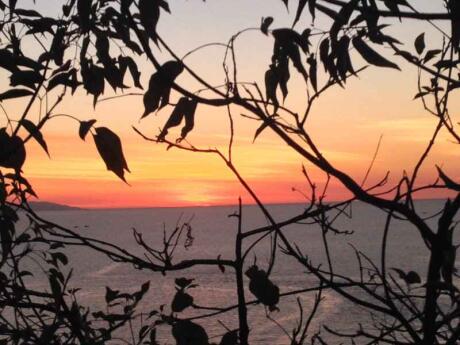 Ao Son is further out, requiring a 40-ish minute bike ride to reach. We ate here for lunch during our day trip but with hindsight wished we'd stayed over. It's on the west side of the island, so guaranteed some pretty sweet sunsets every evening. As with the Ao Pante restaurant, the food is good wholesome Thai classics that hit the sweet spot after a day of exploring.
---
Map of Koh Tarutao
Ao Phante Malacca is where the boat pier is and where the national park headquarters are. This is the area where more people stay, as it has a few bungalows, spaces for tents, a decent restaurant, clean bathrooms and toilets. Ao Molee also has some bungalows but is not so popular as a place to stay. Ao Son is where you will find the best beach on the island.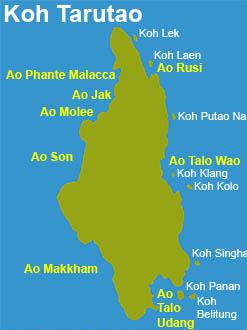 Happy travels are safe travels
We recommend you always take out a reputable travel insurance before your next vacation. What happens if you suffer from illness, injury, theft, or a cancellation? Many travelers forget about it and regret it when something happens. Better to pay a small price and have the peace of mind and not worry.
---