Discover gay Luang Prabang with local boy Somphorn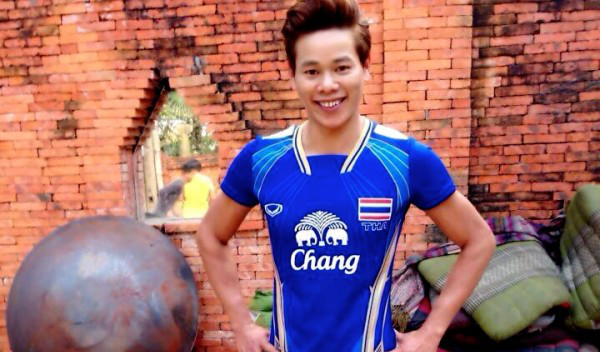 Laos has a mixed attitude to gays.
It appears to be another Asian country struggling hard to accept and protect its LGBT population. There are no anti discrimination laws in place and marriage equality is nowhere near being implemented.
Yet, there are no laws criminalising homosexuality and haven't really ever been since independence. We also felt completely at ease travelling as a gay couple in Laos: locals just didn't bat an eyelid when they worked out we are not really brothers.
We also noticed a very accepting attitude towards lady boys (just like in Thailand), more so than in Western Europe.
We buddied up with Somphorn, the owner of the popular gay friendly Lao Lao Gardens in Luang Prabang, who gave us a local's insight as to what it's like growing up in gay Laos.
#1

Sabaidi Somphorn! Where are you from and what do you do?

Bonjour Les Nomadic Boys. My name is Somphorn Boupha, 28 years old and I am from Luang Prabang in Laos. I own and manage Lao Lao Garden in Luang Prabang, which is a gay friend bar and restaurant.
#2

Are you out to your friends and family?

Yes, all my family and friends know I'm gay. I came out to my family when I was around 20 years old. My mother said she always suspected I was different and was very accepting, as were all my siblings. I lost my father from a young age so I never really knew him.
#3

What's it like growing up as a gay in Laos and in Luang Prabang?

I was really lucky to have a very accepting family and group of friends, which made it very easy for me. However, there were no gay places so it was hard to meet other guys. Now the social media apps have made this a lot easier.

It can be problematic though for some to gain employment in government or other high status sectors if they are openly gay as there are no anti discrimination laws. Discretion is therefore important. Everyone around me knows I'm gay, but as long as I don't shout out loud about it, then everything is fine.
#4

Are there any places in Luang Prabang you recommend going out for gay tourists?

There are quite a few gay owned bars in Luang Prabang but Lao Lao Garden is the most well known because of various reference to it in online gay resources like Utopia. We have gay staff and attract a mixed crowd of both local and western gays each evening.

In Laos it is illegal to market my bar as gay or put a rainbow flag outside. If I did, then this would attract negative attention from the police and Lao Lao Garden would be closed down.
#5

Are there any gay friendly hotels you recommend to LGBT tourists?

Friends have stayed in the following places, all welcoming to gay couples: 

BELMOND LA RESIDENCE PHOU VAO   Book online
Very romantic residence with friendly staff, a beautiful spa and spectacular infinity pool.
Prices start from $600 / £410 a night.
LE SEN BOUTIQUE HOTEL   Book online
Very central, walking distance from most attractions.
Has a gym and a swimming pool.
Prices start from $195 / £133 for a room.
SINGHARAT GUEST HOUSE   Book online
Great budget option in central Luang Prabang.
Prices start from $23 / £15 for a double bed.
#6

Where can LGBT tourists meet gay Laotians?

Grindr and Hornet is a good starting point. In Luang Prabang, we obviously attract a large LGBT crowd here at Lao Lao Garden. In Vientiane there is a bar called CCC Café, which is also unofficially a 'gay bar', but like my bar, not allowed to market it as such.
#7

How do you deal with the midnight curfew?

The curfew in Laos technically requires everyone to be home by midnight. But this is not actually enforced. The police are not going to stop you if you are outdoors after midnight! But for businesses, we are required to close by midnight. In Luang Prabang this is more strictly enforced in order to protect and preserve its UNESCO status.

Some business outside the centre of Luang Prabang pay bribes to the police to allow them to stay open beyond the midnight curfew.
#8

So where's good to hangout in Luang Prabang after curfew?

There is a popular bowling alley a short tuk tuk ride away from the centre, which has managed to benefit from a loophole in the law and stays open till around 2am.

I also know a few other local bars, which do the same, but it changes all the time.
#9

Are there any gay events in Laos?

Actually we had our first Pride on 25th June 2012 and again on 17 May 2013 called Proud To Be Us. It is hosted by the US Embassy and held on their sports field in Vientiane.

There haven't been any more announced yet, but you can join the Gay In Laos closed Facebook group for more information.
#10

Finally, what's with the sports outfit on your Facebook profile picture? Is there a fetish party we missed out on at Lao Lao Garden?

Ha ha ha! No you cheeky boys, dream on – I'd risk my bar being shut down if I did that. This is my volleyball outfit. I play everyday before opening the bar.