We knew absolutely nothing about Laos before planning our trip here. It's often compared to Thailand because they share a close history when the former Thai Siam Empire ruled over both not so long ago.
Yet, through our travels in Laos as a gay couple, we discovered several quite distinctive and remarkable facts about Laos.
1. The highest consumers of sticky rice ("khao niaow")
The Laotians are the highest consumers of sticky rice (khao niaow) in the world. They refer to themselves as luk khao niaow meaning, "children of sticky rice".
A few hundred years ago when rice-farming methods changed, the Laotians stuck to their roots and continued farming the glutinous sticky rice. This has prevailed and so sticky rice remains a fundamental aspect of every meal in Laos.
Interesting gay fact about sticky rice – it's become slang for an Asian guy who is attracted to other Asian guys – a sticky rice queen! The Urban Dictionary gives a hilarious explanation of this.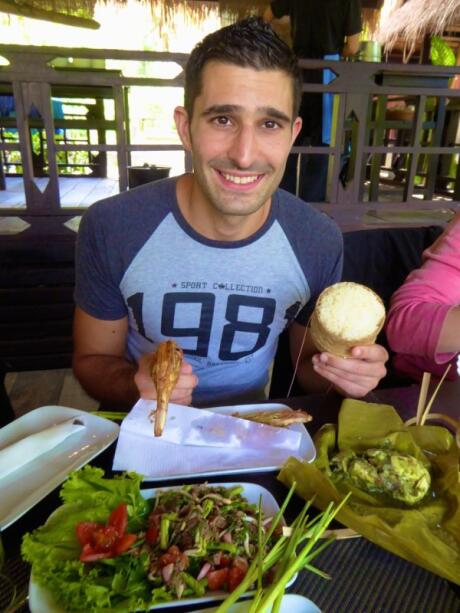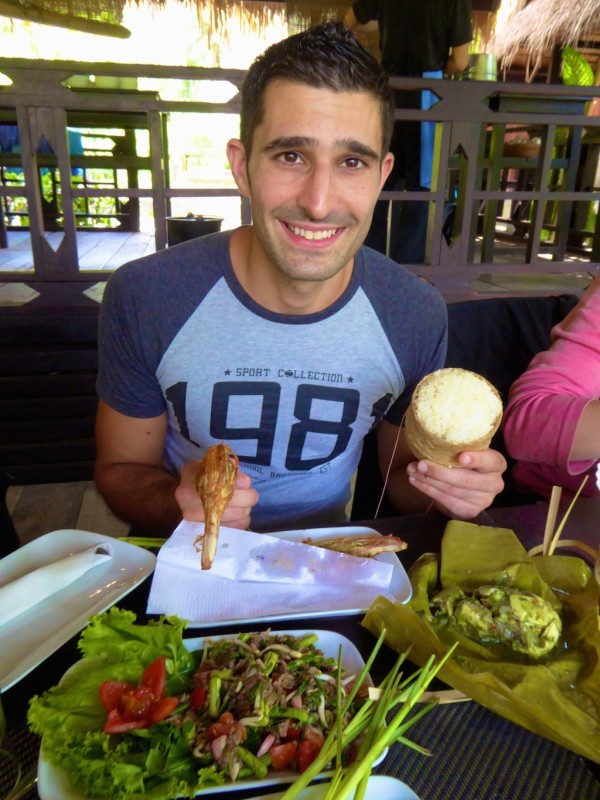 2. Laos is the most heavily bombed place in the world
Laos is the most heavily bombed place by capital as a result of US bombings during the Vietnam War. For 9 years (1964-1973), the US dropped over 2 million tons of bombs across Laos and around 30% of them didn't explode.
This has today left Laos with a high number of unexploded bombs, rendering most of the land unusable for farming. There are frequent sad stories of village children discovering what looks like a toy metal object near their school and without knowing better, play with it and it explodes in their face, killing them and those around.
We highly advise all travellers to Laos to visit the COPE Centre in Vientiane and the UXO Laos Information Centre in Luang Prabang to understand more about this harrowing aspect of the country.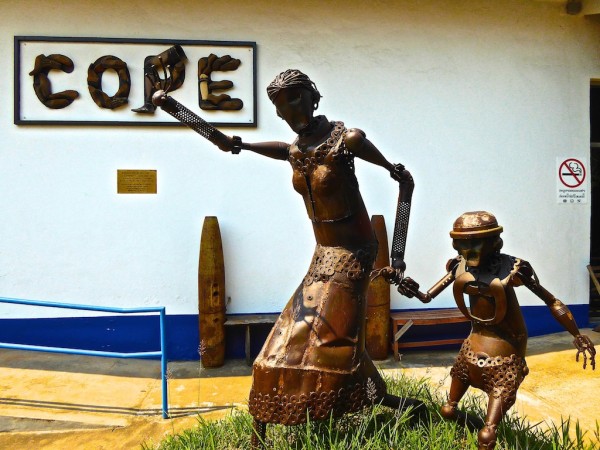 3. Beerlao: one of the best beers in Asia
Beerlao is the award winning national beer of Laos made from Jasmine rice and yeast imported from Germany. Beerlao won the Monde Selection gold quality awards in 2006 and 2010 and received silver in 2003. Beerlao also won the Russian Osiris Beer Festival in June 2005, beating 40 other brews to take the silver prize.
Beerlao has also been reported quite extensively in publications like the Wall Street Journal and the New York Times. It's popular outside of Laos, particularly in Cambodia and Thailand. So as far as this gay couple is concerned, a terrific excuse to order more Beerlaos to wash down all those yummy laaps and other tasty foods of Laos.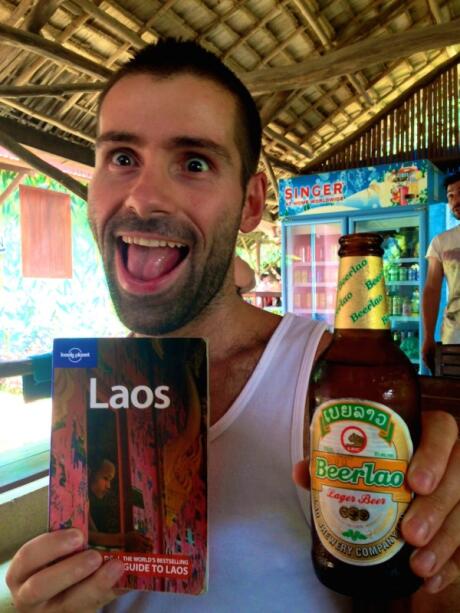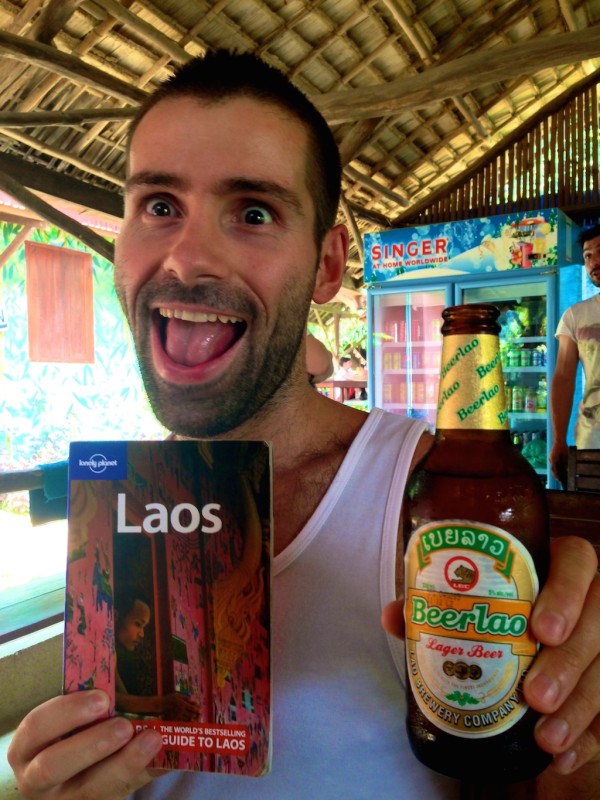 4. Pounding my (ahem) KHOK!
(This just appealed to our childish toilet humour more than anything else…) In Laos, a pestle and mortar is called a khok(!) and a khok is a staple utensil in every kitchen.
During our cooking class at the Tamarind Cooking School in Luang Prabang, we had to place the relevant ingredients into the khoks and pound them into a paste in order to produce most of the dishes we were aiming to prepare, such as the yummy jeow spice sauce.
Stefan took to pounding his khok very enthusiastically:
5. Laotian coffee (kaa-feh Lao) served in a plastic bag
Lao coffee is delicious and not as internationally famous as it should be. It is what tea is to Sri Lanka and is in fact Laos' biggest agricultural export.
A traditional Laotian iced coffee from the street stalls is served with a large dollop of condensed milk at the bottom, in a plastic bag with lots of ice and a straw: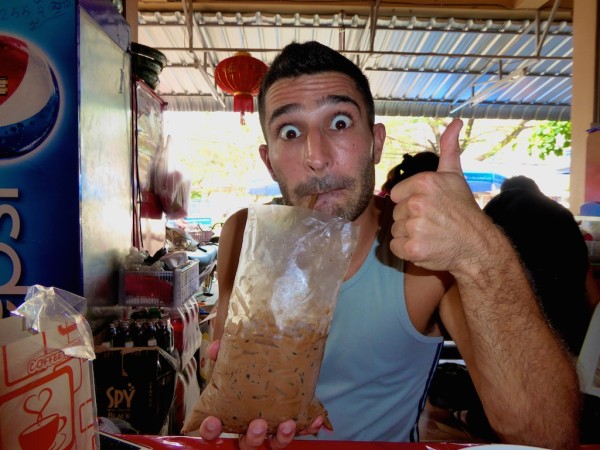 6. The Lao People's Democratic Republic: a Communist state
Laos is one of the world's 5 remaining 'communist' countries (alongside North Korea, China, Cuba and Vietnam). After the civil war ended in 1975, the communist government overthrew the monarchy and has been ruling since.
The official name became the Lao People's Democratic Republic and the red communist flag with hammer and sickle can usually be seen flying alongside the blue & red flag of Laos: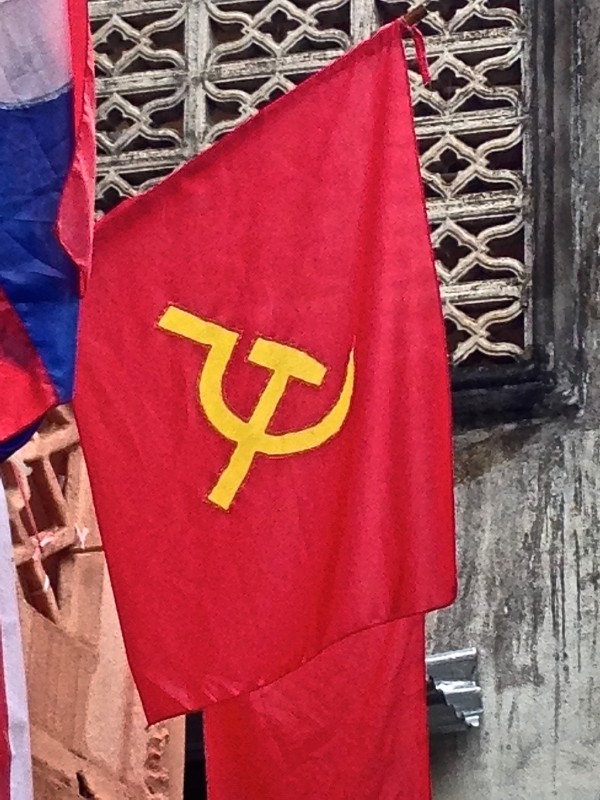 7. The nationwide midnight curfew
In Laos, there is an official nationwide midnight curfew: another sign of it being ruled by a 'communist' government. In practice, this is not enforced on the people but more on businesses.
We met gay local, Somphorn Boupha (RIP) who before he so tragically passed away in 2019, owned the LGBTQ friendly Lao Lao Garden in Luang Prabang. Somphorn explained to us that the midnight curfew is most strictly enforced against businesses in Luang Prabang in order to help the city retain its UNESCO status.
Businesses open past the midnight curfew have usually obtained a 'special licence' – ie bribed the police enough to let them stay open!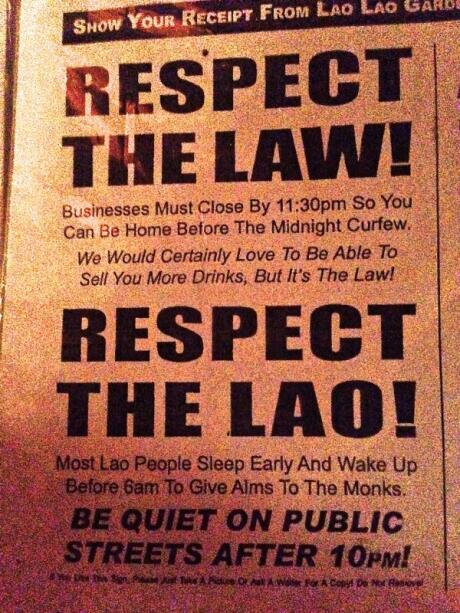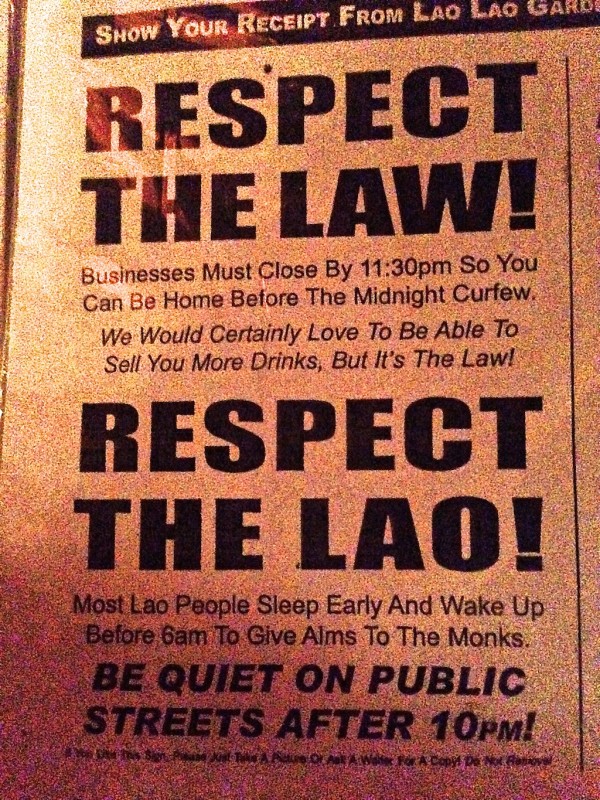 8. The biggest papayas ever!
We love papayas. We went papaya crazy on the beach on Thoddoo island in the Maldives and again in Sri Lanka, Thailand and Myanmar. But nowhere were they as big as the ones we encountered in Laos.
Every fruit seller we in Laos seemed to sell the largest papayas we've ever seen. And we loved it!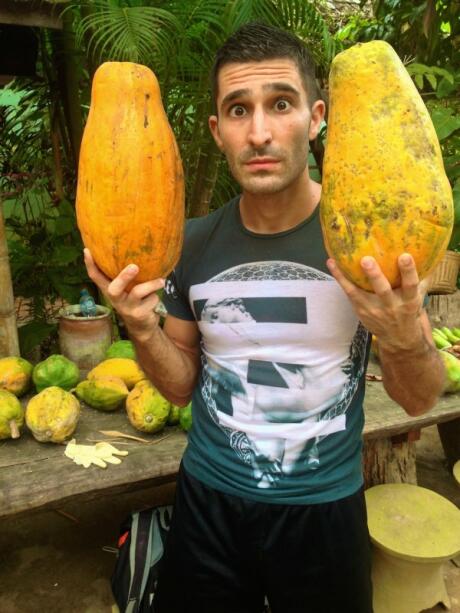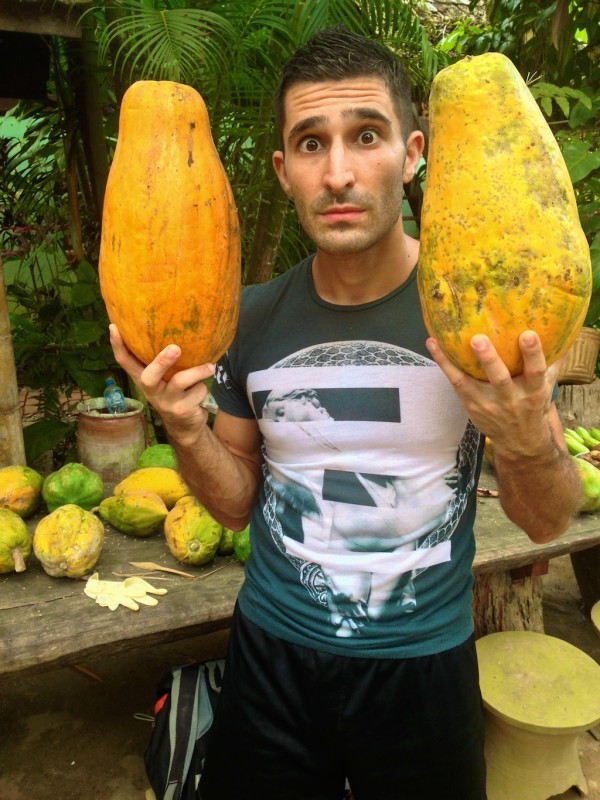 9. Champa: the national flower of Laos
The Champa is the white national flower of Laos. It is considered sacred and respected by the Laotians. We noticed it just after crossing the Fourth Friendship Bridge on the "Welcome to Laos" sign as you cross over from Thailand: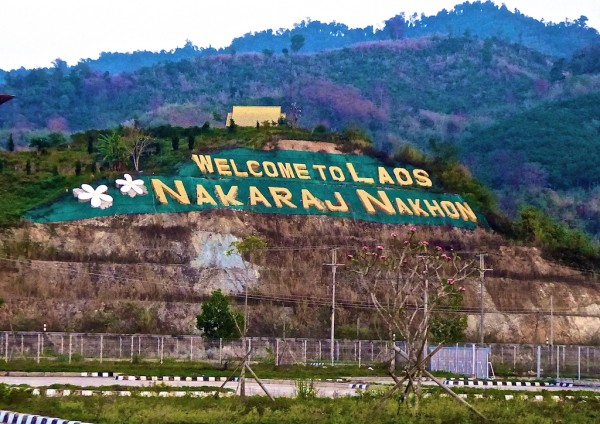 In Laos, a lot of places are named with the name Champa. For example, in Vientiane, we stayed at the Moonlight Champa Guesthouse, and nearby, we noticed this cute campy sign outside a school: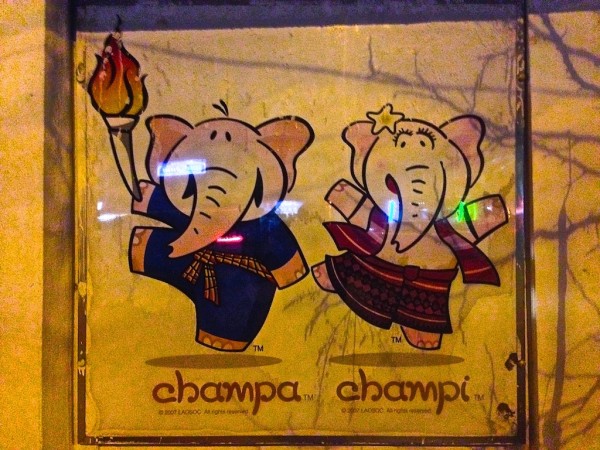 10. The most expensive postage stamps!
We like to send postcards to our family back home from each country we visit. From all the countries we've visited, the stamps in Laos were by far the most expensive!
One stamp for a postcard to Europe cost 13,000 kips (around £1/$1.60).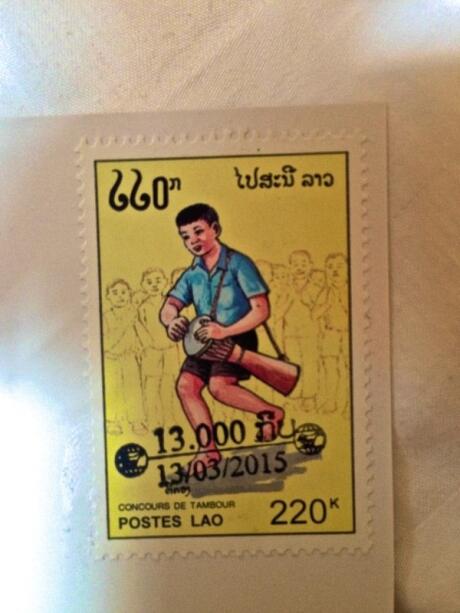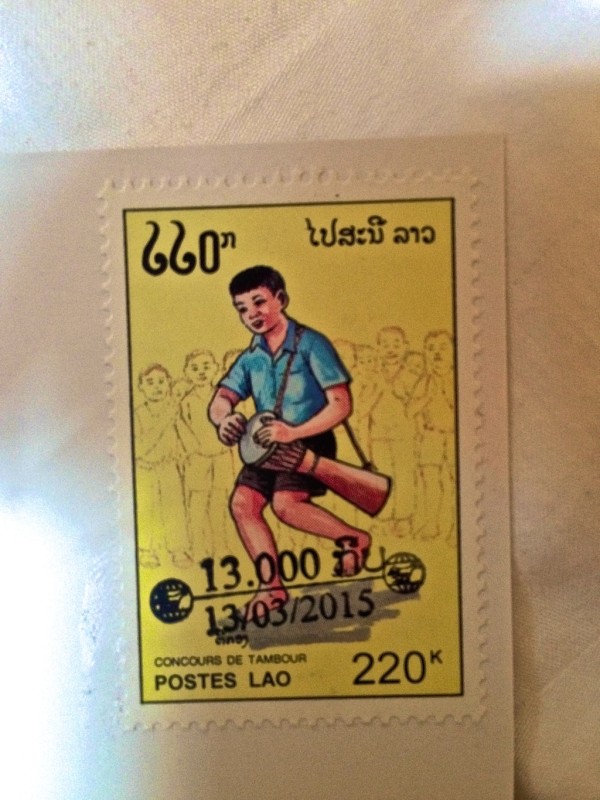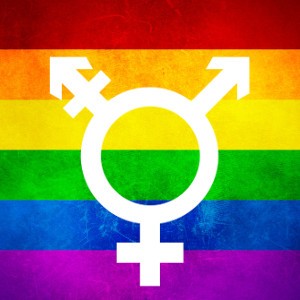 Advice for LGBTQ travellers to Laos
We found Laos to be gay friendly and never had an issue getting a double bed or being tender with each other in public on the odd occasion. As foreigners, you're always treated differently in Laos and highly respected by locals. However, for LGBTQ locals, the situation is slightly different. Whilst it's not illegal to be gay in Laos, the Communist government has yet to pass any progressive LGBTQ laws legislation such as for anti-discrimination or recognition of same-sex relationships. For more, read our interview with our dear friend Somphorn Boupha (RIP) from Luang Prabang about gay life in Laos.