We absolutely love Thailand. It's one of our favourite places to visit in Asia. It has a mix of the best beaches, beautiful Buddhist culture, temples, and an awesome gay scene in Bangkok.
Thailand is also one of the most visited destinations in Asia for gay travellers, and in our opinion, one of the most gay friendly countries in the world. The Thais are extremely welcoming people and have been embracing us for decades. So much so that it is frequently referred to as "The Land of Smiles", and for good reason.
The capital city, Bangkok is very modern, and a transport hub for destinations in Asia. It also has a large gay scene in Silom which we LOVE. Chiang Mai in the North is the country's second biggest city. It is located in the mountains, and famous for its temples and outdoor adventure. The Thai islands are popular beach destinations, particularly Phuket, Koh Samui, Koh Tao, Koh Lipe and Koh Phi Phi.
This is our Thailand gay guide, with our favourite things to do and other practical information for LGBTQ travellers.
What we cover in this guide
When to visit Thailand
Thailand is tropical and hot throughout the year. It has 3 seasons: hot, cold and rainy:
Cold season: between November-February, when temperatures are "only" around mid 20s Celsius (77 F). This is Thailand's peak season, especially around Christmas, New Year's and the Chinese New Year in February.
Hot season: between March-June, with temperatures around 30-35 degrees Celsius (86-95 F). This is the shoulder seasons because it's too hot for some. However, this is also the season for the Sonkgran (Buddhist New Year) gay parties in Bangkok and Phuket.
Rainy season: between June-October. During this time, it does not rain constantly, but there will be periods of intense rain lasting for no more than a few hours. This is the low season, particularly in some of the islands, which get stormy weather, so will shut down most boat services.
On our very first visit to Thailand in 2013 (back in the days when we both had corporate 9-5 jobs in London), we came for a 2 weeks' holiday. Thailand is perfect for this – Bangkok is the common transport hub in/out of the country, and also has one of the best gay scenes we've experienced. As part of this trip we also visited Chiang Mai in the North, then headed south to get our scuba diving qualification in Koh Tao, then did some fun dives and snorkelling in Koh Lanta. During our big trip in Asia, we used Thailand as a base and explored more of this stunning country.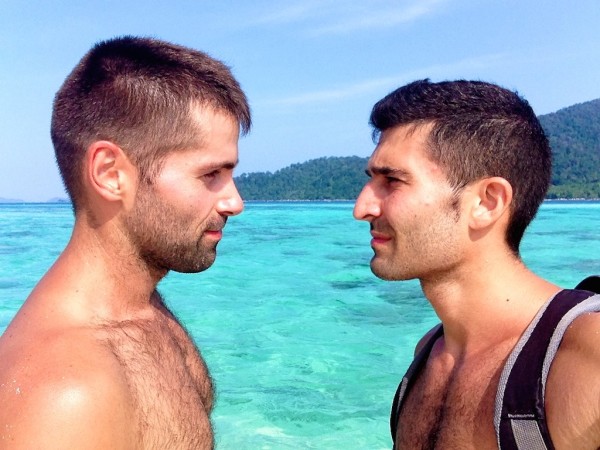 Our 10 highlights of Thailand
#1

Bangkok: the bustling capital city

It's a large concrete jungle. Messy, full of noise and quite dirty. And we love it! Bangkok also has some of the best street food in Asia, not to mention a huge gay scene in Silom.

The pedestrianised road "Silom Soi 4″ is where all the many gay bars of Bangkok can be found, which are busy every night of the week. A few blocks away is Silom Soi 2 where the city's gay clubs like DJ Station can be found.

Bangkok also has many modern shopping malls as well as sightseeing gems worth visiting such as the Grand Palace, Wat Pho, Wat Arun, the Khlong Lat Mayom floating market and the bustling streets of the city's China town.

For gay travellers, one of the best times to visit is during the Songkran Buddhist new year festival in April. People celebrate by throwing water and talcum powder in the streets to each other. There are also many festivals taking place during this time like the GCircuit festival in Bangkok and TropOut in Phuket.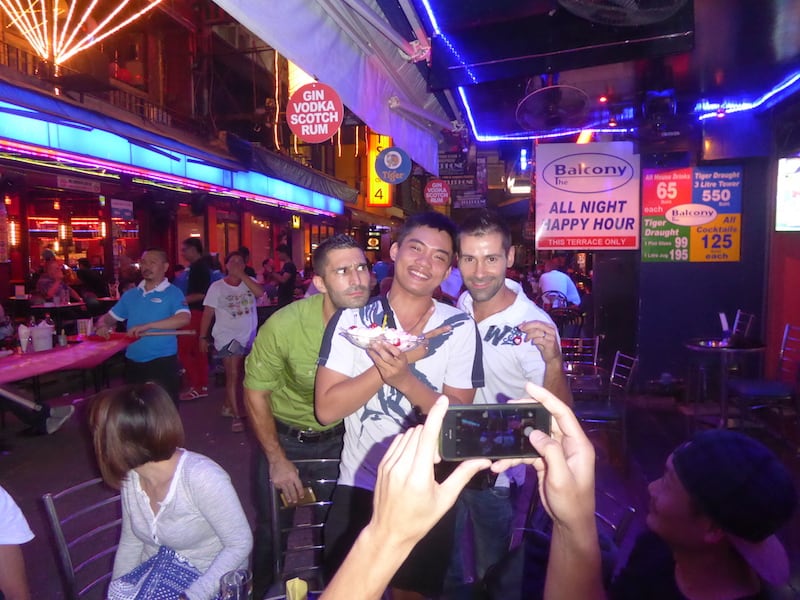 #2

Koh Tao: get your scuba diving qualification
Koh Tao island is on the southeast of Thailand near party island Koh Phangan and Koh Samui. It is famous for scuba diving due to the large number of inexpensive scuba diving schools here. We visited Koh Tao to get our PADI Open Water and Advanced certifications. Most travellers do the same, and as a result, it is very tourist. Nonetheless, it remains an island worth visiting not just for the underwater world, but for the many beautiful beaches.
The most popular beach on the island is Sairee Beach, which is on the west side of the island. More secluded beaches worth checking out include Freedom Beach in the south and the more remote Ao Tanote in the east.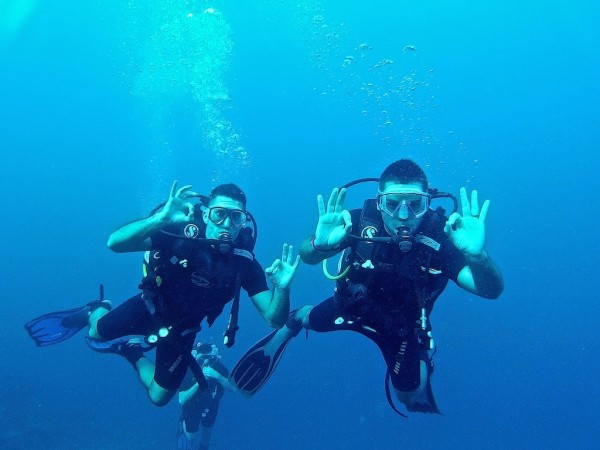 #3

Koh Phi Phi: feel like Leonardo DiCaprio at Maya Bay
Although we reference Phuket in this article, our honest advice is to avoid it as much as you can. Unless you're staying in an exclusive resort or visiting for the April TropOut festival, we found Phuket to be one massive toilet. We stayed here for one night as a transport hub and understand all the negative information written about it online. It's over developed, dirty, and geared to cheap package holidays. The beaches aren't nice, and the gay scene is geared towards old men looking for young rent boys. If you Phuket as a transport hub, our advice is to leave it asap and head to the more beautiful islands south, starting with Koh Phi Phi.
Koh Phi Phi is where the famous Leonardo DiCaprio film called "The Beach" was set. All those beautiful crystal clear blue waters you see are at the Maya Bay cove. Bear in mind, since this film was released in 2000, Koh Phi Phi has become one of the country's most visited spots, attracting huge numbers of day trippers, especially during November-February.
The best time to visit is after 4:30pm when the day tripper crowds have left and join a sleep aboard sunset cruise.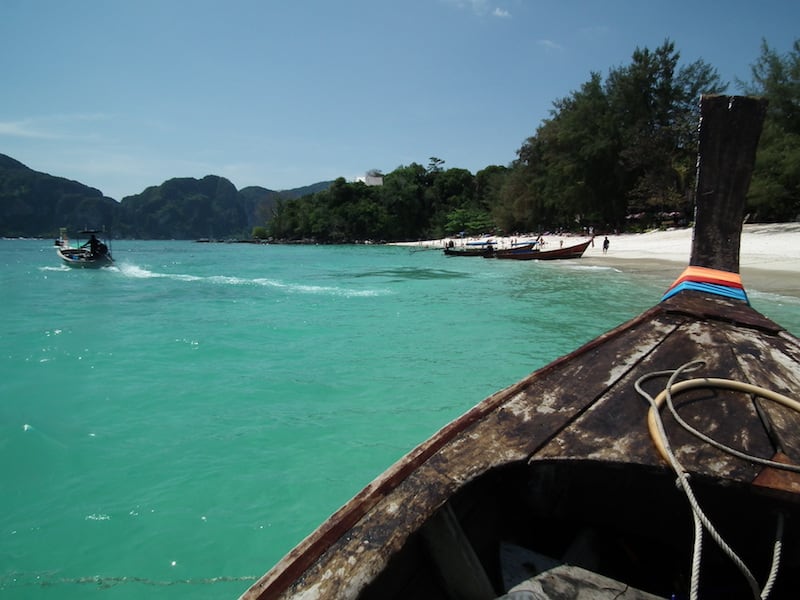 #4

Scuba diving in paradise near Koh Lanta
Koh Lanta is another stunning south of Phuket, which is definitely worth checking out or even using as your base. The beach is large, clean and with fewer people. Koh Lanta is also an excellent base to pursue your scuba diving skills after receiving your qualification in Koh Tao. It has some of the best reefs in Thailand, particularly around the smaller islets like Koh Haa and Koh Rok, which you can visit on a day trip.
There are many highly rated scuba diving tours you can do from Krabi or Koh Lanta to the coral reefs around these group of islands. Highlights include turtles, many tropical fish and even a few reef sharks.
#5

Krabi: gorgeous limestone karsts
Krabi is a city on the coast in Southwest Thailand with daily flights to Bangkok, making it a convenient base. We stayed here as a base to visit more of the Thai islands in the Andaman Sea.
Krabi is surrounded by limestone karsts, which makes it scenic. The white sandy beaches are popular, particularly Ao Nang and Railay Beach. The Wat Tham Sua "Tiger Cave" is another famous attraction in Krabi worth visiting. It is part of a temple complex where monks live and worship within a maze of natural caves surrounded by lush jungle.
#6

Koh Lipe and Koh Adang
Koh Lipe is our favourite Thai island. It's our little hidden secret gem. We came for a few days, and ended up staying here for 2 weeks. It is a small island in the southwest, close to the Malaysian border. Sunrise Beach is the best beach to stay on the island as it has the clearest water and cleanest beach. It is surrounded by healthy coral rich with life, ideal for snorkelling. There are plenty of upmarket hotels to stay on Sunrise Beach, as well as more budget friendly guest houses like the gay owned Gipsy Resort.
Koh Adang is a large secluded island close to Koh Lipe just 10 minutes away by tail boat. It's ideal for a day trip for snorkelling and to get away from the large crowds of Koh Lipe. Koh Adang is much larger than Koh Lipe and is part of the Koh Tarutao National Park, so unlike Koh Lipe, development is restricted by the Thai government.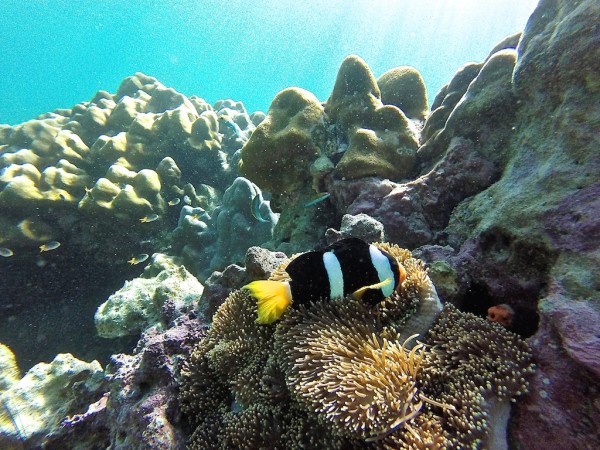 #7

Koh Tarutao: adventure island
If you want to add some adventure to your Thai beach holiday, then Koh Tarutao is the best place for it. It used to be a concentration camp for political prisoners. Today it is the headquarters for the Koh Tarutao National Park, which is highly regulated . As such it is completely underdeveloped here, with only a few restaurants, basic bungalows and camping spaces.
You can rent bikes here to explore the island and reach the remote jungle trails to scenic gems like the Lu Du Waterfall. You can also kayak through the mangrove forest at Ao Rusi in the northeastern side of the island, and visit the dark "crocodile cave"…don't worry, despite the name, the crocs are long gone!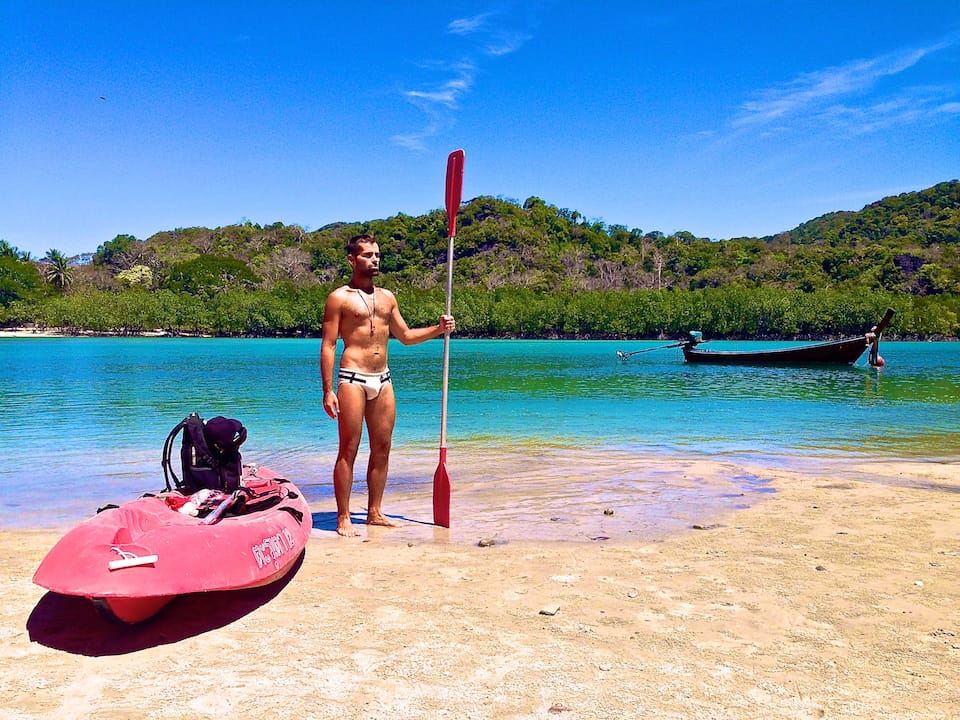 #8

Chiang Mai: temples and Buddhism

Chiang Mai is the largest city in North Thailand, and a top cultural destination. It has over 300 Buddhist temples, most of which can be found within the walled historical centre. The most famous one is "Wat Phra That Doi Suthep", which overlooks the city from a mountainside 13km away.

The strong Buddhist spiritual atmosphere and cooler mountain climate makes Chiang Mai a popular destination for yoga retreats. It is also a very popular base for digital nomads as rents and food are much cheaper here than in Bangkok. The city has a few gay bars, but nothing on par with Silom in Bangkok of course.

Read more in our favourite highlights of Chiang Mai.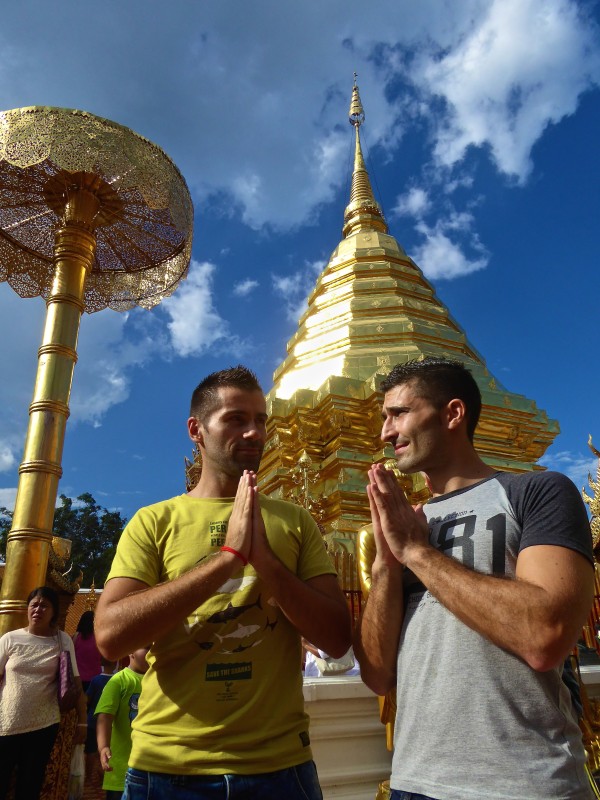 #9

Getting up close with elephants in Chiang Mai
When visiting Chiang Mai, we urge you to boycott the terrible elephant riding industry. Elephants are not made to ride humans. They are taken away from their mothers at a young age, beaten into submission until they are judged to be "broken" or completely submissive to perform tricks and carry humans. This is called elephant crushing and sadly persists throughout Asia.
Instead we highly advise visiting an ethical organisation like the Elephant Nature Park, which is a rescue centre and sanctuary for elephants. Here you can get up close with them: bathe them, hug them and feed them.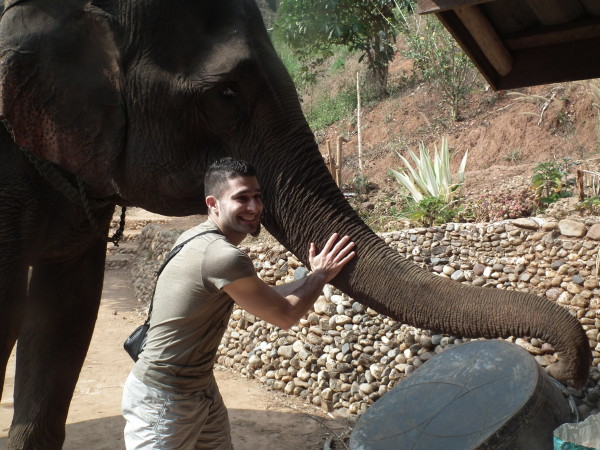 #10

Bargaining at a market
Thailand has some of the best markets, selling everything from fake Gucci purses to beautifully handcrafted souvenirs. This is also the perfect place to test your bargaining skills. The trick is to ignore the heavily inflated asking price and counter offer around 30% and from there patiently work towards a price both parties are happy to accept. You can always walk away if you feel uncomfortable, which will often lead to the vendor calling you back with a reduced price.
Some of the best markets in Thailand to check out include the Night Bazaar in Chiang Mai and the massive Chatuchak weekend market in Bangkok.
Watch more from our Thai adventures in our Kylie inspired video:
Culinary highlights of Thailand
We love doing cooking class in every new destination we visit. Thailand is one of our favourites cuisines, so we did many cooking classes here. Cooking classes are popular throughout the country, particularly in Chiang Mai and Bangkok.
The most famous Thai dish is Pad Thai, which is a stir fried rice noodle dish cooked with eggs, fish sauce, garlic, shallots, bean sprouts, coriander leaves, tofu or chicken, tamarind pulp and served with spring onions, crushed nuts and lime juice. It was popularised during the Second World War and has become the country's national dish.
Som Tam is spicy green papaya salad made with shredded papaya, pounded in a pestle and mortar with lime juice, palm sugar, chili, garlic, shrimp, nut, tomatoes, lime juice, fish sauce, bean sprouts and green beans.
Curries are also ubiquitous throughout Thailand. The most famous are named after the color of the chilis used: red, green and yellow. In the south, Massaman curry is more popular, which is a richer tasting curry with coconut milk and not as spicy as its colorful cousins.
Mango sticky rice is our favorite Thai dessert. Sticky rice is made from glutinous rice and it is cooked with coconut milk, palm sugar, then served with pieces of mango.
Most cooking classes will include Pad Thai national dish, as well as "som tam" (spicy papaya salad) and red, yellow or green curry.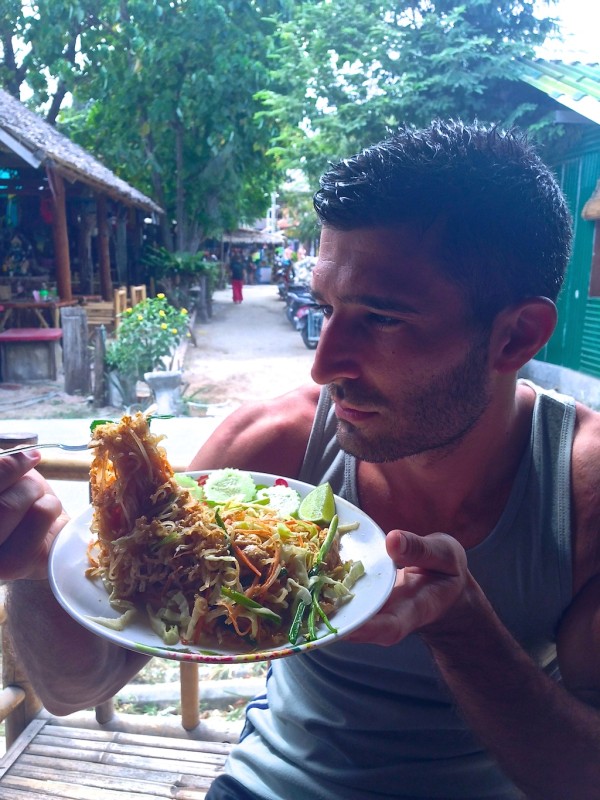 General advice for gay travel in Thailand
Although Thailand lags behind North America and West Europe with regards to LGBTQ rights, by Asian standards, Thailand is a LGBTQ friendly country. Homosexuality was legalised in 1956, well before the UK in 1967 and the USA in 1962 (starting with Illinois). Gays and lesbians have been openly allowed to serve in the military since 2005 and a whole ray of anti-discrimination legislation has been introduced since 2015. Recognition of same sex couples are under review but adoption remains illegal. Thailand also has very lenient laws for the transgender community, with the right to change legal gender enshrined in law since 2007.
Nonetheless, as with most places in Asia, Thai society is conservative. Outward displays of affection are generally uncommon by both straight and gay couples. For example, when greeting someone for the first time, the Thais do not hug, kiss or rarely shake hands. Instead they traditionally put their palms together in a lotus bud by the chest and bow the head.
Gay travellers to Thailand are very unlikely to ever encounter any homophobia during their holiday. It is a destination that is guaranteed to captivate you in many ways that you will no doubt be planning your next trip back to the "Land of Smiles" as soon as you've left it.
Happy travels are safe travels
We recommend you always take out travel insurance before your next vacation. What happens if you suffer from illness, injury, theft or a cancellation? With travel insurance, you can have peace of mind and not worry. We love World Nomads travel insurance and have been using it for years. Their comprehensive coverage is second to none and their online claims process is very user friendly.
Some of the links in this post are affiliate links. This means that if you book your accommodation, an activity or your insurance, we'll earn a small commission. There is never an extra cost to you for using these links and it helps us keep the site going.
IF YOU ENJOYED READING, PLEASE PIN ME: