We completely fell in love with the Philippines. For us it was one of the most welcoming and gay friendly destinations in Asia, particularly Boracay island.
Boracay is one of the most popular islands in the Philippines and even has a small gay scene to explore. We visited to celebrate Seb's birthday and had a blast. Whilst there is a large party side to the island, there is also a more mellow chilled side to it, especially at Puka beach. This is our gay guide to Boracay featuring the most up to date gay bars, clubs and gay friendly hotels.
The famous big cleanup!
In 2018, President Rodrigo Duterte ordered that the island is closed for an extensive cleanup because the waters around the island has become a giant "cesspool". Therefore, between April to October 2018, Boracay shut down and the clean up went ahead.
Today, the island is alive and well, but has strict conservation laws in place. For example, tourist numbers are limited to 19,200 at any one time (it used to be double that in the peak season), and banning boozing and smoking on the beach. Whilst Boracay will no longer be the party destination it once was, we don't quite see that as a bad thing!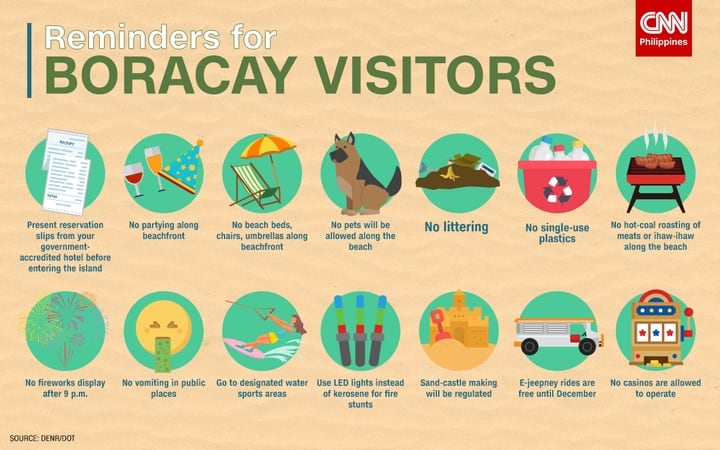 Gay bars and clubs in Boracay
The main bulk of the nightlife in Boracay takes places around Station 2. The central point is the D'Mall, which is where the majority of the best bars, clubs and restaurants are. As such it's always very busy here, full of people, plenty of atmosphere, and of course, many pretty gay boys.
Gay hotels in Boracay
There are many excellent gay friendly hotels in Boracay to suit all budgets. You could spend as little as 300 pesos (£4/$7) for a dorm bed to several hundreds of dollars for a room in a luxury resort.
STAY WITH A GAY LOCAL
Misterb&b is the Airbnb equivalent for the LGBTQ community. Unlike on Airbnb, you know your host is gay, avoiding any nasty surprises when you check in. It is also a great way to meet gay locals and discover the underground gay scene. Click below to get 10 € (or $10) off your first booking.
We never experienced any homophobia in Boracay, or any difficulties getting a double bed. We found Filipinos to be very relaxed and open-minded towards LGBTQ tourists. The places we recommend below are 100% gay-friendly, so you can freely wave your rainbow flag at the door.
Mandala Spa is the ultimate romantic experience on Boracay. We stayed here for 2 nights and loved every second of it. It's one of the best romantic hotels we've stayed in during our big trip in Asia and highly recommend it. The staff are super friendly and welcome gay couples with open arms.
At Mandala Spa you can purchase a "package" which along with your luxurious villa also includes a mix of spa treatments, yoga classes, dance classes and dining at their in house restaurant. They have a rainbow package for gay couples, which is the ideal gift to spoil your partner for a special occasion.
Packages at Mandala Spa start from $250/£170. Find out more in our review about Mandala Spa.
We stayed for 3 nights at Villa Caemilla and absolutely loved it. It's located right on the beach front far enough away from the touristy crowd at Station 2, but close enough to be walking distance near all the good restaurants and bars.
Our favourite thing about Villa Caemilla is that it has its own private beach front just for guests, surrounded by palm trees and closely attended to by the smiley staff.
A double room at Villa Caemilla starts from $125/£88. Read more about it in our review about Villa Caemilla.
We stayed here for Sebastien's birthday and ended up getting really friendly with the staff who took us around Station 2. They made it very special for us and we can't recommend it highly enough. This is ideal for couples looking for an affordable romantic stay.
Rooms at the Ferra Hotel start from $60/£40.
Awesome restaurants to check out
There are a variety of really good restaurants on Boracay worth checking out to compliment a romantic stay on the island, and also to meet and hang out at with friends. These were the ones we tried and loved:
Things to do in Boracay
There are a variety of fun activities to do on Boracay with many gay friendly tour companies. Our favourite of course was dressing up as mermaids:
#1

Dressing up and learning to swim like a mermaid

You just have to do it, whatever the occasion! We took a course, learning to swim like a mermaid, which is not only a satisfying work out, but also a lot of fun. The Philippines Mermaid Swimming Academy runs excellent mermaid classes on White Beach.

Go on you know you want to!
#2

Beach boat party on Carubao island

For Seb's birthday we wanted to take a boat trip. After searching Tripadvisor, we found Boracay Explorer, who offers a boat trip to the nearby Carubao island with all food and drinks included.

Carubao has many gorgeous beaches, lined with palm trees and fortunately sees very few tourists. We came for the day and had the entire area to ourselves, then explored the rest of it on motorbikes.

The staff of Boracay Explorer are extremely gay friendly and welcome to everyone. This is idea if you're a large group of gay guys looking to party and want an isolated beach all to yourself.
#3

Puka gay friendly beach in Boracay

If you want to escape the busy crowds of White Beach around Station 2, we highly recommend checking out Puka Beach, located at the northern tip of the island. It's a paradise here, and only 20 minutes tricycle ride from D'Mall.

For us Puka Beach was the best beach on Boracay island. It's more isolated than Station 2, so has little development. The atmosphere is very relaxed and the water is gorgeously clean, ideal for swimming. It's a popular spot for gay guys, and we noticed a few cruising in the afternoon hours.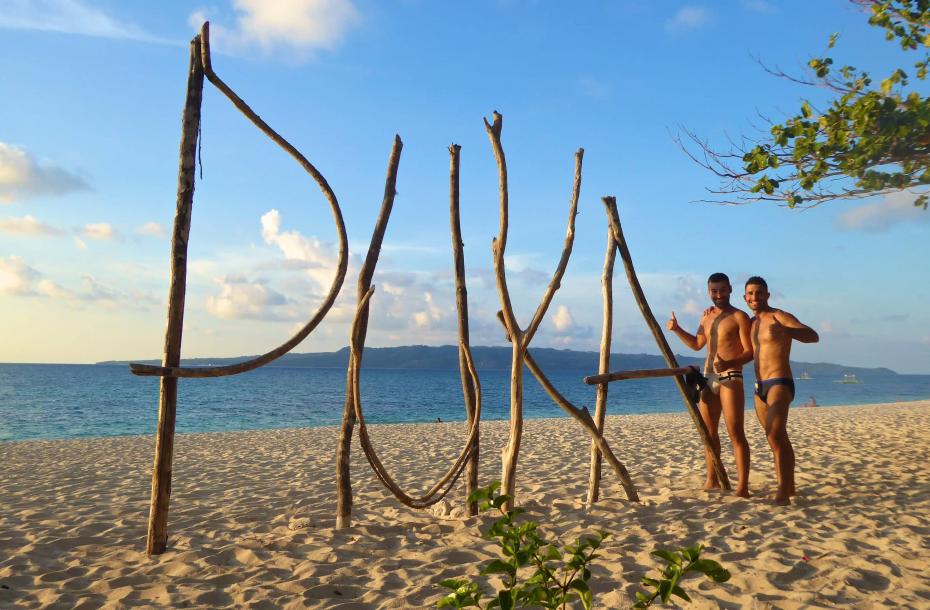 #4

Treat yourself to a luxurious spa treatment

You will find many places offering massages and spa treatments on the beach and also in town. We personally recommend the gay friendly Mandala Spa resort, which we tried it and loved.

We spoiled ourselves with a package of treatments which includes a Royal Footbath, a Cleopatra Milk Bath and their Asian Signature Massage.
See more in our Philippines travel video:
Happy travels are safe travels
We recommend you always take out travel insurance before your next vacation. What happens if you suffer from illness, injury, theft or a cancellation? With travel insurance, you can have peace of mind and not worry. We love World Nomads travel insurance and have been using it for years. Their comprehensive coverage is second to none and their online claims process is very user friendly.
Some of the links in this post are affiliate links. This means that if you book your accommodation, an activity or your insurance, we'll earn a small commission. There is never an extra cost to you for using these links and it helps us keep the site going.