TERMS OF USE: There is a chance that some of the content on this page has changed since it was last updated. By reading this article, you consent to our Terms of Use and Disclaimer. Happy Travels!
DISCLOSURE: Some of our posts may contain affiliate links which we may receive a commission if you choose to book something through one of our links.
This is our gay travel guide to Palawan Island in the Philippines with all the best things to do, where to stay in particular around El Nido.
The Philippines have occasionally been called the treasure islands of the Pacific, but if you were to ask us, we'd say that the largest gem of all can be found within Palawan!
As adventurers, we're always on the lookout for the most exciting destinations to share with the LGBTQ world. So, what if we told you that Palawan is a top-of-the-line oasis where you can find the softest and whitest sand? The deepest and most mysterious caves? Mountains, covered by vast and verdant jungles? Well… It's true! Palawan has everything that explorers could ever want from a thrilling vacation.
And while there is no primary hotspot for gay activity amongst the various islands and municipalities throughout Palawan, there are still several LGBTQ-owned businesses to be found. Also, just based on our own personal experiences from traveling across the seas to Palawan, we have met a lot of queer folk flooding into these gorgeous islands. Filipinos are incredibly welcoming and gay friendly, many of our friends have even weighed in on why the Philippines is so gay friendly.
From our perspective, Palawan is not only a safe place for both local and foreign travelers, but it is also a must-stop, bucket list-worthy location. We want to help you plan the best possible gay island holiday, which is why we've created this overarching, all-inclusive, gay travel guide to get you started!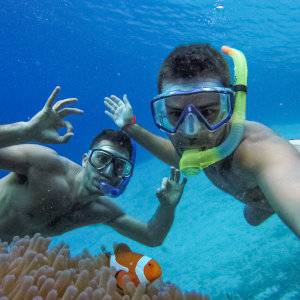 Must do in Palawan: Find Nemo!
The number one must-do thing you have to do while in Palawan is to explore life under the waves. Along with lots of pretty fish, you can visit some of the most beautiful and untouched beaches on an island-hopping tour. A delicious barbecue lunch is also included.
Is Palawan safe for gay travelers?
We sure thought so, after all, we rate the Philippines as one of the most gay friendly countries in Asia. We personally found Palawan to be safe and never experienced any problems traveling as a gay couple. It's not surprising given that this is one of the most touristic parts of the country with people from all over the world visiting and working in the island's large tourism industry. The worst we faced was being asked if we are brothers!
One thing that rings true for all travelers, straight or gay, is to avoid the extreme south of the Philippines, specifically around Mindanao and the Sulu archipelago. This is because terrorist organisations inhabit these areas and sadly kidnap tourists as a way to elicit ransom money.
Palawan stretches down to the south of the country and is reasonably far from this terrorist hotspot, however in 2017, there were threats of terrorist raids in Palawan. Whilst there have been no kidnappings on the island, and the Philippines military officials have confirmed that Palawan is still very safe, we would nonetheless recommend checking your local government advice before you travel.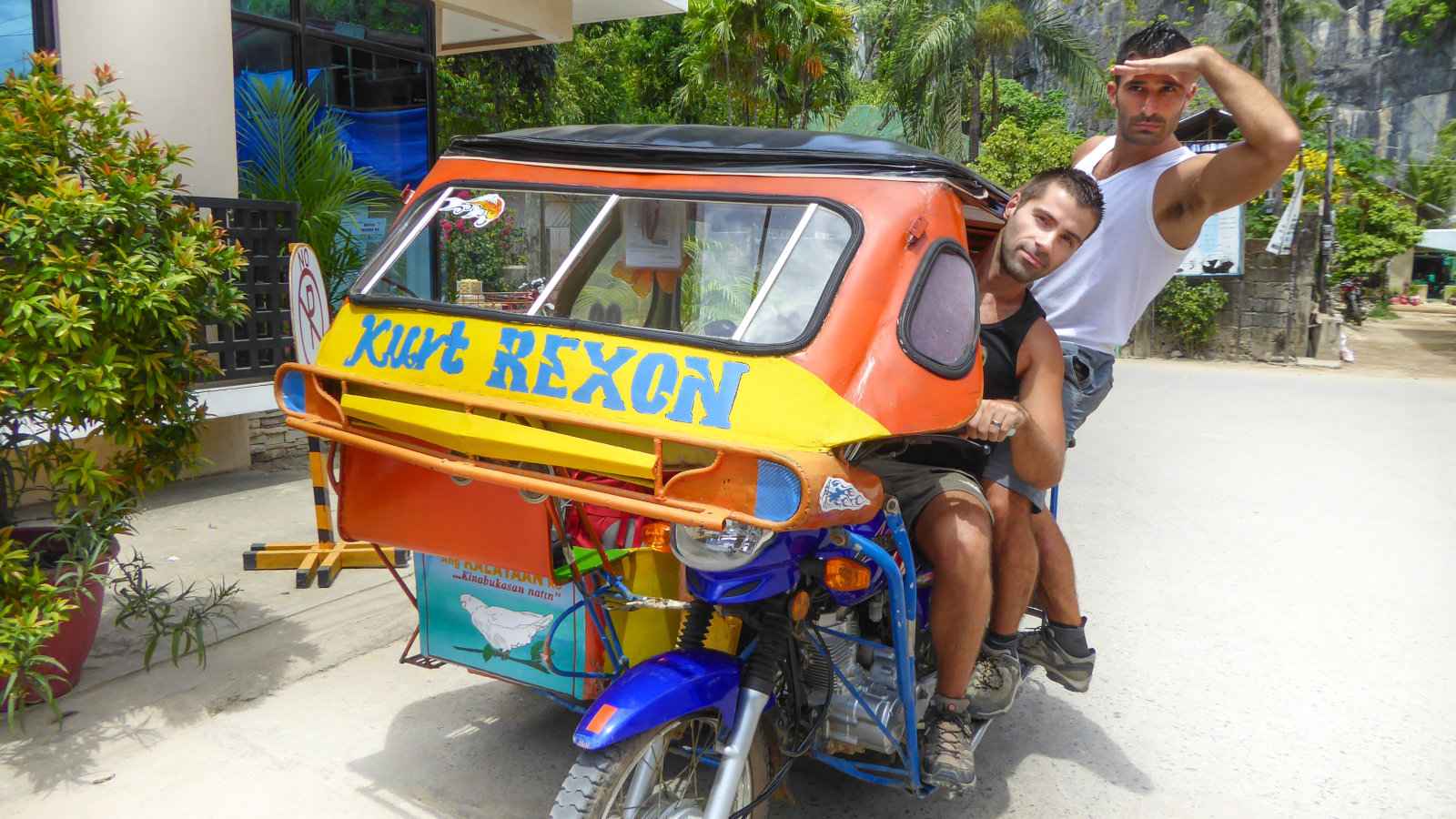 Top destinations in Palawan
As soon as we booked our trip to the Philippines, Palawan was on top of our Bucket List. From the famous underground river to the stunning waters of El Nido, we knew we were in for a treat. As scuba divers, we were very happy here! Here's a rundown of our favorite destinations in Palawan to inspire your next gay vacation:
El Nido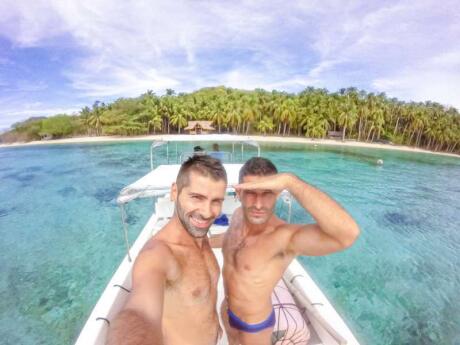 As the Philippines' last frontier, El Nido supports a smaller population than the other municipalities of Palawan, but we firmly believe this only adds to its appeal. Because while El Nido can feel touristy at times, it mostly imparts feelings of community, intimacy and tranquillity. The entire area's resources are fiercely protected, meaning LGBTQ visitors can experience untainted views of nature unlike any other. And dear lord, there is definitely plenty to see! Between steep limestone formations, immaculate white-sand beaches, and pristine coral reefs, as well as a wide variety of restaurants and shops, the adventure never ends in El Nido.
---
Puerto Princesa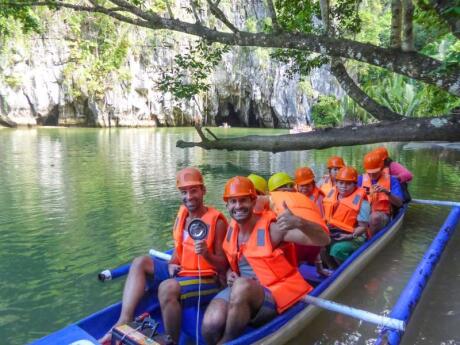 Puerto Princesa, while being acclaimed for its cleanliness and eco-friendly practices, actually serves as the largest hub for urbanized activity throughout Palawan. Don't get us wrong – there's still tons of nature surrounding the countless resorts and establishments! In our eyes, Puerto Princesa is the perfect place to turn into a travel base if you love to indulge in the city life comforts while maintaining the option to explore the nearby landscape in smaller doses. Basically, be sure you indulge in all of the decadent culinary options around you, but also make room in your schedule to venture out into the wilderness.
---
Coron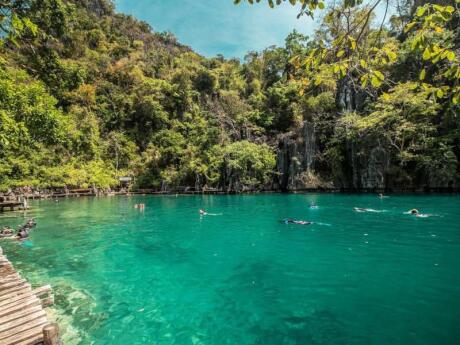 History is quite literally embedded into the shores of Coron. This spot could easily be deemed every underwater explorer's dream thanks to its clear blue waters, which illuminate a substantial number of Japanese World War II ships. But if you're not into diving, don't sweat it! You can find some of these boats entombed in the sands of Coron's beaches, and you can appreciate the gorgeous water during a kayak tour. And while that's only breaking the ice in terms of exciting activities available on Coron, we highly suggest that you just take time to enjoy the picturesque views of this stunning municipality throughout your stay.
---
Flower Island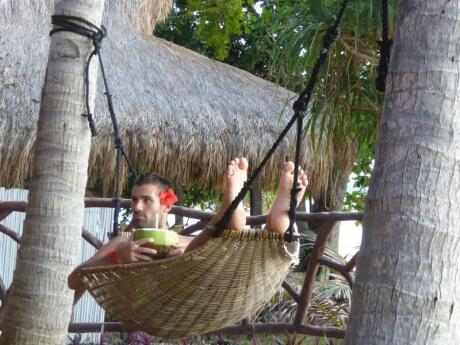 Looking to take a romantic gay getaway with the love of your life? Then let us point you in the direction of Flower Island! This completely private island operates under the supervision of Flower Island Resort, which is run by an incredibly friendly and welcoming staff. No one batted an eye as we strolled the beaches hand in hand. In fact, we actually received a significant amount of help when navigating and exploring the area. Honestly, we could rant and rave about the wonders of Flower Island all day, but we could also give you a brief, one-word summary: heaven.
---
Sibaltan Village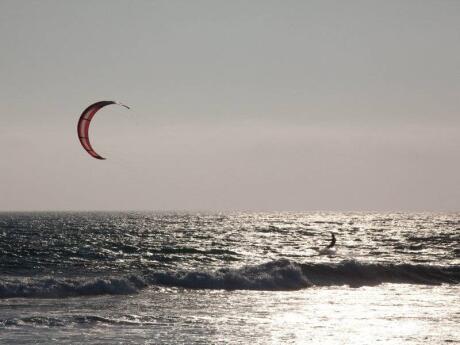 Away from the crowded tourist hubs is the quaint, peaceful Sibaltan Village. While it's easy to find relaxation anywhere you travel, you don't have to actively hunt for it in Sibaltan Village. I'd say that you'll be able to feel it naturally, even as you're taking your first steps across their beautiful, sandy plains! The village locals happily accommodate all visitors, so prepare to be welcomed into their unique customs that revolve around fishing, kitesurfing, and archaeology. If you're anything like us, then you'll quickly come to understand that Sibaltan Village is the place to be if you're fascinated with the traditions observed by different cultures.
---
Gay friendly hotels in Palawan
Finding a place to stay during your vacay is arguably one of the most important and stressful parts of planning. But that's why we're here! Palawan has loads of options for lodgings – from charming BnBs to budget-friendly hostels to lavish beachside resorts – and we've sorted through them all to show you a few of our favorite gay-friendly accommodations across the various municipalities.
01
At Home
Puerto Princesa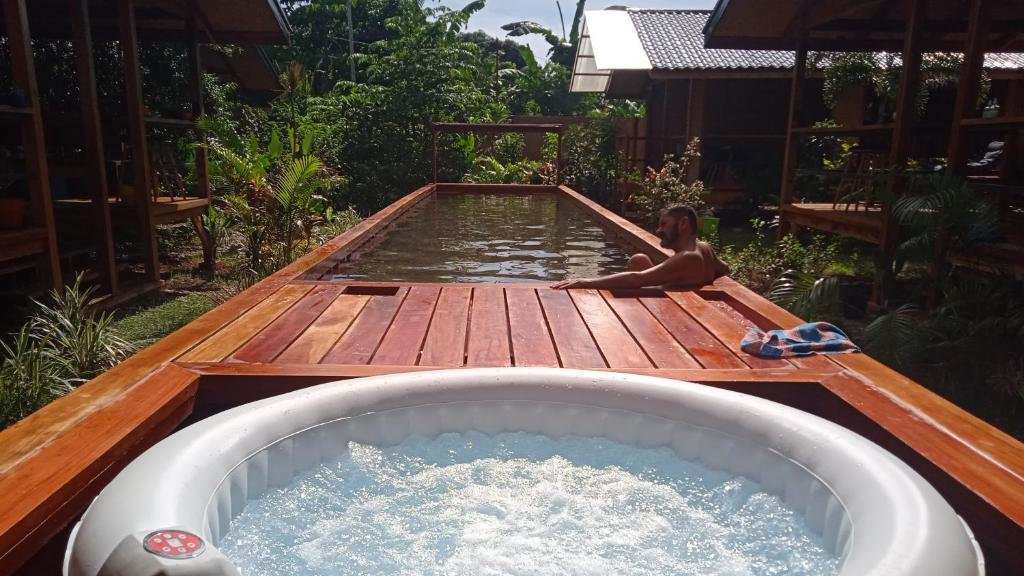 In a nutshell
---
Gay-owned and clothing-optional B&B
Lovely swimming pool and hot tub to enjoy
Beautiful gardens surrounding the charming rooms
Daily delicious breakfast included!
At Home is a delightful gay-owned B&B in the heart of Puerto Princesa. Hosts Laurent and Cédric go out of their way to make sure all guests have a wonderful stay, with special touches like a delicious free breakfast served each morning – which can be vegetarian if you so desire.
There's also the option to have a home-cooked dinner for a small extra price, but this is some of the best home cooking you will taste in the Philippines – trust us!
The property is 'eco-responsible' with solar hot water and built on stilts with silent fans to keep cool without noise pollution. Nestled in the beautiful gardens it feels like you're in your own private jungle oasis, with the container swimming pool and a jacuzzi adding to the luxury of this little eco-retreat.
Sometimes you want to party while traveling and sometimes you just want to relax someplace quiet. Well, At Home B&B is the perfect spot for the latter. With just three guest bedrooms, plus Laurent and Cédric's room, you are free to soak up the serenity by yourself or get to know the hosts and other guests on the shared terrace. Yoga and massages can also be arranged for that little extra piece of peace.
You can even rent a scooter from the property, which makes exploring Puerto Princesa much easier and more fun!
---
02
Vellago Resort
El Nido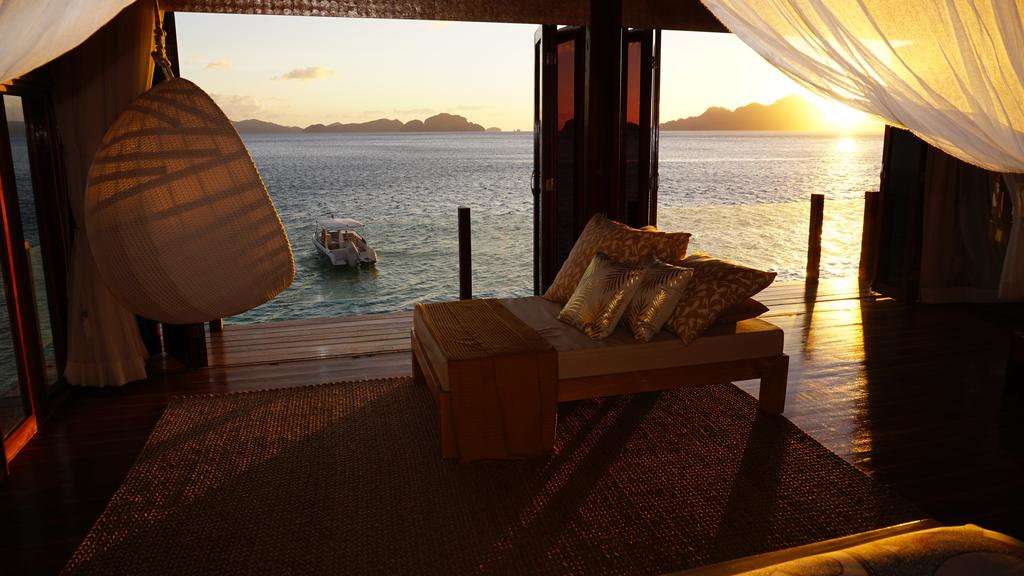 Why we love it
---
Adult-only, gay-friendly beachside resort
Only six villas for intimacy and seclusion
Environmentally friendly practices
Amazing breakfasts and dinners by the water
From the moment you first step off the boat, your feet sinking into the soft white sand of Seven Commandos Beach, you will be captivated by the breathtaking structure of Vellago Resort.
Or at least, that's how we felt! And the allure of the gay friendly resort only grew stronger as we explored the entire site. Vellago Resort pays close attention to the little details that make a trip complete and do all they can to give you the visit of your dreams.
The rooms are impeccably clean, and it seems as though the ocean comes straight to your front door. All of their lodging options offer sea views, and my absolute favorite thing is how the staff delivers breakfast to your balcony. There is truly no bliss comparable to that of enjoying fresh fruit and coffee while watching the sunrise flow across gentle waves. This scene is made even better if your handsome prince can drag himself out of bed to sit with you! Seby is not a morning person, but he does try his hardest.
I also have to say that Vellago Resort does a fabulous job with their dinners as well. Every night, a romantic scene is set as they light up the beach with candles and torches before serving you the most divine, gourmet dishes. Honestly, everything at Vellago feels intimate and special, from meals to island tours. All of their excursions are private, which means fewer people and more time to sit back, relax, and appreciate your adventure.
Above all else, the kind and courteous staff members at Vellago Resort helped Seby and me to forget the stresses of our day to day lives.
03
Alternative Beach Cottages
El Nido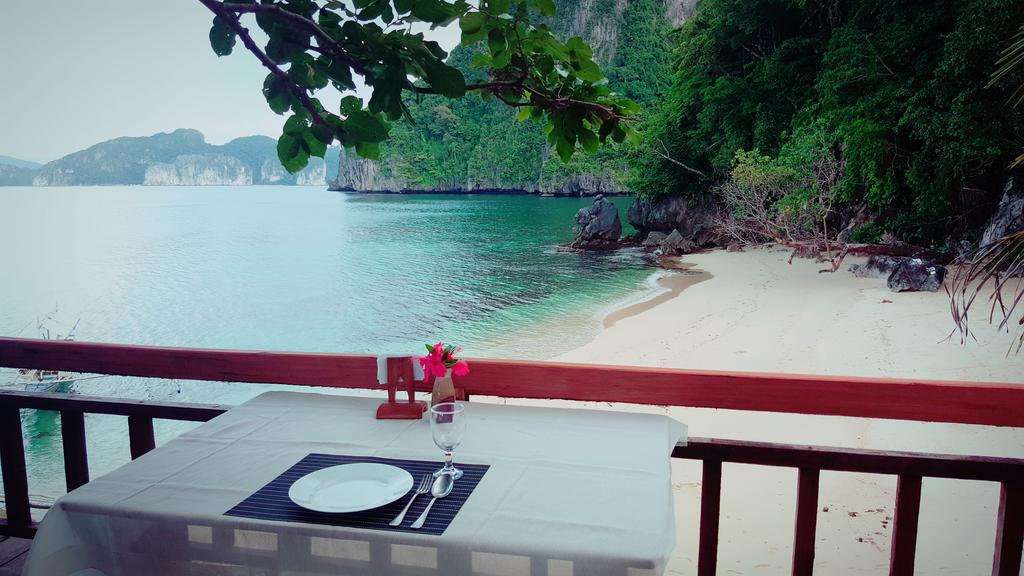 Why we love it
---
Warm and welcoming family-run business
No electricity during the day
Yummy on-site restaurant
Private beach drives home getaway feel
The Alternative Beach Cottages are precisely what they sound like: a new, unique way to vacay!
The cottages originally served El Nido as a restaurant that focused on serving vegetarian meals, hence the alternative title. Thankfully, the in-house restaurant still lives up to its former glory with an outstanding buffet full of both mouth-watering vegetarian and non-vegetarian options.
Plus, you can ask the staff to set up a romantic spot for you to eat by the beach if you're looking for a way to impress that special someone. Good food, tasty drinks, and warm water that I can dip my toes in? Yes, please!
I believe the alternative name continues to suit the gay friendly cottages very well thanks to their view on electricity use. There is absolutely no electricity throughout the day, which means you will be able to experience a genuine island getaway. While that should be enough to keep people from hiding away in their rooms, the decor is also kept minimal and simplistic. The inside of the rooms looks like your average hotel, which leaves the temptations of a beautiful, natural landscape lingering right outside your door. There's no way to resist that!
Best of all, their gay friendly staff will do their best to accommodate you. Want to take a tour? They'll sign you up for something private that perfectly suits your desires. Want to hang out by the beach? They'll make sure you're comfortable all day long. The Alternative Beach Cottages are family-run, and they want their guests to feel like they're part of the family, too.
STAY WITH A GAY LOCAL
Misterb&b is the Airbnb equivalent for the LGBTQ community. Unlike on Airbnb, you know your host is gay, voiding any nasty surprises when you check-in. It is also a great way to meet gay locals and discover the underground gay scene. Click below to get 10 € (or $10) off our first booking.
04
Where2Next Nacpan
El Nido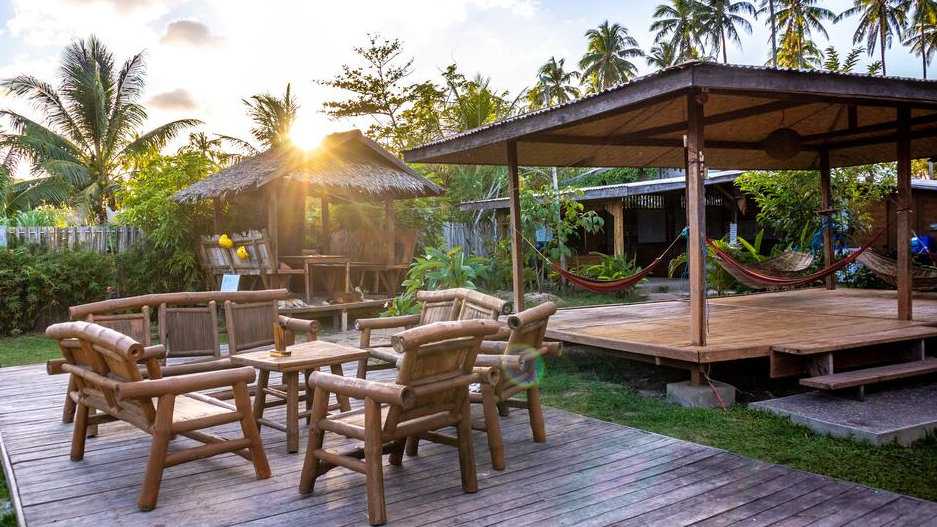 Why we love it
---
Free 15-minute hair and scalp treatment
Comfortable, quiet bunks with privacy nets
Eco-friendly solar panels
Stargazing in the hammock spot
Where2Next is a gay friendly hostel unlike any other you've ever visited. With rustic wood everywhere you feel like a castaway on your own private island.
Located directly on the relatively private Nacpan Beach, Where2Next allows their guests to capture a glimpse into the authentic village lifestyle most Filipinos experience on a day to day basis. They have a ton of high-quality, modern amenities as well though!
What really sold us on the place was their complimentary hair and scalp treatment. I think I ascended into heaven for those fifteen minutes of luxury. Honestly, my hair probably hasn't looked quite as healthy since that moment.
If Where2Next hadn't already convinced us that it was a fabulous spot to spend our holiday, then we certainly would have known by the end of our first night there. After being treated to a delectable, fresh seafood dinner, we decided to rest in their hammocking spot. And while I do remember appreciating the hammocks during early morning hours – swaying in the wind with a hot cup of coffee in my hands – I loved that cozy spot even more at night. Being so far away from the hustle and bustle of the city, the stars shone so brightly throughout the sky.
Seby and I curled up to sleep that night, still in awe at the wonders of the world. Despite bunking close to strangers, I know we slept incredibly well throughout our entire stay at Where2Next, thanks to the abundance of fresh air and serenity surrounding the hostel.
05
Aziza Paradise Hotel
Puerto Princesa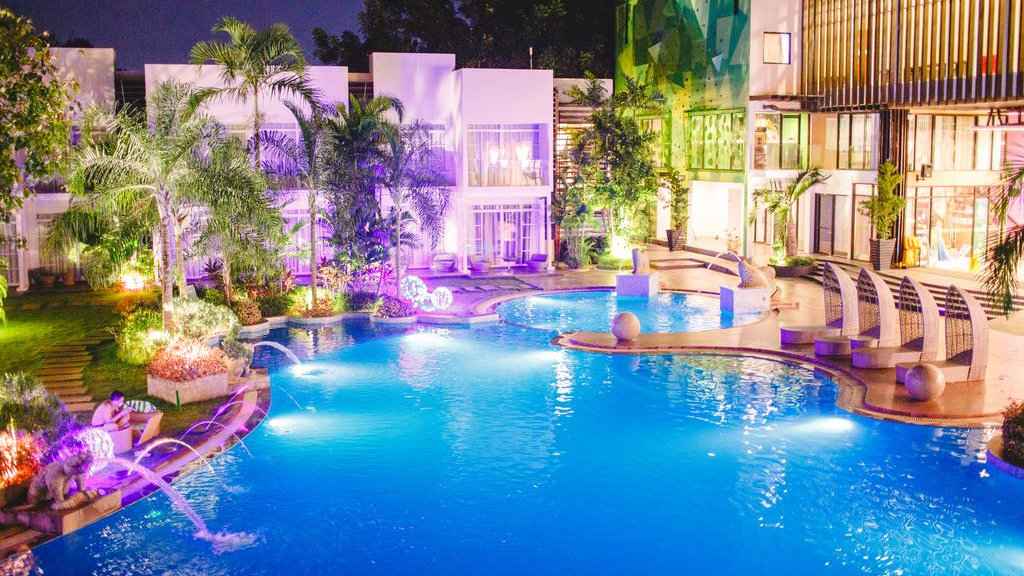 Why we love it
---
Super modern amenities
Located away from noisy streets
The huge outdoor pool
On-site bar, restaurant, and coffeeshop
As the most contemporary hotel in Palawan, the Aziza Paradise Hotel makes for the perfect home base. And trust me, after your first day at the hotel, you will definitely find yourself wanting to come back again and again!
Just take a look at their pool, for instance. It's large, lavish, and has multiple fountains springing forth out of the side like miniature waterfalls. She's serving all of the looks, and I am here for it!
To make matters even better, the poolside snack bar will keep you feeling refreshed and rejuvenated so that you can take your time soaking up that hot Filipino sun.
Despite being located at a distance from Palawan's natural wonders, Aziza Paradise brings that lush environment to you. Their rooms are bathed in greens, blues, and golds, highlighted primarily by the jungle-inspired artwork hanging on the walls. Meanwhile, their lovely little garden is the perfect spot to take an afternoon stroll.
But really, let's be honest, the biggest draw to this gay friendly hotel has got to be the amenities. Their on-site cafe, Kahve Brew, provides the finest drinks and pastries. Be One Bar not only dishes out fabulous cocktails, but they also welcome local disc jockeys and artists to their stage. And finally, the Demeter Diner has an exquisite buffet breakfast that will leave you hungry for more.
The gay friendly staff are kind, the location is reasonably quiet, and the experience is four-star at least. I'd call that a steal at any price!
06
Purple Fountain Courtyard Inn
Puerto Princesa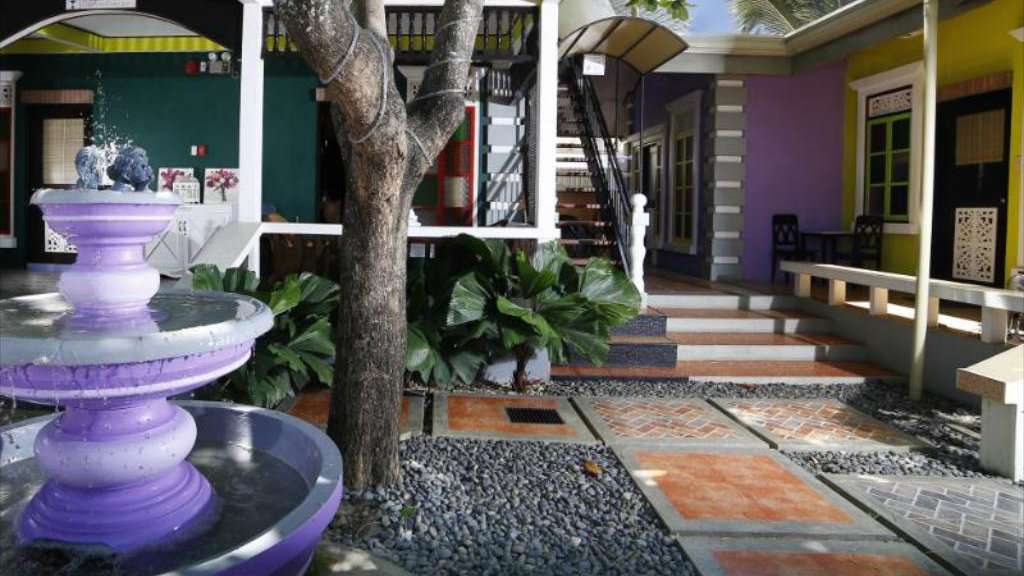 Why we love it
---
Rainbows galore for perfectly queer photo ops
The food at The White Fence Cafe
Just a tricycle ride from popular establishments
Staff are friendly and helpful
If you pick your hotels based on Insta-worthy aesthetics, then you will undoubtedly adore the rooms at the Purple Fountain Courtyard Inn!
And when I say the rooms… I really mean the entire building. When you first approach the inn, you're greeted with a bright purple wall perfectly fitting the place's name. And then, inside is a world of color. Stripes of yellow, blue, purple, green, and orange line almost every wall!
Interestingly enough, the parade of colors and stripes continues into the inn's cafe, which has come to be known as a hidden gem among locals. The White Fence Cafe showcases fascinating decor and presents guests with classic, homestyle cooking. Whether you're hankering for filling brunch foods or a substantial dinner, the cafe has got you covered.
While the Purple Fountain Courtyard Inn does have these extraordinary features, I think my favorite part of the whole building is its location. Yes, the rooms are comfortable, and the cafe is scrumptious, but there is so much more to do in Palawan! The inn is in a prime spot – at a distance from busy downtown activity, but extremely close to local restaurants and businesses. Plus, tours can be booked for you based on the expertise of the hardworking, friendly staff members at the front desk.
Essentially, if you're traveling on a budget and long for the warmth of a home, we would gladly point you in the direction of the gay friendly guesthouse Purple Fountain!
Gay friendly bars and restaurants in Palawan
No comprehensive travel guide would be complete without a little peek into the area's nightlife, right? Palawan is slightly different from most locations we review in the fact that plenty of the municipalities are not heavily populated, which inevitably means a smaller number of businesses. But that does not mean they are down and out! El Nido and Puerto Princesa, in particular, host an array of gay-friendly bars and restaurants that are bound to impress.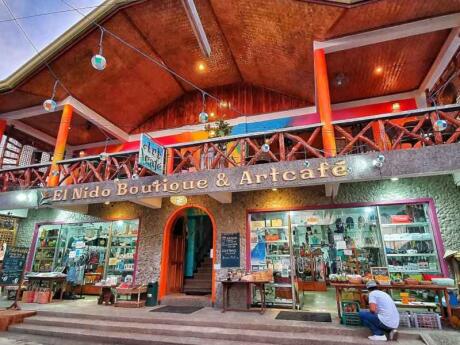 It's hard to say why El Nido Boutique and Artcafe is such a notable establishment within Palawan. I mean, since this one impressive building houses a boutique, a veggie store, and a travel center, it must be challenging to pick just one reason! But for us, the answer is actually simple. The artcafe on the second floor is an oasis, serving up healthy comfort foods, luscious desserts, and hearty breakfasts daily. We spent a lot of time visiting the incredibly kind and gay friendly staff, which is why we wholeheartedly recommend you do the same.
Open: 7am until 10pm, seven days a week
Location: Corner of Serena Street and Fisherman Street, El Nido
---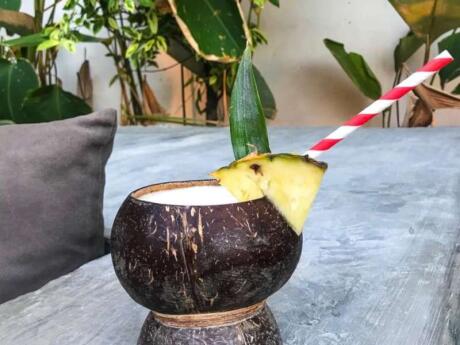 With Palawan standing as a relatively remote destination, it can be hard to find the same kind of wild gay nightlife that runs rampant in more popular vacation spots. That being said, there is at least one ray of light to brighten up the night! SAVA Beach Bar works well for both partygoers and casual drinkers due to its beachfront location, reasonable prices, and fabulous music. We personally enjoyed their sunset happy hour, but we have to admit, it was hard to resist the temptation of staying for a few dances.
Open: Every day from 4pm until 2am
Location: Barangay Masagana, Calle Hama, El Nido
---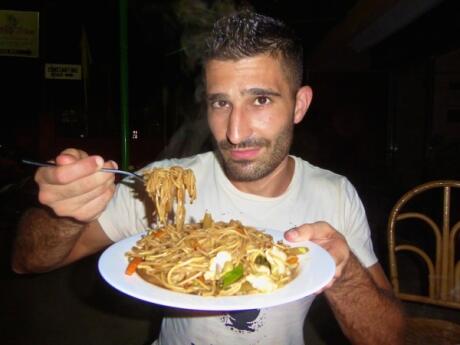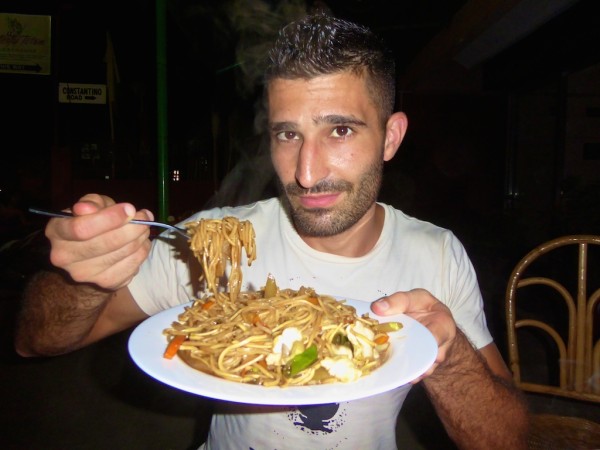 If you're the type who appreciates neon lights and dedication to aesthetics, then TIKI Bar Palawan will certainly call your name! The inside is shrouded in darkness, aside from the brightly lit stage and bar areas. On the other hand, the outside embraces the bar's name with tiki totems and vibrant colors. Though many locals deem the party spot to be too touristy, it's not uncommon to find a few gay, Filipino boys scattered across the dancefloor on the weekends. So, I say you best get out there and shake that thang!
Open: Every day from 6pm until 3am
Location: Barangay San Miguel, Puerto Princesa
---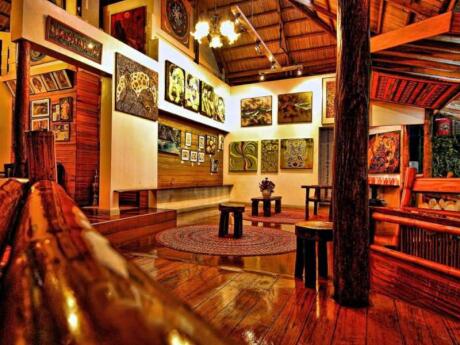 KaLui provides its guests with an authentic Philipino dining experience. For starters, they ask all guests to remove their shoes before entering the building. Then, in the dining area, you're greeted by ground floor seating. Honestly, it is beyond charming! Their seafood is to die for, and if you can, we must suggest that you order the sharing platter. They pack their plates to the brim with a delicious variety of food at an unbelievable price. Basically, come for the comfortable atmosphere, and stay for the appetizing meals.
Open: Every day except Sunday from 11am until 2pm for lunch, then 6pm till 10.30pm for dinner
Location: 369 Rizal Avenue, Barangay San Miguel, Puerto Princesa
---
The Nesting Table – El Nido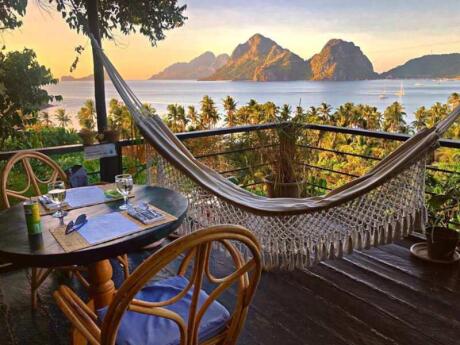 If you fancy feeling like a pretty bird in a cozy jungle nest then you can stay at the Birdhouse, a boutique glamping experience in the hills above El Nido. Or if you just want a taste, then you can dine on the delicious vegetarian, vegan, and gluten-free friendly menu at the Nesting Table – the Birdhouse's in-house restaurant. With incredible views over the garden and sea, plus cute hammocks to laze in, the Nesting Table is a divine spot for breakfast, lunch or dinner. It's also the number one rated restaurant in El Nido on Tripadvisor!
Open: Every day from 7am until 10am for breakfast, then 11am until 10pm for lunch and dinner.
Location: Sitio Pakalsada, El Nido
---
Top experiences in Palawan for gay travelers
If you're traveling to Palawan anytime soon… Well, I hope you like water because you are going to be seeing a lot of it! I know that's pretty much a given, and while there are a few places you can explore on land, the most monumental experiences will come from venturing out into those vast seas. Whether it be for an afternoon trip or a few days long journey, be prepared to encounter stunning sights and create lifelong memories.
The underground river near Puerto Princesa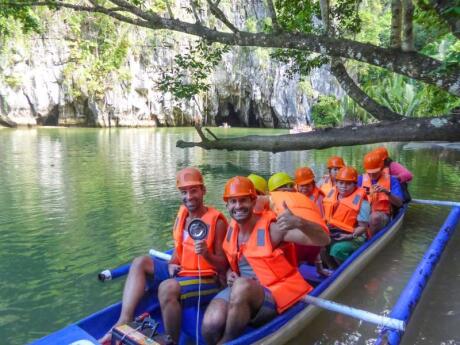 Puerto Princesa's underground river has been deemed a UNESCO World Heritage Site and one of the new seven wonders of nature. I think those titles should speak for themselves, but if they don't, consider this my way of saying that you absolutely must visit this magnificent work of art. Because, frankly, when you wind along that sparkling river and gaze upon the enchanting stalactites and stalagmites inside the cave, you will witness art in its purest form. Plus, that's not even mentioning the wildlife. Bats and monkeys and lizards, oh my!
---
Snorkelling and Kayaking in El Nido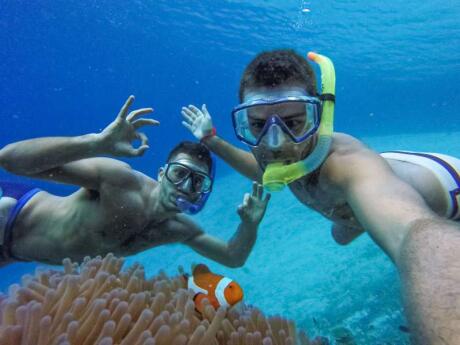 While you can obviously snorkel or kayak anywhere in Palawan, El Nido hosts the best of the best sites for those activities. Between all of the area's designated tours, tour A and tour C both offer fabulous glimpses into marine life by allowing guests to cruise through the big and small lagoons and tour secluded islands. And the cherry on top? You can choose to combine those tours with a picnic lunch in between. Talk about a win-win situation!
---
La Isla Expedition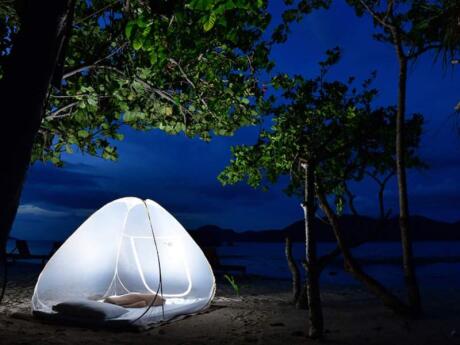 You know we always have to rep gay-owned businesses, but we promise La Isla Expedition is genuinely well worth the investment. For multiple days, you will be surrounded by luxury as you tour and camp between a handful of untouched island destinations. The service is five stars, safety is a guarantee, and all meals and beverages are covered! What more could you possibly ask for? Sebastien and I often dream of taking a romantic getaway like this again… maybe someday!
---
Scuba diving in Palawan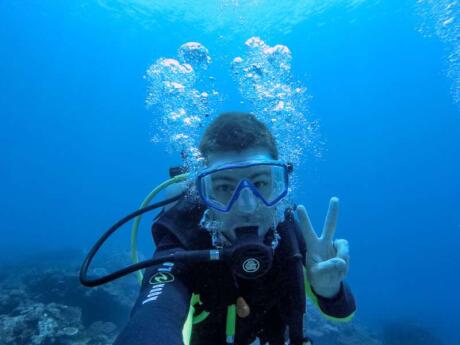 Warm waters and good visibility certainly do make for exquisite diving conditions. Thankfully, Palawan has it all! There are diving sites galore across its many islands, just waiting for the right person to swing by and observe flawless coral reefs and remarkable sea creatures. Actually, if you're really lucky, you might witness a sea turtle or a reef shark living it up in their natural habitats. For diving companies, our top recommendation is El Nido Adventure Scuba. Their staff are highly qualified, and they cater to guests of all levels of expertise.
---
Plan your trip to Palawan
We've put together some handy hints and tips to help you plan your own trip to Palawan. Read on to find out everything the gay traveller should know before they go.
Travel insurance: Never travel without getting good travel insurance beforehand! You never know when your flight might be cancelled, your bag is stolen or you get sick in a foreign country. We've been using Heymondo Travel Insurance for years and they've never let us down. They offer comprehensive cover and it's really easy to make a claim online if you need to.
---
How to get there: Palawan is an island so the easiest way to reach it is by flying into Puerto Princesa from Manila, Cebu, Seoul or Hong Kong. You can also fly into El Nido or Coron and then explore the rest of the island. The Puerto Princesa airport is only about 2km (1.2miles) out of the city, so you could even reach it by walking, although who would want to do that with luggage? We'd rather pre-book a private transfer so we know someone will be waiting to whisk us straight to our accommodation without any fuss or haggling.
---
Visa requirements: The Philippines allows visa-free travel for up to 30 days for most countries, while Brazil and Israel get 59 days! You will, however, need to show that you have a return/onward travel ticket for your trip to Palawan and also ensure your passport has at least 6 months validity from the day you arrive. You can check the full visa requirements for the Philippines here.
---
Getting around: There are plenty of fun options for getting around Palawan, these mostly involve flagging down a local jeepney or tricycle. You can also rent cars or motorcycles, or even a minivan if you'd like to travel in comfort. Check out this guide for more information on transport around Palawan.
---
Power Plugs: The power plugs used in the Philippines are type A and C, which are the same as those found in North America and most of Europe. If you're traveling to Palawan from somewhere other than those areas then you will probably need to bring a travel adaptor with you.
---
Vaccinations: Travelers to Palawan and other parts of the Philippines should be up to date with all routine vaccinations (such as measles, mumps, rubella), while the CDC also recommends getting vaccinated for Hepatitis A and Typhoid. Depending on which parts of the country you are visiting/what you plan to be doing while there, you may need further vaccinations for things like rabies. For more, check the CDC website and most importantly, consult your doctor or travel nurse beforehand.
---
Currency: The currency used in the Philippines is the Philippines Peso (PHP), subdivided into 100 centavos. Prices will usually be displayed as PHP or P$. To give you an idea of conversions, $1 US converts to around 50 PHP, €1 to around 55 PHP and £1 to around 64 PHP.
---
Tipping culture: Overall, tipping is not usually expected in the Philippines as most places will include a 10% service fee in your bill. If a service fee is not included, then definitely give a tip – our advice is to use 10% as a ballpark figure, though this does depend on the service. For us, the service was included in all bills except massages and tour guides where we usually added around 10% as gratuity.
---
Internet access: Getting online can be quite a challenge in Palawan – remember, this is an island. Most cafes and restaurants will have WiFi, but the connection is not always brilliant. But hey, that lets you disconnect and really relax during your trip! We recommend renting a pocket WiFi device for your trip to the Philippines if you'll be needing reliable internet connection. You can pick it up when you arrive and it allows you to connect several devices at a time.
---
Accommodation: There are lots more nice places to stay in Palawan beyond what we've mentioned here. We love using Booking.com to research and book our trips because we usually find the best deals plus it offers the most flexible cancellation policy.
---
Sightseeing and adventure: For more ideas of fun things to do and see in Palawan, we recommend checking out GetYourGuide. They round up so many exciting tours and experiences with a super easy to use online booking system. Their online customer support is also great and available 24/7.
---
When to visit: The Philippines has two seasons: wet and dry. The dry season is from November to April. This is also peak season to visit Palawan, especially in December to February. There are more crowds during the dry season and prices more expensive. The wet season is from May to October. July to September is when the typhoons and tropical storms are most likely to hit Boracay. During the wet season, there are fewer crowds and hotels drop their prices.
---
Safety tips for LGBTQ travellers
Is Palawan safe for gay travellers? The short answer is YES, but there are some precautions you should always take when travelling. Make sure you follow these safety tips and you are unlikely to encounter any problems while travelling in Palawan.
Check official government advice before you go. This is how we know about the travel advisory for the extreme south of the Philippines, and we always make sure to see what the most recent travel advice is before we go somewhere. Here is the UK's travel advice for the Philippines, but make sure you check what your own government says if you're traveling from another country.
Avoid excess alcohol and the use of drugs. This goes for any traveler really, as you are far more likely to be targeted for theft or other crime if you're obviously drunk or on drugs. We're not saying don't have fun on your holiday, but keep the partying to a safe level when you're in an unfamiliar place.
Don't wear valuables in public. Pickpockets are found all over the world and they're far more likely to target someone who is flashing their valuables or money all over the place. We recommend only carrying what you will need each day on you and leaving anything particularly valuable or important in your hotel safe.
Invest in a good money belt. We also recommend using a money belt to carry whatever cards or cash you need under your clothes, as they make it much more difficult for a thief to get to them.
Gay map of Palawan
This is our gay map of Palawan to show you where everything we've mentioned in this article is located. Use it to find out where all the best gay friendly hotels, bars and activities are for your own visit to Palawan!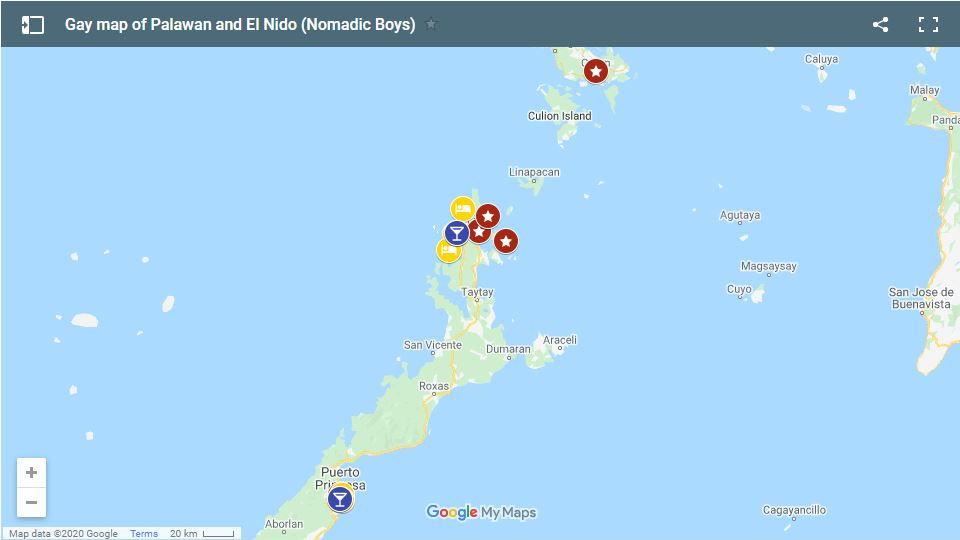 Travel with us as we swam our way through Boracay and Palawan in our Philippines travel video.
---
Like this post? Pin it