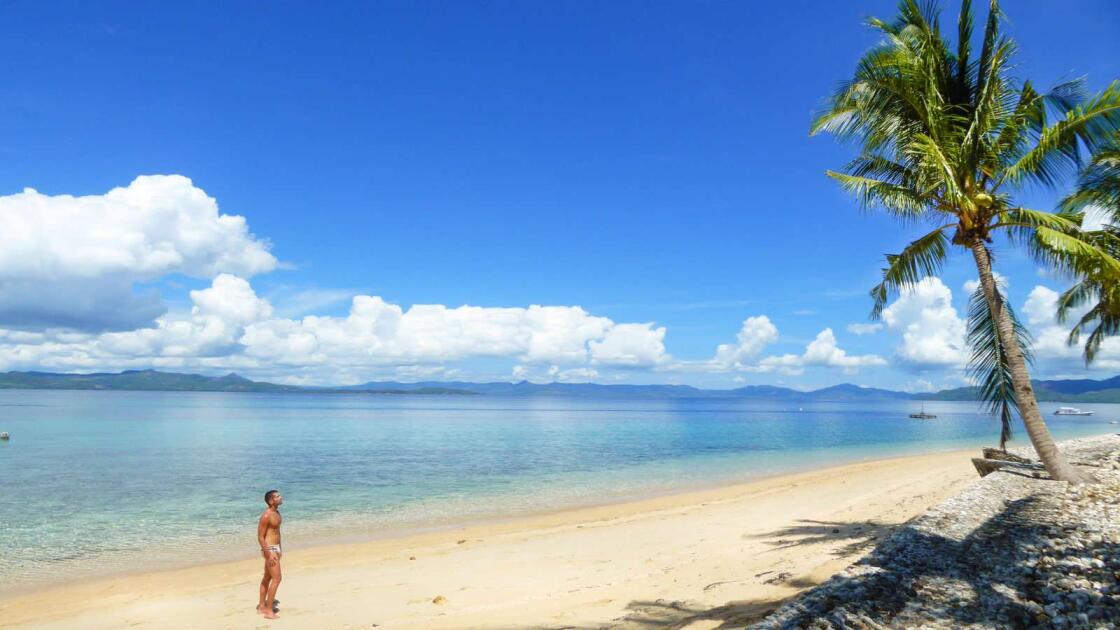 The Philippines have occasionally been called the treasure islands of the Pacific, but if you were to ask us, we'd say that the largest gem of all can be found within Palawan!
As adventurers, we're always on the lookout for the most exciting destinations to share with the LGBTQ world. So, what if we told you that Palawan is a top-of-the-line oasis where you can find the softest and whitest sand? The deepest and most mysterious caves? Mountains, covered by vast and verdant jungles? Well… It's true! Palawan has everything that explorers could ever want from a thrilling vacation.
And while there is no primary hotspot for gay activity amongst the various islands and municipalities throughout Palawan, there are still several LGBTQ-owned businesses to be found. Also, just based on our own personal experiences from traveling across the seas to Palawan, we have met a lot of queer folk flooding into these gorgeous islands. Filipinos are incredibly welcoming and gay friendly, many of our friends have even weighed in on why the Philippines is so gay friendly.
From our perspective, Palawan is not only a safe place for both local and foreign travelers, but it is also a must-stop, bucket list-worthy location. We want to help you plan the best possible gay island holiday, which is why we've created this overarching, all-inclusive, gay travel guide to get you started!
Is Palawan safe for gay travelers?
We sure thought so, after all, we rate the Philippines as one of the most gay friendly countries in Asia. We personally found Palawan to be safe and never experienced any problems traveling as a gay couple. It's not surprising given that this is one of the most touristic parts of the country with people from all over the world visiting and working in the island's large tourism industry. The worst we faced was being asked if we are brothers!
One thing that rings true for all travelers, straight or gay, is to avoid the extreme south of the Philippines, specifically around Mindanao and the Sulu archipelago. This is because terrorist organisations inhabit these areas and sadly kidnap tourists as a way to elicit ransom money.
Palawan stretches down to the south of the country and is reasonably far from this terrorist hotspot, however in 2017, there were threats of terrorist raids in Palawan. Whilst there have been no kidnappings on the island, and the Philippines military officials have confirmed that Palawan is still very safe, we would nonetheless recommend checking your local government advice before you travel.
Top destinations in Palawan
As soon as we booked our trip to the Philippines, Palawan was on top of our Bucket List. From the famous underground river to the stunning waters of El Nido, we knew we were in for a treat. As scuba divers, we were very happy here! Here's a rundown of our favorite destinations in Palawan to inspire your next gay vacation:
Gay friendly hotels in Palawan
Finding a place to stay during your vacay is arguably one of the most important and stressful parts of planning. But that's why we're here! Palawan has loads of options for lodgings – from charming BnBs to budget-friendly hostels to lavish beachside resorts – and we've sorted through them all to show you a few of our favorite gay-friendly accommodations across the various municipalities.
Gay friendly bars and restaurants in Palawan
No comprehensive travel guide would be complete without a little peek into the area's nightlife, right? Palawan is slightly different from most locations we review in the fact that plenty of the municipalities are not heavily populated, which inevitably means a smaller number of businesses. But that does not mean they are down and out! El Nido and Puerto Princesa, in particular, host an array of gay-friendly bars and restaurants that are bound to impress.
Top experiences in Palawan for gay travelers
If you're traveling to Palawan anytime soon… Well, I hope you like water because you are going to be seeing a lot of it! I know that's pretty much a given, and while there are a few places you can explore on land, the most monumental experiences will come from venturing out into those vast seas. Whether it be for an afternoon trip or a few days long journey, be prepared to encounter stunning sights and create lifelong memories.
Plan your trip to Palawan
Safety tips for LGBTQ travellers
Is Palawan safe for gay travellers? The short answer is YES, but there are some precautions you should always take when travelling. Make sure you follow these safety tips and you are unlikely to encounter any problems while travelling in Palawan.
Check official government advice before you go. This is how we know about the travel advisory for the extreme south of the Philippines, and we always make sure to see what the most recent travel advice is before we go somewhere. Here is the UK's travel advice for the Philippines, but make sure you check what your own government says if you're traveling from another country.
Avoid excess alcohol and the use of drugs. This goes for any traveler really, as you are far more likely to be targeted for theft or other crime if you're obviously drunk or on drugs. We're not saying don't have fun on your holiday, but keep the partying to a safe level when you're in an unfamiliar place.
Don't wear valuables in public. Pickpockets are found all over the world and they're far more likely to target someone who is flashing their valuables or money all over the place. We recommend only carrying what you will need each day on you and leaving anything particularly valuable or important in your hotel safe.
Invest in a good money belt. We also recommend using a money belt to carry whatever cards or cash you need under your clothes, as they make it much more difficult for a thief to get to them.
Gay map of Palawan
This is our gay map of Palawan to show you where everything we've mentioned in this article is located. Use it to find out where all the best gay friendly hotels, bars and activities are for your own visit to Palawan!
Travel with us as we swam our way through Boracay and Palawan in our Philippines travel video.