We love coming to Mykonos, especially during the summer months when thousands of gays from all around the world congregate on this tiny Greek island.
Mykonos is often ranked as one of the top gay-friendly destinations in the the world and for good reason. It's got a mix of lively and tranquil gay beaches, along with some of the best summer parties. We always try to factor in a visit here every summer and always have a blast.
This is our guide to gay Mykonos featuring the best gay beaches, bars, clubs and events.
Best gay beaches on Mykonos
Most will base themselves in Mykonos town, on the western side of the island, which is where all the gay bars and clubs are. The gay beaches of Mykonos are located on the southern tip of the island, which you can reach either by public bus+boat (1 hour) or rent a car/moped (30 mins drive).
STAY WITH A GAY LOCAL
Misterb&b is the Airbnb equivalent for the LGBTQ community. Unlike on Airbnb, you know your host is gay, avoiding any nasty surprises when you check in. It is also a great way to meet gay locals and discover the underground gay scene. Click below to get 10 € (or $10) off your first booking.
Elia beach
Elia is not only the most popular gay beach on Mykonos island, it's one of our 5 favourite gay beaches in Europe. Elia beach is a well-managed sandy beach with great quality shades and sun beds for rent. Head here in July/August time and it's packed full of gay boys of all shapes and sizes. The climax is late August when the famous XLSIOR gay party takes place.
We love the nearby beach restaurant, which has a bar service and also serves up delicious fresh fish. Beyond Elia beach is a second, more isolated beach, which is popular with nudists at its far end.
Super Paradise Beach
Super Paradise used to be the sole exclusive gay beach of Mykonos, but today welcomes everyone. Come here expecting loud music and partying all day long. For more privacy and relaxed sunbathing, head towards the nearby Jackie O' Beach Club.
Meanwhile after 4pm, check out the Super Paradise Club on the other side of the beach, which comes alive with some of the best beach parties that go on into the night.
Agrari Beach
Agrari beach is located next to Elia Beach over a rocky outcrop. It's more low key here, making it popular with nudists. Every time we've visited Elia beach, we'd head over to Agrari for a more chilled and relaxed atmosphere, although note the sand here is more coarse.
Lia Beach
Lia is a smaller sandy beach that we really liked. It's located further away from Elia beach, close to Kalafatis beach, making it more peaceful and remote. You do however need a car/moped to reach it.
The bay is sheltered on both sides by hills, with an effective wind break so you can sunbathe without spitting sand out every two minutes. You can rent sun loungers here and also hang out at the Liasti Lia Beach Restaurant.
Kalafatis Beach
Kalafatis is one of the longest sandy beaches on the island, and the most remote of all the gay beaches of Mykonos. It's located near Lia beach, but further east, so you need a car/moped to reach it. As a result it's the most remote of all the beaches, which is part of its appeal.
This wind here is very strong, making it ideal for windsurfers. Luckily the beach is protected from the wind by a line of pine trees, so you can sunbathe without fearing loads of sand blowing all over you.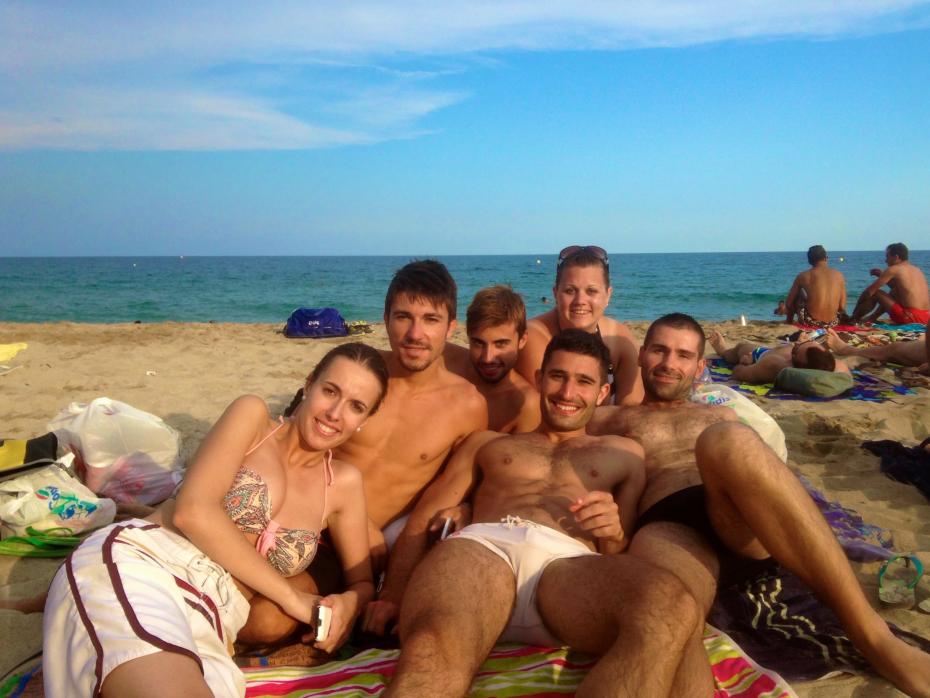 Mykonos gay bars and clubs
We love the gay scene of Mykonos. During the summer months, there's always something happening every evening in one of the many gay bars and clubs in Mykonos Town.
Jackie O':

this is the most popular gay bar of Mykonos. We love the drag shows here which happen every evening. Jackie O' is a two-storey dance bar, where most come to start the night. The upstairs terrace is more intimate, with some gorgeous views over the Aegean Sea.
Babylon:

-Babylon is the most popular gay club of Mykonos, located next door to Jackie O' gay bar. It has a beautiful outside terrace and lounge seating, but inside, this is where the main party fun happens. Every evening during the summer months there's a mix of drag shows, Go Go dancers and other themed events.
Porta Bar: a

chic bar mostly famous for its delicious cocktails and welcoming atmosphere. We love the music here which ranges from jazz to upbeat dance tunes.
Kastro's Bar:

we love this small bar because of the picturesque balcony area. It's the perfect spot for a romantic drink with your lover, with the backdrop of the Aegean sea behind you. Kastro's Bar is an excellent option for early evening pre-dinner drinks.
Elysium Bar:

located on top of the Elysium gay hotel, famous for its cabaret shows. This is one of our favourite places to come in Mykonos for views of the island, especially at sunset. As well as the cabaret shows, they also have themed nights here with live DJs and GoGo dancers.
The Piano Bar: also known as Montparnasse, this used to be an art gallery in the late 1960s. Today, this is an intimate gay friendly bar in Mykonos famous for its live cabaret entertainment.
Gay events in Mykonos: XLSIOR
THE main event here is the XLSIOR festival, which usually takes place in late August. This is one of Europe's best annual summer gay dance festivals, with international DJs, hot men and loads of sunshine fun.
Highlights include the opening pool party at the Elysium hotel, and the many parties at Cavo Paradiso, which usually spill out on to Elia beach.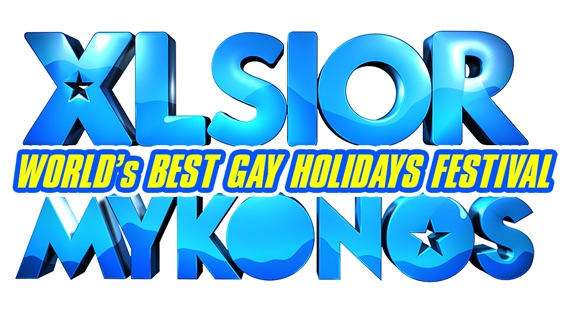 Other practical information for gay Mykonos
Where to stay: Elysium and Geranium are the main gay hotels on Mykonos. If travelling as a group of friends, then definitely consider renting out an apartment together. We did that on our first visit, which was during the expensive peak month in August and ending up saving a lot of money. Check this post out for a more comprehensive guide about hotels in Mykonos.
When to come: the peak period is the last 2 weeks of August during the big gay Xlsior Festival however, the island is packed with family tourists as well, so consider coming in September when children go back to school.
How to get to Mykonos: you can either take a 5.5 hours ferry from Athens to Mykonos, or fly directly to Mykonos airport from Athens and most destinations in Europe with budget airlines like Easyjet.
OUR FAVOURITE TRAVEL TIPS
⭐️ TRAVEL INSURANCE — We recommend you always take out travel insurance before your next vacation. What happens if you suffer from illness, injury, theft or a cancellation? With travel insurance, you can have peace of mind and not worry. We love World Nomads travel insurance and have been using it for years. Their comprehensive coverage is second to none and their online claims process is very user friendly.
⭐️ SAFETY & SECURITY — All travelers (gay or not) can sometimes encounter danger when traveling. CloseCircle is your "virtual body guard" mobile app which provides security alerts and support wherever you are in the world. They have a 24/7 emergency response team monitoring their users who will contact you immediately if the SOS swipe button is activated. Support can include anything from practical advice, to free evacuation from areas with extreme weather or security risks. You can read more about CloseCircle in our article about how to stay safe whilst traveling.
⭐️ ONLINE ANONYMITY — A VPN (Virtual Private Network) is a must in many countries: it allows you to surf anonymously and maintain your privacy whilst traveling. You'll particularly need it in countries where gay dating apps are blocked by the government. We recommend ExpressVPN, a reliable and cost effective service which we used and loved during our travels.
⭐️ HOTELS or APARTMENTS — When we plan a trip, we always look for the best hotel deals. We love Booking.com because not only do they have a comprehensive listing of accommodation options, they also offer the best prices. Added bonus: they provide 24/7 support and free cancellation for most listings.
⭐️ SIGHTSEEING and ADVENTURES — When we travel somewhere, we like to seek out the best experiences, whether it is cooking with locals in Bangkok, hiking on a glacier in Patagonia, or going on a wildlife safari in Sri Lanka. Our favorite place to look is GetYourGuide because they have over 30,000 highly rated activities, a user-friendly booking process with free cancellation and a 24 hour customer support.
This article contains affiliate links. If you click on them, we may receive compensation which keeps our website alive and helps us bring you to more destinations.