"Seby, we need to sell a few kidneys…it's time to fly to Mykonos!"
My Frenchman looked at me funny wondering if my drink had been spiked… But no joke, when we first came to Mykonos many moons ago, our eyes bawled at some of those high prices!
Mykonos has long been one of the top gay destinations in the world, especially in August during the XLSIOR Festival when around 30,000 gays from all over descend on this Greek island to party. It's a staple on the European gay calendar together with Maspalomas Pride, Circuit Barcelona, and Tel Aviv Pride.
Whilst Mykonos is synonymous with gay parties it also has a tranquil and romantic side to it. We loved walking hand in hand together around the cutesy cobblestone streets of Chora (Mykonos' main town) surrounded by the iconic whitewashed houses with blue windows. And at sunset, it's magical!
And then there are the beaches! Many a gay has spent the day whiling away along Elia's clothing-optional gay beach getting strategically lost in amongst the neighboring rocks where Mr. Right Now beckons…
We guarantee you'll fall in love with Mykonos as much as we did…your bank balance, less so!
Where is the gay area of Mykonos?
The gay area of Mykonos is in the main town called, Chora. We always base ourselves here because that's where the bulk of the nightlife is. There are a handful of gay hangouts in Chora. Jackie O' Town Bar is the main one, along with Porta and Lola.
What we love about the gay scene of Mykonos is that the crowds spill out into the small streets of Chora and merge together to create an outdoor gay festival vibe much like what we experienced in the gay scene of Sitges.
During the day, we found that most of the guys we met the night before at Jackie O' Town Bar were also sleeping off a hangover on Elia or Super Paradise – the island's two main gay beaches. They are close to each other, located on the south of Mykonos, but both are a 20-30 minute drive from Chora.
Gay hotels Mykonos
We always base ourselves in the main town of "Chora" because this is where the gay nightlife of Mykonos comes alive. Chora is also close to the main port, the airport, and is where public transport starts/finishes.
There are many excellent gay hotels in Mykonos. Over the years, we've stayed in a mix of different places, from upmarket boutiques to local guesthouses. We've summarised some of our favorites below to stay in 2023, but remember, when it comes to hotels, Mykonos is NOT cheap!
Also note that in 2022, the iconic "straight" friendly Elysium gay hotel shut its doors for good.
Where is the gay beach in Mykonos?
The main gay beaches of Mykonos are located on the southern tip of the island. Elia Beach is our favorite gay beach in Mykonos and one of the most famous gay beaches in the world. Super Paradise is the other one. For more remote beaches we recommend Agrari and Kalafatis beaches.
For first-timers, the following are the main gay beaches in Mykonos you need to know about:
1. Super Paradise Beach
Super Paradise is a dream! We recommend heading to the lush Jackie O' Beach Club and lounging there for the day. The view across the beach is unforgettable! Even more memorable is hanging out here with a group of friends.
We booked a drinks package which included the use of their sun loungers and facilities (toilets, showers, etc). During the summer months, Jackie O' Beach Club hosts a gay party every evening.
Not to be confused with the Jackie O' Town Bar gay bar back in Chora!
How to get to Super Paradise: we recommend renting a car or motorbike (around 20 minutes) as taxis are sparse and there is no direct public bus. Instead, you need to take a local bus to Paradise Beach and then walk (30 minutes) over to Super Paradise.
2. Elia Beach
Elia is the most popular gay beach on Mykonos island. It is one of our favorite gay beaches in Europe. We love it!
On one side Elia has a party atmosphere with a beach bar and plenty of speedo-clad guys of all shapes and sizes. On the other end, Elia becomes more chilled and clothing optional.
Continue in that direction and you reach the rocks where things get very cruisey!
How to get to Elia Beach: with a car rental it takes around 20-30 minutes. The public bus from Chora Old Port bus station to Elia Beach takes around 30 minutes. Tickets cost €3.
3. Agrari Beach
When we wanted a break from the gay crowd on Elia Beach, we headed over to Agrari beach. It's the next beach along Elia. A rocky outcrop separates the two (where a lot of hanky panky goes on!).
As Elia beach becomes more popular in the summer months we like to head to Agrari because it's more low-key. It's also more remote, which makes it a clothing-optional haven!
We think Agrari Beach will likely take Elia's crown as the best gay beach in Mykonos very soon!
How to get to Agrari Beach: from Elia beach (see above), just keep walking along, past the cruising area on the rocks and you'll reach it.
4. Kalafatis Beach
Kalafatis is one of the more remote beaches we love coming to when we want to completely avoid the crowds on Elia and Super Paradise. It is located east of Agrari.
It is protected from the wind by a line of beautiful pine trees. Oh those magical pine trees, not only provide cover from the intense midday sun, but they afford one a great deal of privacy…you can just IMAGINE what else goes on discretely here!
How to get to Kalafatis Beach: the drive in our rented car took us around 25 minutes. There is a public bus (around 40 minutes) from Chora Old Port but it only operated during the summer months.
5. Panormos Beach
Panormos is the only gay beach of Mykonos we've included which is not in the south. It is around 4.5 miles (7km) north of Chora. The public bus recently started coming here, which led to increased interest in Panormos beach.
We found that the straight crowds and families tend to stick to the entrance side where all the umbrellas and sunbeds are. Continue walking to the far end, which becomes more remote – therefore gayer, cruisier, and more clothing-optional…we'll let your imagination do the rest!
How to get to Panormos Beach: there are several daily buses from Chora Old Port to Panormos (25 minutes each way). With our car rental, it took us around 15 minutes.
Gay Beach clubs in Mykonos
The best gay beach club in Mykonos is, of course: The Nomadic Boys Beach Club!
Say what?
That's right, we love to grab a few drinks from the main town, pack Seby's wireless speaker, obligatory speedos, rainbow flag, and head over to Elia beach with some friends! Voila: our very own gay beach club!
But if you miss out on The Nomadic Boys Beach Club(!) the main one to check out is Jackie O's. If you're heading to Mykonos during XLSIOR in August, pick any beach club along Super Paradise or Elia and they will very likely be hosting a gay event.
1. Jackie O' Beach Club
The Jackie O' beach club is THE reason why Super Paradise Beach remains a gay beach hub in Mykonos. It's a large 150-seat restaurant with an open bar, sizeable pool, and Jacuzzi – just imagine the many gay pool parties that take place here every summer…!
Pool parties aside, the Jackie O' beach club is probably one of the happening gay hangouts in Mykonos during the day when everyone comes to the beach to sleep off their hangover and tan.
Address: Super Paradise Beach, Mykonos 846 000.
Opening hours: open daily from 9 am until around 1 am.
Our favorite: the summer beach parties and drag shows in July, August, and September.
2. Gay beach clubs during XLSIOR
There isn't an official XLSIOR beach club, but we've included it here because if you're heading to Mykonos during this big gay festival in August, then you can pretty much guarantee that every beach club surrounding Elia and Super Paradise will be catering to the large gay crowd with their own LGBTQ targetted events.
Otherwise, check the XLSIOR website for full details of each party, which take place at different beach clubs around the island like Cavo Paradiso, Ftelia, Zenit, and the Pinky Beach Club.
Dates of the next XLSIOR festival: August 16-23, 2023.
Cost of tickets: tickets start from €99 – check XLSIOR website.
Our favorite: the opening party is the most exciting, the atmosphere is electric!
Our favorite gay bars
For its small size (around 10,000 inhabitants), Mykonos sure packs a punch with its gay hangouts. The main gay bars of Mykonos are located close together in Chora. They are Jackie O' Town Bar, Porta, and Lola.
For first-time gay travelers to Mykonos who want to quickly make new friends, we recommend doing a gay night tour. Also note, the iconic Babylon gay bar has shut its doors and is no longer in operation.
1. Jackie O' Town Bar
For us, Jackie O' Town Bar by the Old Port IS the gay scene of Mykonos. In the summer months, crowds of gays gather from sunset till the early hours. It gets really busy here from 11 pm onwards when the street outside Jackie O' becomes the beating heart and soul of gay Mykonos.
Just around the corner from Jackie O' is the infamous Paraportiani Church where many a gay boy heads during the twilight hours to, er, "pray" on their knees…!
Address: located on an unnamed road right by the Old Harbor next to the Paraportiani Church.
Opening hours: Jackie O' Town Bar is open daily from 7 pm until around 5 am.
Our favorite: cocktails at sunset and the drag shows.
2. Porta Bar
Porta is the other main gay hangout in Mykonos. If ever I lost Seby amongst the throng of gays on a gay night out in Mykonos main town, I know I'll either find him at Jackie O' or at Porta.
Porta is a lot smaller than Jackie O' but just as busy. During the summer months, it gets so packed here that crowds spill out into the street. Our best nights out in Mykonos include partying at Porta in the wee hours.
Address: does not have an official address as the streets are unnamed. Put Porta Bar Mykonos in your Google Maps to locate it. It's a few minutes walk around the corner from Jackie O' Town Bar.
Opening hours: Porta opens from 10 pm until around 5 am (or when the last man standing is ready to leave!).
Our favorite: the convivial atmosphere from midnight on the streets outside Porta in August/September.
3. Lola Bar
Gilles and Dimitris are the power couple behind this cutesy quaint gay bar in Mykonos. Whenever we wanted a more low-key night out and a break from the heaving crowds of Porta and Jackie O', we came here.
Cocktails at Lola are fantastic! It was Espresso Martinis all the way for Seby and Negronis for me. The sweet cherry on the cake – the pretty waiters of Lola… delicious!
Address: Lola Bar is located at Zanni Pitaraki 4 in Chora.
Opening hours: Porta opens daily from 8 pm until around 3 am.
Our favorite: the cocktails!
4. Kastro's Bar
We love this small resto/bar because of the picturesque balcony area. It's our little hidden gem we share with you if you're looking for a place to impress your (Grindr) date. It's one of our favorite spots for dinner and/or a romantic drink because of the backdrop of the Aegean sea behind you.
Although not exclusively a gay bar, Kastro's attracts a lot of gay couples like us who are looking for some downtime. The food here ain't bad either!
Address: Kastro Bar is located at Agion Anargyron 1, close to Jackie O' and Paraportiani Church.
Opening hours: Kastro is only open during the summer months (May to October). It opens early for the lunch/dinner crowd and closes at around 1 am.
Our favorite: the sunset view!
Best gay clubs for a late night out
The bulk of the gay boys will hang out at Jackie O' Town Bar first, then move on to the other bars throughout the night to dance, some gravitating to the cruising area of Paraportiani Church!
There are a handful of ad hoc gay parties happening across Mykonos, especially during the XLSIOR festival in August. Otherwise, most of the bars above have a late license and will morph into a dancing venue later in the night, staying open till sunrise – Porta Bar for example.
We've set out our favorite gay clubs of Mykonos below:
1. At54 at the TownHouse hotel
Also called @54 or 54Bar, this is a lounge, terrace, bar, and club, attached to the TownHouse boutique hotel. Whilst we love coming here for a few romantic sunset cocktails on their terrace, for us, the real highlight of At54 is their pop diva club nights. We love to boogie to Kylie, Britney, and Abba, and At54 gives us that dose of gay pop disco we so crave on our holiday!
At54 also gives us our dose of Greek pop gay anthems from the most famous local divas like Anna Vissi, Elena Paparizou, Tamta, and Eleni Foureira.
Address: At54 is located at Manto Square Mykonos Town
Opening hours: 8 pm – 2 am every day.
Entry fee (updated 2023): entry is free, but you'll be obliged to buy a drink.
2. Cavo Paradiso
This is THE famous mega-club of Mykonos and is often rated as one of the best in the world. It is located to the east of Paradise Beach, perched up high on a 150-foot-high cliff overlooking the Aegean Sea. During the summer months, Cavo Paradiso hosts some of the biggest gay parties of Mykonos, which reminded us of the epic parties we went to in Ibiza. The crowd is usually a mix of both gay and straight guys – and those in between!
Address: Cavo Paradiso is located next to Paradise Beach – around 15 minutes drive from Chora.
Opening hours: 8 pm – 2 am every day.
Entry fee (updated 2023): entry is around $30 normally, but tickets for the XLSIOR WE night in August can cost upwards of $100.
3. XLSIOR and other gay parties in Mykonos
During the peak summer months, there are always large ad hoc parties happening throughout Mykonos at various venues such as the Fou Club, Zenit, and others. The biggest ones will be happening during the XLSIOR festival in August (like WE at Cavo Paradiso mentioned above).
The best advice is to look out for the hot speedo-clad GoGo boys who will be advertising any parties during the day at Super Paradise and Elia beach.
Gay parties in Mykonos
XLSIOR is the mama of all gay parties in Mykonos!
This is a week-long festival every August, which is also the height of the summer peak season. It's massive – one of the most famous gay events in Europe, and in our humble opinion, the world! Just imagine – 30,000 speedo-clad gays all descend on Mykonos every August to party in the sunshine. The bulk of these guys have flown over directly from the Barcelona Circuit party which takes place in the preceding weeks to XLSIOR.
Highlights of XLSIOR to look out for include the opening pool party as well as the many parties at clubs like Cavo Paradiso, which usually spill out onto the beach.
Where are the gay cruising spots?
The main cruising spot is just outside the Paraportiani Church in the main town. Yes, a church! We also gagged when we first found this out…!
Otherwise, pick any of the remote nude-friendly beaches and they'll be a private area where lots of mischief happens. Here are some of the more popular gay cruising areas in Mykonos:
Paraportiani Church
Late at night, the rock area just behind the church is a notorious cruising ground. It's also a sight to behold – more for the irony of this happening just by a church! Careful on those rocks though, they can get quite slippery. Paraportiani is located in the main town, Chora.
Elia Beach
As you approach Elia beach from Super Paradise, keep walking to the other end, away from all the sunbeds (where the straight crowd hangs out). The far end is the gay nudey part. If you continue over to the rocky area just after this, you'll quickly locate the spot where all the shenanigans happen!
Agrari Beach
Agrari beach is located next to Elia and is more relaxed with fewer crowds. The further along Agrari beach you head, the quieter and more nudey it gets. In the rocky and foresty areas around it is where all the gay boys go to play.
Paraga Beach
Paraga is a small rocky beach on the southern side of Mykonos. Not one of our favorite beaches to be honest as we prefer sandy beaches. But for gay cruising, the rocks on the southern end of Paraga is where you'll want to head.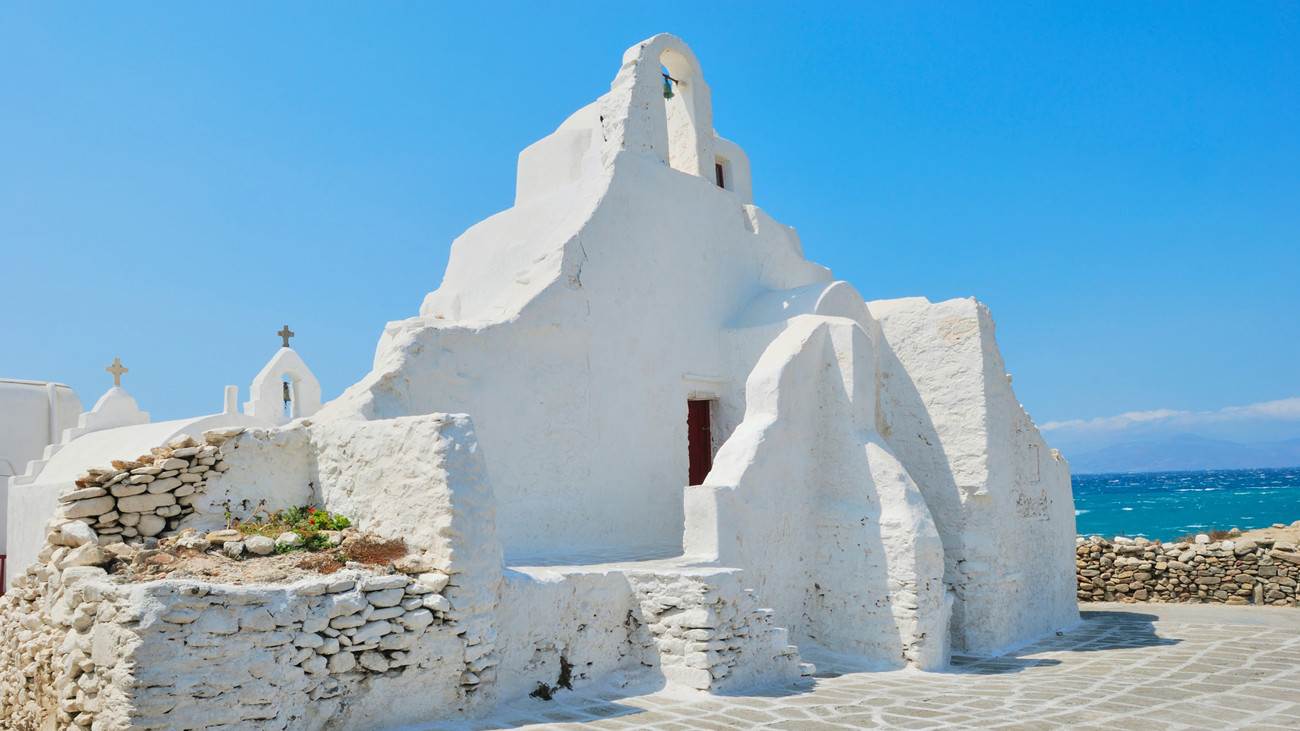 Our favorite restaurants in Mykonos
Mykonos has lots of excellent restaurants, whether you want a late-night souvlaki, or guzzle a few retsinas with some meze. We've set out the main gay restaurants of Mykonos below, including a few gay friendly favorites we think you should have on your radar when heading over:
Top things to do in Mykonos
Tired of partying and want to do something different? For us, we always welcome a cultural injection whenever we're holidaying in Mykonos. Beyond the gay bubble, Mykonos is actually a really pretty Greek island to discover, with ubiquitous classic white buildings set against the blue sky and turquoise waters, 16-century windmills, and gorgeous ancient Churches. Yes, the infamous Paraportiani Church may be a cruising area at night, but during the day it is, in fact, an 800-year-old cultural gem that we recommend you check out!
We've set out some of the main highlights of Mykonos to inspire you. We've also suggested a few tours for each, some are gay, others mixed.
Plan your trip to Mykonos
We've put together some handy hints and tips to help you plan your trip to Mykonos. Read on to find out everything we think gay travelers should know before heading to Mykonos:
---
---
---
---
---
---
---
---
---
---
---
---
Gay map of Mykonos
This is our gay map of Mykonos to show you where everything we've mentioned in this article is located. Use it to find out where all the best gay friendly hotels, bars, and activities are for your own visit to Mykonos!