Gay Mykonos: guide to the best gay bars, clubs and beaches
We love coming to Mykonos, especially during the summer months when thousands of gays from all around the world congregate on this tiny Greek island.
Mykonos is often ranked as one of the top gay-friendly destinations in the the world and for good reason. It's got a mix of lively and tranquil gay beaches, along with some of the best summer parties. We always try to factor in a visit here every summer and always have a blast.
This is our guide to gay Mykonos featuring the best gay beaches, bars, clubs and events.
Best gay beaches on Mykonos
Most will base themselves in Mykonos town, on the western side of the island, which is where all the gay bars and clubs are. The gay beaches of Mykonos are located on the southern tip of the island, which you can reach either by public bus+boat (1 hour) or rent a car/moped (30 mins drive).
Elia beach
Elia is not only the most popular gay beach on Mykonos island, it's one of our 5 favourite gay beaches in Europe. Elia beach is a well-managed sandy beach with great quality shades and sun beds for rent. Head here in July/August time and it's packed full of gay boys of all shapes and sizes. The climax is late August when the famous XLSIOR gay party takes place. 
We love the nearby beach restaurant, which has a bar service and also serves up delicious fresh fish. Beyond Elia beach is a second, more isolated beach, which is popular with nudists at its far end.
Super Paradise Beach
Super Paradise used to be the sole exclusive gay beach of Mykonos, but today welcomes everyone. Come here expecting loud music and partying all day long. For more privacy and relaxed sunbathing, head towards the nearby Jackie O' Beach Club. 
Meanwhile after 4pm, check out the Super Paradise Club on the other side of the beach, which comes alive with some of the best beach parties that go on into the night. 
Agrari Beach
Agrari beach is located next to Elia Beach over a rocky outcrop. It's more low key here, making it popular with nudists. Every time we've visited Elia beach, we'd head over to Agrari for a more chilled and relaxed atmosphere, although note the sand here is more coarse.
Lia Beach
Lia is a smaller sandy beach that we really liked. It's located further away from Elia beach, close to Kalafatis beach, making it more peaceful and remote. You do however need a car/moped to reach it.
The bay is sheltered on both sides by hills, with an effective wind break so you can sunbathe without spitting sand out every two minutes. You can rent sun loungers here and also hang out at the Liasti Lia Beach Restaurant.
Kalafatis Beach
Kalafatis is one of the longest sandy beaches on the island, and the most remote of all the gay beaches of Mykonos. It's located near Lia beach, but further east, so you need a car/moped to reach it. As a result it's the most remote of all the beaches, which is part of its appeal.
This wind here is very strong, making it ideal for windsurfers. Luckily the beach is protected from the wind by a line of pine trees, so you can sunbathe without fearing loads of sand blowing all over you.
Mykonos gay bars and clubs
We love the gay scene of Mykonos. During the summer months, there's always something happening every evening in one of the many gay bars and clubs in Mykonos Town.
Gay events in Mykonos: XLSIOR
THE main event here is the XLSIOR festival, which usually takes place in late August. This is one of Europe's best annual summer gay dance festivals, with international DJs, hot men and loads of sunshine fun.
Highlights include the opening pool party at the Elysium hotel, and the many parties at Cavo Paradiso, which usually spill out on to Elia beach.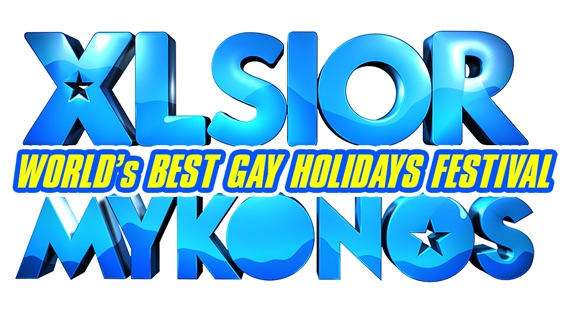 Other practical information for gay Mykonos
Where to stay: Elysium and Geranium are the main gay hotels on Mykonos. An alternative which we highly recommend is renting out a luxurious elegant villa in Mykonos either with your lover, or a with a group of friends. Some even have their own private pools, verandas with sea views and private chefs. Check this post out for a more comprehensive guide about hotels in Mykonos.
When to come: the peak period is the last 2 weeks of August during the big gay Xlsior Festival however, the island is packed with family tourists as well, so consider coming in September when children go back to school.
How to get to Mykonos: you can either take a 5.5 hours ferry from Athens to Mykonos, or fly directly to Mykonos airport from Athens and most destinations in Europe with budget airlines like Easyjet.